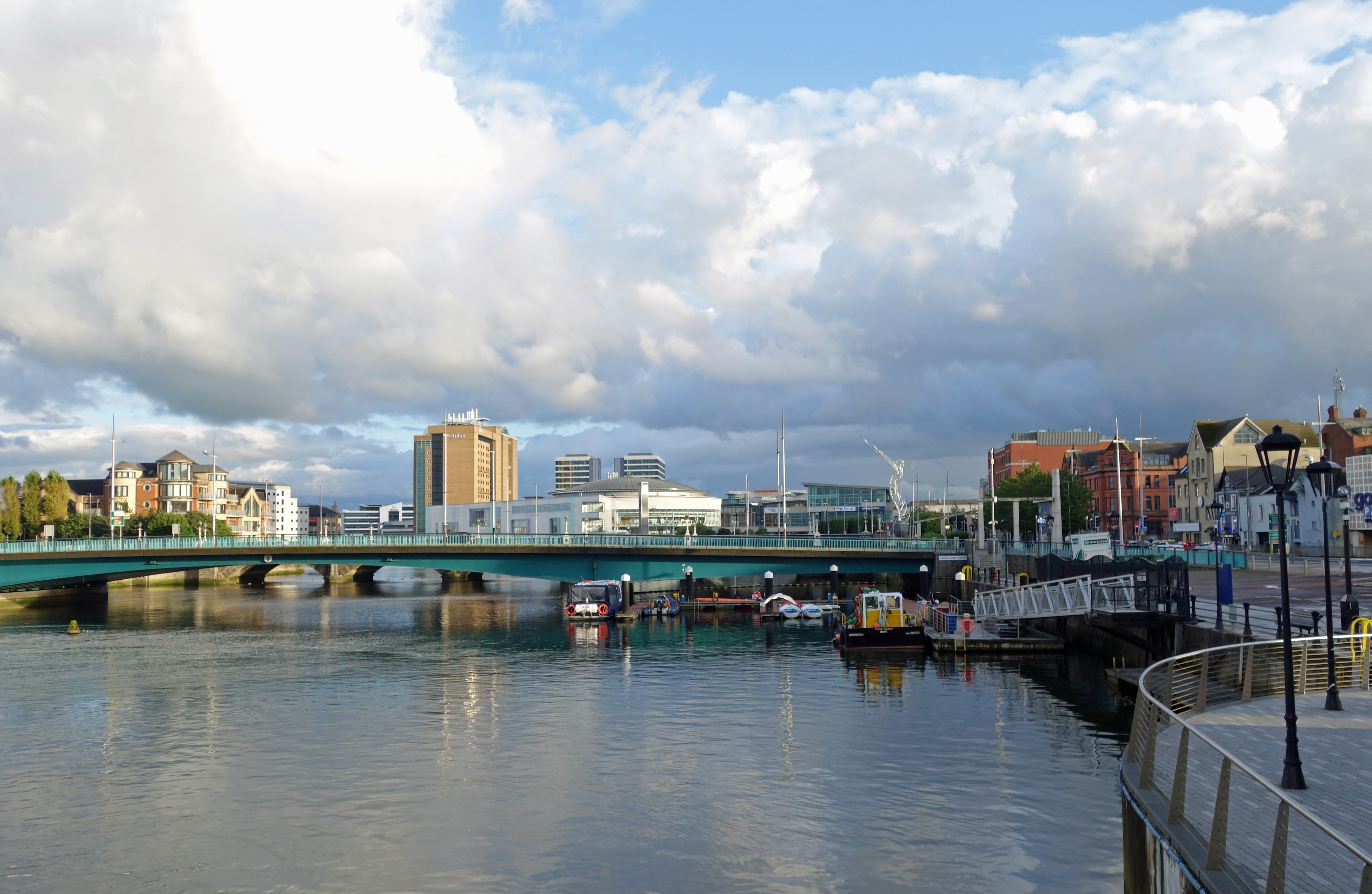 Leaving the farm loft in County Antrim we enjoyed a city break in Belfast (Béal Feirste), the capital and largest city in Northern Ireland.  The drive from Ballycastle to Belfast is less than an hour and we had time to spare before checking into our apartment so we took a scenic route enjoying the countryside.  After dropping off our luggage at the apartment we walked 20 minutes to the Titanic Museum, for our 2:20pm entrance slot.  Although we have toured museums with Titanic displays during our time in Ireland, this one was recommended as being the largest, most modern and interesting one.  The Titanic was built here in Belfast at the Harland and Wolff shipyards before it's tragic maiden voyage in 1912 and the shipyard twin towers, knows as Samson and Goliath, still stand not far from the new museum.  The museum is huge, it took us 2 hours to meander around all 4 floors looking at the displays, movies, re-creations and artifacts saved from the ship and passengers.  The Titanic story starts with the initial designs of the ship and goes all the way to the sinking and rescue of survivors.  There is a tremendous amount of information and reading and we enjoyed our visit, except for the shocking number of people in there 😷  It was so crowded I wore my N95 mask the entire time!!  Seniors tickets cost £19 (USD $24.25) each and can be booked online here.
Belfast saw some of the worst of The Troubles in the 1970's with bombings, assassinations and street violence forming a backdrop to life in the city.  During the 1970's and 1980's Belfast was rated one of the world's most dangerous cities!  An enduring physical legacy of the conflict are the extensive 'peace walls' that continue to separate loyalist and republican districts.  The walls were built in 1969 after a series of sectarian riots between the Catholic Republican and Protestant Loyalist populations rocked the city.  They were initially a temporary measure to keep the opposing sides apart however they were so effective that they never came down, and more were added over the years.  As time went on, gates began to appear in the walls allowing passage between the neighborhoods, but many of these gates are still to this day closed at night.  The walls were slated for removal over a 10 year period, beginning in 2013, but to date only a small number have been dismantled.  The walls are now a highlight of Belfast's tourism industry.  After our Derry experience we did not dive as deep into the Belfast troubles but suffice it to say that over 1,600 people were killed in political violence in the city between 1969 and 2001 😞  One of the most well known events that I recall was the death of Bobby Sands (and 9 other prisoners) in 1981 following a hunger strike in prison.  Reading about his early life it's no wonder so many young people joined the IRA.  Wikipedia has a good page about Bobby Sands that I found enlightening as well as heartbreaking 💔  I also subsequently read a very well written book by Patrick Radden Keefe titled Say Nothing, it's a look behind the scenes of life in Belfast and following the lives of a few members of the IRA.  Definitely worth a read if you want to understand more about what went on during The Troubles.
Our apartment was just across the river from the center of Belfast so it was easy to knock off quite a few sights within a small area close to home.  Some of the places we visited were:
Victoria Square is Northern Irelands biggest and brightest shopping center.  The dazzling glass dome has a viewing platform where you can look out across the Belfast skyline.
Belfast City Hall is an imposing structure completed in 1906.  It is built of Portland Stone, quarried from the Isle of Portland in Dorset, England.  In front of the building is a statue of Queen Victoria who awarded Belfast city status in 1888.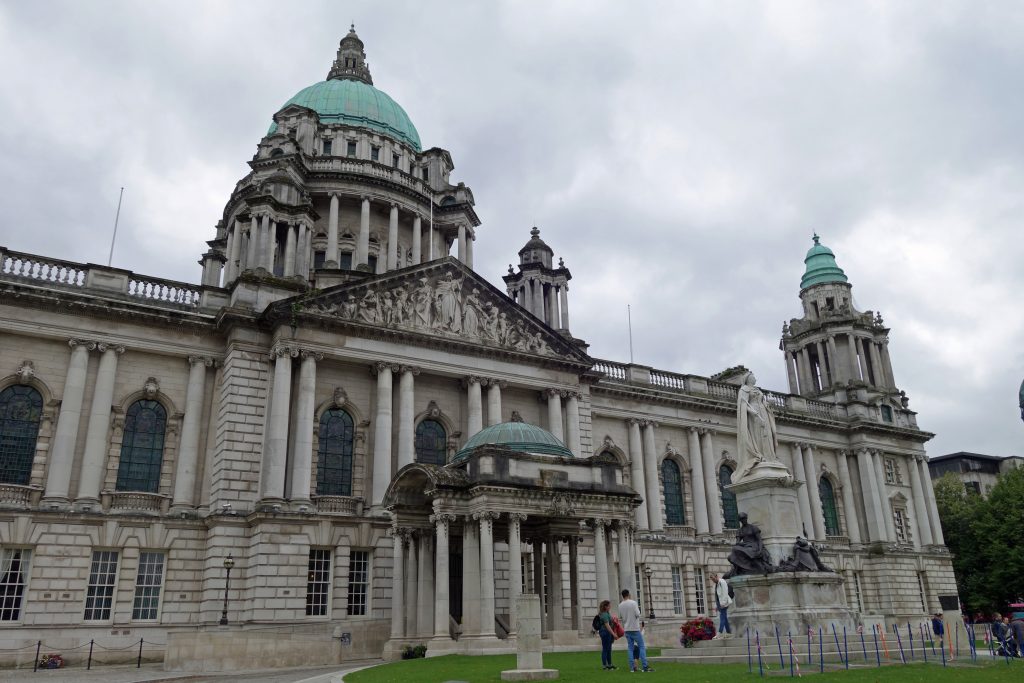 St Georges Market is one of Belfast's oldest attractions and one of the best markets in Ireland.  There has been a Friday market on this site since 1604 with the present building built between 1890 and 1896.  The market is open Friday, Saturday and Sunday with some of the finest fresh produce, fruit, flowers, fish and meat on offer.  There are stalls selling crafts of all type and a variety of food stalls to satisfy any craving.  We opted for a savory crepe followed by one of my favorite sweet treats….Poffertjes 😁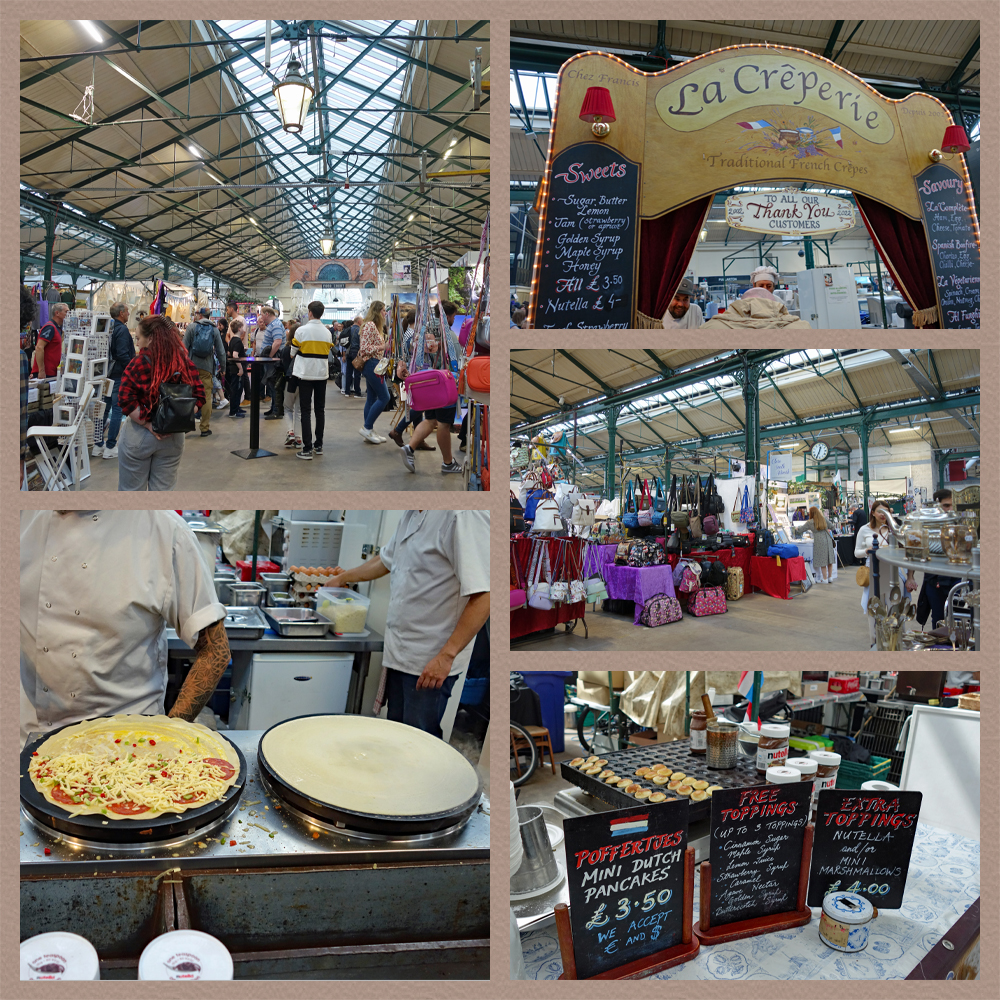 Feeling a little thirsty after lunch at the market we paid a visit to Bittles Bar for a pint of Guinness 🍻  The building is from 1868 and caught our attention with it's unusual 'flat-iron' shape.

One evening we walked over to the Cathedral Quarter, an area filled with bars and pubs, including the Duke of York that Blair wanted to walk by to show me the small alleyway with neon umbrellas overhead.  It was very crowded, but of course it was Saturday night.  We went back the next morning and it was empty, save for the line to get into a breakfast cafe.  Traditionally, the Cathedral Quarter was the centre of Belfast's trade and warehousing district, which sprung up from the prosperous linen and shipbuilding industries. The quarter still retains some of Belfast's oldest buildings and thoroughfares and tiny alleyways with numerous pubs and restaurants.

The Merchant Hotel is a AA 5 Red Star hotel located in the historic Cathedral Quarter and I had read that it has the largest chandelier in Ireland so we popped in for a look and to enjoy an outrageously expensive drink in their cocktail lounge.  It's worth a visit if you are in Belfast but you don't have to splurge on a drink!!

The Crown was once a Victorian gin palace dating back to 1826.  The building is owned today by the National Trust and has been restored to it's original glory over the years.  The fine detail work of an inlaid mosaic tile floor, brocaded walls, wood carvings, ornate mirrors, wooden columns and painted etched glass is visually stunning.  The Balmoral red granite bar is divided by wooden columns topped by Corinthian capitals, the place is just gorgeous….it was a rainy afternoon when we popped in for a tasty pint of Guinness 🍻
We enjoyed our 3 days in Belfast and had no problem finding things to see and do.  Tourism is not as well established and internationally recognized as some places in the Republic of Ireland, more than likely due to lingering perceptions of Belfast and The Troubles, but great strides are being made to attract tourists.  The restaurant and pub scene is vibrant with something to satisfy every taste and we mostly had good weather with just a few brief rain showers.
Belfast wraps up our time in Northern Ireland and while the countryside, the scenery and small towns are spectacular, the separation and discrimination still evident in Derry and Belfast cast a feeling of insecurity that could make increasing tourism a challenge.
Leaving Belfast we carried on our way South heading to the countryside to stay in another farm cottage…..
An té a bhíónn siúlach, bíonn scéalach
He who travels has stories to tell