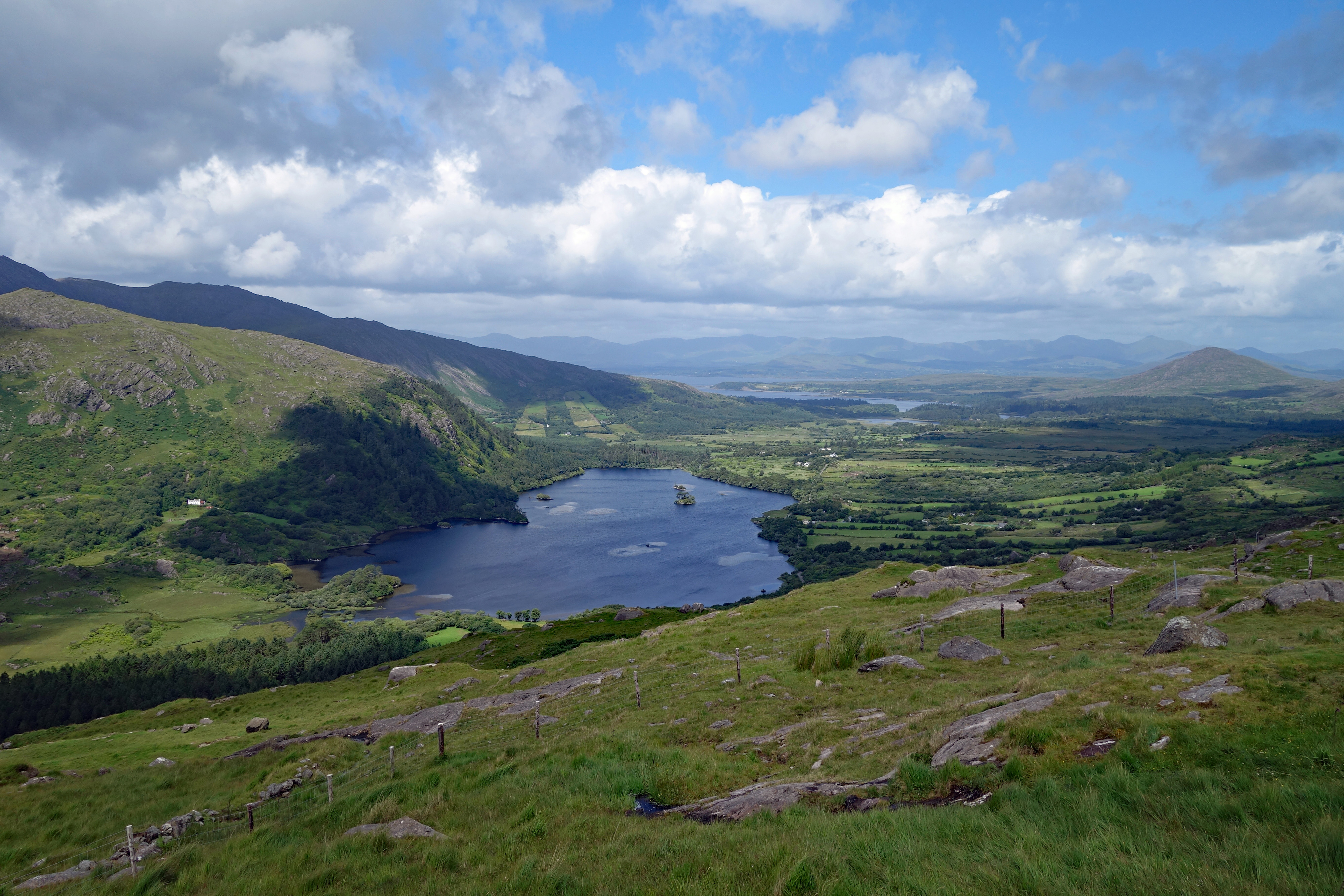 We spent 2 1/2 months in Ireland circumnavigating the entire island and doing our best to see as much as we could, yet not run ourselves ragged.  Some of our locations had a lot to see and others were very quiet rural locations where we had time to relax and just hang around home.  I think we can comfortably say we have seen what we came to see and much more.  We had our eyes opened about The Troubles in Northern Ireland as well as learning the history of the Celtic clans and the Great Famine.  While we saw a lot of places, no doubt there are many we have missed.  Here are a few of our thoughts about our time in Ireland:
THE WEATHER  What can I say…we expected Ireland to be wet but admittedly we were a bit surprised by how much it rains here.  There is a reason Ireland is called The Emerald Isle, it rains here…..almost EVERY DAY!!!!  ☔🌦️☔🌦️  Not usually all day but a little bit nearly every day, sunshine is a rare commodity around here!  That being said, it looks like we came here during an unusually bad summer which was unfortunate but unavoidable.  After an extraordinarily wet July, August saw an improvement in the weather.  I think part of the improvement was due to the fact we were back on the East coast.  As a generalization we found the south and north coasts to be drier than the west coast and certainly the east coast was the least rainy of all.  Our first 10 days seems pretty normal with a little rain most days but when we arrived on the Dingle Peninsula the rains were going sideways and we had pretty awful weather the entire way up the west coast.  Reaching Northern Ireland the weather began to improve and steadily got better as August progressed and we moved back down along the east coast.  The below headline confirms our opinion that the weather was worse than normal with rain on 27 of the 31 days of July.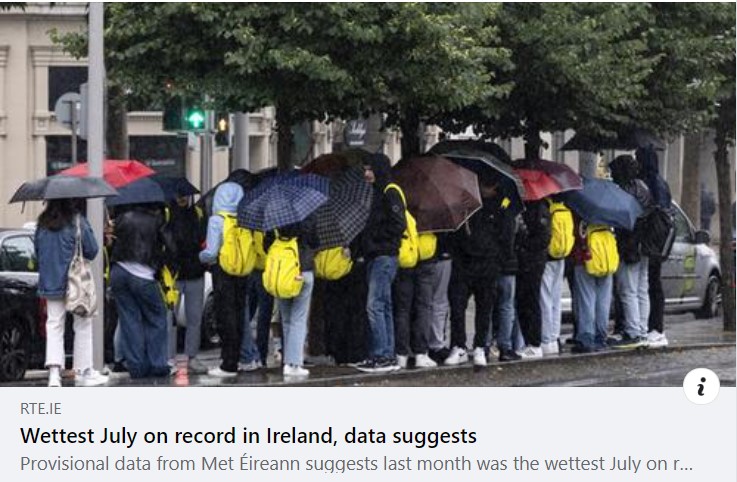 THE ROADS  The very narrow country roads are lined with hedges, but under those hedges lurk stone walls.  It would not be a soft landing if you ran into the hedge!!!  There are three types of roads, N or National Roads which are generally 4 lane freeways but can be just 2 lanes, R or Regional Roads which are typically 2 lanes and L or Local Roads which can range from a well paved single lane road to a country lane with grass growing in the center.  The L roads were the most exciting to drive, never knowing when another car would suddenly appear!!!  Blair was an absolute star tackling the driving without incident the entire time 👏  Especially since we were driving a French car with the steering wheel on the left side of the vehicle.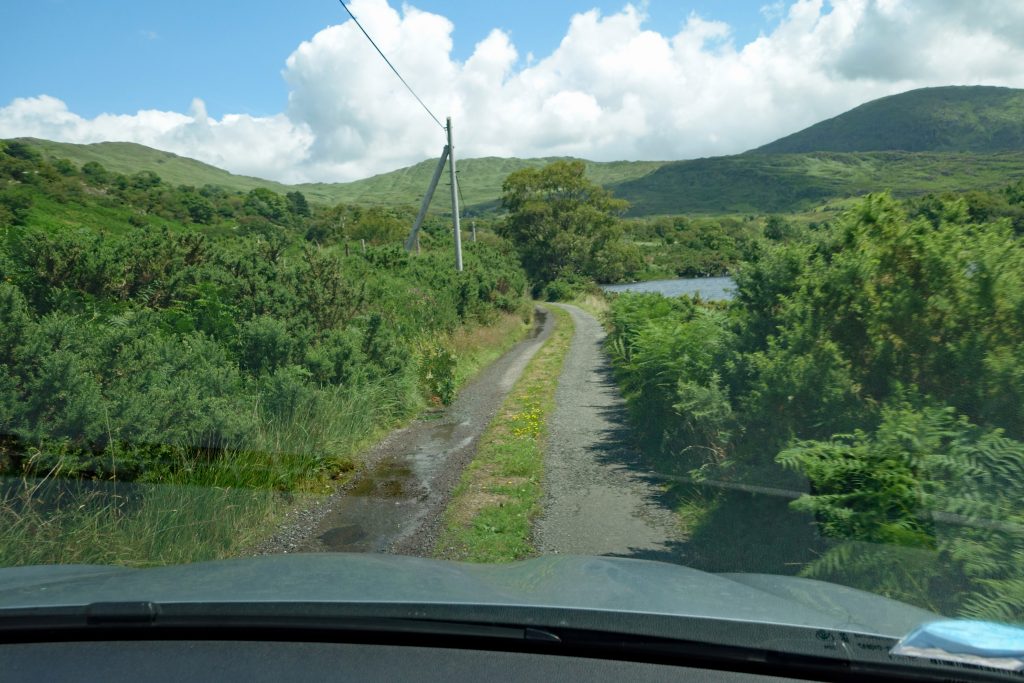 THE GREAT FAMINE  I don't think either of us realized the enormity of the famine which gripped Ireland in the 1800's and how the British exacerbated the problem. The Great Famine from 1845 to 1851, caused by the failure of the potato crops, led to the emigration of between 1.5 to 2 million people during those years.  As unprecedented numbers of people fled hunger and disease, ships that were unseaworthy were put into use.  They never made it to their destination and acquired the grim title "coffin ships".  Of those that remained, another 1 million people died of starvation and disease.  This number would more than likely have been much less had the British not exported shipload after shipload of grain, meat and other high quality foods from Ireland to the UK.  Food that could have saved many thousands of Irish people from starvation!!!!!  As a direct consequence of the famine the population of Ireland went from almost 8.4 million in 1844 to 6.6 million by 1851.  Ireland's population continued to decline in the following decades because of emigration and low birth rates such that by 1921 the population was half what it had been in the 1840's.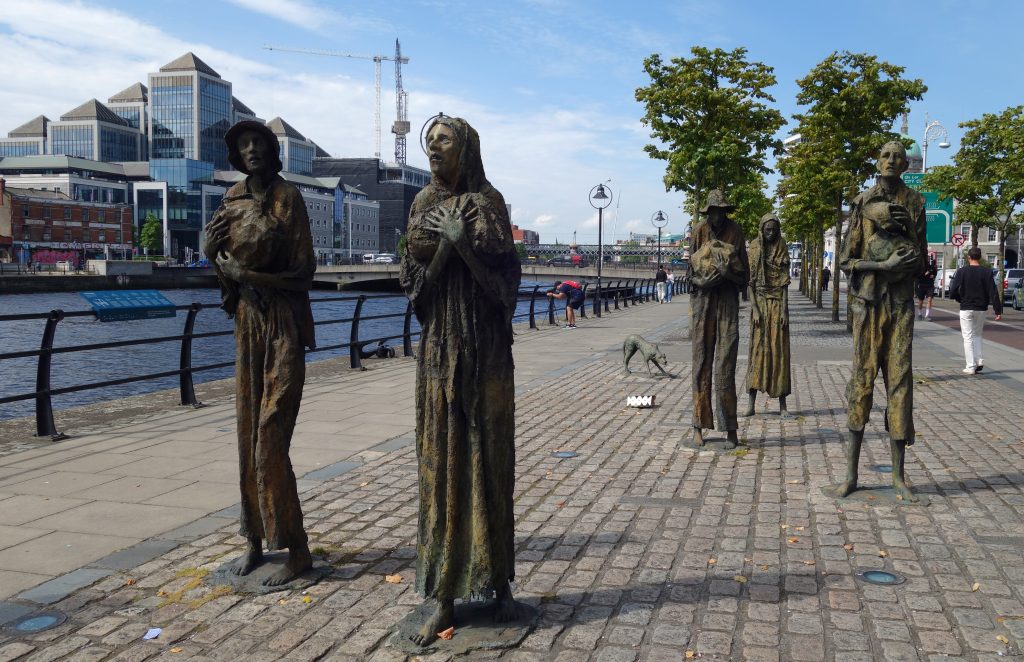 THE PEOPLE  Irish people are incredibly friendly and will strike up a conversation anywhere, anytime, especially when they heard our accent.  That being said, Canadians are pretty friendly too so we chatted to a lot of people during our travels around Ireland.
THE GUINNESS  is amazing, better than anywhere else in the world, according to Blair.  I am not a beer drinker but I must confess that the Guinness in Ireland is pretty darn good, and when they added just a little blackcurrant juice to tone down the beer taste, I was hooked 😁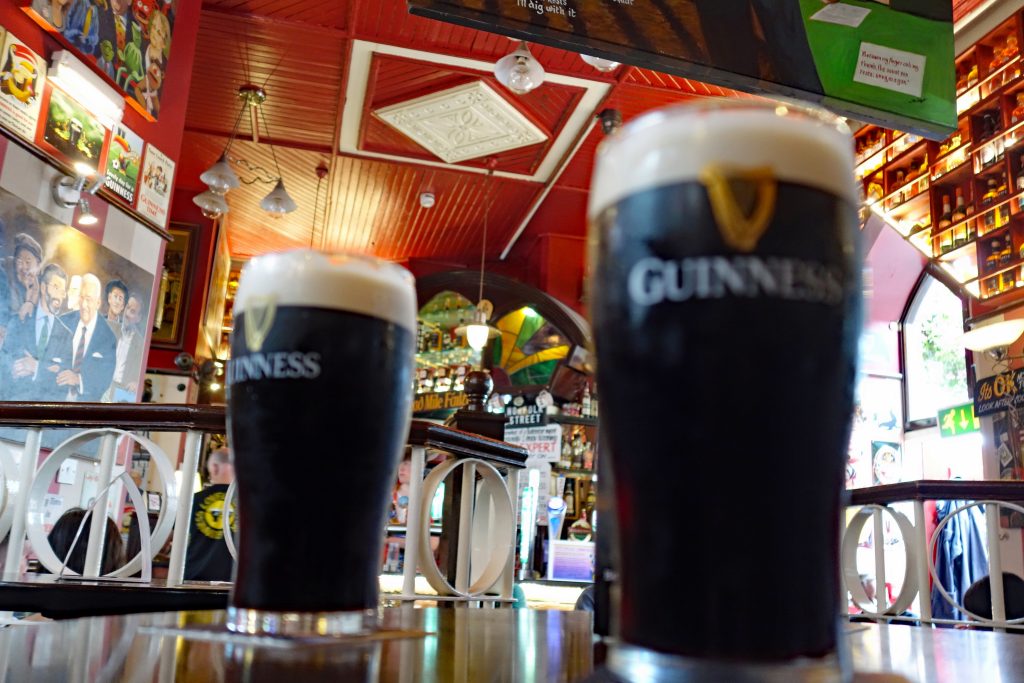 THE TROUBLES  in Northern Ireland are a huge part of Irelands history.  I guess we never really understood the background and enormity of all this.  We had a very simplistic view that it was purely religion based and the IRA were terrorists, we did not understand the reasons behind the conflict.  We came to learn that the English Protestants and the Irish Catholics mostly disagree about joining, or not joining, the UK.  While the minority English controlled just the smaller northern part of Ireland, they persecuted the rest of the country and basically treated the Irish like second class citizens.  No wonder they don't like each other!!!  What's so very sad is this animosity is being passed down today by parents to their children, so the animosity will never fully go away, unless a generation is willing to let go of the past and look forward.  Never an easy thing to do!  We found our tours in Derry incredibly informative as well as heartbreaking and to see the walls still separating neighborhoods in Belfast was very sad.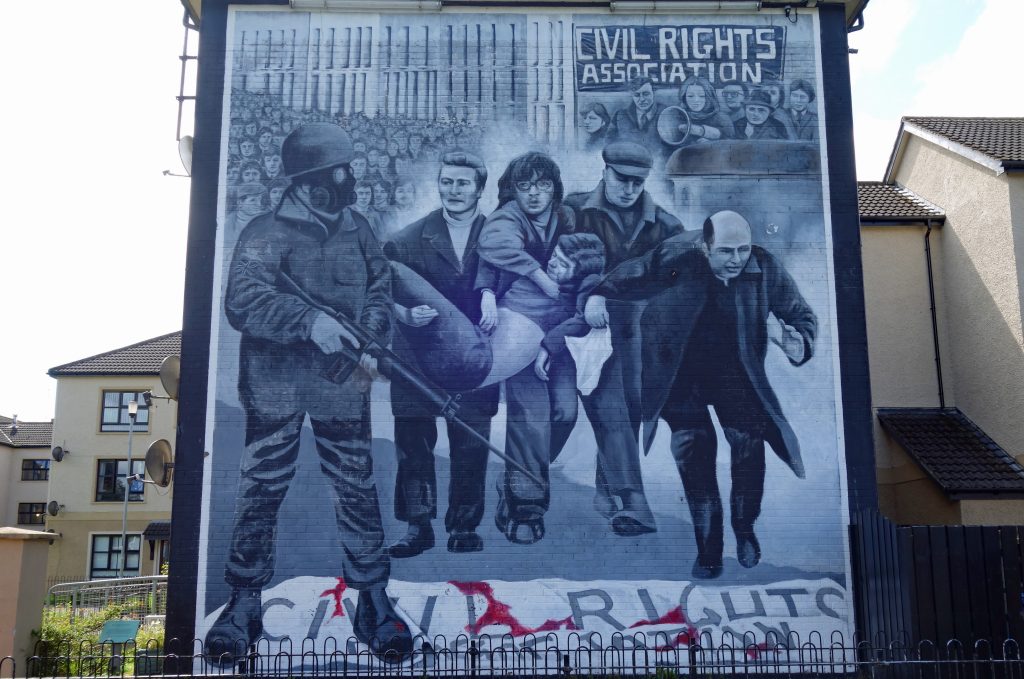 WHERE DID WE STAY
On a farm outside Bandon, County Cork
On an acreage outside Ventry on the Dingle Peninsula, County Kerry
In Kenmare, County Kerry
On a farm outside Ennistymon, County Clare
On an acreage outside Cornamona, County Galway
In Donegal, County Donegal
On an acreage outside Ballycastle, Northern Ireland
In Belfast, Northern Ireland
On a farm in Ardcath, County Meath
In Dublin, County Dublin
On a farm outside New Ross, County Wexford
Based on the above you may gather we prefer farms and acreages to town and cities.  The map below shows the route between all our accommodations, beginning and ending with our arrival and departure from the ferry terminal near Cork.  In addition to this drive we took many day trips around the countryside racking up a good number of miles on our little French car.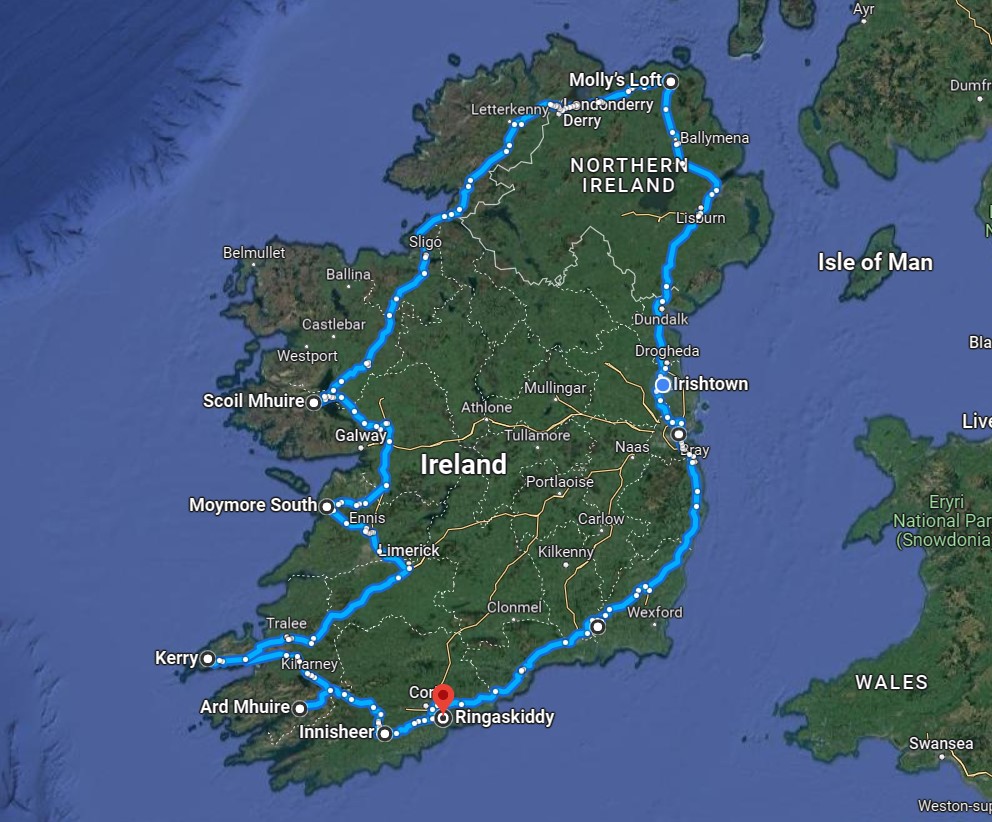 FINAL WORDS  The Guinness is waaaay better in Ireland  😂😂😂  But seriously, we have thoroughly enjoyed our 2.5 months here and have come away feeling like we saw everything we came to see, and a lot more.  Plus we are definitely much more informed about the long ago history and the conflict in Northern Ireland.  The country is breathtakingly beautiful with mile upon mile of rugged coastline and rolling green hills, we loved it.
We would not hesitate to recommend visiting Ireland to anyone thinking about coming to this lovely Emerald Isle 🍀🍀  Just bring a rain jacket…..
An té a bhíónn siúlach, bíonn scéalach
He who travels has stories to tell