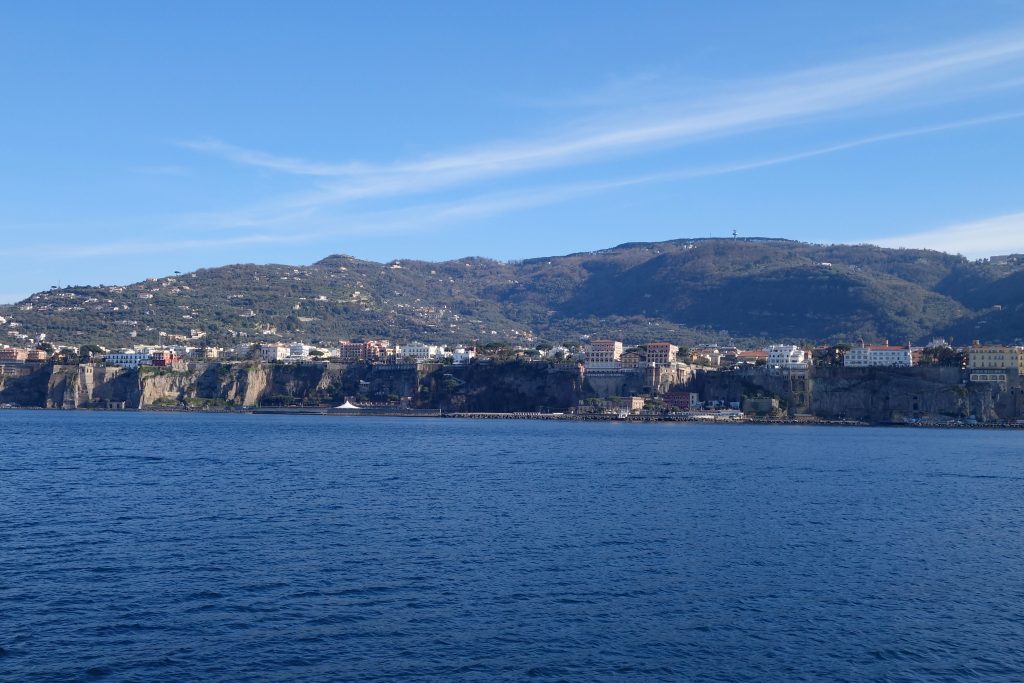 Sorrento town center is perched on a cliff overlooking the Bay of Naples with a warren of narrow streets filled with shops selling everything imaginable from clothing and leather to fresh produce, tourist trinkets to gourmet foods, lace and woodworking shops, all forms of lemon products, and of course limoncello.  From Sorrento, you have views of Naples, Mount Vesuvius, and the Island of Capri.  The town is also the gateway to the Amalfi coast with fast-ferry connections to Amalfi and Positano as well as Naples, Ischia and Capri.  We are here in March and many places are still closed but I can only imagine how busy it must be here during the height of tourist season based on the number of shops and restaurants still closed.  I think we will appreciate the quiet days and enjoy the places that are open in March 😊
My memory of Sorrento is lemons and limoncello!  It's also the place I re-found my favorite pasta paste…Pistachio Pesto, made from Sicily's famous pistachio nuts.  I first discovered this when we were in Sicily many years ago and have searched the world over during our travels since then and never found it.  I was optimistic that the closer we got to Sicily the better my chances would be of finding it, and find it we did in abundance here in Sorrento.  Of course, we bought the biggest jar available to enjoy over the next couple of months 😋  Pistachio Pesto can be used in pasta, mixed into mashed potatoes, rubbed on meat, chicken and fish, used as a dip for veggies or bread…the possibilities are endless.  Is it any wonder I love this product!  I also love truffles and in the same store we bought the pistachio pesto, we found a mixture of pecorino cheese/shaved truffles/salt which can be sprinkled on pretty much anything.  Our third item purchased from the same store is a balsamic cream which I have recently discovered and love it drizzled over cucumber, tomatoes or any fresh vegetables and buffalo mozzarella.  I love the food here in Italy!!!  But back to the lemons of Sorrento, I bought two bars of lemon soap to use during our travels.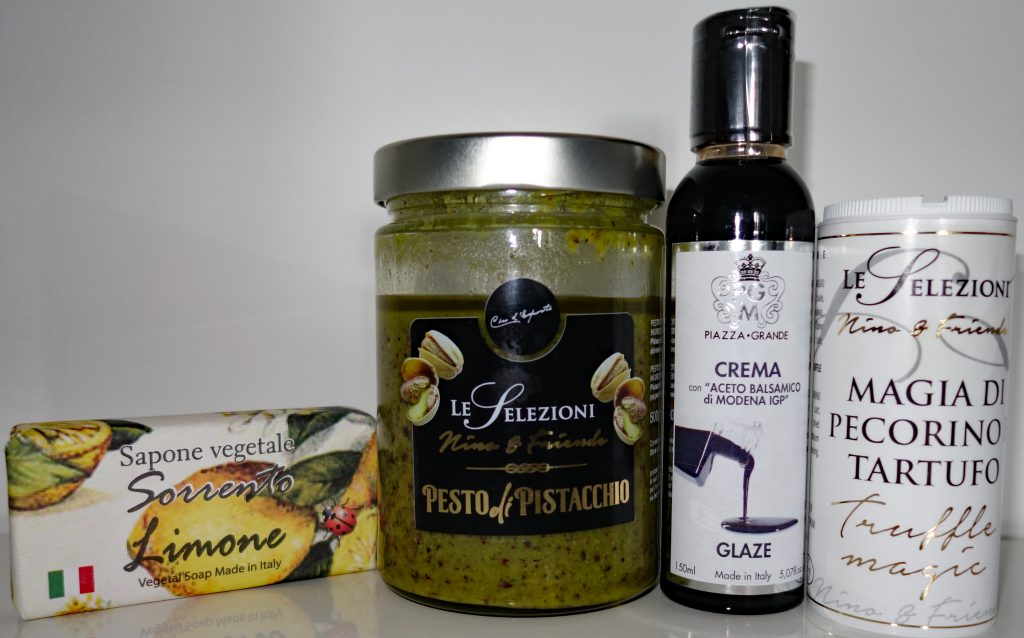 We found the most amazing sushi restaurant in Sorrento, called Ikura Sushi Sorrento.  There is a tablet on every table and you peruse the menu, order what you want and it arrives at your table within minutes.  You can choose to go a-la-carte or all you can eat and unusual for us we went with the all you can eat option, which turned out to be a brilliant decision.  The all-you-can-eat items are 1/2 the size of the regular order so you can try a variety of items without eating all that much.  We ordered a couple of items, ate them, ordered a couple more, ate them, ordered a couple more etc, etc for almost 2 hours!!!  It was the most interesting dining experience we have had in a long time.  If you come to Sorrento be sure to check out Ikura for a fabulous Japanese/Sushi meal 😋  It was not inexpensive at a cost of 91 Euros ($99 USD) but that included a bottle of wine and a wide variety of high-quality sushi.
The island of Capri is well known as a playground for the rich and famous who anchor their luxury yachts in Marina Grande.  The island is also well known for its jaw-dropping beauty, delicious cuisine, and world-class shopping…well maybe in the summer but March is pretty darn quiet here.  We bought tickets on the 8:30 am fast ferry leaving Sorrento taking just 15 minutes to reach the island of Capri.  Our return tickets cost 39 Euros ($42.50 USD) each and as soon as we arrived we marched straight over to a tour office and found an around the island tour leaving in 10 minutes.  We paid 20 Euros ($22 USD) each for a 1-hour boat trip around Capri with the captain doing a running commentary on the highlights and grottos around the island.  The Faraglioni Stacks are the three most famous rocks in Capri and our boat captain took us under the arch of the middle rock, lucky it was a calm day.  At the far end of the island is the Punta Carena Lighthouse, one of the oldest lighthouses in Italy.  Overall, it was a fabulous tour!  Our boat did not stop at the famous Blue Grotto as many do.  For an additional fee of 15 Euros ($16.40 USD) each, you would be transferred to a tiny rowboat which would take you inside the grotto for 5 minutes, not that appealing to us!!
When we got off the tour boat we decided to hike over to Marina Piccolo for lunch, about a 45 min walk.  Hmmm, my tour planner did not do his research very well and there was only 1 place open with tables out on the road and no views 🙄  So we took the minibus back to the town of Capri where more restaurants were open and enjoyed a fabulous lunch overlooking the Bay of Naples.  After lunch, we took a minibus up to the town of Anacapri where we jumped on an old single-seat ski lift to take us to the top of Monte Solara.  This is the highest point on the island and the views are outstanding!!  The lift tickets cost 13 Euros ($14.20 USD) for a round trip journey and it's an experience riding such an old ski lift.  Returning from the mountaintop to Anacapri we took a minibus back to Capri and then had to hustle our way back to Marina Grande to catch the fast ferry back to Sorrento.  Not sure what happens if you miss your reserved time on the ferry, but happy we did not have to find out.  Whew, it was a whirlwind of a day but it was worth it to have finally visited Capri.
Ahhh the infamous Amalfi coast road, spectacular vistas at every turn but yikes every turn is hair-raising!!  The last time we drove this road was in the busy season and it was a downright scary drive.  This time the road was quieter without the throngs of huge tour buses along the road.  This is not to say we got off scot-free, we met a few large vehicles along the way and at one point had to back up to let a huge truck get by.  A big tour bus came within 2 inches of our car on a tight turn which had my heart racing 😳  Despite the stress of the journey we made it to the town of Amalfi, parked the car, and enjoyed a lovely wander around the town followed by lunch and a calming beverage before heading back to Sorrento.  We would have liked to stop in Positano, where we previously stayed for one week, but parking is a challenge and the roads are extremely narrow so we passed on that adventure today.  We are too early in the tourist season for the ferry boats to be running otherwise the best way to head down the coast is to hop on a boat for the day.
Four days in Sorrento was the perfect amount of time to spend somewhere we have been before.  We had the chance to explore Sorrento on foot in more detail, relax after a hectic time in Rome and take a day trip to Capri where we had never been before.  A big attraction outside of Sorrento is of course Pompei, but we have already been there and did not feel the need for a second visit just yet.  So we bid farewell to the land of lemons and plunging cliffs to head East into the less-visited central-southern region of Basilicata, a part of Italy we have not been before.