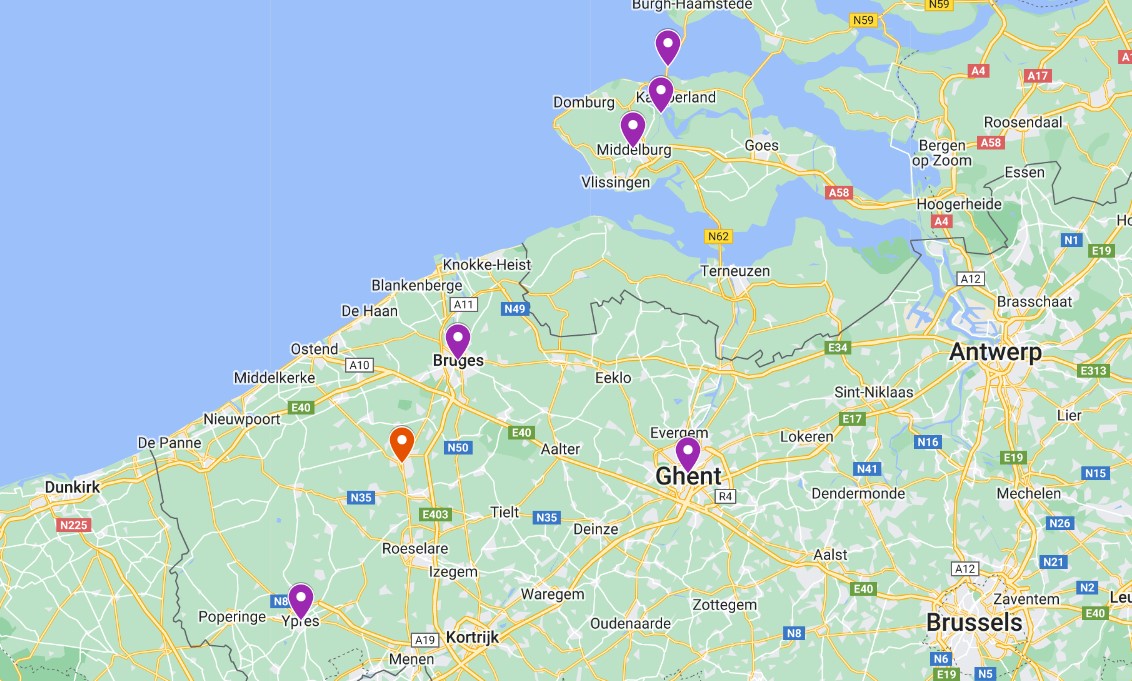 Similar to our plans for The Netherlands, there were a number of places we wanted to visit while in Belgium so we tried to base ourselves in a town that was convenient to all of them.  Bruges and Ghent were our top choices to visit so as long as they were close, all other locations were a reasonable drive.  The orange pin shows the location of our apartment in Torhout, Belgium with the purple pins denoting the location of places we wanted to visit.  You will notice that we have not pinned any large cities, Brussels and Antwerp were almost 2 hours away and we just could not muster up the interest to visit a big city.  I am sure they are interesting but for us not worth 4 hours of driving or train travel, so they will have to wait for another time when we are closer, or plan a city stay for a couple of nights.
The drive from Bodegraven, Netherlands to Torhout, Belgium took just under 3 hours.  Our apartment was not available until 3 pm so we had time to have a bite of lunch in Torhout, find the closest supermarket and join the Basic Fit gym which is just a 6 minute walk from our new apartment.  We have been pretty lax in our gym time since we left Canada so it was great to find one so close 💪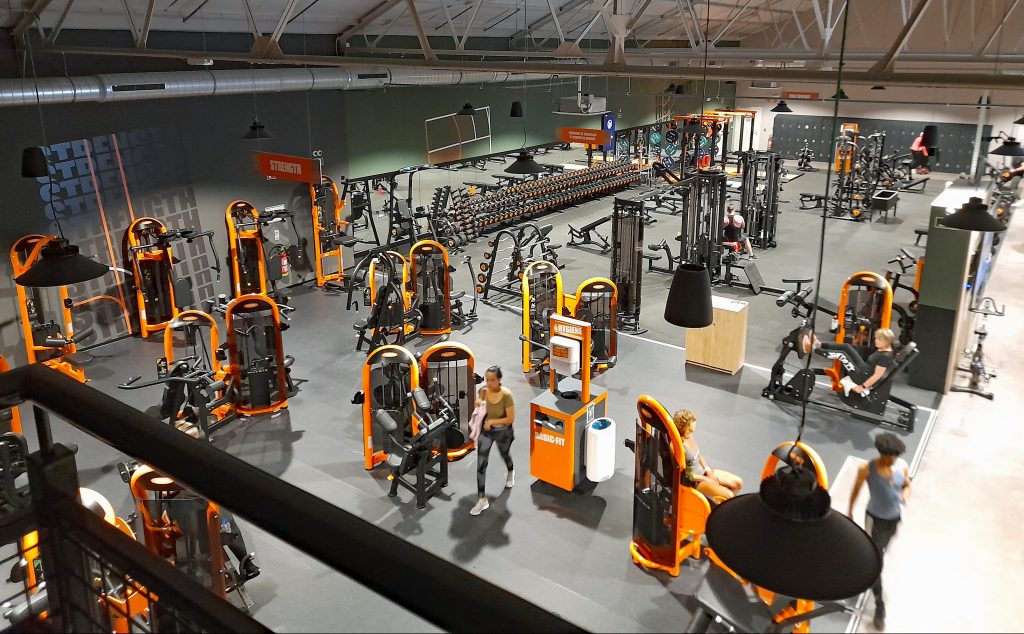 Belgium is a new country for us, so besides indulging in waffles and mouth watering chocolates, what else did we get up to during our time here, aside from Bruges and Ghent which we wrote about previously.
YPRES (Ieper in Dutch)
There are a lot of WWI battlefield sites in Belgium so our first day of exploring we headed towards Ypres.  There are innumerable places to visit and we tried to come up with a short list that we could see in one day.  I think one day of sadness is all I can bear 😢  Just driving down the roads you regularly pass cemeteries dedicated to specific countries and it's unimaginable what this serene landscape must have been like during the war.  We focused on large memorials or Canadian memorials just to make the day manageable, so our first destination was Essex Farm Cemetery where 1,204 soldiers are commemorated.
Essex Farm is one of the most visited sites near Ypres because of it's association with Canadian 🍁 John McCrae who wrote the poem "In Flanders Fields".  McCrea, a doctor, was stationed at Essex Farm in 1915 and wrote the famous poem after presiding over the funeral of a friend and fellow soldier who is buried here.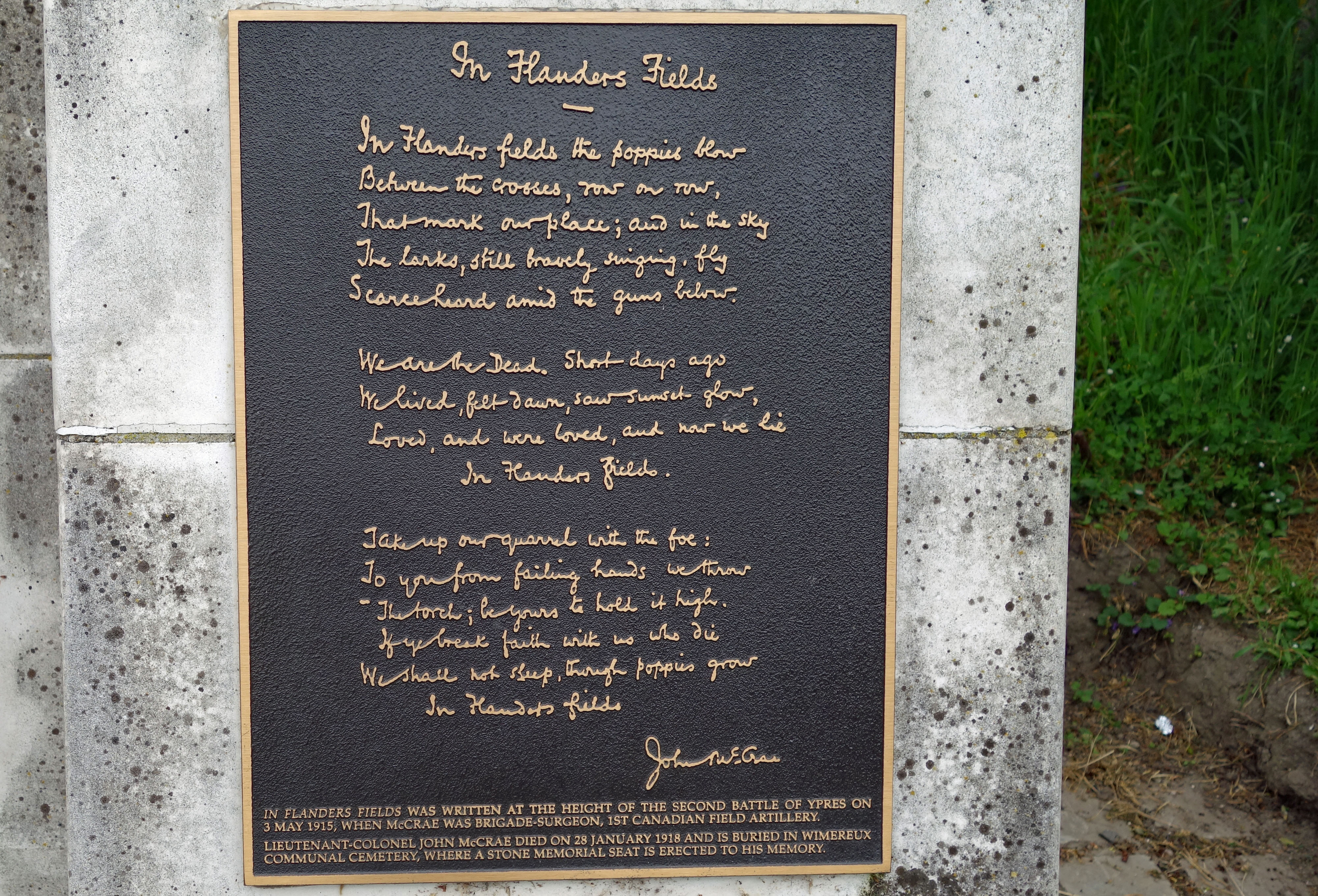 Also in the Essex Farm cemetery is the grave of the youngest known soldier who died here.  Valentine Joe Strudwick lied about his age to enlist when he was just fourteen and he died when he was just 15 years old!! 💔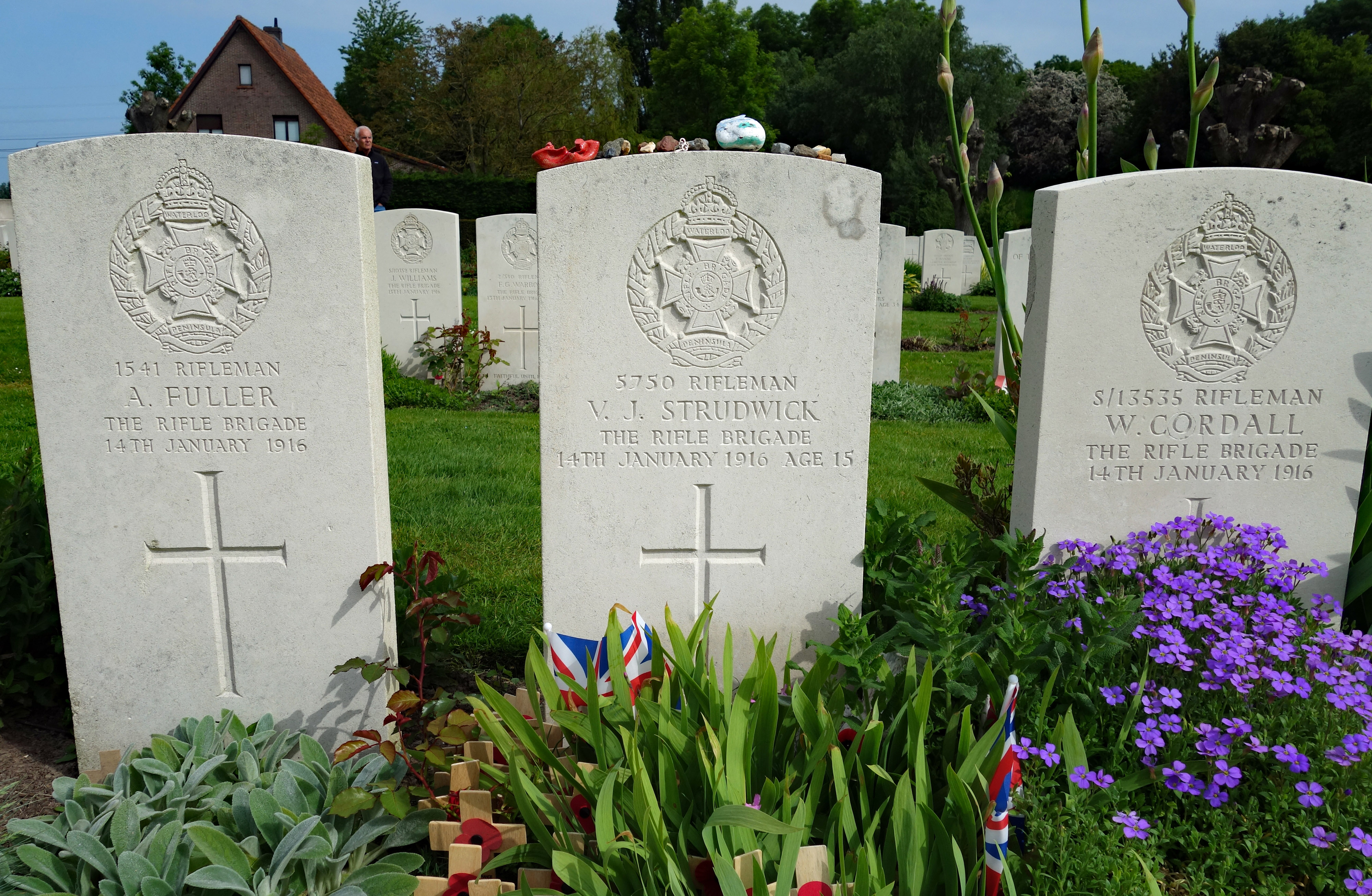 From Essex farm we drove to the stunning Ypres Grote Markt, the focal point of this lovely town.  At one end of the square is the imposing Lakenhalle (Cloth Hall), built in the 13th century.  The structure standing today is an exact copy of the original medieval building, rebuilt after being reduced to ruins during WWI.  Located inside the Lakenhalle is the In Flanders Fields museum, charting the grief and pain of WWI in this region.  There is a lot to see in the museum, so it takes a while to get through all the displays and information.  Tickets to the museum cost 10 Euros ($10.75 USD) each and if you are more energetic than us, you can climb the belfry for an additional 2 Euros ($2.15 USD)
After the museum visit we had lunch at one of the many restaurants bordering the square before walking to see the Menin Gate, a British War memorial.  This gate bears the names of 54,896 missing soldiers from the start of the war to August 15, 1917.  From August 16, 1917 until the end of the war 34,984 more missing solders are listed in the Tyne Cot cemetery, where we visited later in the day.  Unfortunately the Menin Gate is entirely closed off and filled with scaffolding for maintenance scheduled to take 2 years so we were unable to see much.  So we did what one must do while in Belgium, buy some Belgian chocolate at Leonidas chocolate shop 😋 It's all true what they say about Belgian chocolate, it's amazing!!!!!!!
Leaving Ypres we drove a short distance to the Hill 62 War Memorial and Sanctuary Wood.  There are 2,000 war casualties commemorated here in Sanctuary Wood cemetery, with over two-thirds unidentified.  Continuing to the end of the road we reached Hill 62, a memorial honoring the actions of Canadian troops who defended this area between April and August 1916.  The hill stands 62 meters above sea level, hence the name, and offered a commanding view of the surrounding area including Ypres.
Our next stop was the massive Tyne Cot Memorial, honoring the missing soldiers in Belgian Flanders.  As I mentioned earlier, this memorial bears the names of almost 35,000 men whose graves are unknown.  The cemetery itself has 11,961 headstones and of these 8,373 are unidentified.  There is a small museum on site where you can read more about the battlefields and the soldiers who lost their lives, it's incredibly sad to think of the thousands of unidentified soldiers whose families were left never knowing their fate.
Our final stop of the day was the Brooding Soldier memorial honoring the memory of Canadian soldiers who died from the first poison gas attack along the Western Front in 1915.  The memorial stands on the battlefield where 2,000 soldiers died, many whose remains were never found and are still buried in the surrounding fields.
It's been a somber and emotional day trying to imagine the horrors of war and reading about the hundreds of thousands of young men who made the ultimate sacrifice.  It's heartbreaking to see so many headstones and memorials to missing and unknown soldiers 💔
OOSTERSCHELDEKERING, VEERE AND MIDDLEBURG
We returned to the Netherlands for a day to view the Oosterscheldekering, the Eastern Scheldt Storm Surge Barrier.  Completed in 1986 and taking 10 years to build, the Eastern barrier is the largest part of the Delta Works, a series of dams and barriers designed to protect the Netherlands from North Sea storm surge.  The dam is 9 km long but 4 km are sluice gate type doors which are normally left open to allow water to flow back and forth, but can be closed under severe storm conditions.  It's a mind blowing piece of hydraulic engineering and has been declared one of the modern Seven Wonders of The World.  Typically the dam is closed once a year and only if the water level is predicted to rise more than 3 meters above the normal level.  The rest of the time, water flows in and out with the tides preserving the ecosystem on both sides of the dam.
As we headed back into Belgium, we stopped for lunch in the quaint little town of Veere.  It was a beautiful sunny Sunday afternoon of a long weekend so the crowds were out en masse.  Luckily we found a restaurant on to the water to relax, have a meal and a cold drink.  After lunch we took a walk around town admiring the local architecture, which like all small towns is basically a town hall and a church.
Leaving Veere we stopped in Middleburg, another pretty town along the way back to Belgium.  We found a couple of interesting buildings but what we enjoyed the most was listening to a choir practicing in the Abbey.

DODENGANG (THE TRENCH OF DEATH)
It's hard not to visit war memorials when there are so many of them around the countryside.  The Trench of Death near Diksmuide dates back to WWI and as it's name suggests, was amongst the most treacherous of trench systems in Belgium.  The trenches are amazingly well preserved and is the only preserved trench system from WWI providing an insight into how hard life was on the front lines.  In 1915 the Belgian military decided to dig these trenches to create an offensive line against the Germans, stopping them from crossing the Yser Canal.  Belgian soldiers fought here under the most horrific conditions until September 1918 with sometimes only a ditch separating them from the Germans.  The museum on site has interactive screens, life-size pictures, films and many original objects from the war.
In the blink of an eye, our time in Belgium is over!  Bruges and Ghent were our favorite places and with so much to see in each town they warranted their own blog entry, otherwise you would be reading about Belgium here for hours 😂  We have thoroughly enjoyed our time here and like the Netherlands, a lot more time could be spent slowly exploring other regions and the big cities, we really only scratched the surface of what each country has to offer.  So until next time, we say farewell to Belgium as we begin our journey south into France…..