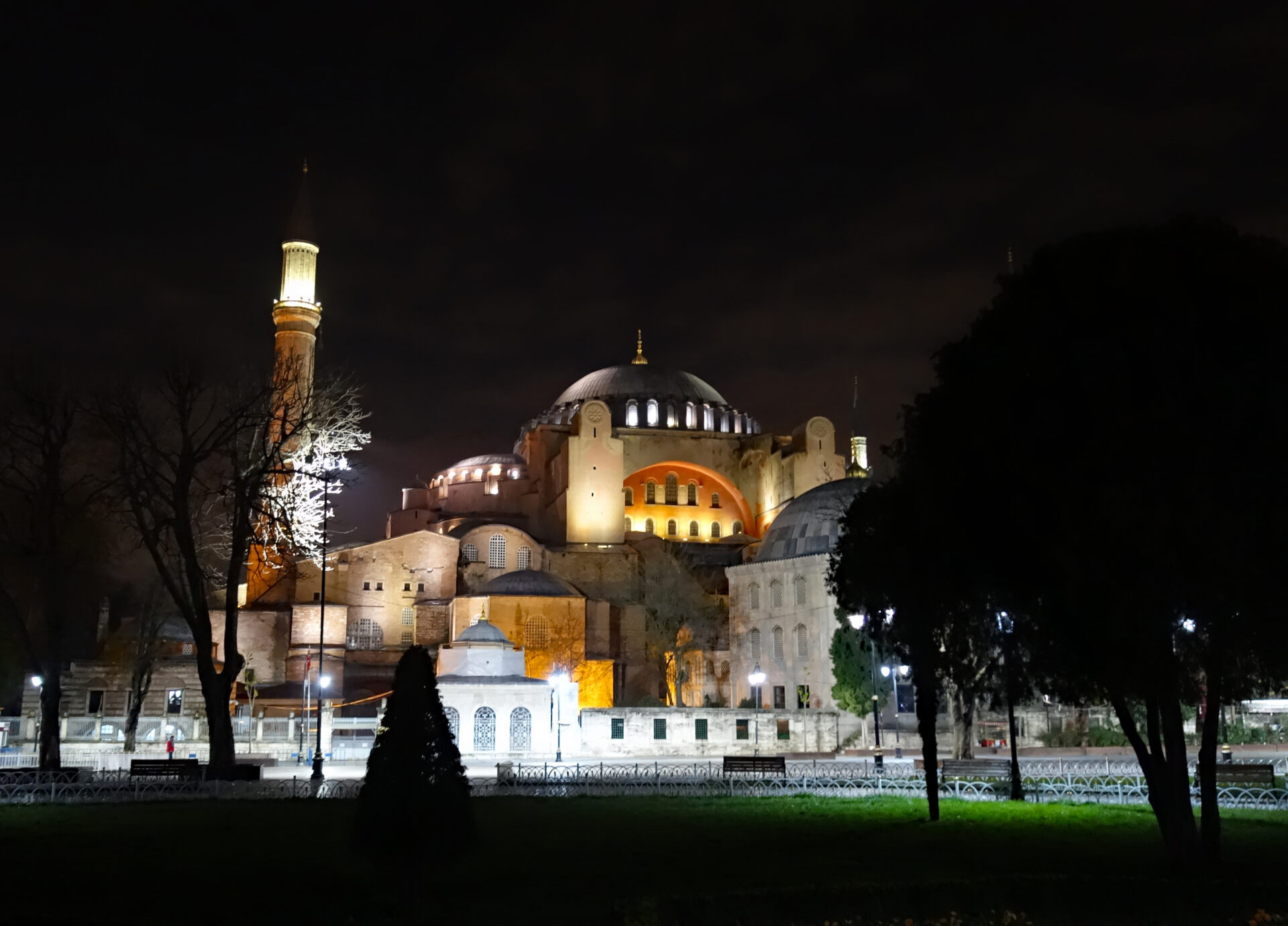 Growing up, the name Istanbul conjured up exotic images of ancient cultures, history and beauty in mysterious far off lands.  In reality, Istanbul is a busy, noisy, intriguing, captivating, ancient mega city, one of the largest in the world.  Straddling the Bosphorus Strait the city lies on two continents, Asia and Europe.  Turkeys largest city and principal seaport, historically known as Byzantium then Constantinople, was the capital of the Byzantine Empire and the Ottoman Empire, leaving behind an extensive collection of historical sites.  Istanbul has stood for 2,500 years ruled by the Greeks, Romans and Venetians before the Ottomans arrived in 1453.  The city was the final stage on the legendary Silk Road linking Asia with Europe and the many merchants who came here decided to stay giving the city a rich and diverse culture retained to this day.  Today there are over 15 million inhabitants in this sprawling city and growing steadily every year.
We landed in Istanbul as the sun was rising after leaving Muscat, Oman at the inhuman hour of 3:20am arriving 5 1/2 hours later at 7:55am local time.  Pegasus Airlines was our only option from Oman to Istanbul, not our favorite flight so far, but it was inexpensive.   Arriving at an early hour with no sleep the night before made for a very tired beginning in Istanbul.  Our hotel was amazing and found us a room right away, at no charge, so we could sleep, moving us to our reserved room the next day.  And sleep we did!!
Our boutique hotel, Rose Garden Suites, is in the Sultanahmet neighborhood on the European side of Istanbul where most of the famous historical sites are located.  After a few hours rest we began exploring our neighborhood and to our surprise ended up at The Sultan Ahmet Mosque aka the Blue Mosque.  We had not realized our hotel is a 5 minute walk away so while there we took the opportunity for a quick look inside.  It is free to enter the mosque but you cannot go in during prayer times.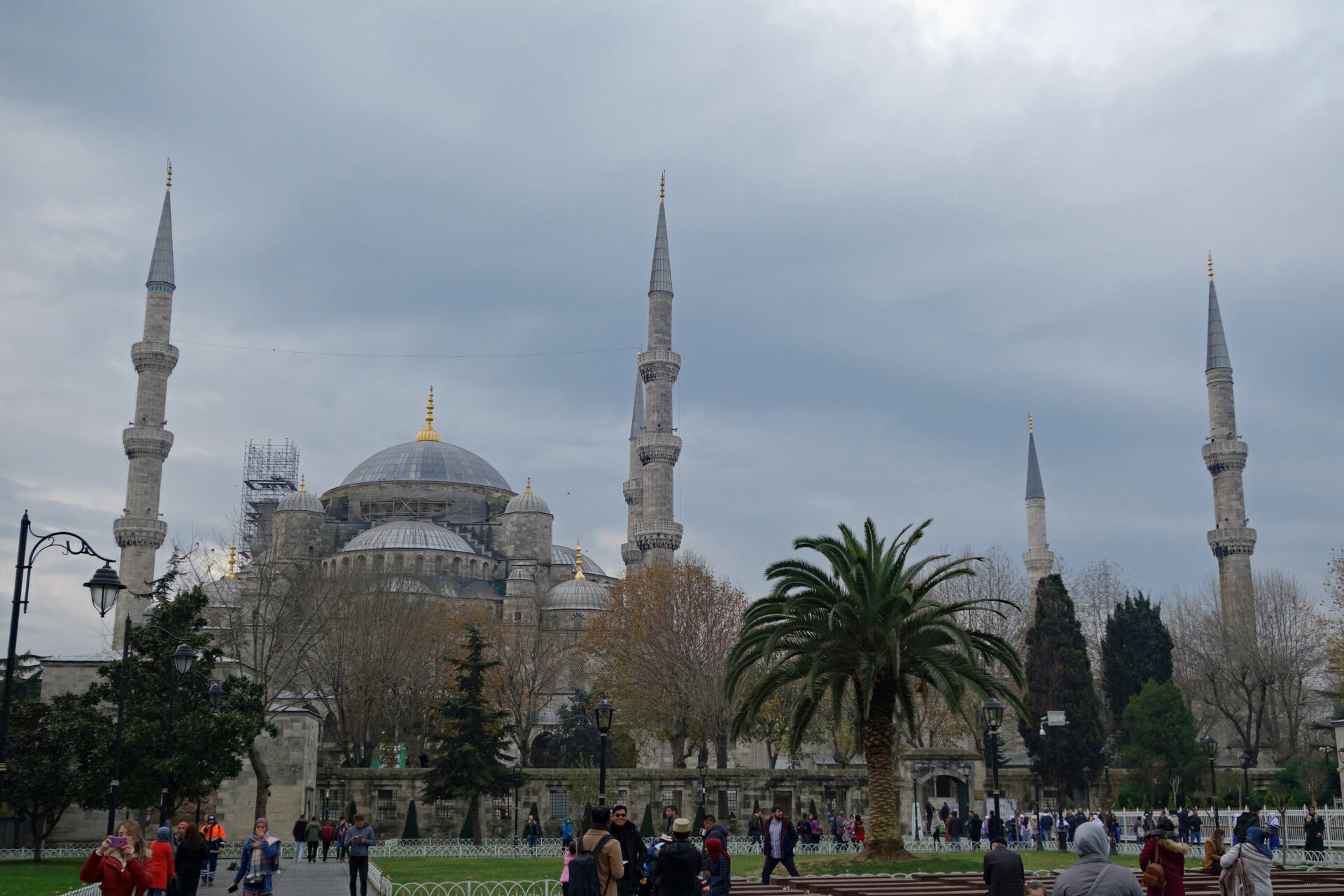 Once inside we saw that much of the mosque is under restoration and the famous large interior dome is totally covered up, as are many of the walls and marble columns.  We were very disappointed and this somewhat diminished our enjoyment of what we had heard was another beautiful mosque.  Despite this, the few walls and partial domes we were able to see were amazing.  In fairness to the mosque, we did go back for a second visit when we were not so tired, and were able to fully appreciate the outstanding mosaic work that was still open to view.  The mosque was built between 1609 and 1616 during the Ottoman rule by Ahmed the first and is still used as a mosque today, as well as being a popular tourist attraction.  The name Blue Mosque was given in regard to the over 20,000 handmade ceramic tiles decorating the interior and is the only mosque in Istanbul with 6 minarets, earning it the title of Istanbul's most photogenic building.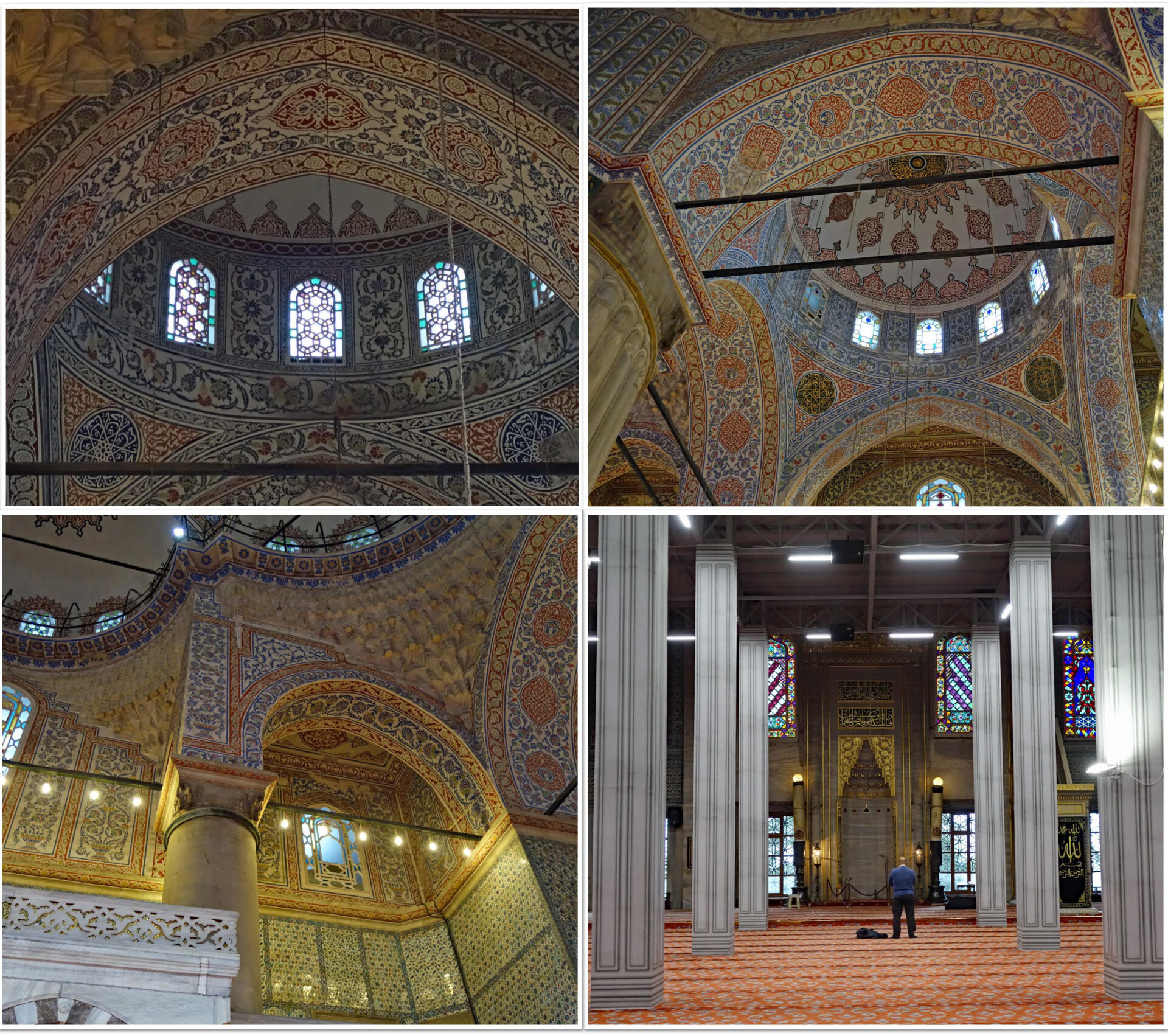 Beside the Blue Mosque is the Hippodrome of Constantinople, a rectangular arena where chariot races were once held.  Today it is a large open meeting place and promenade with several monuments down the middle, but much of what this arena was has long been damaged or demolished.  The obelisk in the center of the Hippodrome was originally from the Temple of Karnak in Egypt from 1450 BC and moved to Istanbul in the 2nd century making it over 3,500 years old!!!  What remains is only the top two thirds of the original, it must have been quite a sight to see when full size.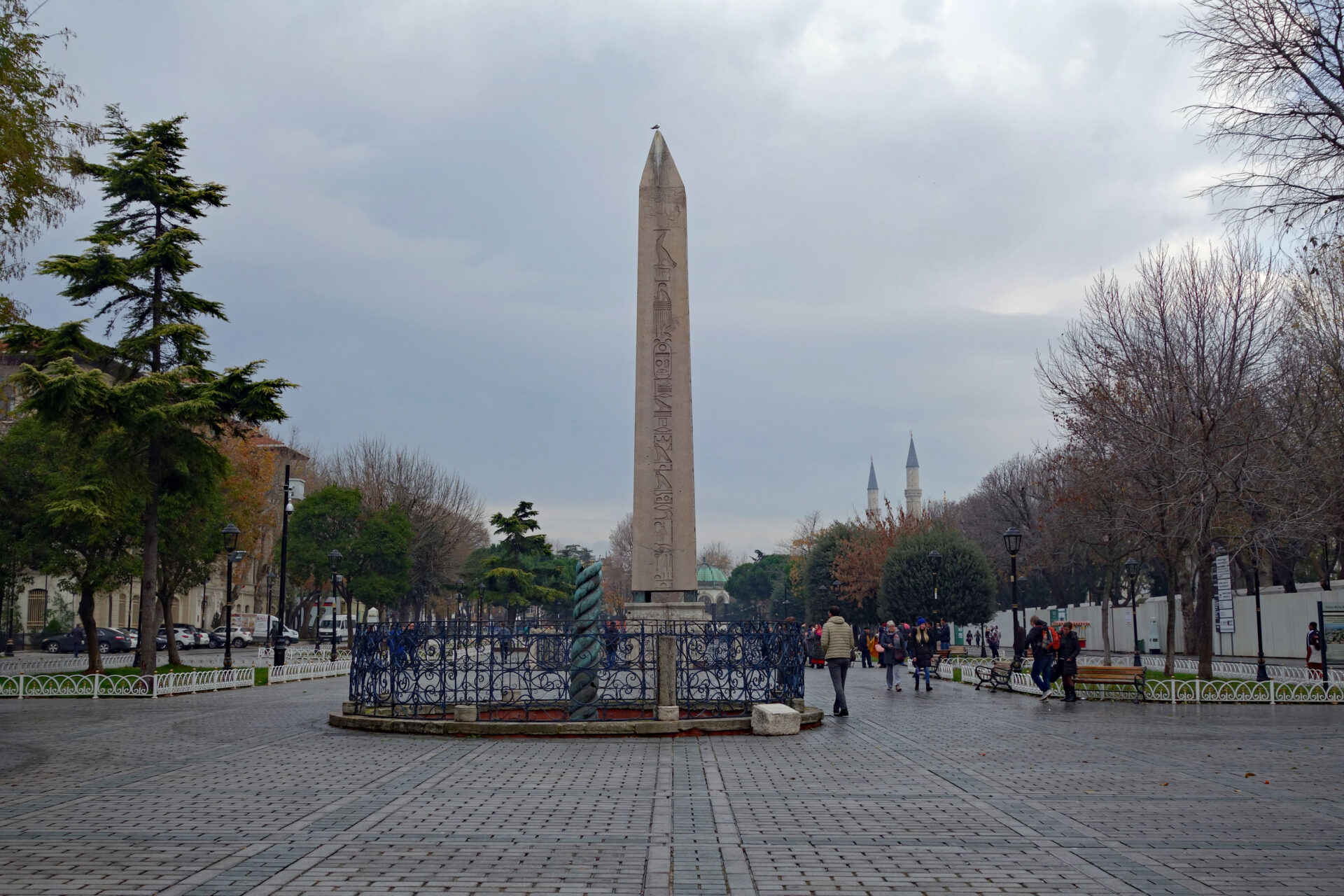 From the Hippodrome we wandered over to the Topkapi Palace, a sprawling museum complex expanded over 400 years by each successive Ottoman Sultan from 1478 to 1856.  The ticket cost for the palace was 60 TRY (11.30 USD) each however for 185 TRY (34.90 USD) each we purchased an Istanbul Museum Pass giving us access for 5 days to 11 locations around the city.  The Topkapi Palace is vast and even though we spent close to 4 hours there I am sure there are many areas we missed.  The palace housed up to 5,000 people at one point and was the political center of the Ottoman Empire from the 15th to 19th century.  As each Sultan added on to the palace it became a bit of a maze of buildings centered around various courtyards protected by different gates.  There is so much history, information and quantity of artifacts here I will leave it to you the reader to decide if you are interested in further details.  It was a fascinating few hours for us, despite the crowds, even at this time of year!!!

The Basilica Cistern in Istanbul was built in 532 and was the major water reservoir of Constantinople.  It is the largest surviving Byzantine cistern in Istanbul with 336 marble columns in the cistern which held up to 80,000 cu meters of water.  Disused and forgotten for hundreds of years it was rediscovered in 1545 and ignored again until 1985 when it was cleaned, renovated and opened to the public in 1987.  It is a dark, damp place to visit and amazing that such an enormous project was built as early as 532.  This eerie setting has been featured in a 1963 James Bond movie and the 2013 Dan Brown Inferno movie.  Inside the cistern are two mammoth Medusa Heads, one on it's side and the other upside down, supposedly to remove her powers, but there is no confirmed reason why they are there.  The cistern was not included on our Museum Pass and cost 20 TRY (3.77 USD) each to visit.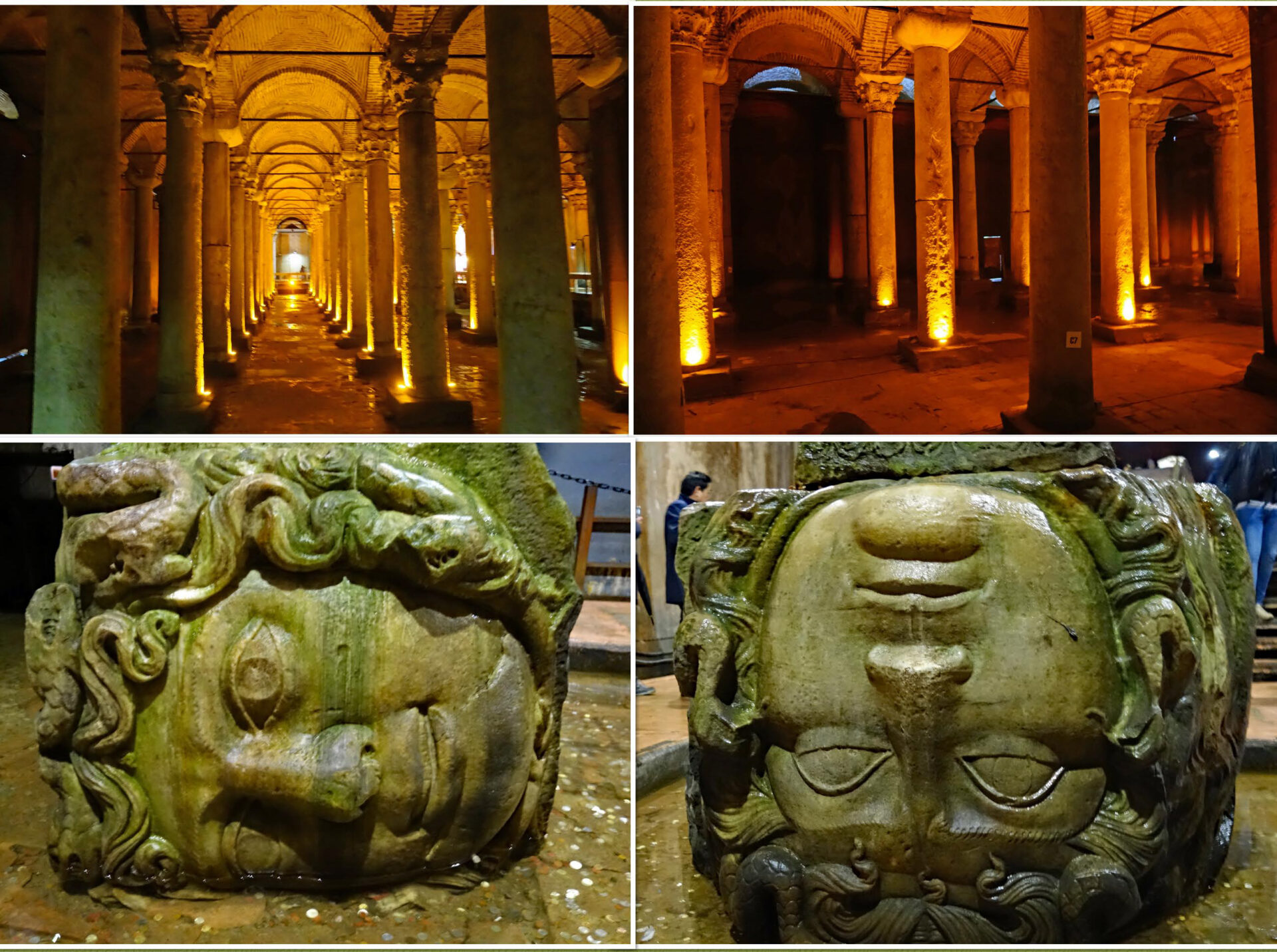 The Hagia Sophia is listed as the #1 tourist attraction in Istanbul, once a church, later a mosque and now a museum where you can see both Ottoman and Byzantium effects under one great dome.  The center dome measuring 32m in diameter is deemed by art historians to be the most beautiful in the world.  The church is said to have been built by Constantine in 325 on the foundations of a pagan temple.  It was rebuilt after a fire in 415 and burned again during the insurrection of 532 and reconstructed by Justinian as a Greek Orthodox Church.  The structure now standing is essentially from the 6th century although the dome collapsed during an earthquake in 559 and was subsequently rebuilt.  In the 1453 the Ottomans arrived and Mehmet the Conqueror declared it a mosque, minarets and a great chandelier were added and it served at Istanbul's principal mosque for nearly 500 years.  In 1935 it was turned into a museum.  Many of the Christian mosaics were plastered over when it was converted to a mosque but they are being restored and now sit side by side with Islamic artifacts.  We enjoyed our visit to the Hagia Sophia spending over 2 hours there admiring the variety of artifacts and absorbing the tremendous history of this massive building.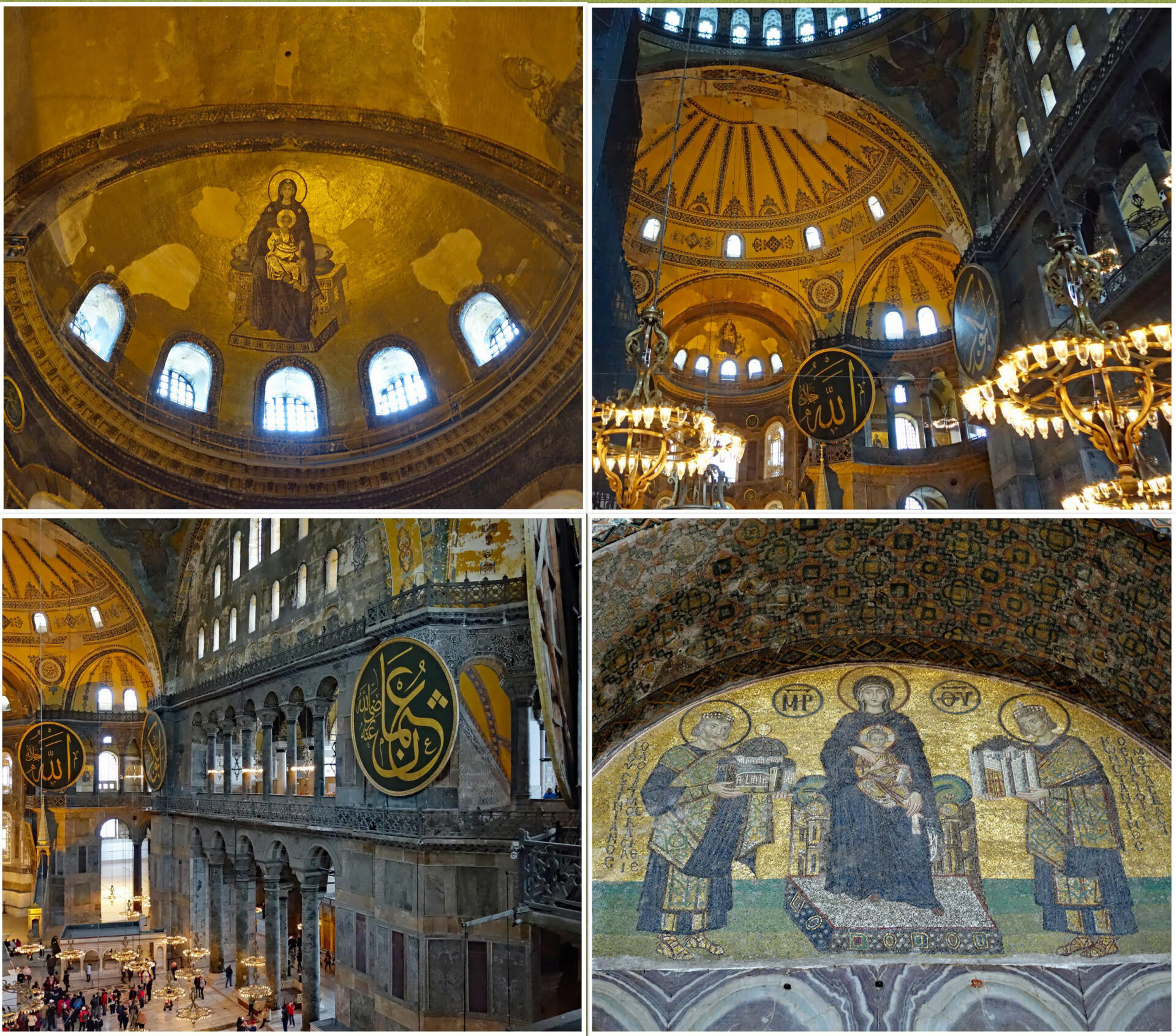 The Grand Bazaar is, well…..GRAND!!  The bazaar itself and the surrounding streets cover a huge area.  We went in one of the many entrances, passing through a metal detector, and proceeded to spend a few hours wandering aimlessly and getting totally lost, which is part of the fun.  The covered bazaar is a maze of narrow streets heading off in every direction, with every imaginable item for sale.  Our purchases were a lovely cashmere scarf for Blair (he is freezing), a beautiful black silk/pashmina wrap for me and the obligatory Istanbul t-shirt.  That being said, it is the first t-shirt I have purchased in our 11 ½ months of travel, in case you were thinking I am a shopper 🙂  The bazaar was very enjoyable to spend time in because the vendors generally let you wander around without being overly pushy or aggressive, as they were in Dubai, and we made a few forays into the bazaar during our time in Istanbul.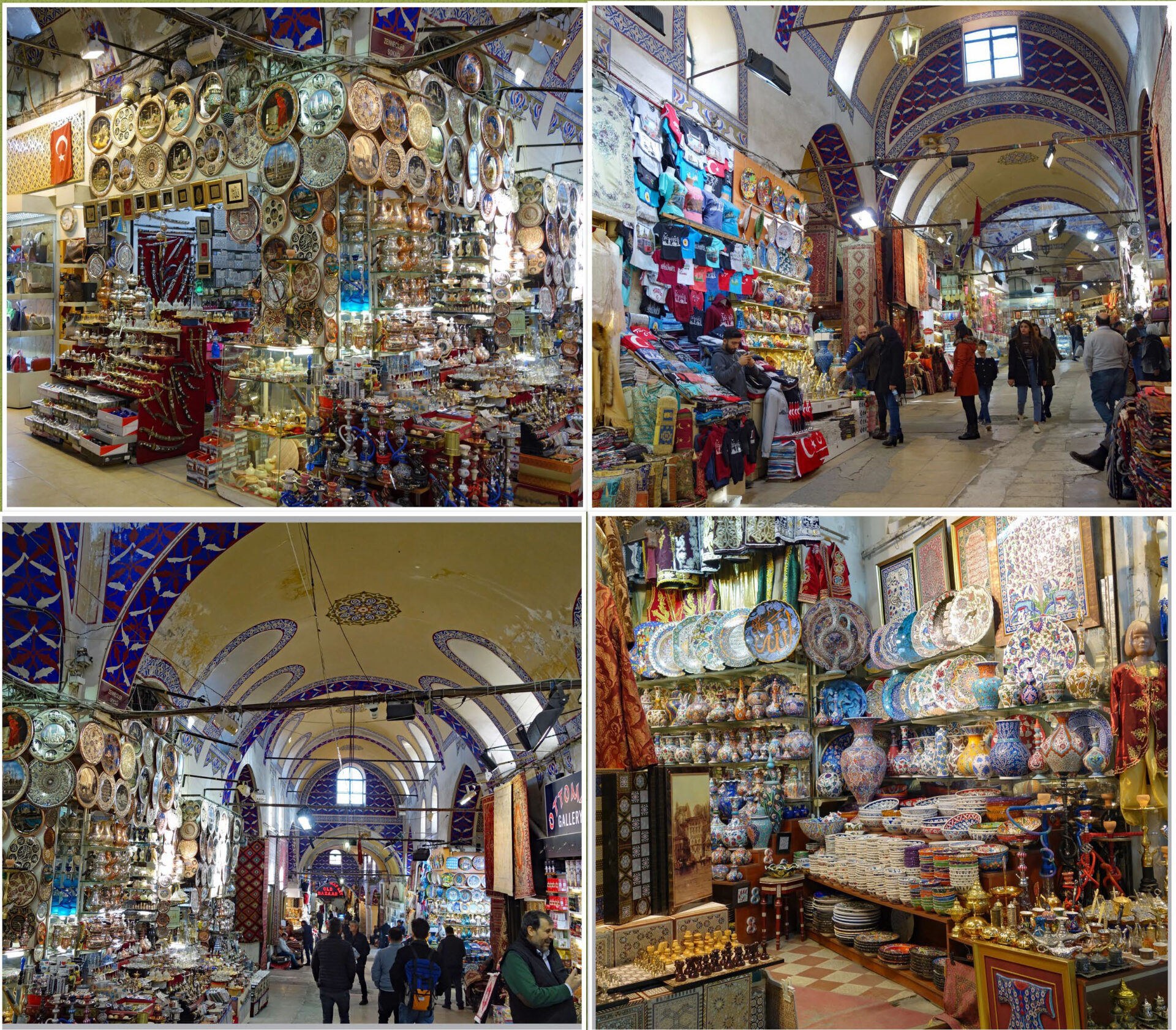 We did another Hop On/Hop Off bus tour in Istanbul and because it is winter season they were offering a two day pass for the same price as a one day pass, which cost 33 Euros (37 USD) each.  The first day we took the Red route which crossed over to the Asian continent briefly at the turnaround point of the tour.  Our first hop off was at Taksim Square in the heart of modern Istanbul.  The Square was much quieter than I expected with a large police presence, possibly because it was a central area of trouble during the 2016 attempted coup.  There was a stage and some stalls off to one side, perhaps in preparation for a small concert.  Leading off Taksim Square is Istiklal Street, a 1.5 mile long pedestrian street with a lovely old tram running down the center.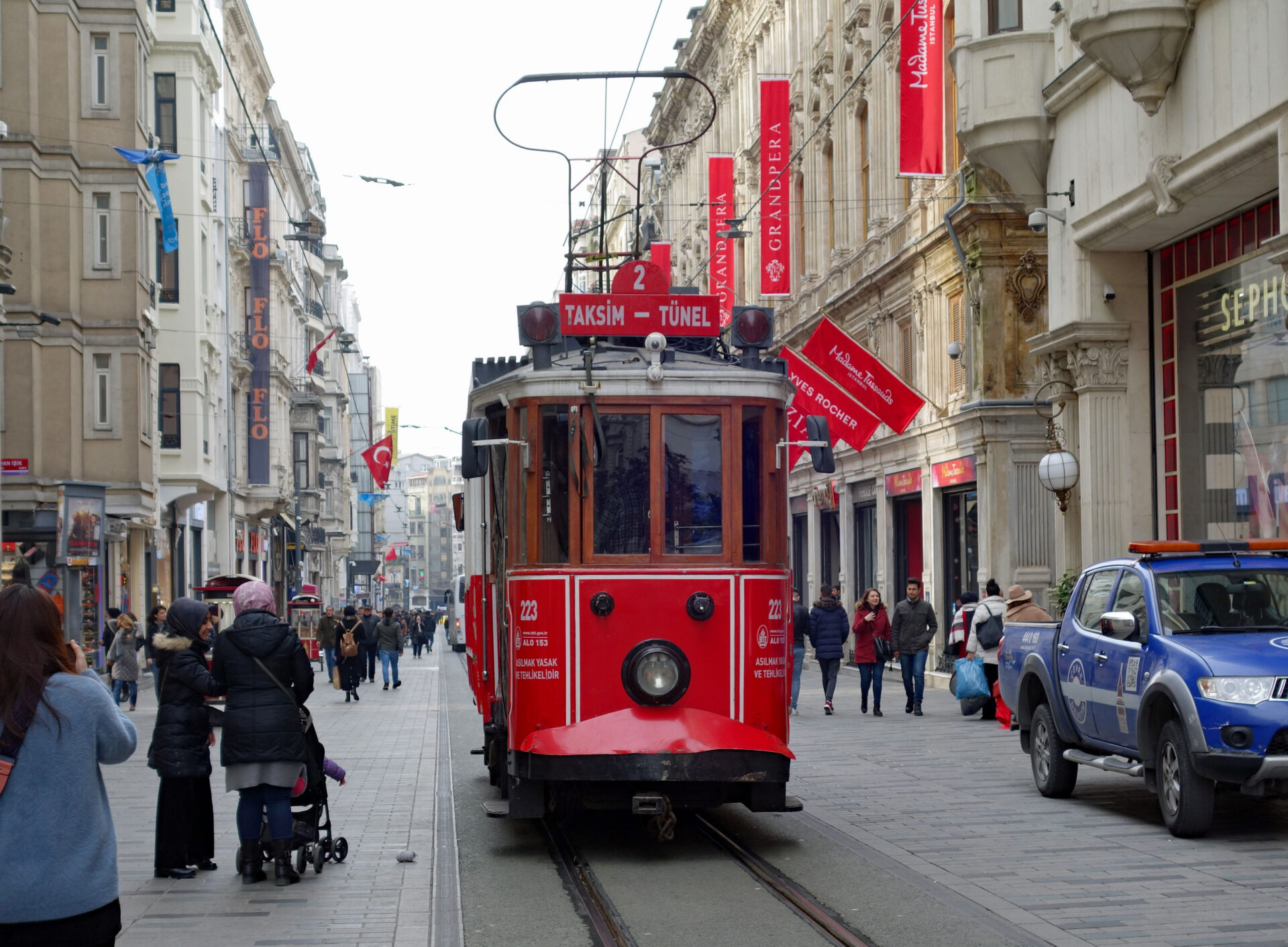 Istiklal Street is filled with shops, restaurants, patisseries, bars and nightclubs and busy with people 24 hours a day.  It was here we broke down and bought toques (knit hats for you non-Canadians), it is just way too cold here for the lightweight clothing we have with us.  Our next stop was the cylindrical Galata Tower constructed in 1348, dominating the skyline north of the Golden Horn.  The admission price was 35 TRY each (6.60 USD) which gave us access to an exterior balcony and there is also a small café where we had lunch to extend our time up there.  Galata Tower has been used as a prison, an observatory, a military lookout post and fire lookout over the years, but is now a place where tourists can enjoy panoramic views of Istanbul.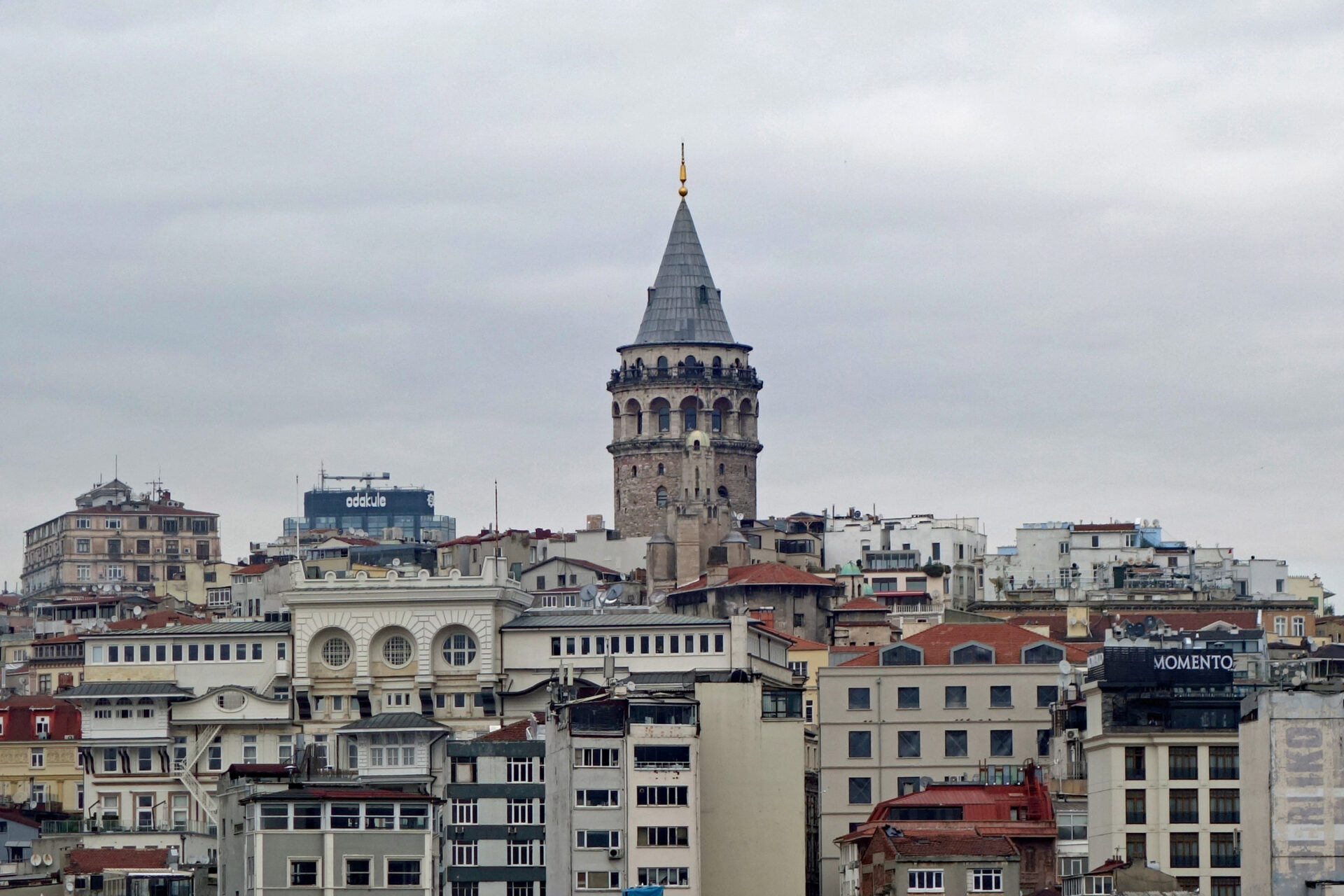 From Galata Tower we walked downhill and across the Galata Bridge to the Egyptian Spice Market.  The Galata Bridge, spanning the Golden Horn, is lined with hundreds of fishermen on both sides, and on the lower level there are numerous restaurants and cafes.  The real hub of activity though is at the base of the bridge on the South side where there are several floating kitchens churning out hundreds of grilled fish sandwiches, which we have been told is the best place to try one.  Maybe we should have had lunch there!!  We crossed the road and entered the Egyptian Spice Market, the second largest and oldest covered market in Turkey, built in 1664.  The bazaar is an L shaped building and the best place in Istanbul to find spices, teas, nuts, dried fruits and endless Turkish delight.  We visited on a Friday, everyone's day off, so the place was packed with locals doing their shopping.  Oh how I would have loved to buy some of the spices and teas on display!!!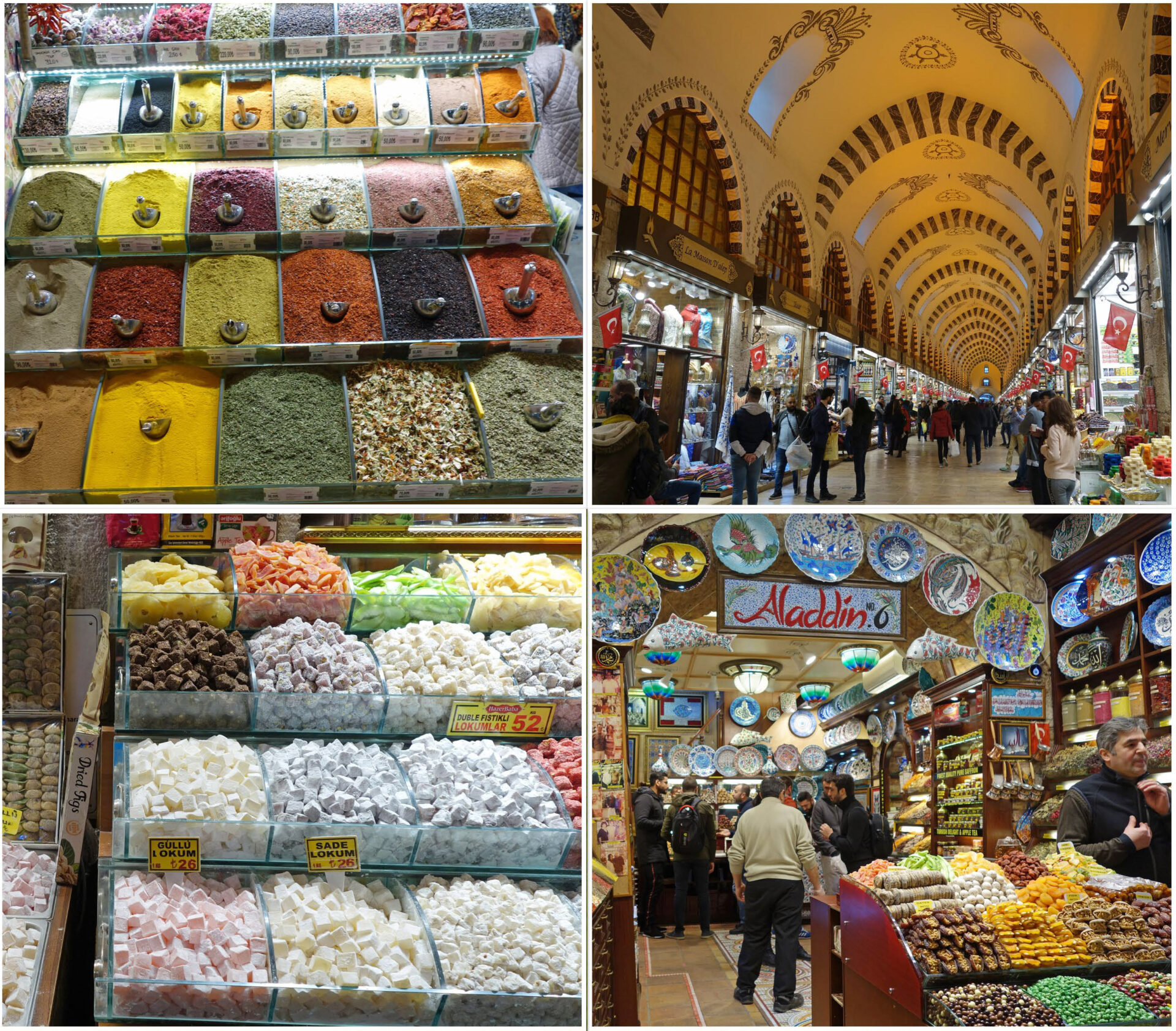 Our second day on the bus tour we tried the Blue Route which took us along both sides of the Golden Horn.  This was not quite as interesting a route and we did not get off until we got back to the Galata Bridge where the two routes intersect.  Before jumping on the Red Route bus again we walked to the floating kitchens near the bridge and bought a fish sandwich.  It was not as good as we had hoped, half a loaf of bread and a small piece of fish inside along with lettuce and onions, but it was worth trying at a cost of 12 TRY (2.26 USD).  Back on the Red Route we took the bus to the Beylerbeyi Palace on the Asian side of Istanbul, and purchased entry tickets at a cost of 40 TRY (7.55 USD) each.  This palace was the summer residence of Ottoman Sultans, built between 1861-1865 on the shores of the Bosphorus Straight.  Sadly photographs are not allowed to be taken inside the palace.  It is over the top opulent with massive Baccarat crystal chandeliers everywhere, intricate woodwork on the walls, huge porcelain vases and beautiful domed ceilings.  This site has some great photographs of the beautiful interior.
As well as touring the requisite historic sites we dined in many Turkish restaurants around our neighborhood and tried the local street food.  There are hundreds of restaurants close to our hotel so we had no problem finding new places to try, and when we needed a break from Turkish food, we had a fantastic pizza place just up the street, owned by our new Turkish friend Ferhat.  Inside the courtyard of our hotel is a lovely restaurant called Garden Mezze, where our included breakfast was served, plus we had a few dinners there when the weather was too wet to go very far.  It turns out this restaurant is ranked #1 on TripAdvisor out of 12,576 restaurants in Istanbul…..WOW…..we lucked out having this restaurant on our doorstep 🙂  Click here for a good site explaining the variety of Turkish cuisine.  A staple seems to be kebabs, they are everywhere, and Turkish tea is offered free after your meal.  Then there is Turkish Delight, the sweet traditional confection based on a gel of starch and sugar.  My favorite was a pomegranate flavored gel filled with pistachios, dusted with powdered sugar…..yummy!!!  Oh and don't forget the ooey gooey delicious baclava, another popular dessert in Turkey…..oh yes, I have a sweet tooth 🙂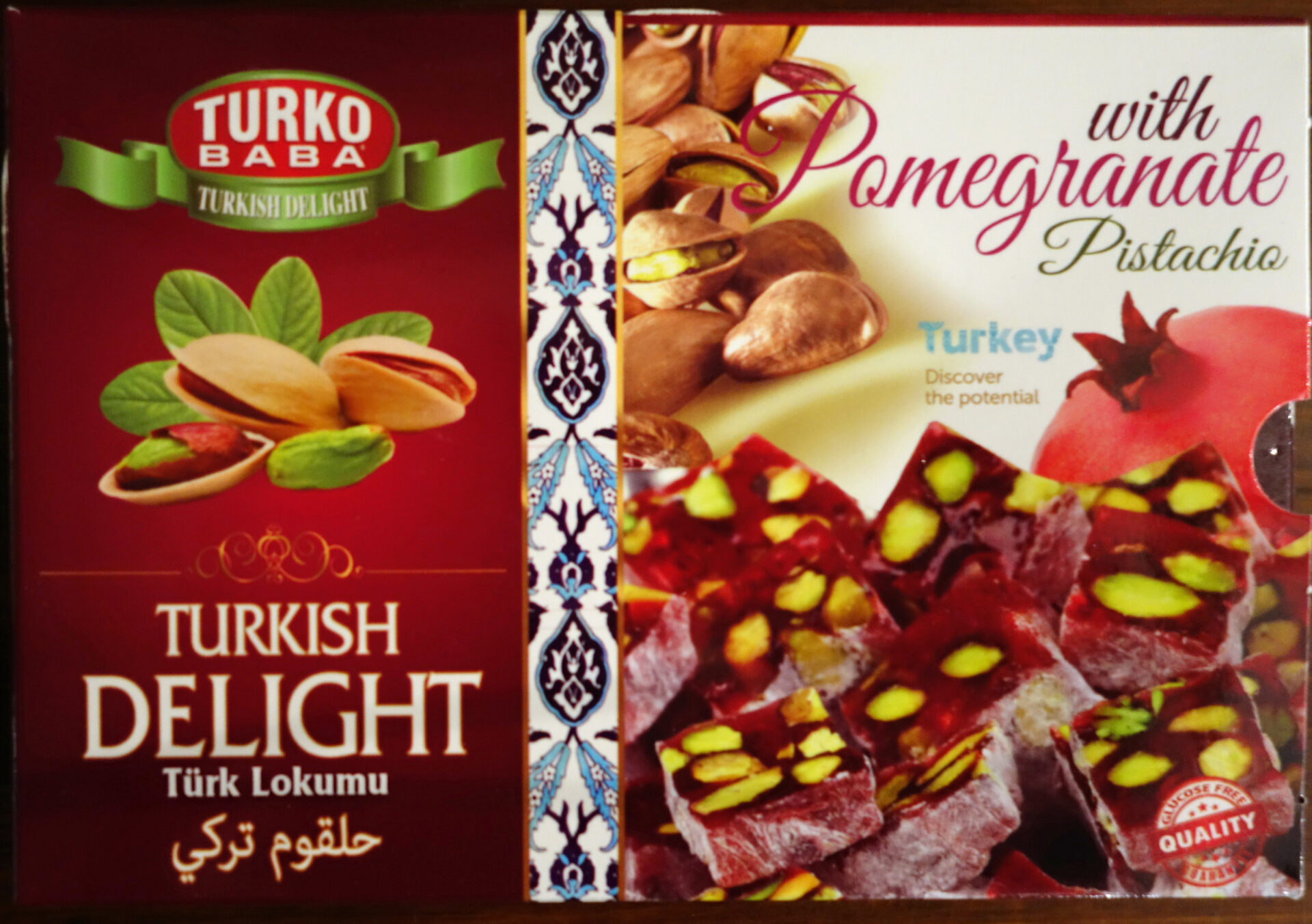 During our walks we were "befriended" by many Turkish men offering to be helpful with no expectation of money…..however what they do want is to take you to their carpet shop and try to sell you a carpet.  Once they are told we have no intention of purchasing anything from them, they will walk away.  It is not always pleasant trying to tell them to leave you alone, but it is the only way unfortunately. 
While in Istanbul we noticed many, many men walking around with big bandages on the back of their heads held on by headbands and bright red marks at the crown of their heads.  After a little research it seems that Istanbul is a prime destination for hair transplant surgery, approximately 60,000 of them each year!!  What can cost $25,000 in the US and Europe can be done for $600 to $2,000 in Istanbul.  Medical tourism is a booming part of Istanbul's economy, who knew?
12 days in Istanbul may seem like a lot but being on the road full time we like to have some down time in each city as well as sightseeing time.  Downtime was needed in Istanbul as once again we are both sick with colds ☹  This is getting a bit much and we are hoping that once we land in Spain with no flights for close to 3 months we can get healthy.  Airplane travel seems to be guaranteed to make us sick!!
Overall we had a great time in Istanbul and never felt unsafe, noticing a large tourist police presence everywhere we went.  Everyone we know who has been here has had nothing but positive comments, and we can be added to that list now.  Istanbul has sparked our interest in exploring more of Turkey and we are busy planning a return trip in the spring, when the weather is warmer.  We looked into a 2 day trip to Cappadocia, taking the famous balloon ride, but the temperatures are below freezing this time of year.  There is so much more to see in Turkey and we look forward to coming back soon, but for now we are off to Spain…..
Trip Tips:
Before our arrival in Turkey we applied online for a multiple entry, 90 day Visa at a cost of 65 USD each.  The site quotes 60 USD but there is a service charge added on.  It was processed quickly and easily using this site.
Our hotel was in the Sultanahmet neighborhood on the European side of Istanbul.  We highly recommend this area because the majority of the historic sites and bazaars are within walking distance, as is the starting point of the BigBus Tours Istanbul.
December may not be the best time to visit, we had close to 5 days of steady rain keeping us indoors all day.