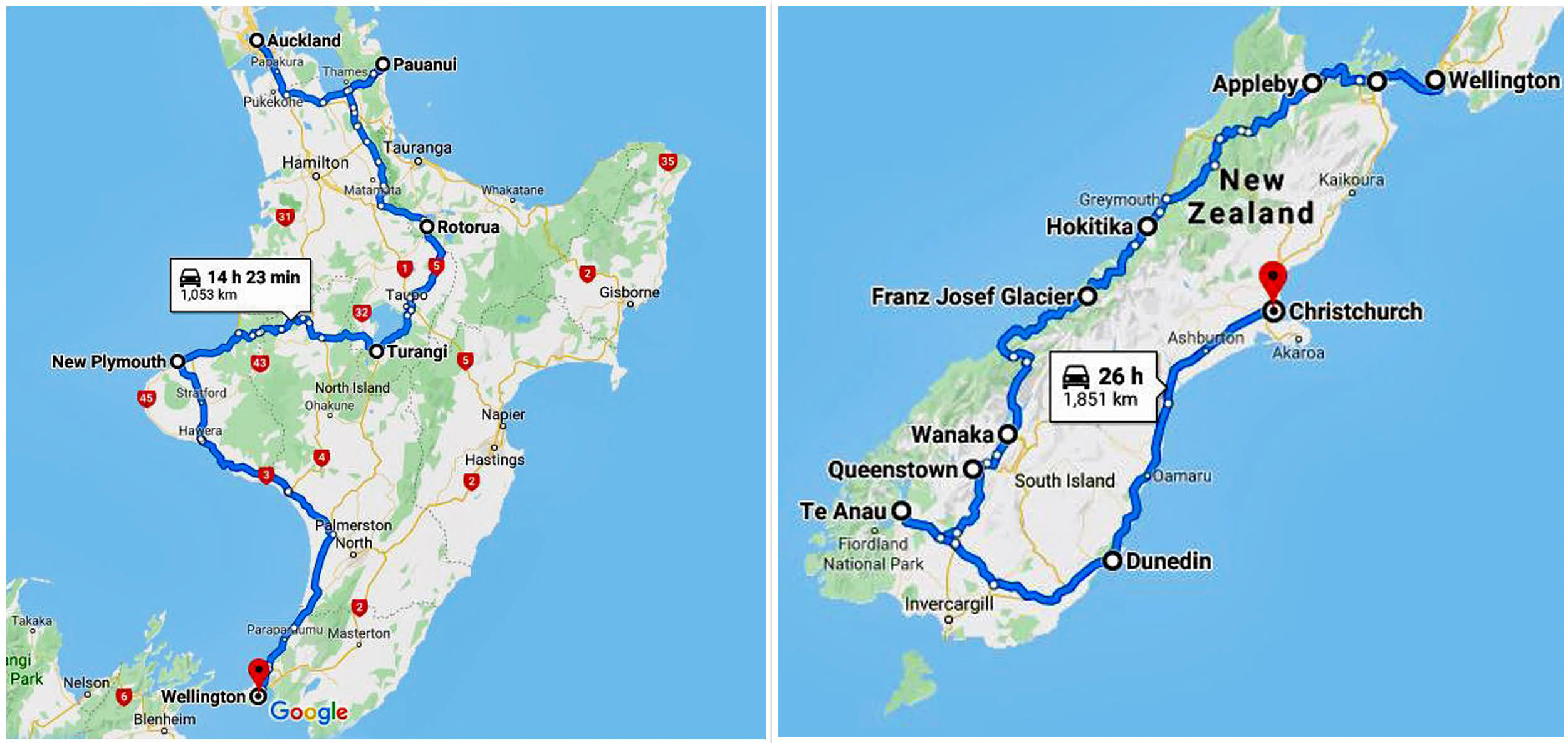 We have seen more of New Zealand than many Kiwi's  😊
Landing in Auckland October 8, 2019, our 89 day journey around New Zealand's two islands reached it's conclusion in Christchurch on January 6, 2020.  After celebrating Christmas in Dunedin and New Years in Christchurch we are set to begin our 3rd year of travel.  Looking back over our time in New Zealand I must say we preferred the North Island, and no doubt this has to do with the weather we enjoyed during those first 6 weeks. We had the intermittent cloud or rain but in general were able to spend a lot of time outdoors tramping, beach walking and sightseeing.  Our first week on the South Island was perfect weather but after that the following 5 weeks were a lot of cold and wet days, diminishing our ability to enjoy outdoor activities.
Recapping our tour of the North Island we began with a city break in Auckland.  Staying in the city center allowed us to walk to the popular harborfront area, which we quite liked, and tour the inner city on foot.  From Auckland we went to Pauanui and enjoyed a week at the beach touring the Coromandel Peninsula, it is really lovely and we would come back here.  It was nice to be out of the city and we kept that theme as we moved on to Rotorua.  There we stayed on a small cattle farm with great hosts and wonderful views over the valley, spending our time touring the various thermal sites, cycling and tramping.  After Roturua we stayed in Turangi, a town near Lake Taupo with not a lot to offer but it is close to the Tongariro Crossing which was most definitely the highlight of our time in New Zealand.  Not only was the crossing spectacular from a scenery point of view, but the fact we accomplished this arduous hike made us quite proud of ourselves.  💪  From Turangi we headed to the west coast city of New Plymouth, a lovely small city with easy access to the beach as well as the tramping trails around the gorgeous Taranaki Volcano.  Our final North Island destination was Windy Wellington, the capital of New Zealand.  We enjoyed touring the city, most notably the Te Papa Museum exhibits were highlights.  Overall we have enjoyed every place we stayed, although looking at the above map we did not make it to the east coast of the North Island…next time, it's where the wineries are!
Our travels around the South Island began with a relaxing ferry ride across the Cook Straight from Wellington to Picton, then driving to Appleby for our second farm stay in New Zealand.  This time we had sheep and chickens on the property and scooped up eggs every day from the chicken coop, what a treat that was.  Appleby is close to the famous Abel Tasman National Park, renowned for its coastal tramping track where we spent 2 days tramping.  This was the last of our good weather as we drove south along the rugged West Coast to Hokitika, a small beach town where it rained for 3 straight days.  From there we continued to Franz Josef Glacier where it continued to rain heavily for 2 days and road closures due to landslides began to happen.  We were extremely lucky to get out of Franz Josef and reach Wanaka, the one and only road was closed the day before and the day after there were two more large landslides, closing the road for over a week.  Oh boy, were we lucky to get out!!  The poor weather continued in Wanaka forcing us to cancel our planned hike up Roy's Peak, another special hike we had hoped to accomplish.  Next was our first city stay on the South Island in Queenstown, a small city but still larger than where we had been so far on the South Island.  Queenstown was bustling with hordes of adventure seeking young people with a really fun vibe to the city, it reminded us a little of Canmore, Alberta with all the "granola" type folks walking around.  The weather cleared and we enjoyed a few nice days allowing us to get out and do a few more hikes, notably the Ben Lomond Peak track.  After Queenstown it was off to Fiordland National Park and two fantastic day trips to Doubtful Sound and Milford Sound, enjoying quite good weather on both days.  This region is a must visit if you are coming to New Zealand.  Leaving the wet west coast we headed east across the South Island to the city of Dunedin, and the rain came with us  🌧  We got in a bit of sightseeing during breaks in the weather and celebrated Christmas here, it was not my favorite city, likely because of the weather.  Leaving Dunedin we drove north to our final destination of Christchurch spending a pleasant week exploring the city and spending time with some folks we know.  The weather improved and we got out for a few walks and some sightseeing with friends, we also celebrated New Years here.
My takeaway from our time in New Zealand is how much we enjoyed the numerous hikes and the wineries we toured.  It was an amazing opportunity to taste local wines available nowhere else and talk to small vineyard owners.  The hiking allowed us to see some breathtaking scenery only available if you walk yourself to the top of the mountain, I think we have well earned the title of New Zealand "trampers".  We leave New Zealand with a great many wonderful memories and photographs of our time here.
The website we found most useful for finding hikes and researching the tracks in detail was NZ Walks Information.  You can zoom in on your selected area, click on one of the green buttons and the track name and distance will pop up.  Clicking on the pop up opens up more detailed information about the hike.  We found this site invaluable to find places to go tramping.  Another site with even more detail on specific tracks is the Government Parks and Recreation website.  Between these two sites you can get all the details you need on pretty much any track in New Zealand.
We have met some really great people during our time in New Zealand and have enjoyed getting to know the locals.  Here are some memorable quotes we heard along the way:
"Canada is like New Zealand on steroids" from a white water rafting guide in Rotorua who had been to British Columbia
"The North Island only has 3 mountains, and they make a huge deal out of it.  It wasn't until I went there that I realized they are a huge deal"  from a South Islander referring to Tongariro
"Ahhhh Possums, New Zealand speed bumps"  they are a pest in New Zealand
Spending 3 months in New Zealand one might think this was more than enough time to see everything, how wrong we were to think this.  The two islands are completely different and for such a small country, it packs a one two punch with how much there is to see and do here.  I have said to Blair a few times these past months that this may be our one and only chance to visit New Zealand, mainly due to how far away it is from pretty much anywhere, but now we will really try to make it back.  We love it here, but most of all we enjoy the friendliness of the Kiwi's and their relaxed attitude towards life, kind of like Canadians.
Until next time, Kia Ora New Zealand, we miss you already  ❤
Trip tips
Before arriving to New Zealand apply online for your visitors visa, book your flight leaving New Zealand and have any visas required for the country you are going to after New Zealand.
Don't miss Hobbitton while visiting New Zealand, it was most definitely a highlight.  Reservations ahead of time are essential, you can book tickets on their website here.
The Tongariro Alpine Crossing is a must do if you are physically able.  This was the best experience of our time in New Zealand.  There are numerous shuttle operators and we were very happy with Tongariro Expeditions.  Their prices are comparable to other companies and we found their service very efficient.
If you are visiting Wellington, don't miss the Te Papa Museum, definitely a highlight.
If you want to take a car on the ferry between the North and South islands the only company we found who allowed this was Aerodrive, we booked our car through rentalcars.com for our 89 day tour of New Zealand
The Abel Tasman Coast Track is another do not miss location with breathtaking scenery.
Fiordland National Park may be the top tourist attraction in New Zealand.  If you have the time, we preferred Doubtful Sound over Milford due to it's remoteness and being less commercialized.