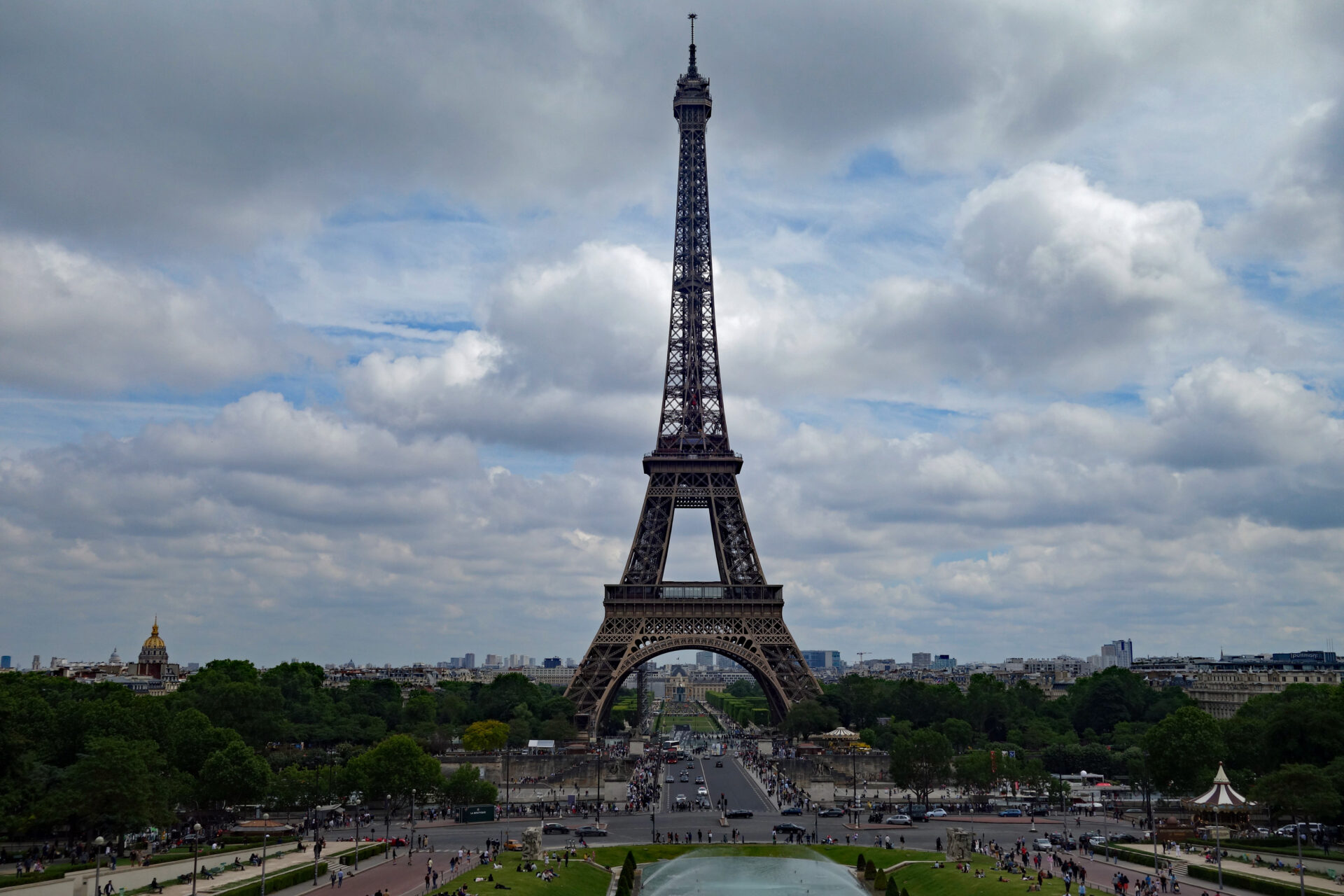 Paris is the capital and most populous city in France with an estimated population of just over 2 million residents.  The monument lined boulevards, museums, endless bistros and boutiques are enhanced by a wave of multimedia galleries, creative wine bars and boutique hotels offering something for everyone.  The iconic architecture of the wrought-iron Eiffel Tower, the imposing Arc de Triompe guarding the glamorous Champs Elysees, the Notre Dame Cathedral and numerous bridges spanning the Seine are the emblems of this city and what draws us here.  The more we come to Paris, the more we discover the endless variety of places to see which will keep us coming back again and again.  With an illustrious pedigree of artists –  Renoir, Rodin, Picasso, Monet, Dali and Van Gogh are a few of the masters who have lived and worked here over the years – Paris abounds with great art.  For the fashionistas, Paris is at the forefront of international trends with established designer boutiques and haute couture houses showcasing the latest styles.  This is the perfect city to window shop, admire the finery on display, and then gasp at the price tag!!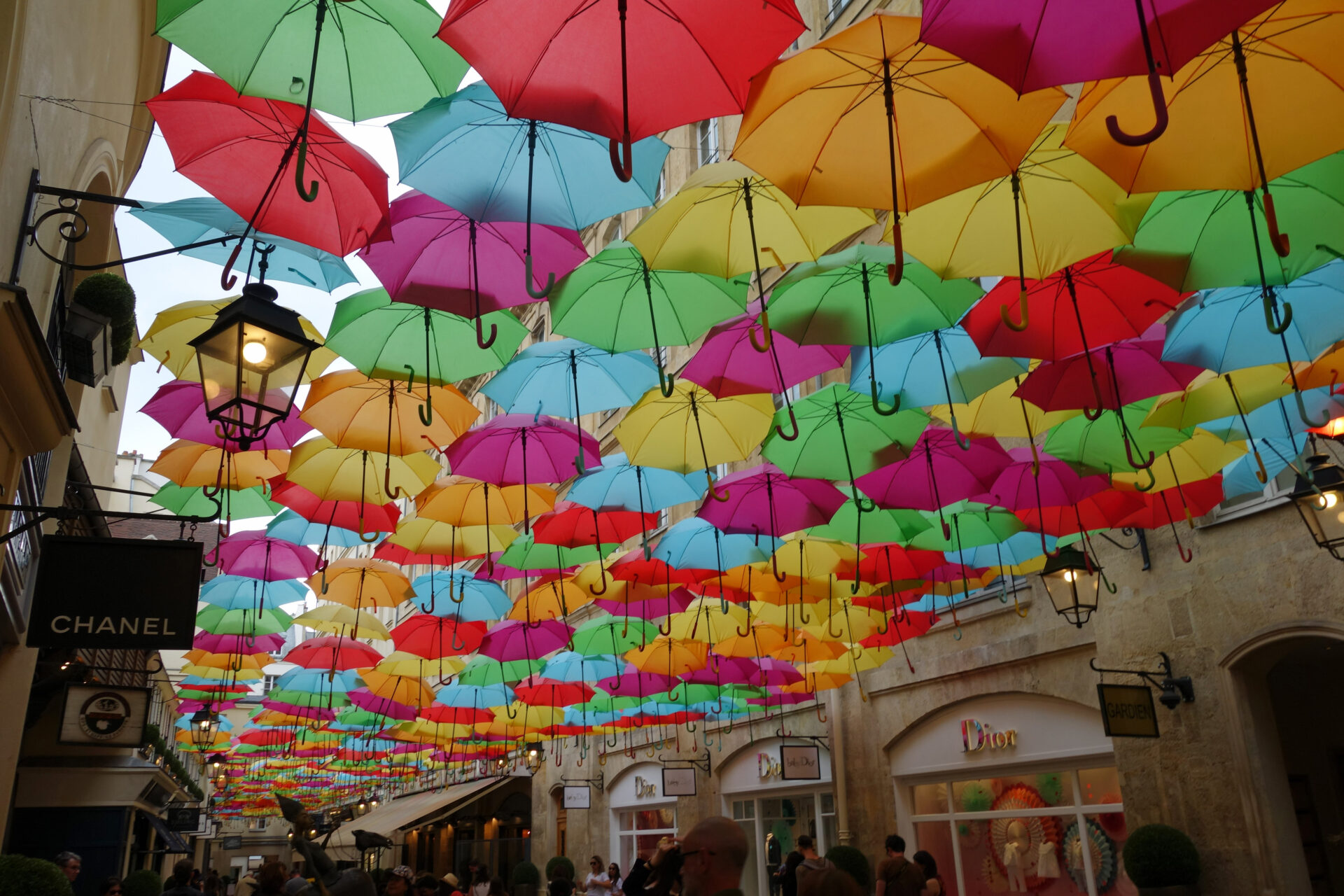 It was one year ago we began our European/Middle East travels landing in Paris on May 27, 2018 for a one week stay in this vibrant city.  This time we are returning to the city of light to meet Jim & Terrie, friends from Calgary who are here on holiday.  We are only in Paris for 4 nights, squeezing this trip in between other plans to meet up with people.  It is a popular time of year for our friends to be vacationing in Europe 🙂  We found a quaint, newly renovated, Paris size apartment on the 7th floor, with a view of the Eiffel Tower, close to the hotel our friends are staying at.  Click here for a video of the Eiffel Tower sparkling at night, this occurs on the hour lasting 5 minutes.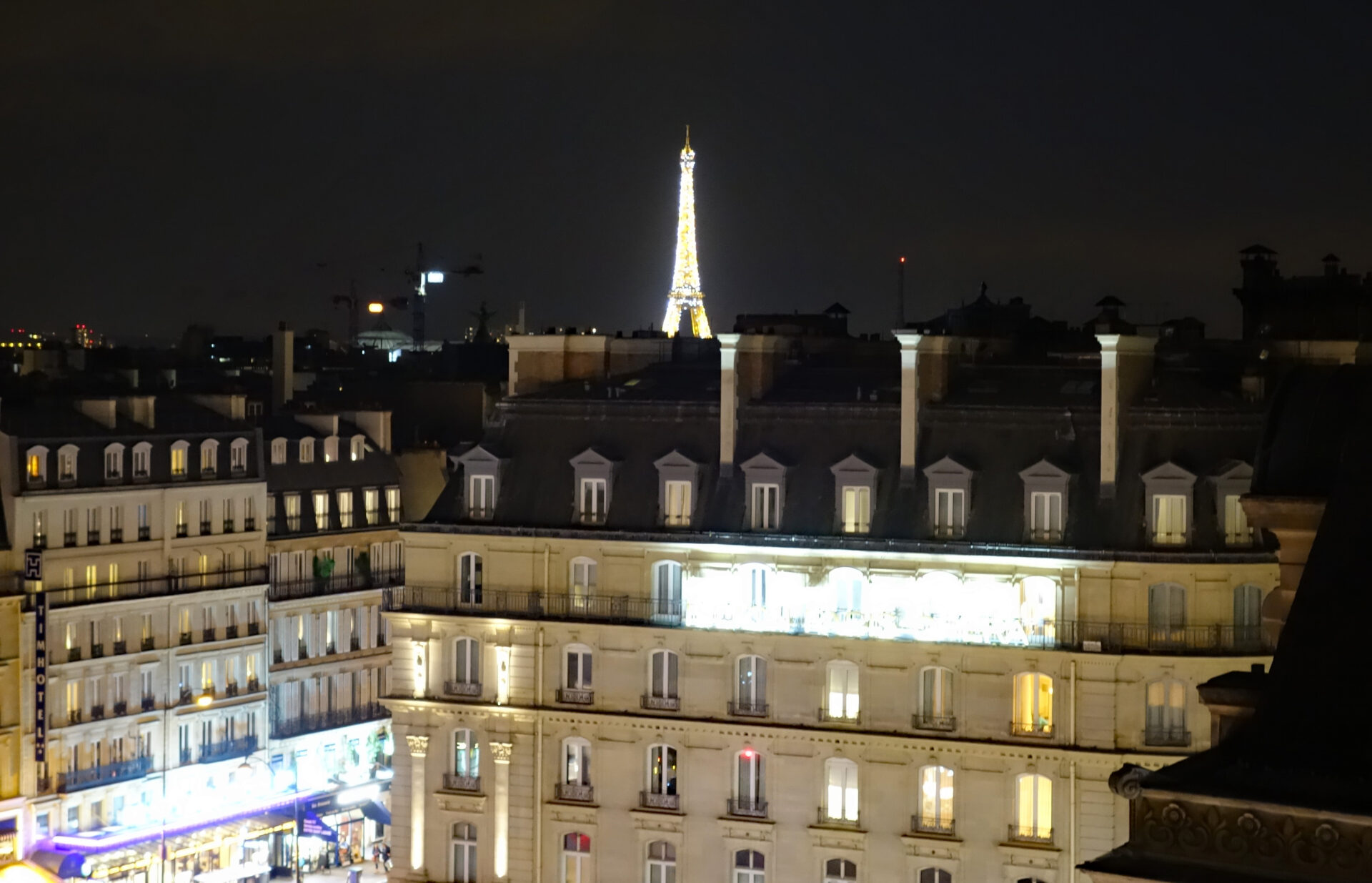 We are staying on the right bank in the 8th arrondisement, our second time staying on this side of the Seine.  We are near the theater district and the designer shopping district, consequently it is much busier and noisier than the Left Bank where we have stayed previously.  Last year our apartment was in the 6th arrondisement overlooking the gardens of the Prime Ministers Palace, a lovely and quiet oasis, but the apartment not as modern.
This visit to Paris was a holiday from our regular travels, it was an action-packed long weekend vacation with friends.  We walked, and we walked, and we walked around Paris taking in as much as we could.  Shopping, restaurants, historic sights, art exhibits and endless champagne have made our time here outrageously fun.  They say Paris never sleeps, well neither do visitors with so much to see and do.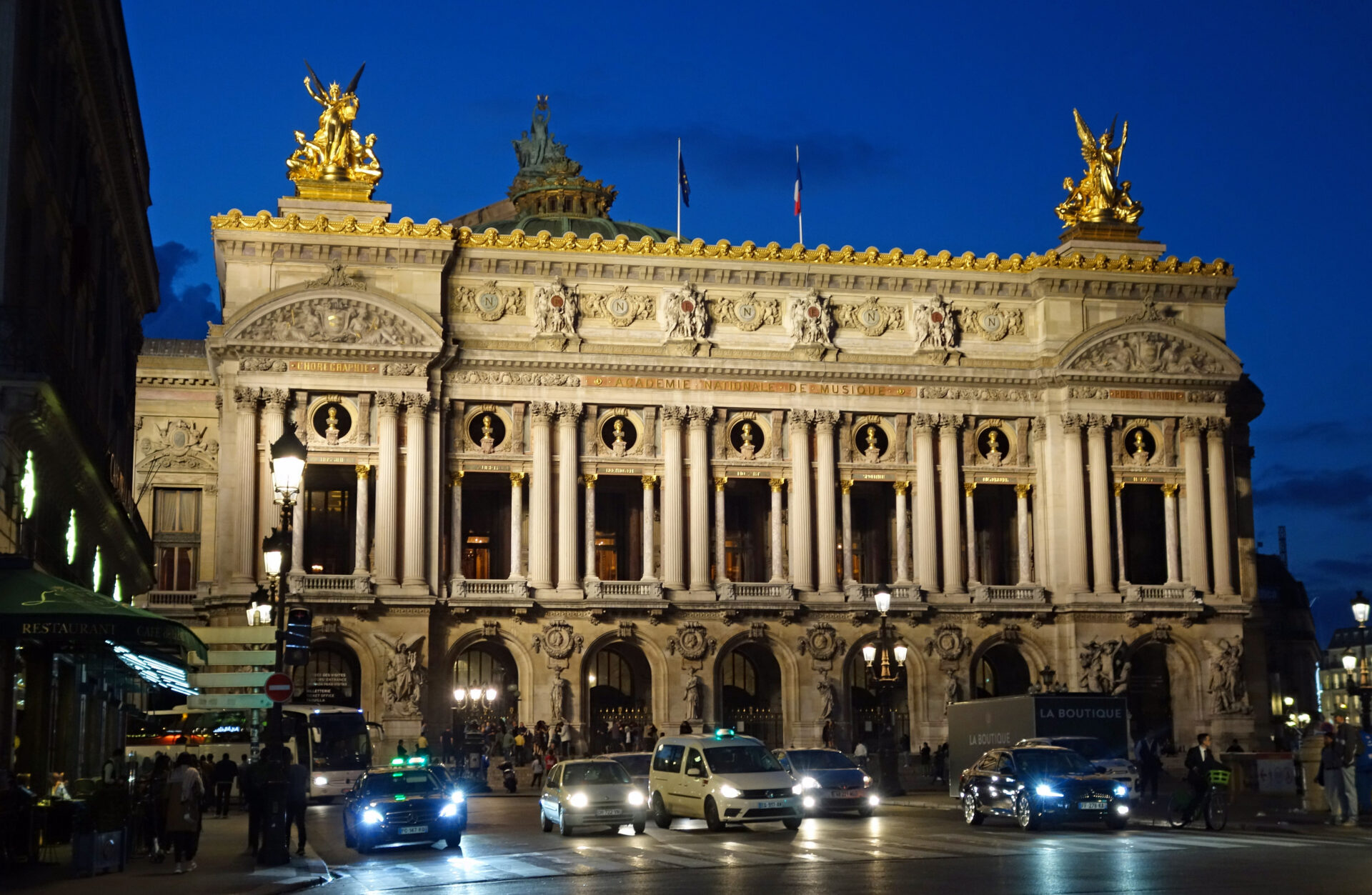 Our friends were staying at the gorgeous new boutique hotel Fauchon which overlooks the L'eglise de la Madeline, a church built in the style of a Greek Temple.  Surrounding the church on all four sides are an assortment of beautiful restaurants and shops, one of which is La Maison de la Truffe.  I found this shop in 2011, purchasing a bottle of white truffle olive oil, so it was without a doubt a place I was stopping to pick up another small bottle of this delicious oil.  Another go to was the Fragonard soap and perfume store.  Again, in 2011 during our travels through France we toured the Fragonard factory in the southern town of Grasse and I fell in love with their products.  The Fragonard perfume house was founded in 1926, in Grasse, and is where all their fine soap and perfumes are produced.  I bought a box of their beautiful soaps to enjoy during the next few months of our travels.  Of course, there was the obligatory shopping for French chocolate with Terrie who takes back a kilo of it for her co-workers…lucky people!!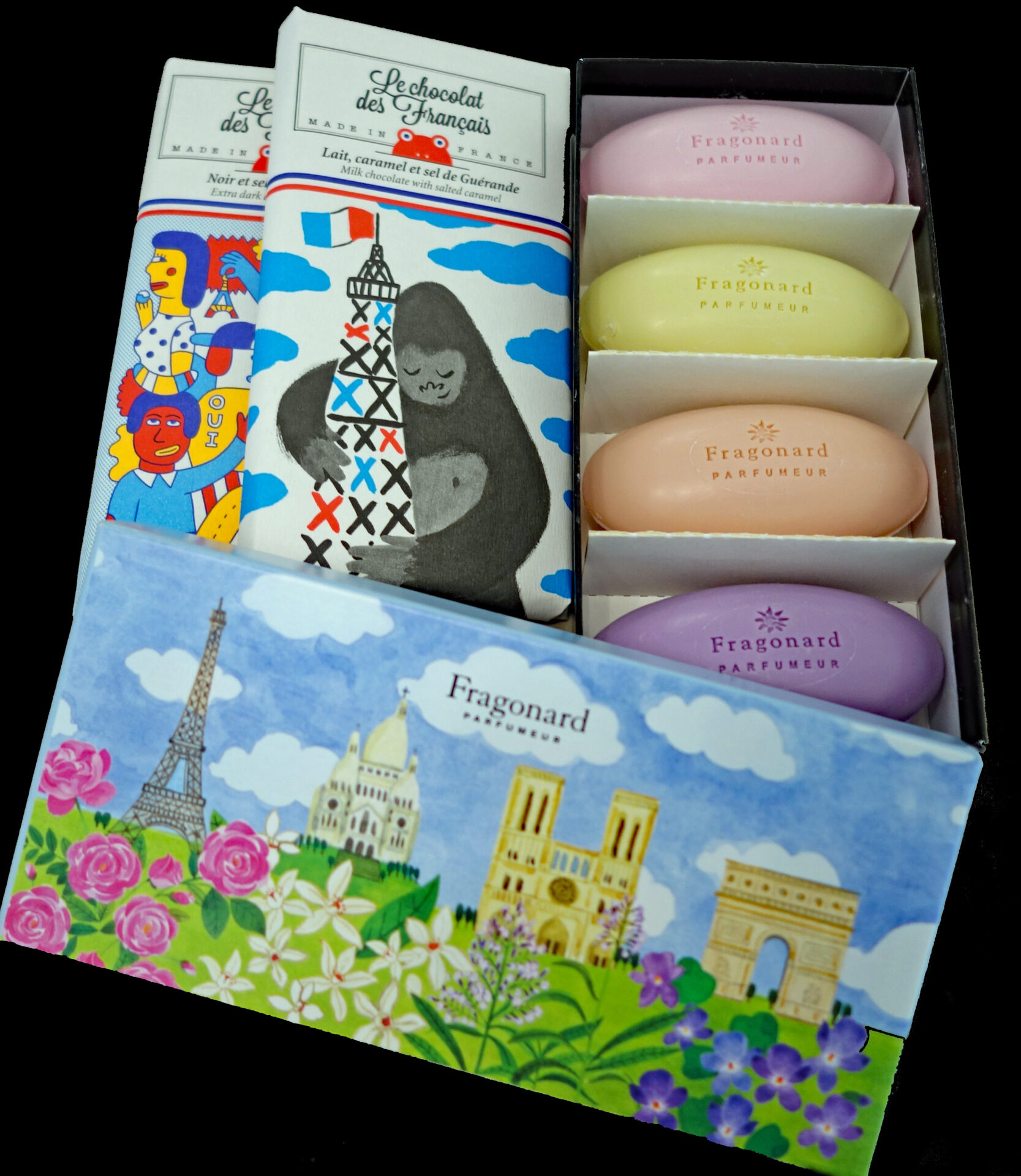 Notre Dame Cathedral was just under an hours walk from our apartment, so we enjoyed a pleasant stroll through the Jardin des Tuileries, past the Louvre, along the Seine eventually reaching the Cathedral.  Walking past the Louvre we noticed the long lines to enter which never seem to abate no matter what time of day or time of year.  This is not surprising since the Louvre is the world's largest museum and a historic monument in Paris.  During 2018 a reported 10.2 million visitors were received making it the world's most visited museum.  Containing more than 380,000 objects and 35,000 works of art this is not a place you can see in one day.  I have been twice and barely scratched the surface of the exhibits, focusing on the highlights as most people do.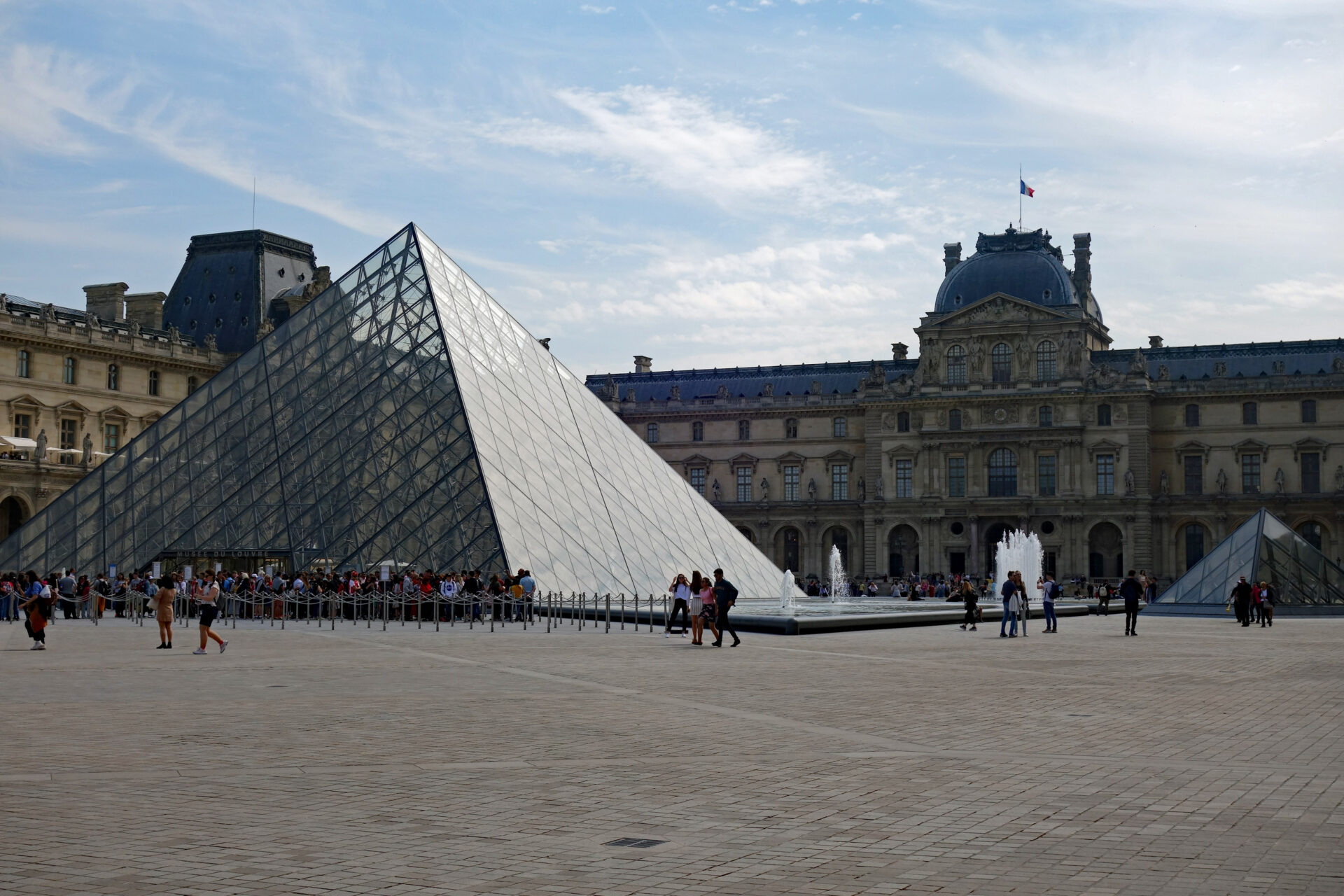 The devastating fire last month has changed the Paris skyline however Notre Dame still stands magnificently.  The volume of tourists near the Cathedral was tremendous with everyone wanting to see the damage and what remained.  The concentration of lead in the air from the collapsed ceiling is so high that the area is cordoned off many blocks away from the site, however across the river is a good vantage point to see the cathedral, and that cleanup is well underway.

I can't even begin to mention all the restaurants we enjoyed lunches and dinners at, it seems like all we did for 4 days was eat and drink.  We made sure to have a drink at a cafe along the famous Champs Elysees, celebrating the publishing of Jim's latest book…we are very impressed!!  During a very productive shopping afternoon Terrie and I found 3 champagne tastings and tried 9 different champagnes…who needs to buy a glass of champagne 😊  Meanwhile, the boys seated themselves at a cafe bar, enjoyed a few beers and no doubt solved the worlds problems.  Added to our champagne tasting experiences while shopping, we enjoyed a variety of lovely champagnes during a daily happy hour in Jim & Terrie's hotel room.  Their fully stocked bar comes with a regular supply of truffle shortbread, cheese crackers, nuts, chocolates, mini toasts, olive tapenade, champagne etc.  Minibar does not come close to describing the tall cupboard in their room filled with food and drink, the most amazing selection we have ever seen.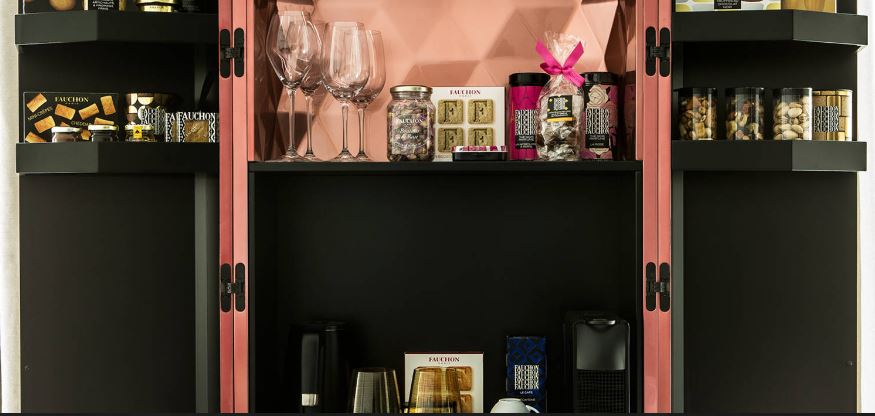 Not only that, there are glass jars throughout the hotel filled with macarons that you can help yourself to…which we did each time walking past a jar.  It was definitely fun to visit our friends in their luxurious 5* hotel!!!  Interestingly, macarons have been made in Venetian monasteries since the 8th century and were brought to France in 1533 by Queen Catherine de Medici when she married Henry II of France.  Today's confections are an almond powder meringue filled with ganache, buttercream or jam fillings that melt in your mouth.  In our group, I think everyone's favorite was the salted caramel filled macaron 🙂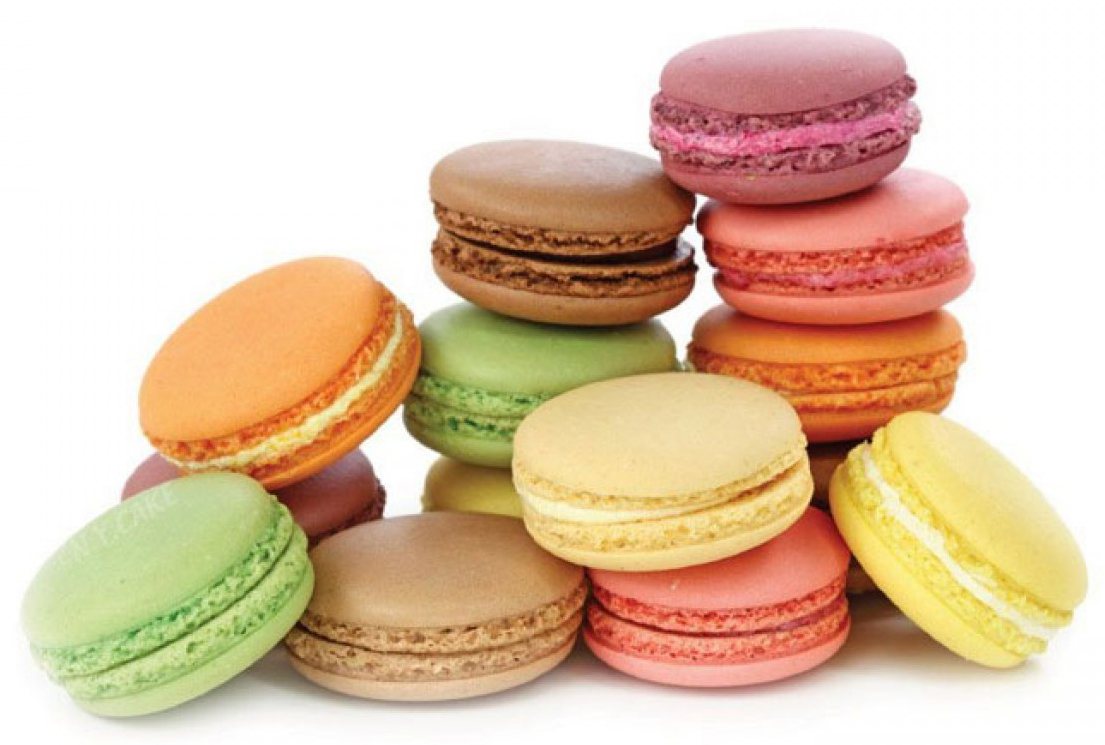 Besides the endless eating and drinking we visited two art exhibits.  The first was La Lune in the Grand Palais, marking fifty years since two men set foot on the moon on July 20-21, 1969.  The ticket price for this exhibit was 14 Euros each (15.75 USD), there were some interesting items, photographs and art on display.
The highlight of our time in Paris, aside from being with friends, was the immersive Van Gogh Starry Night exhibit at Atelier Des Lumieres.  I have no idea how this was done but Van Gogh's greatest masterpieces came alive on the walls of a massive warehouse during a 20 minute show.  The images were on every wall and the floor, in constant motion, set to a wonderful blend of music.  Here is a link to a series of video clips I took during the show.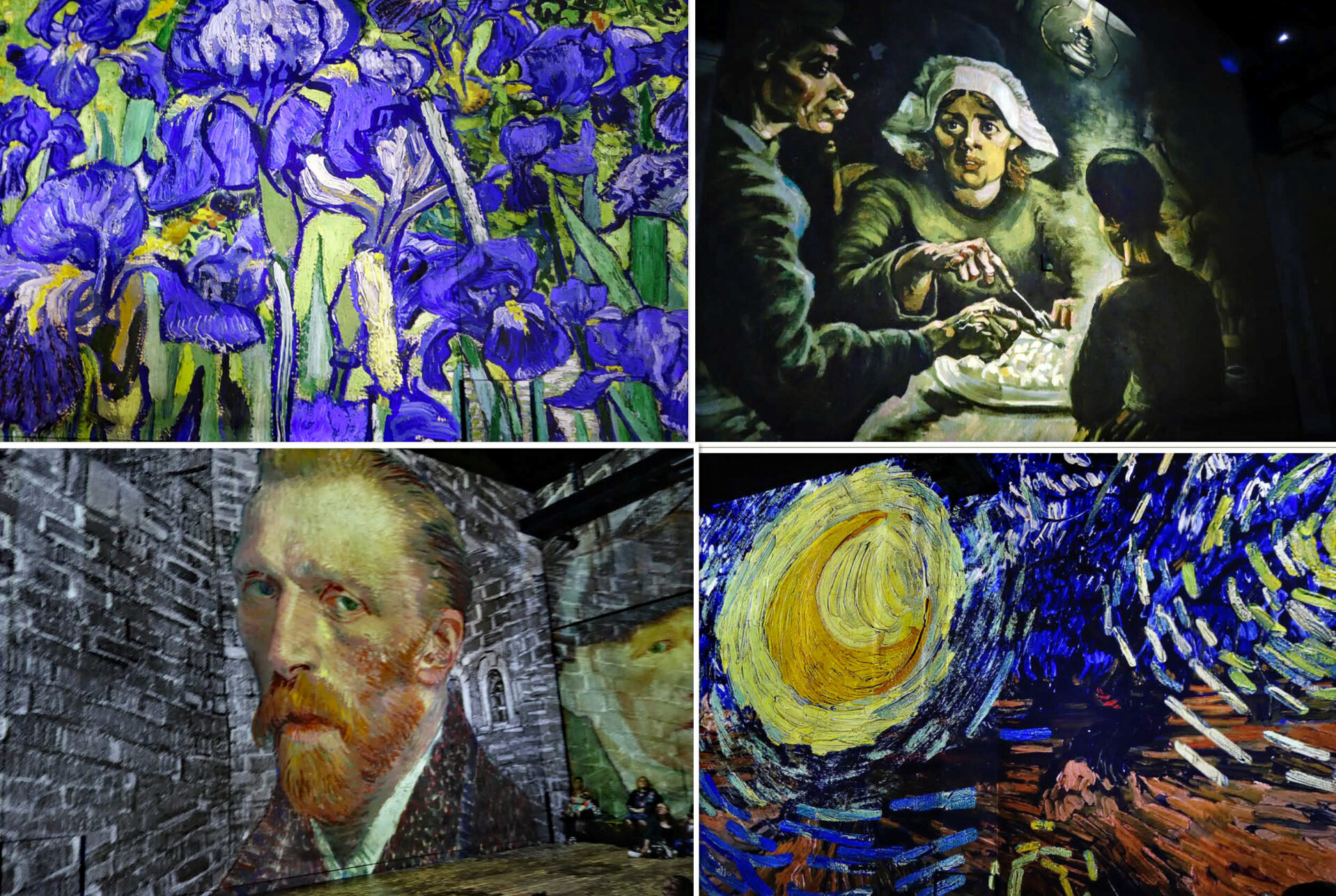 Using 140 video projectors and a spatialized sound system the show covers the total surface of the warehouse.  It was so mesmerising we stayed for 2 shows as I suspect many people do, the warehouse becoming more and more crowded as time went on.  This has to be the most memorable and fascinating art exhibit we have seen.  Fortunately, we booked our tickets for the 11:30am show walking straight in. When we finally left the exhibit, the lineup to enter was very long.  Tickets for the exhibit are 14.50 Euros each (16.30 USD) and well worth it.  Don't miss this show if you are coming to Paris during the remainder of the performance.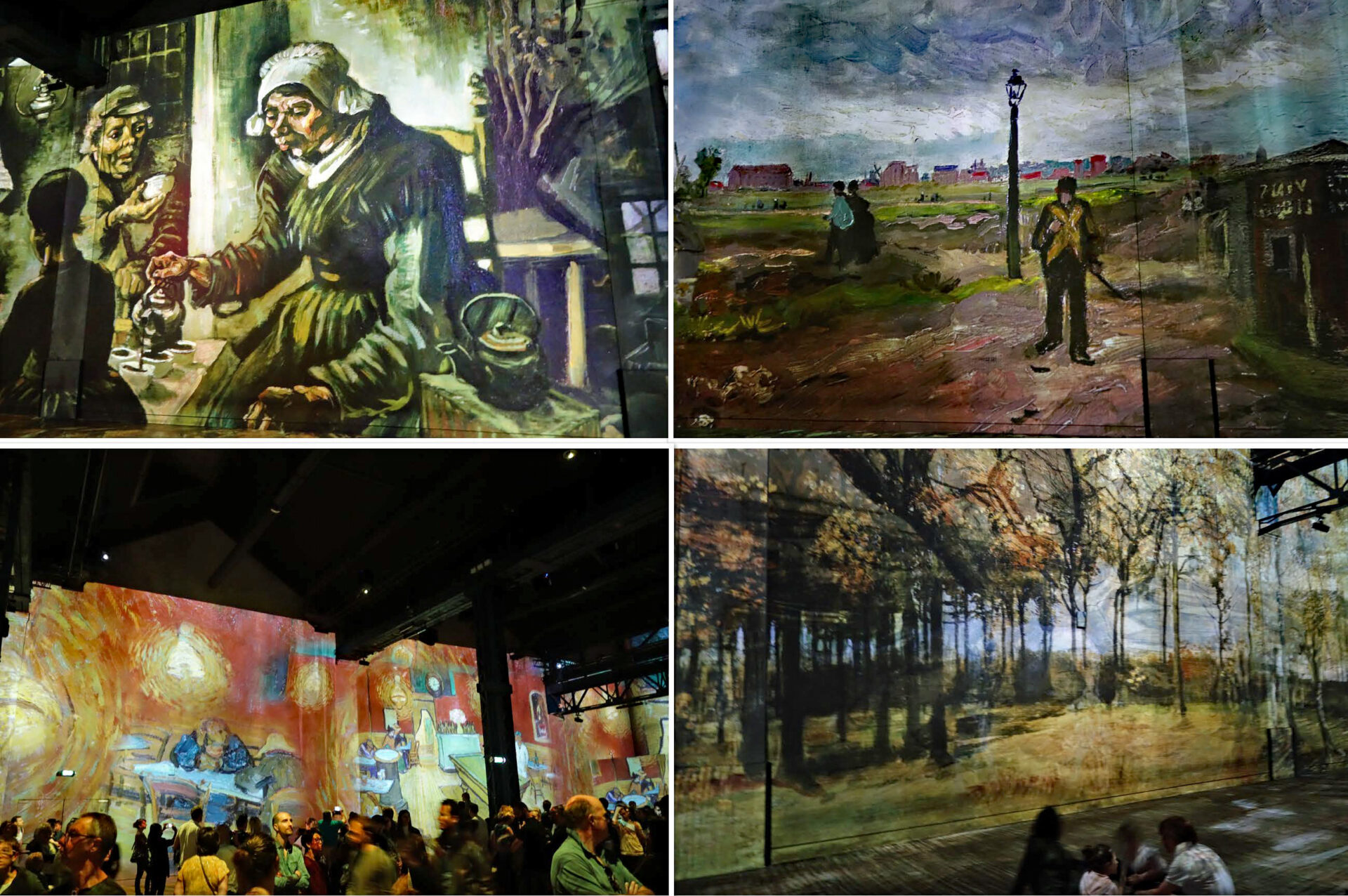 Our final day in Paris was spent walking, first to the Arc de Triomphe, then Place du Trocadero for a view of the Eiffel Tower, proceeding down the hill and along the Seine making our way back to Rue Royale and the Laduree restaurant.  Laduree is famous for their hot chocolate, basically liquid chocolate, which is a must for any chocolate lover while in Paris.  Absolutely delicious.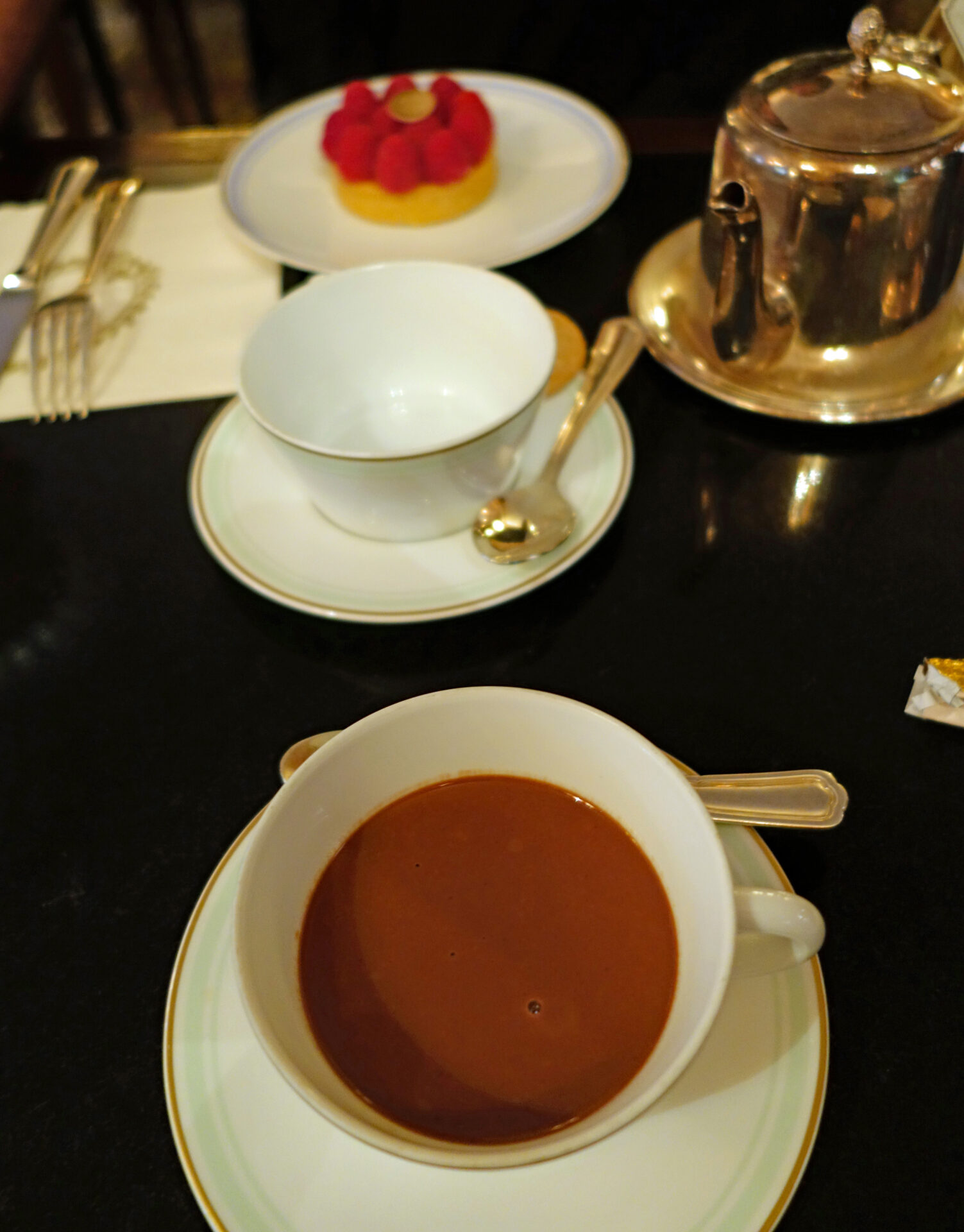 Our final dinner in Paris we celebrated Jim's upcoming 70th birthday, reminiscing about his 60th birthday we celebrated together in Tuscany, Italy.  We are fortunate to still be included in our friends lives despite moving away from them in 2002 when we left for Grand Cayman.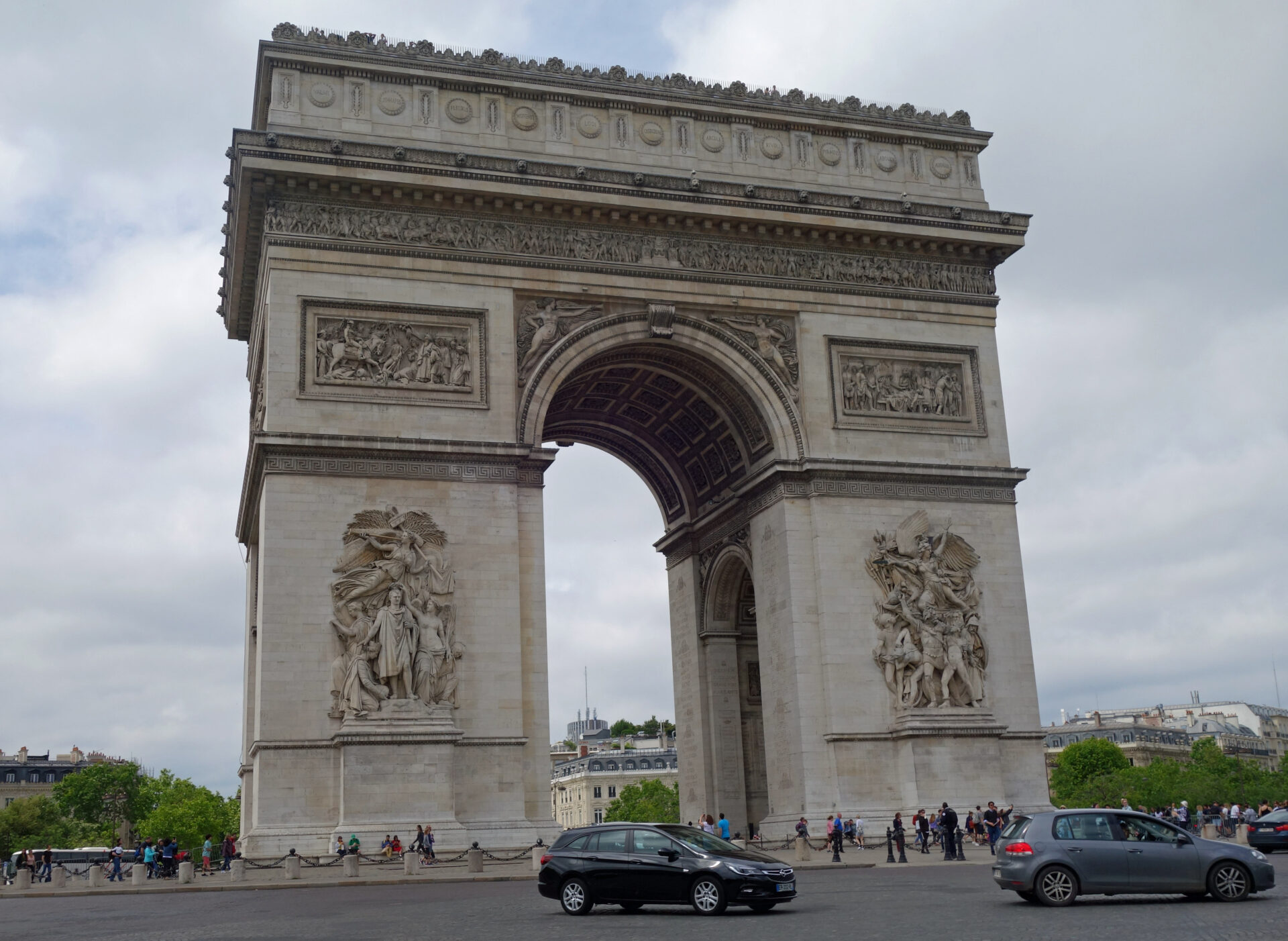 When our whirlwind trip to Paris was over we were completely exhausted and full to the brim with good food, wonderful champagne and a treasure chest of memories.  How lucky we are to have spent this time in Paris with friends.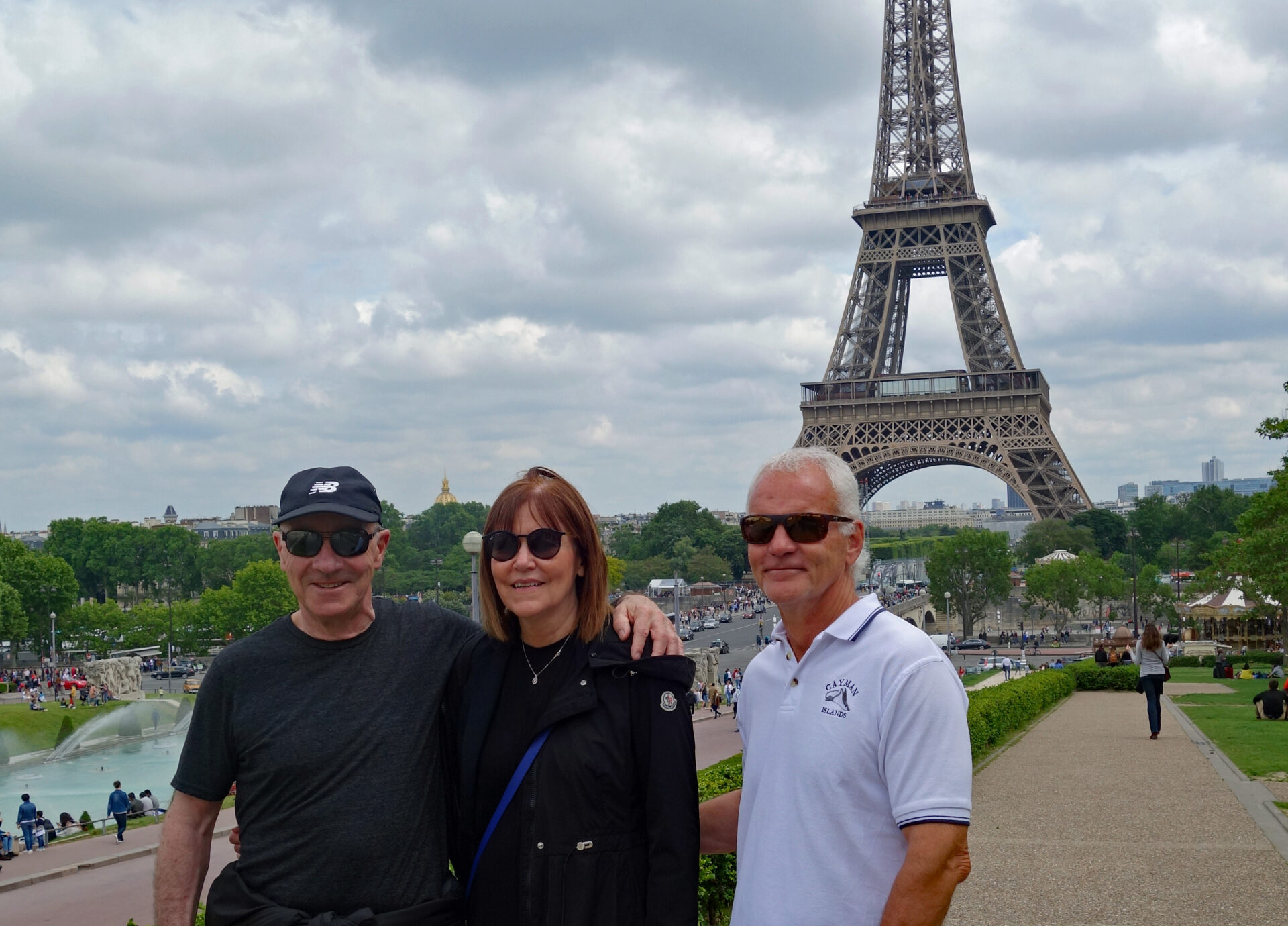 From Paris we took the high speed train back to Reims where we will spend a few days, in the heart of the Champagne region.  You only get one guess what I will be doing while there…..
Trip Tips
We booked out tickets for the Van Gogh Starry Night exhibit here.  Tickets are not available at the door.
We booked our high speed train tickets between Reims and Paris with Rail Europe.  Our return tickets in the first class carriage cost $42 USD each.