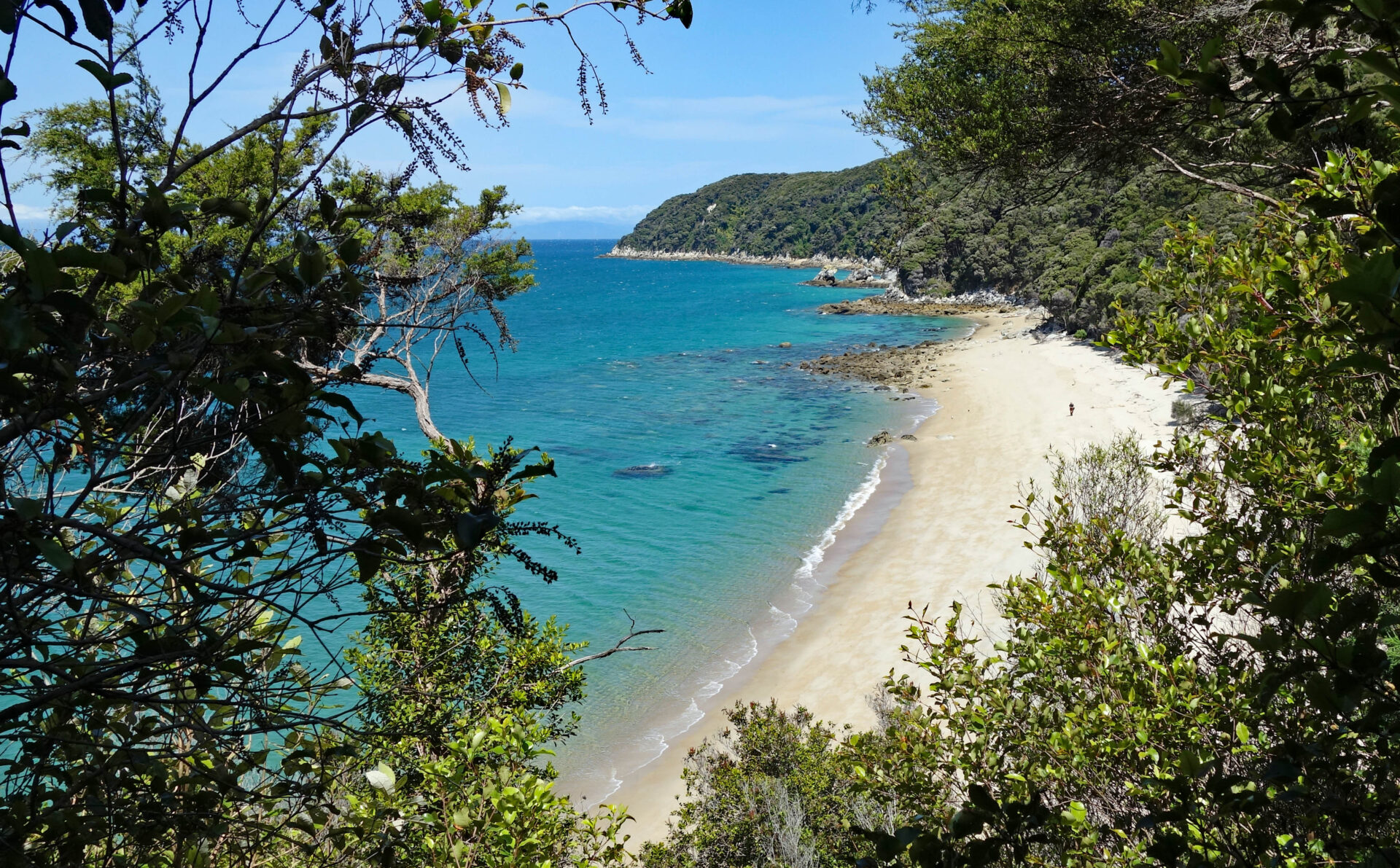 Leaving Wellington we boarded the Interislander Ferry at 8:45am for a 3.5 hour journey across Cook Strait, destined for Picton, South Island. The crossing was windy, no surprise there, and the upper observation deck was closed for a portion of the journey due to the high winds.  Just like the car ferries running between Vancouver and Victoria, these are large beasts and not really affected by the waves. The boat gently swayed back and forth in the open straight before sailing into beautiful calm turquoise waters, threading our way through the passage before docking in Picton.  The cost of taking our car across the straight was NZD $375.00 (USD $249.50), expensive but preferable to the other option of switching rental cars on either side and hauling all our luggage on the ferry.  In the end, convenience and less stress won the day.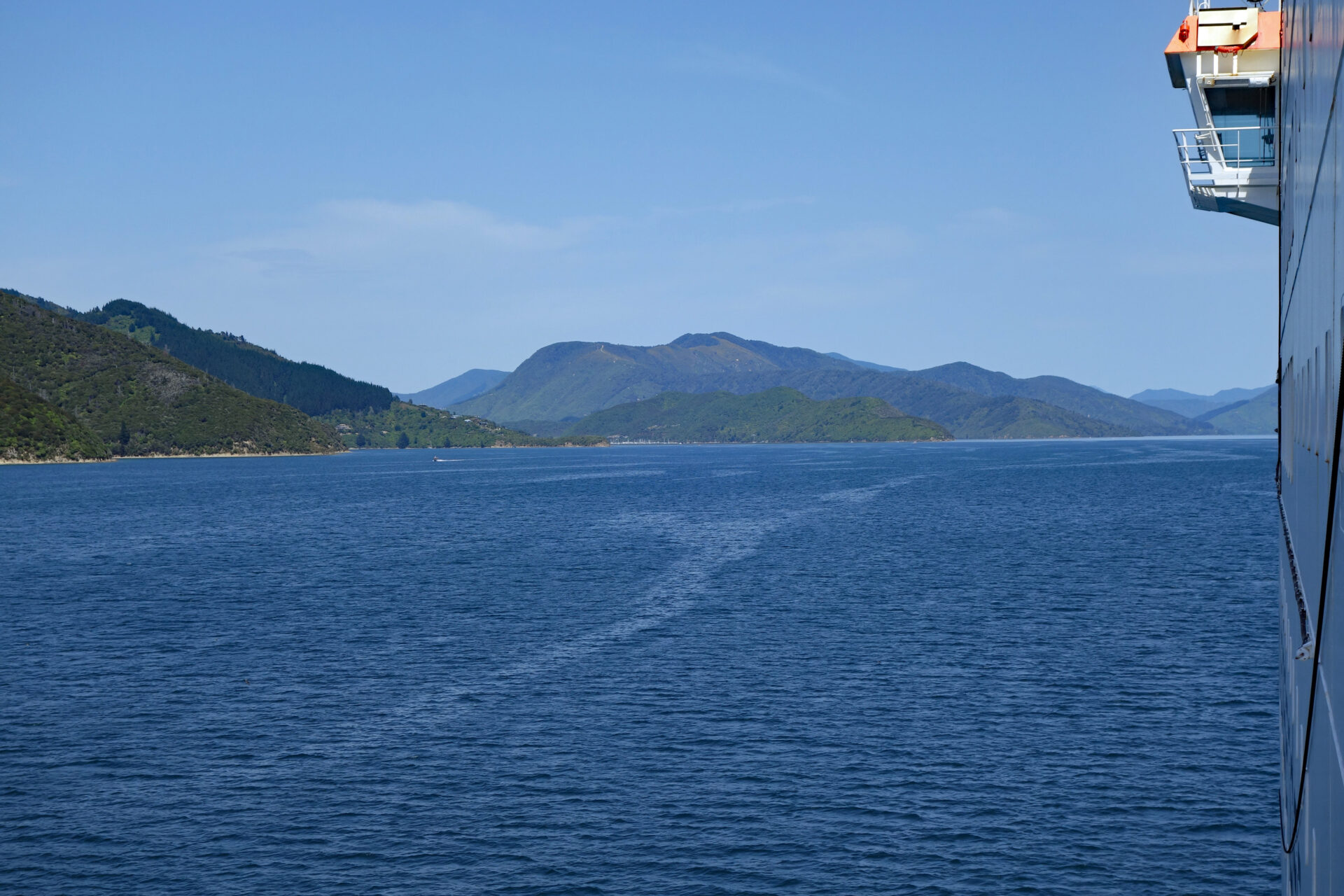 Picton is referred to as the gateway to the South Island of New Zealand, once off the ferry we drove just over 2 hours to reach our latest home in Appleby. We are again on a small acreage, this time with a few sheep, chickens, vegetable gardens and fruit trees…heaven!!  The sheep are outside our bedroom window and we are enjoying watching them, although when they started to baaa at 5:00 am our first morning it was a bit of a surprise.  The chicken coop is full of fresh eggs every day so we ate our fill during the week.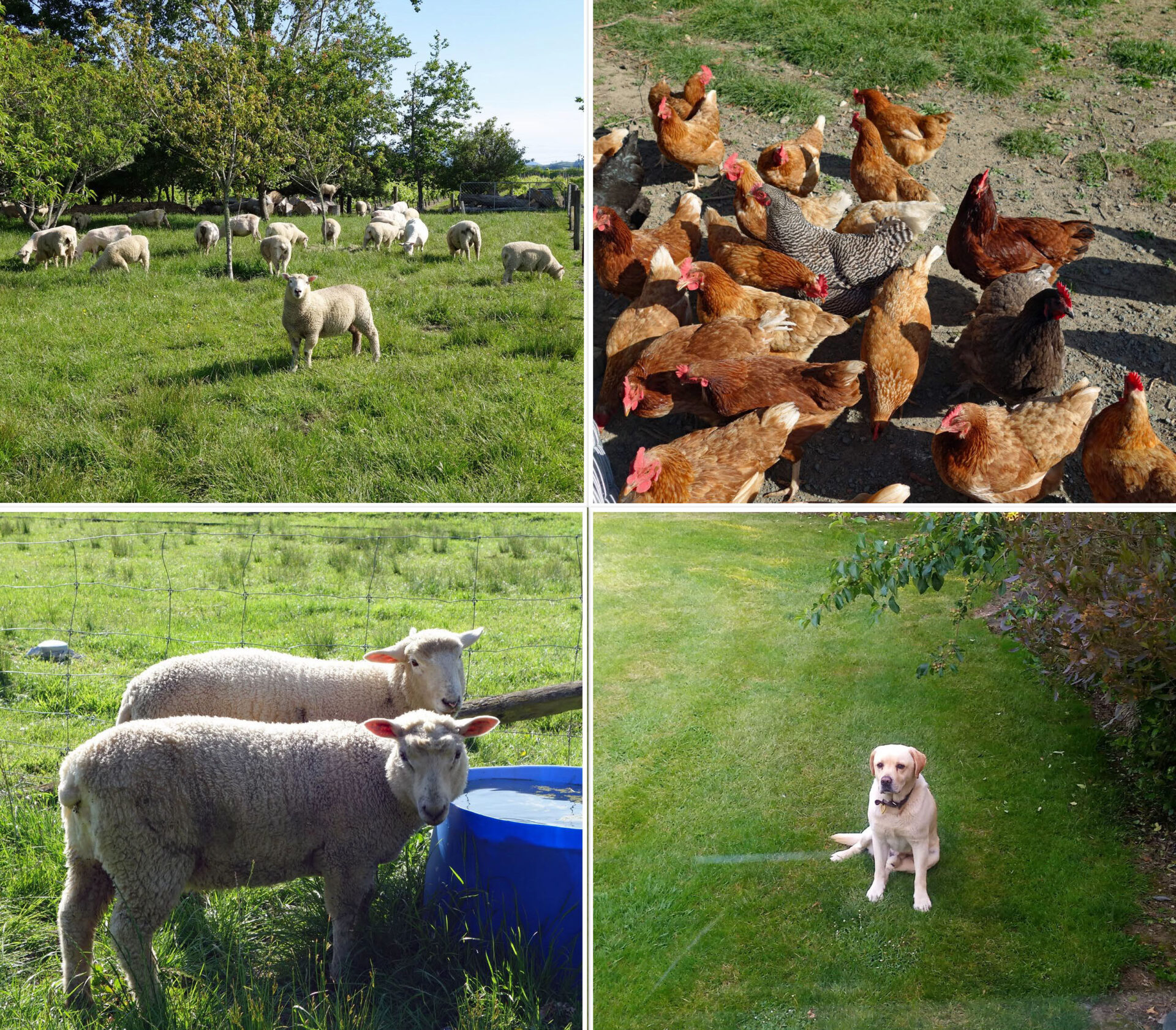 Appleby is a small community not far from Nelson.  We ended up here because the Airbnb we found looked too good to pass up, and it is only a 40 min drive to Abel Tasman National Park where we planned a few hikes.  The property we stayed at is surrounded by vineyards, orchards and farms yet a short drive away you are at the beach.  An ideal location in our opinion ❤  Added to the excellent location were our amazing hosts.  We enjoyed sitting by the pool getting to know each other and learning about life here in Appleby.
Abel Tasman National Park is New Zealand's smallest park renowned for its golden beaches, granite cliffs and world famous coastal walking track.  Our first foray into the park we drove to Marahau which is the southern end of the Able Tasman Coast Track, running 60 km along the coastline.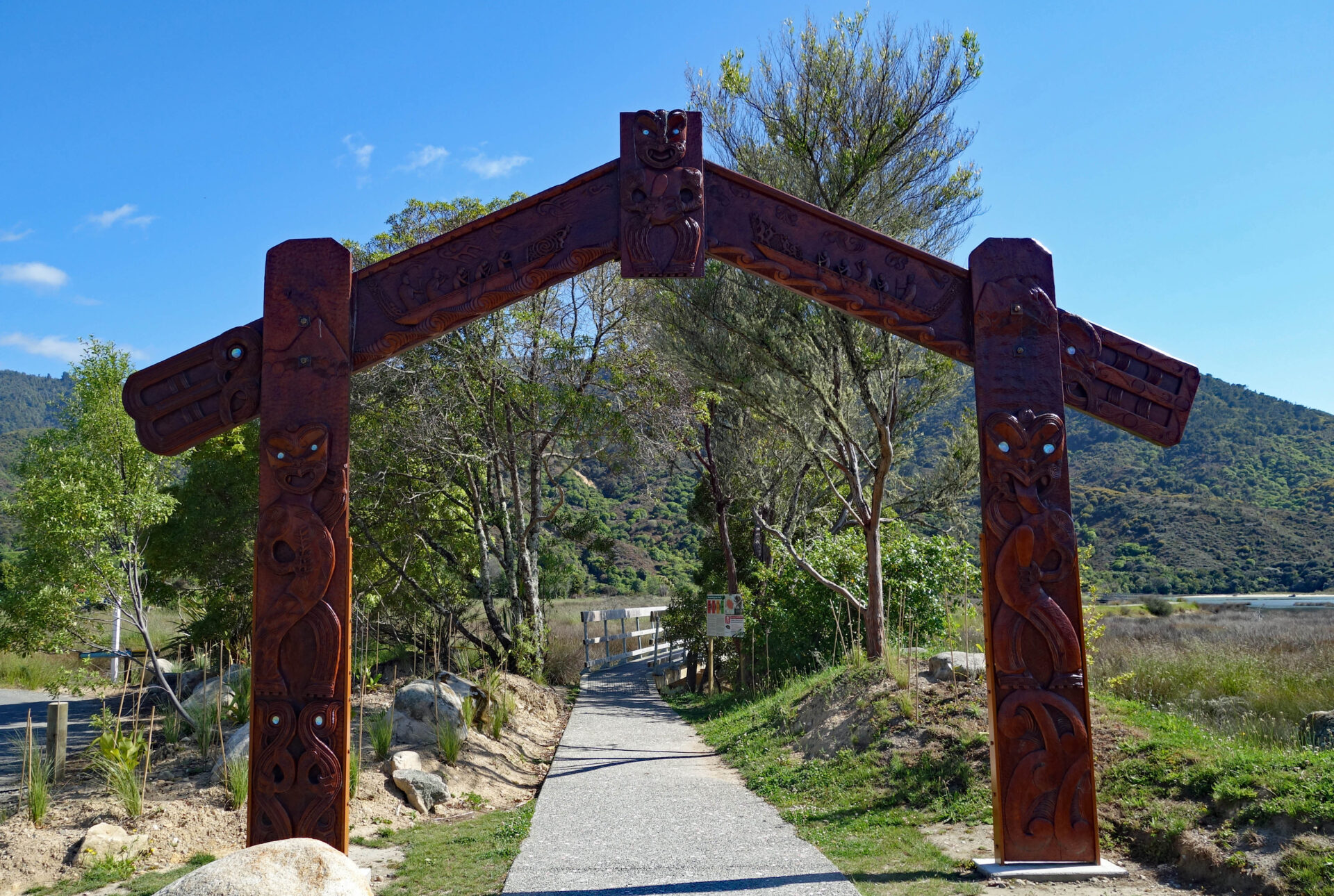 The track is well maintained by the government with 4 huts and 18 campsites along the way for those who wish to tramp or kayak the entire distance.  We tramped from the Marahau end as far as Observation Beach where we enjoyed lunch on the beach, returning to Marahau on the same track.  Our total distance was 18.8 km…almost as far as the Tongariro Crossing, but the coast track is relatively flat so not as epic a day.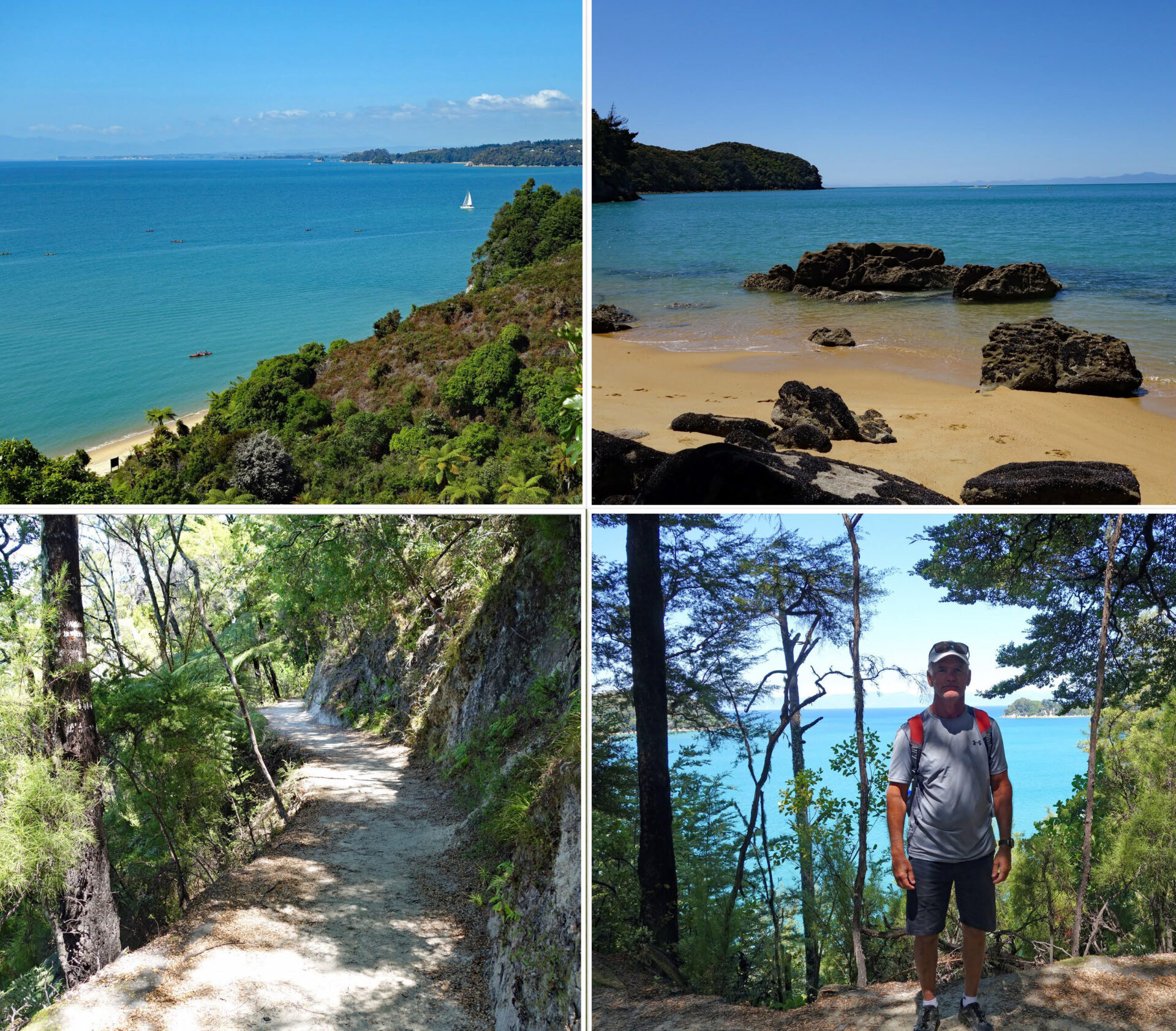 Hundreds of kayakers are water taxied to various locations along the coastline meaning there is no such thing as a quiet remote beach.  In addition to kayakers, walkers are taken by water taxi to a variety of locations along the track, this gives you the option to walk a different section as a day trip.  That is what we did for our second day of tramping.  We booked a water taxi from Kaiteriteri Beach to Torrent Bay, a 30 min boat ride.  From Torrent Bay we hiked in the opposite direction from our destination to see Cleopatra Pool, adding 6.4 km to our walk.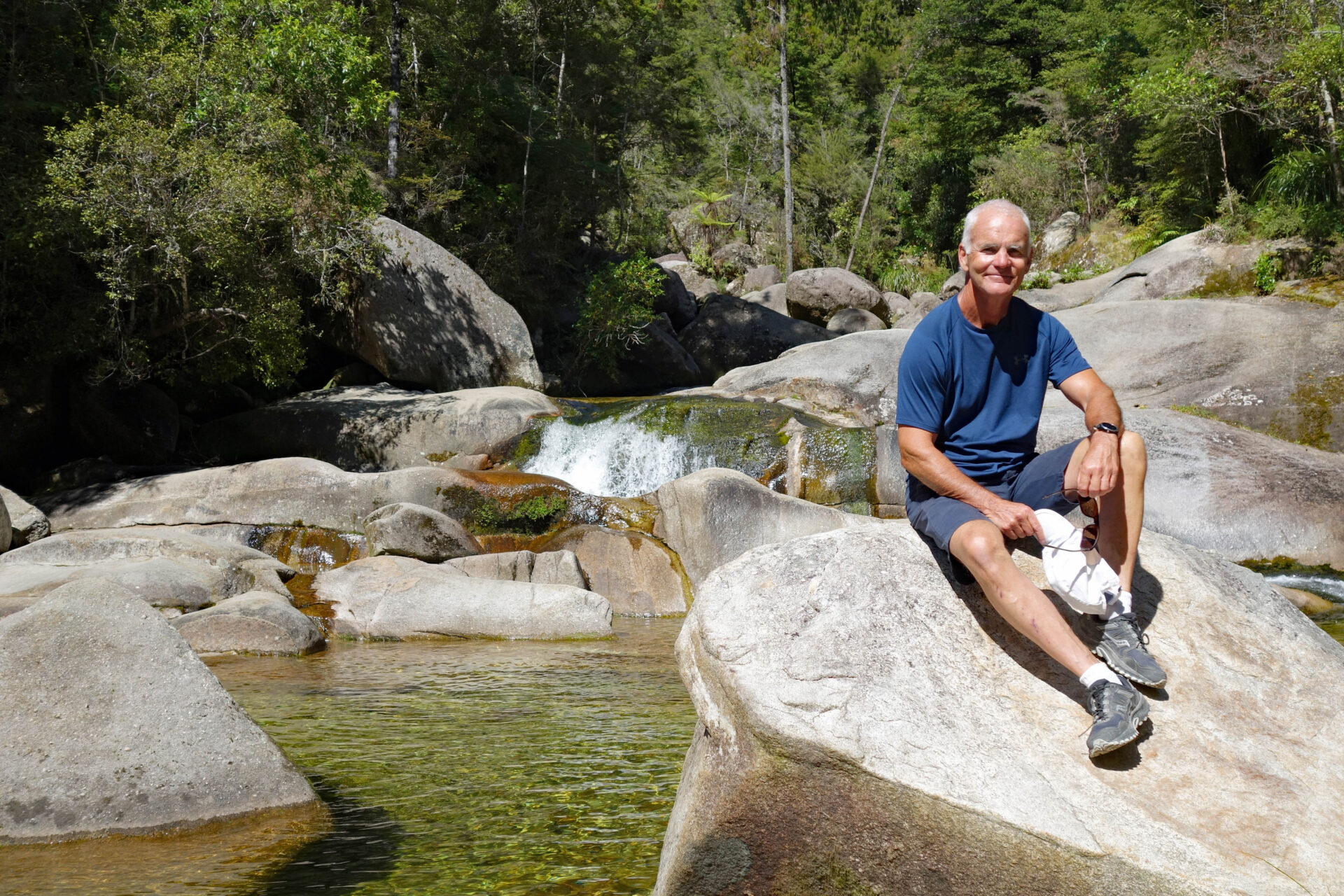 Once back at Torrent Bay we began making our way to Onetahuti Bay, 11.6 km away. It was a lot of steep up and down sections with a 45 m swing bridge crossing along the way, one of the reasons we chose this section.  The swing bridge only accommodates 5 persons and the signage at the end of the bridge shows what will happen if you overload the bridge!!  That should be understandable in any language  😂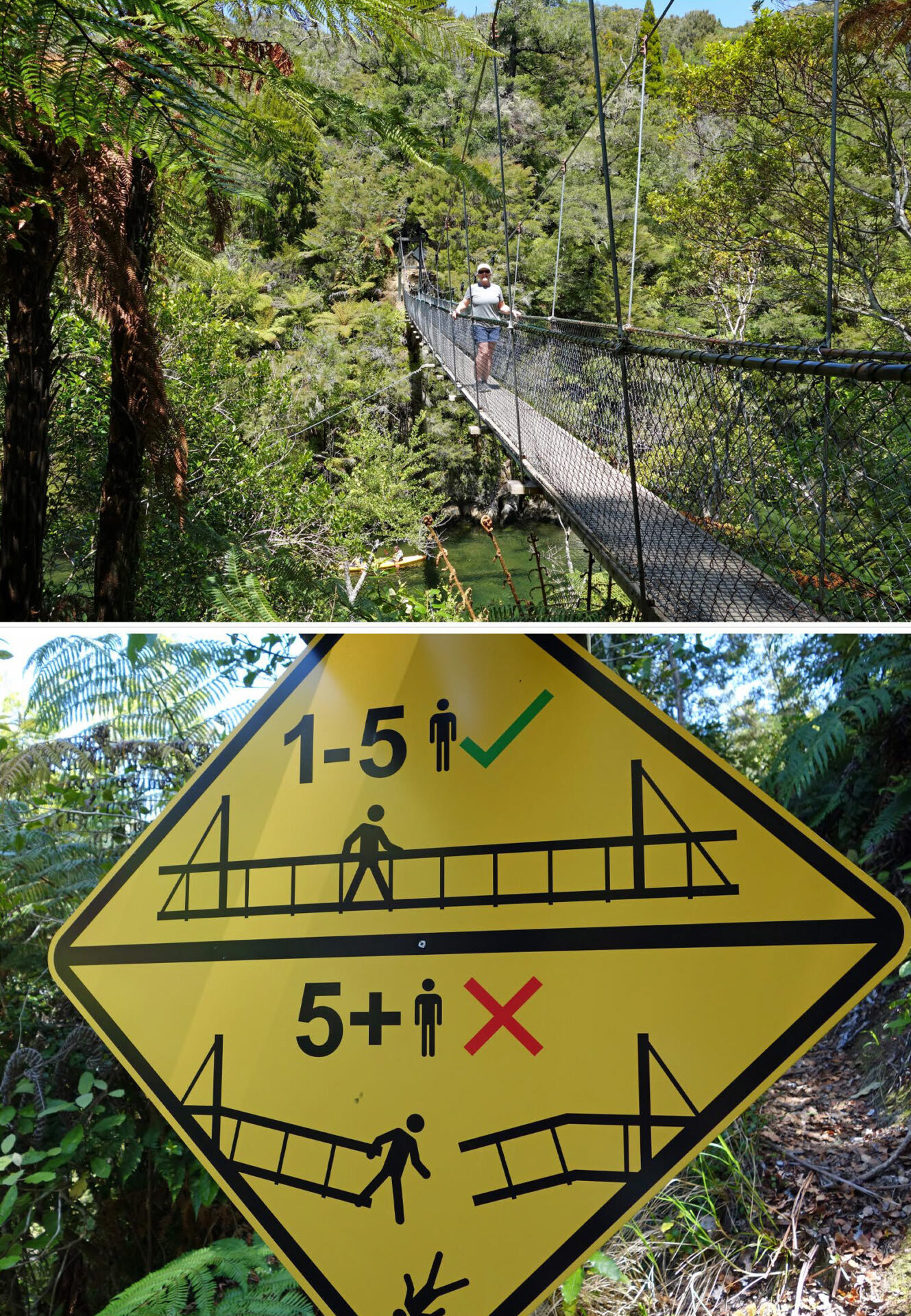 We stopped for a lunch break at Bark Bay, a busy campsite location with many kayakers on multi day trips.  When we finally reached Onetahuti Bay we had time to soak our weary feet in the ocean before the water taxi picked us up for the 45 min return trip to Kaiteriteri.  The water was really cold so swimming was not on the agenda for me!!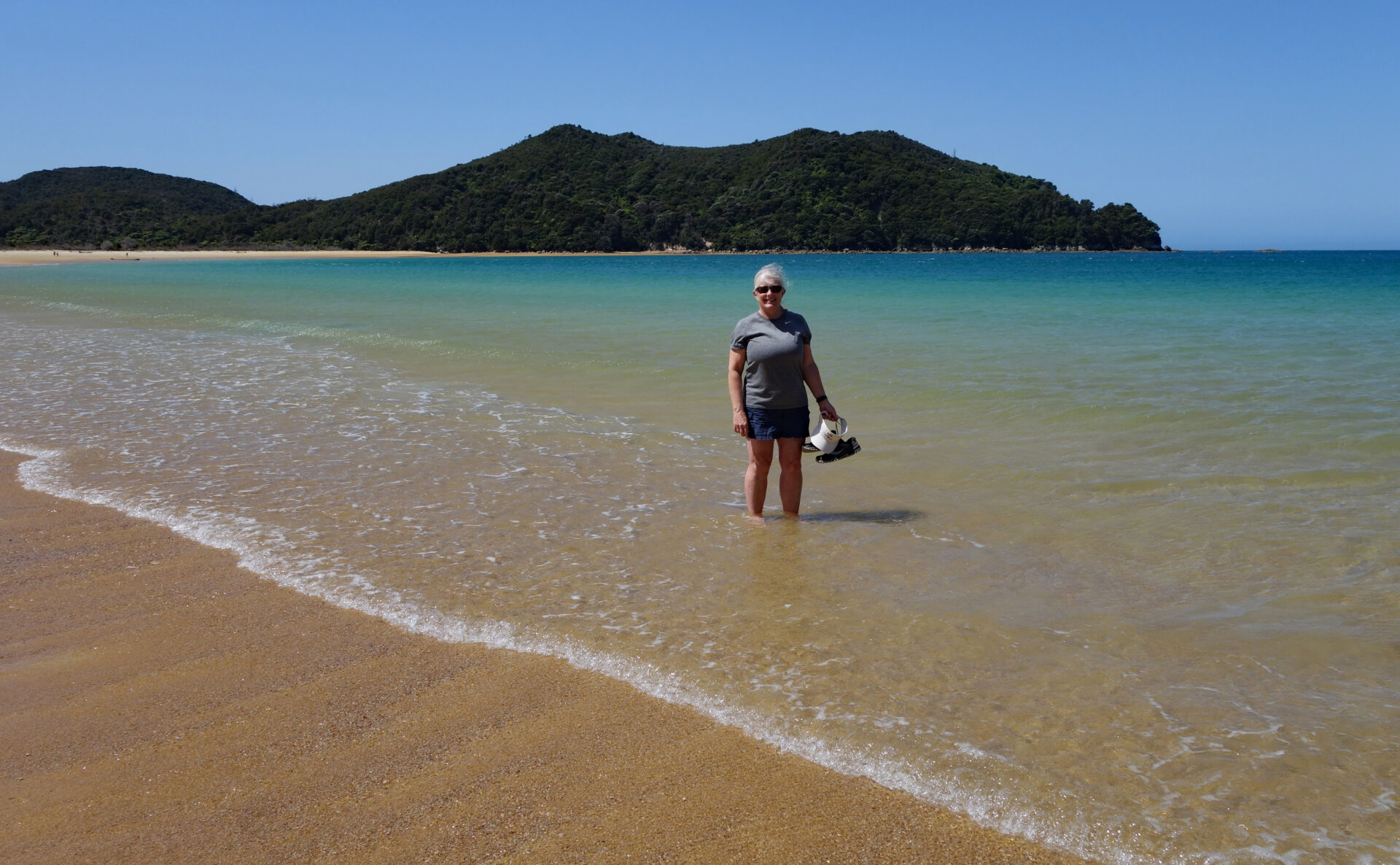 Today's hike with our little side trips added up to 18 km, another good day on the trails.  Utilizing the water taxi was a great way to walk a different section of the coastal track plus the added bonus of a boat ride skimming the gorgeous coast.  With so many water taxis and ferries plying the coastline the walking track is busy no matter where you decide to walk, as we found out!!  The water taxi is not an inexpensive ride, tickets for our return trip cost NZD $83 (USD $53.20) each.  Unless you are going to hike the entire track, camping along the way, this is the only way to reach different sections of the coastal track.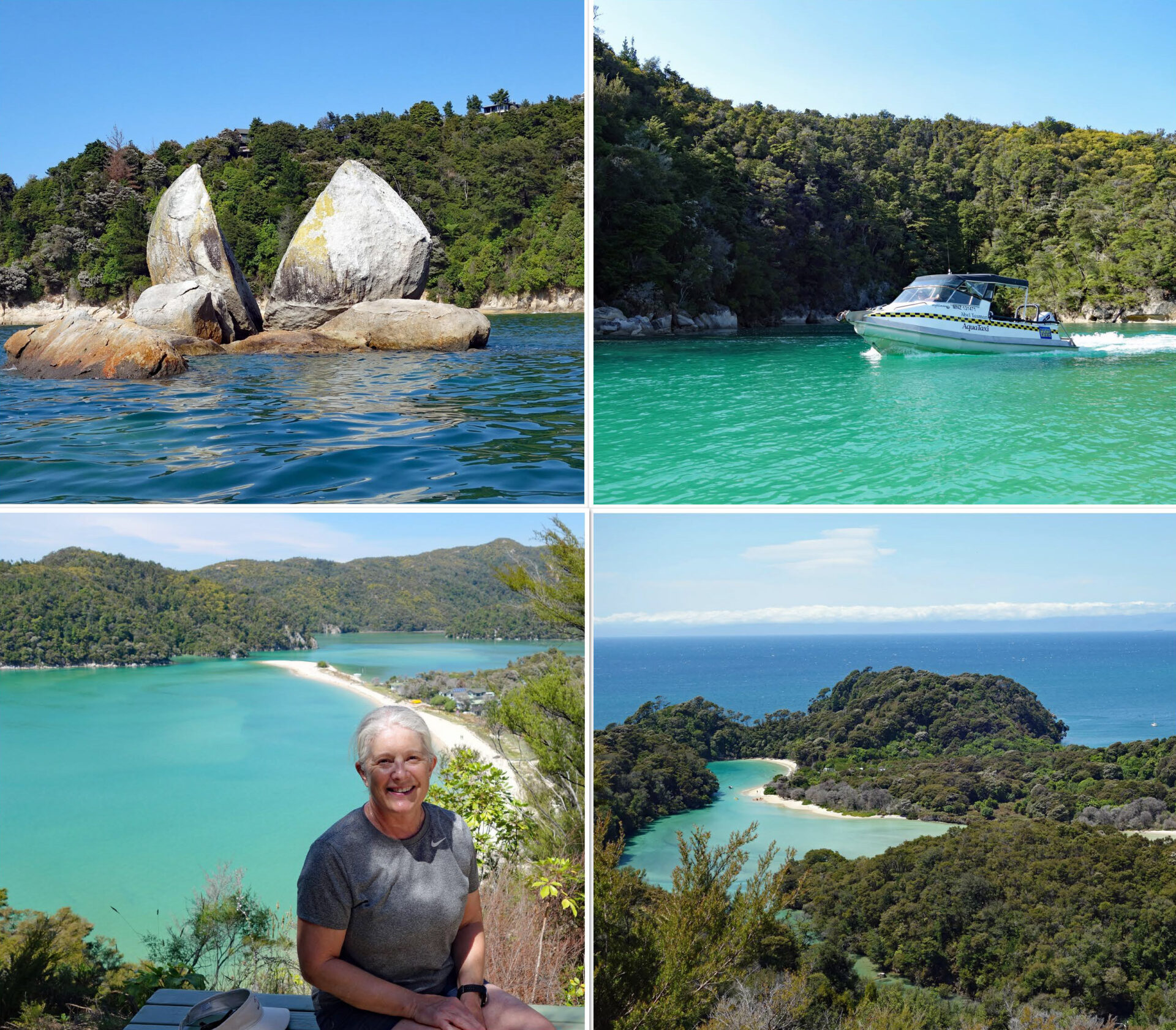 Rabbit Island is a short 10 minute drive from out cottage and the 8 mile (13 km) long beach became a favorite place to walk.  At low tide the beach is about 500 ft wide with hard sand making walking or running enjoyable and easy.  No doubt this beach is a beehive of activity on a hot summer's day.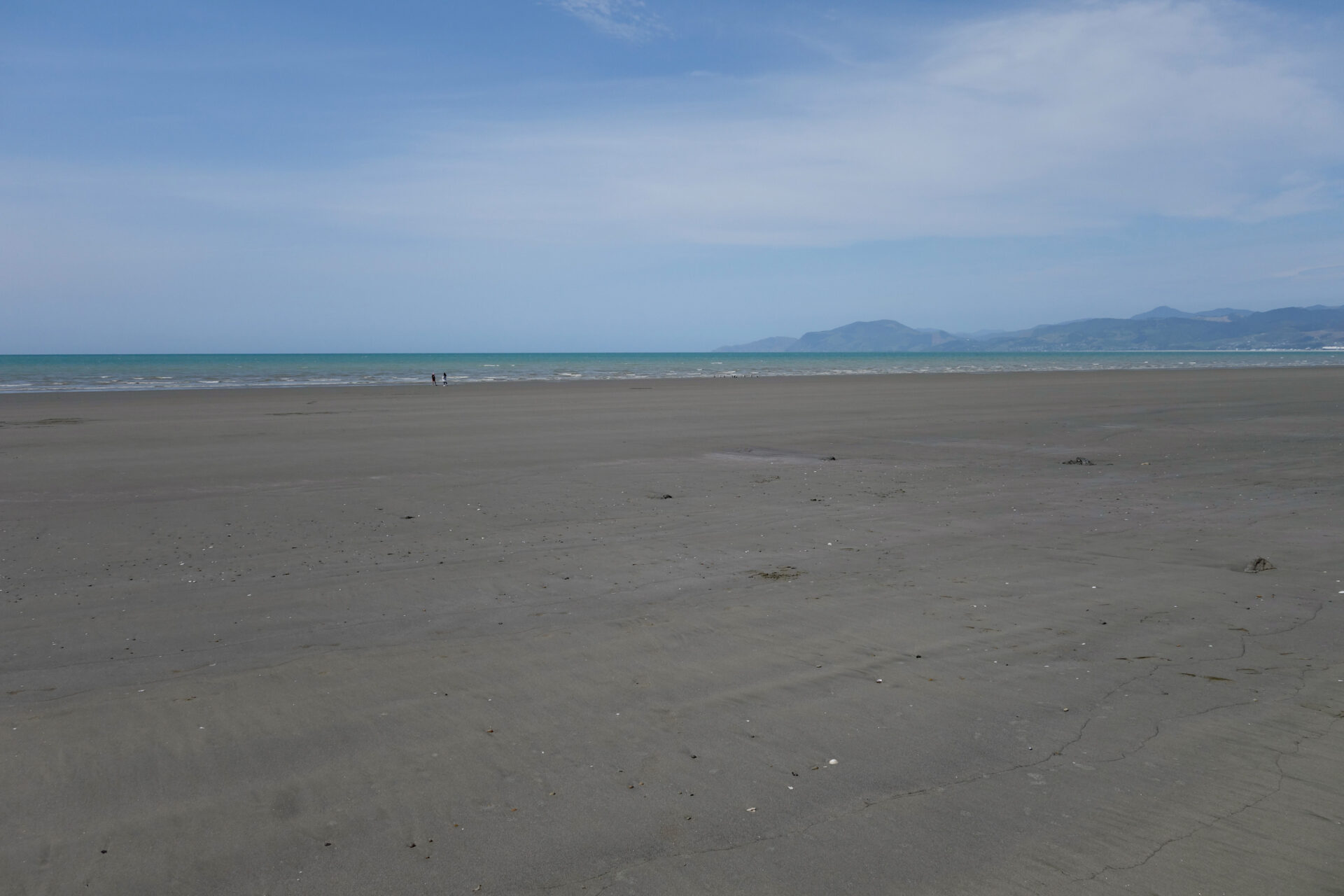 I mentioned earlier that our farm cottage is surrounded by wineries, and what does one do when surrounded by wineries…go wine tasting!!!  Our first stop was the Neudorf Vineyard, one of New Zealand's top small wineries with an award winning Chardonnay and Pinor Noir.  The vineyard was first planted in the late 70's so it is not a very old vineyard.  We did a tasting of 3 wines eventually choosing a glass of the Chardonnay and Pinot Noir to enjoy while sitting outside in their lovely garden cafe overlooking the vineyards.  Now this is the life 🥂  Our second visit was to the Kahurangi Estate where we did a tasting of 5 different wines.  They also have beers and ciders available to try so Blair stuck to beer on this one.  Their wines did not impress me enough to want a full glass, but Blair did enjoy a local craft beer (Townshend) which he subsequently bought at the brewery in Motueka.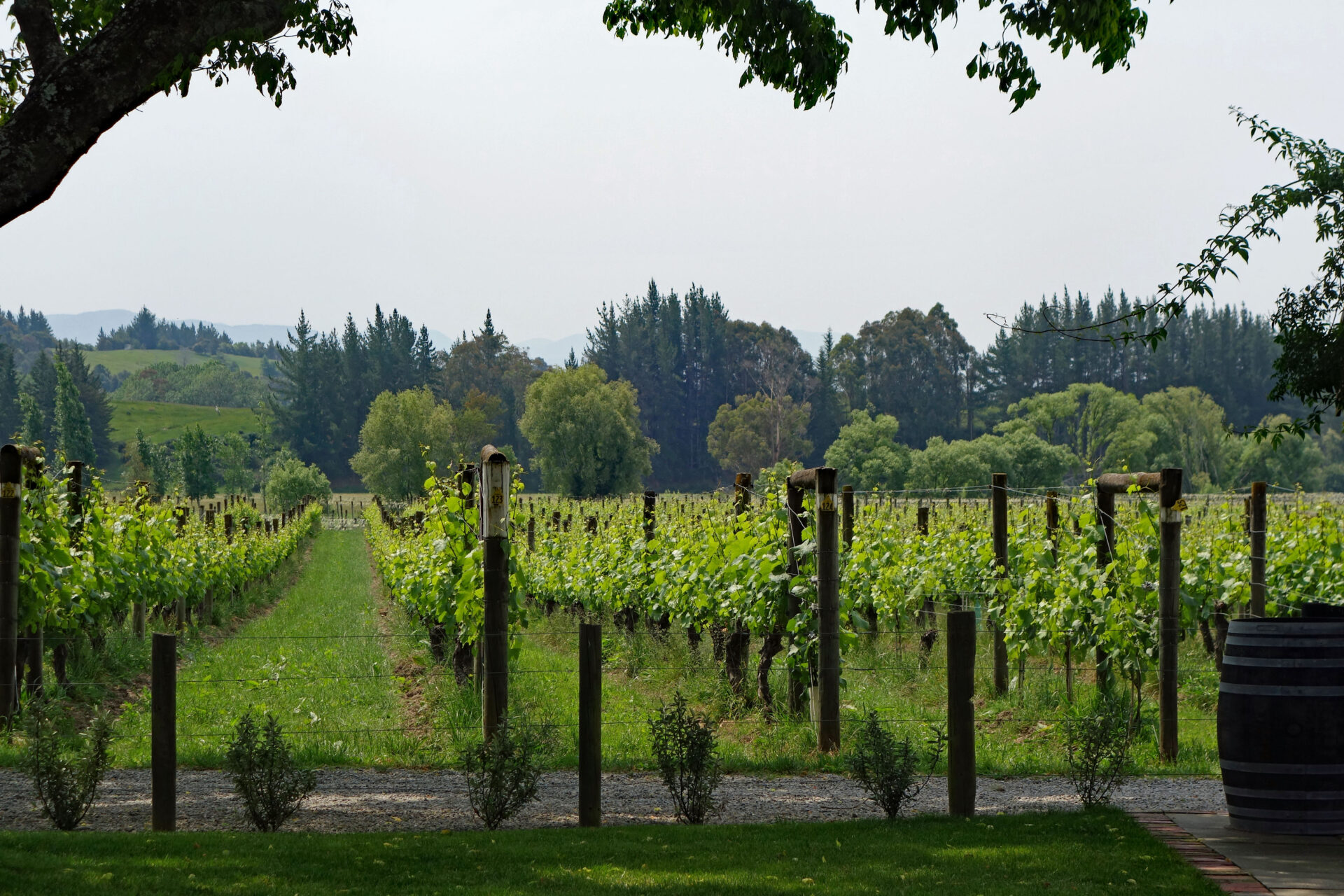 Having explored Abel Tasman National Park for two days we decided to have a city day and drive into Nelson for a look around.  Nelson, nicknamed "Top of the South", is the oldest city on the South Island and has a nice small city feel to it.  Well known for it's thriving arts and crafts scene it is also a popular destination for caving enthusiasts with several prominent cave systems around the area.  Our first stop was Queens Gardens, they have lovely rose gardens here, followed by a look around the Suter Art Gallery right next door.  From there we hiked to the "Center of New Zealand" monument at the top of Botanical Hill, which despite the name is not the center of New Zealand.  The monument is so named because it was used as a central survey point in the 1800's.  The true geographical center of New Zealand is further south in the Golden Downs Forest about 50 km south of Nelson.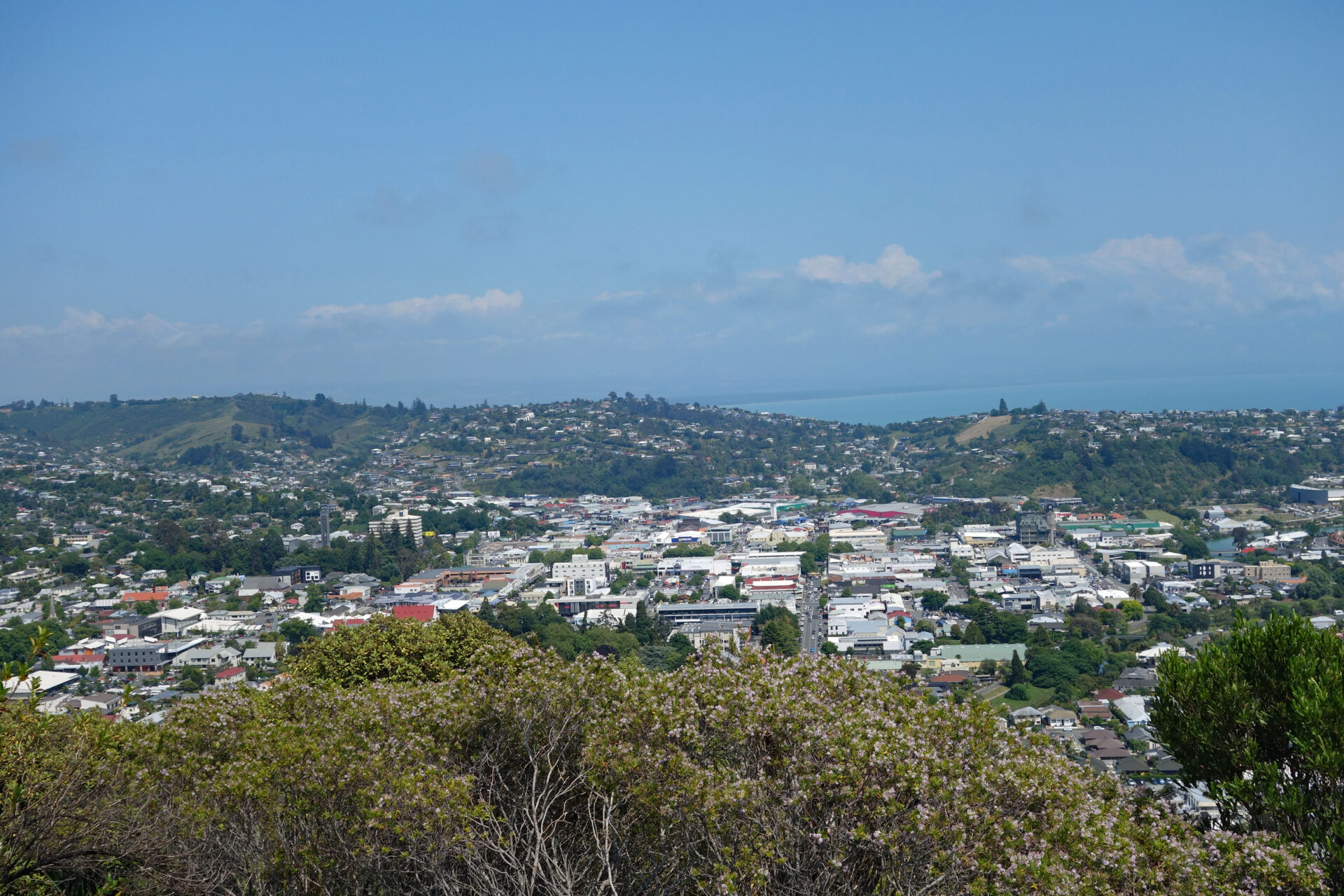 Next we visited the Christ Church Cathedral, I think we are missing churches after our time in Europe 😊  As churches go, this is a very new one built from 1925 to 1965.  When construction started the marble was to be used in blocks however after a 1929 earthquake this was deemed too risky and far too expensive.  The marble was instead ground down and mixed with plaster to give the unusual appearance and color.  Much to our delight there was a Christmas tree exhibition inside the church and we were asked to vote for our favorite 3 trees, oh what fun.  After a couple of tours around the church admiring over 70 beautifully decorated trees we chose our favorites, filled in our ballots and dropped them in the box.  What a shame we will not be here to know the winning trees.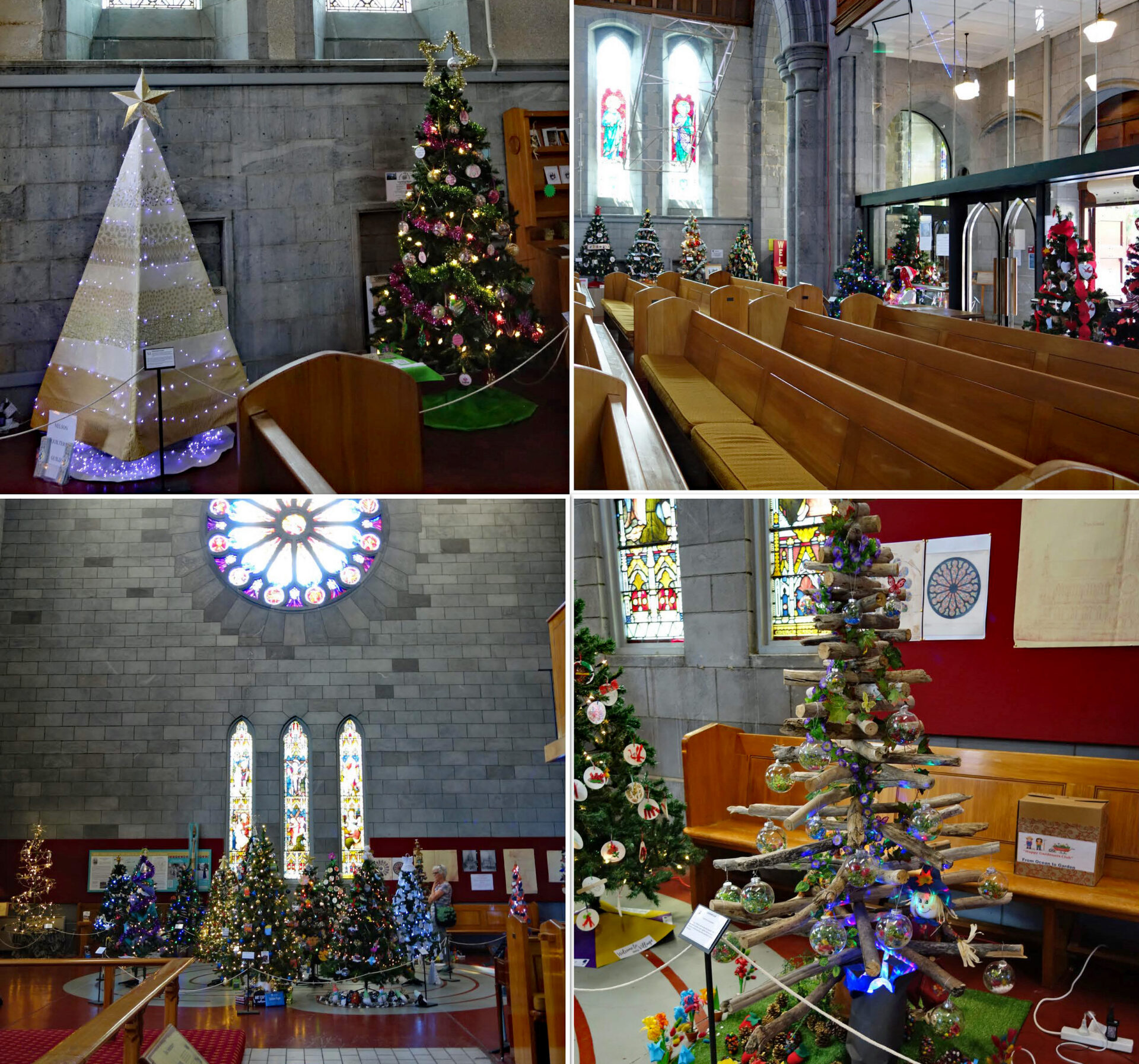 After visiting the church it was lunchtime, we found a wonderful Italian restaurant on a quiet pedestrian street ordering our favorite thin crust pizza.  Following lunch we made a short visit to the Miyazu Gardens before driving to the Kina Cliffs Winery for a tasting.  We enjoy speaking to the owners or staff learning about their vineyard.  This boutique winery is only 8 acres, basically a large garden, but produces some award winning wine, we purchased a bottle of their Sauvignon Blanc.  Being such a small winery they hand harvest the grapes then take them to a larger winery for crushing, fermenting and bottling.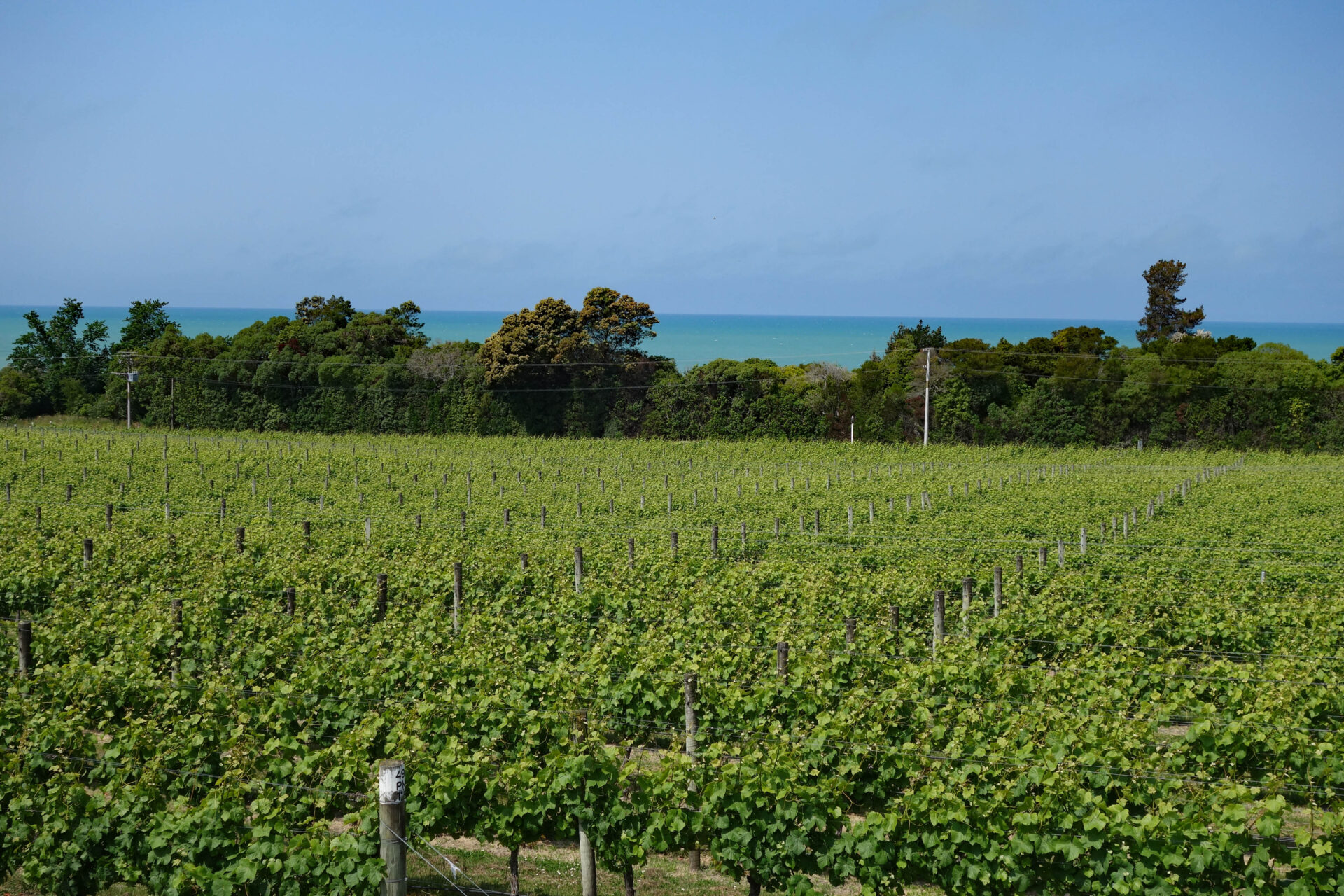 Our final winery visit was to Seifried Estate Winery, a must visit since their vineyard is right outside the back door of our cottage.  The winery has over 320 hectares on 10 sites so they are not a small operation.  Once again we were regaled with the history of the vineyard and the family behind the business, all while tasting 6 of their wines.  This time we purchased a bottle of Pinot Noir Rose, the most interesting rose wine I have ever tasted.  Seifried Estate Winery is home to New Zealand's most award winning dessert wine, Sweet Agnes Riesling.  We are not dessert wine drinkers but if you are this was a lovely wine.
After 8 days at the farm cottage we were sad to be leaving our amazing hosts and the animals behind.  Mac the sheep herding dog, always full of energy; Louie the cuddler, a golden lab who lounged outside the kitchen window every day; Inky the cat who slept under the porch and stared in the patio doors each night; the cute woolly lambs wandering the fields; and the chickens who gave us fresh eggs every day.  It has been a joy to unwind here after exhausting days on the hiking trails or long beach walks.  We are now headed further South along the West coast to a small beach town…maybe for some lazy beach days 😊
Trip Tips
We booked our Seals and Sand water taxi package through Abel Tasman Aqua Taxi using this link.