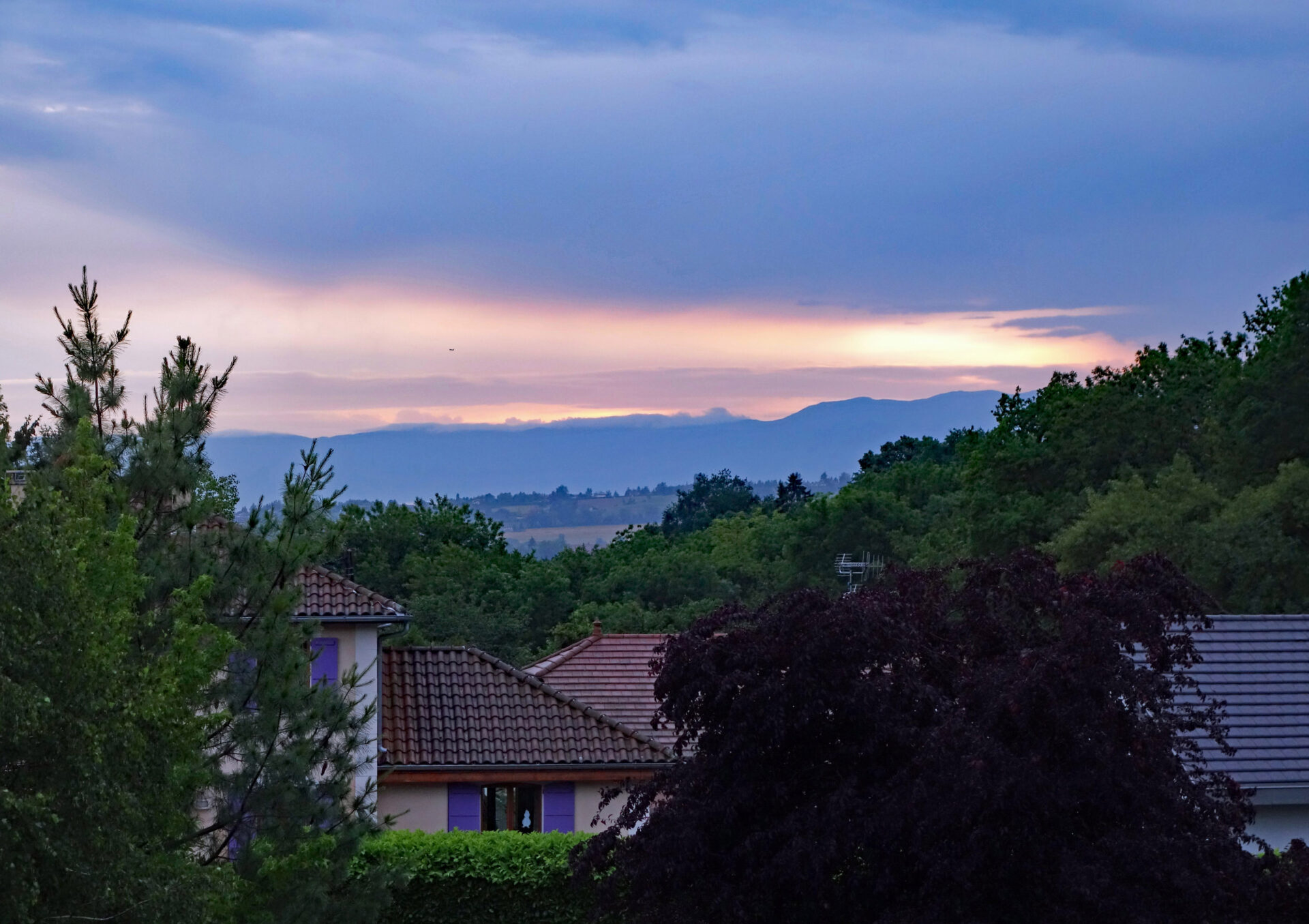 We arrived in Bonne after a 5 hour drive from Paris.  The journey was relaxing, driving through beautiful French countryside on quiet highways.  Our tolls for this journey totaled Euro 47.60 which we thought was very reasonable for a 5 hour drive, which could have been an 8 hour drive on toll free roads. We arrived late afternoon in the midst of flea market day, the town center was a beehive of activity.  We had time to look around and pick up a few groceries before checking in to our apartment.  Whew, this apartment is massive compared to Paris!!  We have 2 bedrooms and room to spread out, nice!!  Plus the view west to the mountains is spectacular.
The next day was spent driving around Bonne and neighboring towns looking for a few items and researching tennis facilities.  We found a lovely facility close by but nobody to ask if we could play.  We continued the search for available tennis courts the next day and after a few tries looking for help we eventually were directed to the tourist office in Viuz-en-Sallaz.  It turns out that you need to pre-pay for a court and get a key from the tourist office.  Once we finish our game, we return the key to the tourist office.  Interesting way of running a tennis facility but I suppose that way nobody needs to be at the facility itself.  We played two mornings during our week in Bonne.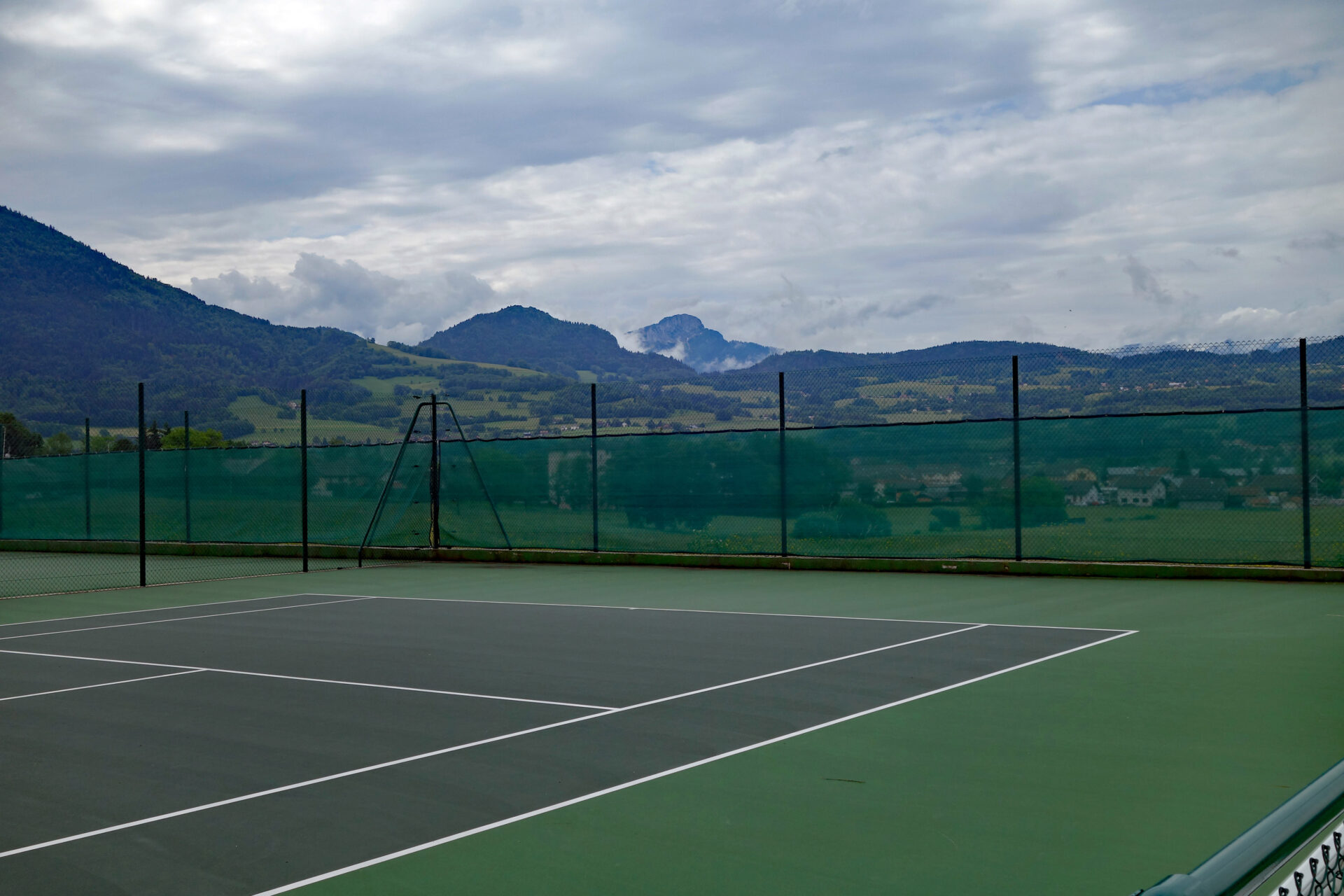 After getting tennis arranged we attempted, and I mean attempted, to drive to Geneva.  That unfortunately turned into a few hours of being lost.  Our first attempt at getting to Geneva resulted in us turning around at the border crossing because we were told that it would cost Euros 40.00 to use the highway…WHAT!!!!  The border guard told us we could drive back to Annemasse and come in on the toll free roads to Geneva.  OK, so we tried that but the GPS once again took us back to the border crossing that wanted money, and for the second time we turned around and headed home.  One wrong turn and our journey home to Bonne took twice as long.  We finally made it home to regroup over lunch and decide our next step.  A quick look on Google Maps with the "no toll roads" option turned on and we had a route.  We set of once again for Geneva and wouldn't you know it, third time lucky, we made it into Geneva 🙂  We also found out in our research that the Euro 40.00 fee was for an annual Swiss road pass, which we will have to buy next week as we drive further into Switzerland.  Had we known this we would not have wasted a few hours aimlessly driving!  Live and Learn!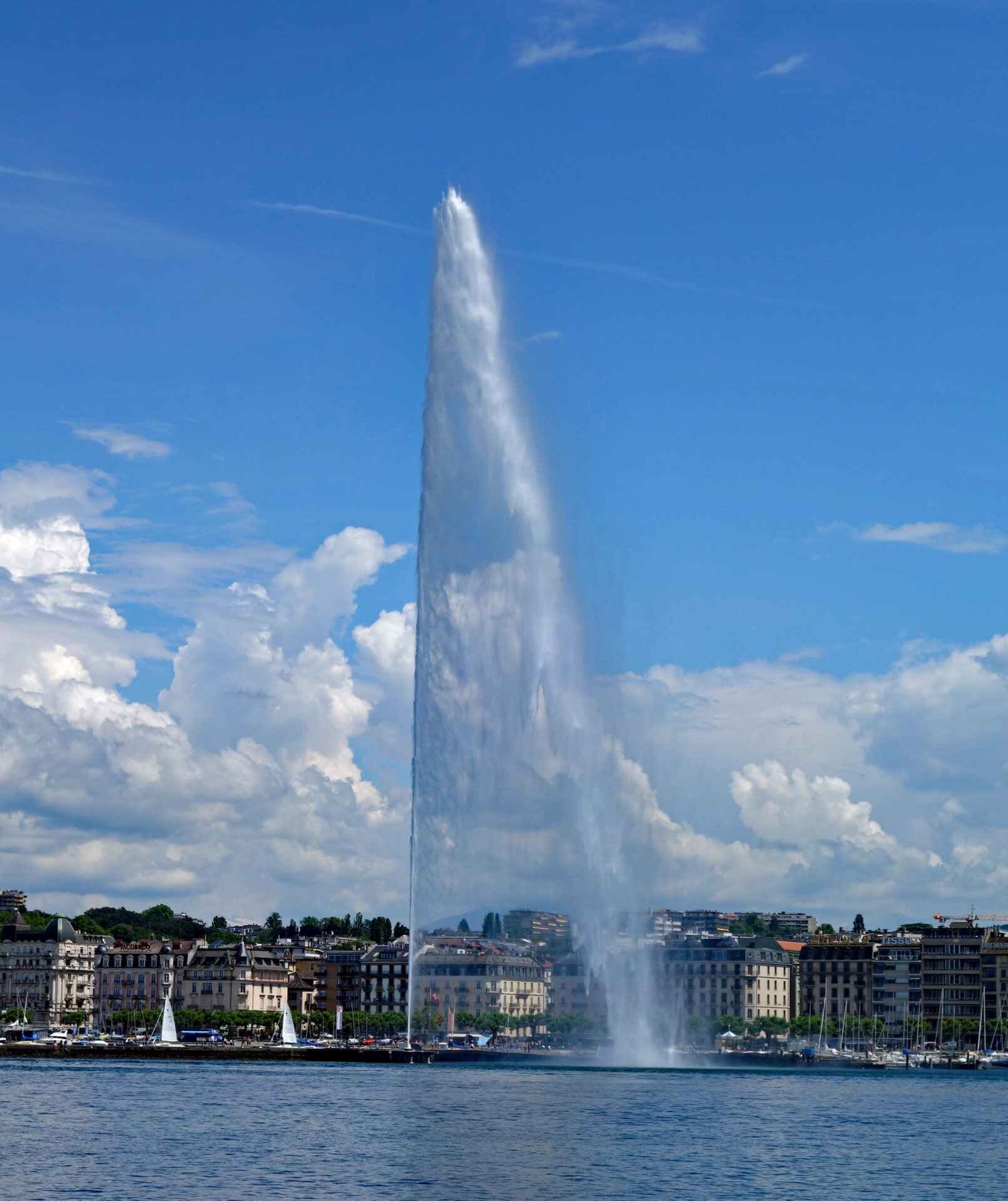 Geneva, well it was not quite what we had hoped for, horrendous traffic and nowhere to park.  We did eventually find somewhere to park Dory and walked along the lake shore to see the Jet d'Eau fountain.  It is impressive seeing the water shooting 460 feet high.  The fountain is one of Geneva's most famous landmarks and is visible when flying over Geneva at an altitude of 33,000 ft.   Lake Geneva, one of the largest lakes in Europe, is beautiful with numerous tourist boats traversing the lake.  High performance racing catamarans have been developed specifically for the lake and we saw a few of them running a few days later while visiting Yvoire.  From the lake we drove further into Geneva passing by the United Nations Office, second only in size to the UN headquarters in New York City, and the International Red Cross headquarters.  Driving by the UN it was thought provoking to realize how many world leaders have gathered here working to maintain international peace and protect human rights.  The Broken Chair sculpture in front of the UN offices is an impressive sight.  This sculpture is made entirely of wood and symbolises opposition to land mines and cluster bombs, acting as a reminder to politicians and others visiting Geneva.  In the end, our time in Geneva was informative and interesting and we would recommend visiting.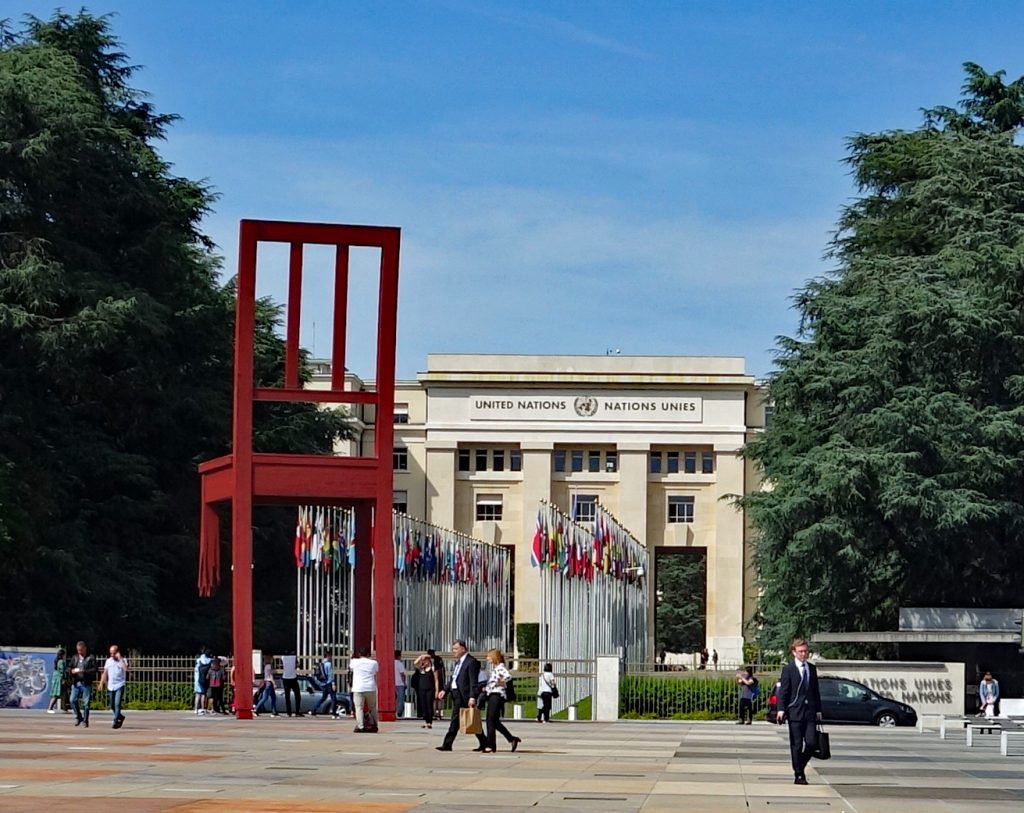 One day we rode the Mont Saleve Cable Car taking us to an elevation of 1,100 meters in 4 minutes, high above Geneva.  The cable car was inaugurated in 1932 replacing a now dis-used rack railway.  The summit offers stunning views of Geneva, Lake Geneva and the Alps to the West.  From the top of Mont Saleve you can take a paragliding ride if you are brave enough!!  There are numerous hiking and biking trails around the top of Mont Saleve, and back down the mountain, as well as cross country skiing in the winter.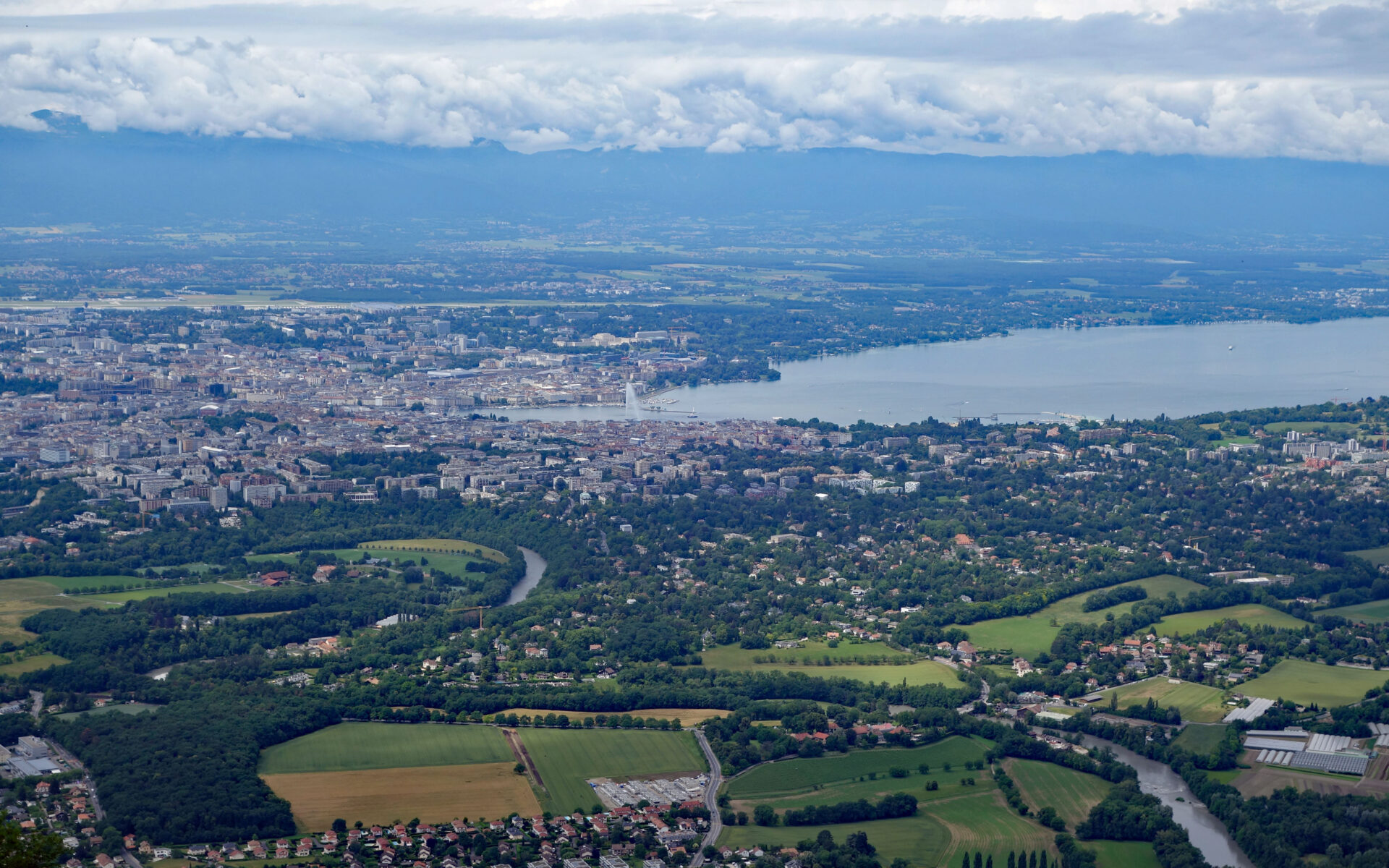 We took a drive to Annecy, on the northern tip of Lake Annecy, touring the historical town center, along with hundreds of other tourists 🙂   There are 3 canals running through the city which has earned the town the nickname "Venice of the Alps".   The Palais de l'Isle and The Basilica are two places worth visiting in this gorgeous town.  The Palais de l'Isle is a 12th century castle on an island in the river Thiou.  It mostly served as a prison and courthouse and today houses a museum.  The Basilica of the Visitation, started being built in 1909, and which was finished in 1930, is beautifully decorated inside.  Standing high above Annecy it is hard to miss this landmark as you look around the village.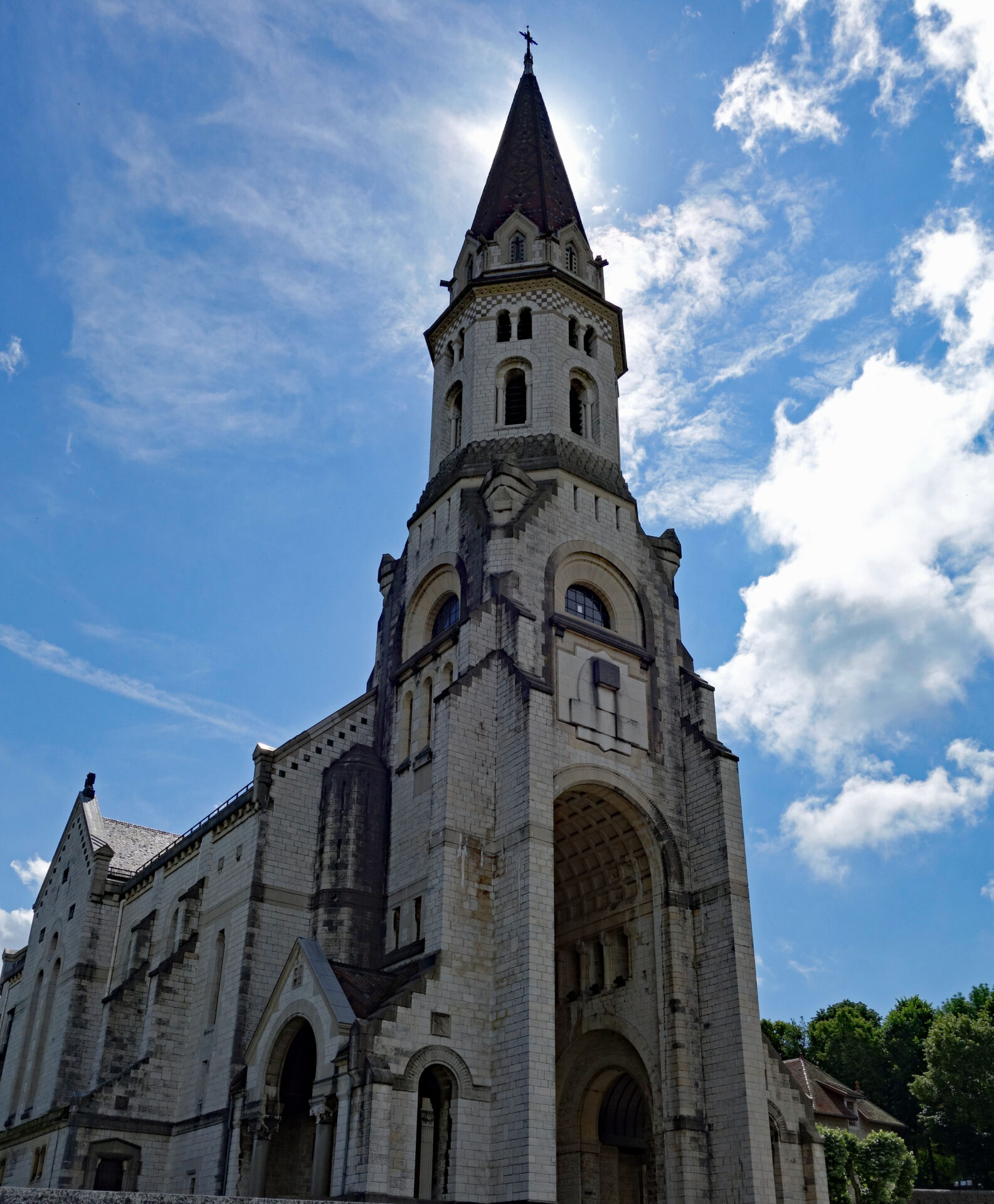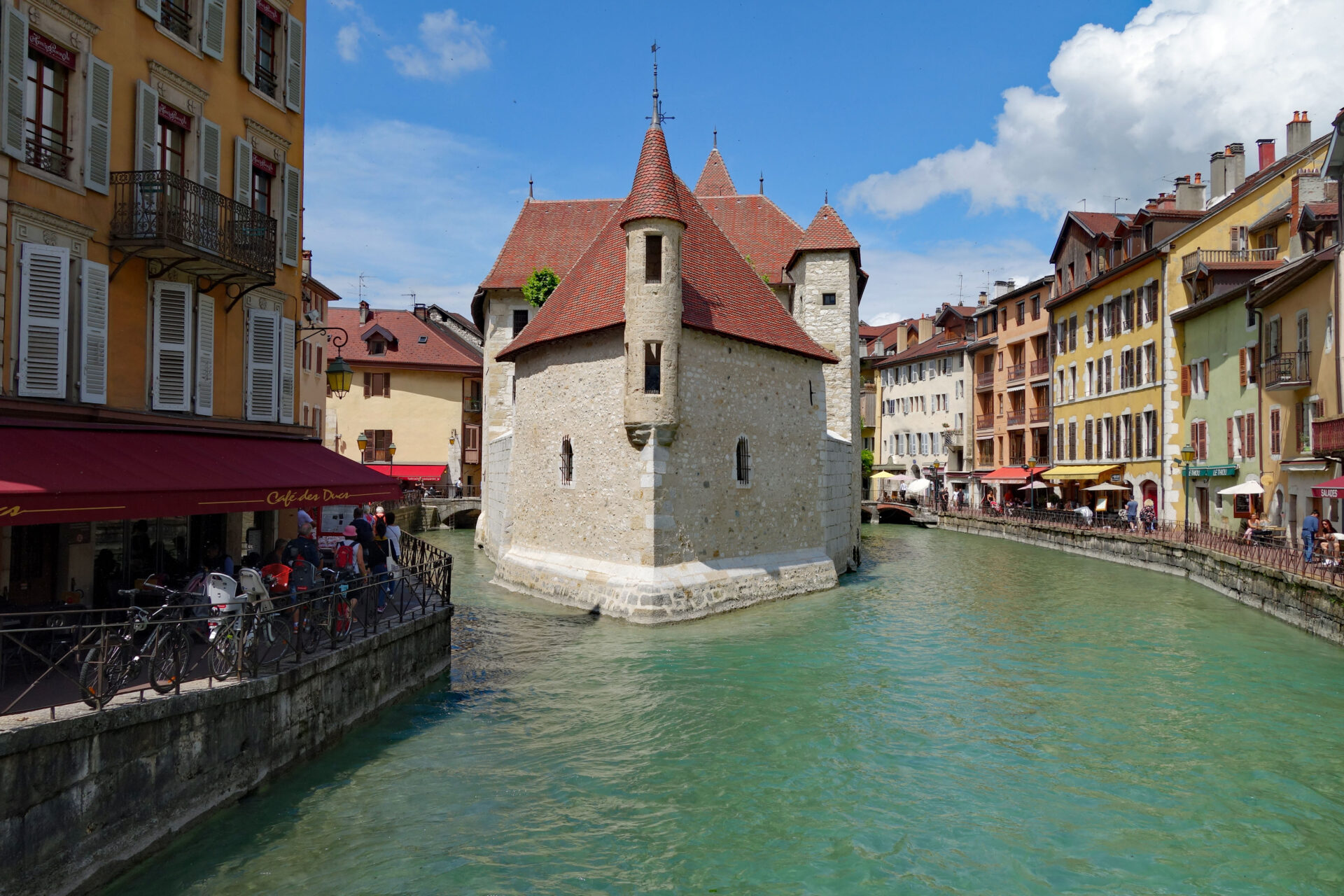 Researching sights to see around Bonne we read about Yvoire, a small historic town on Lake Geneva built in the early 14th century.  A perfect place for a short visit and once again we were enchanted by the small streets and historic buildings.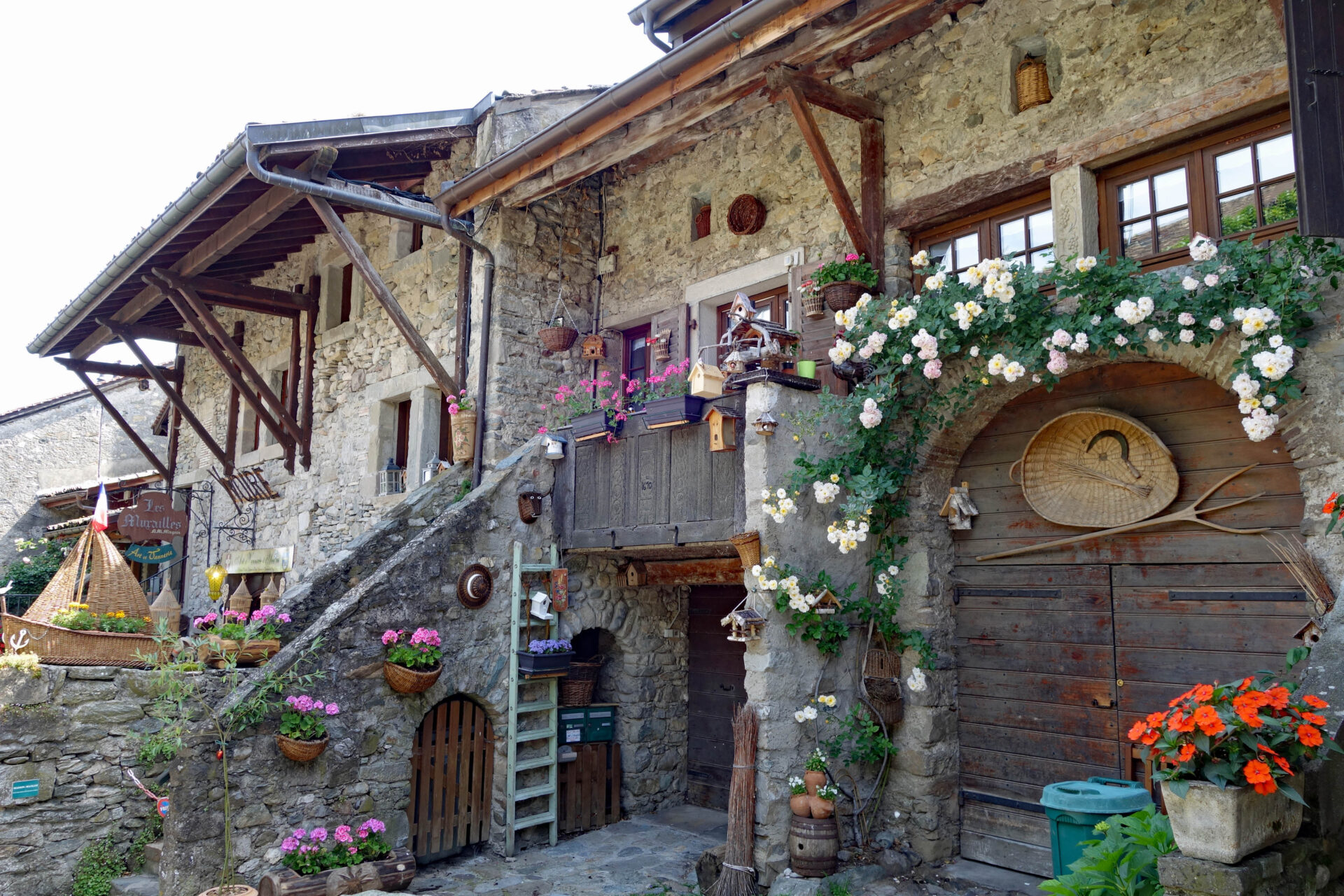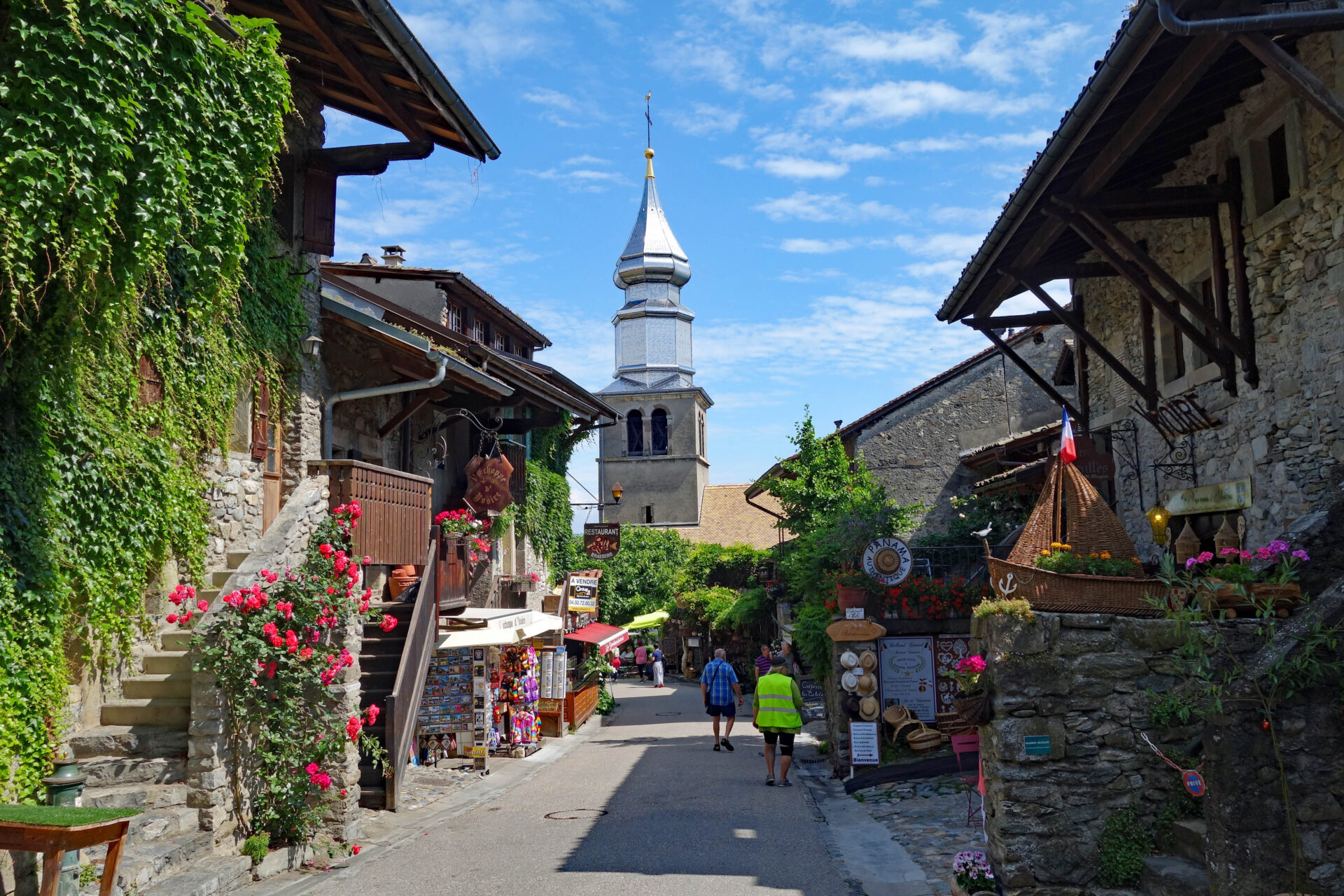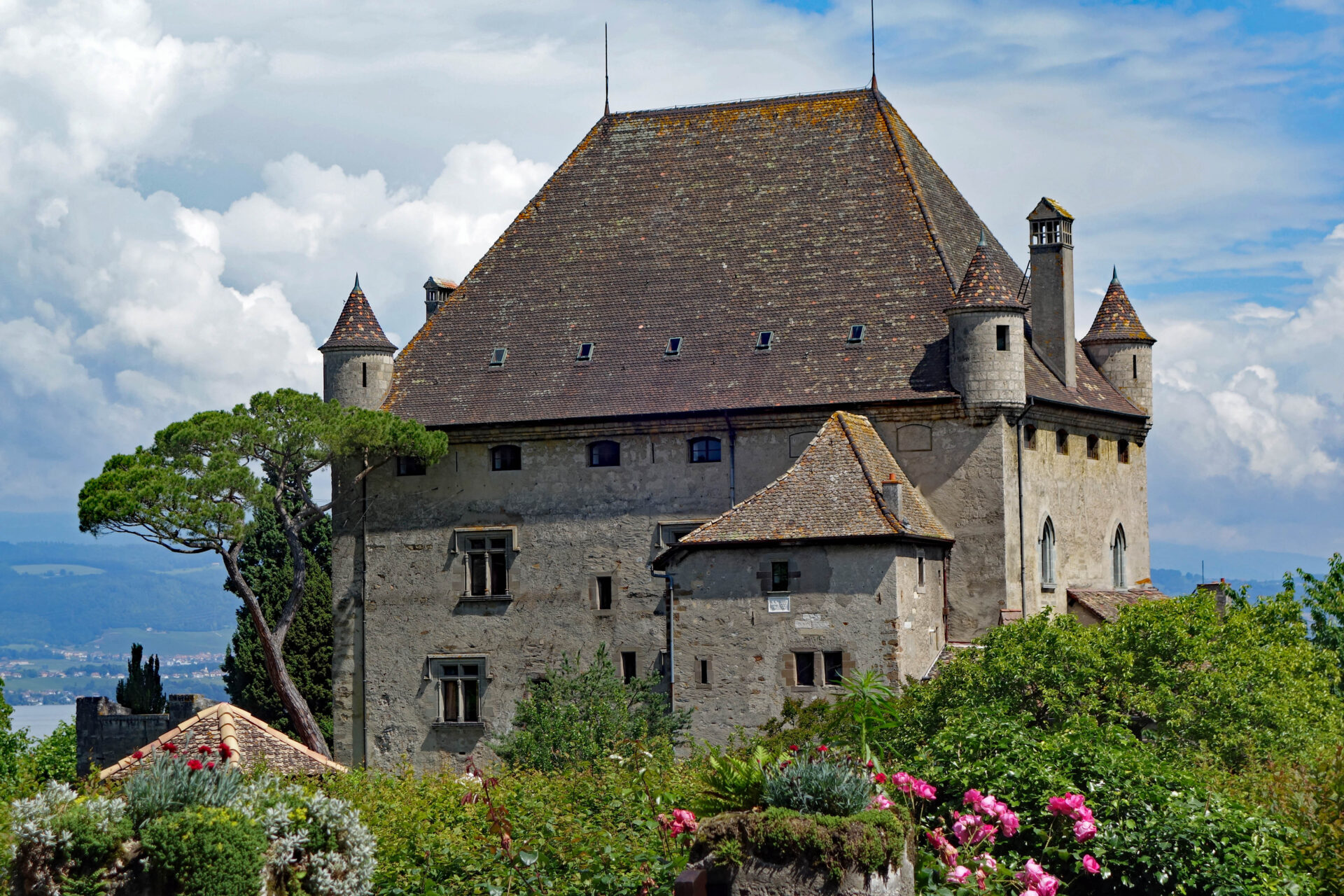 The steeple of the Church of St Pancras dates from 1854 but had deteriorated so badly that in 1989 it was replaced by stainless steel and gold leaf.  It literally sparkles in the sunlight.  And the flowers……they are everywhere.  Yvoire has become famous for it's summer floral displays, the Garden of the Five Senses as well as the midieval fortified gates.  Yvoire Castle, the largest landmark in town, was built from 1306, destroyed by fire in 1591 and only rebuilt in 1939.  It stands on a hill overlooking Lake Geneva and is a popular tourist photo location.  We can highly recommend Yvoire as a place to visit if you are nearby.
Our enjoyable week in Bonne was over quickly and it was time to move on, this time into the high mountains of Switzerland.  We hope Dory is not afraid of heights…