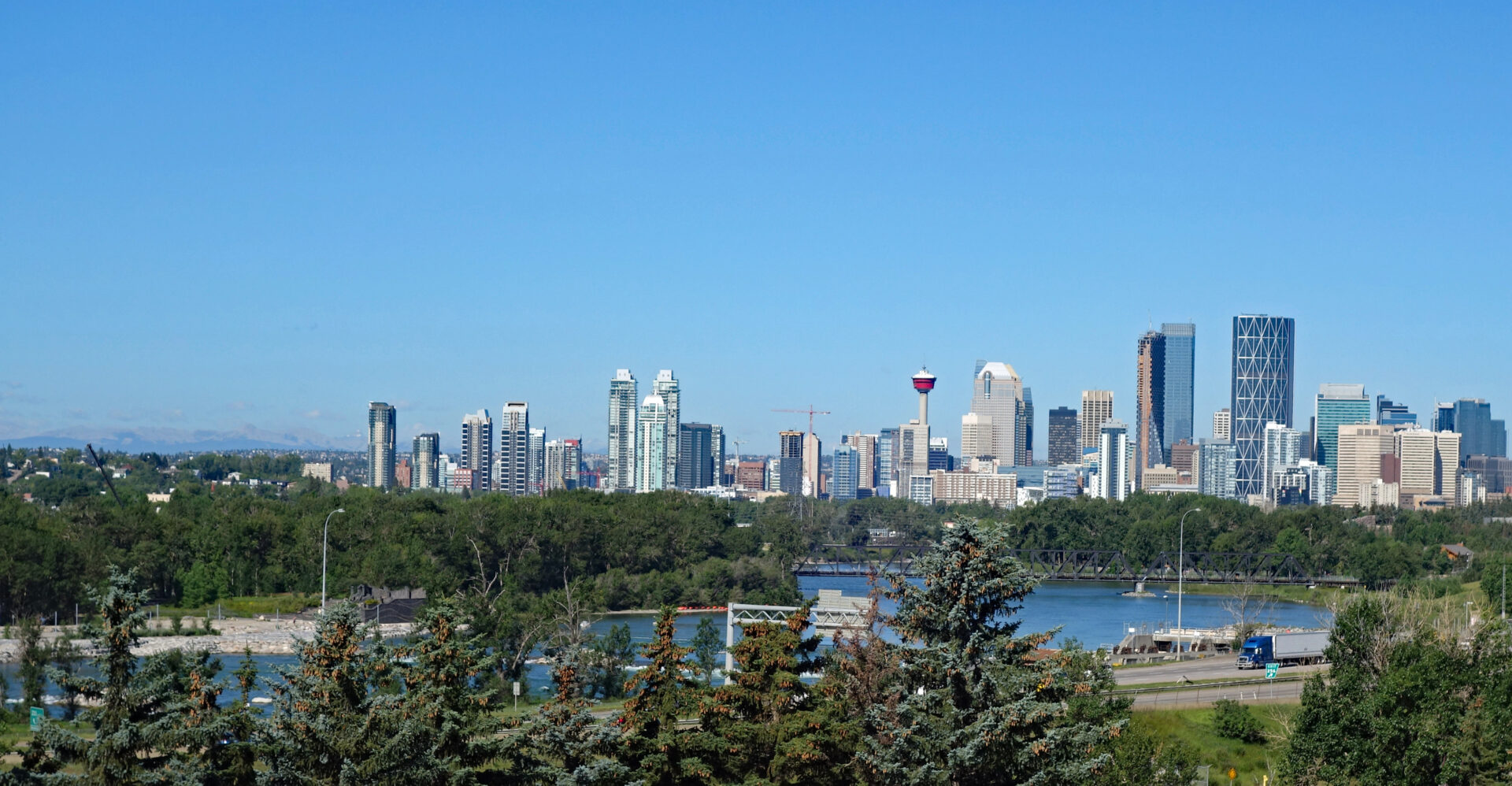 After our arrival in Calgary on June 6th we were caught up in a whirlwind of family matters pretty much taking us all the way to the end of July.  We have become comfortably settled into our temporary home in the very trendy neighborhood of Marda Loop, not far from where we used to live.  Within just a few blocks we have an abundance of restaurants, pubs, Shoppers Drug Mart, Safeway supermarket, Blush Lane Organic Market, ice cream shops, tennis courts and a gym.  Interestingly this is the gym we were members of when we lived in Calgary oh so many years ago 🙂  Having the luxury of staying in one place for 4 months has allowed us to become short term members.  Our mountain bikes have been stored in a family member's basement and Blair decided since we were here during the summer it would be nice to have our own bikes to ride, so he rebuilt them and we have enjoyed a few rides around the city.  Calgary is blessed with an extensive system of bike paths and dedicated bike lanes on roadways.
From our house we have easy access to ride around the Glenmore Reservoir taking us down into the Weaselhead Flats, a natural environment park bordering North and South Glenmore parks.  As the Elbow River flows into the Glenmore Reservoir it slows down, depositing sand and gravel creating a network of bars, channels and marsh areas.  This type of habitat is called a delta and is host to a unique array of plants and animals.  Weaselhead Flats also contains one of the largest stands of coniferous forest in the city.  The cliff face on the north side provides an excellent view of the area.  Not only is it a wonderful habitat for animals, there are paved pathways for cyclists and walkers to enjoy the area.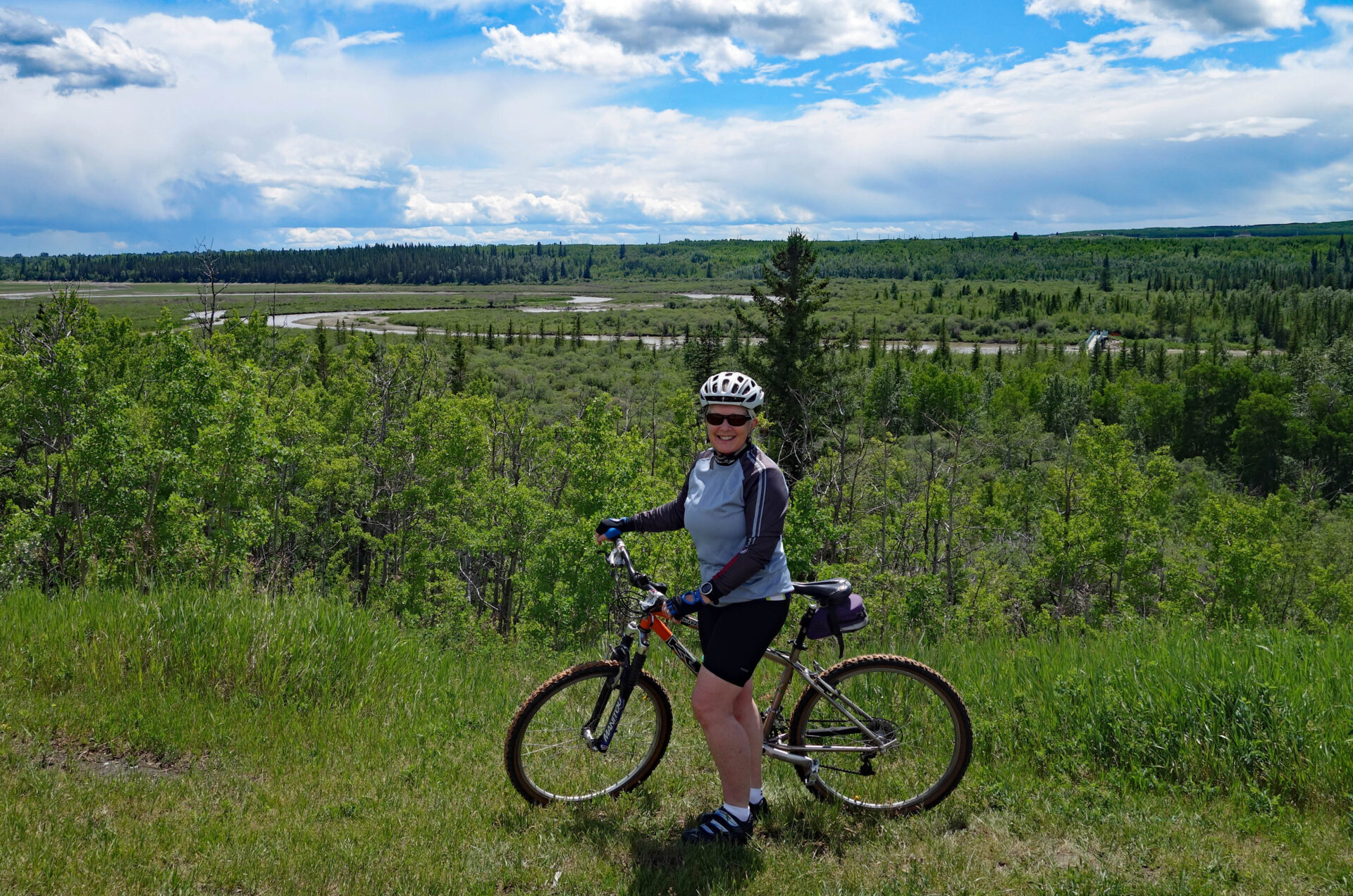 When the Elbow River leaves the Glenmore Reservoir dam it meanders through the city, eventually flowing into the Bow River by St. Patricks Island.  Bike paths follow this route passing through Sandy Beach Park, Riverdale Park, Stanley Park and behind the Stampede Grounds before reaching Fort Calgary where you join the Bow River pathway.  It is a beautiful ride along the river surrounded by trees giving you a feeling of being outside the city.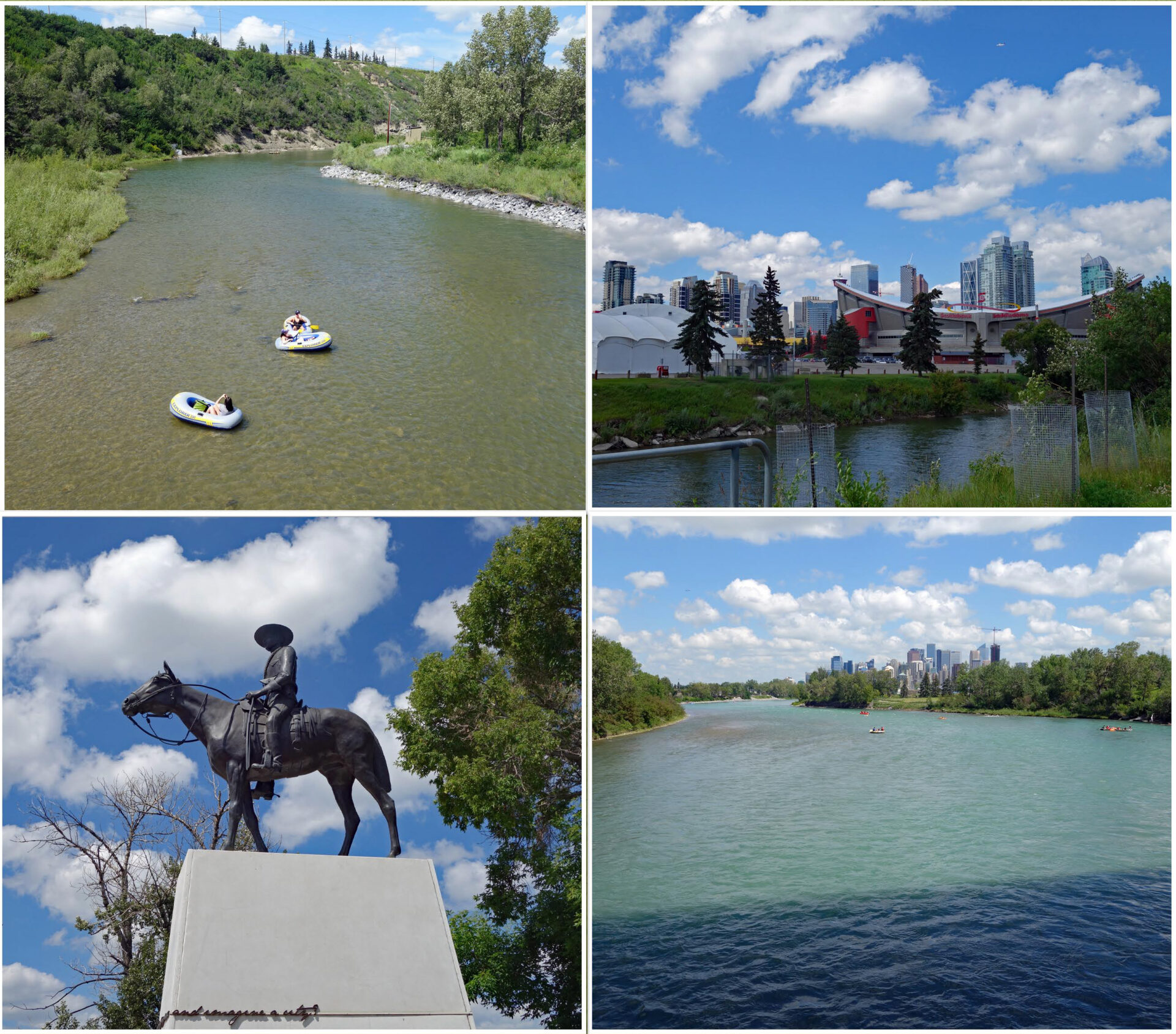 Just 1 kilometer from our house are 4 city tennis courts available to use free of charge.  After picking up our tennis gear during our London stopover we once again have the opportunity to get out and play a few games.  Two of these courts have also been marked for the popular game of Pickleball, there is a regular group playing each morning at 9 am.  If my knees cannot take the punishment of playing tennis, we may have to join the Pickleball gang 🙂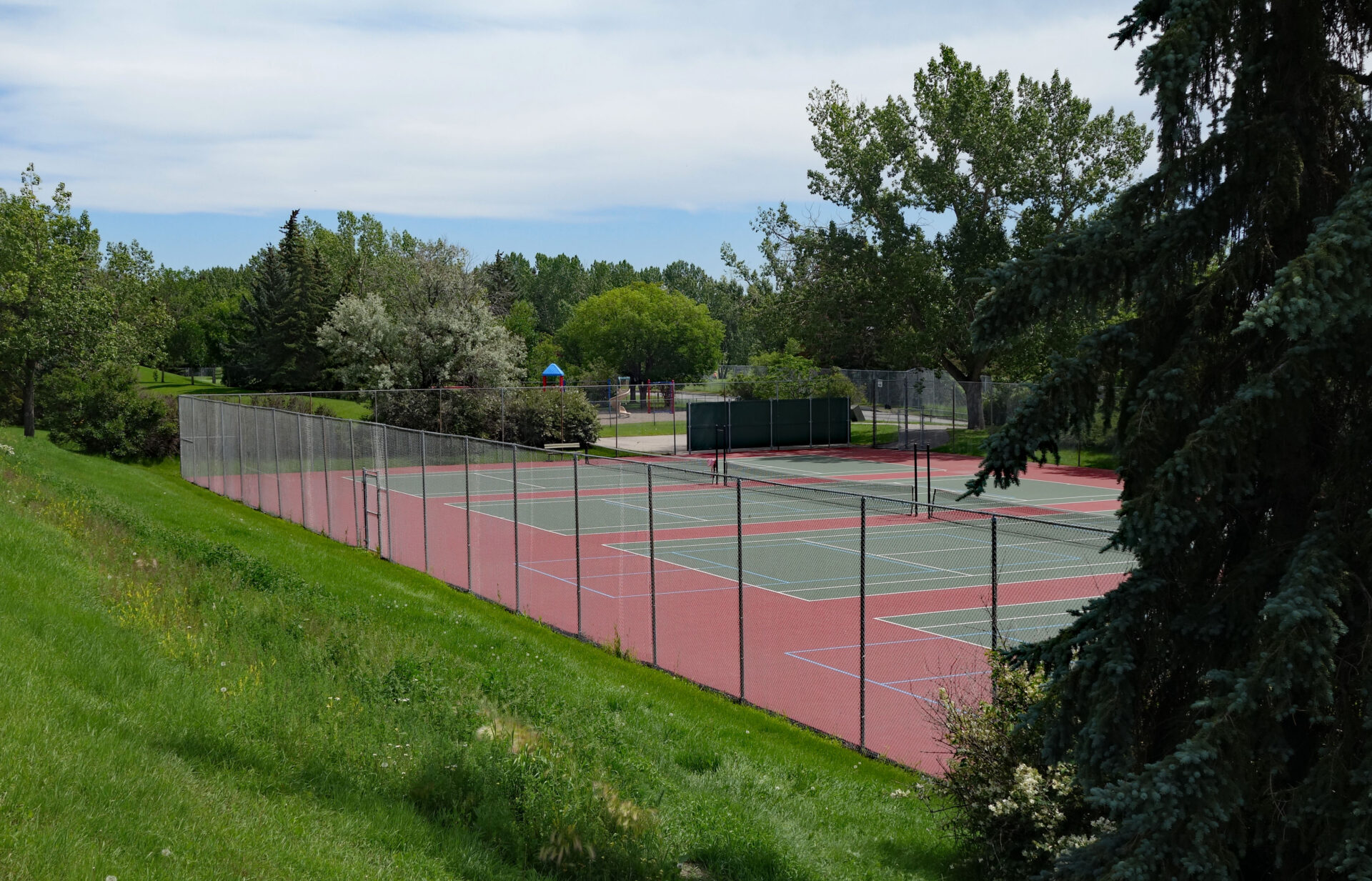 The Peace Bridge accommodates walkers and cyclists across the Bow River.  The bridge, designed by Spanish architect Santiago Calatrava opened for use on March 24, 2012.  The bridge was built by The City of Calgary to connect the southern Bow River pathway and downtown Calgary with the northern Bow River pathway and the community of Sunnyside.  The bridge is reportedly used by 6000 people a day!  Interestingly Santiago Calatrava was also the architect for the stunning City of Arts and Sciences and Opera House in Valencia, his home town.  We were enthralled by these buildings during our visit to Valencia in January of  this year.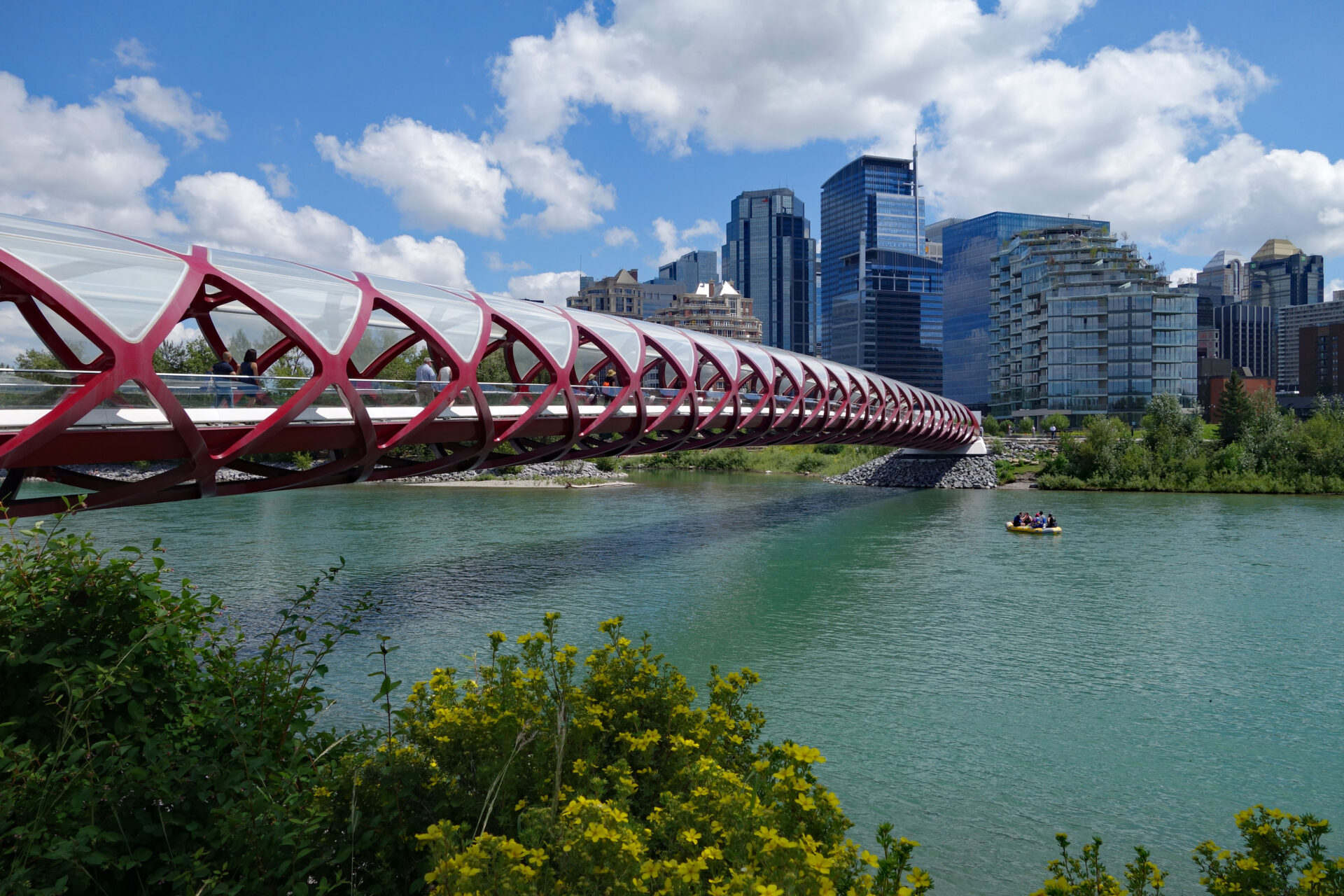 Summertime weather in Calgary can be very unpredictable 🙂  One minute it will be clear and sunny, the next, hail is pelting down turning the neighborhood white!!  It is now late July and more than one person has commented that summer has not yet arrived.  We have had a few warm days but nothing I would call sweltering hot.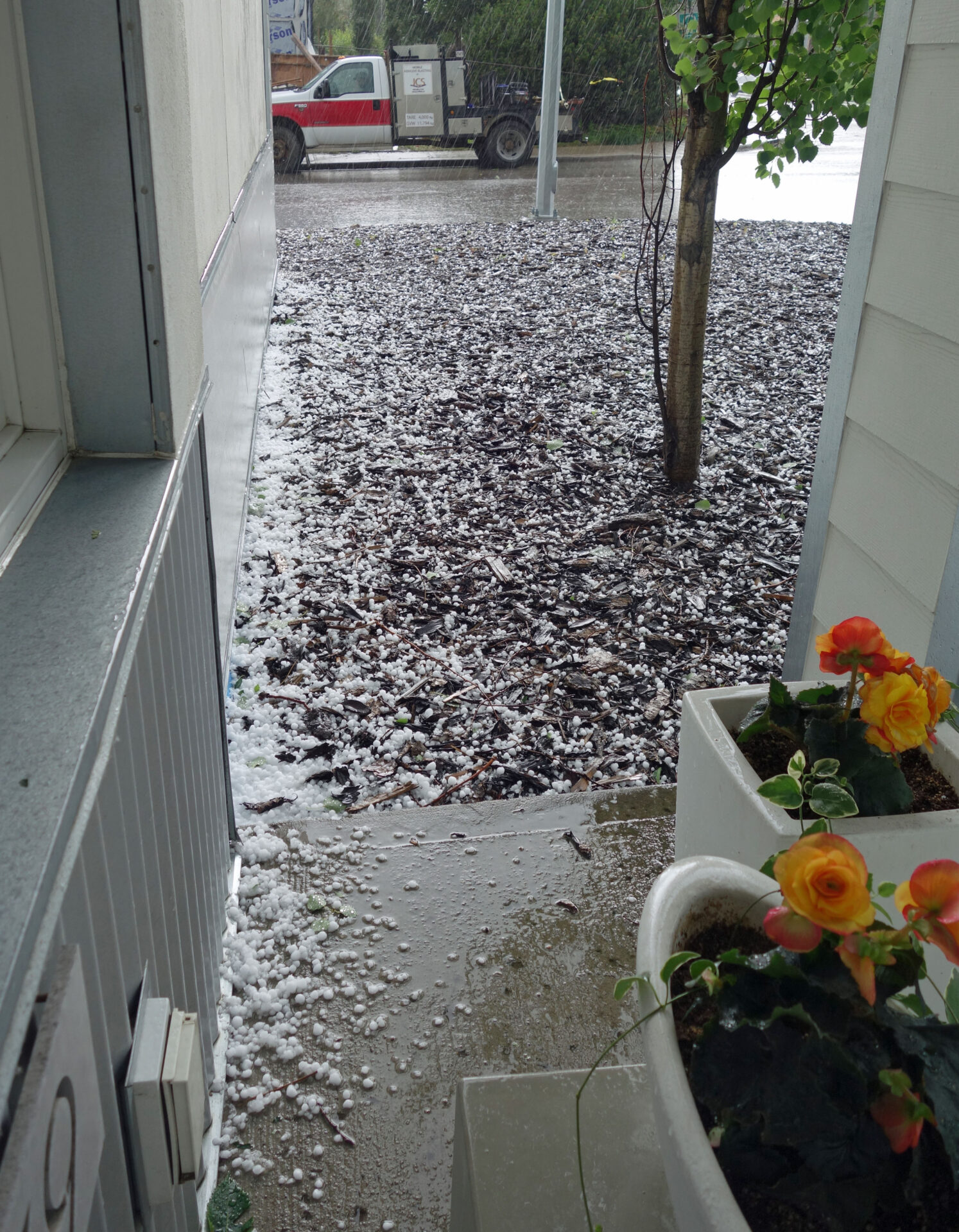 We have yet to make any sightseeing trips outside the city, other than a brief few hours at the Canmore Nordic Center checking out a bicycle expo that our nephew Carson was working at.  Blair was in the bike business for 10 years and enjoys any opportunity to catch up with former colleagues in the industry, plus check out the latest bikes!  With more free time coming up we look forward to a few road trips to the mountains.  Maybe we will even have a go on some easy mountain bike trails…..