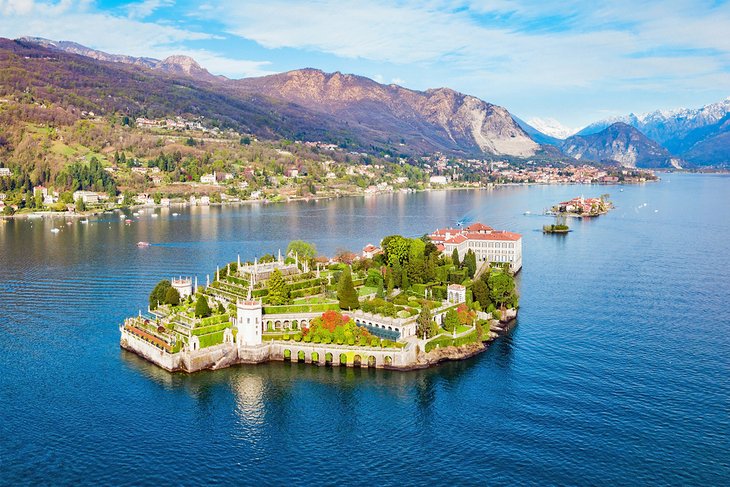 From Lake Como it took less than 2 hours to reach the town of Stresa on Lake Maggiore, another mountain lake lined with beautiful small villages, but not as busy as Lake Como.  Lake Maggiore is the second largest lake in Italy at over 64km long, with the northern end of the lake reaching up into the Ticino region of Switzerland.
We chose to stay in the town of Stresa because a friend suggested we visit Isola Bella, and Stresa is the closest town.  Isola Bella is a few minutes from shore and on a nice day you could probably swim there, just watch out for the boats!  Water taxis run constantly from Stresa to three small Borromean islands, Isola Madre, Isola Pescatore and Isola Bella.  We chose to visit Isola Bella so we could tour the magnificent Villa Borromeo, created as a summer palace by Count Vitaliano Borromeo from 1650 to 1671.  Inside the Villa are magnificent state apartments, an ornate Salone Grande, the Sala da Ballo (ballroom) and the Salla della Musica.  The villa is filled with lavish furnishings and collections of 17th-century Flemish tapestries and paintings of the 16th and 17th centuries.
The most spectacular room in the palace is the Gallery of Paintings, a sort of treasure chamber for the Borromeo family.  130 paintings are displayed on the walls, all framed in richly carved and gilded frames, and skilfully arranged so that they cover all the available space on the walls.  The gallery displays some important original works of art together with copies of the great masters such as Rafael.
Below the villa are six grottos, artificial caves whose walls, floors, and ceilings are encrusted with shells and pebbles.
The most impressive part of the palace has to be the Italian-style gardens rising up over ten terraces and covered with luxuriant vegetation, and a few white peacocks roaming the gardens.  The Teatro Massimo monument is covered with statues, obelisks, and fountains, topped with the statue of a unicorn, the symbol of the Borromeo family.  What a place it must have been to live!!  It was easy to spend quite a few hours touring the villa.  Tickets on the water taxi cost 8 Euros (USD $8.43) each for a return trip to Isola Bella.  Once on the island, the tickets to visit Villa Borromeo itself cost 20 Euros (USD $21.05) each.
Our visit to Stresa was brief, we basically had one full day here.  Aside from visiting Villa Borromeo, we wandered around the town of Stresa which caters to tourists with numerous hotels, restaurants, and shopping.  There is a gorgeous scenic boardwalk so we could admire the fancy hotels and views over the lake during an afternoon stroll.  It's still a bit early in the year but we can see the waterfront is being set up for the beachgoing crowd which will arrive shortly.
There are many beautiful towns dotting the lake, serviced by ferries from Stresa, which would be lovely to visit if you stayed longer than we did.  For us, it was our final stop in Italy as we make our way towards Paris…