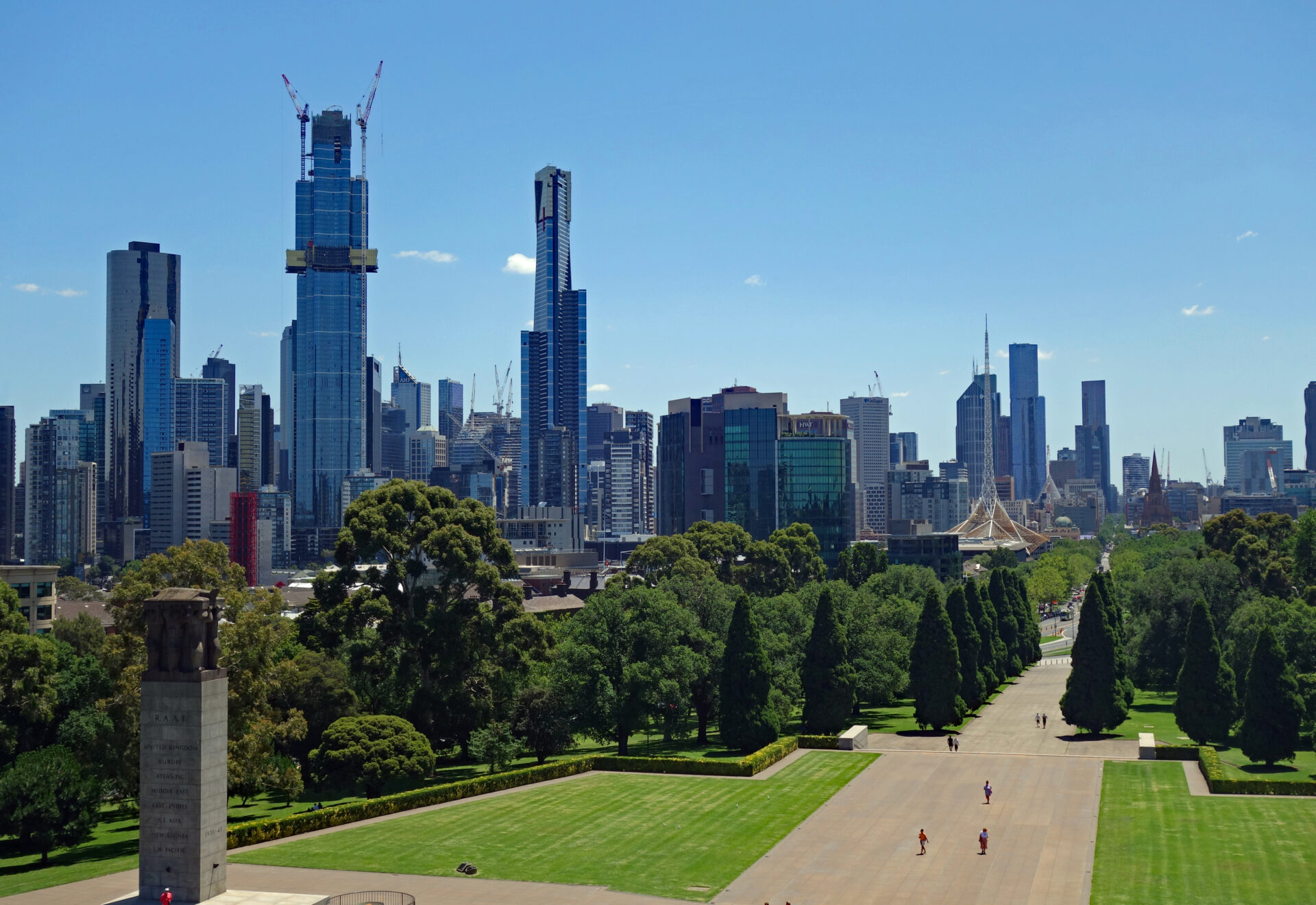 Leaving Port Campbell we drove 3 hours to Melbourne with the smoke haze getting thicker the closer we got to the city.  Arriving in Melbourne the skyscrapers vanished into the haze blanketing the city.  Reading an online newspaper, Melbourne had the worst air quality in the world the day we arrived.  The difficult thing about the smoke haze is it depends on which way the wind is blowing making it hard to predict how bad it will be on a given day.  That first day turned out to be the worst smoke haze of our time in Melbourne, thankfully the rest of our visit was mainly clear and sunny.
Melbourne is the capital and most populous city in the Australian state of Victoria, and the second-most populous city in Australia after Sydney, with a population of over 5 million.  Aside from the Australian Open Tennis, Melbourne had a lot going on to keep us entertained during our 15 day stay, much of which is easily accessed by their extensive tram system.  We chose our Airbnb specifically because it was on a tram line plus walking distance to the city center and the tennis venue.  We kept our car for the first 5 days to do a couple of big grocery runs and make a few trips outside the city before relying solely on public transport…and our feet 😊
Our Cayman friend Bruce is staying an hour away with his daughter in the suburb of Upwey, so we plotted and planned a winery tour to the Yarra Valley.  Picking Bruce, and daughter Nadine, up we headed out for a day of wine tasting.  Our first stop was the Punt Road Winery where we partook in a tasting of 6 wines and received an in-depth history of the vineyard and orchards on the property from our knowledgeable wine steward.  This vineyard makes apple cider and pear cider as well as selling their fruit to the supermarkets.  The fruit sales are much more profitable than the wine which allows them to continue producing wine on a small scale.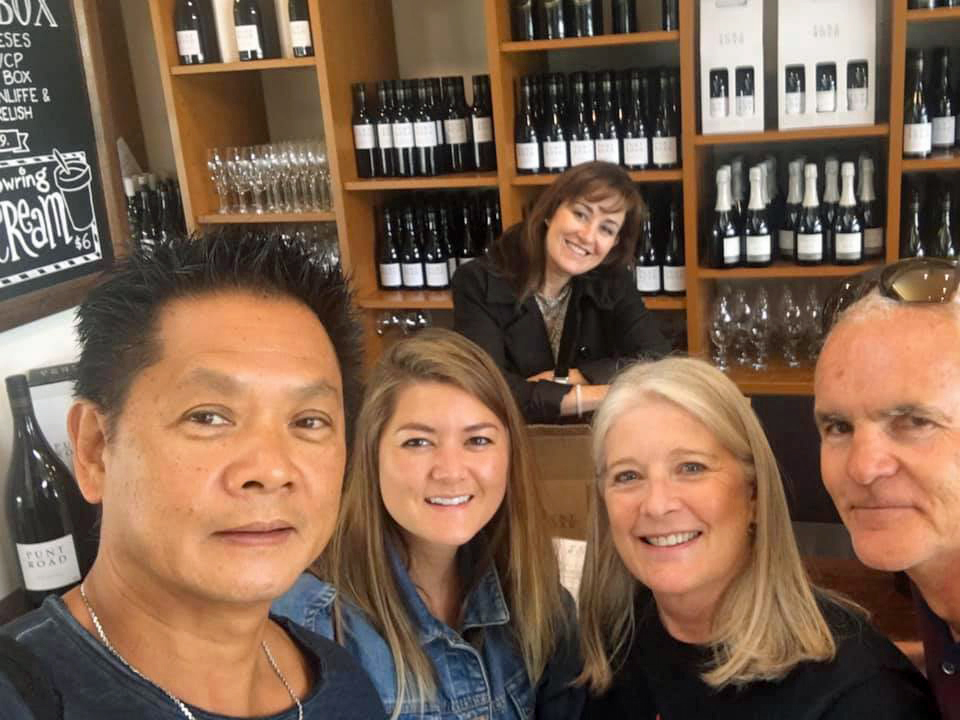 Our second winery was Maddens Rise, a very small artisan winery.  We were delightfully entertained by the wine steward as he explained the philosophy behind the wines they produced.  The highlight of these small wineries is the variety of their wines based on the growing season weather.  Each year their product is different and unique, and being so small they have the luxury of "playing around" to create interesting one-off wines.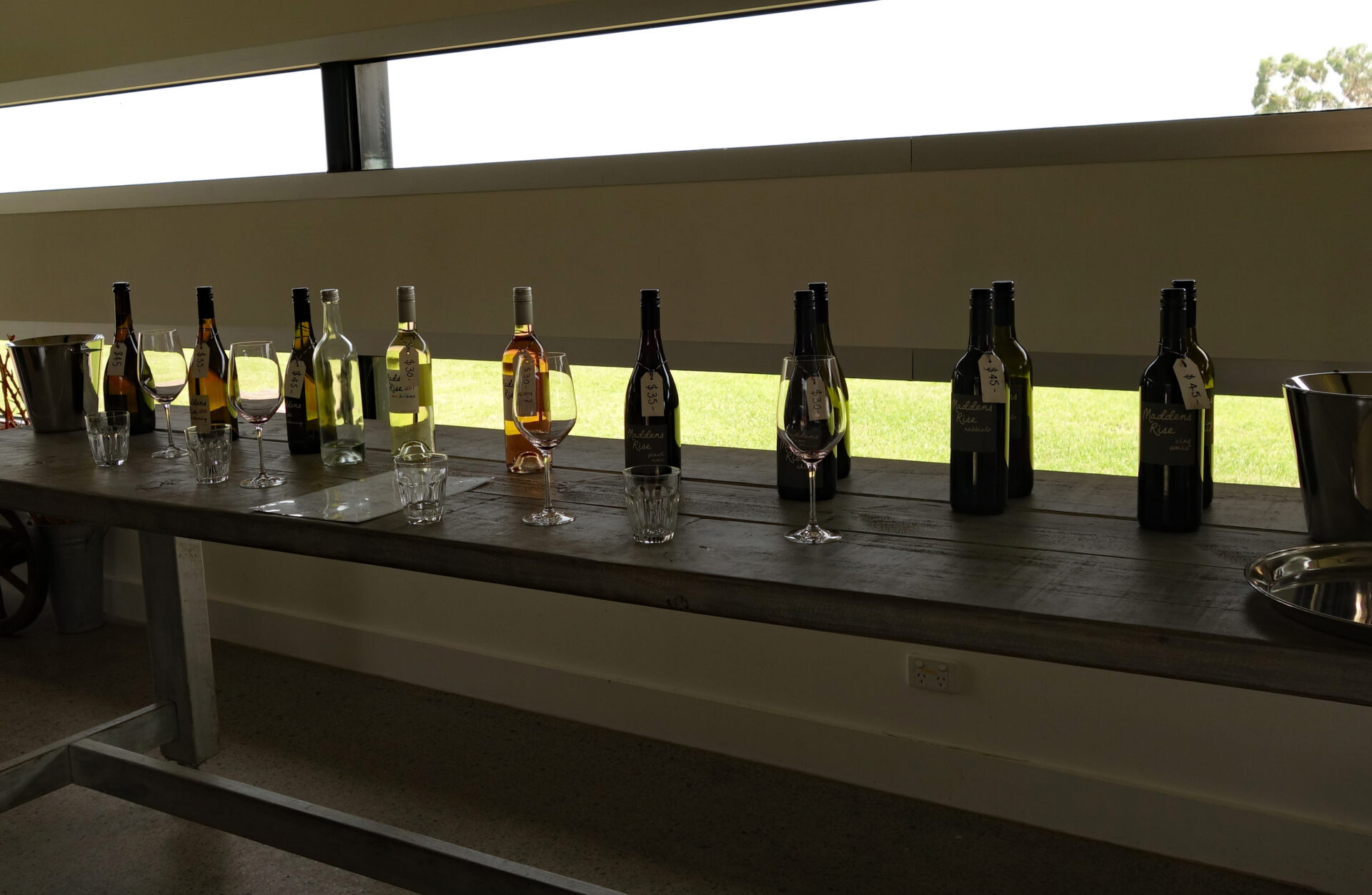 After a brief lunch stop, our third winery of the day was the Dominique Portet Winery, the largest and most commercial one so far, and our least favorite atmosphere catering to large bus tours.  Our final winery was the small family-run Yileena Park where we were entertained by the owner for almost 2 hours!  We enjoyed hearing the background story of how she and her husband started the winery, sampling their wines and generally having a good old chat with her about life in the Yarra Valley.  By now it was 5:30 pm, time to end our winery touring and head home with our purchases, but not before having a fun dinner at Nadine & Rich's house.  It was a long day by the time we finally reached home at 9:30 pm but oh what fun wine touring with friends 🙂  The joy of our tour was the opportunity to taste and purchase unique wines only available at the vineyards 🍷😊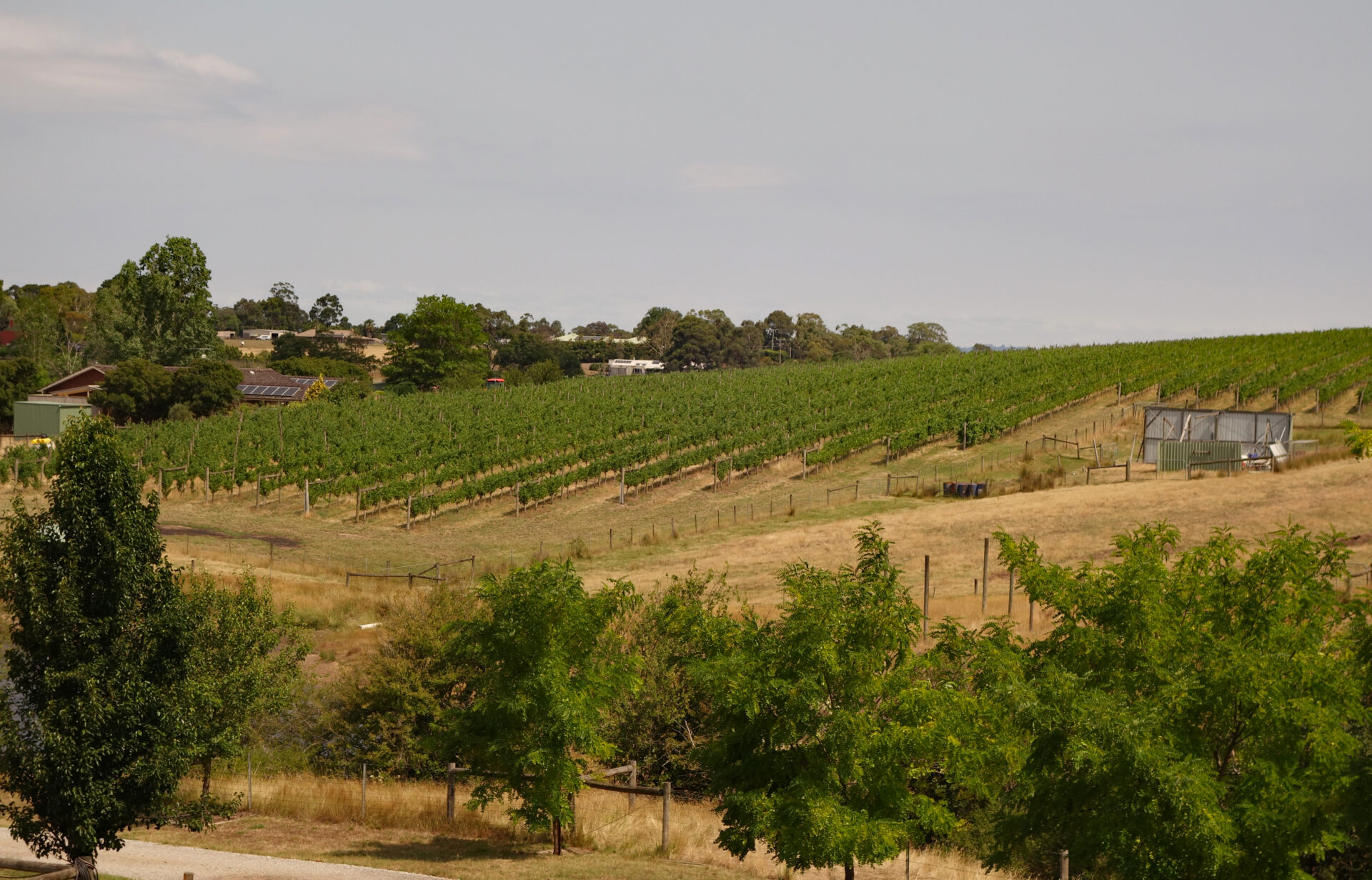 Our Airbnb is a 30-minute walk to the Flinders Street Railway Station, basically the hub of central Melbourne, and a good place to begin exploring the city.  The railway station building backs onto the Yarra River and covers two city blocks, serving the entire metropolitan rail system.  Completed in 1909 the building is a cultural icon in Melbourne with a prominent dome, arched entrance, tower, and clocks done in an Art Nouveau style.  In front of the Flinders Street station is a stop for tram route 35, a free tourist tram making a rectangular route around the city center.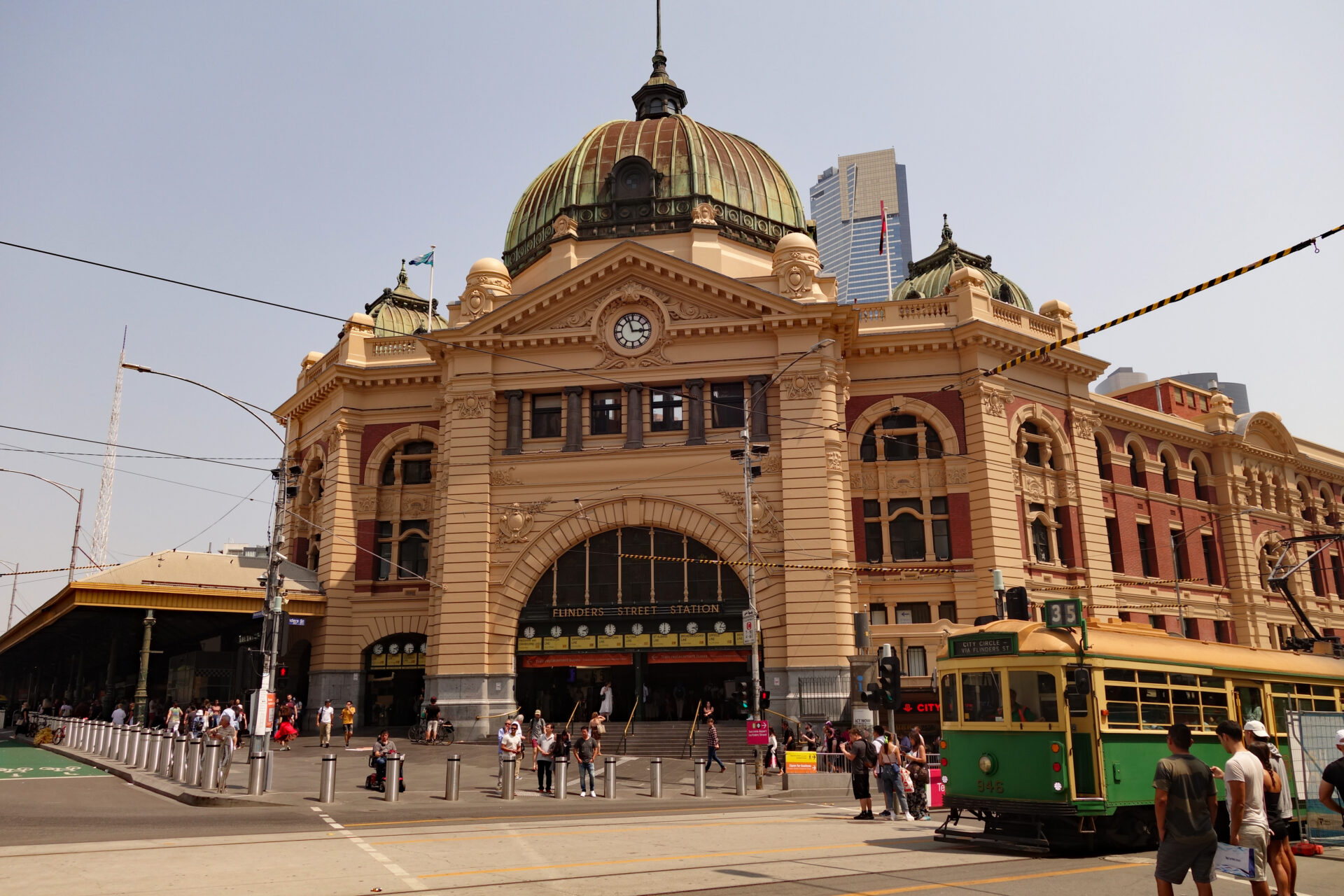 We hopped on Tram 35 for a ride around the city but only made it partway around before getting off and walking to Queen Victoria Market.  With more than 600 traders, 'Vic Market' is the largest open-air market in the southern hemisphere. The wonderful deli hall with art-deco features is lined with everything from soft cheeses and Polish sausages to Greek dips and kangaroo biltong.   It was easy to spend two hours traipsing around the numerous lanes, stopping for a flat white and a spicy lamb borek during our wanderings, yummy!!
Leaving the Victoria Market we meandered along the streets of central Melbourne, ending up at the Yarra River promenade where we stopped for a cold drink, a bite of sushi, and some people watching.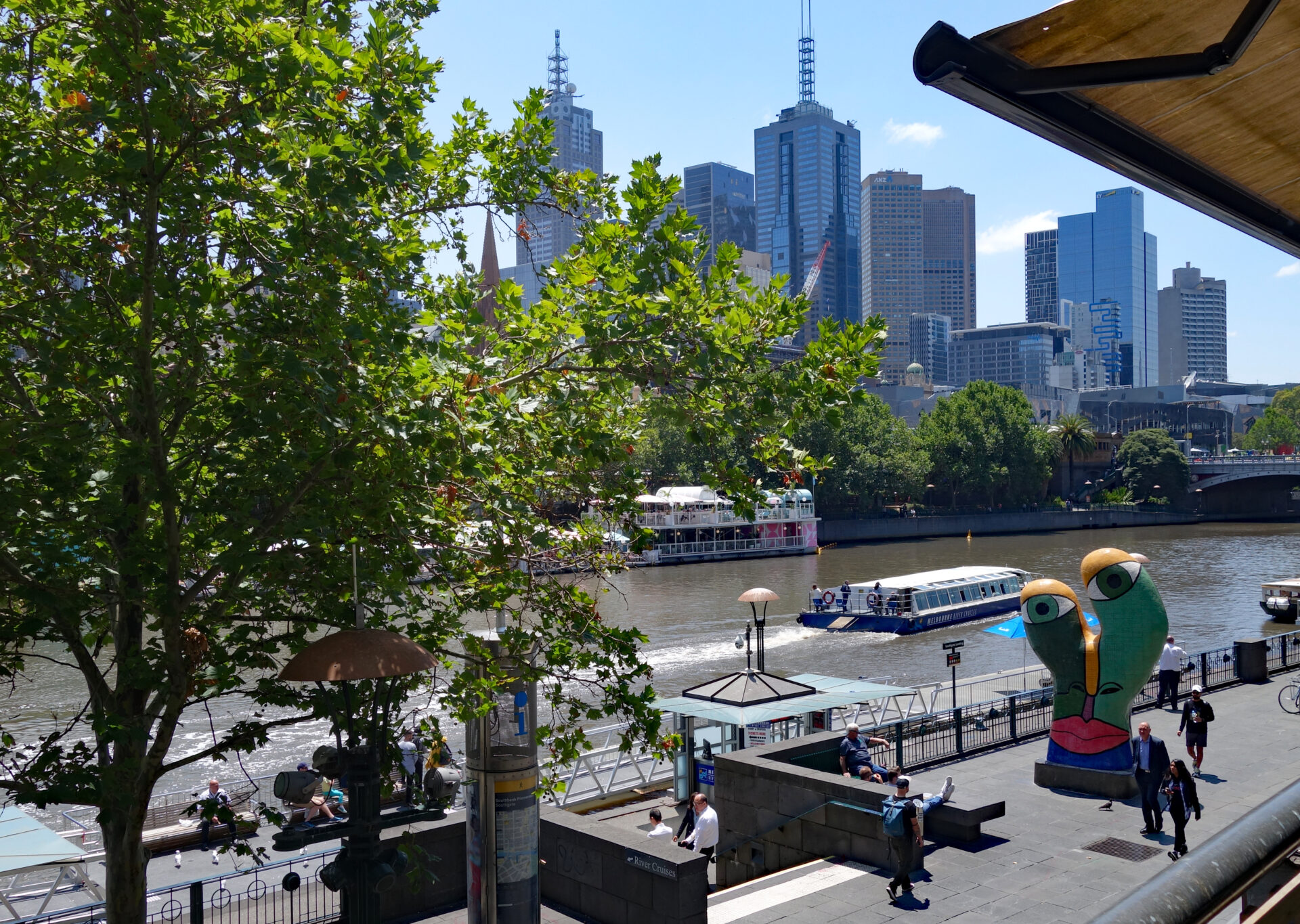 From there we began visiting some of the famous lanes filled with street art.  Melbourne is known as one of the world's great street art capitals for its unique expressions of art throughout the city.​​​​​​​​​​​​​​​​​​​​​​​​​​​​​​​​​​​​​​​​​​​​​​​​​​​​​​  Many of the lanes were busy with tourists like ourselves admiring the extensive variety of paintings.
A short tram ride away from our apartment is the St Kilda Pier and beachfront boardwalk.  Our first stop was the Luna Amusement Park for a look at their famous mouth entrance.  Luna Park is a historic amusement park, opened in December 1912.  The Scenic Railway here is the second oldest operating roller coaster in the world, I believe the oldest is in Pennsylvania, USA.  The park was not yet open when we wandered by so our view was limited to exterior glimpses of the old wooden roller coaster track.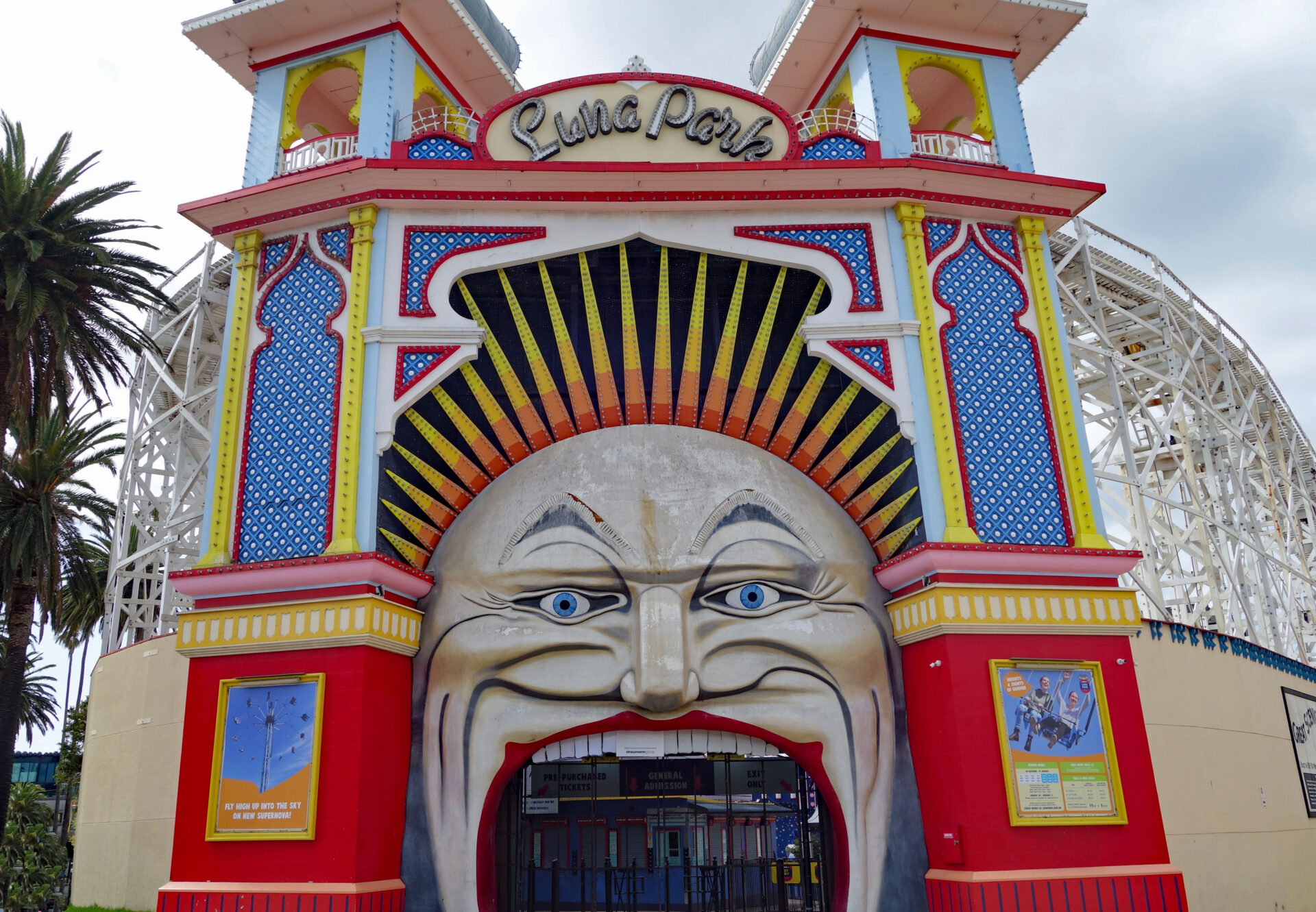 The original St Kilda pier was built of timber in 1855, extended many times, and eventually replaced with a concrete pier in the 1970's.  It is a favorite destination for locals and visitors, with a walk to the end and back a popular activity.  The pavilion at the end was added in 1905 but destroyed in an arson attack in 2003.  Massive public support saw the pavilion reconstructed to the 1903 plans and it's now listed in the Victorian Heritage Register.  The breakwater at the end of St Kilda Pier is home to a colony of Little Fairy Penguins, the smallest species of penguin.  Typically the penguins leave before sunrise, fish all day, and return home at sunset.  We were there mid-day and did not expect to see any penguins however it is molting season and the penguins do not go out to sea while molting.  Because of this, we were fortunate enough to see half a dozen of these little guys tucked amongst the rocks.  Signage on the walkway warned visitors that while molting these little penguins can get quite grumpy.  We had heard this previously while in Christchurch at the Antarctic Center being told that during molting these poor little creatures shed all their feathers and over 10,000 new ones grow in…very painful!!
A favorite market of ours was the South Melbourne Market, we went there 3 times.  Not as large as Vic Market but it was closer to home for sushi and soft shell crab sliders at Aptus Seafood.  Aptus has 3 stalls selling raw and cooked seafood, their latest being an oyster bar.  From their cooked food stall we tried soft shell crab sliders…amazing!  From their raw food stall we had soft shell crab, eel, and salmon sushi…also amazing!  While enjoying our sushi their wine sommelier came over, asked how we enjoyed our meal and talked to us about the family history of the business.  Since 1969, Aptus has been serving up extraordinary seafood to the people of Melbourne and current owner Angelo is a second-generation fishmonger.  People come from far and wide to indulge in his freshly shucked oysters, we were amazed at the number of people slurping back this delicacy.  Neither of us likes oysters so we are not able to give an opinion, other than we saw a phenomenal quantity of oysters consumed.  The sushi was some of the best we have had so of course it warranted more than one visit 😊  Another favorite from the South Melbourne market were the beef and Guinness pies from the Small Town Pie Co which we bought twice.  We are falling in love with NZ and Aussie pies!!
Melbourne's waterfront along the Yarra River features spectacular bridges, sculptures, landmarks, and the Southbank Promenade.  This is definitely the place to be in Melbourne, packed with restaurants, bars, and street performers.  We walked along here a few times enjoying the scenery and marveling at the crowds.  Of course with the Australian Open tournament on there are big screens set up in a number of locations with free seating and food trucks.  We stopped in one venue to watch a match and discovered a Portuguese food truck selling Pastel de Nata…custard tarts that I fell in love with while in Lisbon, and yes these were just as good as the ones in Lisbon!
One of our riverfront walks happened to be on Chinese New Year's Eve and along the promenade were decorations and booths being set up for celebrations that night and New Years Day.  Along the way we spotted former tennis ace Boris Becker enjoying lunch with his wife, had to walk by a couple of times to confirm it was him 😂  We popped into The Crown Casino and Entertainment complex to window shop at the designer outlets and read the menu's of restaurants we cannot afford to dine in.  We also came upon a colorful display of Chinese Zodiac animals celebrating the New Year, catching our attention with the bright lights.
Overall we have enjoyed Melbourne more than we expected, the highlight of course was attending the Australian Open tennis tournament.  The tram system is a fabulous and easy way to get around and the food scene is amazing.  We thoroughly enjoyed all 3 of the markets we toured, the variety of food available, plus the endless restaurants in the city.  Enough to keep a foodie entertained for a long time.  There is so much more to discover in Melbourne yet we have run out of time, seems like 15 days is just not enough.  It's time for us to leave big city life behind and move south to the island of Tasmania for some relaxing beach time…
Trip tips
When we returned our car to the airport we took the SkyBus back into central Melbourne.  It is inexpensive at AUD $20 (USD $13.42) per person and drops you at the Southern Cross Station where you can catch an inner-city tram to your next destination.
We purchased a Myki card to use the tram system.  The card costs AUD $6 (USD $4.03) and you add on as much as you like to ride the trams.  Here is their website explaining how it works and where to purchase a card.  Topping up the card is not possible online with a non-Australian credit card so we topped up using cash at our local convenience store when needed.