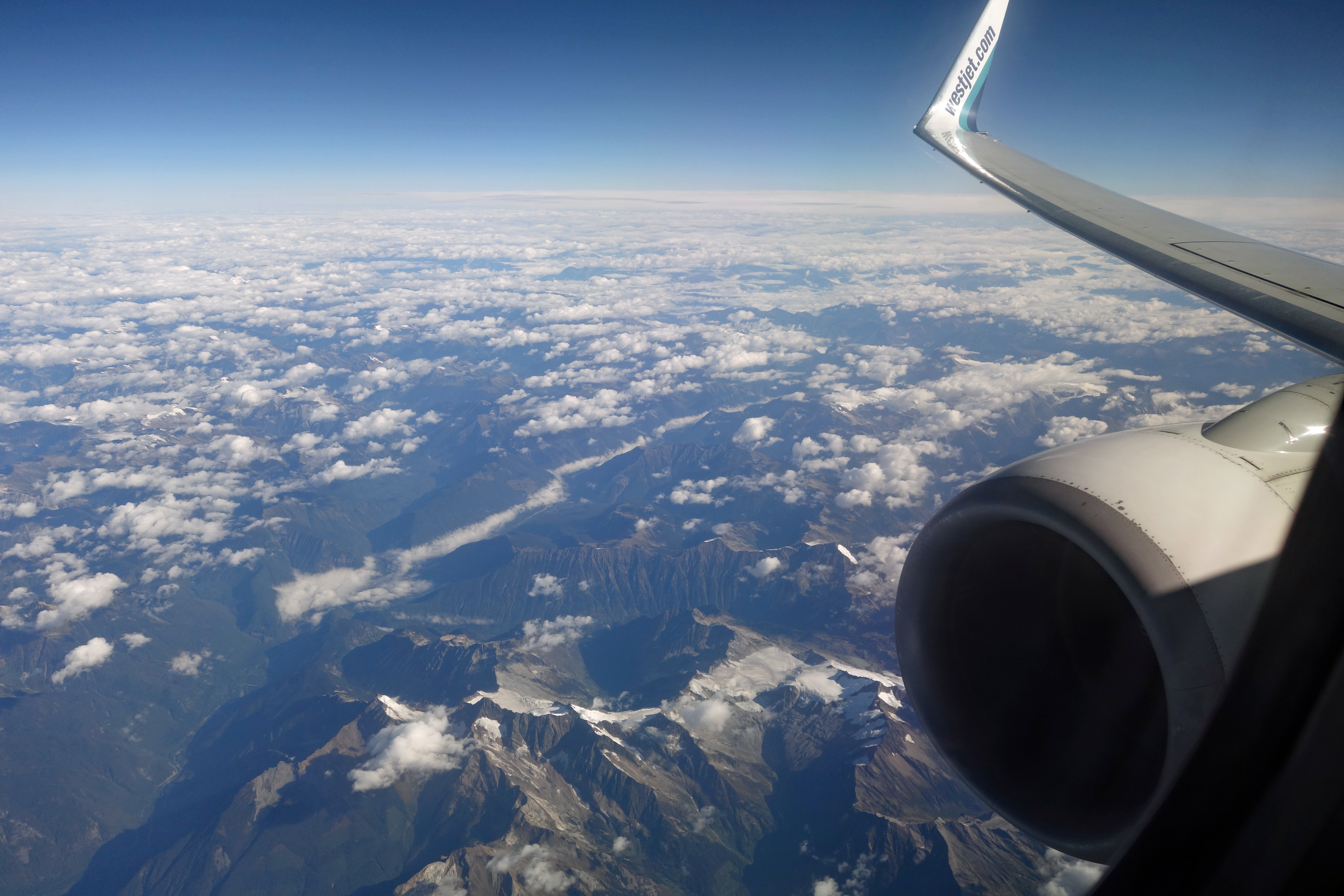 It's hard to believe we have not taken to the skies in over 15 months!!  My first foray back in the air was a solo trip from Calgary to Qualicum Beach, Vancouver Island to visit my sister.  I have not seen her since March and wanted to make a short trip there before we head south for the winter.  Initially, I had planned to fly into Nanaimo which is 1 hour south of where she lives, but when I commented on the price of airfare she suggested I take a look at Comox, which is 1 hour north of where she lives.  For some reason flying direct from Calgary to Comox was cheaper than flying to Nanaimo, so my decision was made.  Coincidentally, my sister and brother-in-law recently bought a new house just outside Comox.  They don't move in until October so I was not able to see inside their new place, but we did drive by the outside so I know where they will be living.
So, how was the flight from Calgary to Comox?  It is a less-traveled route so the plane was a narrow-body jet, smaller than the ones you normally see heading to Vancouver or Victoria.  The plane was half full, all passengers were on time and the plane left 10 min early, an unusual occurrence these days from what I have been hearing.  The only stressful time was clearing security in the Calgary airport which is a bit of a shit show with the added screening.  Fortunately, a friend in Calgary mentioned that I should use my Nexus card to clear security.  I had not thought of this because it was a domestic flight, but once I told the grumpy security guard that I had Nexus, I was waved past the long line and straight to the security gate.  HINT: If you have a Nexus card, use it at all airports in Canada and the USA!!
With covid still running rampant in Alberta, I decided to wear an N95 mask while traveling, feeling somewhat more protected.  The N95's are not as loose and comfortable as the regular disposable masks, but the fit is much better and worth the slight discomfort.  My flight over the mountains was spectacular and uneventful, with no unruly passengers on the flight 🙂  I was fortunate to have nobody sitting beside me which made the trip even more pleasant.
My 3 days on the island with my sister was an active and fun-filled visit.  We cooked a couple of great dinners at home; went to wing night at their local pub; shopped at the Coombs farmers market; stopped in at a pumpkin patch; hiked to Englishman River falls; walked the seafront in Qualicum Beach; enjoyed a wine tasting at 40 Knots Winery; had lunch at Kingfisher Resort & Spa; and enjoyed lazy mornings at home drinking coffee and enjoying the view from the deck.  The days flew by and before I knew it, it was time to go back to Calgary.
The flight from Comox back to Calgary was on a Dash 8 twin turbo-prop plane.  It's been a long time since I flew on an airplane with propellers, especially over the mountains!!  It was not the most comfortable airplane, with very narrow seats and a small 1″ armrest between seats.  Again I was fortunate to have nobody sitting beside me so the flight was pretty comfortable.  Comox airport is very small with just 2 departure gates, the staff were helpful and pleasant and security was fast and efficient…there was only 1 other person in front of me!
Now back in Calgary we have begun counting down the days until we fly south to Mexico.  My takeaway from this brief journey is that extra time should be allowed at airports and to be prepared for delays and long lines through security clearance points.  That and a chill attitude will make travel during the pandemic bearable…..