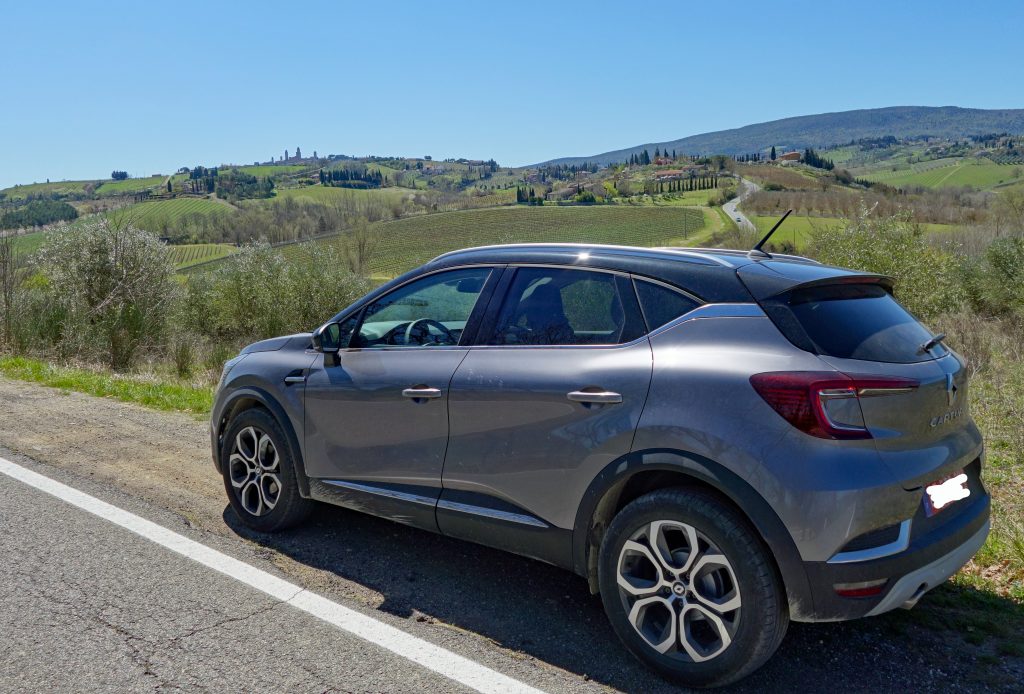 Say hello to our newest car, a Renault Captur. This is our 5th lease with Renault Eurodrive and each time we have been really happy with their service, their delivery options and most of all their prices.  Over the last two years, covid has disrupted supply chains around the world and there is now a shortage of cars.  The result is that car rental prices have skyrocketed, and that's assuming there are any cars available.  In early November 2021 Renault came out with their 2022 offers and we immediately booked a car while they were available, actually, we booked two separate leases for our 6 months in Europe.  The reason for two separate leases is that Renault limits the lease duration to 170 days, not sure why, but this cut our trip short by a couple of weeks so we had to do two leases.  The price for our first brand new vehicle is $28.80 USD per day!!  Because this is a lease and not a rental it costs much less as long as your term is for more than 21 days, plus the cost is all-inclusive of insurance and 24-hour roadside assistance.  Roadside assistance can be a lifesaver if you have an accident and need help in English.  Insurance covers minor scratches and dents which is essential when driving a car through the narrow European streets and dueling with the wild and crazy Italian drivers.  We scraped our front bumper a few years back, not quite missing a big rock in a parking lot, and we had no extra charges to pay when we turned the car back in to Renault, that's amazing!!!!  We picked up our latest Renault close to the Rome airport and will turn it in at the end of May at Orly airport in Paris.
I understand that a lot of North Americans don't like to drive in Europe but for us to be able to go wherever we want, whenever we want, a car is essential.  We like to stay in small villages and at farm stays, or visit out of the way towns and wineries, which are not always on the rail lines or public transit routes.  When we decide to stay in a city, we will park the car and walk everywhere, but that is not generally our first choice.  Besides, you get used to driving over here after a while, so Blair says 😃
I wrote a blog post during our first tour of Europe as nomads explaining our logic for having a car and how it allows us to buy a few extras to make life more enjoyable.  So here were are again filling up our little car buying a blender to make our morning fruit smoothies, a couple of pillows so we have something of our own to lay our head on each night, and comfy slippers to wear on the cold tile floors, oh and multiple bottles of wine from our vineyard tours 😋😋  These minor comforts make nomad life just a little bit more enjoyable.