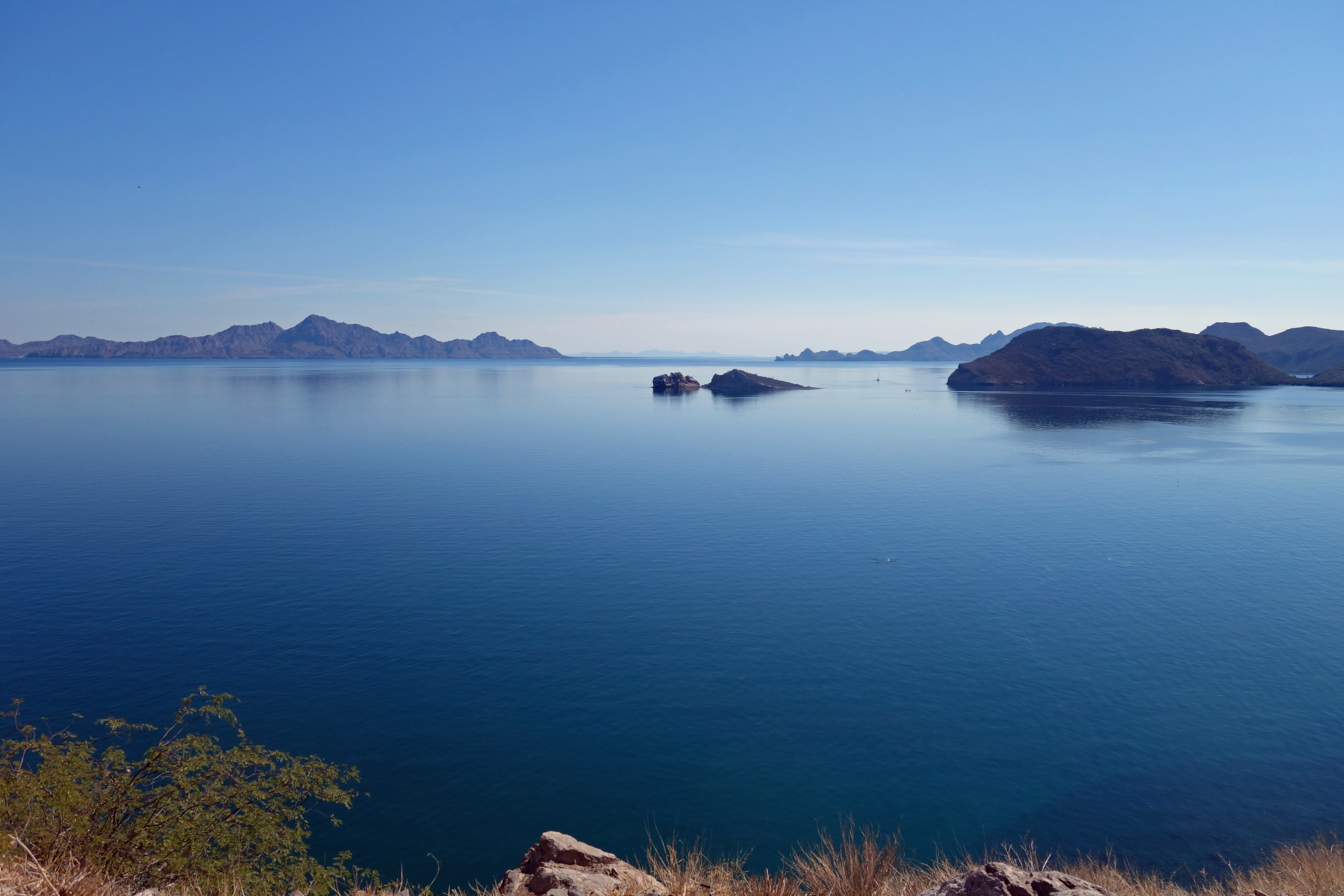 Since our last post, we went on a tour to Coronado Island and rented a car for 3 days.  They were nice breaks from our comfortable routine here in the community.  We also moved house on November 13, just 2 doors down to a casita owned by a lady in Calgary who we were introduced to last fall.  If you have looked at rental prices here in Loreto Bay you will understand how fortunate we are to have been introduced to friends of friends who rented their homes to us directly, saving us the high fees using a management company.  We could not afford to be here for so long otherwise!  But, accommodation aside here is what we have been up to…
Coronado Island is a 25 min boat ride from the Loreto Marina and the largest of the "Islands of Loreto" a UNESCO World Heritage Site.  Stretching 4 miles long, Coronado Island is an inactive volcano, last active in the 1500's.  The island is covered in cacti, palms and fringed with soft white sand.  During our journey to the island, we had a brief glimpse of two whales off in the distance and came very close to a pod of 30-40 dolphins.  Reaching the island it was time for the snorkel stop.  As avid scuba divers who have dived around the world, this was rather underwhelming for us and we did not stay in the water very long.  More interesting were the rare and iconic Blue Footed Boobies nesting on the rocky cliffs above us.  Following the snorkel stop, we motored past a large group of very smelly and noisy sea lions, who are always entertaining to watch.  Carrying on around the island we arrived at the designated picnic spot on the beach.  We were parked here for over 2 hours and it was a looooong two hours.  The picnic area was swarming with hundreds of wasps attracted to the food and garbage.  I have an allergy to wasp stings and could not take the risk of getting stung so spent the entire time paddling in the sea to avoid the wasps.  Blair was kind enough to bring me a couple of the soft tacos supplied for our lunch but I could not wait for this stop to be over ☹   I don't like being negative about an experience but this tour could have ended after the wildlife sightings, we would have been thrilled to never step on land.  I am hoping the whale watching tours in January/February don't include a lunch stop!!  The day trip to Coronado with Sea and Land Tours cost USD $65 each plus USD $30 taxi fare to the Loreto Marina and back.
Our one sightseeing excursion while we had the car, was a trip inland to the small agricultural town of San Javier.  The isolated road through the mountains is paved with many twists and turns and steep drop-offs, you will want to pay attention driving here!  The population of San Javier is less than one hundred and fifty people with the crown jewel being the Mission San Francisco Javier.  The stone church, which is in remarkable condition, was built from 1744 to 1758 and remains the finest preserved mission in Baja.  The original mission was built in 1699 about 5 miles north of its current location, but lack of water for irrigation caused the mission to be moved to its present location.  Rising hundreds of feet behind the church, spectacular black lava cliffs form a stunning backdrop to the white Moorish domes and bell tower.  Within the vaulted interior, light filters in through the first glass windows of the Baja Peninsula.  The three baroque carved gold leaf altars were made in the 18th century and brought by ship and mule from mainland Mexico 250 years ago, and reassembled in the mission.  Dominating the main altar is a statue of San Francisco Javier, one of the two greatest Jesuit saints, surrounded by eight valuable oil paintings.
There is a small museum attached to the back of the church which asks for a 20 Peso donation (USD $1) to enter.  All the information is in Spanish, but there are a few old relics from the church and some clothing the Dominicans wore.  There is an antique service book covered with velvet, embossed with silver corners and trim that was printed for the mission in Antwerp in 1734.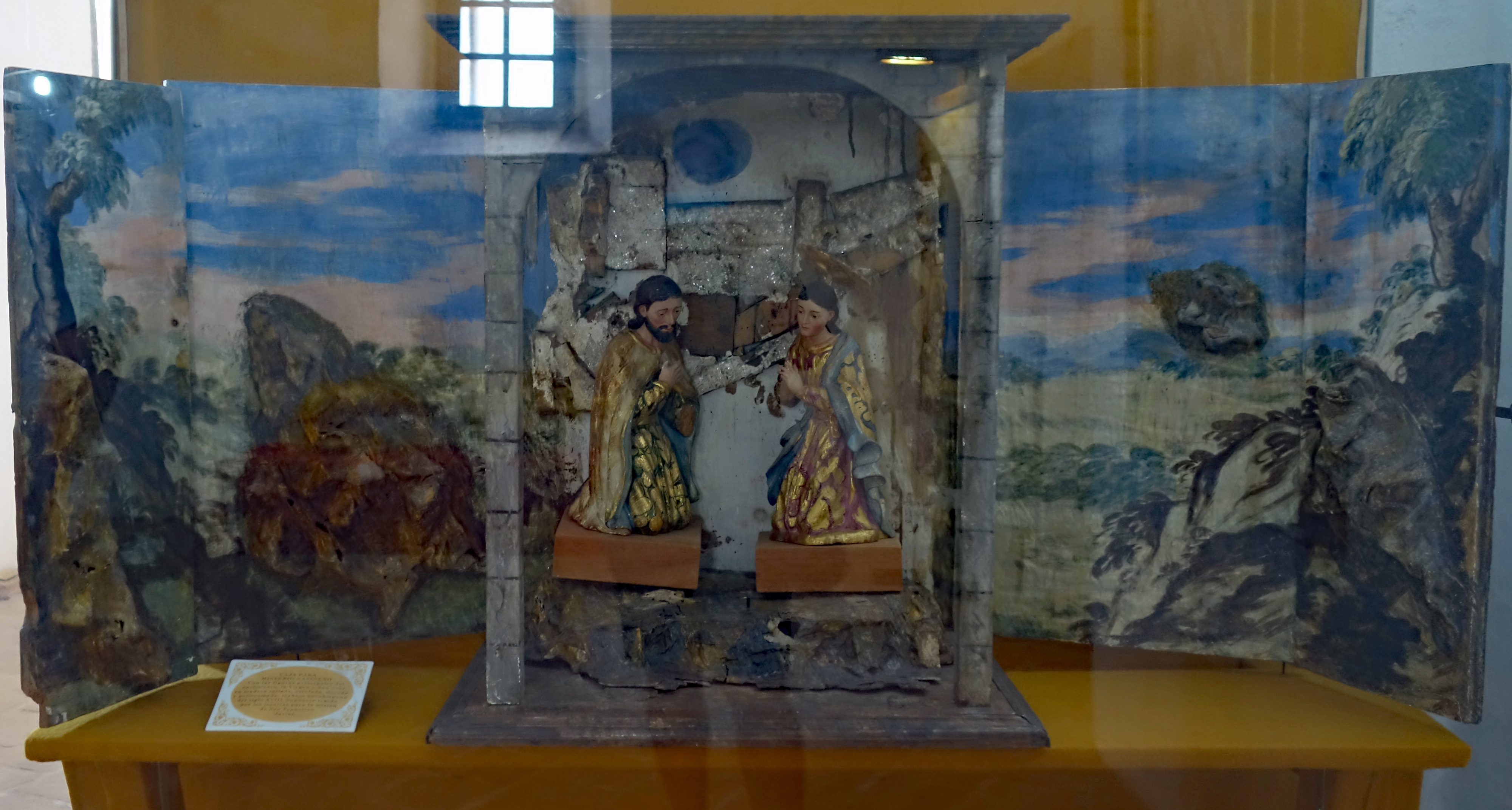 Behind the mission are dams and canals for the irrigation of an orchard.  Here lives a giant olive tree that is over three hundred years old, along with a variety of fruit trees and vines.  To one side of the mission, there is a small graveyard with historical tombs where natives were buried in the early 1900's.  Our trip to this beautiful mission is without a doubt the highlight of our time in Loreto so far, not only the mission itself but the rugged, barren landscape we traveled through on our journey into the Sierra de la Giganta mountains.
We took the opportunity once again while having a car to eat lunch at a few of the restaurants in Loreto town, and do a little souvenir shopping 😊  We returned to Los Mandiles for their fish tacos, which we enjoyed last month, and added Mi Loreto and Orlando's to our list.  The fish tacos at Mi Loreto are huge, we only ate half our lunch and took the rest home for dinner. Orlando's is hands down my new favorite restaurant, so much so that after lunch one day we returned the very next morning for breakfast!  My lunch of coconut shrimp was the best meal I have had during the past month in Loreto and Blair said the same about his cilantro fish.
Now the car has been returned we have settled back into our comfortable routine in Loreto Bay.  We missed our daily swim and gym time while we had the car, so we are happy to be back in the groove once again.  Every week more and more people are arriving here in Loreto Bay, evidenced by the increase in folks swimming in the lap pool and filling the restaurants.  We have been told that November and February are the busiest months here, it seems most folks head home for the Christmas holidays so I expect it will be pleasantly quiet here over Christmas and New Year.  Until then we are enjoying a few social gatherings in the company of the landlord from our first rental as well as our former sister-in-law who lives directly across from where we are currently staying.
Here are a few random photos from the past month:
I have also been kept busy recently writing an article for another nomad travel website.  Here is the link to that article.  It was fun to write and gave me a chance to reflect on how our journey began and how we are doing after almost 4 years on the road.
Oh, I almost forgot to mention that during the past couple of weeks we met a couple from Ontario, Canada who were going to start renting their place here in Loreto Bay.  Since we only had confirmed reservations until January 8 we approached them and they have agreed to rent us their home until February 5.  Yippeeee, we have been looking and looking at rentals but nothing affordable was coming up until we had the good fortune to meet these fellow Canadians.  We are really happy to have everything in place to stay here in Loreto Bay until early February 😎