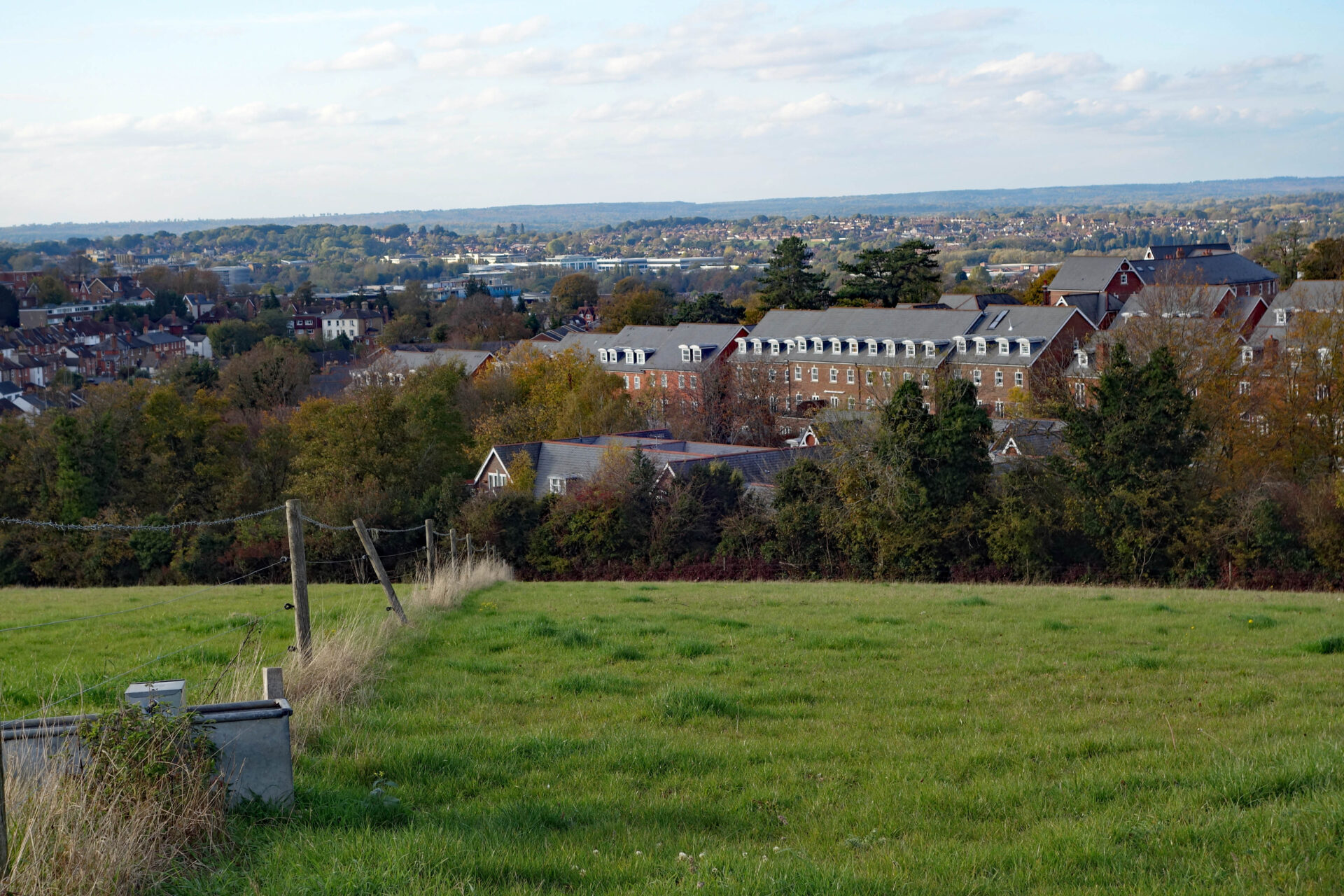 Our final two weeks in Guildford have been much more enjoyable since we were both in the final stages of the colds we brought with us from our time up North.  Although not fully recovered until the end of our month here, we have spent lots of quality time with family and taken a few more day trips around Surrey.
Painshill Park – is an award winning 18th century landscaped garden covering 158 acres, which was created between 1738 and 1773 by Charles Hamilton.  His Renaissance art inspired vision can be seen in the numerous creations around the property, including replicas of famous Italian statues.  The highlight is the man made Crystal Grotto, the last of it's kind in the UK, and largest in Europe.  It is a magical cave covered in hundreds of thousands of sparkling crystals attached to the walls and stalactites.  We spent over 3 hours exploring the gardens, marveling at the views from every vantage point enhanced by magical follies.  Follies you ask??  According to a dictionary, follies are "a structure in a garden, that is chiefly decorative in purpose".  That definitely explains the variety of structures around the park, including a Gothic Temple, Turkish Tent, and Temple of Bacchus.  The Hermitage, Chinese Bridge, Gothic Tower, Ruined Abbey and Five Arch Bridge are also notable scenic points along the way.  Typically our budget does not include paying entrance fees to the many castles and gardens available to visit, but the 7 pound ticket cost for Painshill Park was well worth it in our opinion.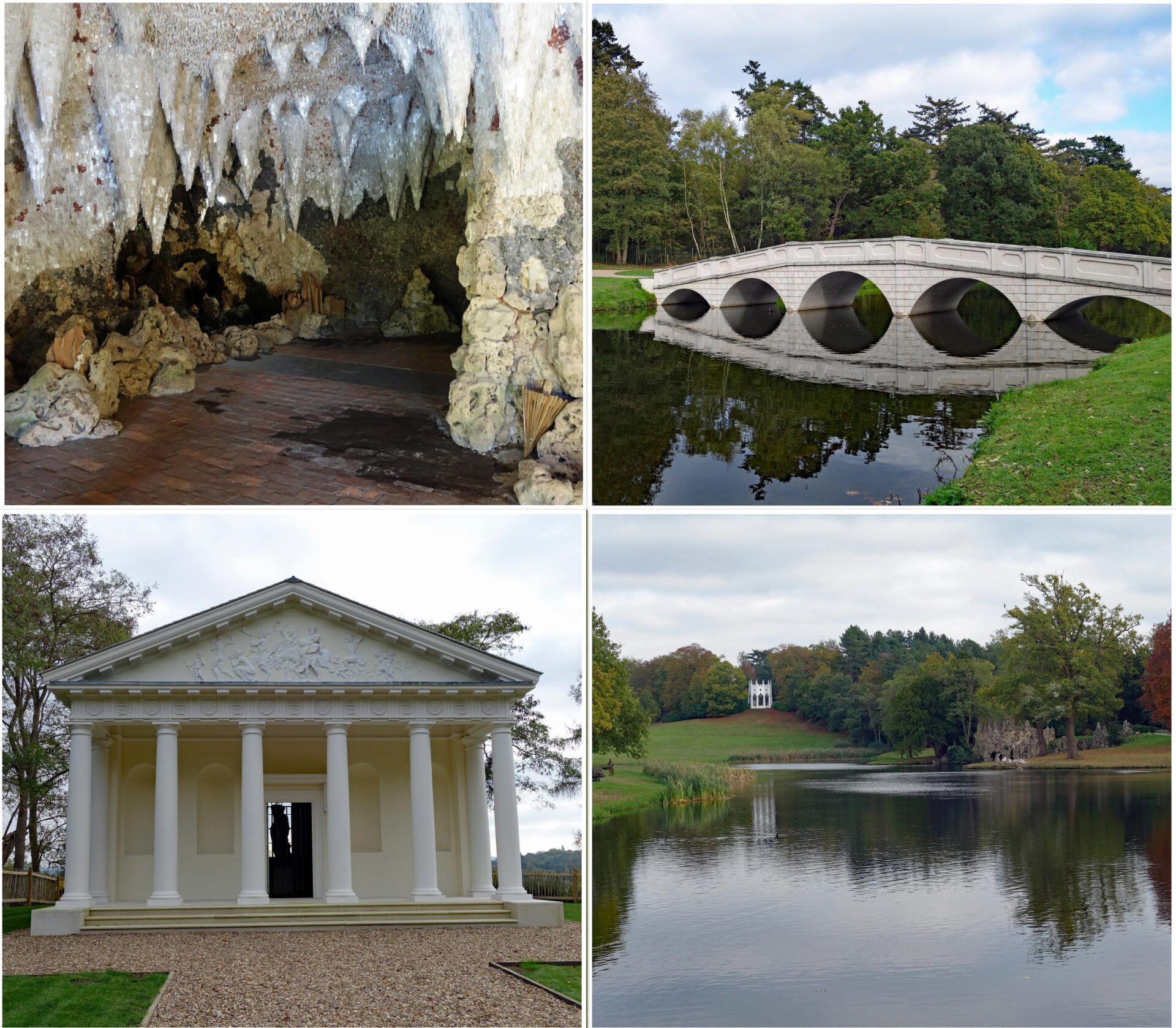 Portsmouth – is a vibrant and busy port city only an hour South of Guildford making it an easy day trip destination.  In addition to day trip visitors, Portsmouth is a busy hub for ferries heading to France and the Isle of Wight.  Britain's longest standing hovercraft service, begun in the 1960's, still runs to the Isle of Wight.  I remember as a very small child taking this hovercraft over to the Isle of Wight 🙂  Gunwharf Quays is a renovated residential and retail destination hosting the Spinnaker Tower, 560ft tall designed in the shape of a sail, and many high end shops attracting thousands of shoppers.  It was a fun and high energy place to enjoy a wander around after our pub lunch overlooking the harbor, with a steady stream of ferries coming and going.  Hard to believe from the below photos that most of the day was rainy and cold with a couple of sunny intervals when we took the opportunity to get some pictures.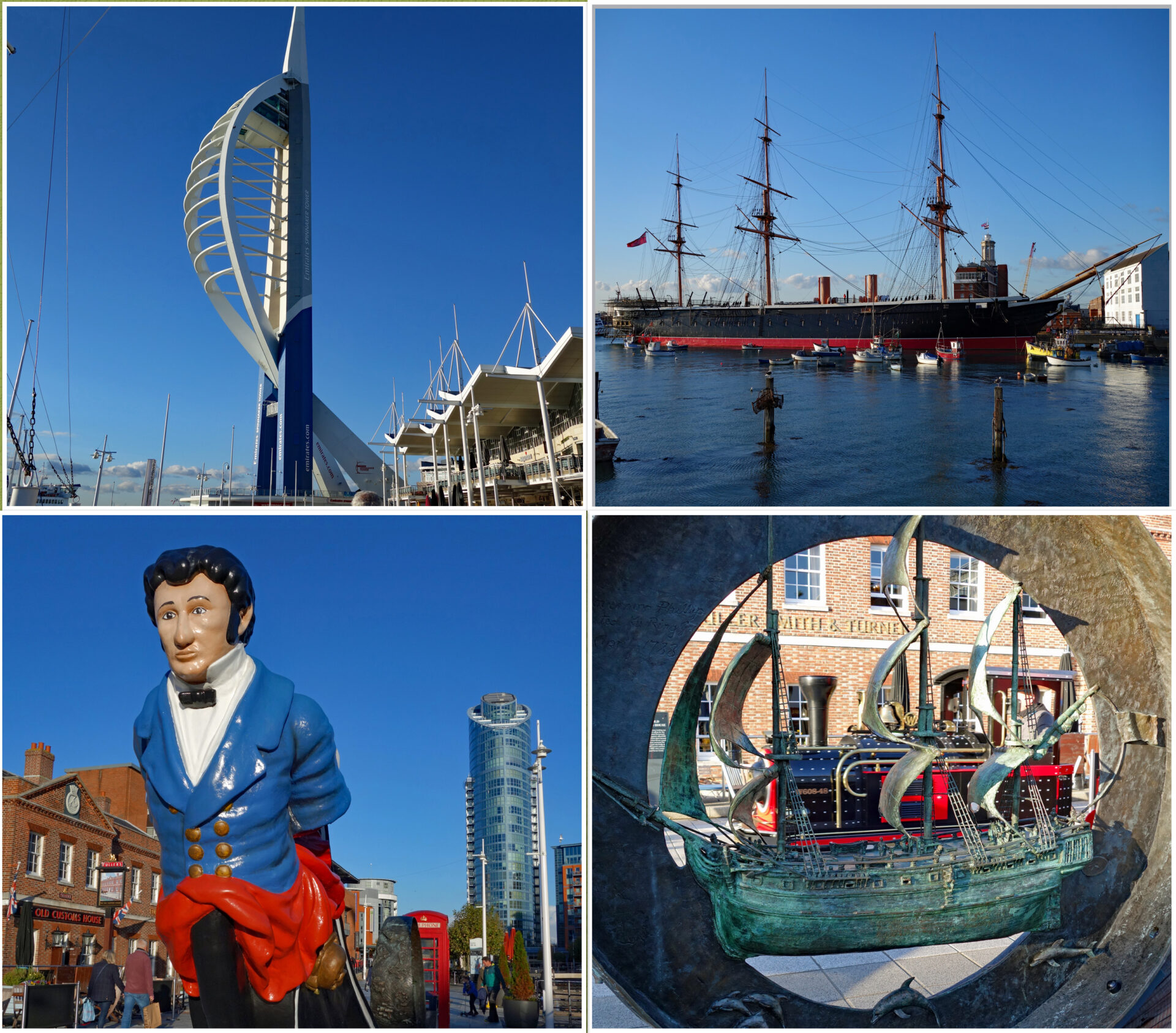 Wimbledon – home of the All England Lawn and Tennis Club and host of The Wimbledon Championships Tournament in July each year.  We booked a 90 minute guided tour which also included unlimited access to the museum.  The tour is fascinating for anyone who is a tennis fan, like us, wanting the chance to see behind the scenes and understand the year round maintenance of the courts.  During our tour we saw the current work being done adding a retractable roof to court #1 which will be finished by the 2019 tournament, providing two playable courts during inclement weather.  We learned some interesting facts during our tour:
There are only 500 members of the Club making membership virtually impossible to get.  You must be recommended by 3 members, one you have known for at least 4 years, then go through a vetting process to see if you are suitable, and only then do you join the 10 to 15 year waiting list.
Membership dues are only 95 pounds per year.
Championship tournament tickets are by lottery and re-selling of tickets is banned.
Nobody plays on center court other than during the tournament, not even members.
Wimbledon village residents who live beside the club are allocated tickets every year.
All seats in center court have clear and unobstructed views of the court which is why it is not made larger.
If a celebrity is in center court they are invited to sit in the Royal box, if there is room, to keep fans focused on the match being played.
In 1968 the tournament began allowing professional players to participate, prior to that all entrants had to be amateur ie unpaid, this is when the term "Open" came into use.
From 1878 to 1921 the event started with a knockout phase who's winner then faced last years defending champion, therefore the previous years winner only had to play one match.
All the tournament used balls are sold or donated to charities.
53,000 balls are used during the Championships tournament.
In 2019 a new rule states any match that reaches 12-12 in the final set will go to a tie break, avoiding the epic days long matches John Isner is famous for.
The museum houses the men's and ladies singles trophies, safely protected by bulletproof glass, in addition to many artifacts going back to the beginning of the club in 1877.  There is clothing and equipment donated by the athletes, interviews and movie clips going back decades, and a hologram of John McEnroe telling a story of his experiences at Wimbledon, which is very cool to see.  We enjoyed our visit to Wimbledon and thought it worthy of the expensive 21 pound each ticket price.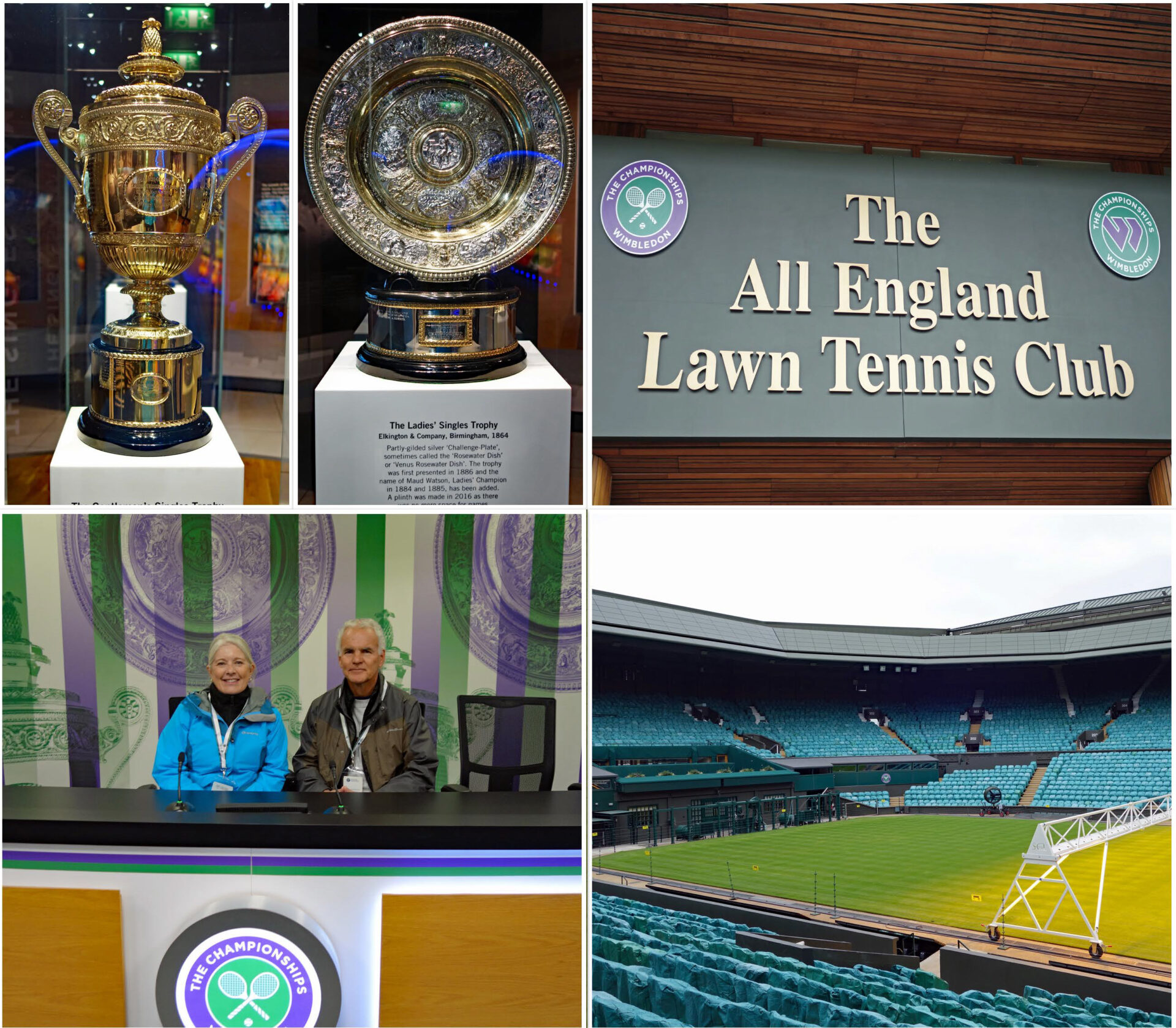 Guildford Shakespeare Company – was performing Alice in Wonderland during our time here and we were intrigued by the "promenade performance" they were offering so bought tickets to see what this was all about.  It turns out the play is a multi-venue adaptation following Alice on her adventures in Wonderland.  For this immersive production we started at St Mary's church where Charles Dodgeson aka Lewis Carroll was preaching, Alice then fell down the rabbit hole, drank the shrinking potion (she asked Blair to make sure it was not poison before she drank it) and invited the audience to come down the rabbit hole with her.  Well off we went down the rabbit hole to meet the hookah smoking Caterpillar, a strange and interesting creature.  From there we followed Alice to the Guildford Museum where we met the Cheshire Cat, heard the White Rabbit read a proclamation from the Queen and participated in the Mad Hatters Tea Party which turned into a game of musical chairs 🙂  Our final stop was at Guildford Castle where we meet the King and Queen of Hearts, observing the trial of the Nave of Hearts charged with the theft of her jam tarts 🙂  It was a silly and magical evening in Wonderland, interacting with the performers as we moved around the town.  If you are ever near Guildford and this production is on, we highly recommend participating.  The last time this play ran was in 2015 and was re-staged this year to celebrate 150 years since Lewis Carroll moved his family to Guildford, so we were lucky to have been here at the right time to enjoy this event.  The 21 pound ticket price was well worth it to support this local theater company.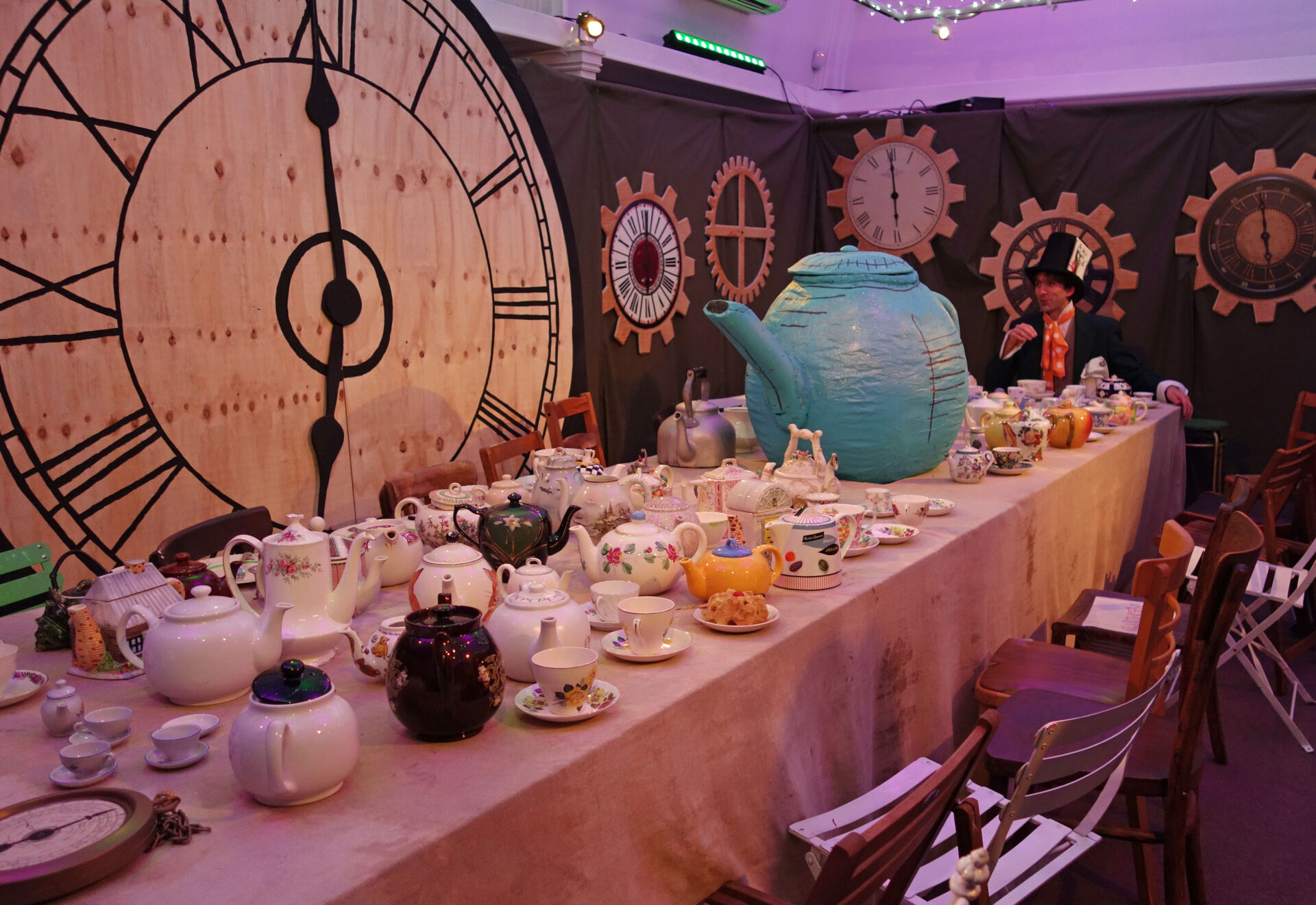 Hampton Court Palace- the favorite residence of Henry VIII is a 45 min drive away from Guildford and a wonderful place to visit for a few hours.  Hampton Court was built in the 1500's, modified and expanded over the years to it's immense size, after all Henry VIII had a court of over 1,000 people who all needed to be fed and housed.  Henry VIII lived at Hampton Court with all 6 of his wives during the course of his lifetime.  Ticket prices to view the inside of the castle are very pricey so we instead explored the expansive gardens, which are linked to the 1,100 acre Bushy Park.  After touring the palace grounds we walked along the River Thames which is very quiet this time of year.  During the summer months the river is full of sightseeing boats traversing up and down the river, which we have done on a previous summertime visit.  Lunch of course was at a local pub before heading back home to Guildford.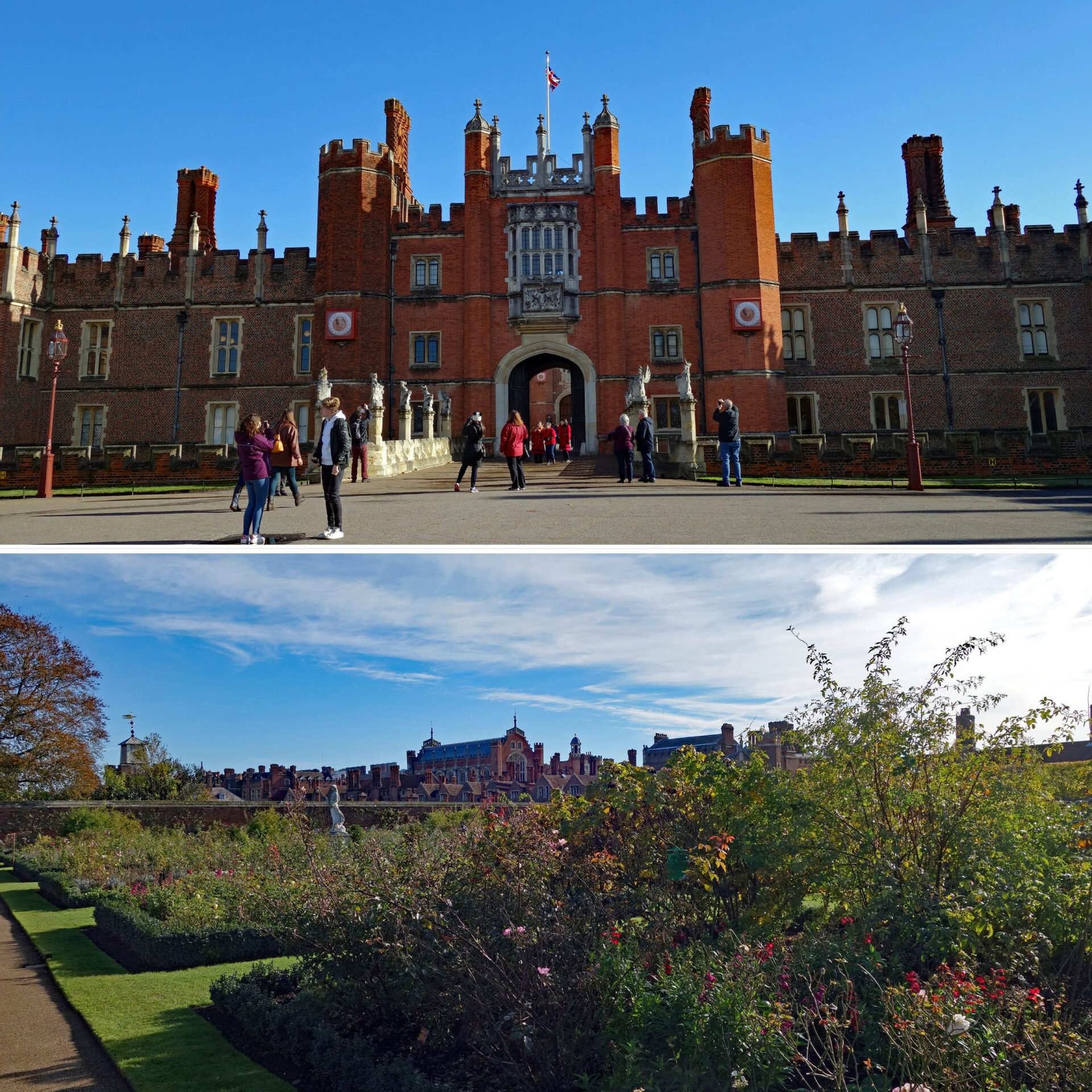 Beaverbrook Estate – once the home of Canadian media mogul Max Aitken aka Lord Beaverbrook, is a magnificently restored property in Surrey, currently owned by a member of the Cadbury family.  They have put over 90 million pounds into the renovation turning it into a luxurious estate and golf course.  This is a far cry from the 30,000 pounds Lord Beaverbrook paid for the estate in 1910.  The 8 bedrooms in the main house are named after the estate's famous guests, from Lord Beaverbrook's very good friend Winston Churchill to Elizabeth Taylor.  We had lunch in the Garden House with my cousins and were offered a private tour of the main house after our meal, perhaps because we told the maitre'd we are Canadian 🙂  Of course we jumped at the opportunity and were shown around the hotel and taken inside one of the "turret room" guest suites which has a private terrace and panoramic views of the South Downs.  The estate has a small art deco cinema, the first private cinema in the UK, a few restaurants and bars and a grotto although not to the level of the Painshill grotto.  The golf course was immaculate with golfers and their private caddies out on the course, no surprise it costs over 100,000 pounds to join the club.  One can only imagine what the annual green fees are!!  It is definitely worth a visit here to have lunch and enjoy the grounds, the food is amazing!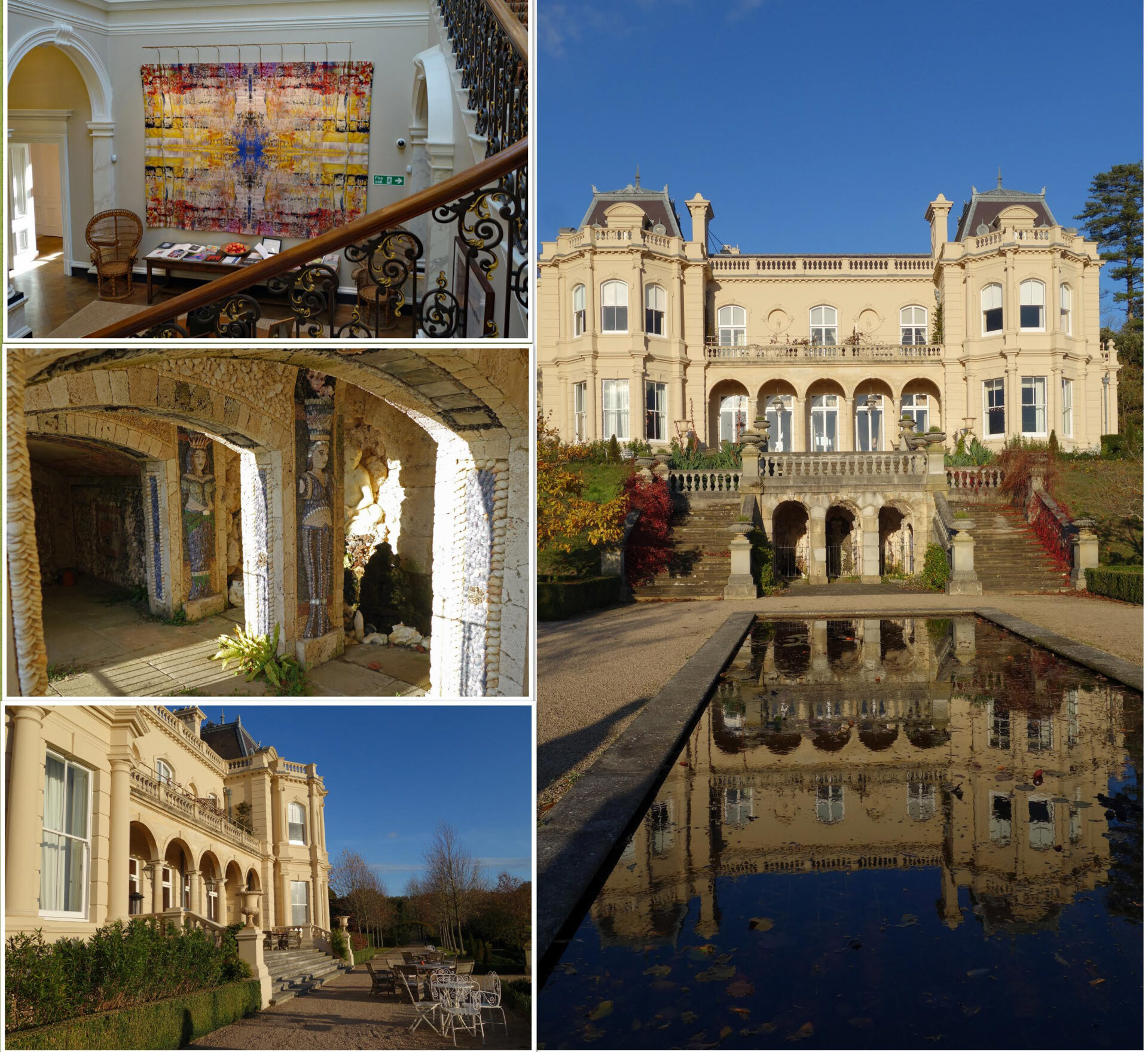 Bramley – was our destination to witness the annual Guy Fawkes bonfire night.  This small village is a short drive from Guildford where we watched the judging of Guy Fawkes effigies, joined the torch parade to the bonfire grounds, enjoyed the massive bonfire and impressive fireworks display afterwards.  For a small village they certainly put on a huge show, much larger than anything I ever saw as a child growing up in the city.  For those who don't know Guy Fawkes was charged with treason in 1605 for planning to blow up the British parliment, convicted and sentenced to hang.  Lucky for him he fell climbing the gallows, broke his neck and avoided the agony of being disemboweled and quartered while still alive.  He was nevertheless quartered and his body parts distributed to the "four corners of the kingdom" as was the custom.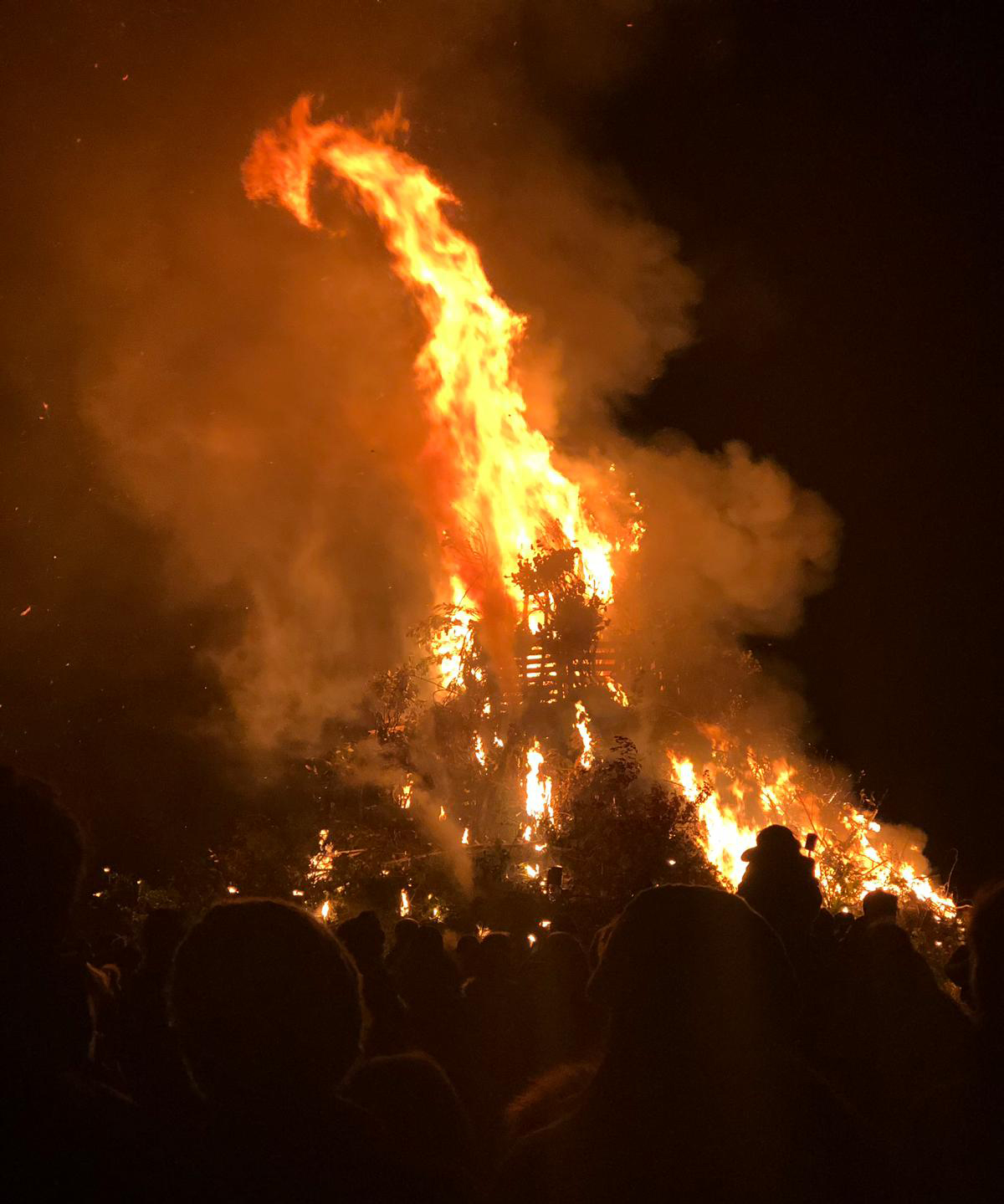 It is hard to believe that we have been in the UK for the past 12 weeks and are on our way again.  We struggled a bit with our time here not only because the weather was too cold for us but being sick with terrible colds for over 5 weeks really put a damper on some of our travels.  Despite that, we have enjoyed all our time spent with family from Inverness to Surrey and will miss everyone very much, it has been amazing to drop into their lives even for a short while and be welcomed with open arms, lucky us!!  Fortunately we are feeling much better and looking forward to making our way to warmer climates.  After 16 years living on a Caribbean Island we are no longer acclimatized to fall and winter temperatures so will try and plan our travels accordingly going forward 🙂
We left Guildford in the early morning, made our way to Dover, took the ferry across to Calais and drove to Orly Airport near Paris arriving around 4pm.  We returned our car, staying in a hotel at the airport before flying to Rome the next day.  We left Paris on a very wet and rainy morning arriving in Rome to a lovely warm sunny day 🙂  We spent one night in Rome at a hotel on the outskirts of the city and had no chance to get in and see any sights, which was very bad planning considering my love of Rome 🙁 , taking a shuttle bus the next day to the port of Civitavecchia where we boarded a cruise ship for our very first cruise!!  It will be an interesting 15 days aboard the ship with some exciting stops along the way.  Final destination Abu Dhabi…..