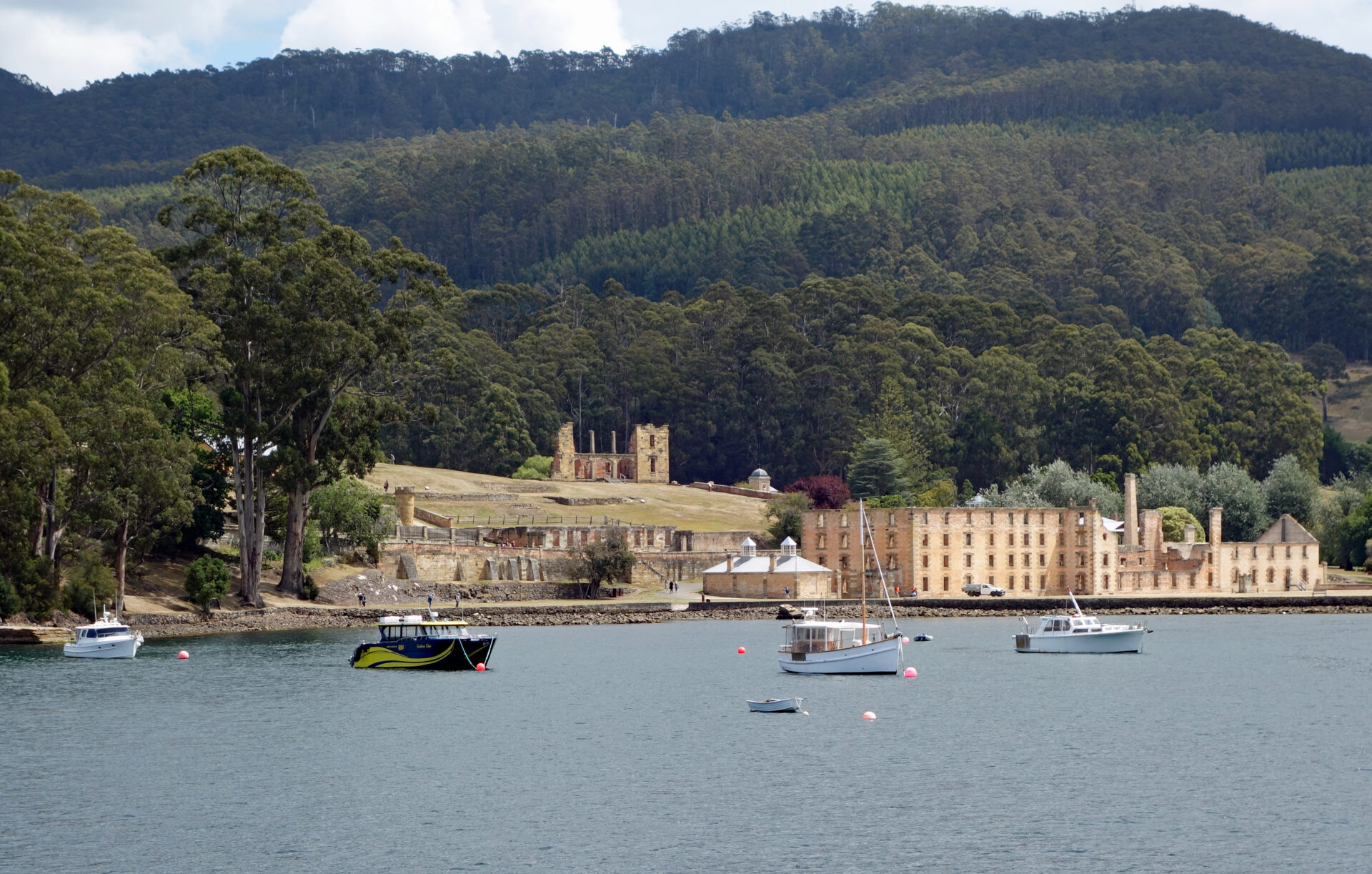 Five World Heritage listed convict sites around Tasmania tell the story of almost 50 years of harsh convict life in the 19th century.  Between 1803 to 1853 over 75,000 convicts – men, women and children – were transported to Australia and Tasmania (known as Van Diemen's Land until 1856).  Only some of the convicts were guilty of serious crimes, many were simply poor and desperate.  When their sentence was complete very few returned to Britain, even those who had the resources to pay for the journey home, recognizing they could build a better future in this new country.
Australia's most notorious convict settlement sits in the beautiful coastal setting of Port Arthur, 90 minutes drive south and east of Hobart.  Once known as an 'inescapable prison' Port Arthur is now a beautifully rugged destination with ample history to discover as Australia's most intact convict site.  Port Arthur draws hundreds of thousands of visitors from around the world each year.
The Port Arthur penal station was established in 1830 as a timber camp, using convict labor to produce sawn logs for government projects.  From 1833 it was used as a punishment station for repeat offenders from all the Australian colonies.  The prison was built on a philosophy of discipline and punishment, religious and moral instruction, training, and education.  Many men were broken by this system, others left rehabilitated, educated and skilled.  When convict transportation ceased in 1853 Port Arthur became an institution for old and infirm convicts unable to function outside the penal colony, eventually closing in 1877.
There are 30 buildings on the site, most in ruins now, but many have been restored and can be visited.  Entrance tickets cost AUD $40 (USD $26.85) each and are good for two consecutive days.  A 40 minute guided tour is included with the general entry ticket but we chose to pay an extra AUD $30 (USD $20.13) each for the Commandant's Carriage tour.  The 90-minute tour is led by an experienced guide onboard an electric cart, limited to 7 people, stopping at the 5 most important buildings on the site:
The Penitentiary housed 136 men in heavy leg irons on the ground floor, on the first floor those in lighter leg irons, and the top floor was used as a dormitory housing over 300 men.  The building was devastated by fire in 1897 leaving only the masonry walls and barred windows behind.
The Church represents the important role of religion in convict reform.  Multi-denominational services were compulsory every Sunday.
The Commandant's House showed the comfort afforded the prison's most senior official.  It was luxurious in those days built on high ground overlooking the bay.
The Separate Prison was designed to deliver a new level of punishment and reform through isolation.  Convicts were locked in tiny cells for 23 hours each day with one hour allowed for exercise, alone in a high walled yard.  Even the chapel in this separate prison had individual boxes ensuring no contact with other prisoners.  Many men went mad due to the isolation so this level of punishment was an utter failure.
The Junior Medical Officers House was another lovely home befitting the doctor's position at the penal colony and the fact he had his wife and children living there with him.
Hearing numerous stories of the brutality inflicted upon the convicts it was hard to reconcile these horrors with the stunning beauty of the site today.  There is too much history and information on this incredible historic site to pass on here, so if you are interested click on this link to learn more.
After our carriage tour, we were taken to the dock for a 30 min boat trip around the bay past Point Puer, the location of the former boys' prison where 3,000 boys passed through, some as young as 9 years old.  It was heartbreaking to hear the petty crimes committed by some of these boys which resulted in their sentence of 'transportation' to Australia.  Nearby to Point Puer is the Isle of the Dead where over 1,000 people are buried – convicts, free persons, women & children.  There is a tremendous amount to see and learn at Port Arthur, we have barely scratched the surface during our 3 hours here!
The southern portion of the Tasman Peninsula, where Port Arthur is located, is connected to the northern portion at Eaglehawk Neck by a narrow 30 meter wide isthmus.  This isthmus was once guarded by a line of ferocious dogs to prevent convicts from escaping the nearby penal colony.  The slightest disturbance would set the dogs barking and alert the soldiers, there were dogs on platforms in the water as well.  Believe me, by the look of this sculpture, you do not want to tangle with one of these dogs!!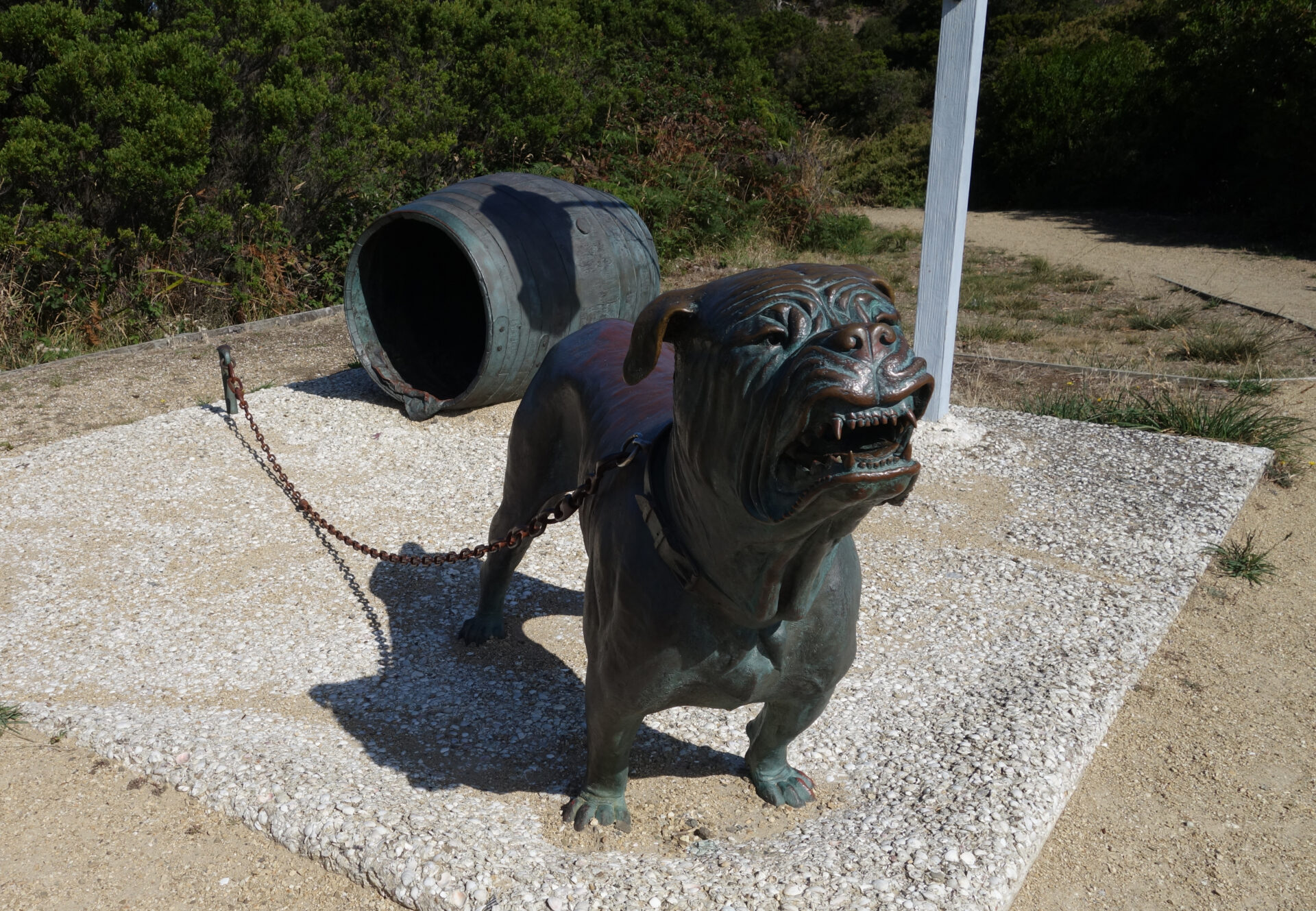 The Cascades Female Factory in Hobart is a former workhouse for female convicts and part of the Australian Convict Sites World Heritage.  It was built in 1828 and operated as a convict facility until 1856 with more than 5,000 women having spent time here.  Women, and their children, were incarcerated here as punishment, to be reformed or awaiting assignment to a master.  It was a harsh and brutal prison that many never left alive.  Scattered around the grounds are metal cards telling stories of inmates and their crime, many crimes so insignificant one wonders why they were sent here.  When the property was sold in 1905 nearly all the buildings were demolished and there is very little left here besides a few exterior walls, a good imagination is needed to visualize what it would have been like living here.  Entrance tickets cost AUD $8 (USD $5.37) each for a self-guided walk around the property.  We found the museum building the most interesting with numerous artifacts, stories of women who passed through the facility, a book with names of babies born here and how long they survived, and a short historical video.  We spent most of our time in the museum.  Click here if you want a more in-depth history of this site.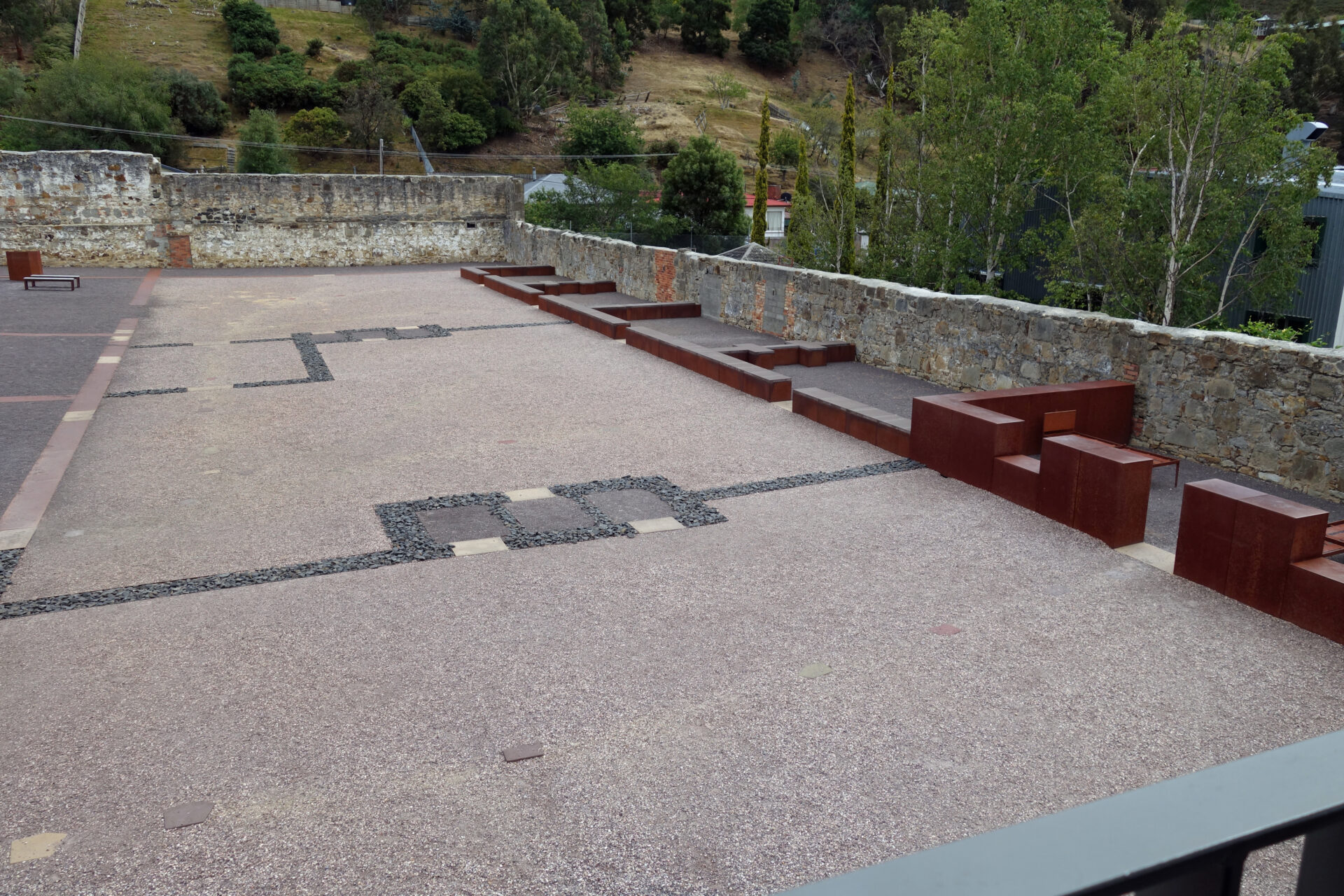 Historic Richmond village, the oldest Georgian Village in Australia, is 30 min north of Hobart up the Coal River Valley.  The early history of Richmond village is part of the British convict system with a courthouse, a prison, and soldiers' barracks.  The supply of free convict labor was used to build the Richmond Bridge and impressive houses, shops, hotels and churches for the local gentry.  The bridge was built from 1823 to 1825 by convicts using local sandstone quarried from nearby Butchers Hill and hauled to the river using hand carts.  The Richmond Bridge has a particular rustic charm due to the lack of skilled labor and tools used in its construction.  The wavy outline of the bridge, caused by the gradual settlement of the piers, adds to the convict-built authenticity.  Rumor has it the bridge is haunted by several ghosts including a cruel prison gaoler who was killed by convicts and thrown off the bridge.
While Australia is not proud of its convict history they have recognized the historical importance of these sites, restoring and preserving them so we can all gain an understanding of the early settlement of the colonies.  It has been an interesting and educational time learning this history during our time in Tasmania.  If you are visiting southern Australia, Tasmania is without a doubt worth a visit.
Trip tips
If you are planning to visit the Port Arthur convict site check the cruise ship schedule.  The site may not be as enjoyable when overrun with a few thousand cruise ship visitors.
Tickets to the Port Arthur site can be bought online here but we had no trouble purchasing our ticket on arrival.