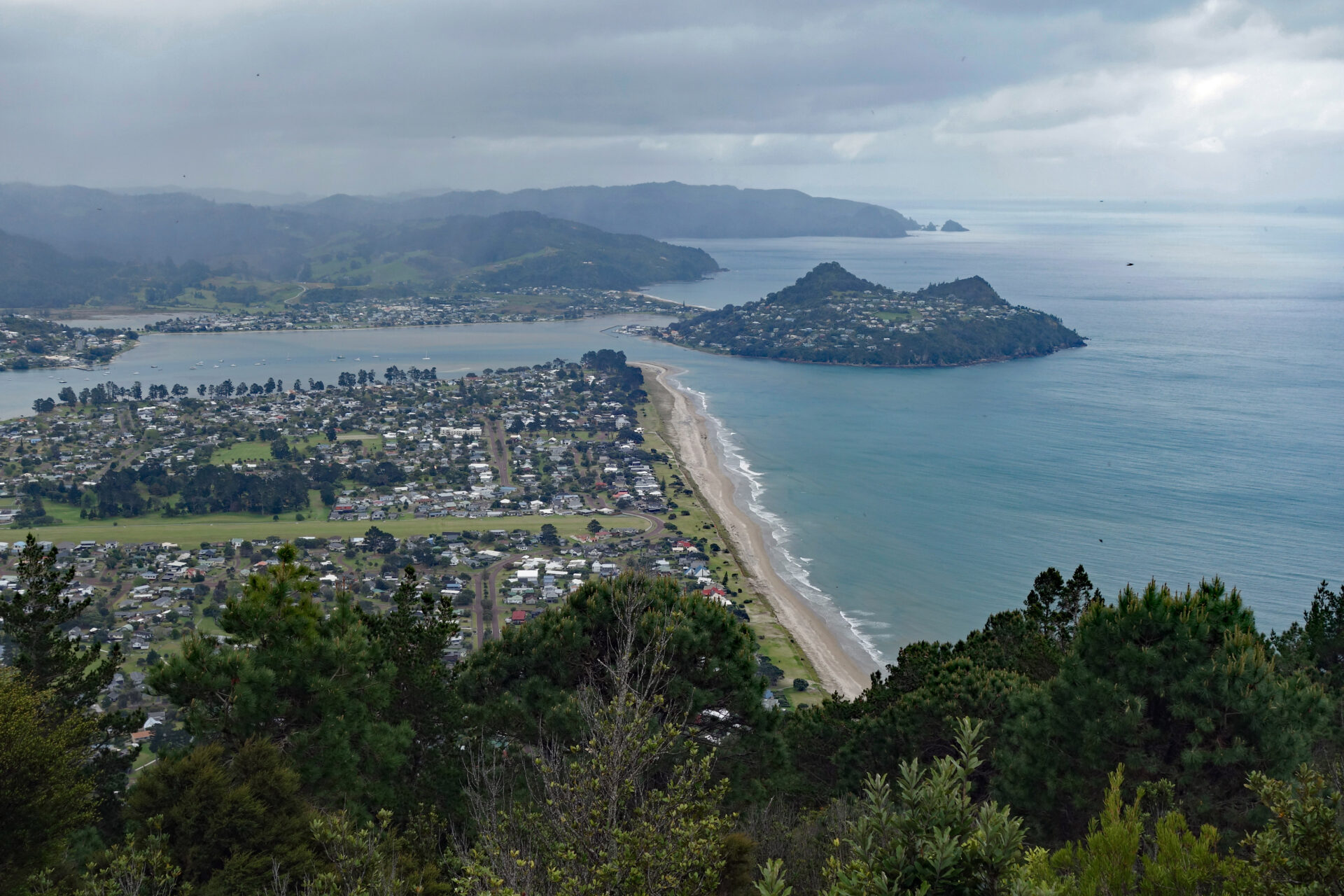 The Coromandel Peninsula is steep and hilly, largely covered in temperate rainforest.  It's rugged nature means that much of it is relatively isolated with several small towns dotting the coastline, leaving much of the interior virtually uninhabited.  Our home for this week is the small town of Pauanui where we have rented a gorgeous 3 bedroom house in this quaint beach community.  Just 2 hours outside of Auckland, on the East coast, Pauanui is a popular weekend retreat for city dwellers.  It is still early spring here in New Zealand so the beaches are quiet and many homes still shuttered for the winter.  Our house is 600 ft from Pauanui beach, which we can see between the houses, and so enticing we walked the beach every day.  There is a lot to see on the Coromandel Peninsula so our week was a busy one!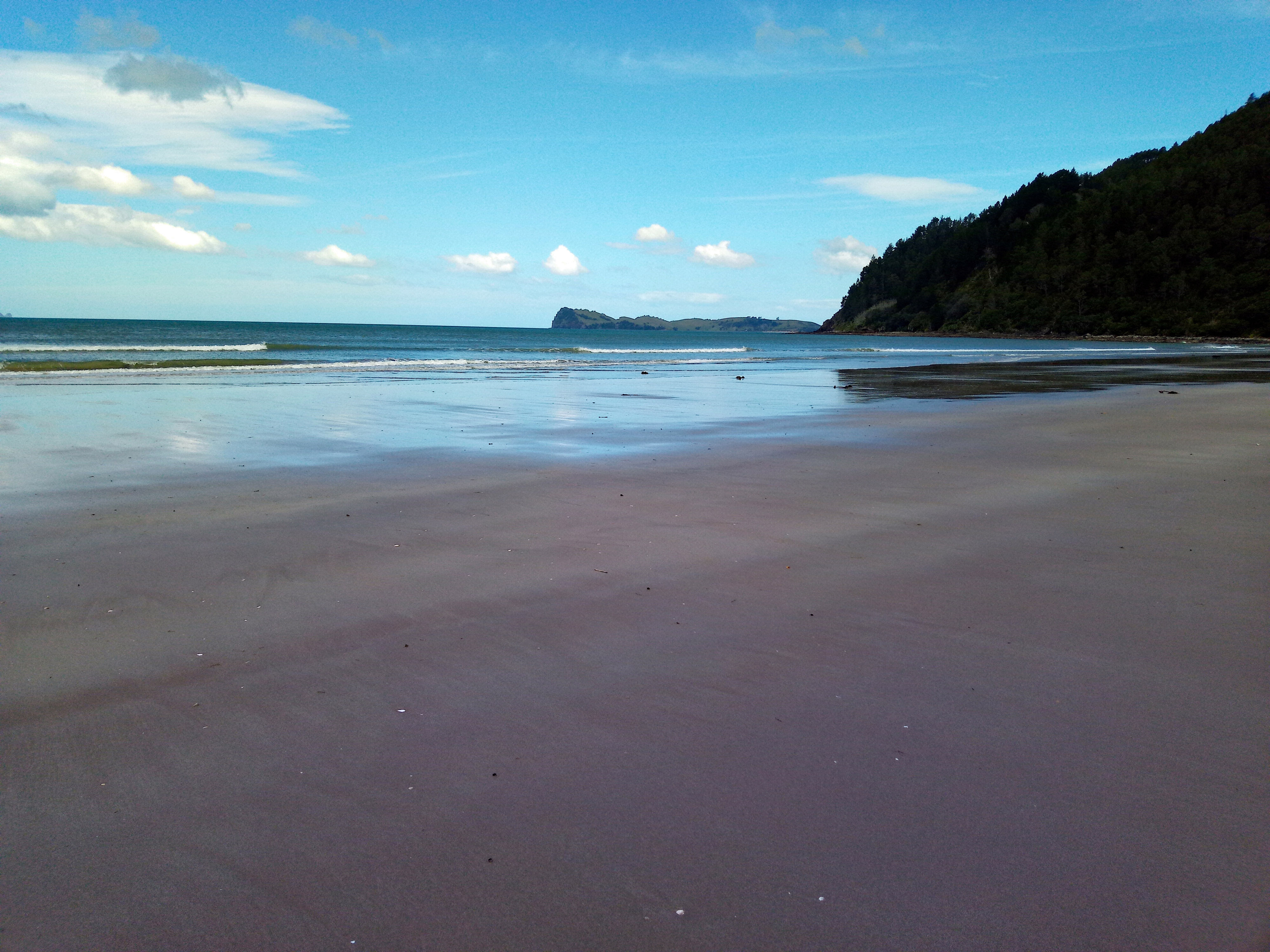 If you like Macadamia nuts then Cathedral Cove Macadamia orchard is a must see.  Driving into the property you come to a small sales booth where their products are on display and available for tasting.  Macadamias are a winter harvest, who knew, so us being here in springtime the trees are just beginning to flower and produce the buds which will become nuts.  Cathedral Cove Macadamia is an organic orchard and all the products are made on site – oils; crumb blends; and nuts, natural, roasted or covered in chocolate.  We sampled a few items, cracked and ate a raw macadamia, walked through the orchard then returned to make our purchases.  We bought macadamia brittle, a bag of hot roasted macadamias and a spicy macadamia crumb mixture.  The crumb mixture will be great on a pork tenderloin.  The hot roasted macadamias were gone before you could say hot roasted macadamias 🙂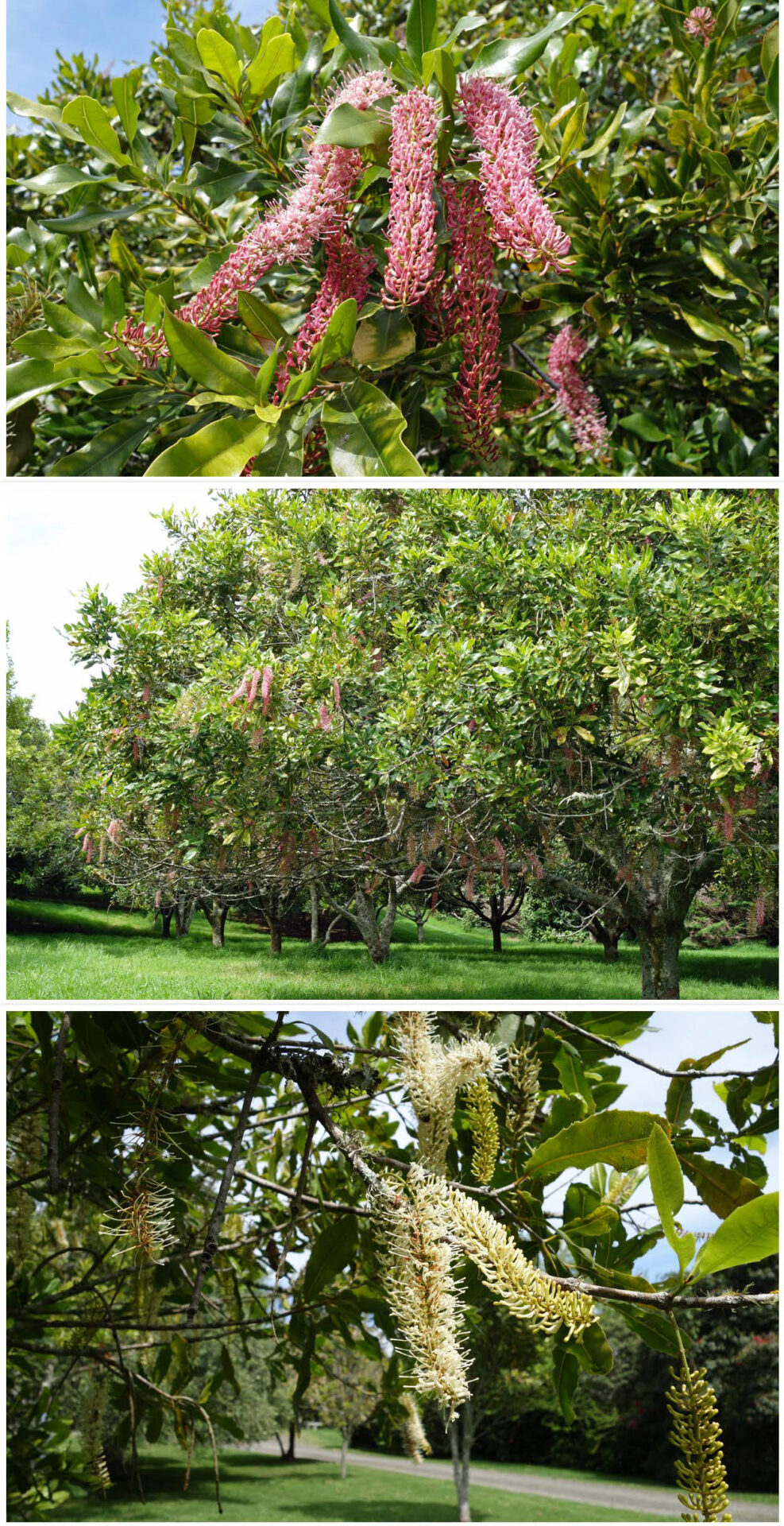 Next up Mercury Bay Estate, a boutique vineyard and wine producer overlooking Cooks Beach.  It's a great place to visit for a wine tasting and/or one of their delicious wood fired pizzas.  After having the wine flight options explained to us we were seated at an outdoor table overlooking the vineyard and Cooks Beach, what a view!!  A gentleman then arrived at our table explaining he just got off the tractor and would now be our waiter, among the many other jobs he has around there.  We commented that if he worked that hard he should be an owner, well lo and behold he is the owner 🙂  We ordered a flight of 4 red wines, all produced by Mercury Bay, to complement the spicy pizza we ordered.  Each wine was very good but our standout favorite was the Reserve Cabernet/Merlot blend, buying a bottle to take home.  It was not inexpensive at NZD $42 (USD $26.50) a bottle, but worth it for a good quality estate wine.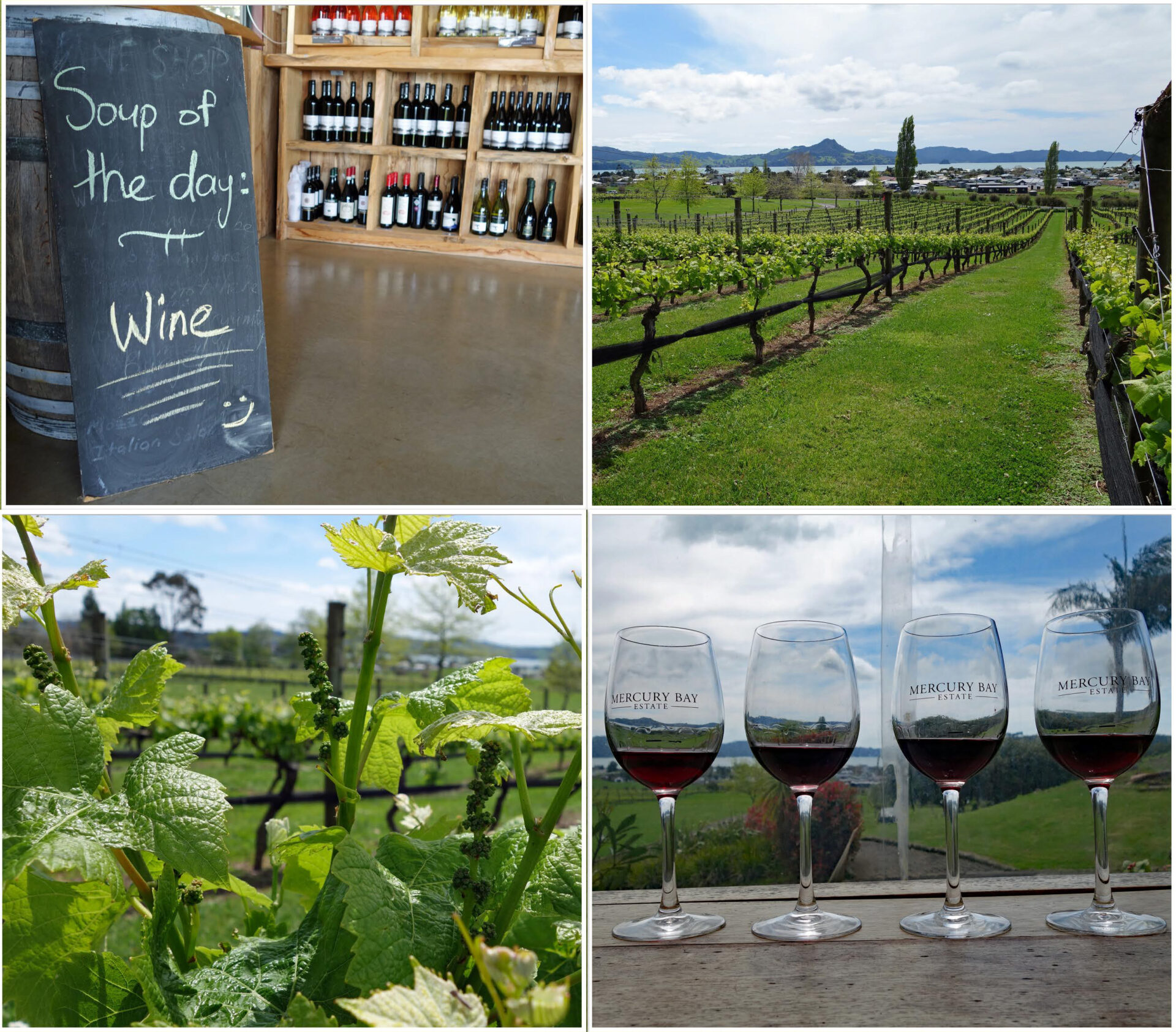 The hike up Pauanui Peak is not for the faint hearted, it is a fairly strenuous climb but well worth the effort.  The trailhead is 10 min from our house and from there it goes straight up for 1.94 km (1.2 miles) reaching the summit at 387 meters (1,269 feet).  It took just over 1.5 hours round trip, going up was a great cardio workout but the way down my quads were quivering by the time we finished, good walk 🙂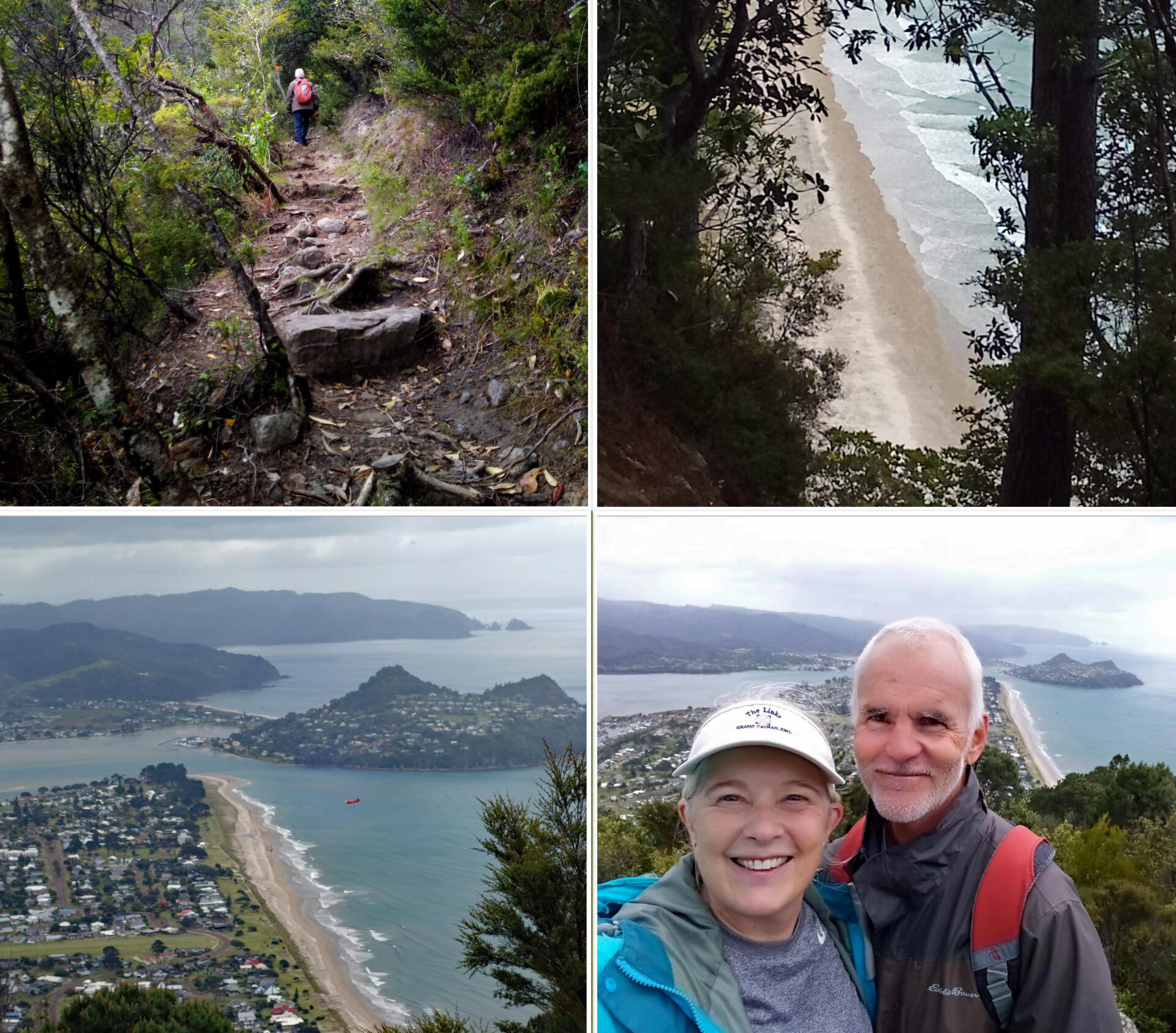 Cathedral Cove is a one hour walk from Hahei Beach, which is about an hours drive North from where we are staying.  We are at the start of busy season so the small parking lot above the viewpoint is closed to cars now for the summer season, but there is a large free parking lot in the town of Hahei, adding a 15-20 minute walk before getting to Hahei Beach and the beginning of the Cathedral Cove trail.  The day we chose to walk the trail was hot and sunny, providing us with breathtaking views along the coastline.  Cathedral Cove itself was busy with visitors and when we saw the water taxi we realized that most of these folks did not walk here!  NZD $15 (USD $9.45) for a very short one way ride to the cove from Hahei Beach is quite expensive, but less expensive than a full tour for NZD $95 (USD $59.75)…we walked both ways 🙂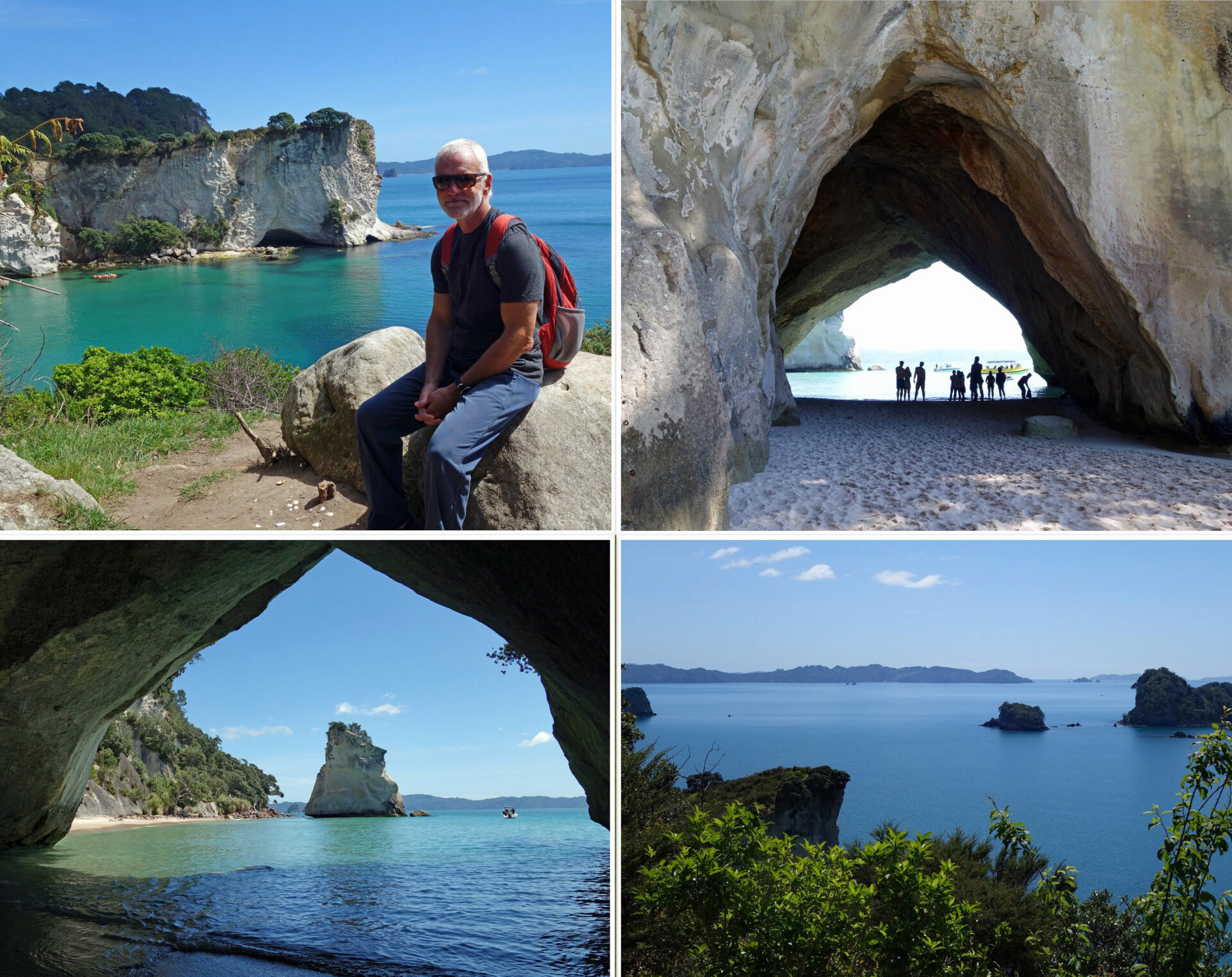 After leaving Cathedral Cove we drove further North past the town of Whitianga to Simpson's Beach where we found the replica ship HMB Endeavor moored in Mercury bay.  It could not come any closer into town due to the 11 ft draft of the vessel, too deep for the shallow waters close to Whitianga.  The HMB Endeavor is the sailing vessel that James Cook commanded on his voyage of discovery to Australia and New Zealand.  In October 1769 HMB Endeavor reached the coastline of New Zealand, now 250 years later the Endeavor replica is touring a portion of the North Island's East coast celebrating Cook's arrival.  The Endeavor replica was built in Australia from 1988-1994 and is typically moored in the Sydney National Maritime Museum.  Oooh, perhaps we can tour the vessel when we pass through Sydney next year 🙂  It is a beautiful looking vessel but I cannot imagine the living conditions onboard during an 18 month journey from England in the 1700's.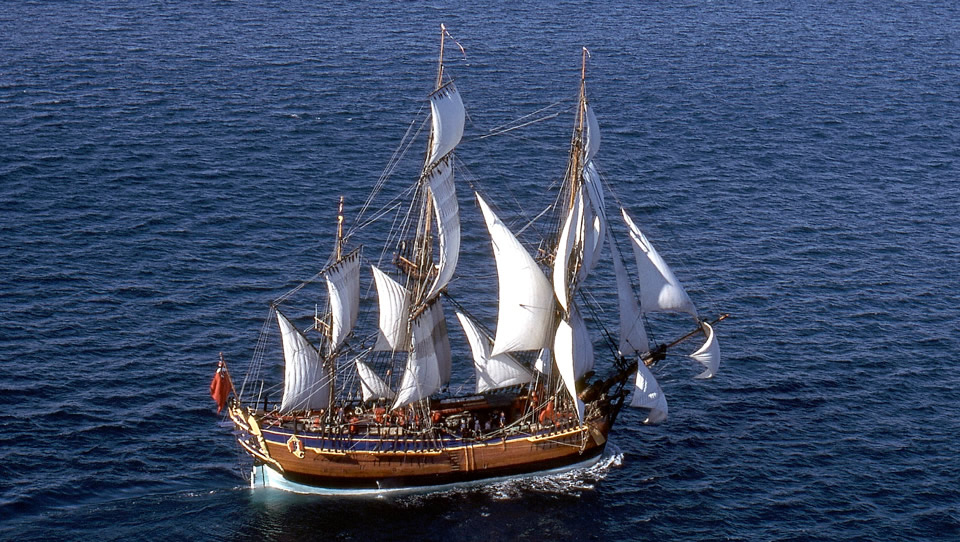 An hour South of Pauanui is the Karangahake Gorge, a walker's paradise with an abundance of walkways and old tunnels.  This gorge was home to one of the busiest and most lucrative gold strikes in New Zealand during the 1800's.  The Windows Walkway is one of the most spectacular walkways in the area with windows blasted through the old gold  mining tunnels providing stunning views over the Waitewhata River.  From the parking lot we first did the Windows Walkway which took an hour.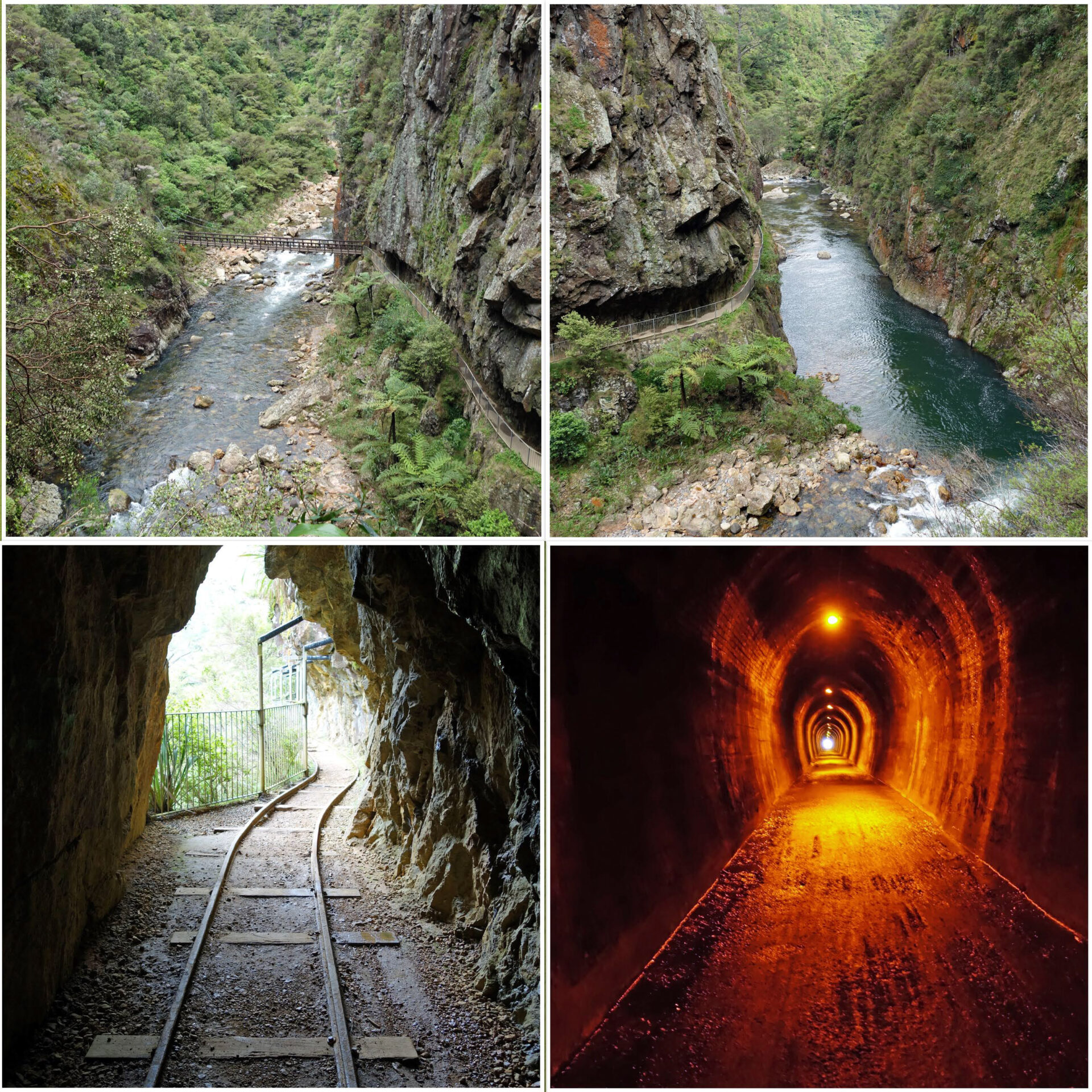 Next we headed out on the 2.5 km Tunnel Loop Walk however about 2/3 of the way around, after exiting the long tunnel above right, there is an offshoot for a 7 km round trip hike to Owharoa Falls which we decided to add on.  It was definitely worth the extra walk to see the staircase falls, reminds me a bit of Croatia.  All in all we hiked for just over 3.5 hours enjoying spectacular scenery at every turn, this is an area not to be missed on the Coromandel.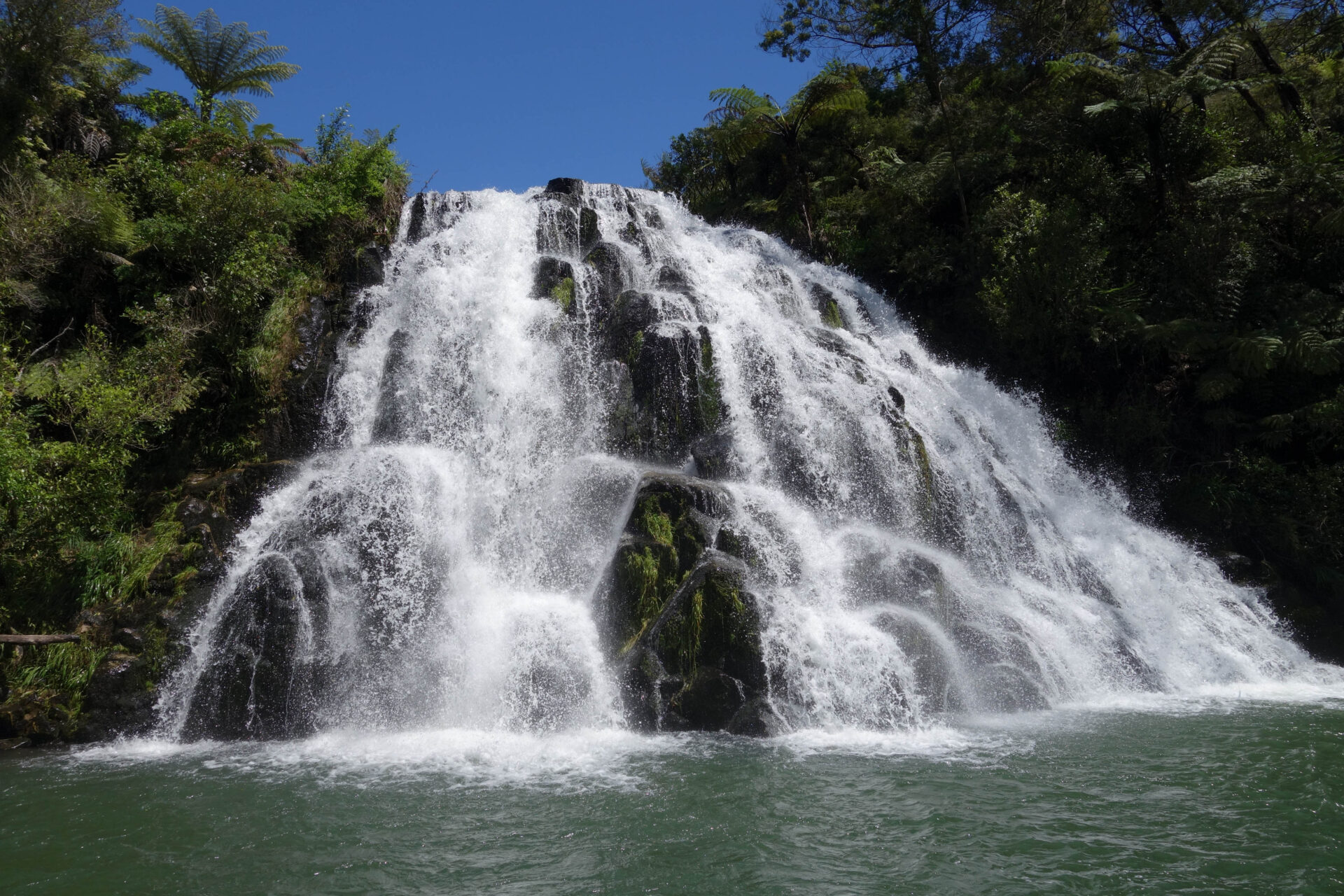 Hot Water Beach…a few folks said we just had to go there, so off we trekked.  Your visit to Hot Water Beach must be 2 hours before or after low tide, when the water has receded enough to expose the beach, our best low tide option was 8:30 am so we arrived just after 9 am.  My vision was digging a hole deep enough to sit in and enjoy the hot water bubbling up, kind of like a hot tub.  But the reality is you dig down until reaching the hot water and then lay flat in the hole, not even fully covered with water, or sit on the edge of a deeper hole further from the ocean with your feet in the water.  Not what I had envisioned, it was more like standing in a puddle.  Anyway, it had to be done…so how was it?  Like standing in a puddle of boiling hot water 🙂  The water was so hot there was no way you could immerse yourself.  Some hardier (and I mean younger) people dug their holes close to the ocean letting cool ocean water mingle with the very hot water below the sand, allowing them to lie down in a few inches of water.  Even that was not very appealing, the morning we were there was 12 c, windy and intermittent rain.  So there we stood with our pants rolled up, rain jackets on, in a puddle of hot water.  It was an experience!!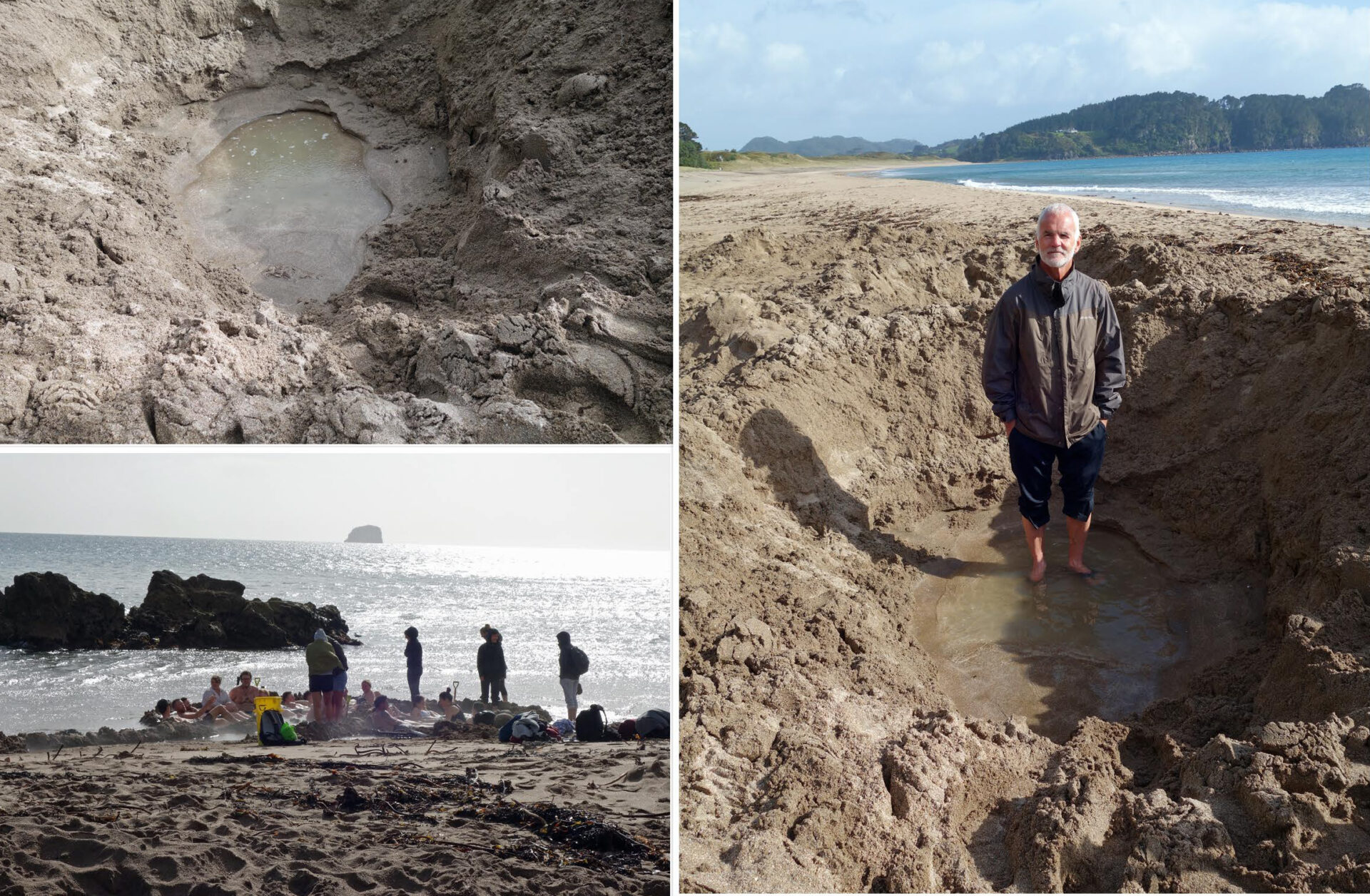 We have really enjoyed our time here, exploring the beaches and walking tracks.  After a full week on the Coromandel Peninsula it was time to move South, next stop Rotorua…..