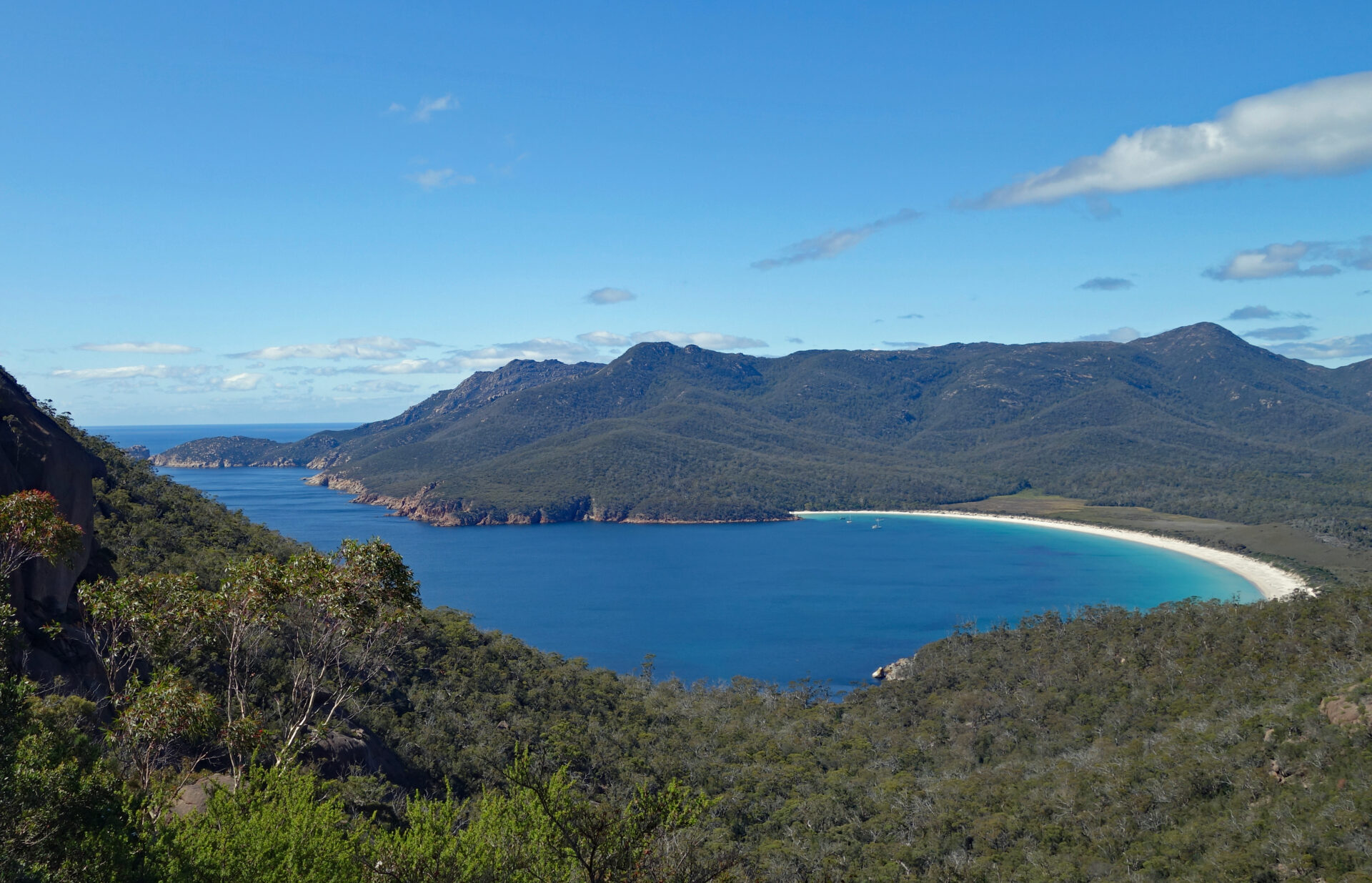 Tasmania's east coast is one of the most beautiful places in Australia and the final destination of our six weeks on the island.  We stayed in the small fishing town of St Helens, for no reason other than we found a lovely house to rent nearby to places we wanted to visit.
The closest attraction to St Helens is The Bay of Fires, known all over the world for its extraordinary clear blue seas, brilliant white beaches, and striking orange lichen-covered boulders.  Our visits there did not disappoint, we enjoyed cool sunny days walking the beaches and climbing up the rocks.  As beautiful and inviting as the sea appeared, the water is much too cold for swimming and no doubt the reason we did not see anyone in the water.  The Bay of Fires coastline stretches for 50 km, filled with vast beaches, hidden coves, and dramatic viewpoints with much to see, and very few people.
Inland from St Helens are the lush valleys of Pyengana with rich and scenic farmlands and gorgeous waterfalls hidden in the forest.  From the parking lot it is a short 15 min hike, through a forest of magnificent tree ferns, to St Columba Falls, the highest waterfall in Tasmania.  Nearby is Halls Falls, a small but pretty waterfall with beautiful rock pools above and below the falls.  The hike in to Halls Falls is a little longer but also through beautiful lush forests where you can let your imagination run free.
No road trip on the east coast is complete without a visit to Freycinet National Park and its best-known beach, Wineglass Bay.  This perfect curve of white sand and clear blue ocean is considered one of the world's top ten beaches.  There are many great walks in the park, the most popular is the short walk to the lookout which has the most spectacular views you can imagine.  Upon entering Freycinet National Park you must stop and purchase a park pass, this costs AUD $24 (USD $15.80) per car for the day.  From the parks office, it is a 10-minute drive to the Wineglass Bay Lookout parking lot, already full at 10 am, so we parked in one of the roadside spots!!!  The hike from the parking lot to the lookout is 1.6 km on a well-formed gravel track climbing steadily the entire way, with many steps built into the rocks.  The short lookout walk was our original plan but upon seeing Wineglass Bay below, we had to go down there.  This added another 1.8 km, virtually all of it down a variety of steps.  Now that was hard on the knees!!!  The beach was gorgeous and surprisingly busy, we found a shady spot on the rocks to enjoy our lunch, that we had fortuitously thought to carry with us.

Discussing our options after lunch, neither of us wanted to return the way we came, climbing up 1.8 km of stairs was just not appealing.  Our only other option was the Hazards Beach Loop track, adding another 9 km to our walk…so off we went 🥾🥾  The loop begins with a flat walk along the Isthmus Track emerging at Hazards Beach, then a 1 km beach walk to join the Hazards Beach Track.  This is a coastal forest track with many ups and downs along the way, eventually joining the Wineglass Bay Lookout track 10 minutes from the parking lot.  We met very few people on the cliffside track, enjoying the peacefulness and spectacular views along the way.  Funny how we can turn a leisurely 3 km walk into an 11 km hike 😂😂
On our way back to St Helens from Freycinet National Park, we stopped at the lovely fishing and holiday village of Bicheno (this would have been another great place to stay) to view the Blowhole.  Tasmania is made mostly of dolerite, a rock only found in Australia, but the blowhole is made of granite.  For thousands of years, the ocean has battered the granite to carve out a sea cave underneath the rocks.  The water, battering the inside of the cave with increasing force, found a weak spot in the ceiling to blow a hole through the granite.  Now water rushes into the cave, hits the walls, and erupts out of the hole in the ceiling.  Great fun to watch and see up close.
After a couple of wet and dreary days near the end of our week in St Helens, the sun returned for our final day, brightening up our mood considerably.  Escaping the house we drove to nearby Binalong Bay for one last beach walk.  With the sea crashing onto the beach and the wind blowing in our faces we felt refreshed, it was good to be outside again!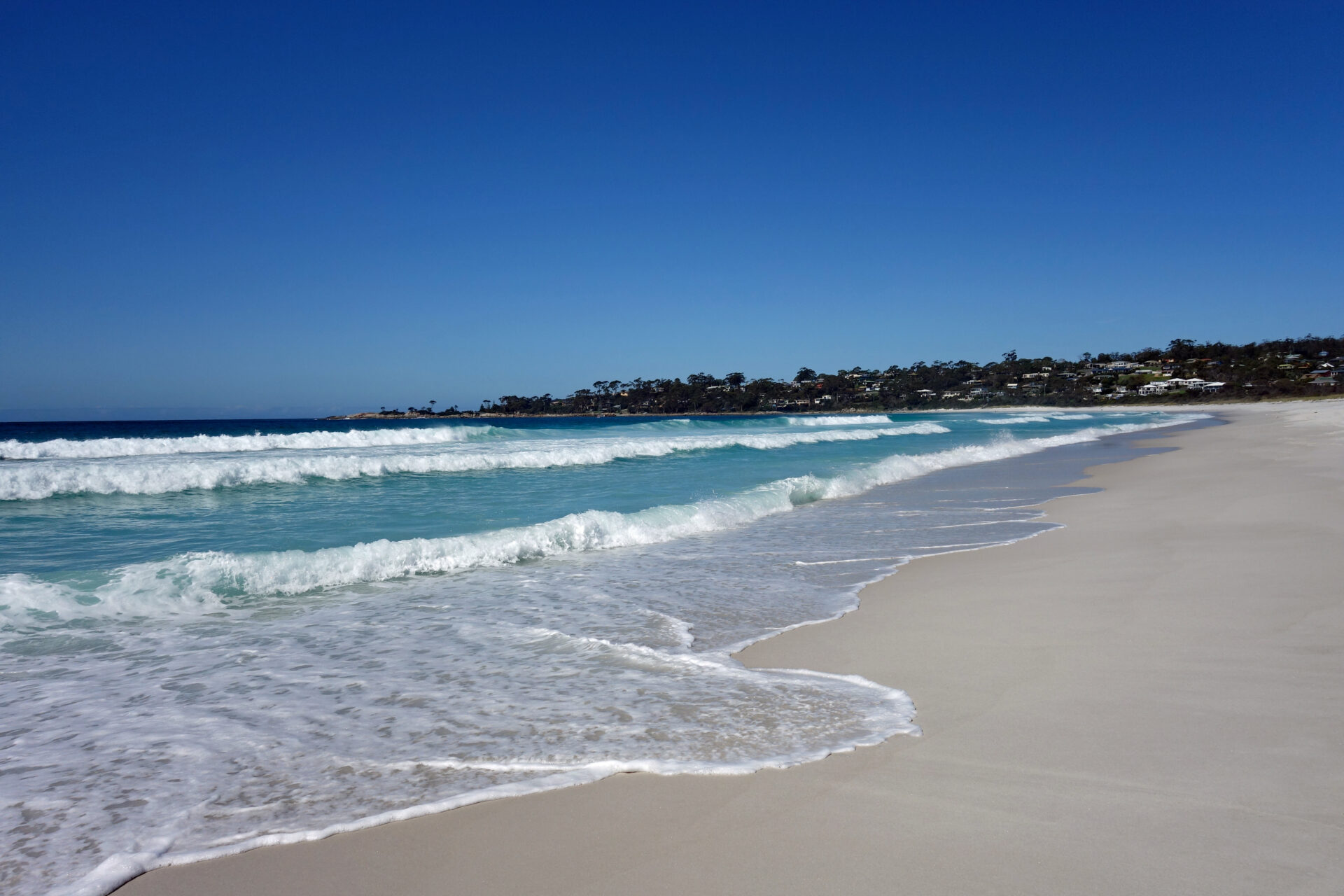 During the wet and dreary days in St Helens, we hunkered down in our cosy little house and caught up on 'work'.  With the increasing spread of the coronavirus, we are concerned about our upcoming travel plans to Bali and Singapore.  So far we have had only one of 3 flights changed so we are mentally coming up with plan B, so we can react swiftly in the event travel restrictions are imposed for either of our destinations.  We cannot stay in Australia beyond April 6th when our 90 day visa time limit is up so we must leave the country!!  Where becomes the question if we need to change our plans.  For now, we wait and see!
During our six weeks in Tasmania, we have thoroughly enjoyed each location however my favourite was the south coast.  The Hobart area was without a doubt the most interesting as far as the history of Tasmania goes.  There was also more to do around this region with wineries, beautiful coastline, and the city of Hobart offering a wide variety of things to see and do.  Spending three weeks there was a good decision despite the fact that Hobart weather is much too cloudy for our liking, as a place to live.  The north and east coasts were not quite as interesting with small towns dotting the area, however, we still recommend visiting if you want to fully experience Tasmania.  Without a doubt the Freycinet National Park and Bay of Fires regions cannot be missed with their spectacular coastal views…and we can never forget falling in love with Matilda the Wombat 💕   Don't miss coming to Tasmania if you are in Australia, you won't regret it.  As we look back fondly over our time in Tassie, collecting some amazing memories, it is time for us to move on, returning to mainland Australia…
**UPDATE**  As of March 13 the recent declaration of a pandemic has forced us to cancel our travel plans to Indonesia and Singapore.  If we leave Australia our health insurance will not cover any medical costs related to COVID-19 so if we required medical care or hospitalization, we would be out of pocket for these expenses.  Since we arrived in Australia on January 6, prior to any health warnings, we are fully covered by our insurance company (as much as insurance companies really cover you) including COVID-19.  Our next step is to contact the Australian Immigration department and request an extension to our visa, which expires on April 6, allowing us to stay in Australia until our flight to Canada on July 16.  Fingers crossed they let us stay 🤞  We have numerous cancellations to be made plus sorting out where we go from Adelaide, this will occupy much of our time in the near future ☹
Stay healthy everyone!!!