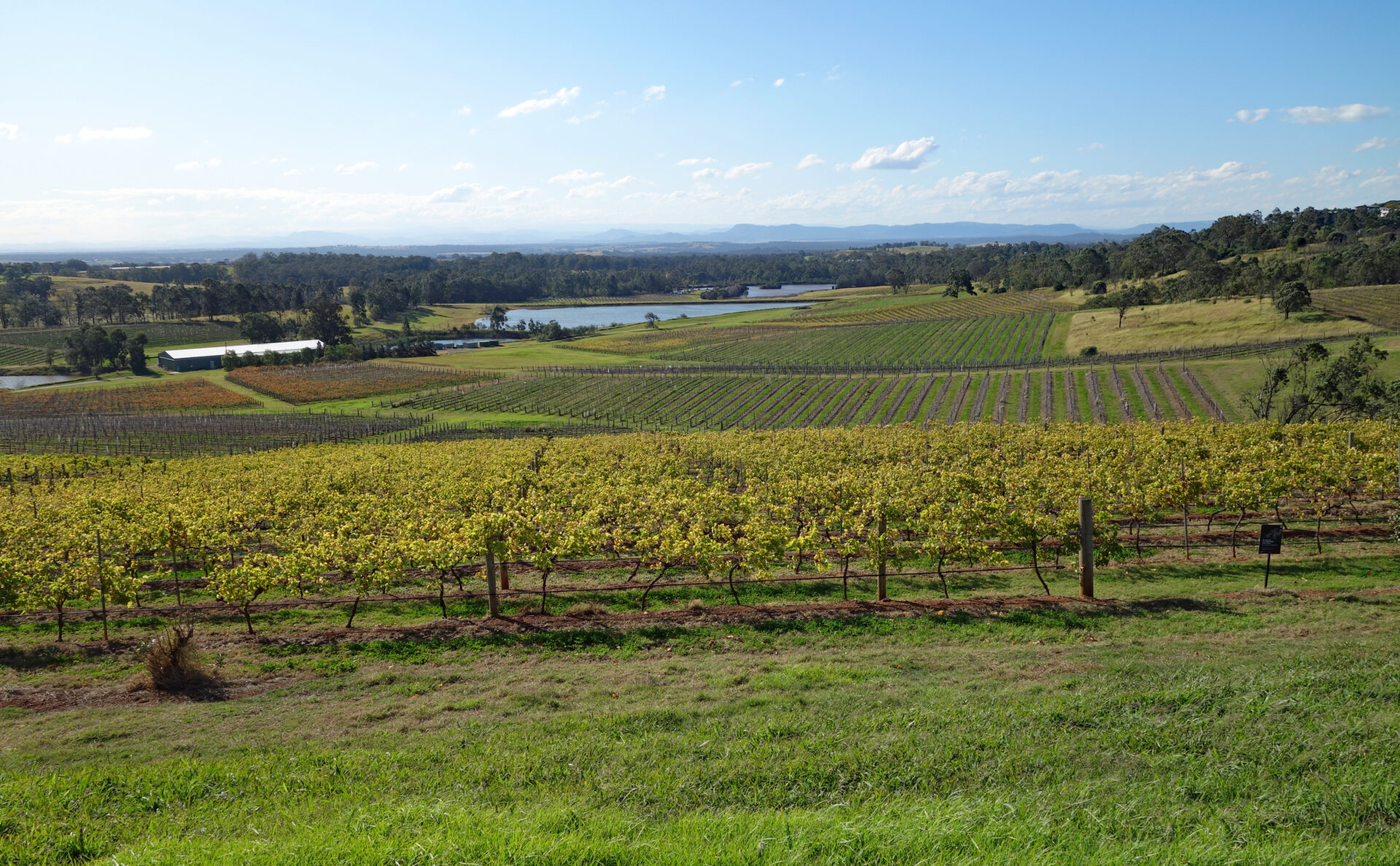 The Hunter Valley is one of Australia's best known wine-growing regions having over 200 vineyards and over 150 cellar doors offering wines for sale, tastings, restaurant and cafe meals, and wine clubs to join.  Hunter Valley is one of Australia's hottest and wettest wine regions, with summer temperatures sometimes reaching over 40 C.  The most prestigious vineyards are located in the southern valley and foothills of the Brokenback Range.  With only two days here, we chose to spend our time in the Pokolbin subregion, known as the Lower Hunter Valley.  A one hour drive inland from our penultimate destination in Australia, Newcastle.  Our timing was fortunate, and somewhat anticipated when the government allowed wine tastings to resume on June 1, after a 9-week lockdown due to COVID.
We began at the tourist information centre outside Pokolbin picking up a map of local vineyards.  Closely studying the map we chose Iron Gate Estate as our first vineyard to visit, just because we liked the name.  Iron Gate is a small boutique vineyard with 25 acres of land under vines.  Their cellar door building is a beautiful Mediterranean style villa reminiscent of vineyards we have visited in Italy.  The cellar door was not officially open yet for tastings, but they were happy to accommodate drop-in visitors after 9 weeks of closure.  Concessions to social distancing guidelines and sanitization were evident, significantly limiting the number of customers the vineyards can accommodate, but everyone is happy to be slowly reopening.  The tasting cost AUD $5 (USD $3.40) per person, which is applied to any purchase made.  Preferring red wine, we tasted 6 of the Iron Gate reds, subsequently buying a bottle of our favourite, their 2019 Primera Tempranillo costing AUD $35 (USD $24).  Here is the vineyards description of this lovely wine:
"Tempranillo is becoming more popular with wine drinkers in this country as it offers a more savoury and different style of red wine. This delicious, medium-bodied wine is cherry-red in colour with aromas of plum, spice and bay leaf. The savoury palate has flavours of plum, mocha and spice and finishes with a soft and slightly drying tannin and oak finish. Superb with pork or lamb dishes or a hard cheese or pair it with a pizza with the lot."
Thinking that food in our tummy was a good idea before the second wine tasting, we went to Baume restaurant at Ben Ean, a former Lindemans estate, recommended by the tourist centre and an excellent suggestion.  It was a glimpse back to life before COVID, although with fewer tables in the restaurant adhering to distance and sanitization guidelines.  Our cutlery came wrapped in a paper bag and the plastic-covered menus sanitized between customers.  We ordered one of their fabulous wood-fired pizzas, with wine of course, and thoroughly enjoyed our first restaurant meal in months!!!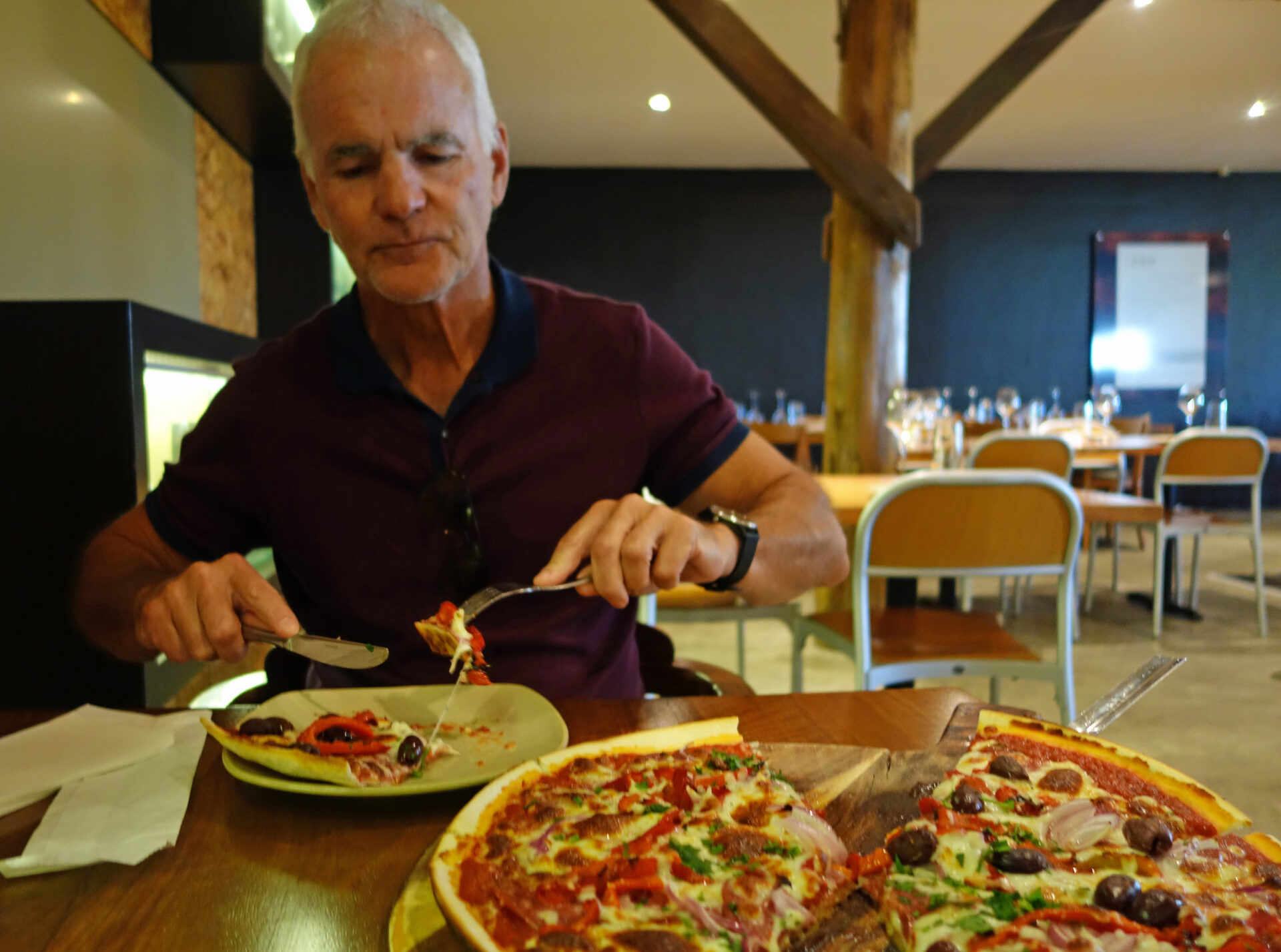 Hankering for a hilltop view we drove to the Audrey Wilkinson Vineyard, perched high above the Hunter Valley, for our second wine tasting.  Over 150 years old, they are the oldest vineyard in Pokolbin, and one of the oldest in Australia.  We splurged on the premium tasting enjoying a wide variety of their spectacular wines, from sparkling to whites, then reds and finally their Vin de Vie NV, a sweet muscat wine fortified with brandy.  Our sommelier said the Vin de Vie bottle reminded him of the Eiffel Tower🗼  The premium tasting at Audrey Wilkinson cost AUD $15 (USD $10) per person, this was not deducted from our wine purchase.  Audrey Wilkinson is the only Hunter Valley vineyard growing Malbec grapes so we blew the budget and bought a bottle of 2017 Winemakers Selection Malbec costing AUD $65 (USD $44)  Including the tasting fee this was an expensive bottle of wine!!  We saved this special wine for our last night in Australia, toasting a fabulous 5 months in Aus 🍷 Here is the vineyards description of this amazing wine:
"Bright beetroot red in colour, with violet hues. A bouquet of floral violets, dark cherry fruits with rich chocolate and savoury spice. Rich blackberry and dark cherry flavours on the palate with slight white chocolate and tobacco leaf, with soft tannins and tight acidity giving structure and balance."
From the Audrey Wilkinson cellar door, the expansive views of the vine filled Hunter Valley and Brokenback Ranges were breathtaking.  We are at the start of winter so the vines are being pruned, ready to hibernate until springtime when the grape growing season begins again.  No matter what the season, touring wine country never fails to delight us with amazing food, wine and scenery  😊🍷
Returning to the Hunter Valley the very next day, we visited two more lovely vineyards.  The first one was Ivanhoe Wines, we saw their sign on the roadside the day before and it was so intriguing we had to come back.  Their tag line is "Big Gutsy Reds"…..who can resist an invitation like that!  Ivanhoe Wines is a premium boutique vineyard creating wines from grapes grown exclusively on their 80-acre property and sold exclusively at the vineyard.  Vineyards like this are our favourites, discovering wines that cannot be found anywhere but at the source!  Oh how I wished we were staying in Australia longer, we would have bought a couple of cases.  For a tasting fee of AUD $5 (USD $3.40) we sampled their range of big gutsy red's finishing with the Kings Ransom Liqueur Cabernet Sauvignon, a dessert wine not fortified with brandy giving it a lovely finish without the sweetness.  I tried to talk Blair into finding room in our suitcase for a bottle, but with no luck 😕  Instead, we purchased a bottle of their big, gutsy Premium Boutique 2018 Shiraz Pressings costing AUD $45 (USD $30)  Here is the vineyards description of this lovely wine:
"This Pressings is a rich and full-bodied Hunter Shiraz showing characters of spice, pepper and quality oak with great length and tannin structure.  Delicious for drinking now as a big rich style or cellar for 10-15 years."
Our final cellar door in the Hunter Valley was McLeish Estate Wines, another small family run business comprising 80 acres of vineyards.  Over 30 years producing quality wines, they have been awarded numerous trophies and medals at prestigious wine shows, earning them the distinction of Australia's most awarded boutique winery.  The AUD $5 (USD $3.40) per person tasting fee is applied to a bottle purchase and once again we focused on their range of red wines.  We chose as our favourite their 2017 Cabernet Sauvignon/Merlot, costing AUD $35 (USD $24).  The vineyard describes the wine as follows:
"The wine displays great depth of flavour, with ripe, silky tannins.  Classic Cabernet cassis sits alongside smoky, spicy oak and more complex notes of violets, tobacco and dark chocolate.  This wine seamlessly provides a balance of vibrant Merlot primarily fruit qualities complemented by spicy complexity."
By the end of our two days in the Hunter Valley, we have brought home a 2019 Tempranillo, a 2017 Malbec, a 2018 Shiraz and a 2017 Cabernet Sauvignon/Merlot.  A perfect variety of Hunter Valley wines to savour during our final few days in Australia.
Our days spent in the Hunter Valley were a Monday and Tuesday, June 1 & 2,  and when speaking to the staff at the various cellar doors we visited, they were gearing up for a big upcoming weekend with June 8 being a holiday Monday.  Not only is it a long weekend, but it is the first weekend Australian's are allowed to travel for pleasure, stay in a hotel and enjoy wine tastings.  We were very fortunate to have been here during the week, hotels and wine tastings are booked solid for the upcoming weekend, there would have been no such thing as just dropping in for a visit as we did.
We loved our brief time in the Hunter Valley and highly recommend this region as a fantastic place to visit for any wine aficionado.  There are numerous accommodation options, tours and cellar doors available catering to a wide variety of visitors.  Be sure to visit the Hunter Valley if you find yourself in New South Wales, Australia…
Trip Tips
The Hunter Valley Visitor Centre is a great place to begin your research and plan your trip to the Hunter Valley.
Being only 1 hour from Sydney, the Hunter Valley is a very popular weekend getaway for city dwellers, reservations at hotels and cellar doors are highly recommended.