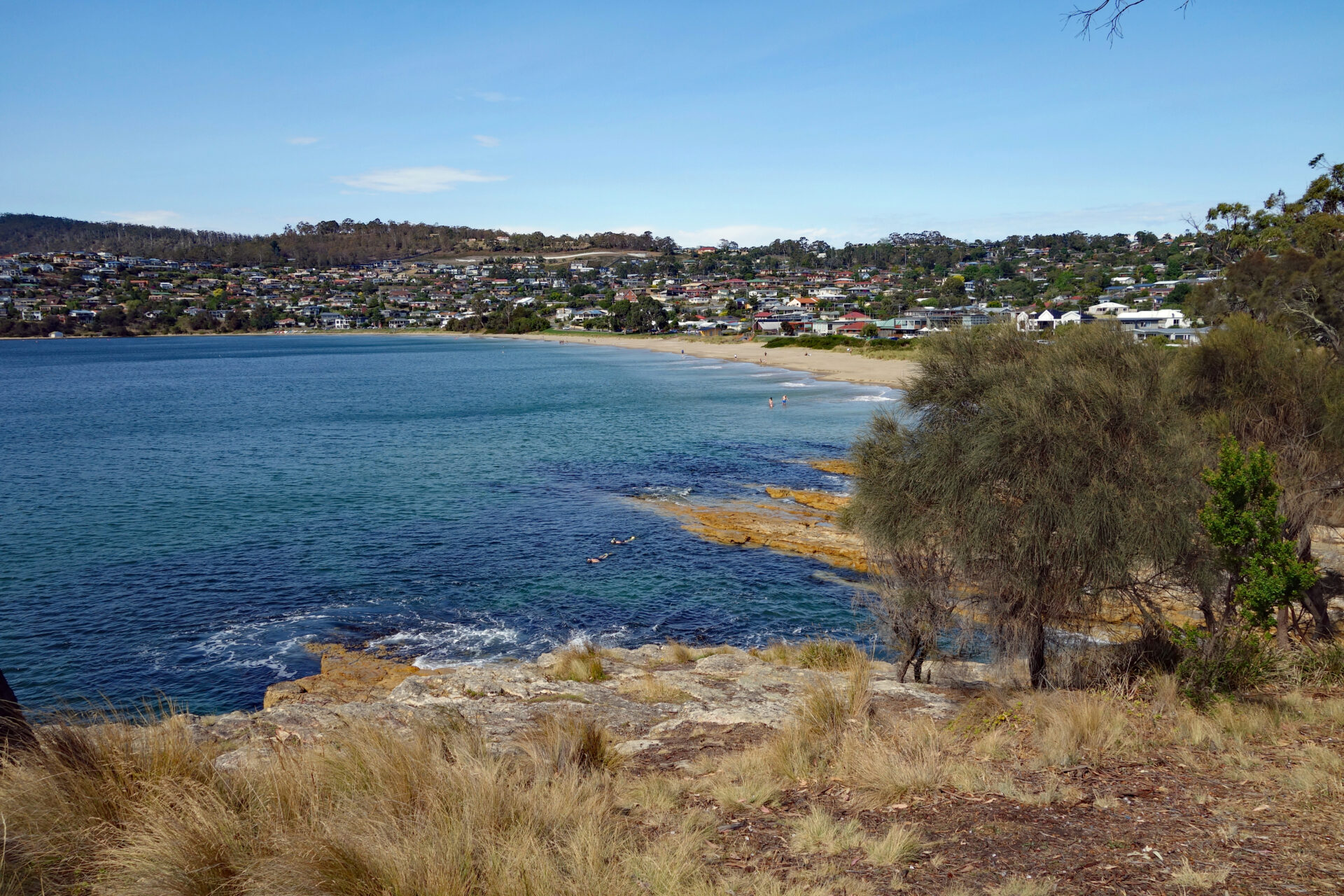 Tasmania, just the name inspires curiosity so here we are on this island off the southern coast of Australia for six weeks.  My first recollection of hearing about Tasmania was on the Bugs Bunny show but rest assured there are no whirling dervish Tasmanian Devils to be seen 😆  Tasmania was discovered in 1642 by Dutch explorer Abel Tasman and visited by various other explorers before being permanently claimed and settled by Europeans in 1803 as a penal settlement of the British Empire.  Approx 75,000 convicts were sent here over 50 years in what some think was thinly veiled forced emigration to populate Australia.  Today Tasmania is a popular tourist destination with dazzling beaches, vast wilderness areas, world heritage sites, towering cliffs, rugged mountains, farms, and wineries.
Our first 3 weeks in Tasmania, Tassie or Tas as the locals call it, were spent on the south coast in the small town of Blackmans Bay, just 30 minutes outside Hobart.  Hobart is the capital of Tasmania with a population of over 240,000.  The city was founded in 1804 as a British Penal settlement and when penal transportation ended in the 1850's the city turned to mining and agriculture.  These days the city is the financial and administrative center of Tasmania and a major tourist hub with over 1.3 million tourists arriving each year.  In the center of Hobart is Salamanca Place, home to rows of sandstone buildings built in the 1830's as warehouses.  Today these gorgeous old buildings have been converted into shops, boutiques, cafes, restaurants, and art galleries.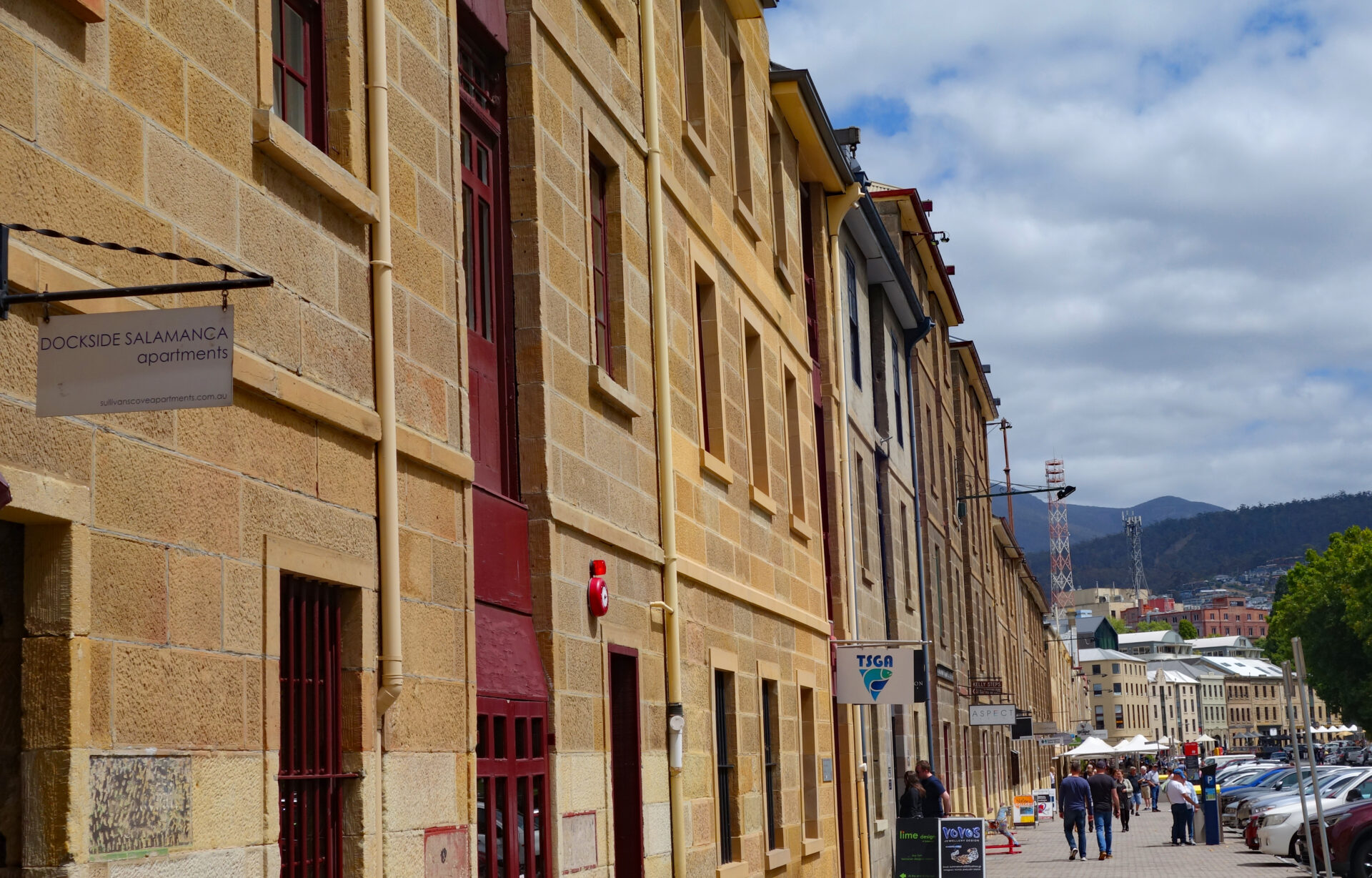 The Shot Tower at Taroona is a historic building between Hobart and Kingston.  It was designed and built by Joseph Moir in 1870 and is one of only three remaining shot towers in Australia.  When we stumbled upon this attraction I had no idea what a 'shot tower' was.  The tower is 192 ft tall and was used to produce shot balls (lead pellets) used in rifles in the 1800's.  The shot balls are created by the freefall of molten lead from the top of the tower into a water basin.  The molten lead is dropped through a copper sieve at the top, forming balls, and while falling the lead cools and solidifies before hitting the water.  There are 259 steps to the top of the tower, so of course we climbed them 💪  The views from the top over the river valley were gorgeous on this very hot (39 Celcius) day.
Driving from Hobart to Port Arthur there are a variety of attractions and viewpoints along the road.  We made a few stops during our travels to and from the historic penal site.  One such stop was at the beautiful Port Arthur Lavender fields for a quick look around at the blooming lavender and the gift shop.  They have a small cafe on the property, it would be a lovely place to come for lunch.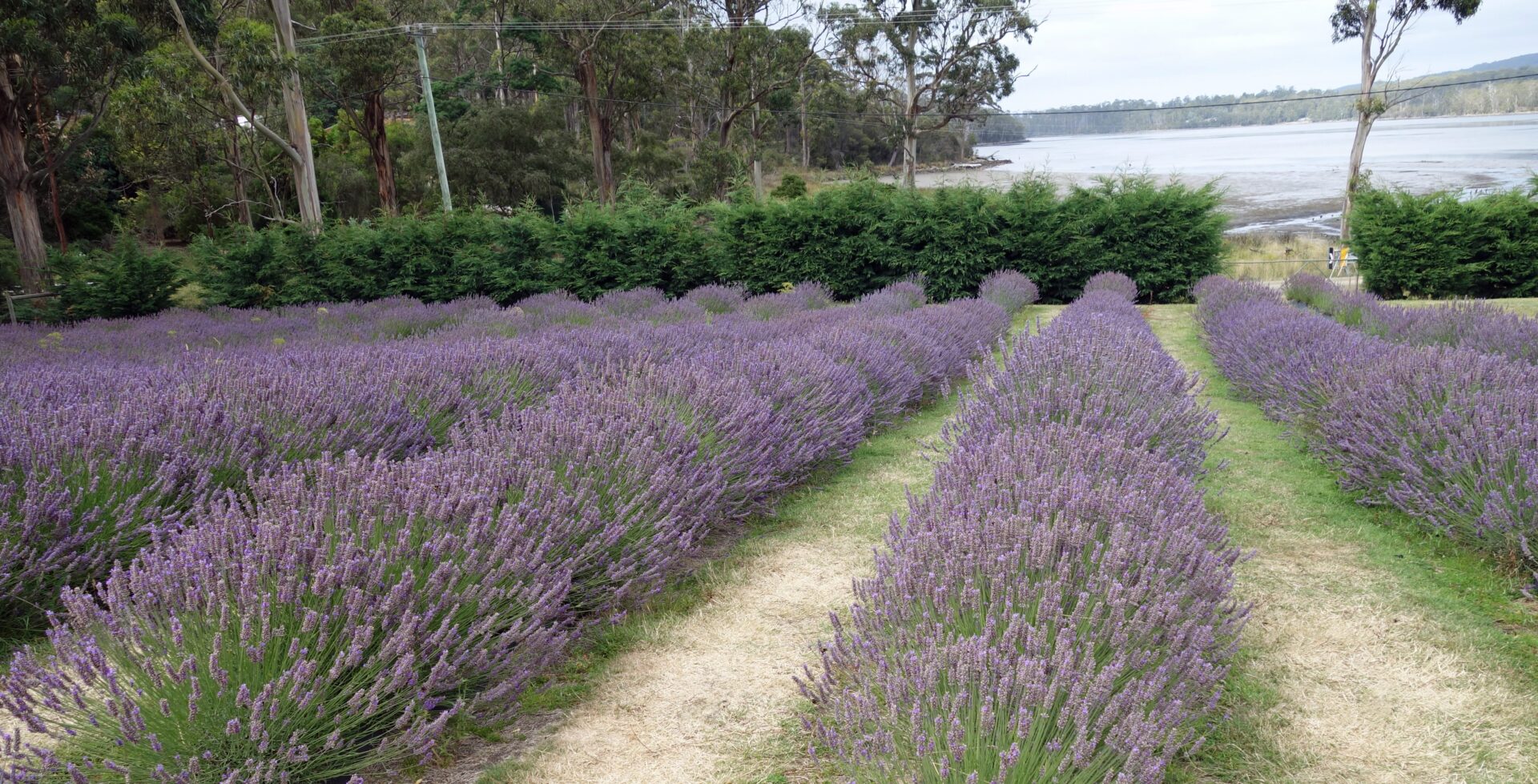 On the east side of the peninsula are sheer rugged cliffs eroded over time by the wind and water into spectacular caves and arches.  Devils Kitchen and the Tasman Arch lookouts were two such stunning viewpoints.
Tessellated Pavement is found in only a few places on Earth and Tasmania is home to one of the best examples of this impressive geological wonder.  Looking at this rock formation it's hard to believe it was created by nature and not man-made.  Essentially, the rocks were fractured by the movement of the Earth and resulted in what is called jointing.  Jointing itself is not incredibly uncommon, but the presence of salt crystals and consistent erosion by the Tasman Sea's waves has deepened the pattern to give it its amazing appearance.  Here is an excellent site explaining how this pavement was created.  We found it an interesting place to visit, especially with Blair's geology background.
How to describe MONA…vulgar, quirky, provocative, unusual??  Opened in 2011, the Museum of Old and New Art (MONA) is said to have put Hobart on the international map.  Described by millionaire founder David Walsh as a 'subversive adult Disneyland', MONA is not for the faint-hearted as many exhibits on display are quite controversial, and include scenes of nudity and/or violence.  The artwork is arranged randomly throughout the museum so visitors can wander as they please and choose what they want to see.  While controversial contemporary art may not have been on our list of things to do in Hobart, the popularity of the museum piqued our interest.  We found it a very strange place filled with very strange things, perhaps subversive adult art is not for us!!  The most interesting thing about the museum is that it is built underground into a sandstone cliff.  After entering you take stairs or an elevator down three levels deep into the hillside then work your way upwards, through the art displays, toward the surface.  Tickets for the museum cost AUD $27 (USD $18.12) each for persons over 60, the regular price is AUD $30 (USD $20.13) and the museum is free for all residents of Tasmania and anyone under 18 years old.
Mount Wellington is one of the most popular attractions in Hobart, and with good reason.  Rising 1,270 meters high, snow can be often be seen covering the peak, and the views from the summit are truly stunning.  At this altitude, the peak is often enveloped in clouds but on a good day you will have 360-degree views of surrounding Hobart and as far out as the sea.  We watched for the peak every day and one rare afternoon when we could see the summit we headed up.  The temperature is at least 10 degrees colder than Hobart with strong winds making it seem even colder, we did not last very long up there 🥶🥶 but the views were worth it.
The White Wallaby colony of Adventure Bay is the star attraction on Bruny Island.  White wallabies are unique to Bruny Island and are easily recognizable due to a rare genetic mutation that gives them their signature white fur.  The white wallabies live in the forested areas surrounding Adventure Bay, there is no guarantee one will be seen.  We took a chance and ferried over to Bruny Island for the day in search of the white wallaby.  Luck was on our side, we saw one on the road to the raspberry farm and another on the farm property.  There were brown wallabies by the dozens but the white ones were a challenge to find, we glimpsed a third one bounding across a distant field.  Most of our day on Bruny Island was spent scouring the fields for white wallabies but after seeing 3 we were happy to move on to other attractions.
The north and south of Bruny Island are connected by a spit of sand and dunes known as 'The Neck' where there is a fabulous lookout and a viewing platform on the beach to watch little Fairy Penguins who come ashore every night.  We left long before the penguins were due to arrive but there must be a lot based on the number of burrows we saw.  If you want to see the penguins you will have to stay overnight since the last ferry leaves the island at 7:15 pm and the penguins return well after that.  Before leaving the island we picked up some treats at the raspberry farm shop and the Bruny Island chocolate shop before boarding the ferry for the 20 minute ride back to the main island of Tasmania.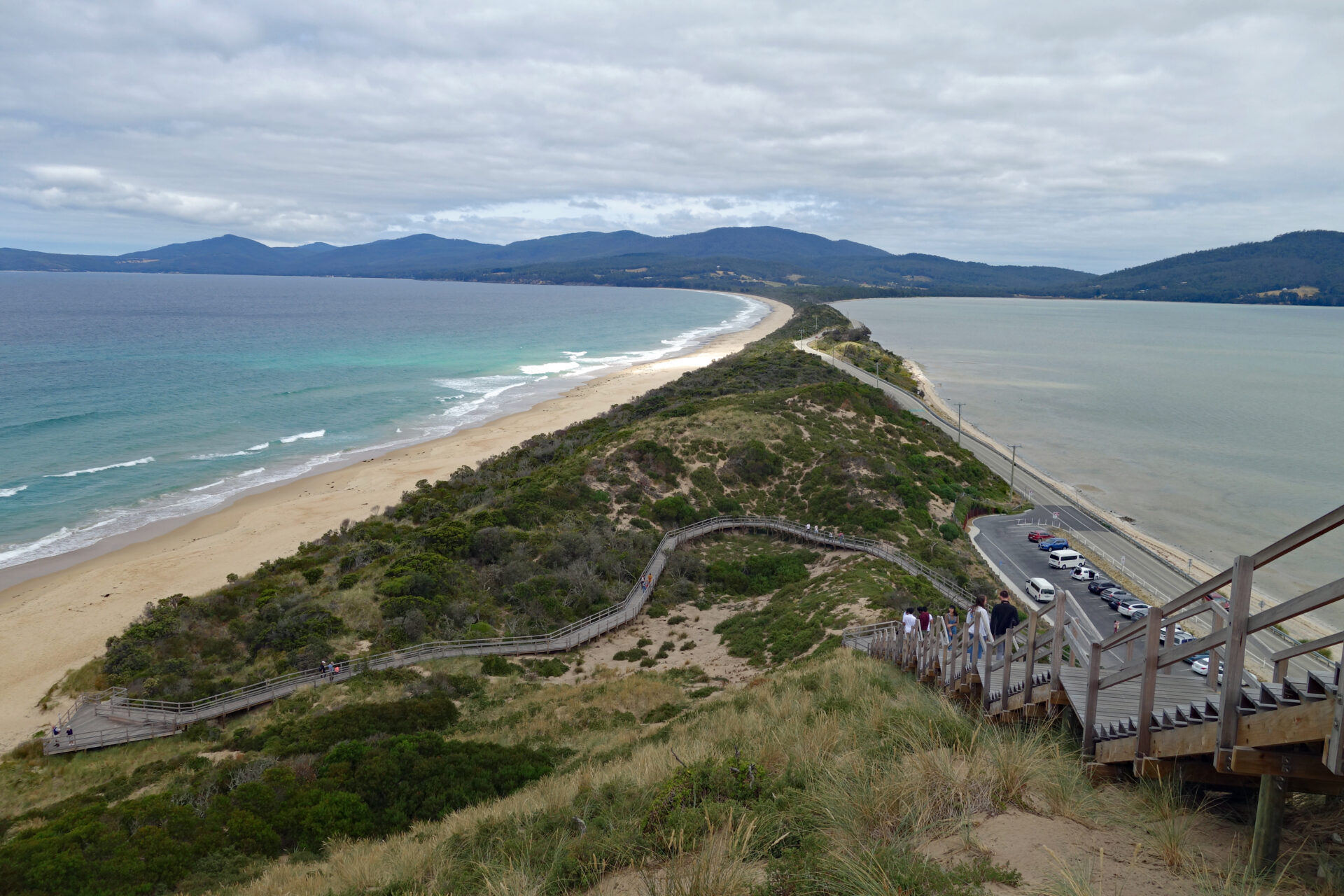 I love wandering around markets which presents a challenge when we are unable to buy souvenirs or keepsakes, having no home to put them in.  This leaves purchasing only consumable products.  Fresh fruit and vegetables are abundant at every market, as are jams, jellies and honey, spices and specialty salts, oils and nuts, coffees and snacks, the list is long enough to make market wanderings an enjoyable activity.  A couple of special treats I enjoy buying are handmade soaps and pillow spray, it helps make wherever we are staying that little bit nicer.  Hobart hosts the Salamanca market every Saturday from 8:30 am, with over 300 stalls showcasing the best Tasmanian produce, arts, crafts, fashion, and food.  It's a busy and popular market with locals and tourists, we enjoyed the atmosphere as we wandered around the numerous stalls.  Closer to our house we found the Margate Makers Market operating every Saturday from 10 am between September and April.  This market is very small and sells mostly craft items so we did not stay very long.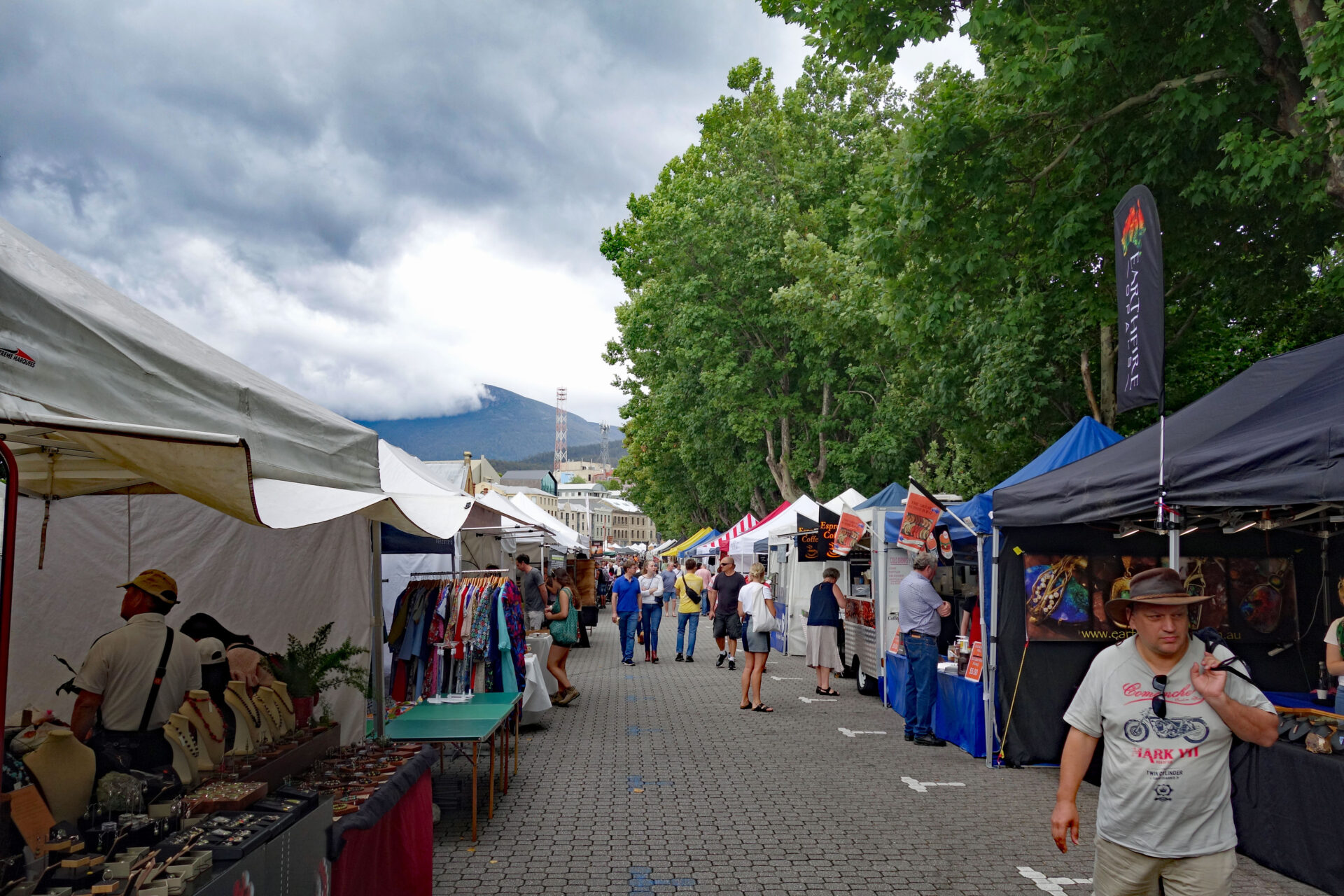 An interesting phenomenon that we enjoyed from our balcony was the flocks of Sulphur Crested Cockatoos flying by our house every day, landing in a tree across the street.  They are large and white with an impressive yellow, Mohawk-like crest.  The undersides of their wings are also splashed with yellow coloring which we observed as they flew overhead.  Their curiosity, intelligence and striking appearance have made them an Australian icon.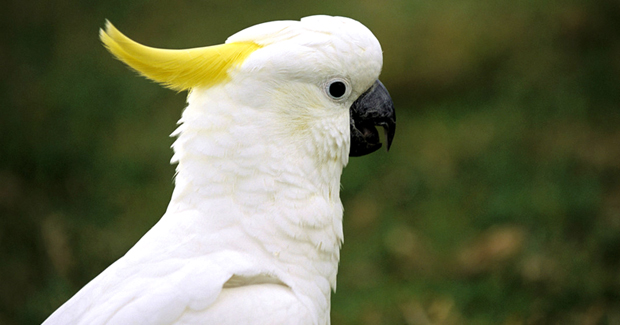 So, how were our 3 weeks here outside Hobart?  After some research into the weather once we had arrived we found out that Hobart only gets 40 days of sunshine a year.  This type of weather is not what we are used to after living in two of the sunniest places in the world, Calgary with 333 days per year of sunshine and Grand Cayman with 300+ days per year of sunshine.  This does not mean we did not enjoy our time here, just that the weather was more overcast than we like, but of course the day before and the day we left were clear blue skies!!  Hobart is a great place to visit in Tasmania and we have enjoyed our time here, especially in our lovely town of Blackmans Bay.  Now we are off to the north coast of Tassie…
Trip tips
If you plan to visit the Salamanca market in Hobart it's best to get there early before it gets too busy.
Access to Bruny Island is by car ferry from the small town of Kettering about 33 km south of Hobart.  The ferry costs AUD $38 (USD $25.50) round trip per car with the last ferry leaving the island at 7:15 pm, don't miss it or you will be spending the night.  The ferry runs every 30 minutes in the summer, you can find their schedule here.