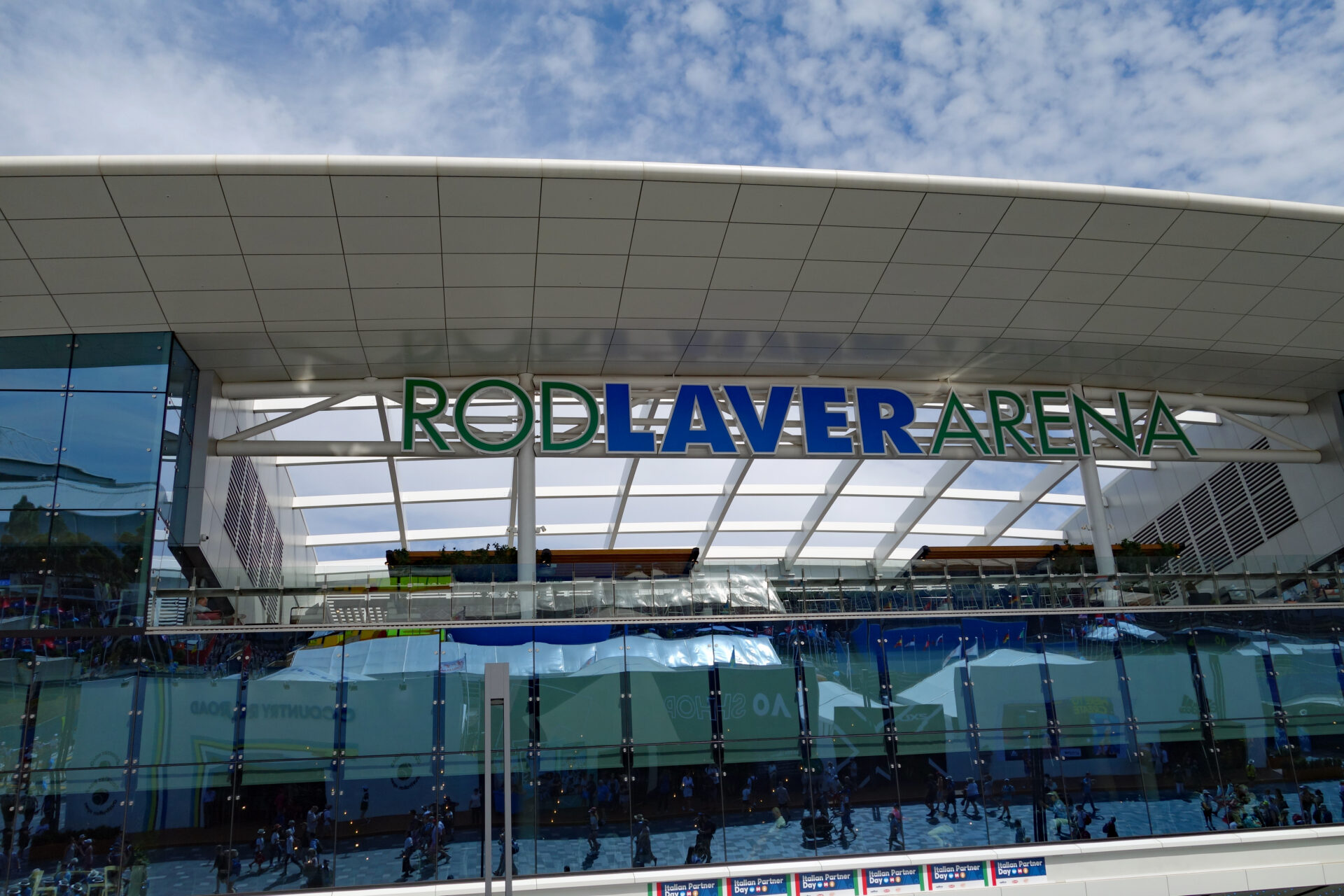 If you are not a tennis fan, this post may not hold much appeal for you but if you are a fan, read on!  The four Grand Slam tournaments each year are the most prestigious events on the tennis calendar with players traveling around the world to participate.  The four tournaments are the Australian Open in Melbourne, the French Open in Paris,  Wimbledon in the UK, and the US Open in New York.  Melbourne Park is best known as the venue for The Australian Open, held every January at Rod Laver arena since 1988.  It is a fantastic venue having 3 show courts with retractable roofs and 35 outside courts plus numerous amenities for athletes and fans.
Our journey to the Australian Open Tennis Tournament began on the 1st of October 2019, the day ticket sales opened.  Being huge tennis fans, and with plans to be 'down under' in January, there was no question of including Melbourne in our travel itinerary.  We purchased our Australian Open tickets the day they went on sale, splurging on reserved seats in Rod Laver Arena for two sessions.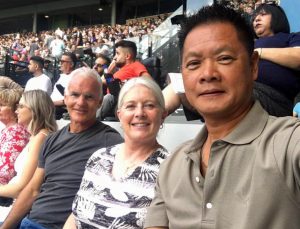 Prior to this, we found out that Bruce, a friend from Grand Cayman, was going to be in Melbourne at the same time.  Bruce was often one of the players in Blair's weekly doubles matches when we lived in Cayman.  He too was interested in seeing the tennis so we handled the booking of tickets to make sure we were all sitting together for this exciting event.
Day passes to the grounds and the unreserved outer courts are very inexpensive however what we observed while in Paris at the French Open is that getting a seat in the outer courts can be very difficult, and once you get one you cannot move or you will lose it.  So while it sounds good to get a day pass, actually watching a match can be challenging, hence our reason for buying reserved seats.  That and the fact that it is unlikely we will be in Melbourne in January again so why not do it right the first time 😊
Our first tickets were daytime passes so we entered Melbourne Park at 10 am, giving us an hour before the tennis started to explore the grounds.  There are numerous food and beverage outlets, souvenir shops, sponsor displays, and open spaces with huge screens to watch matches currently being played.  Luckily we happened upon one of our well-known Canadian players, Milos Raonic, warming up for his match later that day.  Milos made it all the way to the quarterfinals where he unfortunately faced world-ranked #2 Novak Djokovic and was eliminated.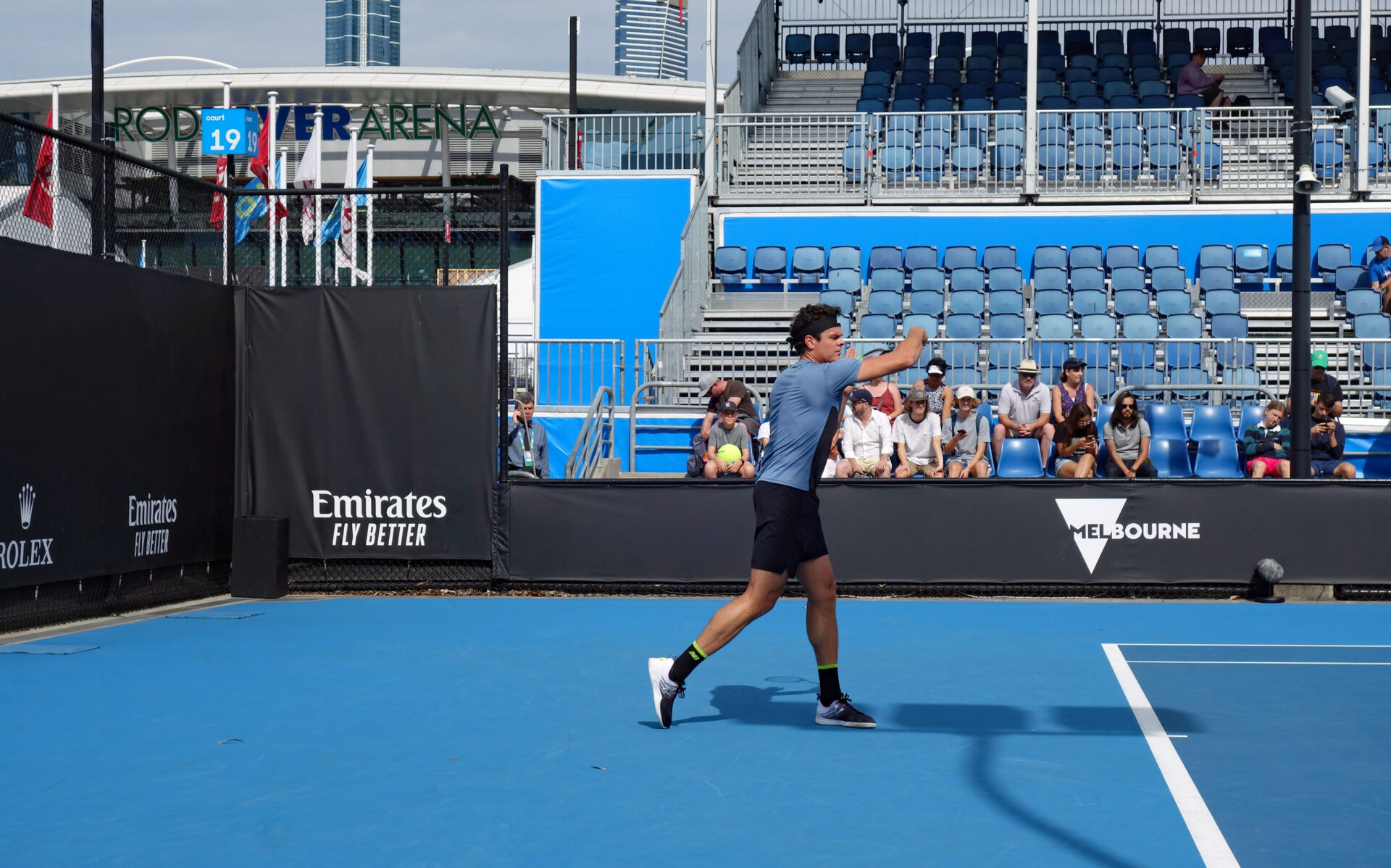 Entering Rod Laver Area gave me goosebumps thinking of all the tennis legends who have played there over the years, and here we are!  This is our second attendance at a Grand Slam tennis tournament, our first was Paris in 2018, and we love the small stadiums.  Rod Laver Arena seats 14,820 and Roland Garros Philippe-Chatrier Stadium seats 15,500 (the two stadiums we have been in) meaning everyone has a great view of the tennis court.  The Arthur Ashe Stadium in New York holds 23,771 putting many seats too far away from the court for my liking.
The order of play for our daytime session was:

The first match was rather uneventful with the expected higher ranked player, Petra Kvitova, winning.  The Ash Barty match was the most boisterous of course since she is Australian, and the #1 ranked women's player.  Barty won her match against Polona Hercog quite handily in 6-1 and 6-4
The third match featured Novak Djokovic, this is not the first time we have seen Novak, we had the good fortune to watch him play live at Roland Garros while in Paris in 2018.  This match was not overly exciting with Ito being quite a bit lower in the rankings than Djokovic, although he did get a few games and put on a good effort.  The final score was 6-1  6-4  6-2 for Novak Djokovic.
Once our matches were finished we walked around the grounds enjoying the atmosphere, had an adult beverage or two 🥤 and watched other matches on the big screens set up around the park.  It is a very special feeling to be here in Melbourne Park!!
Our second tickets for the Australian Open were an evening session, once again in Rod Laver Arena with outstanding seats, and my dream of seeing Rafael Nadal in person came true.  When we bought the tickets back in October we had no idea who we would get to see.  The schedule is published the day before and once we saw the order of play for our tickets I could hardly contain my excitement.  I have wanted to see Rafa play live for a very long time.
Given the sometimes not so friendly relationship between Nadal and Kyrgios, we expected this match to be an interesting battle, and it was without a doubt one of the best matches we have seen.  The final score was 6-3  3-6  7-6  7-6 and those last two sets that went to tiebreaks were absolute nail biters.  We were all on the edge of our seats and the crowd was cheering wildly on every point, louder for Kyrgios because we are here in Australia, but Rafa won the day and the crowd roared on the match winning point.  Blair later pointed out that every time I cheered for Rafa the lady in front turned around to give me the evil eye 😂😂  I am not a big fan of Kyrgios and his ungentlemanly behaviour on and off the court, but I will give him credit for this match, he behaved professionally and played his heart out.  He only had one racket abuse penalty and no screaming meltdowns.  After 3 hours and 38 minutes of play not only were the players exhausted but so were we, it was an emotional match and one we will never forget.
Caught up in the excitement of seeing Rafa play, we thought this is amazing, let's buy tickets for another day 😆  That's how we  ended up with a third day at this amazing tournament.  We had one day left before leaving Melbourne and the evening tickets were sold out so we bought daytime seats, once again in Rod Laver Arena, secretly hoping to see Roger Federer play.  We would not find out the order of play until the night before so I was on pins and needles until the schedule was published.  Right before we left the house to watch the Rafael Nadal match the order of play was published for the next day and I could not believe it…we were going to see Roger Federer play.  My Australian Open experience is complete!!!  We hit the jackpot seeing the top three ranked players in the world, Rafael Nadal, Roger Federer and Novak Djokovic, live and in person playing here in Melbourne 🎾❤
Below was the order of play for our quarterfinals day at Rod Laver Arena:

The first match featured the 21 year old American Sofia Kenin vs O. Jabeur.  Kenin won her match and eventually went on to win the tournament (her first grand slam title) playing against Garbine Muguruza in the final.  The second match of the day was our second time seeing the Aussie favorite, and #1 player, Ash Barty play.  It was a great first set, going to a tie break won by Barty, and then Barty seemed to surge ahead taking the second set 6-2.  Kvitova appeared to lose steam in that second set, giving the Aussie favorite a win and moving her on to the semi-finals, where she lost to Sofia Kenin.
The third match was the highlight of the day.  Seeing the legendary Roger Federer play in person is a dream of every tennis fan I am sure.  The match up for this quarter final did not appear to be the best with his opponent ranked #100 so we thought it might be a bit of a walkover.  Not at all!!  American, Tennys Sandgren has a blistering serve and was ahead after 3 sets with an unbelievable amount of aces.  Roger seemed out of sorts and not up to his usual level of play so it was no surprise when he had a medical time out in the third set for a groin injury.
Fortunately he recovered and as Blair said 'age and experience' won the day.  When the fourth set went to a tie break the entire arena was on the edge of their seats, it was another nail biting wait until Roger managed to pull off the fourth set win.  From there he regained his energy, looking like the Roger we all know, and finished off the match with a 6-3 win in the final set.  Whew…I can quit holding my breath now.  What a match!!!!!  Roger survived seven match points before emerging victorious in 3 hours 28 minutes, what a sensational quarter final here in Melbourne.  The final score for this epic performance was 6-3  2-6  2-6  7-6  6-3 with a standing ovation from the 15,000 fans, barely able to believe what we just saw.
Unfortunately Rogers next match in the semi final was against Novak, which he lost.  Possibly two five set matches prior to his match with Novak took too much energy out of the 38 year old Roger Federer.  Novak continued his march to the final where he faced rising star Dominic Thiem.  It was an outstanding match going to five sets with Novak Djokovic emerging victorious once again claiming his 8th Australian Open title.  What a great tournament!!
Overall I have to say that attending the Australian Open has been an unbelievable experience and more enjoyable than the French Open for us.  In Paris all the commentary is in French, of course, so you miss much of what is going on during the match.  Here in Melbourne it is very clear what is happening and the excitement is palpable.  We loved every minute of our time at the tournament and were happy spending two of our days there with Bruce.  We love it when we can meet up with friends during our nomadic travels.  I think we will all talk about this experience for a long time, and for years to come, as we watch the tournament on television remembering this very special time.   ❤❤🎾🎾
Trip tips
Tickets to the Australian Open can be bought here.  For the 2020 tournament, tickets went on sale Oct 1/19.  You can sign up for an email notification when tickets go on sale, as we did, to get your tickets early and have the best selection of seats.
The total cost of our 3 tickets came to USD $503 each, expensive in some respects but cheap compared to other major sporting events, and when you realize we got to see the top 3 players in the world.  It's all about what we choose to spend our money on 😊
Traffic around Melbourne Park, where the tournament is held, is a nightmare.  We stayed in St Kilda, within walking distance of the venue which was the easiest way to get there.