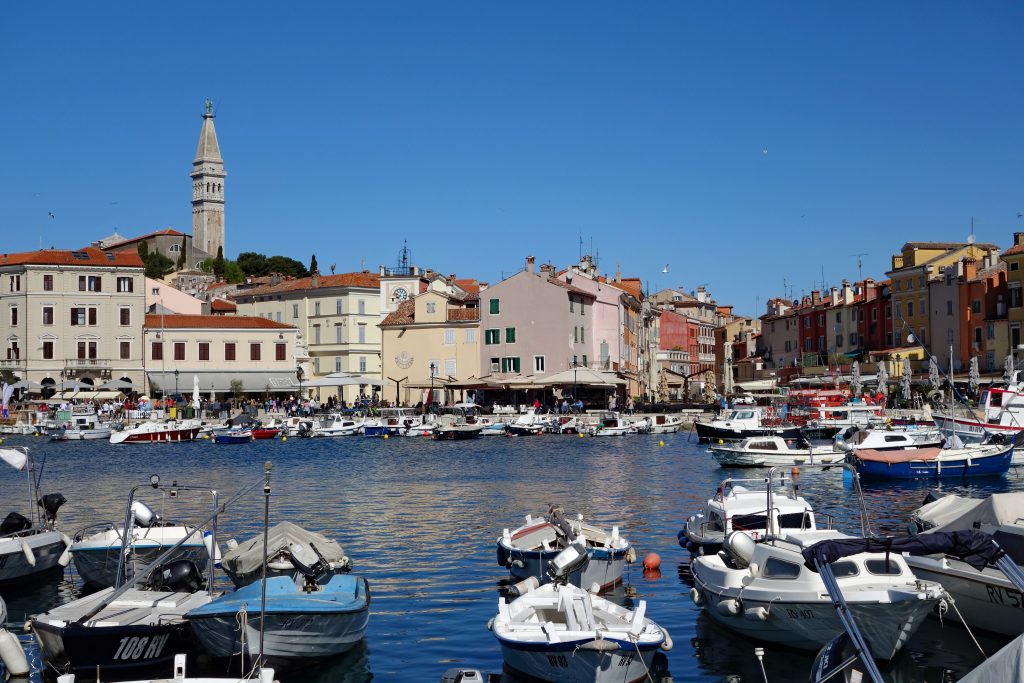 We popped out of the Schengen zone into Croatia for a few days to ensure we did not exceed our 90-day limit before our departure for Ireland in early June.  The Istrian Peninsula is an area new to us and it did not disappoint, actually nothing in Croatia disappoints, we like this country a lot, and Rovinj (pronounced ro-veen) is a new favorite that we hope to return to.
Rovinj has been mentioned a few times as a favorite place by fellow nomads and this inspired us to make our way here.  The town has a population of around 15,000 and feels more Italian than Croatian, once being part of the Venetian empire.  With narrow twisting streets, a bustling harbor, and a wide variety of seafood (and truffles) to tempt your palate, it's easy to fall in love with this town.  Plus English is widely spoken so for we Canadians, life is easier to navigate.
Our apartment was a 5-minute walk from town so we spent our first day walking for hours up, down, and all around the old town and harbor.  The narrow back streets are charming and filled with history. We discovered a new favorite food here in Rovinj…deep-fried sardines that we found at a tiny snack bar around the corner from the Piazza Cisterna.   Soooo delicious!!!
The bell tower shown in every photograph you see of Rovinj is part of the Church of Saint Euphemia, the largest Baroque Church in the Istrian Peninsula.  Interestingly, the bell tower was built from 1654 to 1680, before the church was built.  Atop the bell tower stands a large copper statue of St Euphemia, built on ball bearings so it can turn with the prevailing winds.  Locals say the weather can be predicted depending on the direction St Euphemia faces. The church was built from 1725 to 1736 over the remains of an 8th-century Church and inside, the relics of St Euphemia are preserved in a Roman Sarcophagus from the 6th century.  St Euphemia is the protectress of Rovinj and every September 16th  people from the surrounding area come to pray on her tomb.
The next day we drove south from Rovinj to the port city of Pula, the largest city in Istria known for its multitude of ancient Roman buildings.  The most famous of which is the Pula Arena, one of the best-preserved Roman amphitheaters capable of seating 23,000 people.  The Pula amphitheater was constructed between 27 BC and 68 AD and surprisingly, much of it is still standing to this day.  Tickets for the arena cost 70 Kuna (USD $10.00) each to walk around the colosseum and visit the caverns underneath.  Two other well preserved ancient Roman structures built in the 1st century are the Arch of Sergii and the Temple of Augustus.  The city's old quarter of narrow streets are still surfaced with ancient Roman paving stones and is compact enough that you can walk to all the significant sites.  Coming from Rovinj, Pula did not impress us.  It's larger, rough around the edges, and not nearly as pretty, but it's worth a day trip from Rovinj to see the Roman sites.
When we returned to Rovinj from Pula we promptly made our way into town meeting our guide from Free Spirit Walking Tours for a 2-hour tour of the old town.  We had seen most of the places on the tour but enjoyed learning more history of Rovinj and finding a few tucked away secret places.  It was our guide's first tour of the year and there were just the two of us on the tour so it was good practice for him.
On our final day, we drove to the Lim Channel viewpoint to admire the views.  This natural 12 km long channel, a sunken karst valley, once served as a divider between the regions of Dalmatia and Italia in Roman times.  The channel is filled with hot springs and attracts an array of wildlife, and has a large area of commercial shellfish farms.  There are a lot of boat tours taking you into the channel from the Rovinj harborfront stopping for lunch at a seafood restaurant along the way.  There are also many bike trails around the area so it would be a great place to come on a bicycle, and it's not all that far from Rovinj.  The Istrian Peninsula is well known for its abundance of bike trails and had we stayed longer we would have rented bikes and done a few rides.  Next time!!!
After our canal visit and decided to take a walk south of the city along the waterfront.  A fellow nomad mentioned a nice gravel/forest trail that went for miles so we started walking.  It's a really pretty walk along the water and of course, it would be great to have had bikes and gone much further.
On our last evening, we had dinner at Maestral, an outdoor restaurant on the waterfront.  We both ordered the fish, fresh from the sea, and mine came with a truffle cream sauce…yummm!  The area around Rovinj is famous for white truffles, did you know the largest truffle in Croatia, and one of the largest in the world, was found nearby?  This means, truffle products are everywhere and we couldn't resist buying two small jars, white truffles for me and black truffles for Blair…they are expensive!!  Our two small jars cost 200 Kuna (USD $28.60)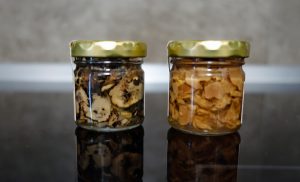 We are so happy that we chose to visit Rovinj for a few days and can certainly see ourselves returning 😊