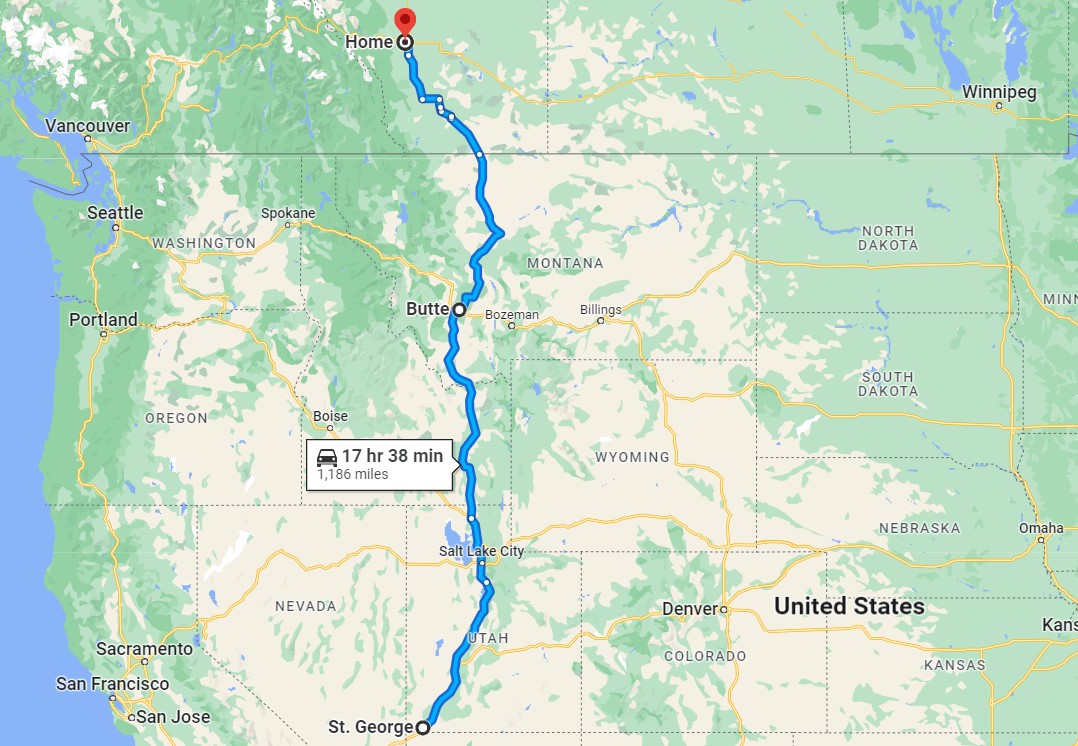 Leaving St. George, Utah in mid March we drove for 10 hours and made it to Butte, Montana.  This got us over the Monida Pass and a couple of other potentially treacherous spots under clear blue skies and on dry roads.  From Butte, Montana to Calgary took another 7 hours and again we had clear skies and dry roads.  Driving long distances is exhausting enough without contending with snow and slippery road conditions.  It was a good decision to get ahead of the forecasted snowstorms!!!

Cutting our time down south short by a few days left us 6 weeks in Calgary to see friends and family before the next leg of our journey.  It also gave me time to follow up with my doctors and have one final test done, a full body PET scan.  If you have read my blogs over the past few months you will know that my walking is improving and I am feeling a little better all the time, but I was willing to do one more test that my neurologist wanted.  In a nutshell, the PET scan and the other testing I did this past month (and over the past 11 months) have all come back without any determinable cause, so we have to assume I have long haul covid and will continue to slowly recover 🤞
We did not get up to much worth blogging about this month besides catching up family and friends, which is really only interesting to us 😊 We re-joined our local gym and got outside when the weather permitted, even managing to squeeze in a couple of golf games at the tail end of April.  We had time to catch up on paperwork, do our income taxes, get our teeth cleaned, replace worn out clothing, re-organize our suitcases and make sure our reservations for Europe were all in order.  Whew, we got a lot accomplished this month!
Below are a few random photos taken during our time in Calgary.
A new thing for us to take care of this time around is vehicle storage.  When we came back to Calgary from Australia in mid 2020 when covid shut down travel, we decided to lease a car for one year.  Then mid 2021 rolled around we realized that global travel was still extremely challenging and decided to buy the car at the end of the lease.  It turned out to be a great decision because we ended up spending a good portion of the next 18 months using the car to travel around Canada, the US and Mexico.  Even though we are returning to international travel we plan to keep our car for the times we are in Calgary.  With the ongoing global vehicle shortage it made more sense to us to pay for relatively inexpensive storage and not have to rent a car each time we return home.  Blair did the research and found a secure parking lot close to the Calgary airport costing CAD $45 per month.
Another recurring project is health insurance but because we have done extensive research over the past five years we once again went with the IMG Patriot Platinum Travel Medical plan.  The coverage is high (2 million dollars) and with a high deductible the premium is pretty reasonable, keeping in mind that we are not looking for day to day coverage but catastrophic accident coverage that could bankrupt us.  This plan is available to us until we hit 70 years old and then health insurance becomes a whole new ball game 😕
With everything done, it was time for us to fly away to London and begin our 2023 travels in Europe, woooohooo…..