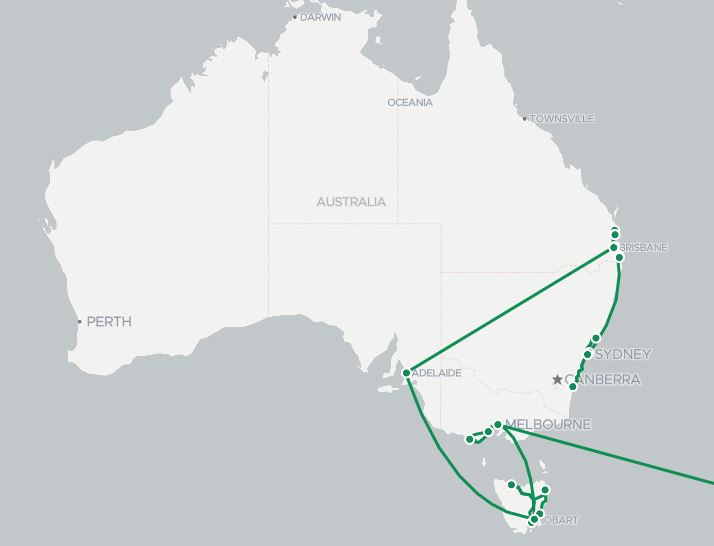 Spending an unexpected 5 months in Australia we began to feel like locals.  From our arrival on January 6 until our departure June 8 we explored only a small part of this diverse continent.  I can fully understand when folks say it takes a year to cover Australia properly, there is so much we did not see as the above map illustrates.  To be fair, our travels were curtailed due to coronavirus and travel bans enforced by the Australian government, but we still covered a reasonable distance under the circumstances.
Our Australia travels can be broken into 4 distinct parts: Melbourne and area, Tasmania, Adelaide and the East Coast.  Arriving in Melbourne from New Zealand on January 6 our concern at the time was the smoke from the devastating bush fires raging out of control, fortunately we were not overly affected.  During our tour of the magnificent Great Ocean Road we had a little smoke haze but the views were still breathtaking.  It was during this time we had our first amazing animal encounter, spending time with a pair of Dingos, learning about this animal's crucial role in the ecosystem.  We had an informative 45 min chat with the owner of the Great Ocean Road Wildlife Park and recommend a visit here if you are nearby.  Returning to Melbourne in mid-January we spent 3 days at the Australian Open Tennis tournament.  This is a fantastic Grand Slam event for any tennis fan to attend, made even more memorable for us sharing the fun with a friend from Cayman.  Besides tennis, Melbourne is foodie heaven with many permanent farmers markets operating in the city that we visited regularly.  Just outside the city is the well known Yarra Valley wine region, we had a perfect day discovering boutique wineries and outstanding wines.  Melbourne and the surrounding area was a great place to spend the first 3 weeks of our Australia travels.  Below are a few of our favourite photos from that time.
The six weeks we spent in Tasmania were eye-opening and informative, learning about the convict history of Australia and specifically Tasmania.  The Port Arthur Penal Colony was the most famous site we visited with a tremendous amount of history and information on display.  We had many wonderful animal experiences in Tasmania:  finding the White Wallabies of Bruny Island; observing the Fairy Penguins on the north coast; falling in love with Matilda the Wombat and Lottie the Koala; feeding the kangaroos.  Tasmania also has some of the most stunning coastal cliffs and beaches in Australia, the most famous being Wineglass Bay and the Bay of Fires.  We also discovered that Tasmania is the world's largest grower of alkaloid poppies, grown for the raw materials used to make morphine and codeine.  While we loved our time in Tasmania, the weather is much too cold for my liking with many overcast days.  This gal loves sunshine  🌞🌞  Here are a few photos from our time in Tasmania.
Visiting Adelaide was the shortest part of our Australian tour, interrupted by the increasing spread of the coronavirus.  Despite the short stay, one of the most significant events of our time in Australia happened here, our one and only scuba dive, in search of and finding a Leafy Seadragon.  This beautiful critter has been on my wishlist to see in the wild for a long time and as any scuba diver knows, finding what you are looking for while underwater comes down to luck.  It was such a highlight in our travels I wrote an entire blog post about our dive with the Seadragon.  We also had an opportunity to see the Giant Pandas at Adelaide Zoo, the only pandas in Australia and our first time seeing pandas.  Adelaide was my favourite city, surrounded by three major wine regions accounting for 80% of Australia's wine production, and by beautiful beaches.  Discovering new wines and visiting cellar doors is another activity we enjoy, and we had plenty of wineries to choose from.  For that reason alone we were sad to have our time here cut short but restrictions on travel within Australia were implemented, we had to leave in a hurry for Brisbane and the east coast before we were subject to quarantine rules.  Here are our favourite photos from Adelaide.
The longest stretch we spent in one area of Australia was the unplanned 11 weeks on the east coast.  Flying into Brisbane on a moments notice we had made zero plans and had no place to stay.  Booking a hotel for the first night we then found the first of many lovely apartments, close to the beaches.  After enjoying the Gold Coast beaches for a week, we moved north to the Sunshine coast, still thinking at that point we may travel north to Cairns.  Further travel restrictions were imposed forcing us to pretty much stay where we were.  Our first week on the Sunshine Coast was in Noosa Heads, then we moved down to Maroochydore for a week and finally to Mooloolaba for 4 weeks.  All of these towns are within an hour's drive of each other so we did not move very far, settling in Mooloolaba because we found a near-perfect place to stay that included bicycles and stand-up paddleboards.  During those 6 weeks on the Sunshine Coast travel was severely restricted so we spent the majority of our time walking the many stunning beaches nearby, I can easily do that every day  😊  Here are a few of our favourite beaches.
While on the Sunshine Coast we realized there were no flights to North America leaving Brisbane until possibly October, or later, so we flew to Sydney where chances of finding a flight were better.  We spent just under a month in and around Sydney.  The highlights were spending time with friends who live in Batemans Bay, 4 hours south of Sydney, visiting the Hunter Valley wine region, 1 hour north of Sydney, and a day trip to the Blue Mountains.  We met fellow nomads David & Di online a few years ago, meeting in person for the first time at a pub in Macclesfield, UK in 2018 and promising to meet again whenever we were in the same part of the world, and here we were in their gorgeous part of the world.  We enjoyed a few days together sightseeing and walking the lovely coastline.  Subsequently, while living in Newcastle, the Hunter Valley wine region re-opened to tourism just one week before our departure from  Australia, so we timed it such that we had two glorious days there.  We concluded our time in Australia with a brief four-day stint in Sydney CBD.  It felt like we were rushed at the end but I'm sure no matter what day we left we would have felt like we did not have enough time, there was much more we wanted to see.  Here are a few photos from Sydney and New South Wales.
Looking back over the 5 months we spent in Australia, we have had some amazing experiences and made wonderful memories, despite the interruption and restriction of our travels due to COVID.  My takeaway from our time in Australia is that had I visited here when I was younger, I probably would have moved here.  I loved the animals, beaches, wineries and climate plus the proximity to New Zealand for hiking and Asia for scuba diving is an added bonus.
Until we make it back down under, Cheers Straya it's been heaps of fun…..