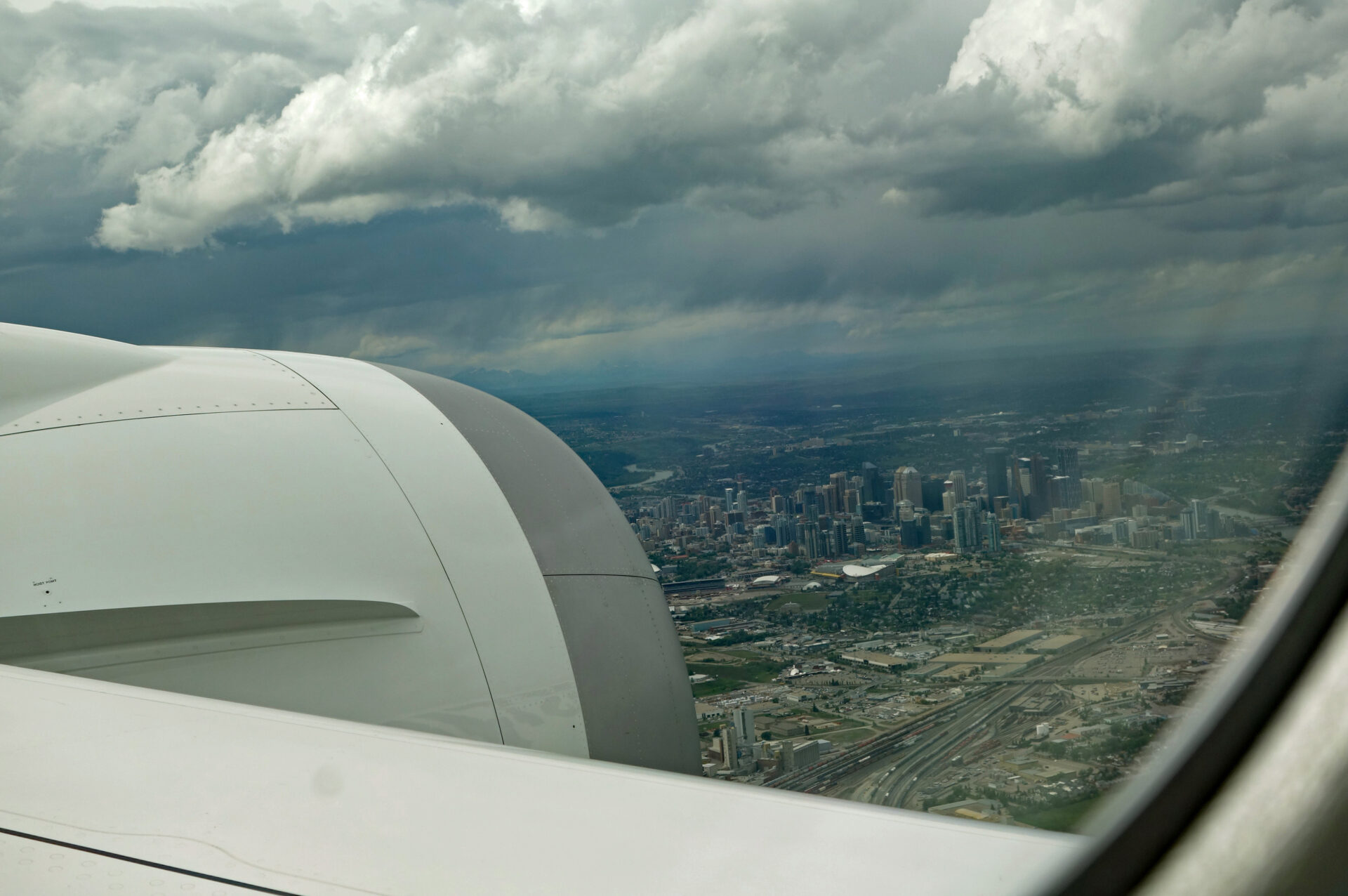 Traveling full time we knew the day would come when we received a phone call telling us to come home due to a family emergency.  That call came on June 2 and we began the process of making travel plans to Calgary and cancelling all our bookings for the subsequent 2 1/2 months.  This consisted of 9 apartments, 4 flights, 1 hotel, 1 train and 1 car lease.  Our travel arrangements were done in 5 hours, the cancellations took a few weeks before everything was completed.  Two days after the phone call we were on our way with a couple of long travel days ahead of us and a 7 hour time change to adjust to.  We left Cologne, Germany early in the morning and drove 4 hours to Strasbourg, France to return our leased car; from Strasbourg we took the train to Stuttgart, Germany then flew to London, England – a long 18 hours of travel.  Our reason for flying out of Stuttgart was to adhere to the rules of a bi-lateral agreement between Canada and Germany allowing us to spend time in Germany over and above the Schengen limits, which we had reached.  Spending the night at a Gatwick airport hotel we had breakfast the next day with my cousin before flying direct to Calgary at 2 pm London time.  Our 9 hour flight from London to Calgary was with WestJet, flying on their brand new Dreamliner aircraft, it is a gorgeous plane!
We arrived in Calgary late afternoon June 6 and our current plans are to remain here until our previously scheduled departure date of September 30.  We had always planned to be in Calgary this summer and we now have 4 months here to be with family and work on our future travel plans.  We are extremely fortunate that our friend Corinne has a home in Calgary sitting empty where we could stay for the time we plan to be here.  Thank goodness for friends!!!
So how did all our cancellations work out?  Overall amazingly well, although somewhat time consuming.  Below is a list of the arrangements we had in place which required cancellation:
Airbnb – Fantastic customer service!  One phone call to their support department and all 9 of our apartment reservations were cancelled.  At first they suggested I log on to my account and cancel our bookings however when told we had 9 upcoming reservations they immediately offered to take care of them all at once based on the published cancellation policies.  Subsequently, after receiving a letter confirming our reason for cancelling, all deposits and fees were refunded in full.  We are very impressed with Airbnb and their response to our situation.
Aer Lingus – We had one flight booked with Aer Lingus, from Dublin to Manchester, and upon receiving the appropriate letter confirming our reason for cancellation they refunded our flight in full.  Very impressed with Aer Lingus.
British Airways – We had 3 flights booked with British Airways and they were difficult to deal with.  Two telephone conversations resulted in two different answers and when finally handled via email with their customer support department what we have been given is a credit to be used before March 2020.  Not ideal and in fact quite useless.  The credit can only be used on British Airways and we have no plans to be traveling on any of their routes before the credit expires, so thanks for nothing BA 🙁
Rail Europe – We had one train ticket booked and they refused any sort of compensation despite our circumstances.  Not impressed at all with Rail Europe.
Hotels.com – We had one night booked at a hotel and after contacting their customer service department they called the hotel who agreed to cancel our reservation due to our circumstances and refund our booking in full.  Very happy with their customer service, this is the second time hotels.com has been helpful to us.
Wheels In Europe/Renault Eurodrive – We returned our leased car 35 days early and although it took almost 3 weeks to get an answer, they waived their early return penalty and fully refunded the unused portion of our lease.  We leased 3 vehicles from Renault during the past year and have been happy with their customer service.
With a little help from a family member we have arranged the lease of a brand new car for 3 months.  We seem destined to have blue cars and are now the proud owners of "Dory III" a cute little Ford Eco-Sport, perfect for our travels around Calgary and the occasional trip to the mountains.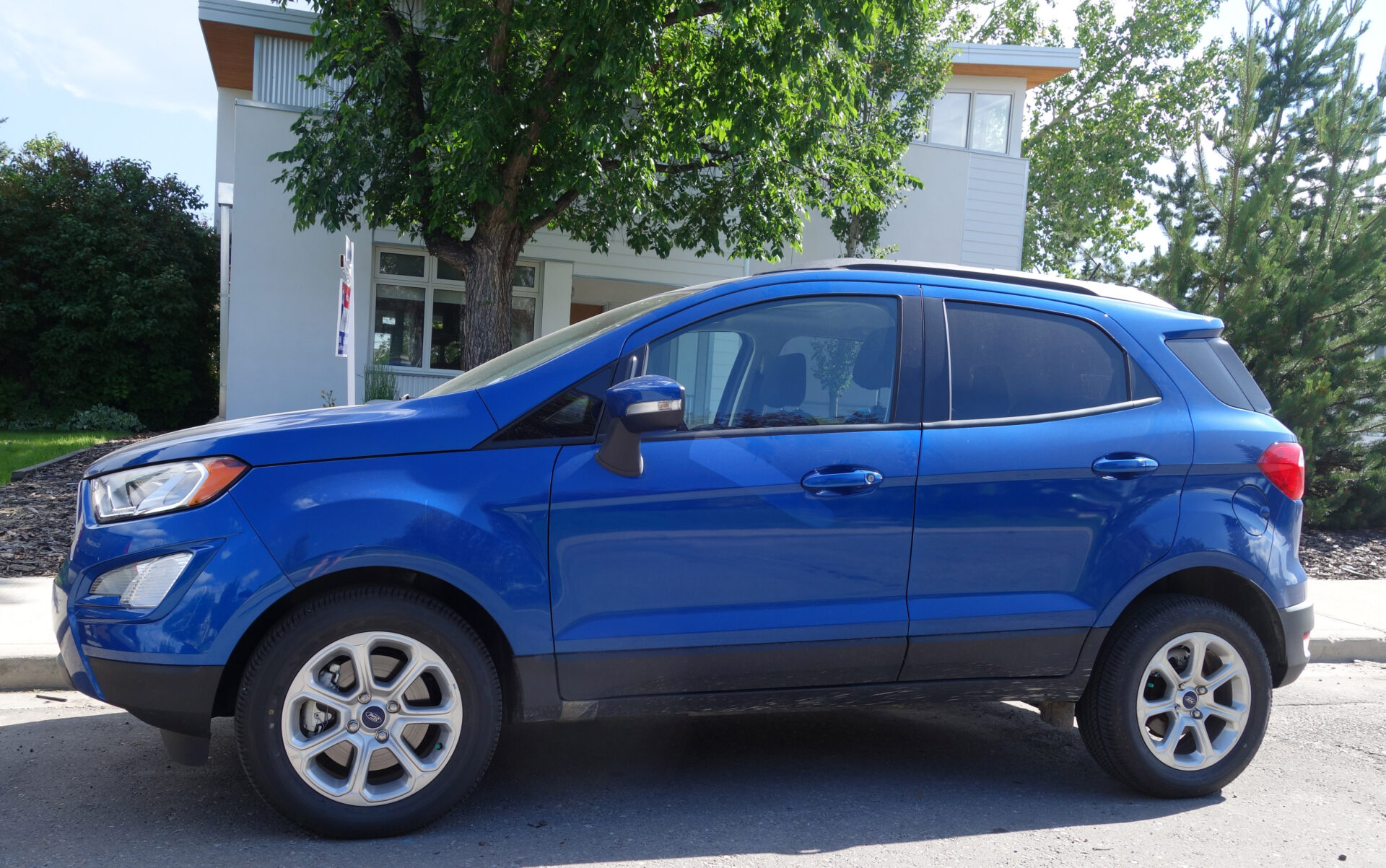 With months ahead of us in Calgary we look forward to quality time with our family and friends enjoying what we hope is a warm summer, the best time of year to be here.  Blair has put together our mountain bikes so we have our own bikes to tour around the extensive city bike pathways 🙂  We will make an effort to get out and see the city through the eyes of a visitor sharing the highlights of our home town, and the nearby mountains where we spent much of our leisure time while growing up and living here.
Sadly, three weeks after our arrival in Calgary the family member we came to be with passed away.  We are heartbroken and grateful we had these last 3 weeks together.  It has been a very special time with our loved one and we are fortunate to have had the opportunity to get home in time.  Although our hearts are heavy with sadness, we look forward to the next few months surrounded by friends and family…..