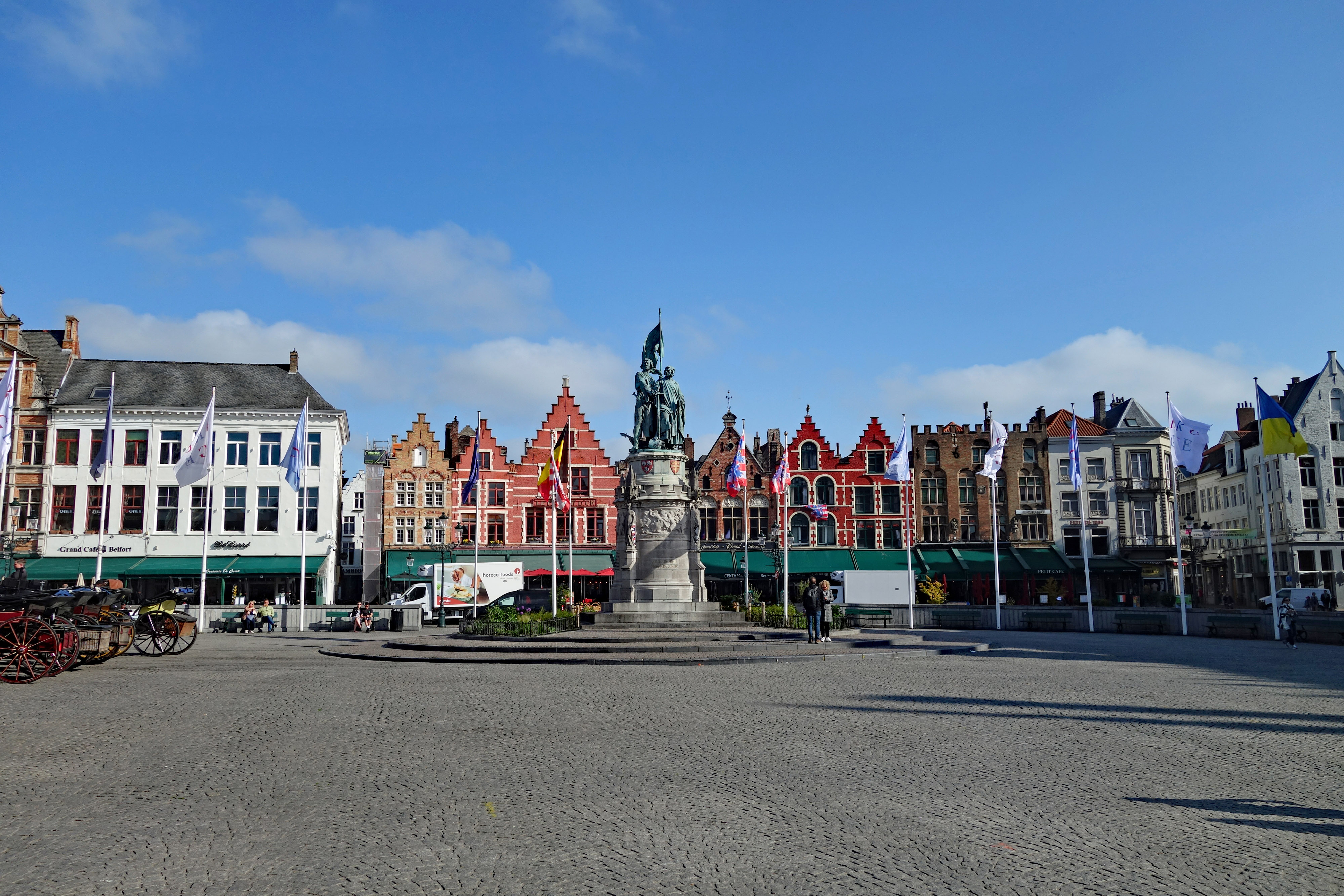 Bruges (English) or Brugge (Flemish) is the 6th most populous city in Belgium, the capital of the province of West Flanders and a hot tourist destination.  The first time I heard of Bruges was watching the 2008 dark comedy "In Bruges" featuring Colin Farrell and my opinion was, why on earth would anyone ever want to go to Bruges!!  Fortunately my opinion has changed since then and this pretty canal filled town became high on our list to visit, aided no less by the fact there are 47 chocolate shops here 🍫🍫  I heard from a fellow nomad that it gets really busy here as the day progresses, so we arrived just after 9:30 am mid-week and yes, the town was beautifully quiet.

Bruges Markt Square has been used as a marketplace since the 10th century but when we arrived the only activity was the delivery trucks and a few horse drawn carriages awaiting the influx of tourists.  The small historical Flemish buildings surrounding the square are filled with cafes, restaurants and tourist shops.  Dominating Markt Square is the 13th century Belfry, Bruges most striking landmark at 83 meters high with a carillon of 47 bells.  A carillon is a musical instrument of no less than 23 bells played with a keyboard, or electronically these days, and are typically housed in towers.  There are 366 steps to reach the top of the Belfry if one was feeling energetic, we were not 😂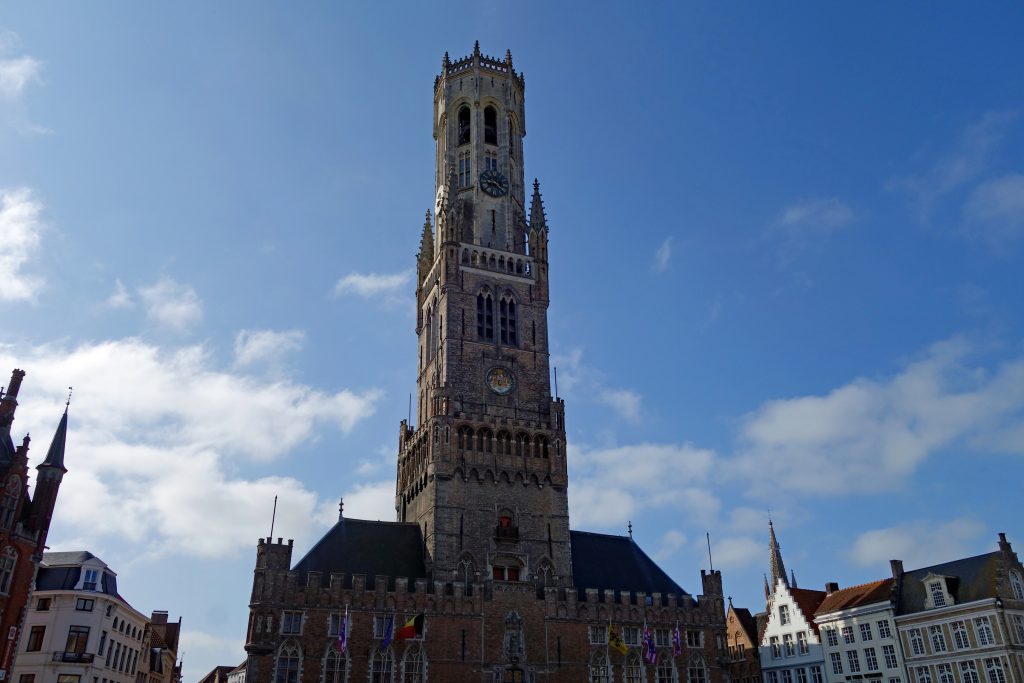 One street over from Markt Square is De Burg plaza where we found The Basilica of the Holy Blood, a small Gothic chapel dating from the 12th century.  The upper chapel holds an unusual relic, revered to be the blood of Christ.  Reportedly, Joseph of Arimathea wiped blood from the body of Christ after the crucifixion, and the cloth ultimately made its way to Bruges where it's now located in a gold and jewel-encrusted vial in the chapel (no photos allowed)  Whether you are a believer or just curious, this small Basilica is worth a visit.
Minnewaterpark (Lake of Love) is a peaceful refuge in the center of busy Bruges.  Minnewater is named after a popular legend recounting the story of Minna, a young woman in love with a warrior of a neighboring tribe.  Minna ran away from her father to avoid being forced to marry someone else. She ran into the forest and found her lover, only to die in his arms of exhaustion from her journey.  The lake, bridge, and park are named in memory of Minna.  Legend says that if you cross the bridge with your partner, you will experience eternal love.  I guess we are good to go after we crossed the bridge together 💕😁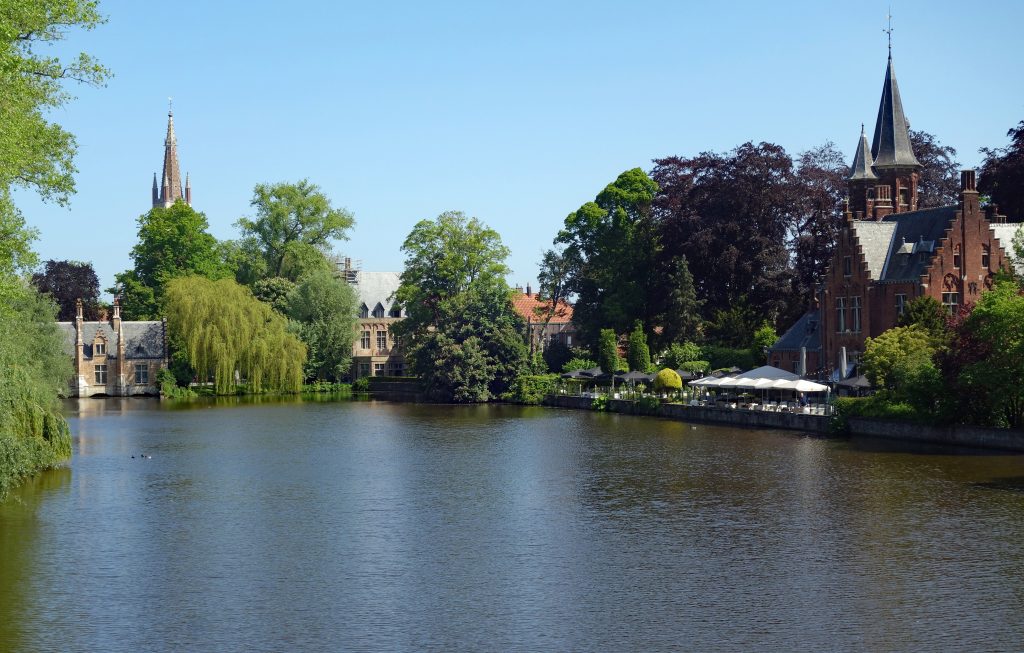 A short walk from Minnewaterpark is the hushed courtyard of The Beguinage.  The Flemish Beguines were religious women, widows or spinsters who dedicated their lives to God but wished to live an independent life outside recognized orders.  The Beguines began living here in 1245 but the buildings here today date from the 17th century and are currently inhabited by an order of nuns.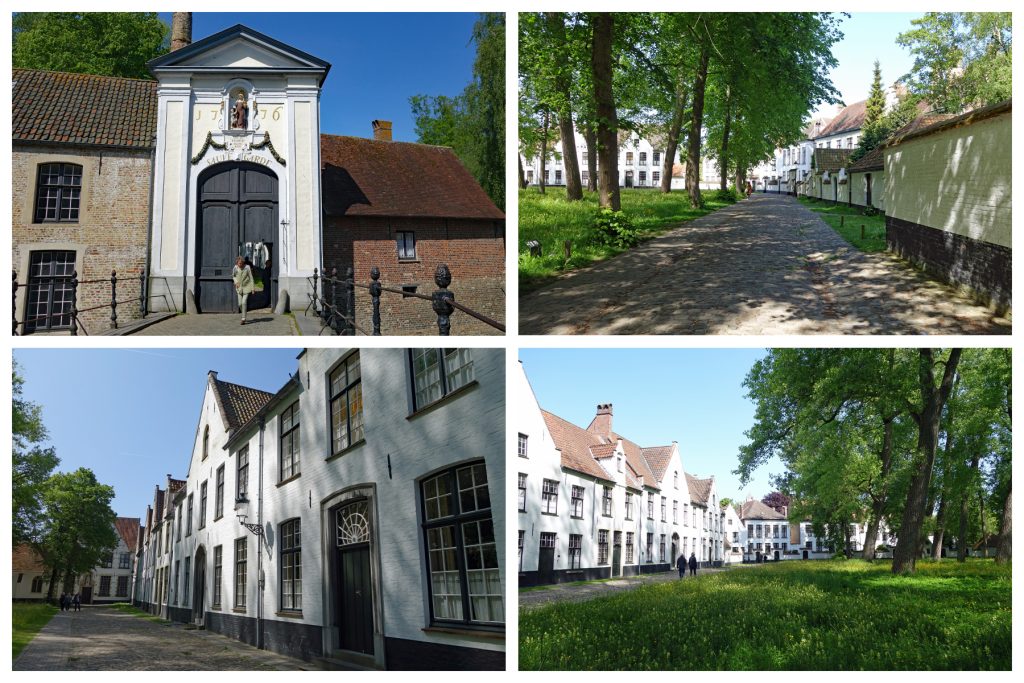 The Church of our Lady built from the 13th to 15th centuries has the tallest tower in Bruges, and at a height of 400ft it's the tallest brickwork tower in the world.  The interior of the church is filled with a wealth of art treasures, including Michelangelo's 1504 sculpture of The Madonna and Child.  The sculpture is located in a separate area of the church requiring a ticket to view, we passed this time because we have seen many Michelangelo works over the years.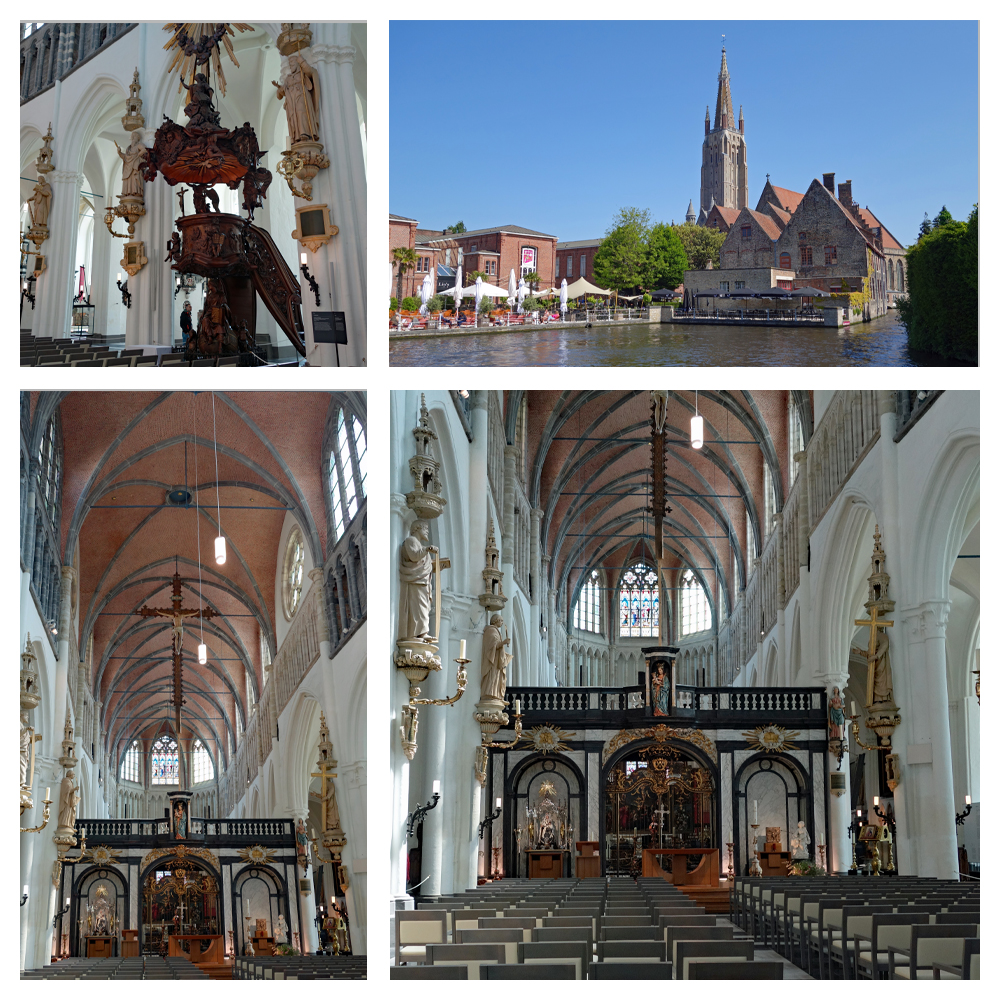 There are many beautiful canals in Bruges and Quay of the Rosary is probably one of the most photographed, and it's the place to catch a boat tour around the canals.  This was also the busiest part of Bruges, but by this time it was getting later in the day so if you want to take a canal cruise, early in the morning on a weekday seems to be the best time.
When we came back to Bruges the second day, we headed straight to the Quay of The Rosay to try and beat the crowds for a canal cruise, but it was not to be.  We made the mistake of coming on a Saturday and there were 3 markets going on in town plus busloads of tour groups had been dropped off nearby.  Or perhaps because it's only a 1 hour train ride from Brussels all the city folk head this way for the weekend.  Either way, the streets were already jam packed at 9 am, so unlike our earlier weekday visit we knew this day was not going to be as pleasant.  Hint, don't come here on a weekend ☹️
Seeing the horrendous lines for a canal cruise, we abandoned that plan and consoled ourselves with a visit to The Old Chocolate House.  I had read about this family run business, which has a tea room above the store, and was famous for their liquid chocolate drinks.  So up the narrow rickety staircase we went snagging a table by the stained glass windows overlooking the busy street below.  There is an entire menu of 30 hot chocolate drinks, it's a hot chocolate bible!  After much perusing we settled on a single origin Costa Rican chocolate drink for Blair and a Salted Caramel Half Dark Half Milk chocolate for me.  We were presented with a giant mug containing hot milk, a chocolate cup filled with the ingredients for our drinks and a tiny whisk.  You plop the entire chocolate cup into the milk and whisk until melted…OMG this is THE BEST hot chocolate I have ever had in my life!!!  I was disappointed that they don't sell the pre-prepared cups in the shop, but in the future if I want a fabulous hot chocolate I will just have to melt some good quality Belgian chocolate in a mug of hot milk!
Feeling pretty fabulous after our hot chocolate we continued to wander aimlessly around Bruges, popping into a couple of small chocolate shops to stock up before we leave Belgium.  Finally, we had enough of the crowds and headed back to our car, stopping at a quiet French bistro for lunch before driving back to our apartment in Torhout.
Overall, we really enjoyed Bruges but would not recommend coming here on a weekend.  It's busy during the week, but not a patch on what we encountered on the Saturday.  It's definitely a tourist destination, really pretty, loads of chocolate shops, restaurants and waffle stands, and well worth a visit if you are in Belgium.  Below are a few random shots of this pretty little town.