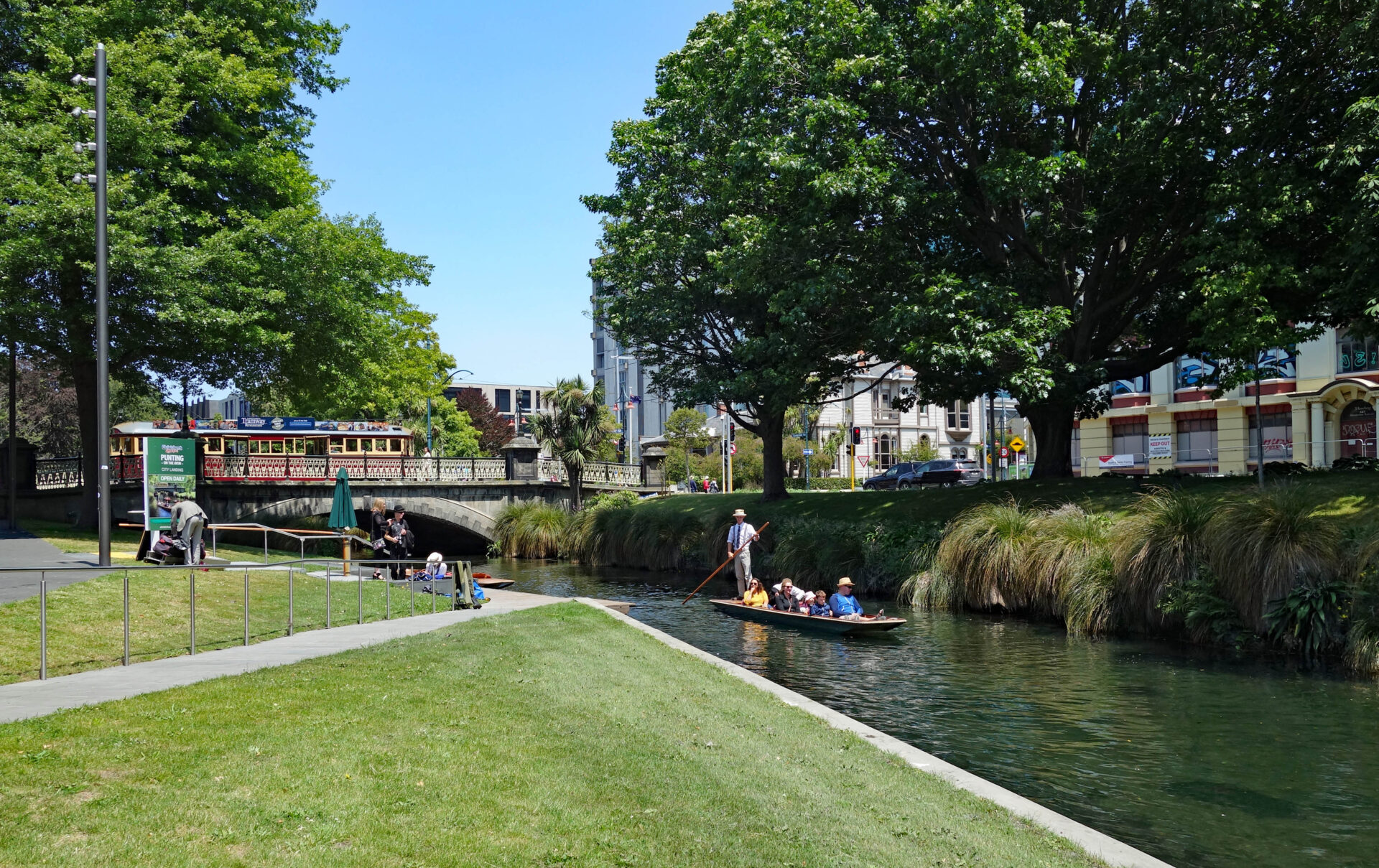 Christchurch was our final destination in New Zealand and it's hard to believe how quickly these past 3 months have flown by.  We were happy to leave Dunedin after a week of not great weather, making our way 4.5 hours north to Christchurch, a "piece of England" down under.   Christchurch is the largest city on the South Island and home to just over 350,000 residents.  The Avon River flows through the city with parks and walking paths lining the banks.  A devastating earthquake in February 2011 killed 185 people and destroyed much of Christchurch, today over 8 years later reconstruction is still ongoing.
Along the way to Christchurch we stopped at the Moeraki Boulders, a popular tourist attraction.  The boulders have fallen onto the beach as the coastal cliffs erode over time.  While interesting, they were a little underwhelming and overrun with tourists, however we enjoyed our brief stop here.  Access to the beach is via a private stairway down the cliff with a voluntary collection box at the top suggesting a NZD $2 (USD $1.35) donation.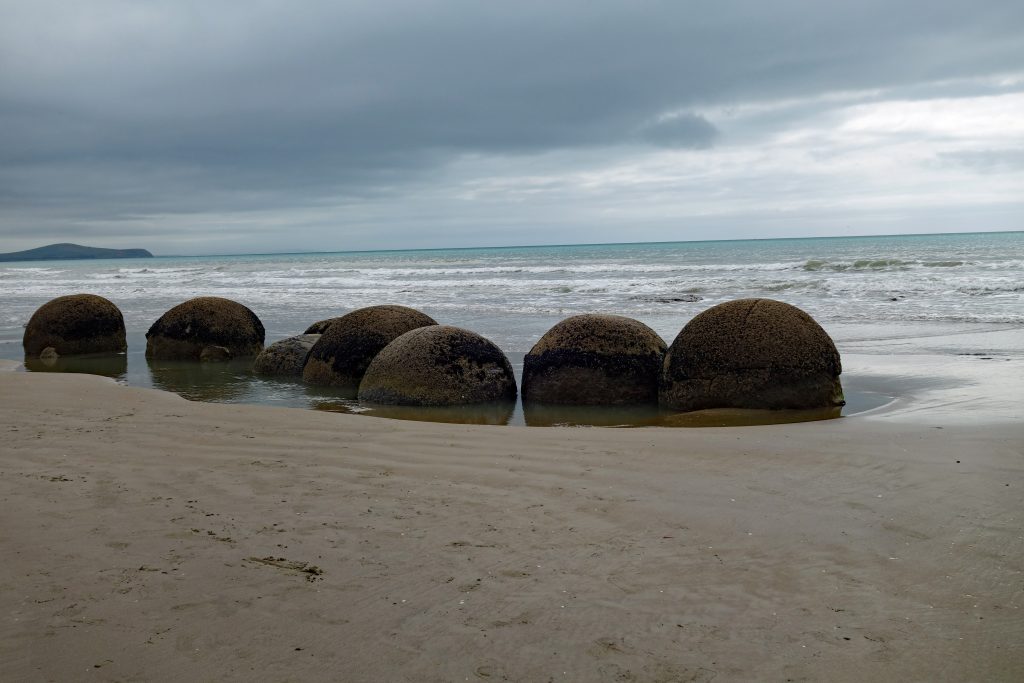 Arriving in Christchurch we had a hiccup with our accommodation, the Airbnb had not been cleaned.  Our host offered to put us up in a nearby motel for the night while she contacted her cleaning lady and remedied the situation, we moved in early the next morning.  Once our usual routine of unpacking and grocery shopping was completed we drove downtown for a look around.  Blair designed a self guided walking tour using the gpsmycity website, we have used this site before to design our own walking tours in city's where free tours were not available.  It was a good introduction to the compact city center and to observe the recovery from the earthquakes.
The first stop on our walking tour was the Christchurch Cathedral, formerly the focal point in Cathedral Square until the 2011 earthquake devastated the building.  After several years of debates and court disputes it was finally decided in 2017 the cathedral would be restored.  Here we are in early January 2020 and signage around the property states it will take 8-10 years before the restoration is completed.  You can read about the history of the cathedral here.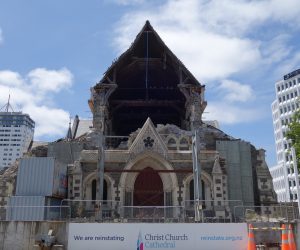 The Transitional Cathedral is referred to as the "Cardboard Cathedral" and is made substantially of cardboard.  It was one of the first new buildings constructed after the earthquake, built in 2 years, for use until the permanent Cathedral is rebuilt again in Cathedral Square.  The A frame cardboard tubes are covered in translucent polycarbonate letting lots of natural light in between the tubes.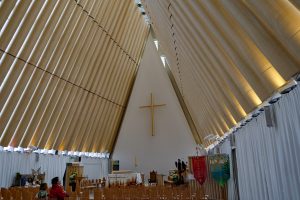 The Bridge of Remembrance is a large memorial unveiled in 1924 dedicated to those who died in WWI and serves as a memorial for those lost in both World Wars.  The white stone arch is adorned with ornaments and sculptures, recreating the bridge through which the soldiers marched on their way to war.  You can read more about the history of the bridge here.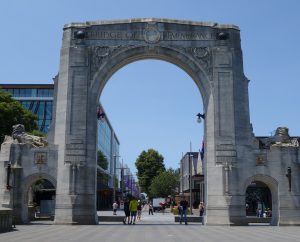 In 2000, The Chalice, a large piece of modern sculpture in the form of an inverted cone, was installed in Cathedral Square.  Designed by prominent New Zealand artist Neil Dawson, The Chalice survived the earthquake unaffected.  It is made up of forty-two leaf patterns featuring different New Zealand native plants.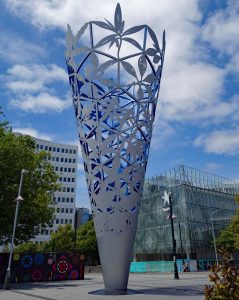 New Regent Street, opened in 1932, is Christchurch's only complete heritage streetscape.  With beautiful Spanish Mission architecture, and a distinctive pastel color scheme, it's a popular destination for residents and tourists alike.  While the street is pedestrianized, the Christchurch Heritage Tram runs through the street on it's loop around the city center.  We had hoped to ride the tram but ran out of time as we were enjoying being social butterflies, more on that later 😊😊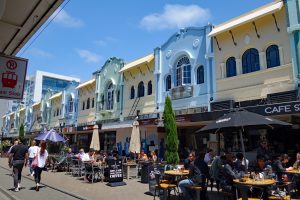 The Christchurch Heritage Tram, opened in 1995 as a tourist attraction and runs on a 2.5 km central city loop.  An all day ticket allows you to get on and off the tram as often as you like, includes 17 stops and costs NZD $25 each (USD $16.55)  They also offer a dinner package which includes a 2.5 hour tram ride with a 4 course meal, this costs NZD $109 each (USD $72.20)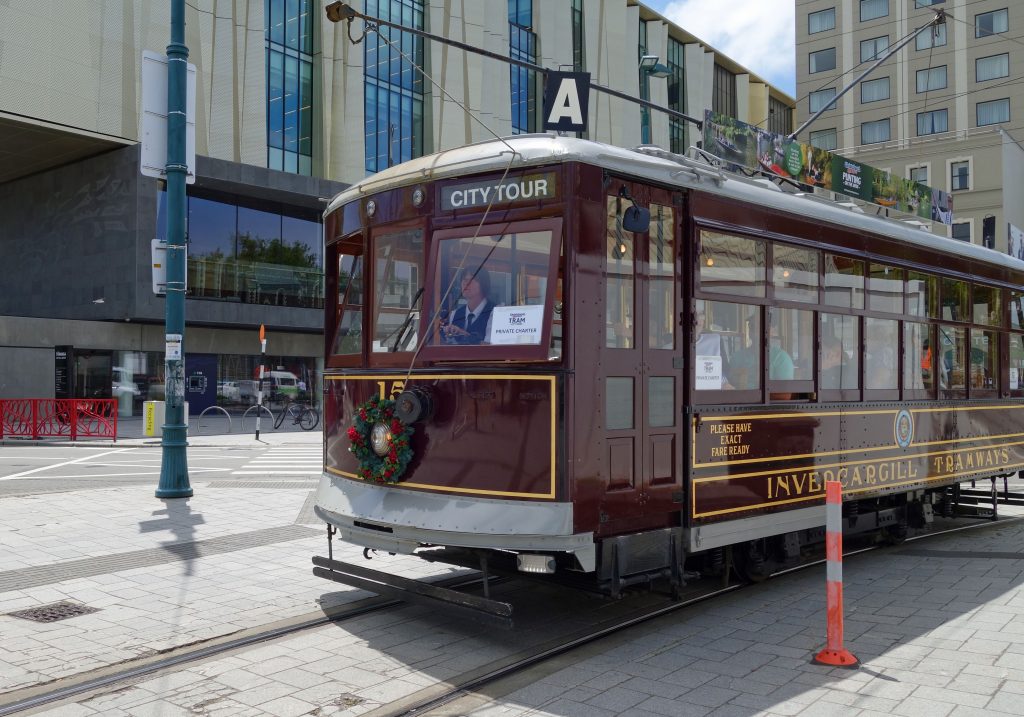 New Year's Eve day we made our way to the popular beach destination of Taylor's Mistake.  From there we walked the Godley Head Loop, a relatively easy 2.5 hour hike around the headland.  The walk features stunning coastal views and remains of WWII gun platforms and observation posts.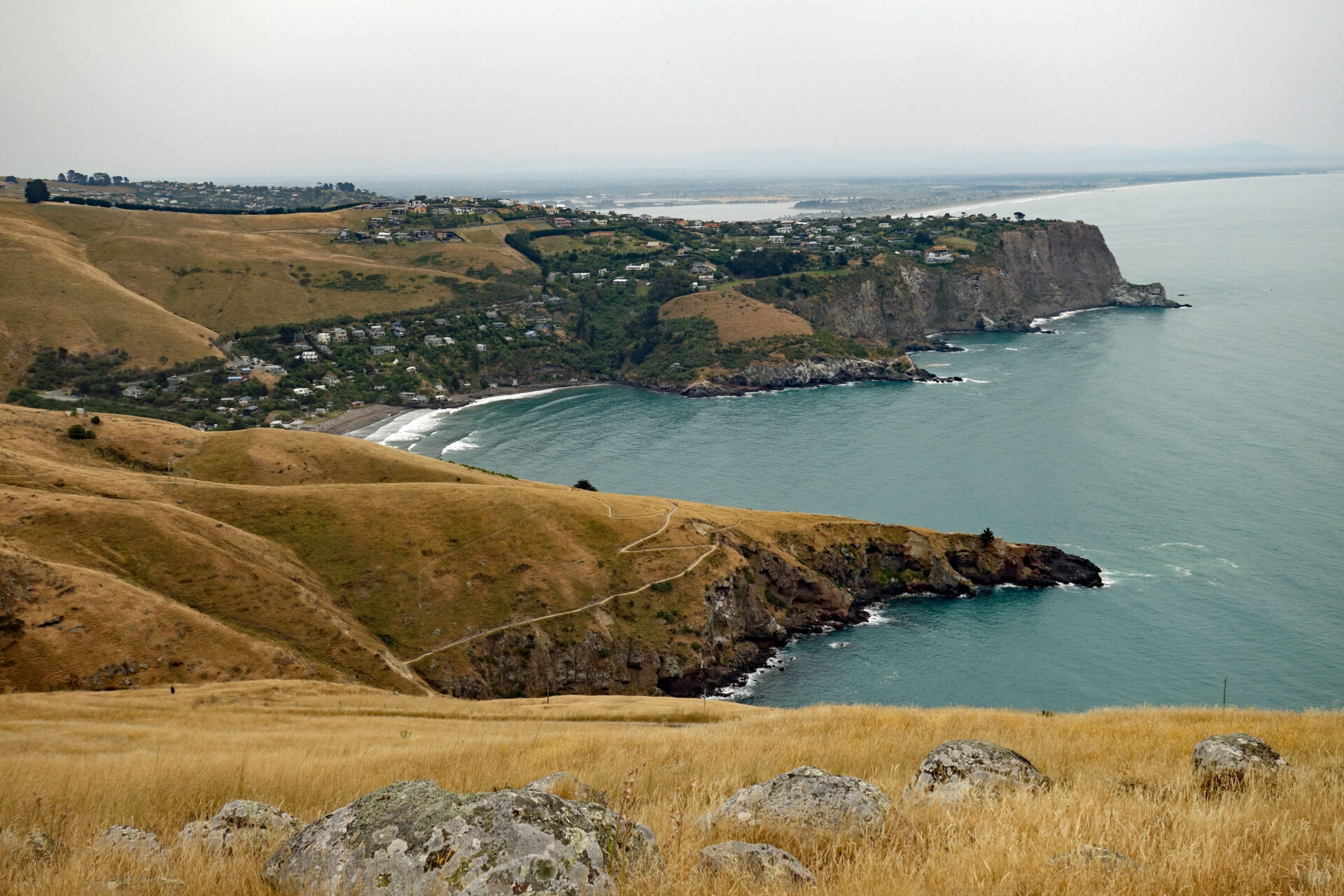 New Years Day we went to New Brighton Beach for a long walk along the ocean.  It was a cool and hazy day with smoke from the Australia fires blocking the sun.  There were a few people out surfing in the very cold water, yikes these New Zealanders are a hardy bunch!!  The pier is a popular place for fishing and catching crabs in mesh pots, it was fairly quiet while we were there, perhaps because it was early morning.
Christchurch is home to the International Antarctic Center, supporting Antarctic scientific research and a major tourist attraction in the city.  Being summer holidays here in New Zealand we thought it best to arrive when they opened at 9 am with hopes of beating the crowds.  Entrance tickets for those of us over 60 cost NZD $45 (USD $30.25) each and we spent 3 enjoyable hours touring the facility.  Besides numerous displays and the history of Antarctic explorations we enjoyed watching the little Blue Penguin feeding, petting Huskies and experiencing the Antarctic storm room.  This consisted of entering a room filled with snow, with a temperature of -8 celsius and when the storm blew in the windchill took the temps down to -20 celsius, not even as cold as a Calgary winter!!  It was entertaining to see everyone bundled up in their parkas as we stood there wondering why we were subjecting ourselves to weather we are quite familiar with 😂😂  There is a 4D movie, an HD movie and many interesting exhibits throughout the center, plus you get a ride on a Hagglund through an obstacle course simulating travel in Antarctica.  It is well worth a visit if you are in Christchurch.
For the first time since we arrived in New Zealand we have people to meet up with in Christchurch.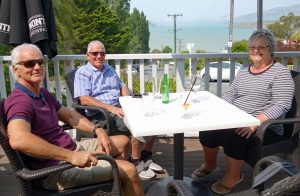 While in Calgary last summer we met Blair's cousins, son-in-laws parents (how's that for confusing) who live here in Christchurch and who we promised to see when here.  We met Dave & Louise for lunch and afterward they took us on a drive to the Lyttelton port to see the navigational time ball, then to a favorite viewpoint pub for a drink before driving back to their lovely home for a bbq.  A fun afternoon and evening 😊
We made plans to spend another day with Dave and Louise, this time driving out to Akaroa, 84 km from Christchurch along a very twisty road.  Currently Akaroa is the temporary, since 2011, port for the cruise ships to anchor which means a very long bus ride into Christchurch for the passengers, and an overabundance of tourists in Akaroa.  We headed out there on a non cruise ship day, enjoyed a lovely walkabout then lunch in this quaint seaside town.  Originally settled by the French their influence can be seen in the street names and other place names around the town.  We had another enjoyable day in the company of Dave and Louise who we will see again in Calgary this summer when we are all there visiting family.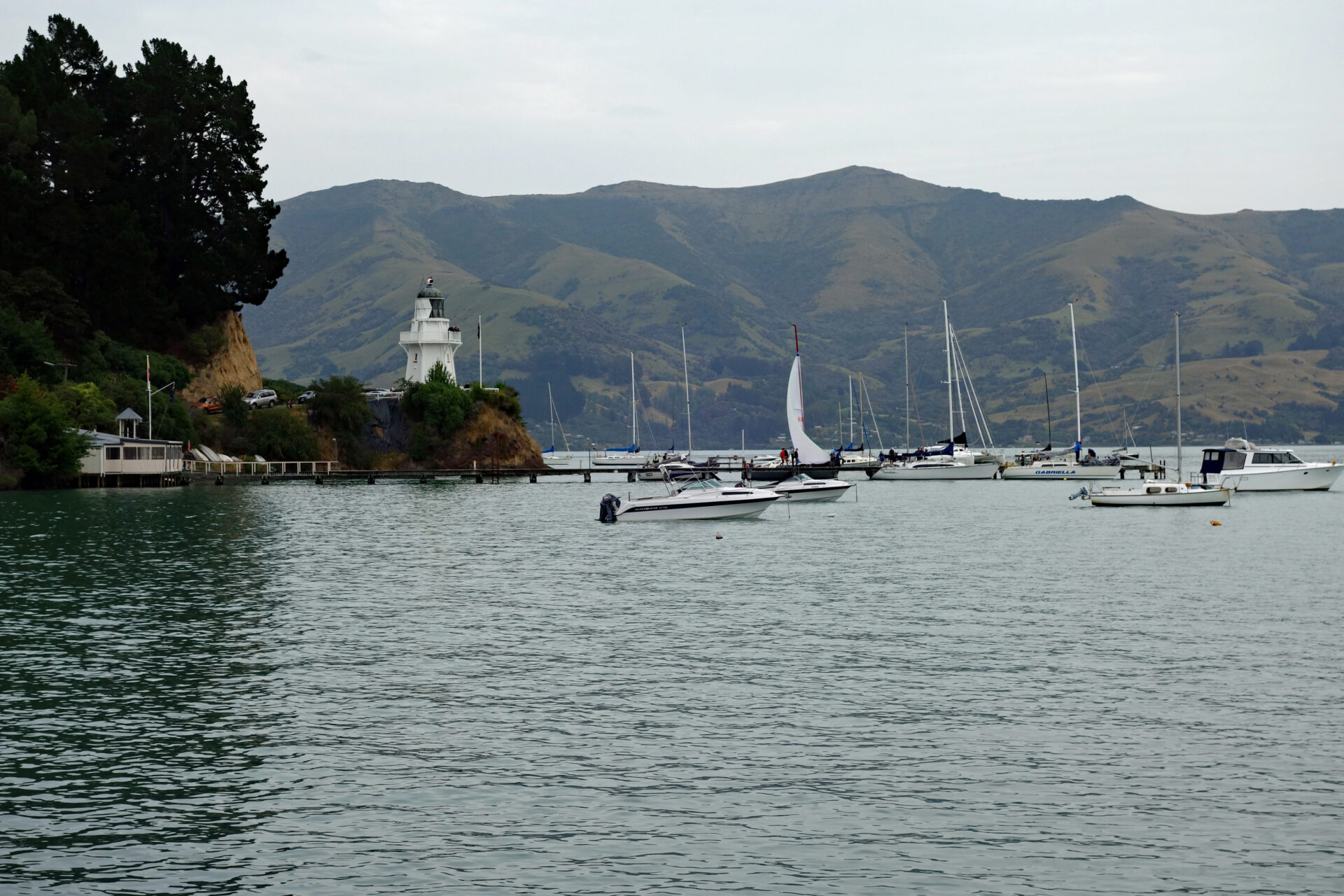 Our final evening in Christchurch we met an old acquaintance for dinner.  I used to work with Bob back in the late 80's when he was the auditor for a company I worked for.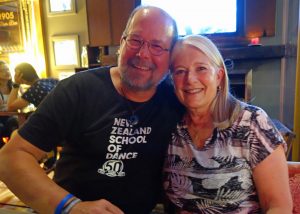 He made a lifestyle change shortly thereafter foregoing the corporate life, moving to New Zealand, becoming a fishing guide in Arthur's Pass, and has been here in New Zealand ever since.  He has since moved on to raising horses and bike touring.  Amazingly he still has the bike he bought off Blair back in the 90's among his extensive collection of bikes.  We had a rousing good evening with Bob and his wife catching up on the past 25 years, what a blast and a wonderful way to end our time in New Zealand.
Sadly we bid farewell to New Zealand and flew north to Melbourne, taking us closer to the devastating fires consuming Australia.  Our travel plans are keeping us well south of the worst areas however I expect we will be affected by the smoke at times.  Here's hoping the wind blows the smoke away and the rain arrives to douse the flames…