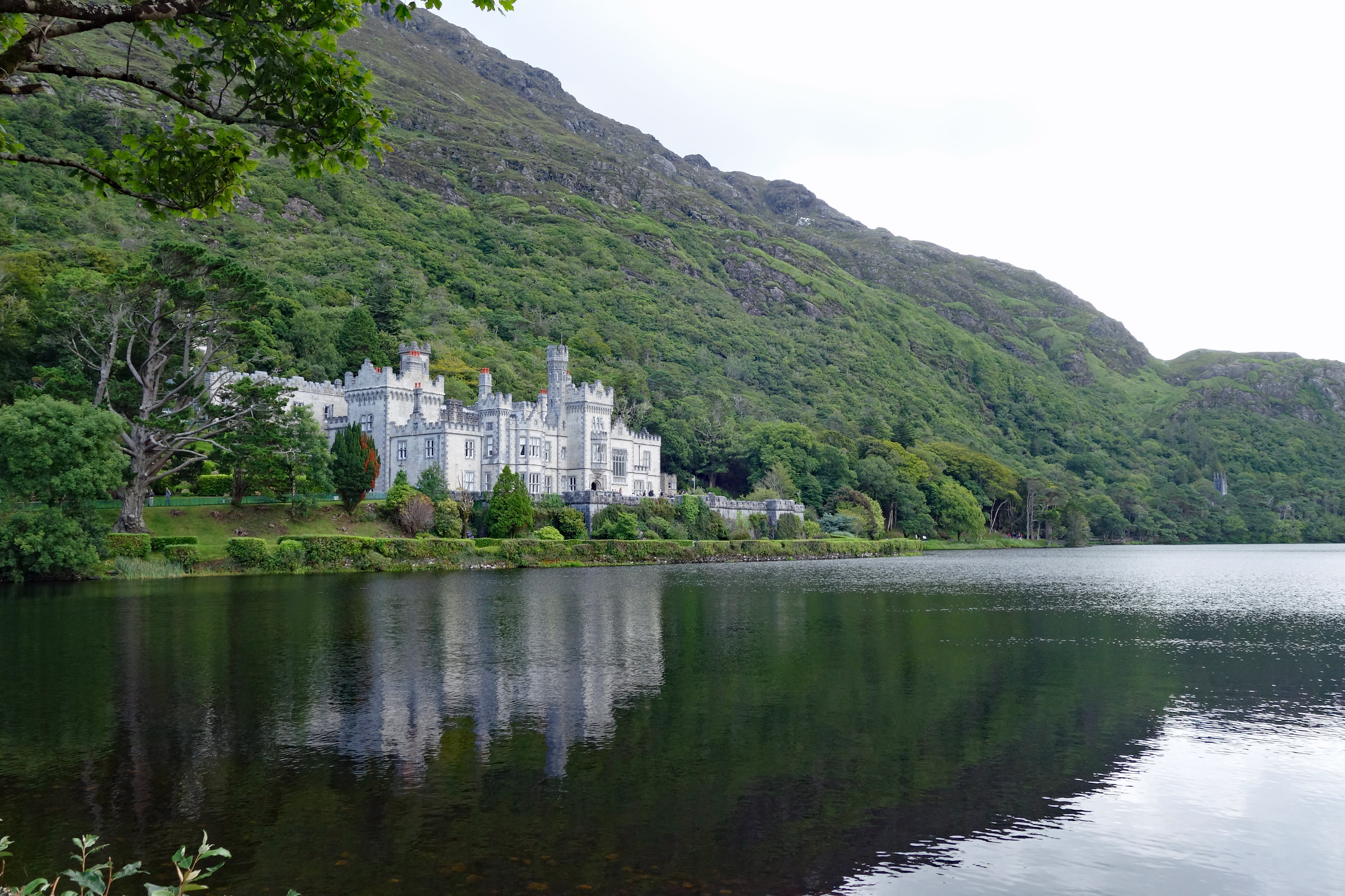 Here we are in another small town that nobody has ever heard of, even we are not sure why we chose to stay here 😂 Our drive from the farmhouse near Lahinch to Cornamona took just over 2 hours, passing by the city of Galway until we reached the north shore of Lough Corrib.  The scenery, and the width of the roads, got better and better the further north we traveled.  While there is nothing of significance in Cornamona, there are a few places we wanted to visit, all under an hour away in any direction.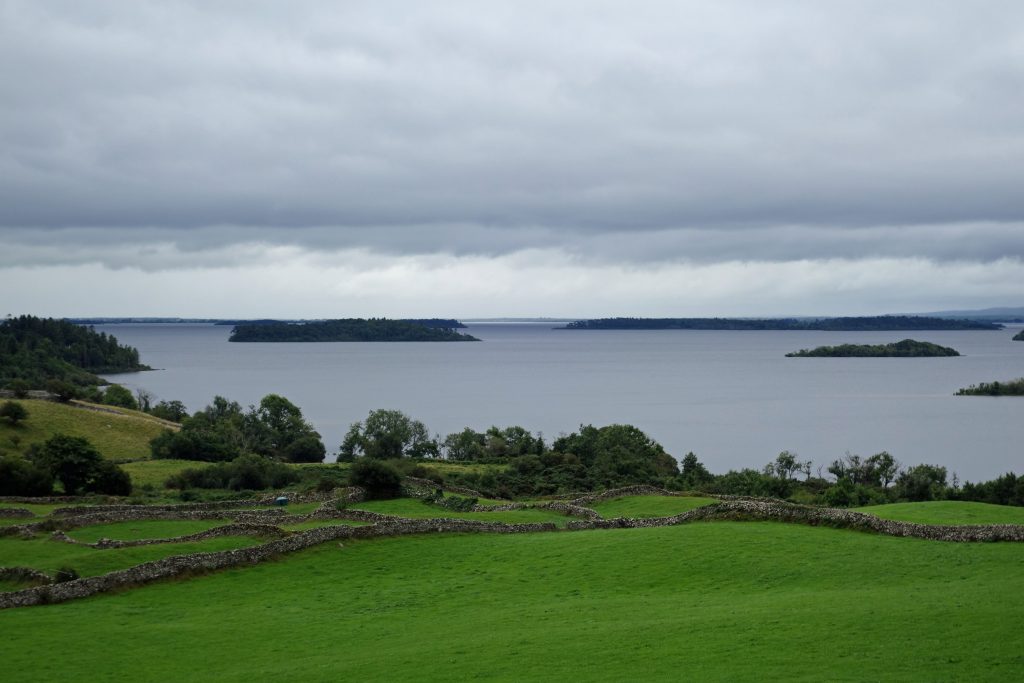 I am beginning to sound like a broken record about how bad our weather has been ☹️  Once again it rained heavily for the first two days we were here and again at the end of our week.  We basically had two nice days in the middle to get outside and squeeze in all our sightseeing!!
CONG (Conga)  is a small town just 10 minutes from our house, well known for being the filming location of the 1952 film The Quiet Man starring John Wayne and Maureen O'Hara.  There is a small museum, tours and a bronze statue in town dedicated to the movie. Cong also has the ruins of an abbey that are open to walk through.  The monastery of Cong, founded in the early 7th century, was destroyed by fire in the 12th century, rebuilt in 1135 and destroyed again in 1203.  Very little remains of the abbey but the elaborate doorways and remains of the cloister are interesting.
KYLEMORE ABBEY (Mainistir na Coille Móire)  on the northern shore of Lough Pollacappul, is regarded as one of Ireland's most romantic buildings.  Kylemore Castle was built from 1867-1870 by Mitchell Henry, a wealthy doctor from London.  Inspired by his love for his wife Margaret, Mitchell Henry created an estate that would showcase what could be achieved in the remote wilds of Connemara.  The castle is massive at 40,000 square feet and has over 70 rooms, including 33 bedrooms, but only 4 bathrooms!!
The Henry's were well regarded, employing over 300 locals at above average wages and providing food to the local community.  Sadly Margaret died in 1874 while on holiday in Egypt, four years after the castle was completed, and Mitchell built a beautiful Neo-Gothic chapel in tribute to her.  The gargoyles on the exterior are a classic cathedral architectural feature, but rather than the typical unusual creatures, these are angelic creatures telling of peace.  Inside is marble from four provinces of Ireland set against yellow sandstone from Italy.  The mausoleum containing the remains of Margaret and Mitchell Henry is a short distance to the east of the church.
Mitchell Henry spent little time at Kylemore after his wife's death eventually selling the castle in 1903 to the Duke and Duchess of Manchester.  They went bankrupt 10 years later, unable to maintain the castle, and today Kylemore Abbey is owned and run by a Benedictine community.  The Benedictine nuns lived for more than two centuries in Ypres and when their abbey was destroyed in WWI they fled to England and later to Ireland, eventually settling in Kylemore in December 1920.
One mile west of the main abbey is a 6 acre Victorian Walled Garden where flower and vegetable beds lay against the backdrop of the Connemara mountains.  The garden was built at the same time as the castle and there were 21 glasshouses growing exotic fruits and plants.  After the Henry's sold the castle in 1903 the gardens became a wilderness and the glasshouses collapsed.  The Benedictine nuns began a decades long restoration returning it to the prestigious gardens it used to be.  There is a free shuttle running between the castle and the gardens.
We can definitely attest to this being a lovely place to visit, it's a serene and peaceful location tucked between the mountains on a small lake.  Tickets to visit the Abbey and grounds cost 13.50 Euros (USD $14.85) each and you can stay as long as you wish.  It's a do not miss if you are in Ireland.
KILLARY FJORD (An Caoláire Rua) is one of Irelands three glacial fjords and one of the wettest places in Ireland.  The fjord is on the border between County Mayo to the north and County Galway to the south and contains some of Ireland's most dramatic scenery.  We took a cruise with Killary Fjord Boat Tours on a 90 minute catamaran trip out to the mouth of the fjord on the Atlantic Ocean.  Along the way we saw large areas of mussel farms and a salmon farm closer to the ocean.  The catamaran is really comfortable and has a cafe on board.  It was a bit chilly during the cruise so I decided an Irish Coffee was a good way to take the chill off, Blair stuck with his favorite pint of Guinness 😁 Tickets for the cruise cost 21.50 Euros (USD $23.65) each and we thought it was well worth it to see some gorgeous scenery not viewable by road.
GALWAY (Gaillimh)  was an hour south of our apartment so we signed ourselves up for a free walking tour and headed into the city.  We have spent most of our time in very small villages or in the countryside so it was interesting to get into a busier center.  Galway is well known for it's many festivals all year and the Galway International Arts Festival was in full swing during our visit, this meant even more tourists were in town.  We went with Tribes Tours Galway and our guide Michael was wonderful, even with the large group we were part of.  There was not much walking involved but lot's of Irish history and funny stories so the 90 minute tour went by quickly.  I had read the population of Galway was around 90,000 but what Michael shared with us is that roughly 25,000 of this number are university students.  Another bit of info that stuck with us was that before the start of the famine in 1845 Ireland's population was around 8 million.  After the famine years and ensuing mass emigration the population dropped to just over 4 million in 1921 and today is around 7 million.  This makes Ireland possibly the only country in the world to have less people than they did 200 years ago!!!  There are not a lot of historic sites around Galway so after our tour we had lunch and wandered around the city center for a while.  Some places of interest we passed were Lynch's Castle, a 16th century medieval townhouse built by the prosperous Lynch family; Galway Cathedral consecrated in 1965 (not even as old as we are 😂); Galway City Museum; the Spanish Arch, part of the old city wall; and Eyre Square, a large park in the city center.  The popular street running from the city center down to the river starts off as Shop Street, turns into High Street and then into Quay Street before reaching the River Corrib.  This street is filled with shops, pubs, restaurants and buskers galore.  Ed Sheeran began busking here in Galway and look where he ended up!!  His success has drawn a whole lot of musicians to Galway to see if they can make it as well.  It was an interesting day in Galway but I felt overwhelmed with all the noise and the people, it was nice to get home to the peace and quiet of the countryside.  I kind of forgot to take photos as we walked around Galway so I only have a few.
It was a quiet week with less than ideal weather limiting our sightseeing options.  We had hoped to do more but they were all outdoor pursuits and not feasible in the rain.  So with another lazy week behind us we head off once more, continuing our journey northwards, this time as far as Donegal…..
An té a bhíónn siúlach, bíonn scéalach
He who travels has stories to tell