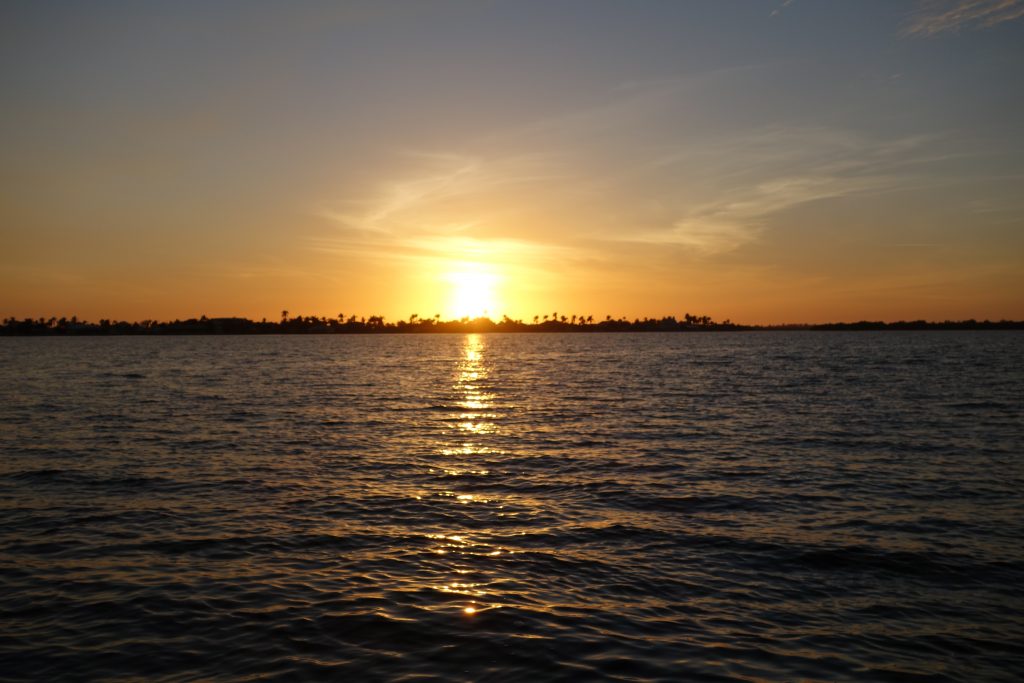 February has been a busy month with more than average socializing, which was to be expected when we planned to catch up with a number of friends who now live in Florida either part time or full time.  We moved to Gary and Barb's house on January 31st and are here until Febuary 17th when we move to Sarasota to stay with another friend Deb.
One of our early February outings was attending the Caloosahatchee Celtic Festival in Fort Myers, it was a great afternoon of Celtic music in an open field with everyone enjoying the performances.  Who knew there was such a thing as Celtic Rock music!!  We love this style of music and hope to enjoy a lot more of it during our time in Scotland later this year.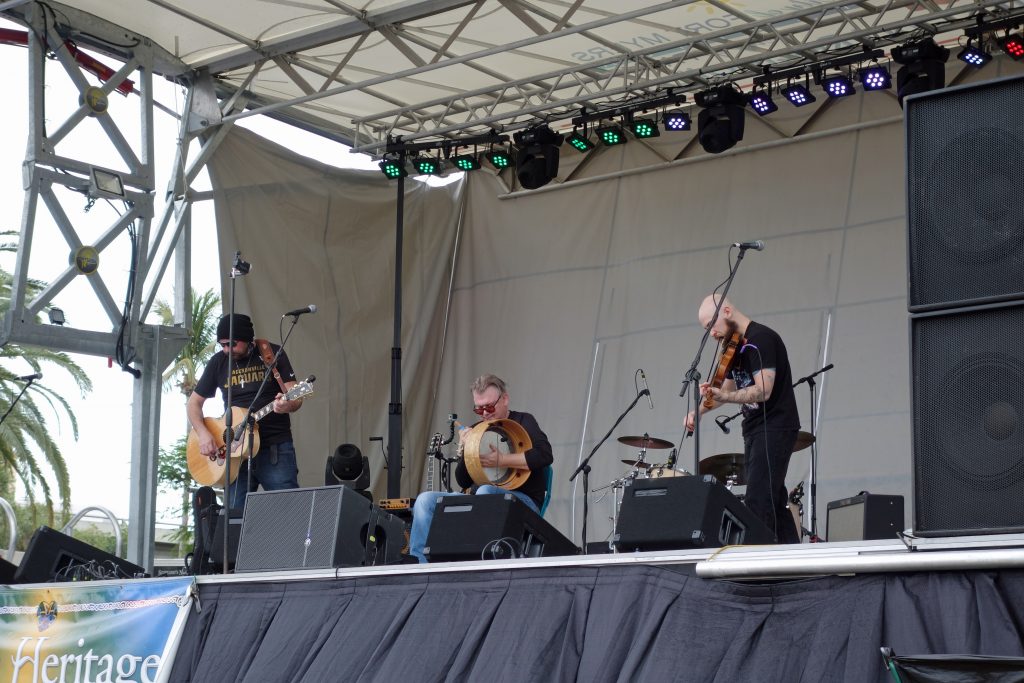 While staying with Gary and Barb we took a couple of road trips to visit other friends.  Our first trip was to Naples to spend time with David and Lesley, former Cayman residents now living part time in Florida and part time in Guernsey.  We had an enjoyable day looking around their neighborhood, visiting Naples Beach and the fishing pier followed by lunch overlooking a marina.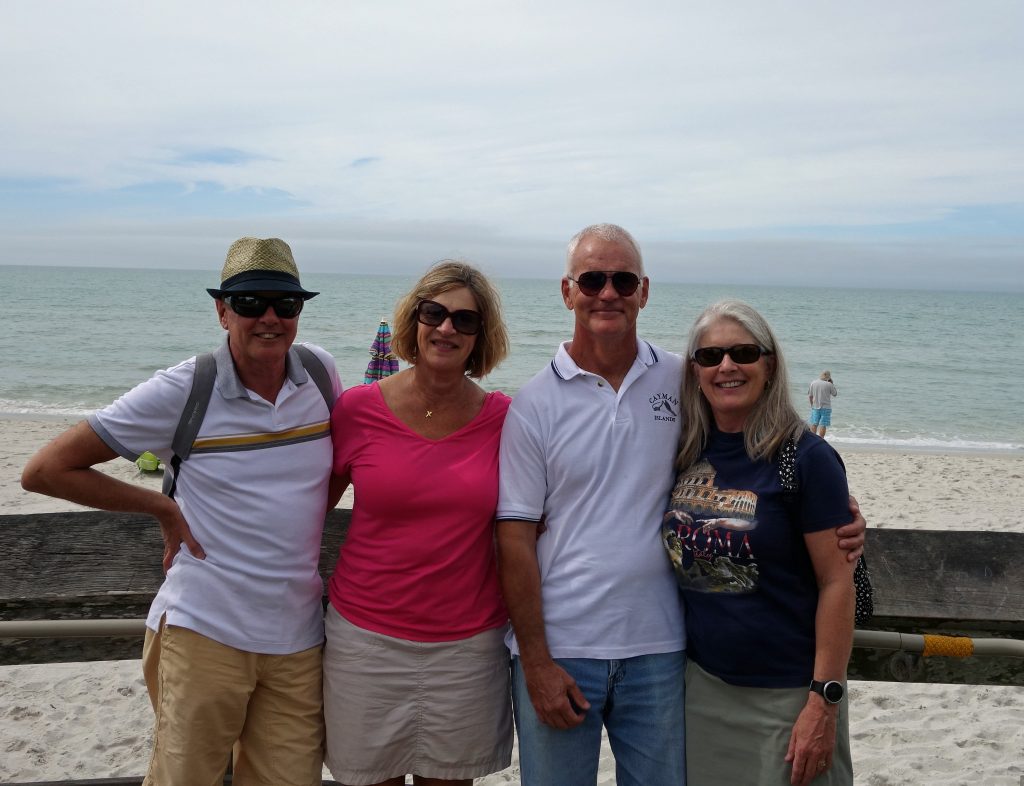 We had to drive to Tampa to change our rental car, so we made a day of it and enjoyed lunch at the Coopers Hawk Winery and Restaurant.  They have an impressive selection of wines as well as beers.  Too bad we had a long drive back home or we could have indulged a little more!!  As you are driving North to Tampa you first arrive into St Petersburg and cross The Skyway Bridge below, an impressive sight to see as well as drive across.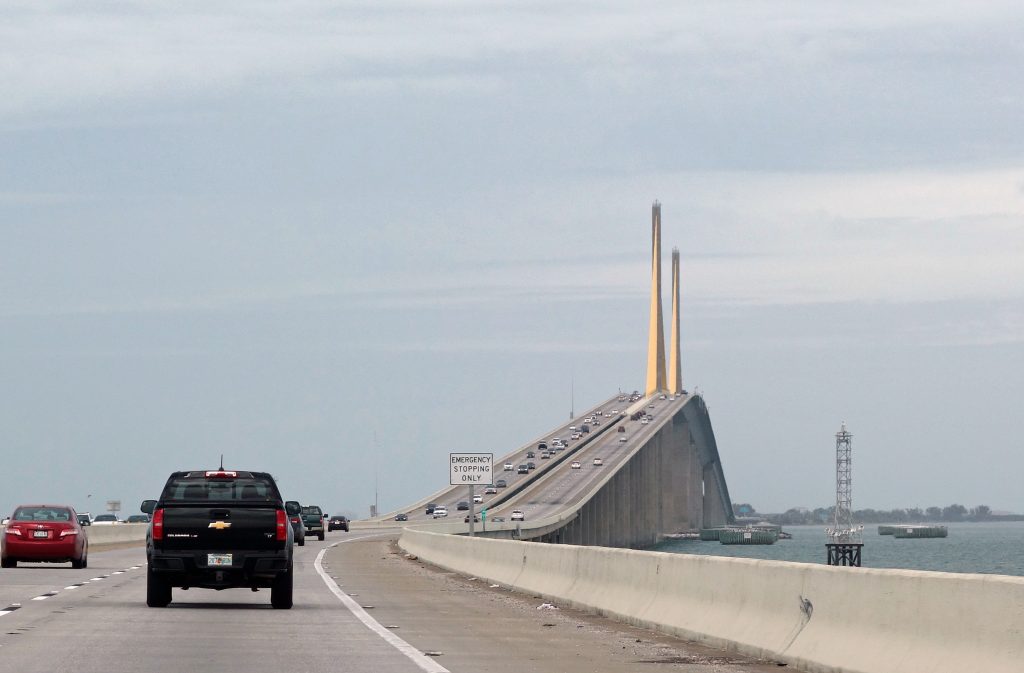 Next was a visit to Sanibel Island where we rented bikes and did a 3 hour tour of the Ding Darling Wildlife Refuge.  It was a hot and sunny afternoon, great conditions for a ride around the park.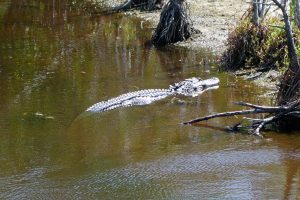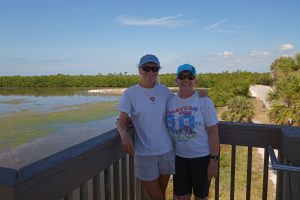 We made a second road trip, this one an overnighter, to Estero, which is about an hour south of where we are living, to stay with Ken and Glenny.  They are another former Cayman resident couple who left about 7 years ago and this was our first chance to see them since they left.  We had a fabulous couple of days enjoying their company and looking around the area they have chosen to spend 6 months a year.  Being fellow Canadians they can only spend 6 months a year in the US, living in Ontario the rest of the year when the weather is warm.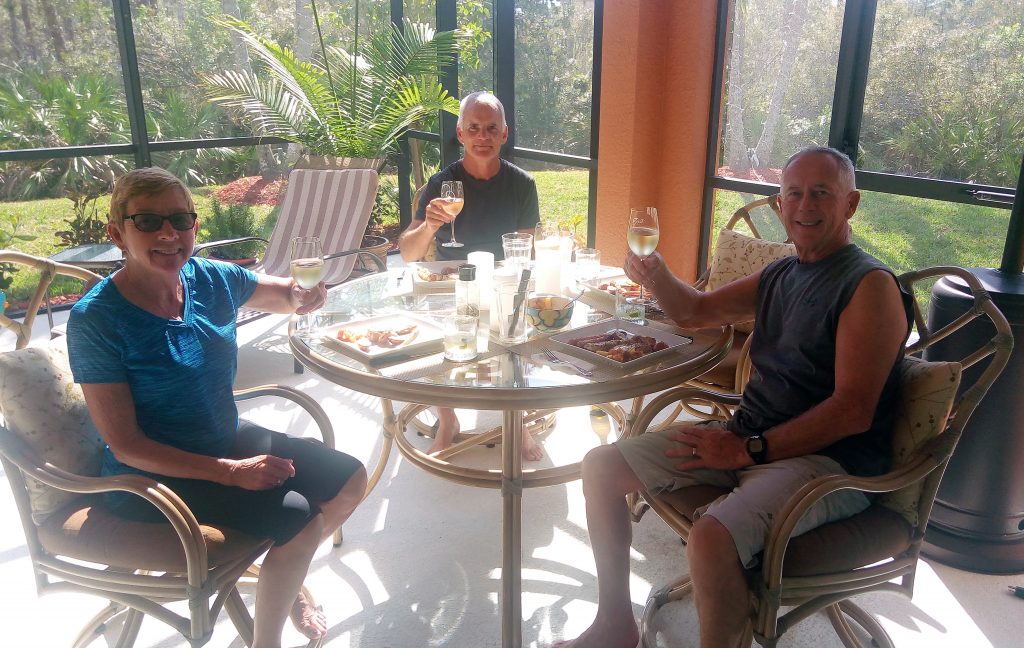 One Saturday night we drove to North Naples to watch the local Florida Everblades hockey team play, getting there early to "tailgate" which Americans like to do before sporting events.  It involves bringing food and adult beverages which are enjoyed in the parking lot before the event…..a new experience for us.  We had a great time at our first live hockey game in many years…..getting into the swing of being Canadian again 🙂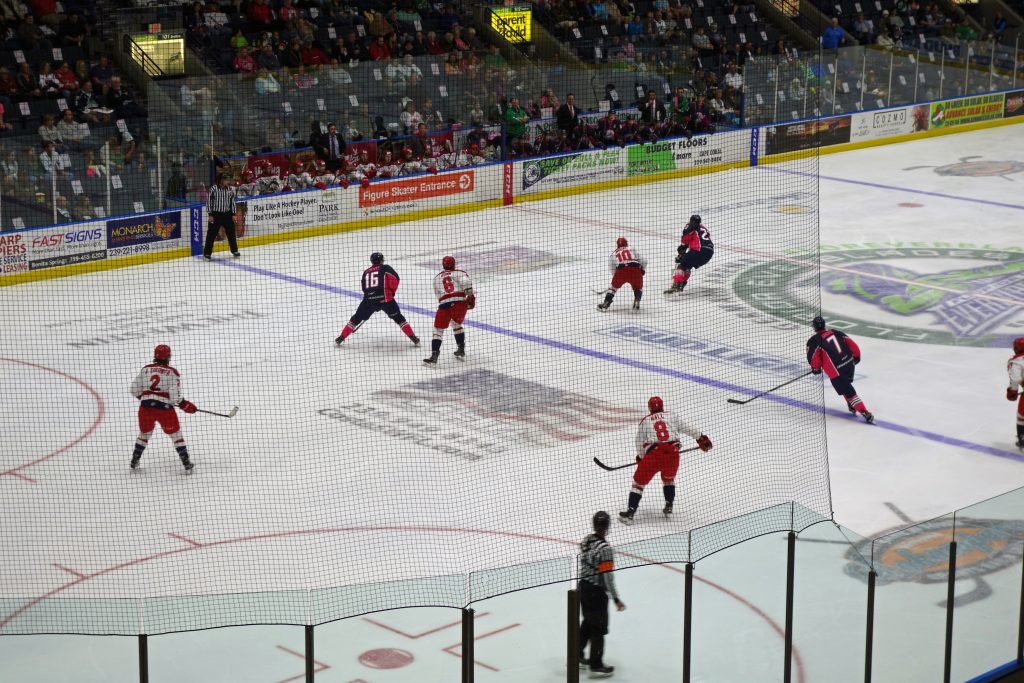 Another new experience for us was learning how to "pick crabs".  Gary and Barb catch Blue Crabs off their boat dock and once we had enough for a big feast it was time to dig in and learn.  It is messy and a lot of work as evidenced by the photos below, but well worth the effort for the delicious crab meat.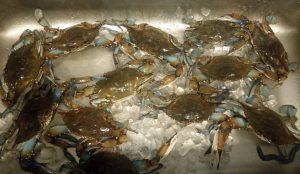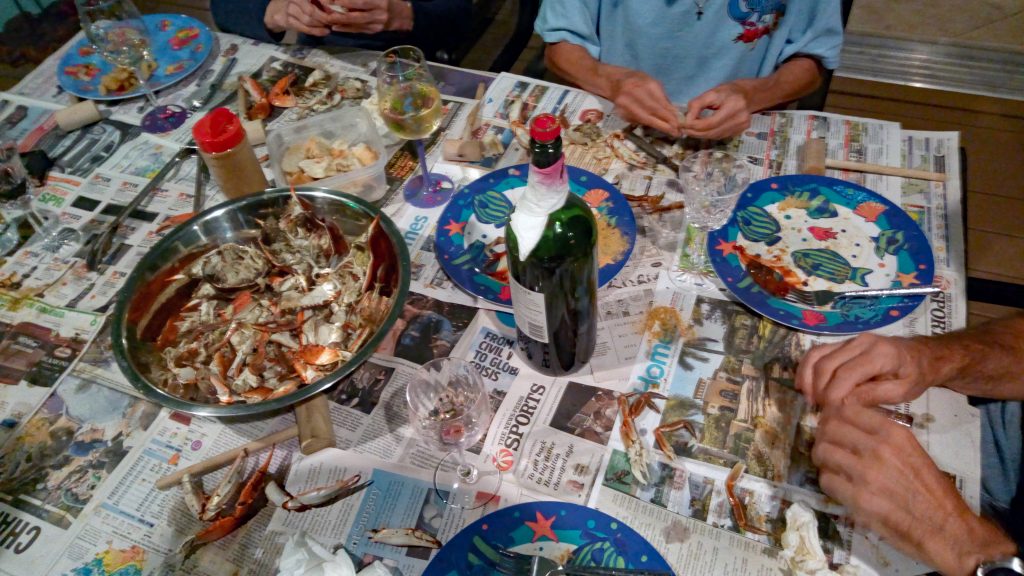 In addition to playing Pickleball we have played tennis a few times this month at Gilchrist Park in Punta Gorda.  There are 2 tennis courts not far from the 8 Pickleball courts, which are never in use.  Pickleball is so popular in Florida there are at least 50 people playing every morning and not a soul on the tennis courts…..lucky for us  🙂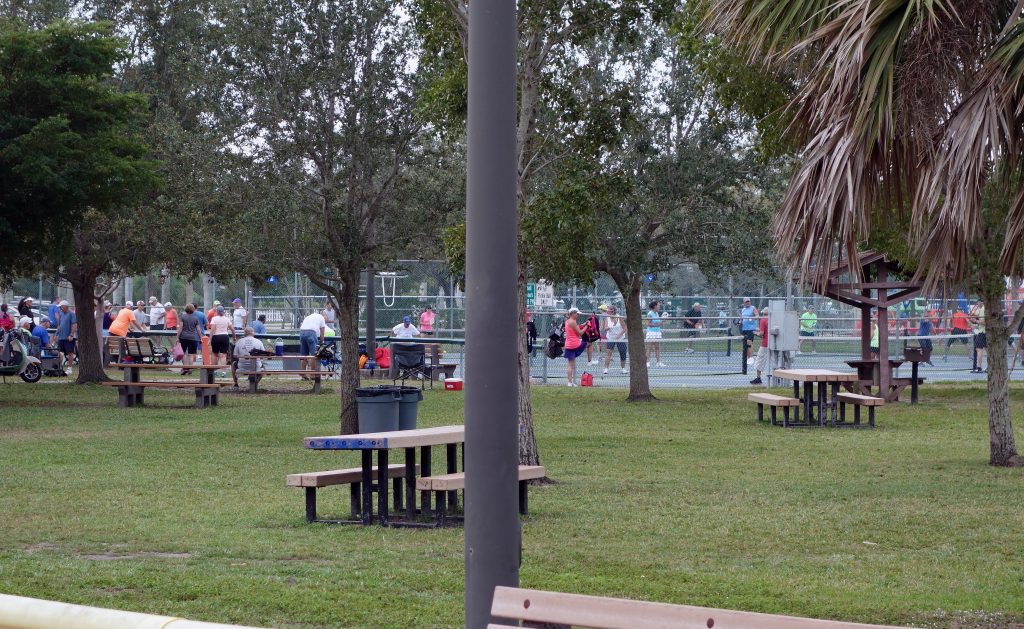 On the 14th of February Blair had his final eye surgeon appointment in Venice, Florida.  He passed with flying colors and now has 20/20 vision in both eyes!!!!!  They are impressed, as are we of course!!!  To celebrate we had lunch at Dockside Grill overlooking yet another marina.
During our time staying with Gary and Barb we have had to good fortune to see a lot of wildlife in and along the canal at the back of their home.  We have seen Great Blue Herons every day, one medium and one very large Alligator swimming in the canal, a Wild Boar as well as numerous other birds of flight.  One unusual sighting was a pair of large birds who flew by in the early morning and again at "quittin time" making an unusual noise.  After much speculation we concluded they are Sandhill Cranes, which are uncommon in this part of Florida.  While driving home one day we had the good fortune to see these birds up close as they chose to walk across the road we were driving on.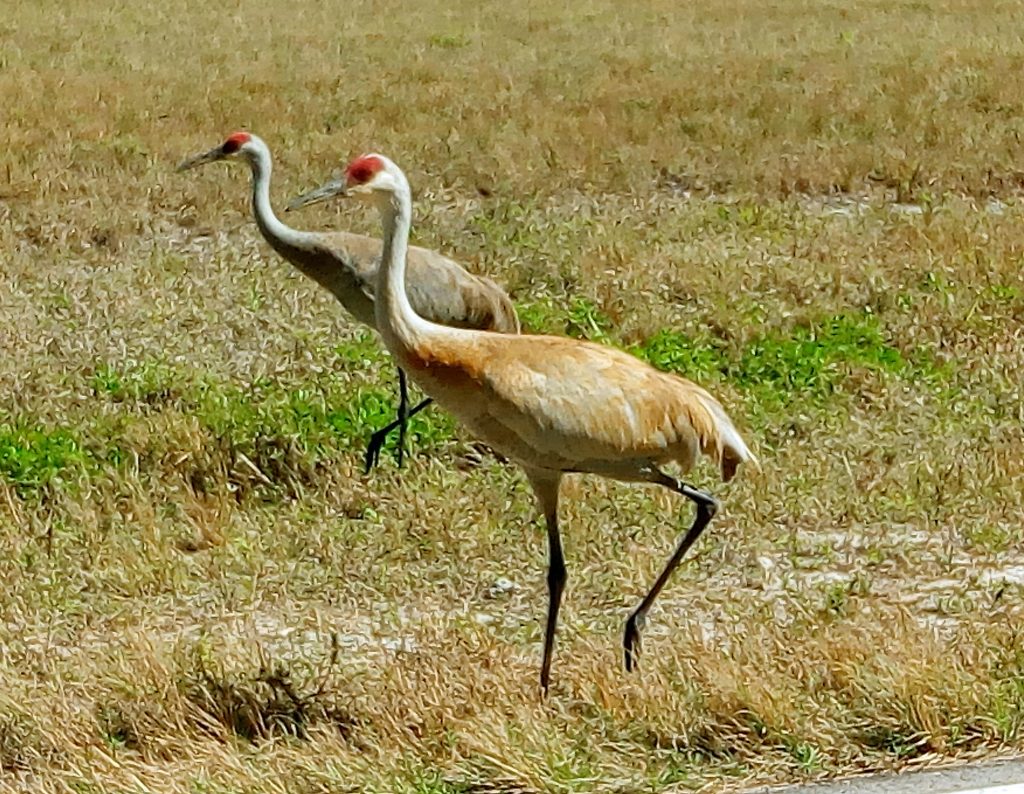 Sadly, we are now at the end of our 7 weeks in the Punta Gorda area.  We are thankful to Gary and Barb for introducing us to their friends and family and welcoming us into their home for almost 3 weeks.  We have truly enjoyed meeting and spending time with Mike, Linda, Carol, Jon, Eulalia, Harold, Lisa, Jim and Shannon.  A special shoutout has to go to Gary and Jon for having the patience to introduce us to Pickleball and play many games together.  I have no doubt our tennis skills helped us pick up the game fairly quickly.
Tomorrow we are off to our final US destination, Sarasota, Florida, to catch up with another old friend.  We hope you will stay with us as we travel to familiar places, seeing friends and family before heading out to new and hopefully exciting locales.