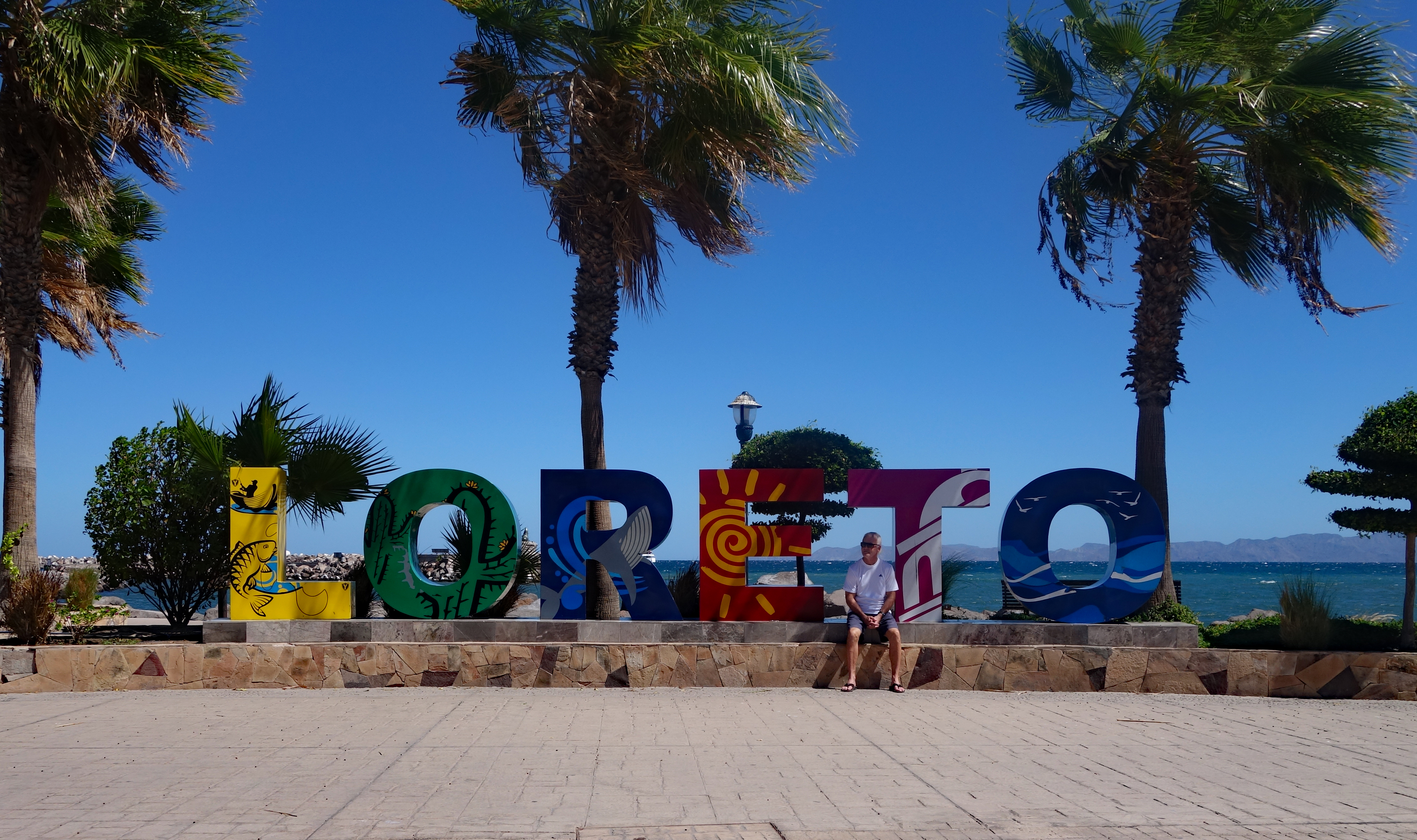 Typically, we take a day or two getting settled into a new place and checking out the neighborhood before venturing further afield.  However, our casita is 6 miles from town, where the large grocery and wine stores are.  For this reason, we rented a car for the first 4 days and spent our time doing a little sightseeing, running errands, buying SIM cards, and stocking the house with groceries, wine, and beer.  Our limited excursions were mostly focused around the town of Loreto, walking the Malecon and touring the town center.
Loreto is designated as a Pueblo Magico, locations in Mexico that are special in a cultural or historical way.  It is also a tranquil tourist town, untarnished by noise and crowds, popular with Americans and Canadians.  With a current population of approx 22,000 Loreto was the first Spanish Colonial settlement on the Baja California Peninsula.  The town was founded in 1697 by Jesuit missionaries, who built the Mission of our Lady of Loreto, the most important historical monument in town.  The Jesuits were expelled in 1767 and the Franciscans took control of the mission until 1769 when control was turned over to the Dominican Order.  The mission closed in 1829 but the mission church survives and is in use today.
17 km south of Loreto Bay is the Puerto Escondido Marina, a large natural harbor with some impressive yachts moored there.  The inner harbor is 1.8km long and 1km wide with just a 30 meter wide entrance.  The harbor is widely recognized as one of the best hurricane-safe harbors in the Sea of Cortez.
9 km south of Loreto Bay is the Mirador Loreto where we stopped on our way home from Puerto Escondido.  This viewpoint has fantastic views over the Sea of Cortez (aka the Gulf of California) and some of the offshore islands.
After a busy 4 days, it was time to return the car, begin exploring our neighborhood and relax at home in our lovely casita (a link with photos is on the accommodation page).  There are two mini-markets in the community providing a good variety of basic supplies, and as the tourist season ramps up they are getting more and more fresh produce daily.  We also heard out about a local farmers market, only a short bike ride away, happening every Wednesday and Saturday morning (they make a wonderful pico de gallo).  It's looking like we can get pretty much everything we need without heading into Loreto town.  Pedro's market has a good selection of meat (lamb, turkey breast, steaks etc) and the manager said if we wanted anything at all he can bring it in from their shop in town.  There is an authentic French bistro just down the street where we can buy baguettes and pastries, and have a lovely breakfast if we so desire.  Their sourdough baguette and pain au chocolate are delish!!
To be honest, our first impression was that we did not have many options for shopping or dining within our gated community, but one week after we arrived the French bistro opened and we attended opening night at the Wine Cellar.  We also saw signs on a few other small businesses' saying they will be re-opening in October so maybe we arrived a bit early in the tourist season.
So, how do we fill our days since returning the car?  Aside from shopping, we have been busy!!  Blair found a small gym just down the road which, we have joined.  We have been swimming in the lap pool every afternoon, fabulous exercise!  We have been walking and riding our bikes around the community discovering what is around us.  There is a golf course but we decided we were not really interested in golf since we would have to rent clubs, and besides, we just had an amazing summer of golf in Calgary.  There are Pickleball games going on 4 mornings a week, but again we decided it was not really worth pursuing because we don't have paddles.  Being right here on the sea, our preference is water activities.  It turns out there are quite a few options to keep us busy without ever leaving the community.
Paddleboarding has become one of our favorite activities with beautiful views of the Sierra de la Giganta mountains and gorgeous clear water.  We have seen schools of fish, Stingrays, Spotted Eagle Rays, and a constant parade of Pelicans gliding inches above the water in search of food.  There always seem to be a few folks out on their boards every time we go, as well as swimmers, kayakers, and snorkelers.  We are lucky to have paddleboards included in our property rental, but if you needed to rent equipment, Jorge's Kayak and Paddle Board Shack is the place to go.  He is on the beach just in front of the Loreto Bay Hotel and has a variety of watersports equipment for hire.
During these times of covid, we are grateful to be here and have settled into a comfortable rhythm here in Loreto Bay.  We will rent a car again soon but for now, we are happy staying close to home enjoying the sea and warm weather 🌞🌞