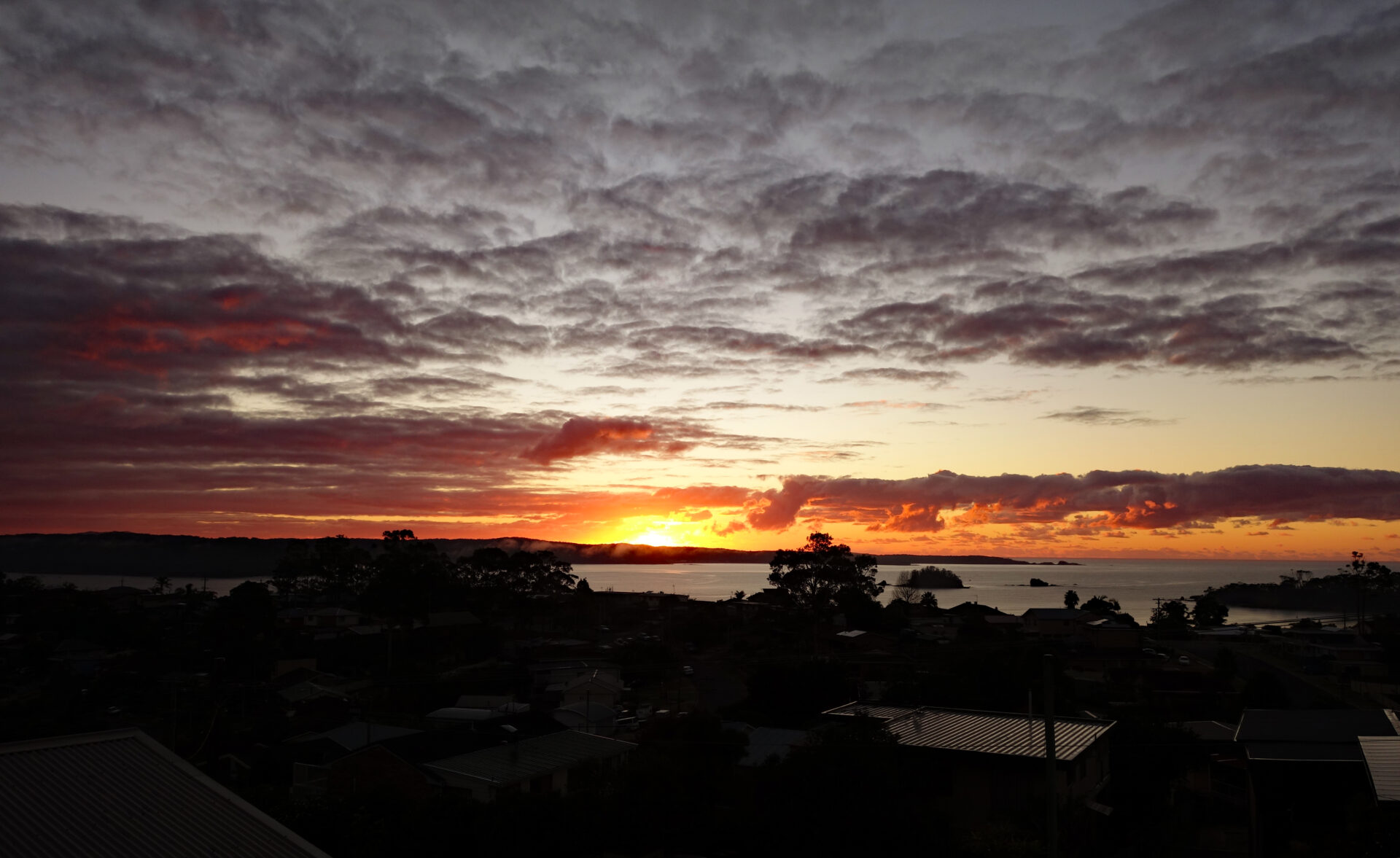 Flying during the coronavirus pandemic is a stressful way to travel however we had no other viable option to get to Sydney.  Brisbane domestic airport was quite busy and social distancing not easy to do, on the airplane it was impossible.  Jetstar's concession to social distancing was leaving the middle seats empty in each row, but there is still not the suggested distance between yourself and the people in front and behind you.  Armed with disinfecting wipes and hand sanitizer we did all we could and hoped for the best!  Masks are not much use if nobody else is wearing them so we did not bother.
Landing in Sydney around 1 pm we picked up a rental car and hit the road, driving 4 hours south to the small town of Batemans Bay.  Our reason for coming here was to see fellow nomads David & Di who maintain a home base here in between their nomadic wanderings.  Like the rest of us, their nomadic wings are clipped with Australia banning international travel for its citizens, possibly until the end of 2020.  It was always our hope to meet up with them while we were down under, following up on our first meeting in September 2018 when we got together in the UK.  With their travel plans canceled and us happily stranded in Australia, it was the perfect opportunity to arrange a visit.  We rented an Airbnb across the bay from their house, adhering to the rules currently in place against having house guests.
The day after we arrived in Batemans Bay, David & Di invited us on a bushwalk followed by an afternoon BBQ at their home.  We had the most wonderful day in their company, sharing travel adventures and mishaps, watching the kangaroos hopping past their house and enjoying a meal together at their lovely home.  Spending time with new friends, having a drink or two…..for a while life felt normal 😊
Our second day with David & Di was spent visiting a few beaches and towns north of Batemans Bay followed by a bushwalk around Square Head, just down the street from their house.  We had hoped to visit Pebbly Beach, known for the kangaroos that frequent the beach, but alas it was still closed.  Today's tour yielded more breathtaking views of the New South Wales coastline.
Day 3 with David & Di we headed south to central Tilba and Narooma with a few beach stops thrown in.  It is a gorgeous section of New South Wales coastline, a place one could be happily retired.  We popped into the heritage town of Tilba for a walk down main street, stopping in at the ABC Cheese factory to pick some of their specialty cheeses.  Farming in this area is renowned for its wonderful dairy products.  Just outside Narooma is Australia Rock.  The story behind this formation is that it was accidentally created many years ago when a ship was tied to the rock with large chains to prevent it from washing away.  The chains wore away the rock during rough seas and today it is known as 'Australia Rock' due to the unique shape of the hole which resembles Australia, minus Tasmania.  Regardless of how it came about it is a popular spot for photographers with a viewing platform above providing stunning views of the coastline, Narooma Lake and out to Montague Island.  We also visited Glasshouse Rocks, possibly the most photographed rocks along this coastline, rivaling the 12 Apostles on the Great Ocean Road.  The Glasshouse Rocks are estimated to have been formed 500 million years ago.  Our wildlife sightings today included seals lounging on the rocks near Narooma Lake and a few cute wallabies at Potato Point.
Aside from our gorgeous coastline views I must mention the devastation we saw from the bushfires earlier this year, it was shocking.  The world saw the horrific videos and photographs from that time and to witness in person hundreds of miles of burnt forest was heartbreaking.  On a positive note, the regeneration and growth that has occurred in just a few months is encouraging.  This region of Australia has taken a double hit, first with the devastating fires and now the economic hardship of COVID-19 making recovery even more difficult.  Our hearts went out to all the small towns we passed through seeing first hand how difficult this year has been 😢
We have thoroughly enjoyed our brief visit to Batemans Bay and with our Aussie friends David & Di.  It is a rare opportunity we have to spend time with fellow nomads who have become friends.  We look forward to the day we will meet again, wherever that may be in this wonderful world we all love to explore.  Until then we will do our best to make the most of our day by day, unplanned time in Australia, hoping to find a flight to Canada before too long.  In the interim, we are off to Sydney 😊
We hope everyone is well wherever you are in the world right now…