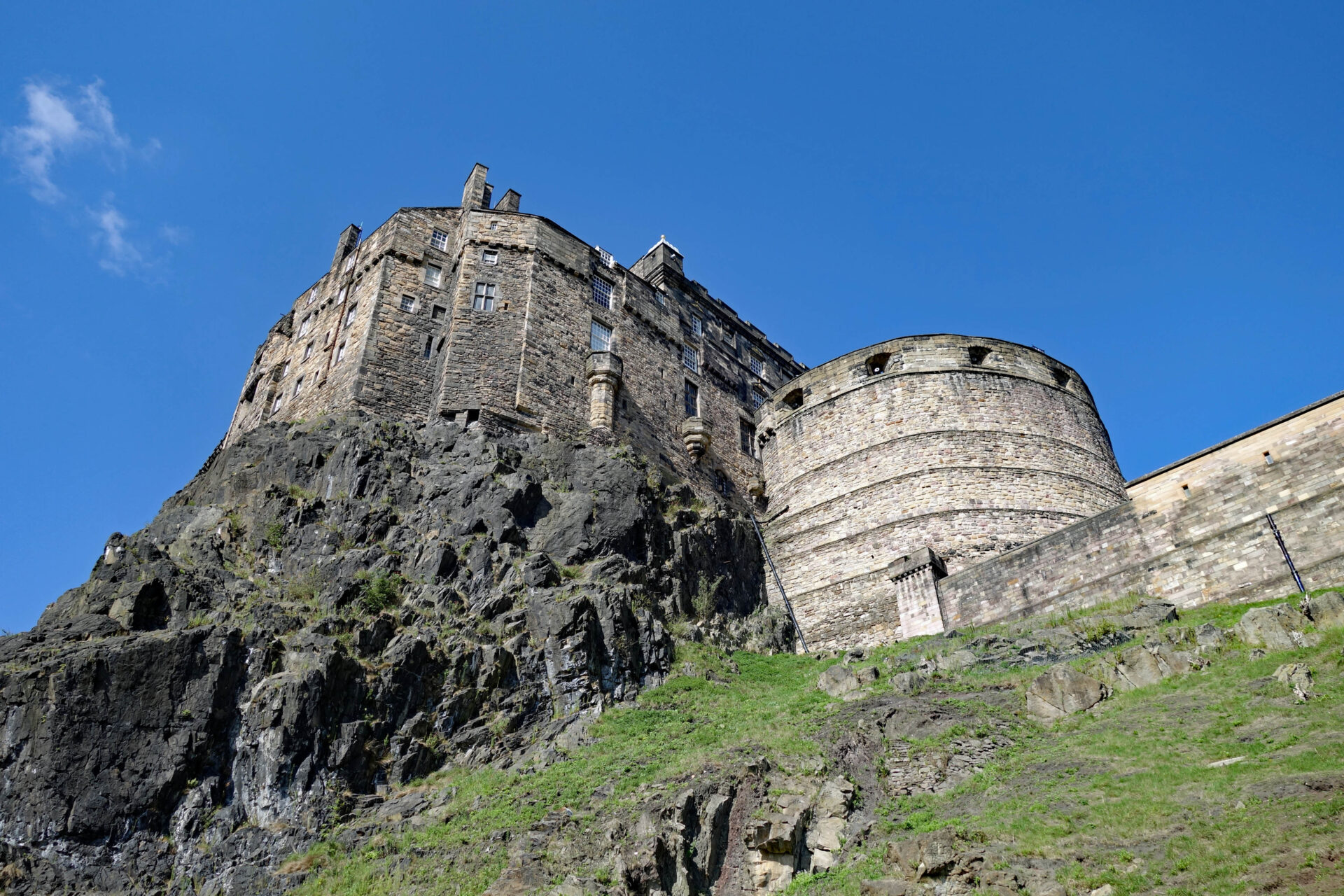 Scotland, just the name conjurs up images of Braveheart, kilts, the Outlander series, Harry Potter and of course bagpipes which I adore.  For both of us, having Scottish ancestors, being here is somewhat of a returning to our roots feeling.  The history around every corner is palpable, intriguing and sometimes overwhelming with so much to take in.  Edinburgh, the capital of Scotland, has a long and rich history, today the city combines the ancient and modern in a wonderful Scottish atmosphere.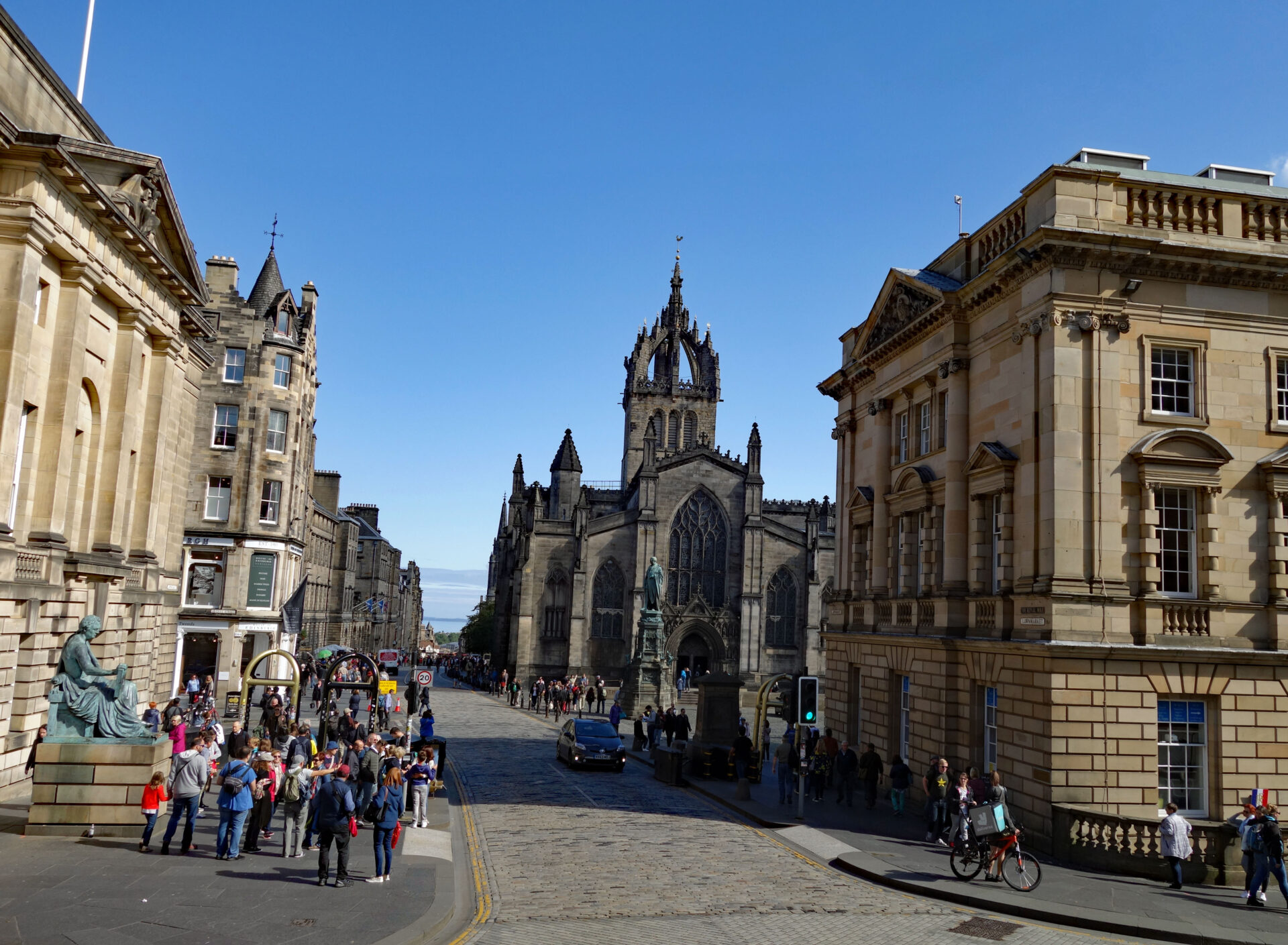 Our drive from Inverness to Edinburgh was an easy journey of only 3.5 hours, arriving at our new home mid afternoon.  Our apartment is in Leith, an up and coming suburb of Edinburgh where a lot of young professionals live, and was formerly a busy shipping port.  We settled into our usual routine of unpacking, grocery shopping, then spending our first day getting acquainted with the neighborhood and researching what there is to see and do in the city.  A 5 min walk from our apartment is the Ocean Terminal shopping mall and the Royal Yacht Britannia, along with numerous restaurants and pubs around the neighborhood.  We also discovered a wine warehouse, supplying all the bars and restaurants in Edinburgh, as well as retail customers, just 100 yards from our front door.  How perfect is that for our wine needs 🙂
Our first excursion was taking the bus (I love riding double decker buses) into the city center and joining a free 2.5 hour walking tour of Edinburgh Old Town. It was a wonderful way to begin our time in Edinburgh hearing the history of the city through the eyes of our talented guide Fiona.  We walked around the oldest part of the city picking up interesting facts and getting ideas of what else we need to visit.  One interesting fact we learned is that during the 17th and 18th century, anatomists hired resurrectionists (grave robbers) to exhume recently dead bodies for their anatomical research studies.  Rumor has it they were sold in Fleshmarket Close, just off the Royal Mile, or perhaps this was just a regular meat market, who knows!!!  And then there was Deacon Brodie, the inspiration for Robert Louis Stevenson's Dr Jekyll and Mr Hyde character.  Ah yes, Edinburgh is full of strange and interesting history 🙂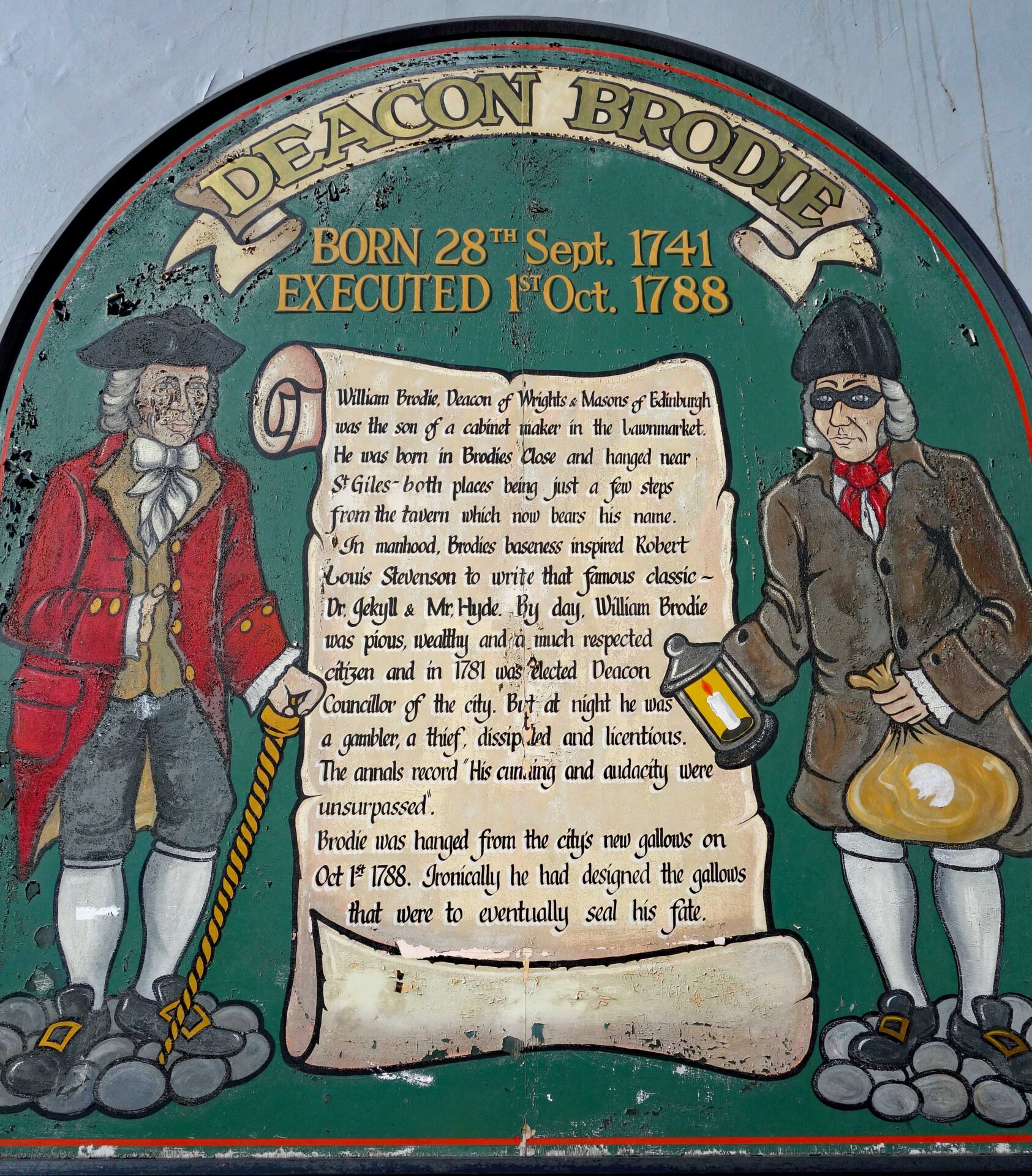 Something else we did not know is that J.K. Rowling wrote all her Harry Potter novels, and lives, here in Edinburgh, which explains the proliferation of Harry Potter themed tours and souvenirs.  The graveyard in Old Town was the source of many names for the characters in the Harry Potter books.  I wonder how the descendants of Tom Riddle feel about thousands of tourists traipsing past his grave just because his name was used for the evil Lord Voldemort character!!
Once the tour was finished we went to a restaurant recommended by our guide which serves the "best haggis" in Edinburgh.  Now, I am not sure how best and haggis can be used in the same description but off we went.  Blair was the brave one and ordered haggis, neeps and tatties while I went for boar sausage and mashed potato.  The translation to English of Blair's lunch…..it is sheep offal (heart, liver, lungs), potato mash and turnip mash.  Both meals were interesting and I took one bite of the haggis…..I don't think I will be ordering it!!  After lunch we did a brief walk around St Giles church and the Scottish National Museum, which is so large we could only visit two of the floors.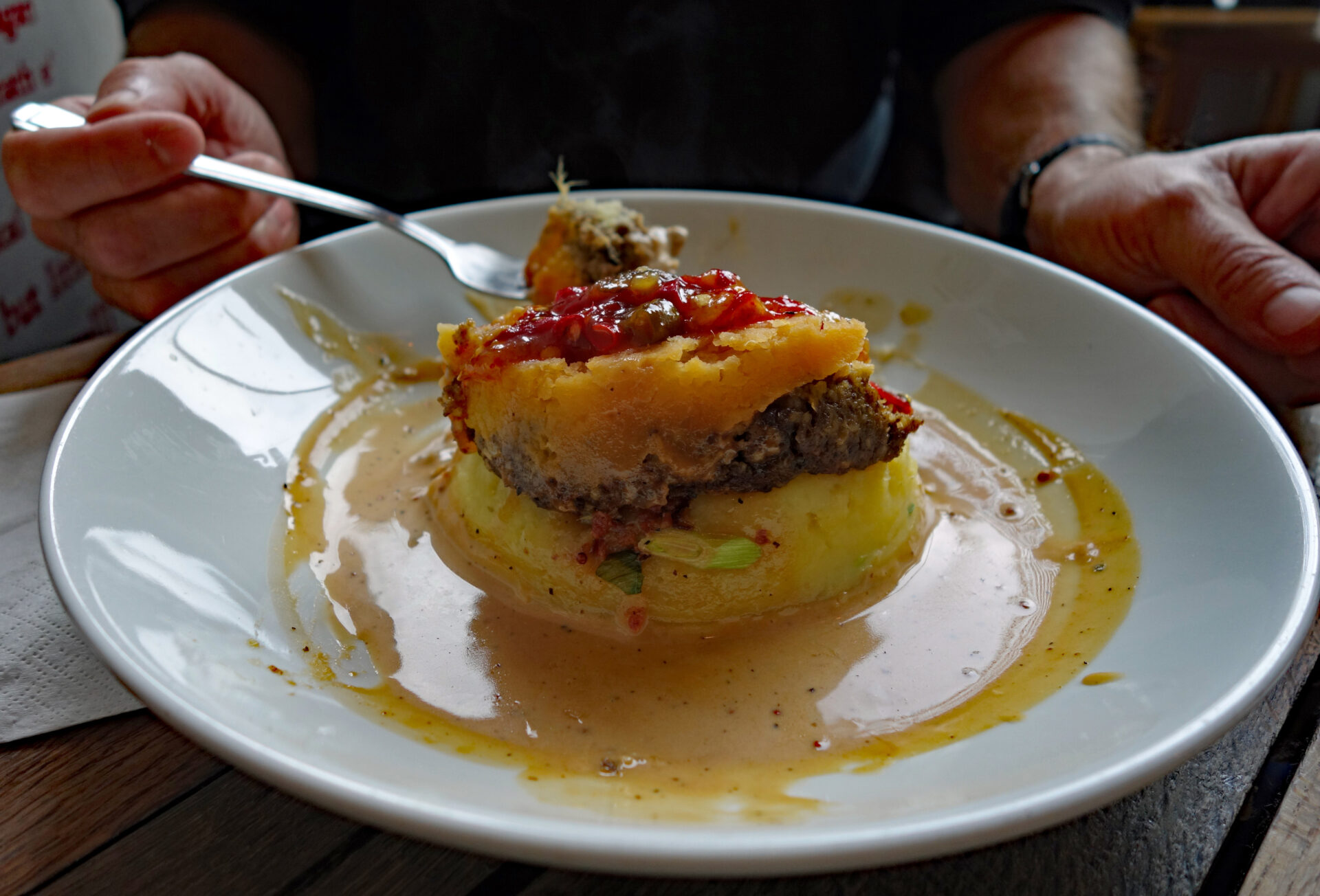 We arranged a walking tour at St Andrews Links not realizing how much more the town had to offer.  The prestigious Links Old Course is over 600 years old and referred to as the "home of golf".  The Open is held here every 5 years so there is a lot of golfing history, both old and new.  Our tour guide Charlie worked as a caddie at St Andrews for 11 seasons and had many stories to tell in addition to sharing the history of the 6 courses which form St Andrews.  Tee times are booked one year in advance and even then awarded based on a lottery system so no doubt it would be difficult to obtain a tee time.  Our tour was on a Sunday and the Old Course is closed on Sundays which meant we could wander freely about the fairways imagining ourselves playing a round here…..not an easy course!!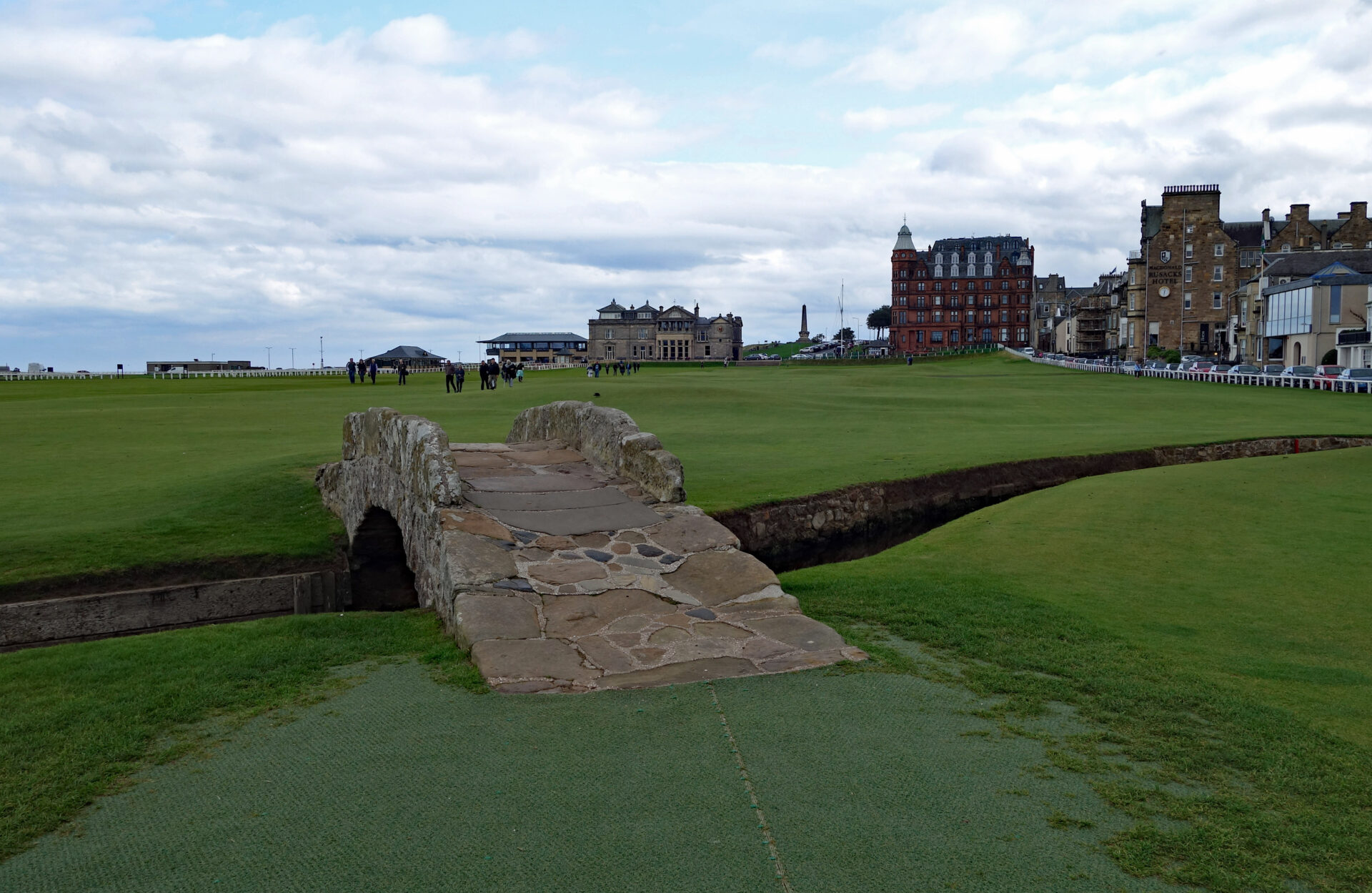 Across the road from the golf course is West Sands Beach, made famous in the opening scene of the movie Chariots of Fire, this scene was reenacted during the 2012 Olympic torch relay.  The town of St Andrews is also home to one of the oldest and most prestigious universities in the UK, famously attended by Prince William and Kate Middleton.  The Cathedral of St Andrew is a ruined Catholic cathedral built in 1158, worked on for over a century and the largest building in Scotland for 7 centuries, pilgrims flocked here from all over Europe.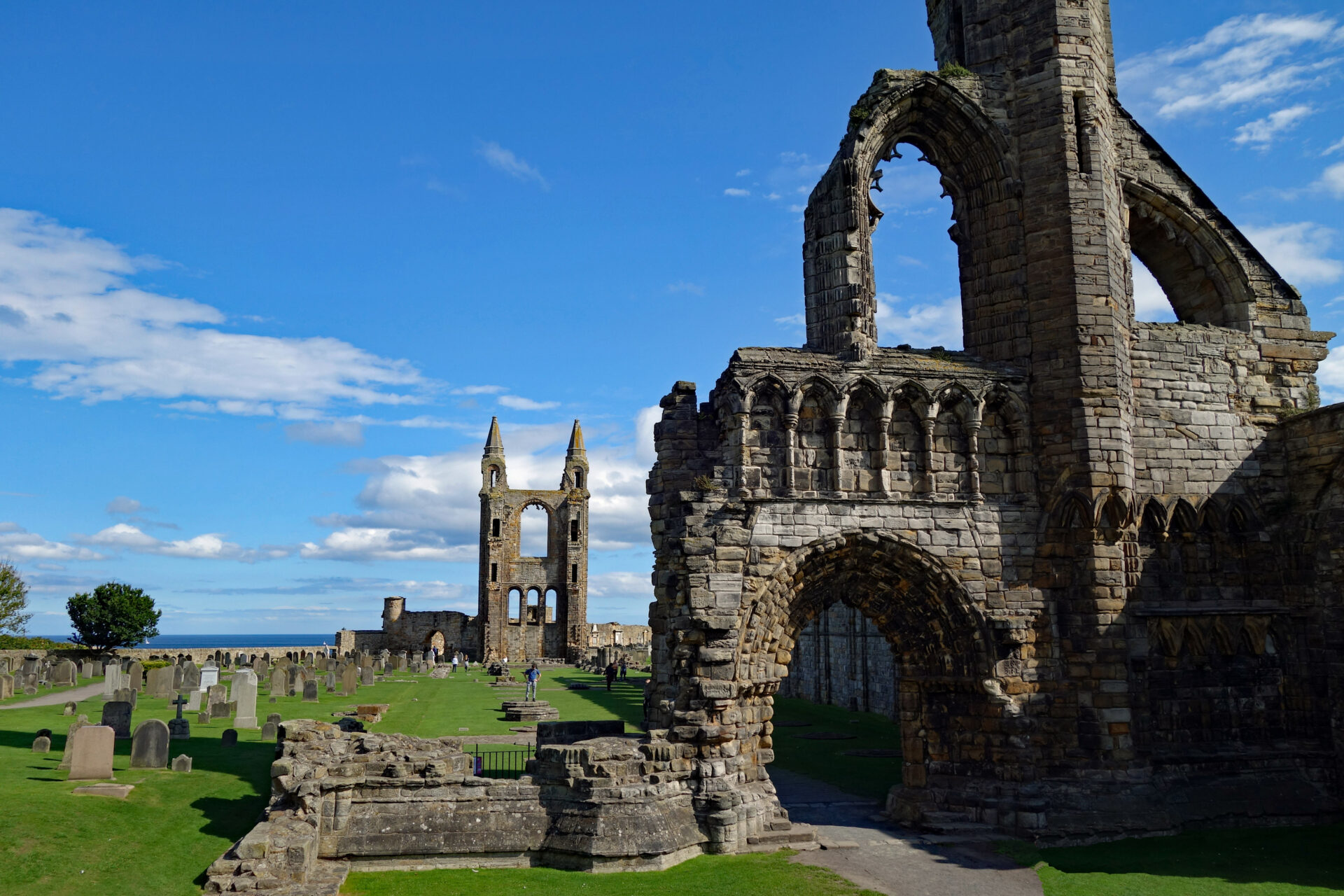 And of course no town is complete without a castle 🙂  The St Andrews Castle was built in 1200 but severely damaged over the years, and by many wars, such that the majority of the castle dates to between 1549 and 1571, still old by my standards!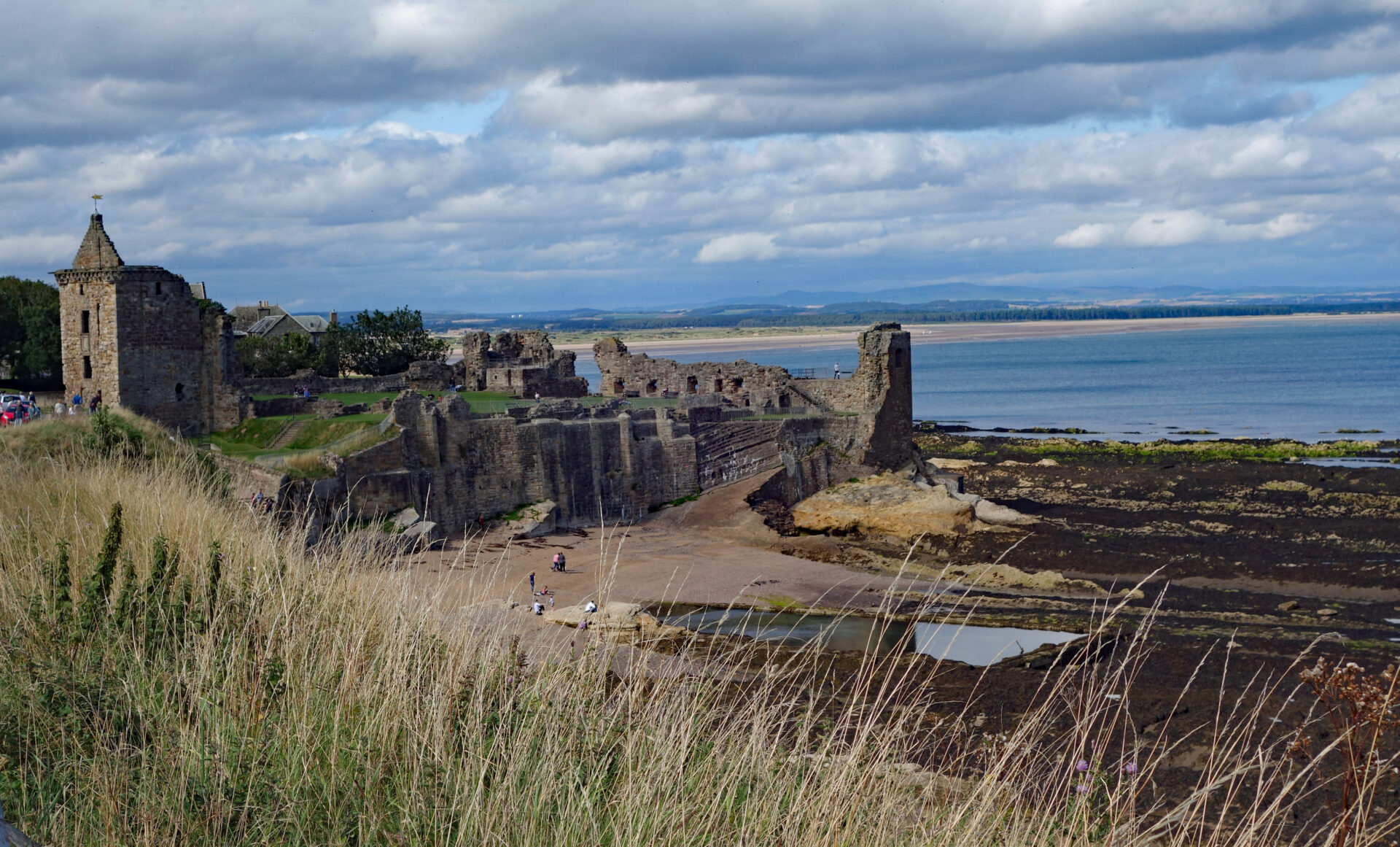 Trying to plan excursions based on the weather here presents challenges.  Monday should have been rainy in the morning and clearing up by noon so based on that forecast we booked an Edinburgh Castle tour for 2pm.  Unfortunately the rain did not let up all day and we spent our entire 2 hour tour in the constant drizzling rain and wind.  Edinburgh Castle, unlike most castles, is not a castle per se.  It is more of a walled village on top of a rock such that no part of our tour was inside any building 🙁  Our guide Angus bravely soldiered on, like a true Scotsman, while we visitors shivered under our raincoats and umbrellas.  I was relieved when the tour was over and we could dash into a few buildings for warmth.  The Scottish Crown Jewels are housed here at the Castle and are stunning to view.  We had heard about the "Stone of Destiny" and expected it to be something special, however it is just a piece of sandstone who's claim to fame is that is has been used for centuries in the coronation ceremonies of Scottish monarchs and later British monarchs.  The stone resides in Edinburgh but will be "loaned" back to the UK upon the death of Queen Elizabeth for the coronation of the new monarch.  Interesting how a lump of rock has such significance in history!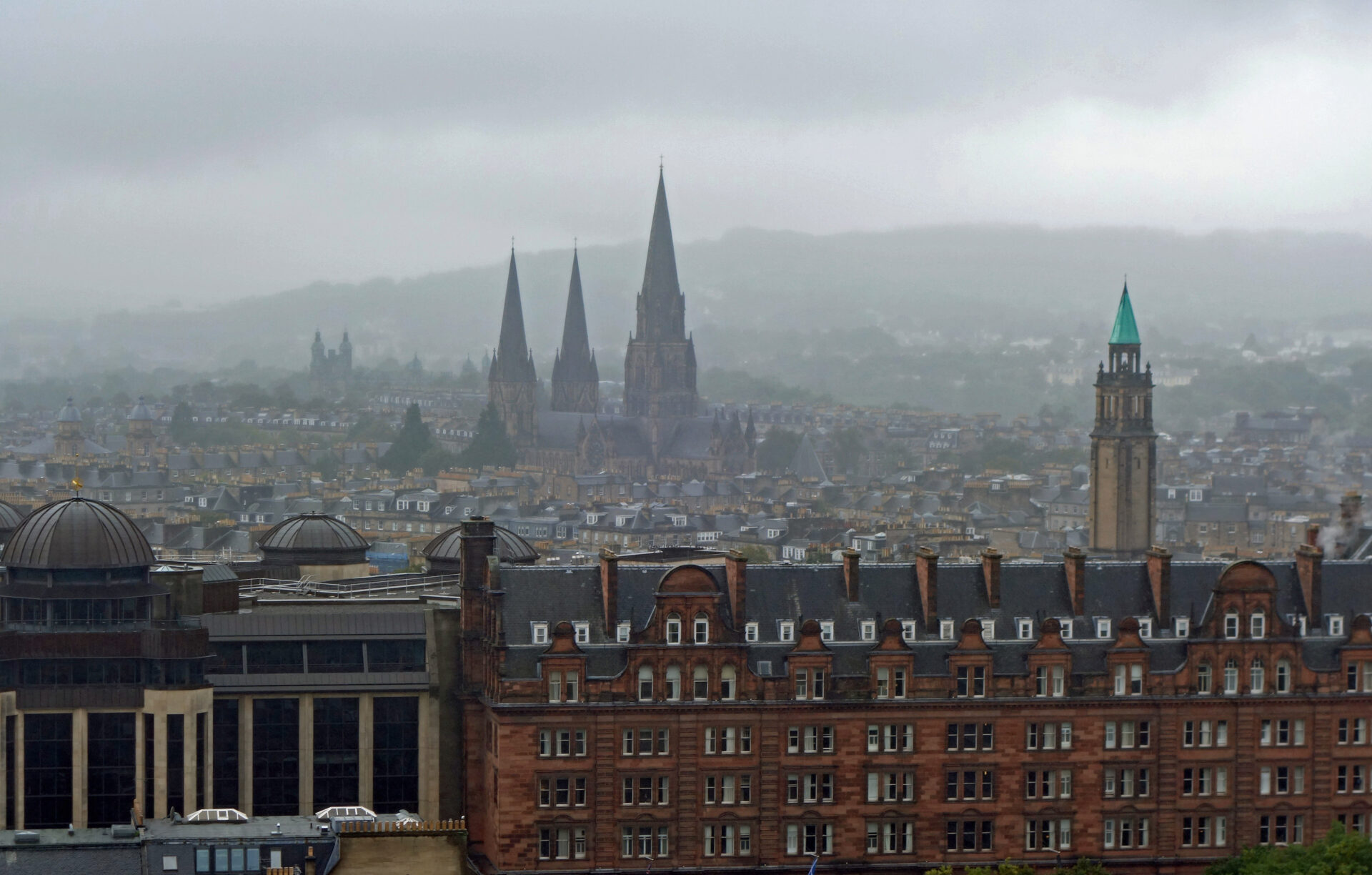 To maximize our sightseeing time in Edinburgh we bought a 48 hour hop on-hop off bus ticket that included 4 bus routes and a boat tour under the 3 bridges across the Firth of Forth.  One of the bus routes passed 2 blocks from our apartment so we were able to hop on close to home.  Day 1 we took the bus to South Queensferry in anticipation of taking a boat tour around the firth but a heavy fog enveloped the bridges so we remained on the bus back to Edinburgh Old Town.  Switching to the City Sightseeing routes we traveled around Old and New Town Edinburgh hopping on and off as we arrived at places we wanted to visit.  Many treks up and down the Royal Mile at various times of day made us appreciate the quietness of the early mornings along this busy street.  One of our tour guides mentioned we should look in St Giles Cathedral for the Angels playing bagpipes, which of course became a must see with my love of bagpipes.  We found them in the Chapel of the Order of the Thistle, a small chapel off the main abbey, where the Queen attends church when in Edinburgh.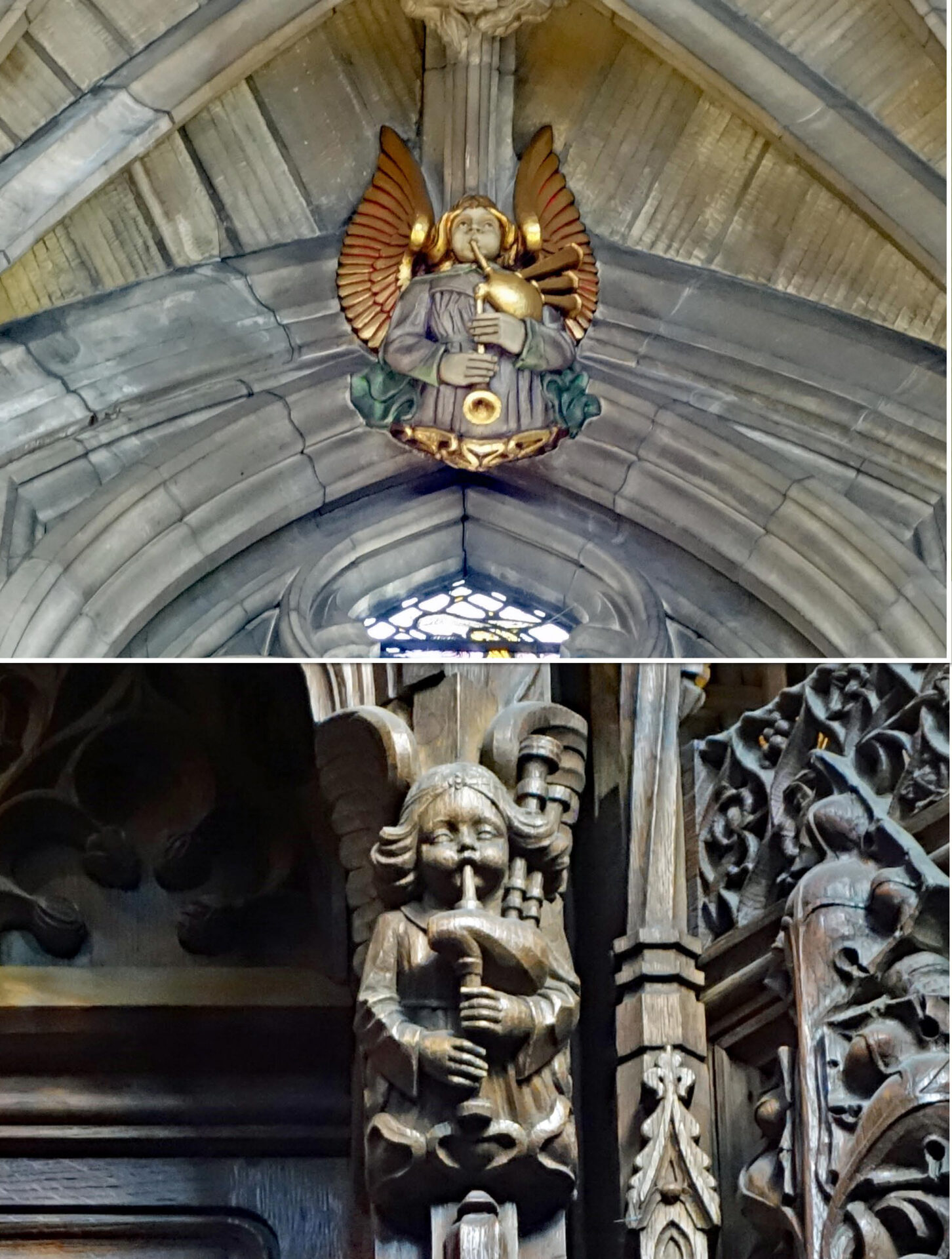 The first day of our bus hopping tours coincided with my birthday so at the end of our sightseeing day we walked from our apartment to Fishers at The Shore.  The restaurant was recommended by our landlord as one of her favorite seafood restaurants.  Well, it was possibly the best seafood dinner we have had in a very long time.   The food was spectacular.  If you are ever in Edinburgh, a trip to Fishers in Leith is well worth it.  We have both enjoyed celebrating our birthdays in Scotland this year  🙂
Day 2 we tried again for a boat trip around the firth and were rewarded with partly sunny skies and wonderful views of the 3 bridges, although it was still quite chilly out on the water.  There is really nothing warm about Scotland we have discovered…..even in August!!  We enjoyed the tour around and under the 3 bridges as well as passing by Inchcolm Island, home to many sea birds and a seal colony.  The oldest bridge of the 3 is the Forth Rail Bridge which was completed in 1890 and still today is the second longest single cantilever bridge span in the world, after the Quebec Bridge in Canada.  Roughly 200 trains a day pass over this bridge.  The newest bridge, Queensferry Crossing, opened in summer 2017 and the middle bridge is currently closed for repairs.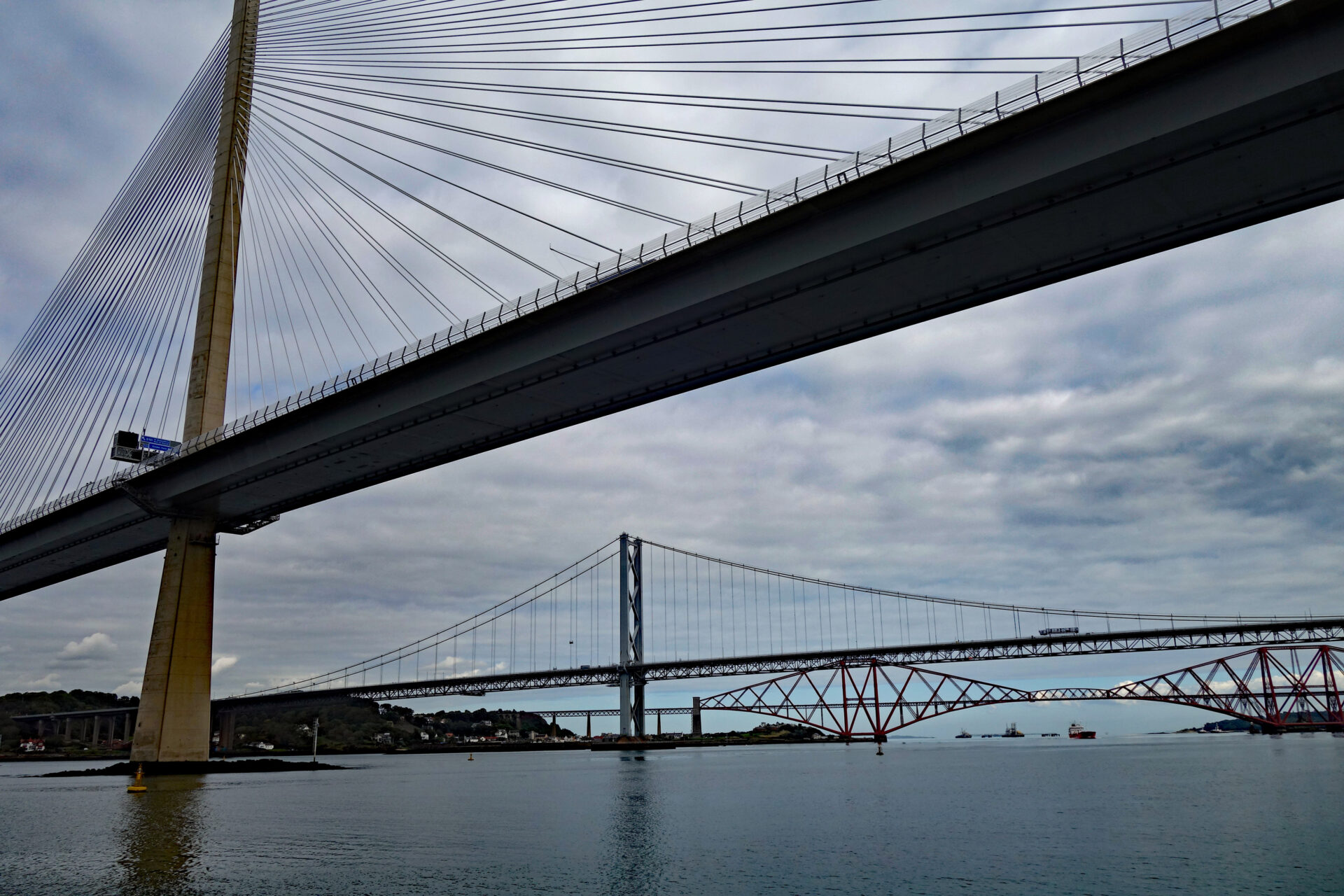 Stirling is a major historic city in Scotland sitting high on a plain where the Lowlands meet the Highlands, and is the location of the biggest battles in Scottish history.  From the castle you can see where each of the three pivotal battles of the 13th and 14th century took place, the most famous being the Battle of Bannockburn where Robert the Bruce succeeded in kicking the British out of Scotland, for a few centuries anyway!  The Castle was the preferred home of Scottish kings and queens in the Middle Ages and one of the most historic castles in Scotland.  It is not the most impressive castle we have seen but it's strategic location and history is it's tourism attraction.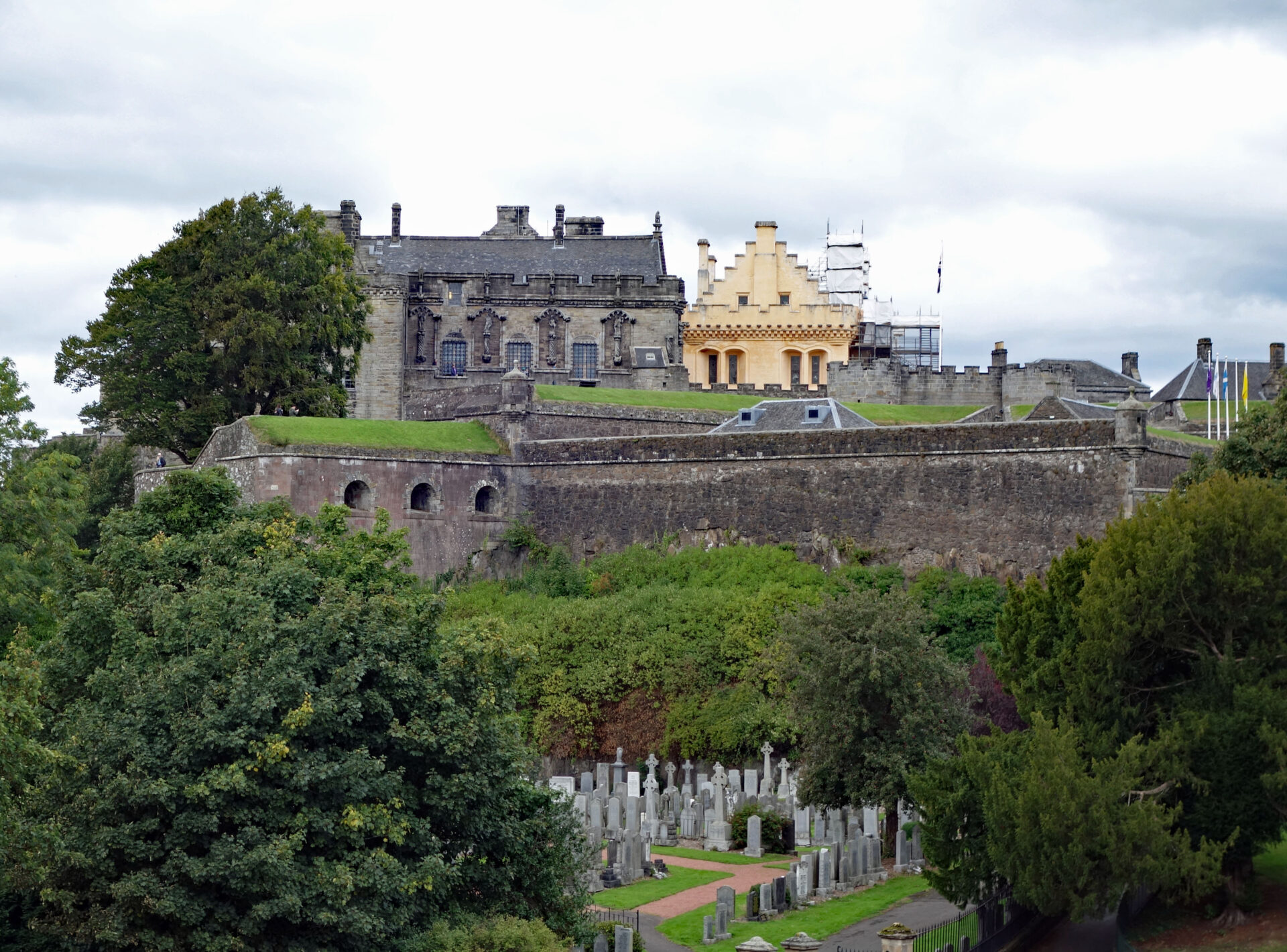 On the way to Stirling we stopped in Falkirk to see The Kelpies.  They were unveiled in 2014 and are the largest equine sculptures in the world.   Kelpies are magical, waterborne, shape-shifting sprites of Scottish lore, who often took the form of a horse.  The statues are over 100 ft tall, very dramatic and a sight to see as you pass by them on the motorway.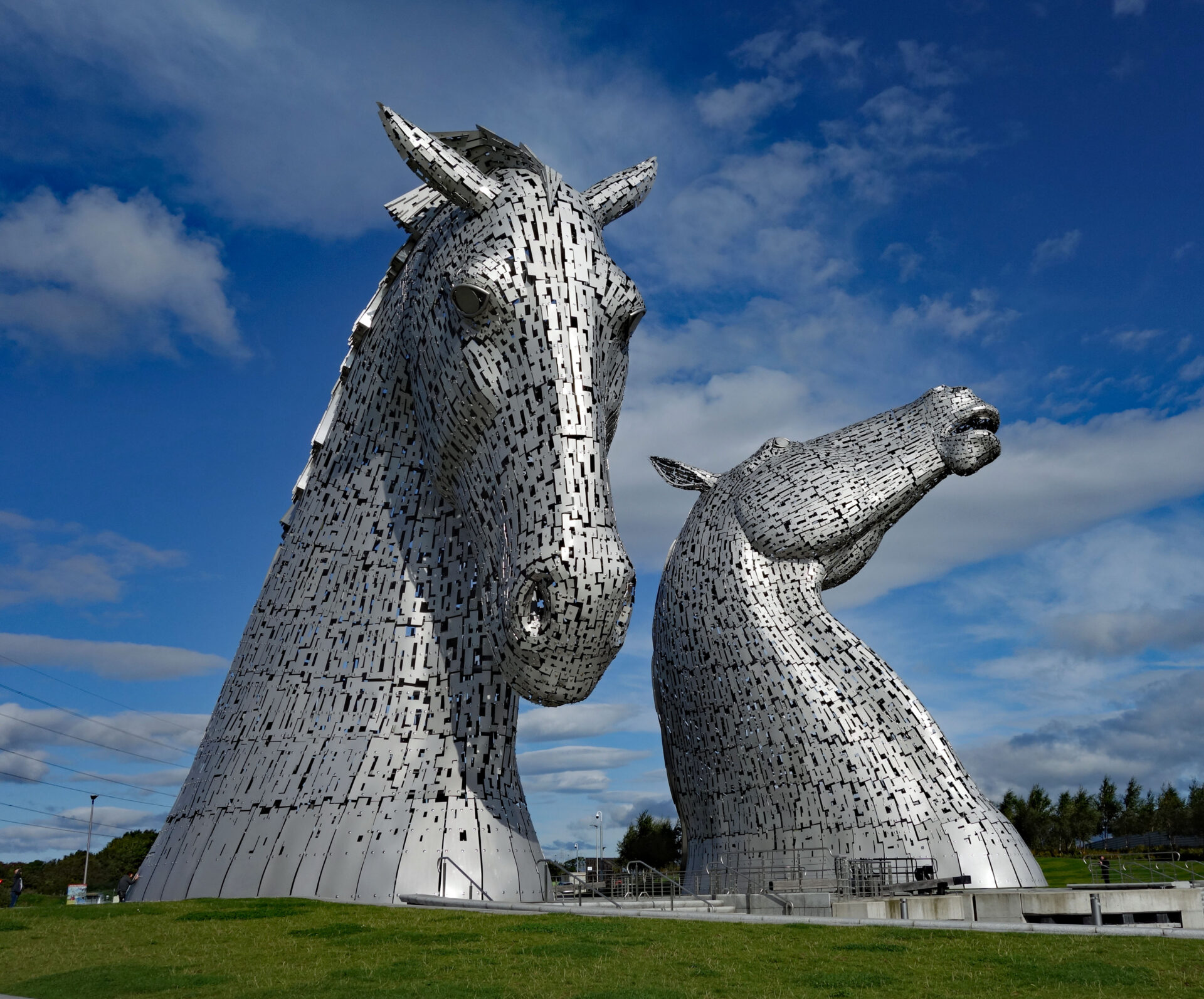 Also in Falkirk is the Falkirk Wheel, a remarkable engineering creation, like a nautical ferris wheel, shuttling boats between 2 canals separated by 80 vertical feet.  Unfortunately no boats were being moved when we visited, it would have been very interesting to see a boat lifted 80 feet in the air to the next canal.  Basically the boat drives into a large bathtub which is then lifted up to the next canal, where the boat drives away.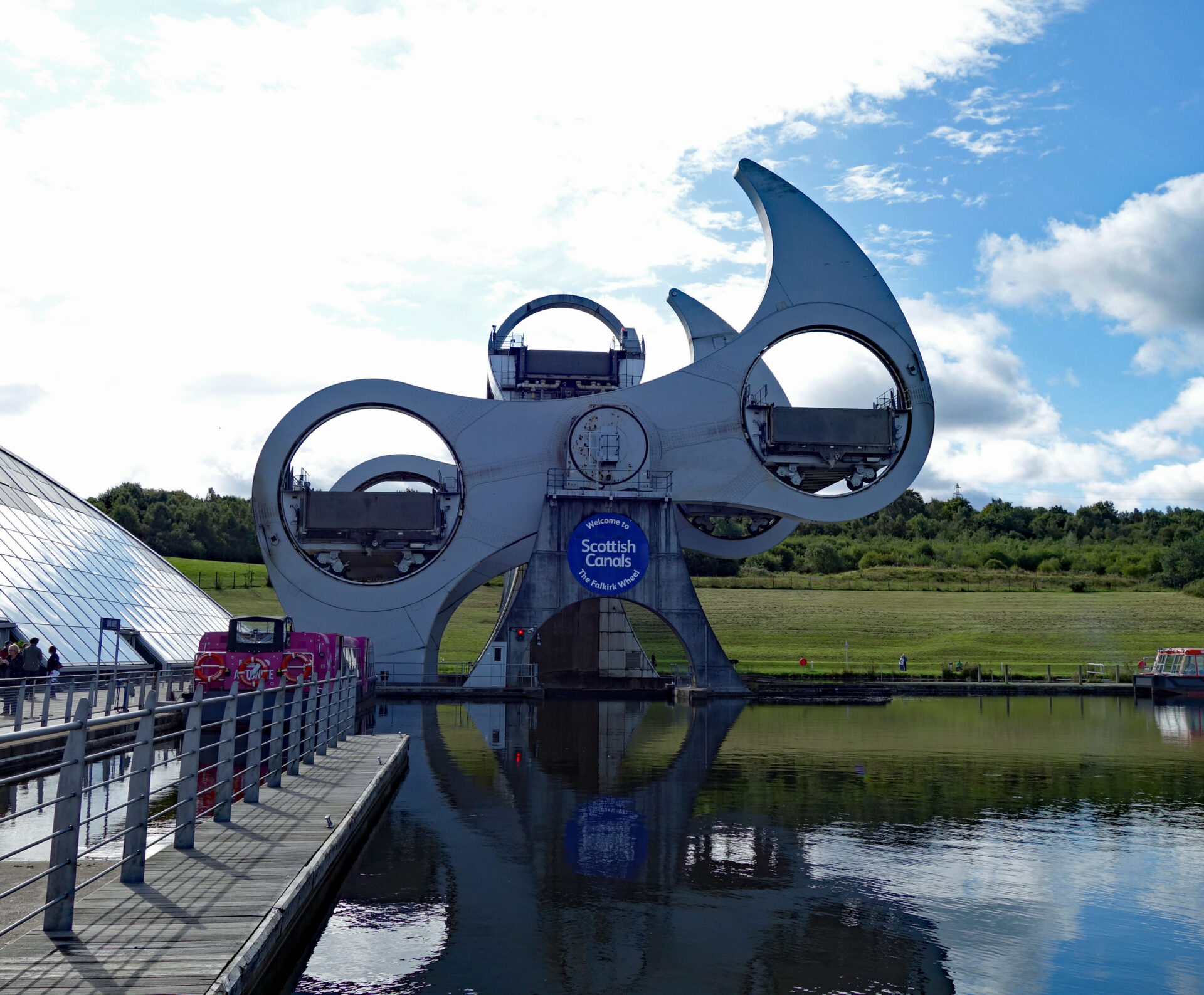 As our time in Edinburgh ends, so does our time in Scotland.  We have thoroughly enjoyed our 3 weeks in Scotland and on one hand wish we had stayed longer, but on the other hand the weather has been colder than expected.  There is a tremendous amount of history and breathtaking scenery to be seen in Scotland and we feel we have only scratched the surface.  Hopefully one day we will return but for now, our march southward continues…..
Travel Tips:
Our free walking tour was with Sandemans New Europe Tours as well as our Edinburgh Castle tour.  Their prices are good and we enjoyed both our guides, Fiona and Angus.
The 48 hour plus bus ticket we bought was through Edinburgh Bus Tours and included a boat tour under the 3 bridges.  They have a good variety of routes and seniors discounts 🙂 The Majestic route comes out to Leith where our apartment was, as is the Royal Yacht Brittania.
Leith is a suburb of Edinburgh with 2 Michelin star restaurants at The Shore as well as many other fabulous seafood restaurants, pubs and cafes.  There are numerous buses into Edinburgh city center, public tennis courts and a Leisure Center with a pool, gym and fitness studios.
St Andrews is under an hour away and a worthwhile place to visit if you have a car.