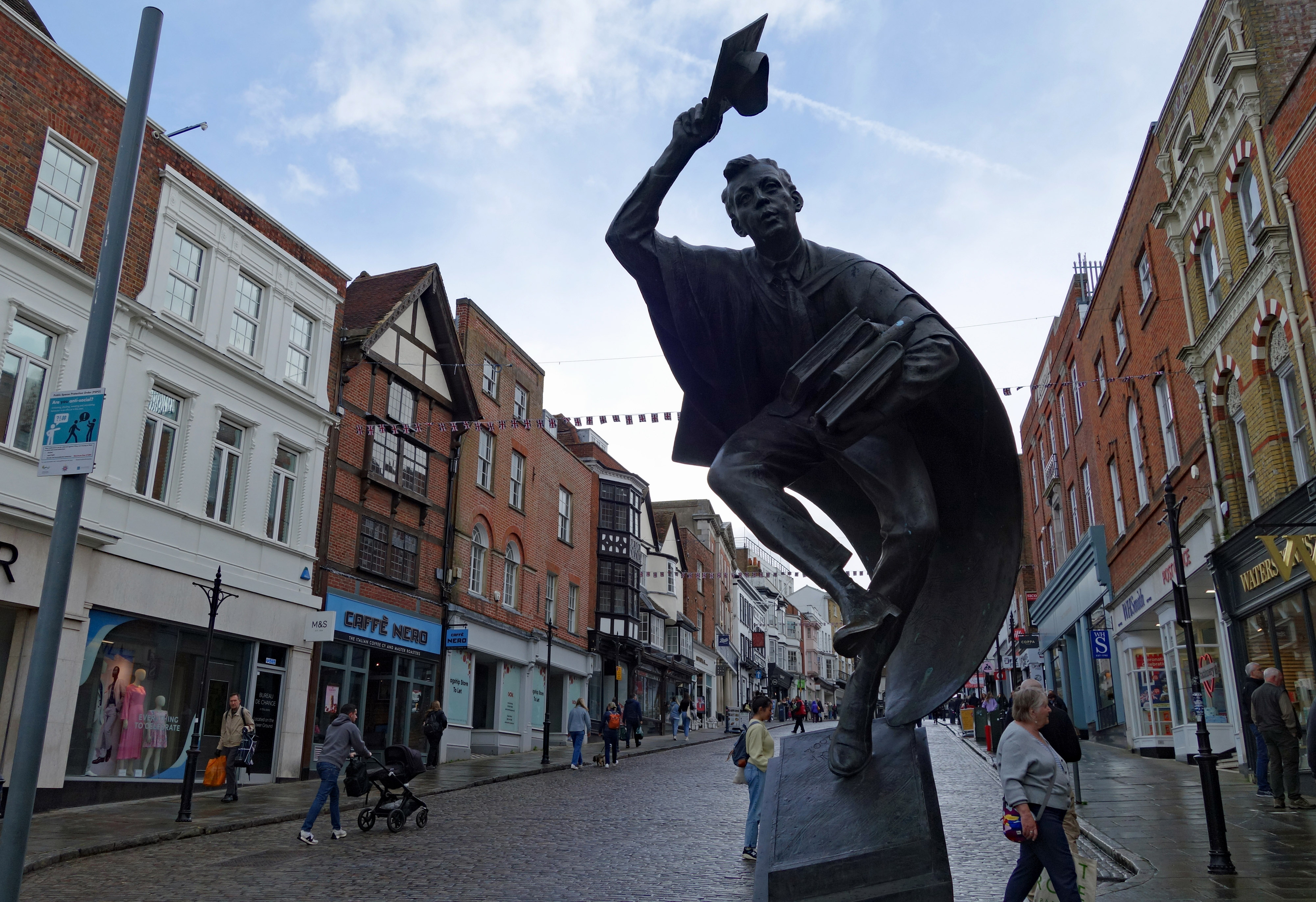 I had been watching airfares for months waiting for the perfect time to book our flight from Calgary to Paris but no good deals cropped up and in fact prices were steadily increasing over time.  Then one day out of the blue Blair found a deal on a flight to London and mentioned that perhaps I would like to stay a few days and visit my cousins.  Well, a good price on airfare plus the chance to spend time with family and I was sold…..that's how we ended up in Guildford, Surrey.  Once the flight was booked I got very excited at the possibility of taking the Eurostar from London to Paris, we have done this in the past and I love that particular train journey.  However, it was not to be this time 😥  It turned out that we landed in London just days before the King's coronation and so many roads were going to be closed that getting to the Eurostar train station from Guildford was going to be nearly impossible.  Reluctantly, we booked a flight from London, Heathrow to Paris to keep travel plans as uncomplicated as possible.
Our WestJet flight from Calgary to London was amazing, not only did Blair find a good deal, it was a first class deal so we luxuriated in our individual pods during the overnight flight.  I gotta say I was very spoiled in my own little pod, with free flowing champagne and excellent meals!!!!  We even got a bit of shut eye and felt not too bad when we landed at Heathrow.  Our luggage arrived with us🙏and once we found my cousin we were on our way to lovely Wood Street Village where she lives.
We have spent a fair bit of time around Guildford over the years so we didn't feel the need to dash around sightseeing and with only 6 days here we kept fairly close to home enjoying family time.  There are so many small towns nearby with lovely pubs it was easy to keep busy, and we did a fine job of it hitting 8 pubs during our visit 😁🍺
Aside from our pub visits we managed a few woodland walks visiting Bluebell Woods, Broad Water Pond and Frensham Little Pond.
The National Trust is a conservation charity which has over 500 historic castles, houses, parks and gardens throughout the UK under their care.  Most of my cousins buy an annual membership, and we have been to a few of the properties in the past, so the day after we arrived we drove south to visit Petworth House.  The house has been a family home for over 900 years and during that time it has been transformed from a medieval manor to the grand Baroque palace it is today.  The house has a chapel dating from the 1300's but was embellished in the 1600's with a number of Baroque details, like the carved wooden curtain above the family pew.  I think the most interesting item on display is the first English terrestrial globe, and only surviving first edition, made in 1592.  One of the most stunning rooms in the house is the "carved room" filled with intricate wood carvings framing the artwork, including a famous portrait of Henry VIII painted from 1543-1547.
Continuing south from Petworth House we made our way to the 16th century Crown and Anchor pub at Dell Quay, part of the Chichester Harbor waterways, to enjoy a lunch of fish and chips outside in the sunshine.  Once fortified we drove a little further west to Bosham Quay located on another arm of the Chichester waterways.  After a walk along the seaside it was time for a quick pub visit at the Anchor Bleu before heading home for the day.
In keeping with our desire to stay close to home we drove to the picturesque town of Shere, under 30 minutes from where we are staying.  We have been here before but it's always worth a revisit.  First off we took a beautiful walk along the stream and through the countryside to the William IV pub…..I know, another pub!!!  Back in Shere we popped into a few shops for a look around then into the Dabbling Duck for coffee and a scone with heavy cream and jam, it was delicious 😋 Afterwards we wandered around the church graveyard to see who could find the oldest headstone, I think I won with one dated 1723, although many of them are so weathered and covered in lichen they are unreadable.
Not to be outdone, my cousin took us to the nearby Saxon Church of St Peter and Paul's dated from 1020, so I guess she won the "oldest thing we saw" competition 😊 This church was greatly rebuilt during the Norman period and the most interesting parts of the interior are a 15th century wall painting depicting St. Christopher and an ornately decorated south chapel.
Before a large family meal planned at, yes another pub, we chose to have a quiet day close to home popping into Guildford for a walk up the high street and around the castle grounds, with a pub drink along the way of course!  That evening 14 of my cousins, second cousins and third cousins met up at the Jovial Sailor for a fabulous evening of catching up. It has been 4 1/2 years since we have seen most of them and the third cousins are growing up fast.  We are fortunate to be able to keep in touch with all of them over the years 💕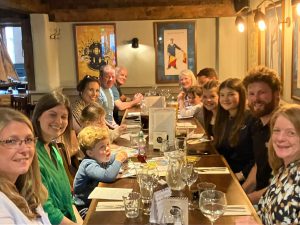 Our final day here coincided with the Coronation of King Charles III and it turned out to be a very wet day so we stayed home and watched the proceedings on the telly.  One of my second cousins came over with his family and we had a lovely day despite being stuck indoors.  And of course, we went out for one last pub meal, this time to The Stag on The River where we have been before.  It's a gorgeous pub in a 17th century historic inn beside the River Wey serving great food, and when the weather is nice it's a picturesque place for a walk along the river.
After what seems like a whirlwind visit we packed our bags and took a British Airways flight to Paris to pick up our lease car and drive to the Netherlands, a new country for us.
I hope we see some tulips and windmills 😁…..