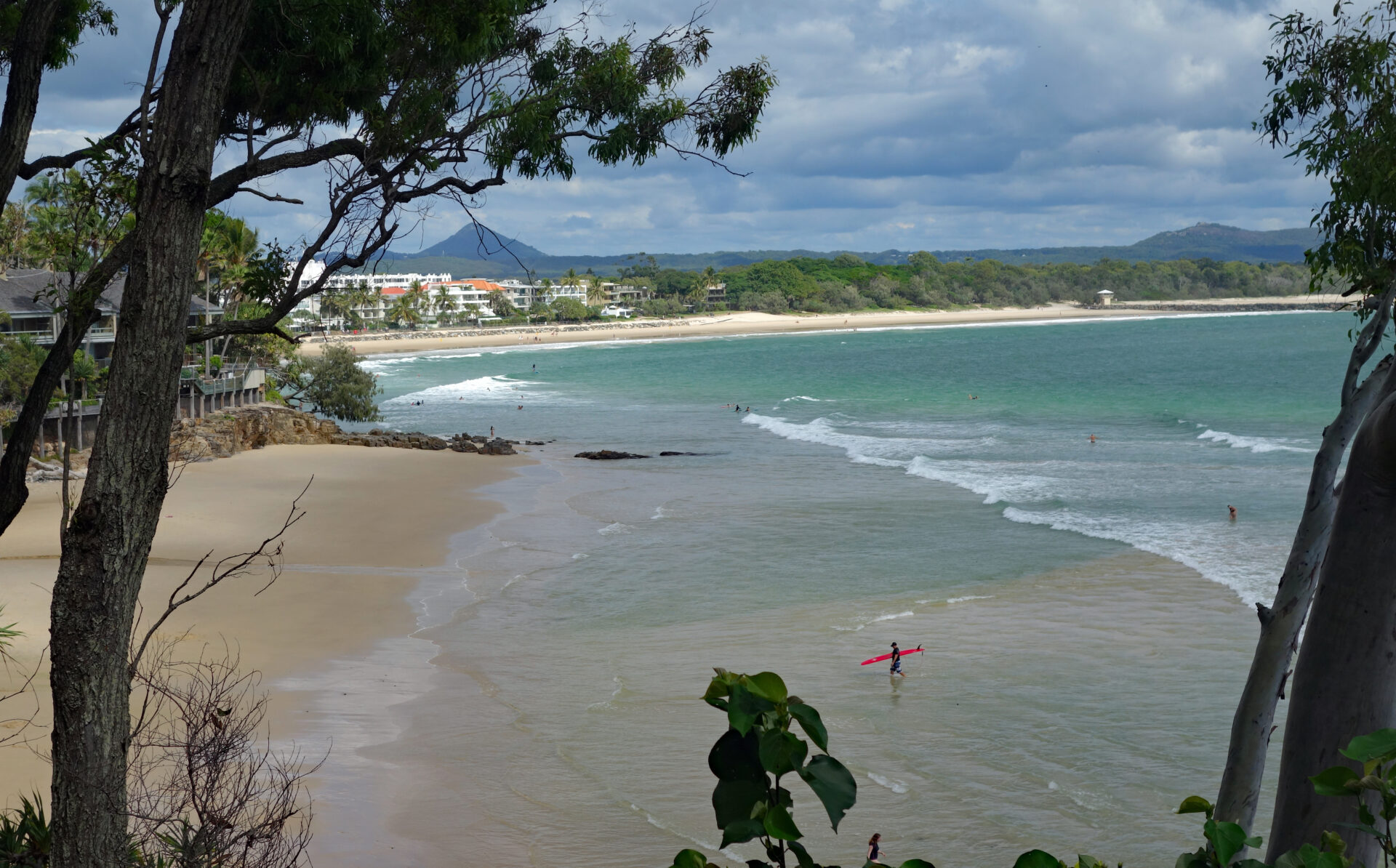 While we are in limbo waiting to hear back from Australian Immigration regarding our visa extension, we should probably not travel too far from the Brisbane Airport in case a hasty departure is required.  The Sunshine Coast fits the bill, close to Brisbane with lots of open beaches to walk and fewer people.  As of today (April 22) Air Canada has no plans to resume flights from Brisbane to Vancouver until September so it looks like we will have to fly or drive to Sydney to get an international flight!  Our rush to get into Queensland state was all for naught now that we have to go to New South Wales to find a flight 😕  C'est la vie, life changes every day for all of us.
So, back to life on the Sunshine Coast.  After a week at the Lake Orr apartment on the Gold Coast we drove 3 hours north, through Brisbane, to Noosa Heads at the northern tip of the Sunshine Coast.  Our original plan was to make our way slowly up to Cairns, however with all tourist sites closed, no ferries running to the islands and a directive from the government not to be out driving unless absolutely necessary, we sadly gave up those plans.  Another thing that helped our decision to stay was the USD $300 car rental had an AUD $700 (USD $450) one-way fee to leave it in Cairns…are you kidding me!!!!
Noosa Heads is a popular beach town, 136 km north of Brisbane.  We chose this location because as well as lovely beaches nearby, Noosa National Park had a variety of hiking trails still open to the public.  Our apartment was in the 5 star Peppers Noosa Resort, not the type of place we would typically stay, but with the coronavirus situation the resort is like a ghost town and prices are down.  It is walking distance to the popular Hastings Street shopping area, albeit currently shuttered up other than ice cream shops, and the local Noosa Heads Beach.  The beach was busy on the weekends with lots of people walking, sunbathing, swimming and surfing.  Sitting or sunbathing is not allowed per regular announcements from the lifeguards to move on if you are not exercising.  We were legal during our beach walks 👍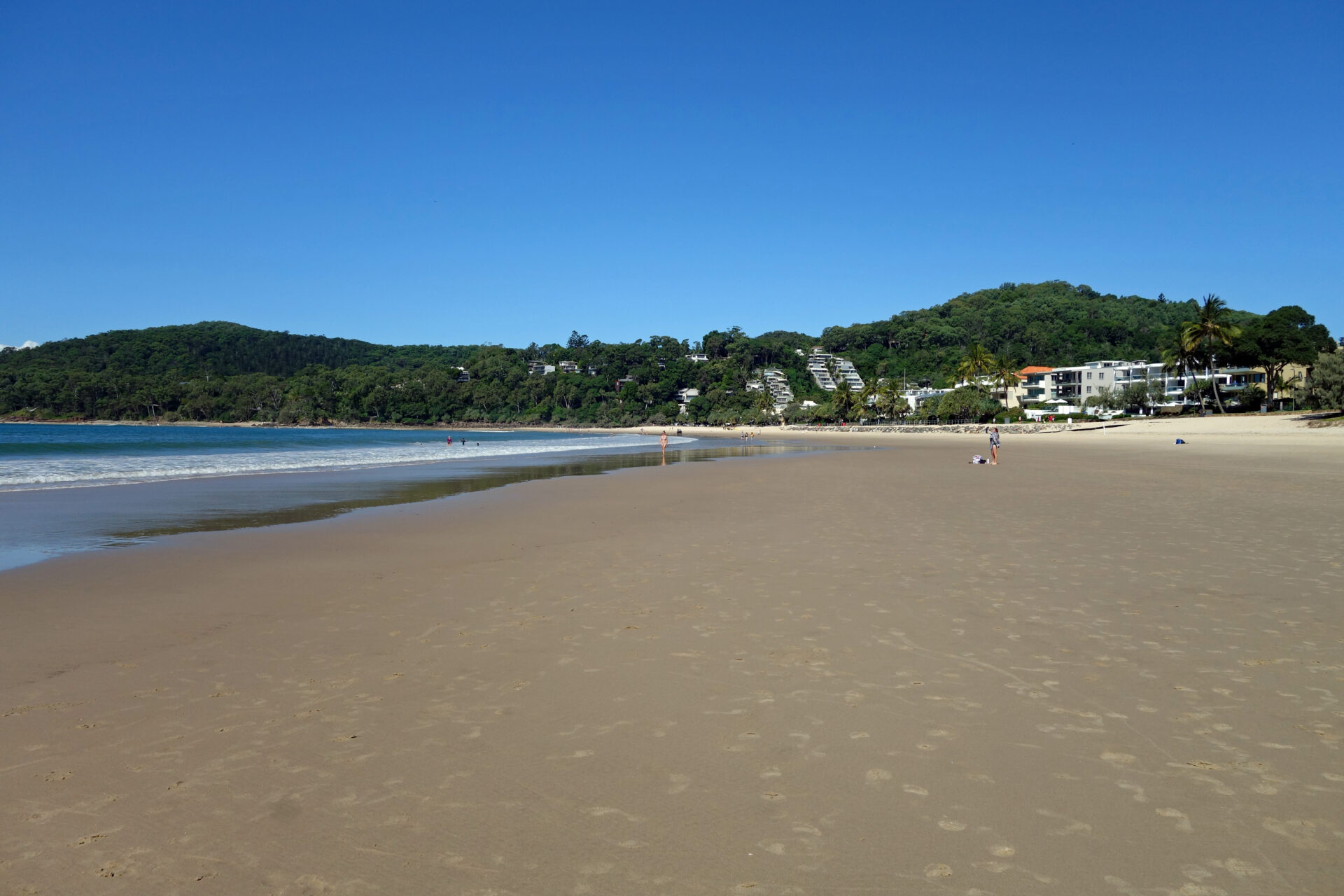 Beginning at one end of Noosa Heads beach is the Coastal Walk track taking you around the perimeter of the National Park, ending at the northern end of Sunshine Beach.  At that point your choice is to return on the same track or, as do as we did and cut through the park, walk through town and back up to the resort.  One section of the coastal walk includes the gorgeous Alexandria Beach, accessible only by foot therefore just a handful of people were here.  It was spectacular!  Carrying on past Alexandria Bay, we crested the hill overlooking Sunshine Beach and saw a parasailer cruising in front of us.  Sunshine Beach was much busier with many people ignoring the stay at home rules  ☹  Total distance walked on this little adventure, 8.1 miles (13 km) 💪  With temps of 80 F and very little shade, it was a hot and exhausting walk but felt exhilarating given how little we are allowed to do these days.
During our coastal track walk we missed a viewpoint I had wanted to stop at, not surprising since it is not marked on the trail, so off we went another day.  An hour walk from our apartment we found the Fairy Pools.  To reach the pools we had to leave the walking track and climb down a rocky cliff.  Not an easy place to get to which is likely the reason it is not marked as a place to stop along the track.  We descended carefully and had no trouble reaching the pools, sitting on the rocks enjoying the scenery and waves crashing onshore.  Much to our delight, we spotted 3 dolphins playing offshore and a couple of turtles as they popped to the surface for air, unfortunately, no pics of the wildlife sightings 🐬🐬🐬🐢🐢
All too quickly our week in Noosa Heads was over.  We loved it here but decided not to stay only because we were in an apartment and wanted a bit more outdoor space.  Our next stop was a large house in Maroochydore, just 40 min south of Noosa Heads.  We have more space, an outdoor patio, numerous supermarkets nearby, a 10 min walk to the beach and bicycles at our disposal.  If we are confined to home it is nice to have a little more room to move around.  Having bicycles and the beach nearby meant we could get out and enjoy the sunshine every day.  Other than beach walks, bicycle rides and trips to the supermarket there is not much to report from Maroochydore.  The beaches here are gorgeous and perfect for surfing and kitesurfing, very popular activities we noticed.
While in Maroochydore our car rental expired so we rented another one, it is less expensive to start a new rental than extend the one we had.  Living on the edge, we booked this car for 3 weeks, hoping to get good news about our visa application 🤞  Brisbane airport, and the car rental agency is just over an hour south of where we are staying.  It was a lovely drive there and back…that sounds a bit sad how much we enjoyed a drive to the airport and back but these are strange times.  On the way back to Maroochydore a sign for the Glass House Mountains caught our attention so we took a slight detour over that way.  Of course, the viewing platform was closed but we did have glimpses of the interesting rock formations jutting up from the orchard-filled valley floor.  The Glass House Mountains are a cluster of 11 hills rising from a coastal plain.  The hills are volcanic plugs, remnants of volcanic activity that occurred over 26 million years ago.  Nearby is the Australia Zoo, founded by famed 'Crocodile Hunter' Steve Irwin and his family.  What a shame everything here is closed, it would be a fantastic place to hike and visit the zoo.
The house in Maroochydore was unavailable to extend our stay so once again we moved at the end of our week, this time just 10 min away to Mooloolaba, a suburb of Maroochydore.  Our duplex is on the river canal system and there are stand-up-paddleboards and bicycles included with the house, some great exercise options.  It turns out that moving every week is not such a bad thing, it keeps us engaged in exploring a new neighborhood plus researching where we want to go the following week.  Mooloolaba is not much different than Maroochydore other than we have different beaches to walk and canals to paddleboard around.  We used the bicycles and paddle boards every day for exercise.  Paddleboarding was an interesting challenge with neither of us having done this in over 10 years.  The last time we tried the sport was while living in Grand Cayman.  It is a good way to work on our balance and core stability, I can happily report that neither of us fell in the canal during our daily excursions  👍  Below are a few random photos from our time in Mooloolaba.
Point Cartwright lighthouse is located near the mouth of the Mooloolah River.  It marks the entrance to the North West Channel, a deep water channel into Moreton Bay and the Port of Brisbane.  This modern-looking lighthouse was built in 1978 and is surrounded by the Beacon Lighthouse Reserve park with a few walking trails and beach access.  The water tank has been painted with lovely underwater scenes turning a potentially unattractive structure into something appealing to look at.
A 15 min bike ride from our house is the 9 km long Point Cartwright beach.  It was the most uncrowded beach we had the pleasure of walking on recently.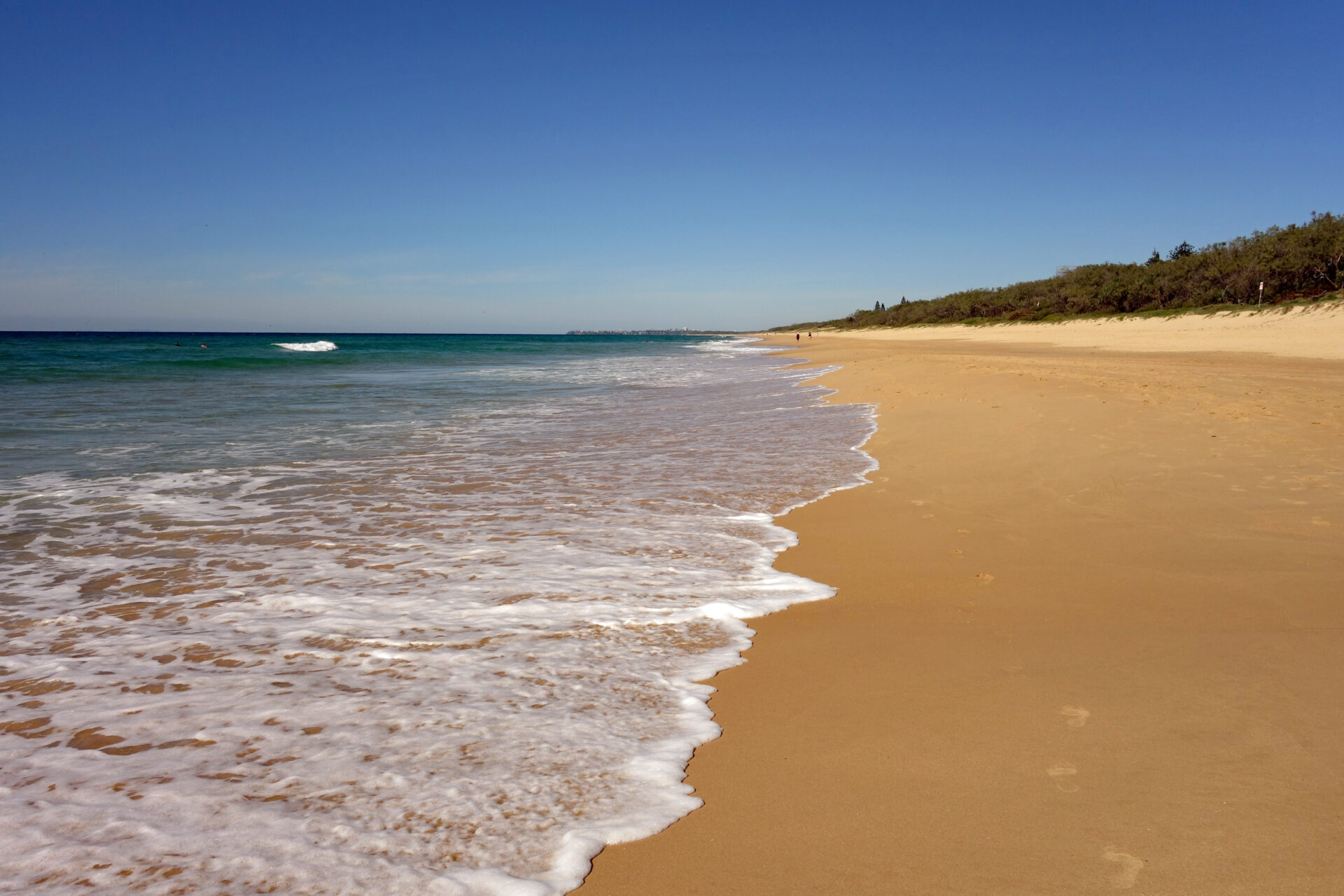 We were enjoying our week in Mooloolaba so much that we extended our stay for 5 more nights, taking us ever closer to the expiration of our 28-day bridging visa and a potentially looming deadline.  A bridging visa is granted for 28 days beyond the expiration of your maximum 90-day visa in Australia when you apply for a new visa or a visa extension.  In theory, your application should be processed during that time.  We are quickly coming to the end of that window with no answer, so we wait…..