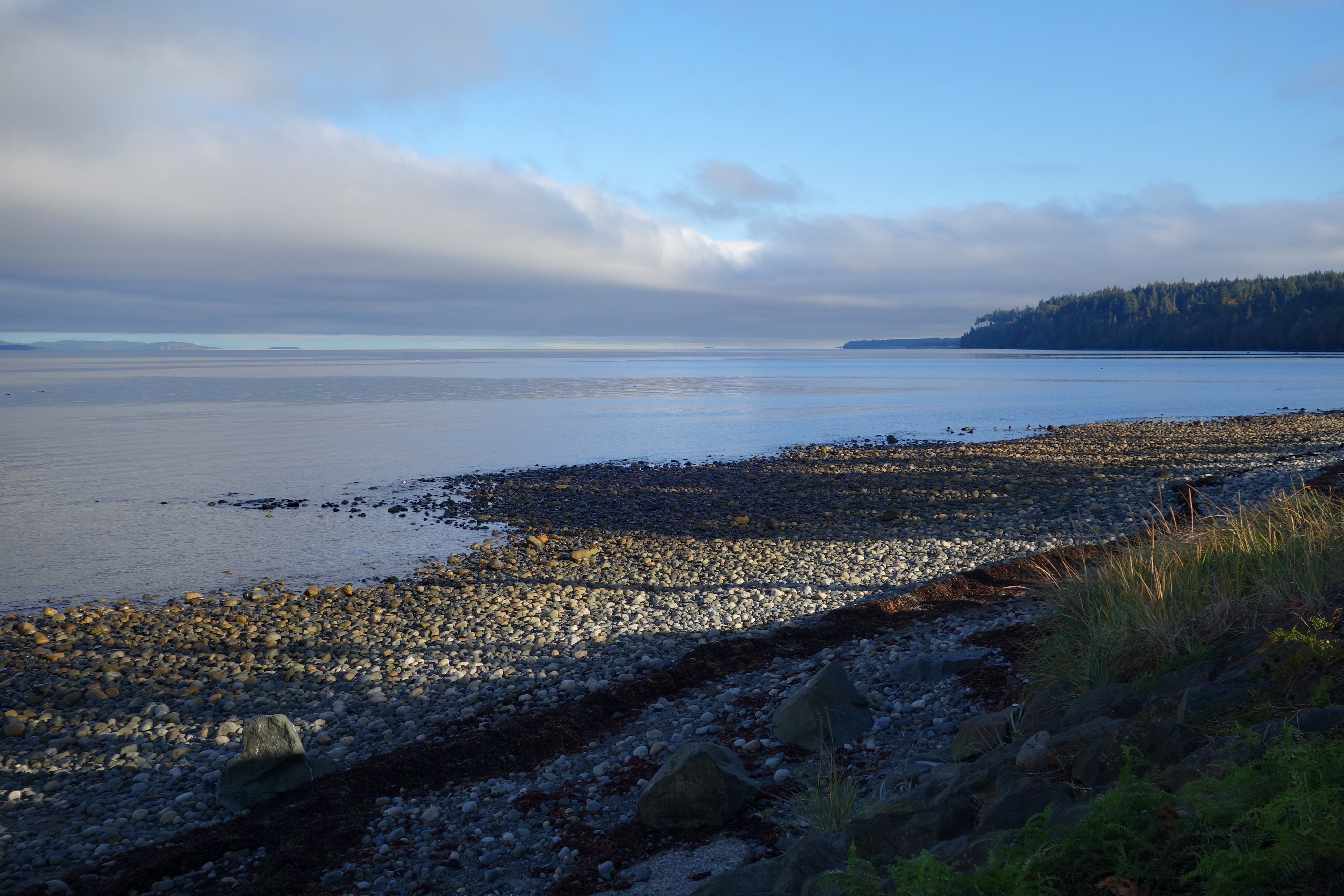 Rain, rain, rain…that was the forecast for most of November which fortunately did not turn out to be true.  Sure most days were cloudy and we had a little rain, but we enjoyed a few days of blue skies and sunshine.  A far cry from the minus 20 Celsius and heavy snowfall that hit Calgary shortly after we left.  Perfect timing to head to the island!
It did not take long to settle into our lovely cottage by the sea.  We rented here in Jan/Feb 2021 and were happy it was available for our second visit.  The management company changed hands between our reservation and arrival, and the property is now handled by By The Beach Vacation Rentals.  When you look at their website and go to "book your vacation" you are re-directed to AirBnb.  We dealt with the previous manager directly so I am not sure if that is possible or not now.  Either way, any of the properties here in Qualicum Landing managed by By The Beach Vacation Rentals would be fabulous.
I have mentioned before that my sister lives on Vancouver Island and spending time with her is the main reason for our visit.  She used to live in Qualicum Beach but this past January moved further north to the city of Courtenay, just under an hour north of our cottage in Qualicum Landing.  For the month of November her guest bedroom became our second home and we spent many a night cooking meals together and playing games after dinner.  Staying overnight gave us the luxury to indulge in wine and not worry about driving home in the dark.  It also gave us the opportunity to attend a Wine Wednesday evening at 40 Knots Winery, one of our favorite wineries and just 10 minutes from my sisters house.  Wine Wednesday includes live entertainment with food truck meals available for purchase 🍷🍷 The menu was limited to just 3 items so we opted to go for dinner at the nearby Griffin Pub, a favorite of my sister and brother-in-law.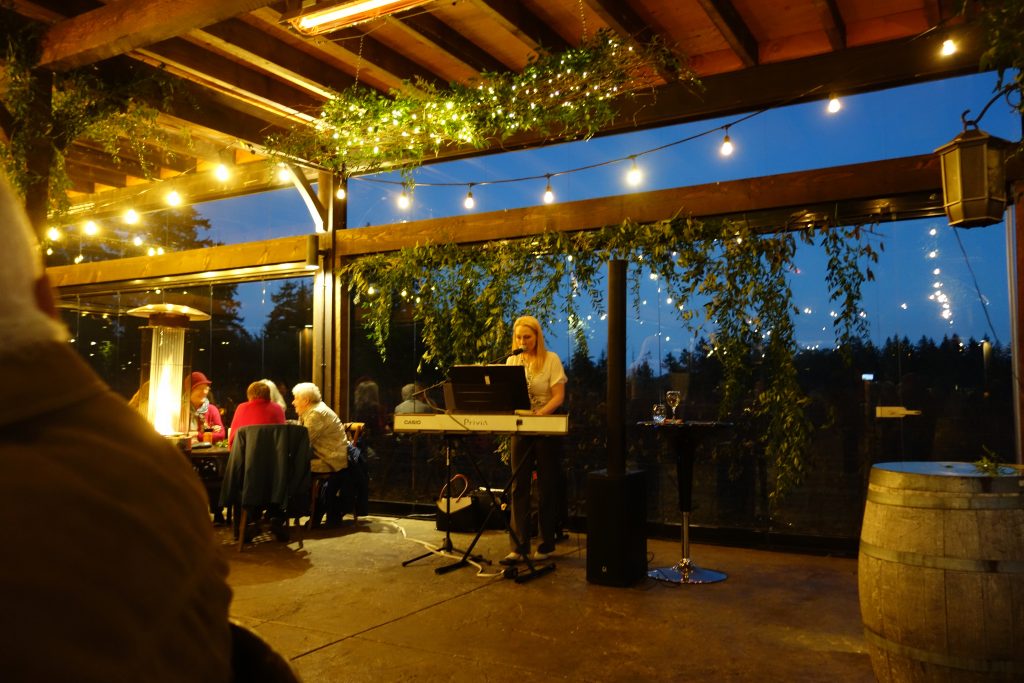 During our many visits to Courtenay my sister and brother-in-law toured us around the area showing a few of the interesting places they have come across during their time there.  One such place was Forbidden Studios, home of the West Coast Chainsaw Artist Kevin Lewis.  The chainsaw carvings he creates are spectacular, and reasonably priced, so if you are on the island and looking for a one of a kind piece of art, this is the place.
My sister and I left the boys at home one afternoon so we could attend a Christmas Market in Courtenay.  Like most small town markets this one showcased the talents of local resident artists.  There were some beautiful art and crafts for sale but a nomads mandate is "only buy consumables" which I adhered to diligently, limiting my purchases to a bottle of Blackberry Port and a bottle of hot BBQ sauce.  Both delicious purchases!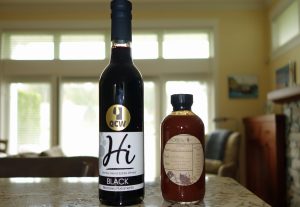 20 minutes from my sisters house is Nymph Falls, a popular local swimming hole during the summer months.  This time of year the leaves are falling and the sunbathers have gone home for the year, but the dogwalkers are out enjoying the network of trails in the park.  I am still working on my walking skills but the 445 meter trail to Nymph Falls was easily manageable, with some help along the way from Blair 💕  We enjoyed a beautiful fall morning breathing in the crisp fresh air of the forest.
The day before we drove to Vancouver Island I was notified my next round of MRI's were booked for November 18th meaning I had to fly back to Calgary for the appointment.  I looked into getting them done here on the island but the wait time for an MRI is 7 months and to do it privately was $3,000 😲 so I booked a quick 48 hour trip to Calgary.  I landed at 4 pm on a Thursday and flew out again at noon on Saturday so my time was short but I squeezed in dinner with my brother in law, lunch with a girlfriend and dinner with another couple of friends.  The entire trip ran like clockwork thanks to folks picking me up at the airport, taking me out for meals, driving me to my MRI appointment and taking me back to the airport.  I am very lucky to have such fabulous family and friends 💕
Flights to Calgary from Victoria are 1/3 the cost of flying out of Comox or Nanaimo so on the Thursday Blair drove 2.5 hours to Victoria airport to drop me off and then 2.5 hours back home to Qualicum!!  48 hours later he drove another 2.5 hours to pick me up but this time we had arranged to visit a friend in Sidney for a couple of days.  It worked out perfect that my flight was in and out of Victoria airport, which is actually right beside Sidney, because we had always planned to come down this way during our month on the island.  Sidney is a lovely little waterfront town we have visited before and where Debbie has lived for many years.  We had a great couple of days cooking fabulous dinners at home, taking walks along the waterfront and driving around the Saanich Peninsula admiring the large estates and mansions along the coastline.  During our sightseeing tour we stopped in to Roost Farm Winery and Bakery for lunch in their cafe.
A few days after returning to Qualicum from Sidney we made one last trip up to Courtenay to see my sister before our month on the island came to a close.  Once again we had a fabulous time cooking, drinking wine and playing games.  We went for a walk in the forest to Tsolum River Spirit Park and then for a look around the stunning Filberg Heritage Lodge.  The Lodge was beautifully decorated for Christmas and all the rooms filled with antiques for sale.  What a magnificent house this is, especially considering it was built in the 1930's
We had to cut our time on the island short by a couple of days and make a dash for Calgary.  A "polar vortex" was arriving from the Arctic and the driving conditions were forecast to be very dangerous over the two days we originally planned to cross the Rockies.  The high mountain roads are treacherous enough in the winter without being blasted by a storm from the north, so we rebooked our ferry crossing and an overnight stay in Sicamous to get ahead of the weather.
We left the cottage at 6:30 am and drove from Qualicum to Nanaimo catching the 8:25 am ferry to Horseshoe Bay just outside Vancouver.  From there we drove as far as Sicamous, arriving at 4 pm, were we spent the night.  Blair's family had a cabin near Sicamous for decades, and we spent many summers there so Sicamous was a familiar place to stop and reminisce.  We completed the second half of our journey to Calgary the next day.  Overall the roads were in good winter driving condition and we squeezed our trip in between two major snowstorms…whew!!!
I can't believe how fast November has flown by, but oh what fun we have had 🥳 We will spend December in Calgary visiting family and friends over the Christmas holidays.  After Christmas we will drive south, escaping the Calgary winter for a few months…..
Trip Tips
We suggest using the website drivebc to plan your route and check the current road conditions.
Pre-booking a spot on the ferries between Vancouver Island and the mainland is easy using the BC ferries website.  It give you priority boarding in case you are traveling at a popular sailing time.