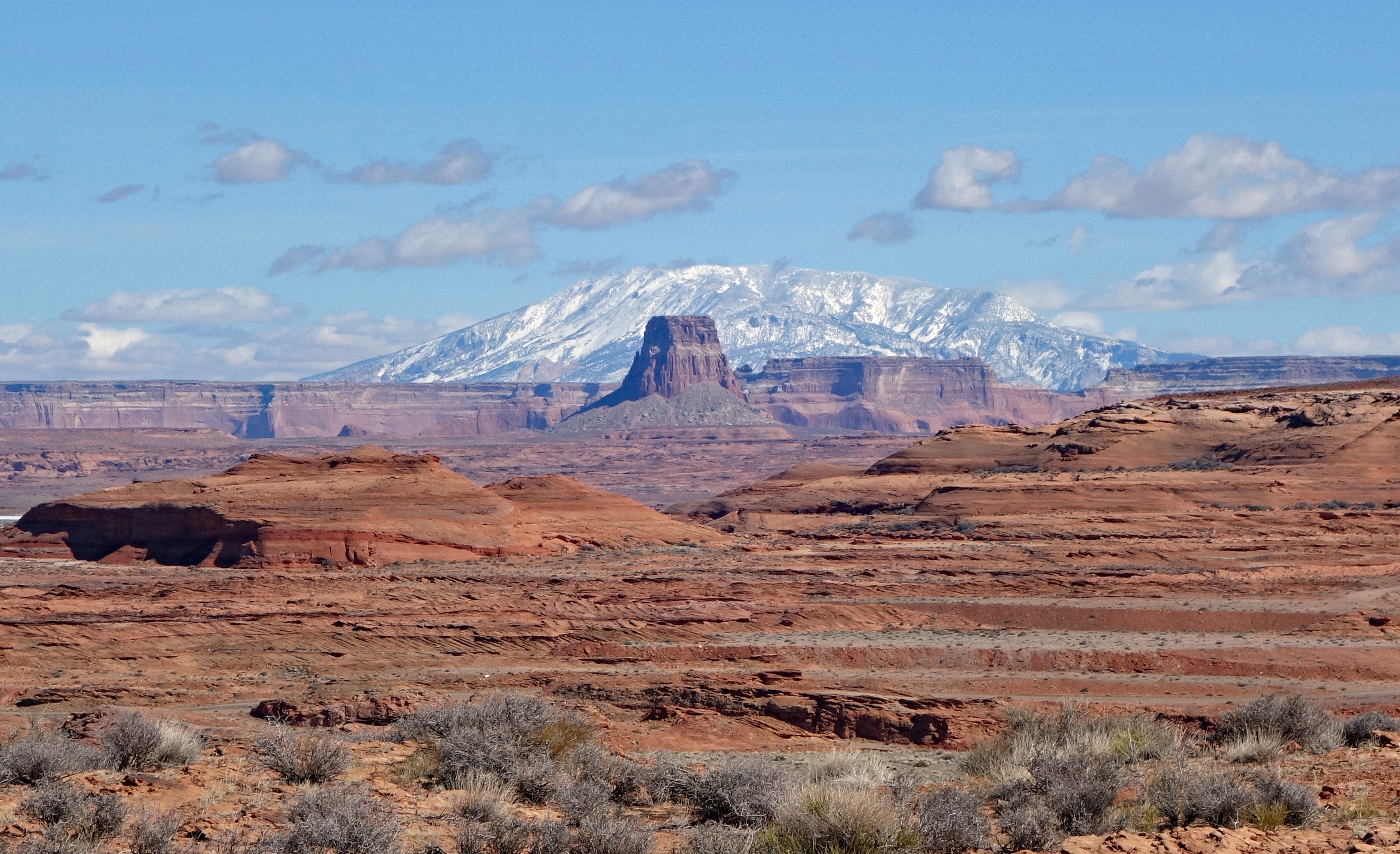 Leaving Puerto Penasco, Mexico we drove for 8 hours passing thru Phoenix and Flagstaff, finally arriving in Page, Arizona. We stayed overnight here on our way to Phoenix in early January and were so impressed with the scenery around here that we made plans to come back. The red rocks, slot canyons, hikes, lakes and viewpoints are the attraction for many tourists. Being here in March it's not too busy yet, nor is the weather overly hot.  In fact, it's still downright chilly with high temps during our five day stay hovering around 11 Celsius and close to freezing in the early morning.
There are so many attractions close to Page that we knocked off four of them in our first day out sightseeing!  Our first stop was Horseshoe Bend, the iconic viewpoint featured in almost every advertisement for Page.  Horseshoe Bend is located in the Glen Canyon Recreational Area and the City of Page charges USD $10 to park your car.  From the parking lot it's an easy 20 minute walk along a well maintained gravel trail to the viewing platform.  Here you can see where the Colorado River has created a 1,000 ft deep canyon and 270 degree sweep around a large sandstone cliff.  There is access to the canyon rim on either side of the viewing platform, but one misstep and it's a long way down!!  We saw a few folks precariously close to the edge and I wondered how many people have fallen over the edge?  We spent close to an hour soaking in the scenery and waiting for the sun to get higher in the sky. As a visitor you will never get the iconic shots shown in the tourist brochures because they are taken with a drone, prohibited for the public, but the view is well worth the walk.
Next was the Glen Canyon Dam overlook reached by a short hike down a set of stairs carved into the rock. There is a railing all the way down for anyone who may have a challenging time with the uneven stairs.  Once you reach the viewpoint you have a clear view of the dam and bridge over the canyon.  The dam was built from 1956 to 1966 creating Lake Powell, one of the largest man made reservoirs in the USA.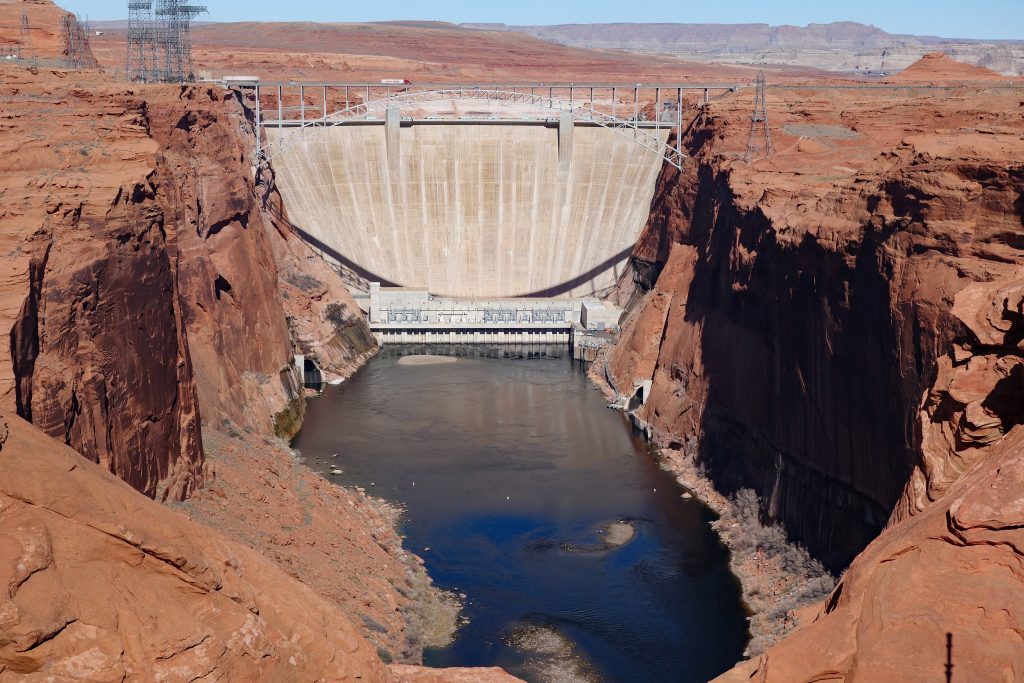 We popped back to our Airbnb for lunch before heading to our third location, hiking the Beehive Loop.  A short drive across the canyon from Page there is a small parking area across from the Beehive Campground, from there you will see the start of the 1.5 mile loop trail.  Someone has marked out a wide pathway, using stones, around and over the rock formations making it easily navigable.  The rock formations are made of Navajo Sandstone and reveals incredibly fine detail and cross bedding.
The final stop of the day was the Wahweap Overlook, for fantastic views of Lake Powell and the surrounding landscape.
Around Page there are a number of slot canyons which can be visited but many of them are on Navajo land so you cannot access them without permission and via an organized tour.  On the recommendation of a friend we booked with Taadidiin Tours to visit Antelope Canyon X.  For our 11:40am time slot there were 36 people, separated into 3 groups of 12, bussed down to into the canyon.  When I commented that this seemed like a lot of people the guide said that Upper and Lower Antelope Canyon tours take up to 120 people down at a time 😲  So, no complaints that there were 12 in our group, and we only briefly ran into the others during our tour of two slot canyons.   Canyon X is a lesser known part of the larger Antelope Canyon system, but still stunningly beautiful.  During flash floods the water rushes through the narrow slot canyon at up to 80 mph scouring the soft sandstone into beautiful designs 💕 Because Canyon X is deeper than the other sections of Antelope Canyon you need to be there mid day for the sunlight to reach into the canyon and highlight the vast array of colors in the rock. It was a great tour!
On our final day in Page we planned a drive to Kodachrome Canyon, 90 minutes away.  Unfortunately 1 hour of that drive was on a sand road through the desert and it became slick and muddy in a few sections.  I was not comfortable carrying on and risk getting stuck in the middle of nowhere so we bailed on that plan.  Heading back towards Page we saw a sign for the Toadstool Hoodoos Trail and decided to give it a try.  What is a Toadstool?  It's a spire like feature with a boulder perched atop a pedestal rock, like a mushroom or toadstool.  It forms when softer rock erodes away, leaving a column sheltered from wind and water by the rock above.  The trail is a 1.8 mile out and back moderately easy hike ending in a small canyon.  The first toadstool you see is a giant red one, seen in many guidebooks and posters.  Just behind here is an area with patches of mushroom like rocks and sheer canyon walls.  For a last minute decision, it was a really pretty walk.
We have thoroughly enjoyed our brief visit to Page and are glad we decided to come back here, it would be easy to stay longer and explore the area in more depth.  Our next destination is Kanab, Utah only one hour away and surrounded by more canyons and National Parks to visit…..