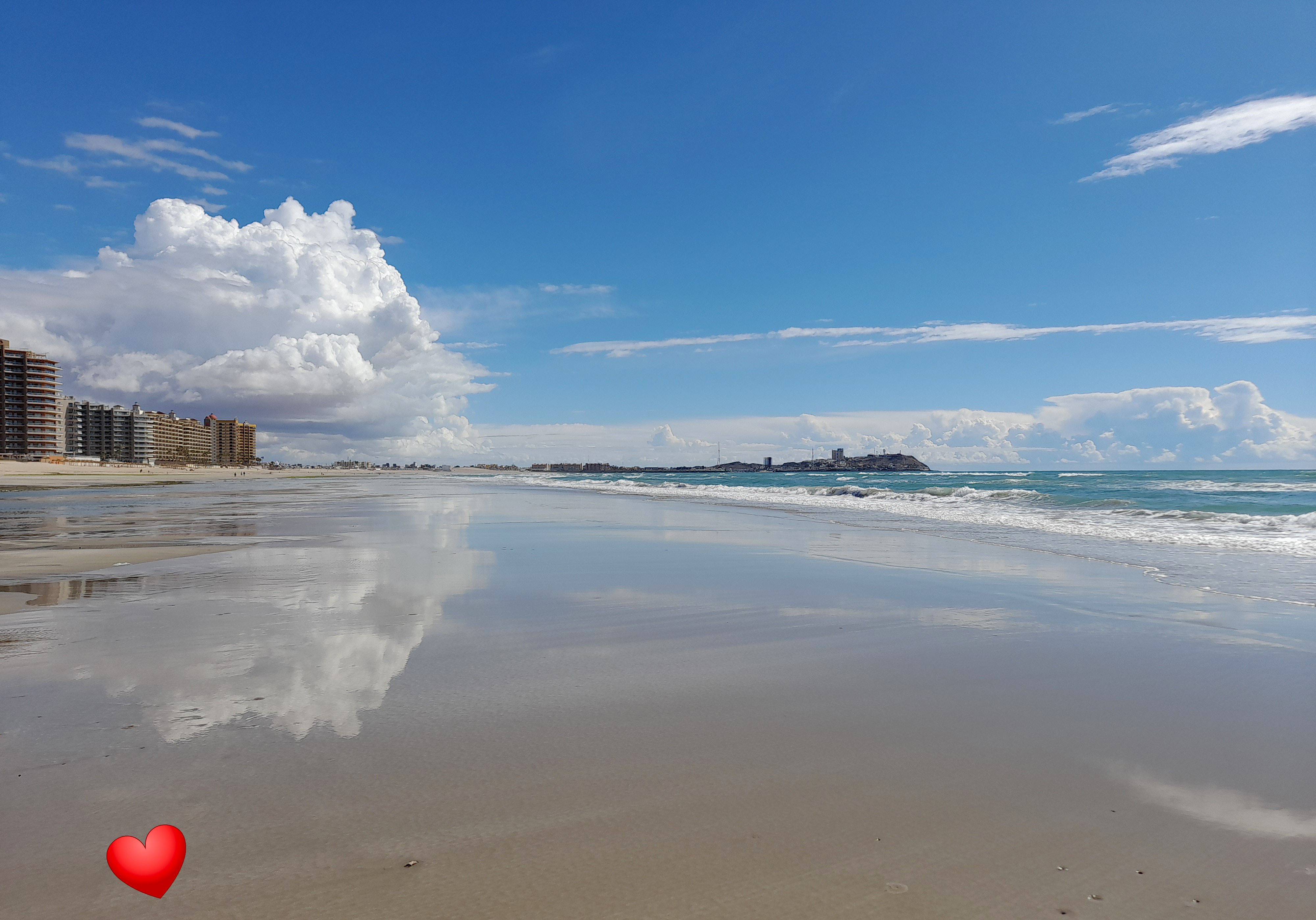 When we were looking for somewhere warm to go after Phoenix, Blair's brother mentioned they had visited a place 4 hours south of Phoenix called Rocky Point, just outside of Puerto Penasco.  The town of Puerto Penasco sits at the very northern tip of the Sea of Cortez and being lovers of water the location sounded perfect for us.  We found a condo on the 9th floor with fantastic sea views and we were hooked.  The photo below is the view from our balcony 💕😎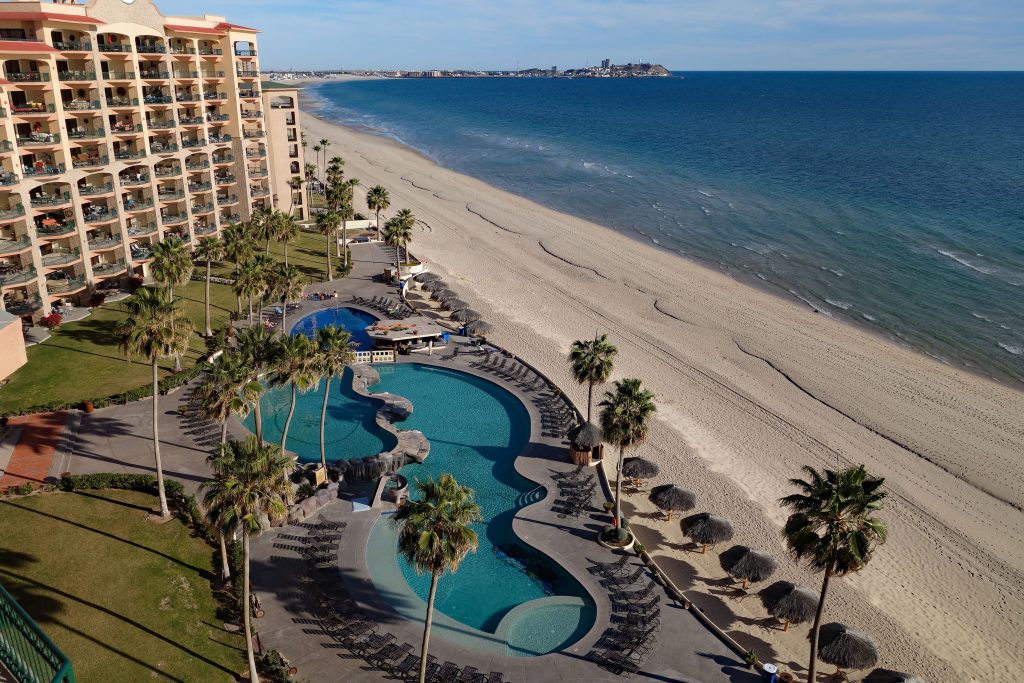 The drive from Phoenix to Puerto Penasco takes around 4 hours, crossing the border at Lukeville on the USA side.  We arrived late morning on a Friday and the border was not too busy, maybe because it is still January and not the busy season yet.  We were waved through the border crossing without stopping or anyone even asking for our passports!!  I had to check when we got to our condo if this was legal or we made a mistake somehow, but was informed that it's usually no problem getting into Mexico but we will be checked a little closer once we return to the USA.
The area we are staying is a stretch of hi-rise condo's along a beautiful white sand beach, and aptly is called "sandy beach".  The town of Puerto Penasco is a 10 minute drive away and has a couple of large supermarkets.  Restaurants are plentiful around the resort area and in town.  This is a very popular getaway for Arizona residents so it can get a bit noisy around here on the weekends.
We have a well equipped gym located on the second floor of the resort so it was time for us to get back to working out again after not finding a suitable gym in Phoenix.  Having a gym with an amazing view definitely helps with the motivation 😁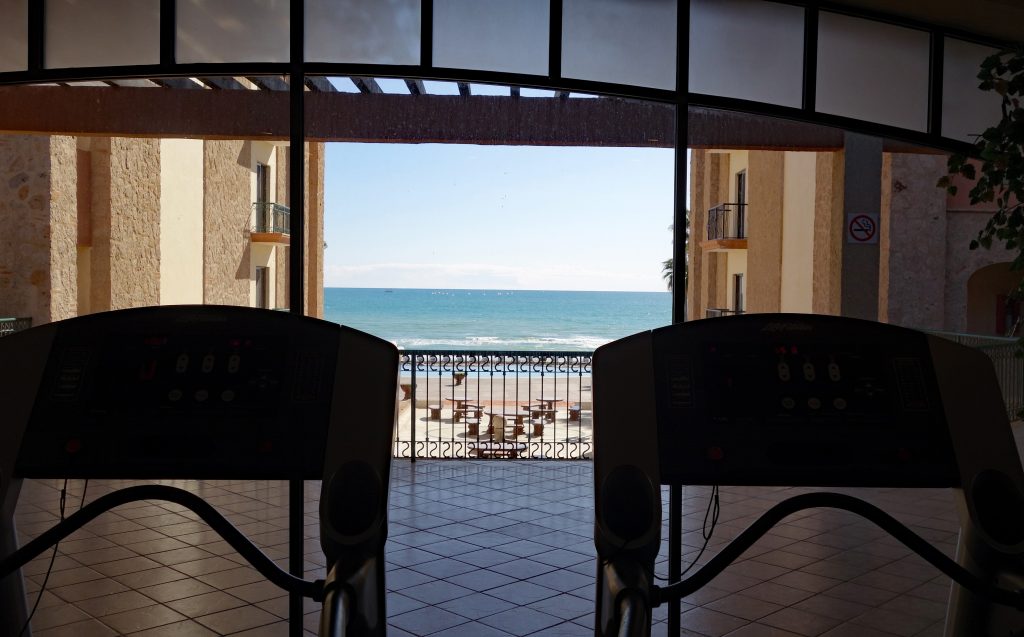 There are three golf courses in the area and we tried them all out.  Our first outing was to the Islas Del Mar Golf Club, a 15 minute drive from the condo.  They have a Seniors Sunday special, which worked out to just over USD $100 for the two of us, for 18 holes, and included an electric cart.  Unfortunately the first day we golfed, there were gale force winds coming off the water and we were sooooo cold!!!!  Their website is also a bit misleading as they advertise 18 holes that wind alongside saltwater lagoons when it's actually just 9 holes that you play twice!  Regardless, we thought the course was in good shape and worth a second try…on a less windy day.  Our second outing to Islas Del Mar Golf Club was a completely different experience, we had clear blue skies with no wind and we really enjoyed our round of golf this time.  The photos below are from our sunny day, I was too cold to take pictures the first time we played there 🥶  We ended up playing here 3 times during the month, mostly because of the seniors pricing.
The other golf course that caught our attention was the Jack Nicklaus designed Vidanta Puerto Penasco course, a 45 minute drive from our condo.  This 18 hole course is on a gorgeous peninsula beside the Sea of Cortes and is possibly the most difficult course we have played.  The course is filled with sand traps (87 of them) and a few water hazards but the biggest problem is the owners have not bothered to print the layout of each hole anywhere!!!  No pictures at the tee boxes and no pictures on the score card left us guessing where on earth the greens were 🤔  There is a scorecard with pictures on their website, but it's not the one you get when you arrive so we struggled a bit during our game.  Despite this, the course is magnificent and the views along the seaside holes are breathtaking.  We were surprised nobody is here, we saw at most 6 other people during the 4 hours we were there.  Blair found some tee time deals and we paid USD $105 for the two of us, including a cart, which in my opinion is a steal for such a fantastic course.  We used the golfnow.com website to search for available tee times and they charge a convenience fee to use their booking service.
The third golf course we tried was Las Palomas Golf Resort, the one closest to our condo and the most expensive of the three at USD $122 for both of us.  This course is situated behind a condo complex and straddles the road between Puerto Penasco and our condo.  There were pictures of the holes at all but one of the tee boxes but nowhere did it state what par for the hole was, not on the signs by the tee boxes nor even on the scorecard 🤔 Of course the scorecard shown on their website has par for each hole noted!  We enjoyed our game here and thought the course was in good shape.  It was the most popular of the courses we played, probably due to the proximity of all the condos.  We played here a second time when Blair's brother and his wife popped down from Phoenix to visit us for a few days.
The beach here is gorgeous and at low tide a great place to go for long walks, this was probably the favorite part of our time here.
We have enjoyed watching the wildlife during our time here both at the beach and the golf courses.  There are many large Osprey around here, squadrons of Pelicans flying over the sea, Egrets, Dolphins cruising past our balcony, Hummingbirds (attracted by our neighbors feeder) and a few Hermit Crabs seen during our beach walks.
This really should have been an idyllic month to relax and enjoy the beautiful ocean views but our time here was spoiled by the building construction going on.  It turns out that all the balcony railings on the building were being replaced during the month we were here.  We had to put up with grinding, hammering and construction dust for 3 of the 4 weeks we were here ☹️ The hosts warned us that the workers would need access through our condo for 4 or 5 days but no mention was made of the loud noise that went on constantly for 3 weeks.  We tried to leave after 12 days but the hosts refused to give us a refund so we could move, and having paid well over our budget for this place we had no choice but to stay, or throw away a few thousand dollars to find another place for 3 weeks!!  We should have bailed in December when the hosts called us to notify us of the construction, but hindsight is 20/20, plus they downplayed the situation so we wouldn't cancel 😡
So back to Arizona we go for some peace and quiet…..