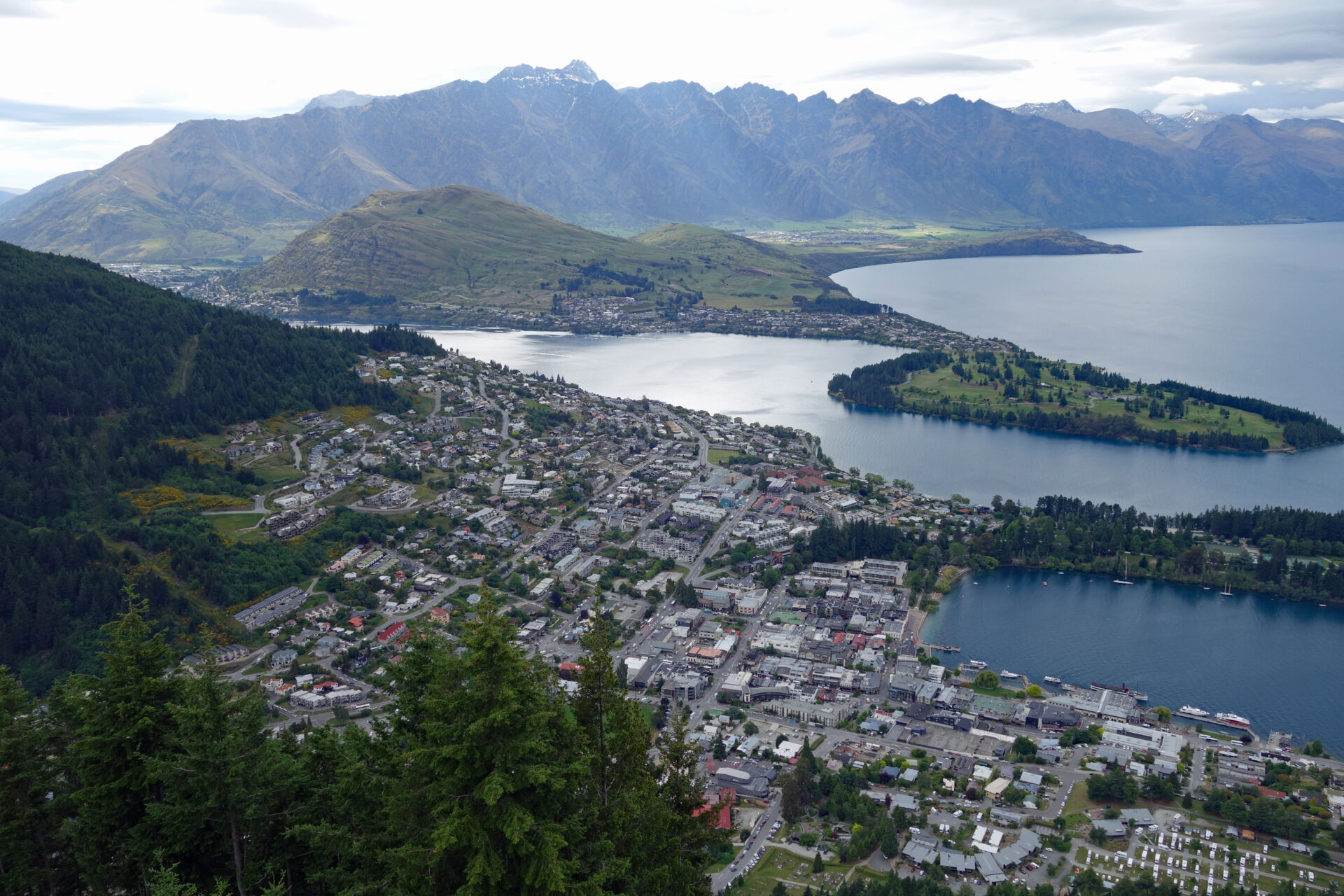 The urban population of Queenstown is just over 16,000 and it is a major center for sports, notably skiing, snowboarding, bungy jumping, mountain biking, tramping, skydiving and paragliding.  The town itself is filled with tourists, hip places to eat and adventure experience companies on every corner, generally with long lineups everywhere.  Leaving Wanaka we had an easy drive of just over an hour to reach Queenstown, our route taking us on the Crown Range Road over a high mountain pass with sweeping views of the valleys and Queenstown in the distance.  We were fortunate to see a plane flying in the valley below us on it's way to landing in Queenstown.  The Crown Range Road is the highest sealed road in New Zealand topping out at an elevation of 1,076 metres, an easy drive in summer but in winter snow chains are a must.  The first tourist trips over the pass were in 1877 using horse drawn coaches, that must have been quite the ride!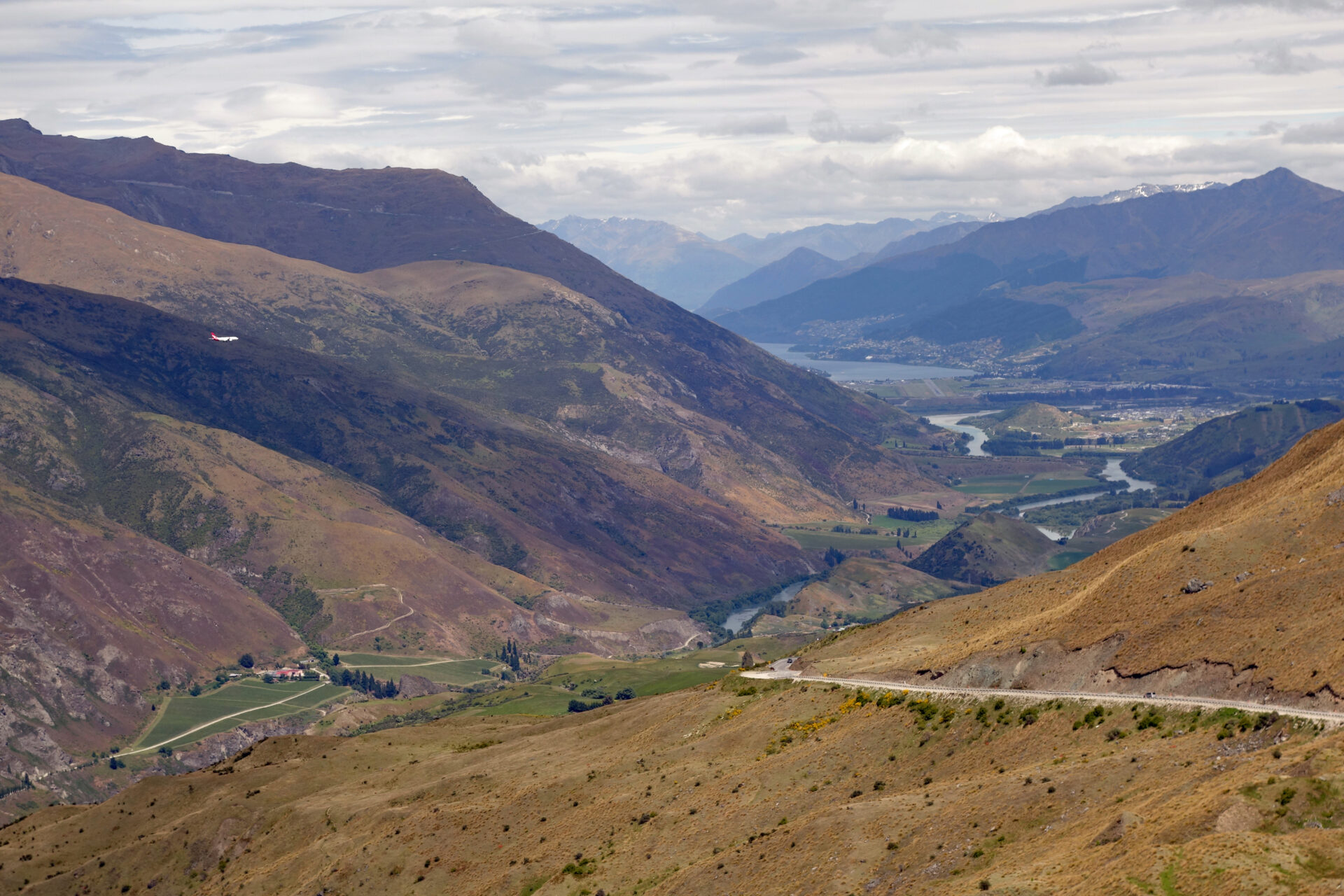 While Queenstown is world renowned for it's abundance of outdoor adventure activities it is situated in the Otago wine region, famous on the world stage for it's Pinot Noir wines and reportedly the southernmost wine region in the world.  Well, what better reason to head to the Gibbston valley in search of wineries and to enjoy a few tastings 🍷 Our first visit was to the Kinross Cellar Door Wine Tasting, the official wine tasting venue for six high end boutique wineries in the area.  We tasted one white and 4 red wines at a cost of NZD $15 (USD $9.80) each which is expensive for the small tasting amounts they poured.  Granted the wines are expensive so they pour very little but it was not what we expected from recent winery visits.  Still, we enjoyed our time there learning about the wineries in the area from our sommelier who hailed from Montreal, Canada.  Our second winery visit was to Wet Jacket Wines, definitely more suiting our palate, and pocketbook.  The wine tasting cost NZD $5 (USD $3.27) and was informative and fun as we shared the experience with a newly married couple from Australia.  Wet Jacket is a small vineyard so you will not find their wines anywhere else other than at the winery, how's that for exclusive.  Within the cellar building is a tasting room for Whitestone Cheese, and we do love our cheese 😊  We bought two of their delicious cheeses, first the Vintage Five Forks which is a 50/50 blend of goat's and cow's milk..creamy and bursting with flavor!!  Our second choice was the aged Cheddar, always a favorite of ours.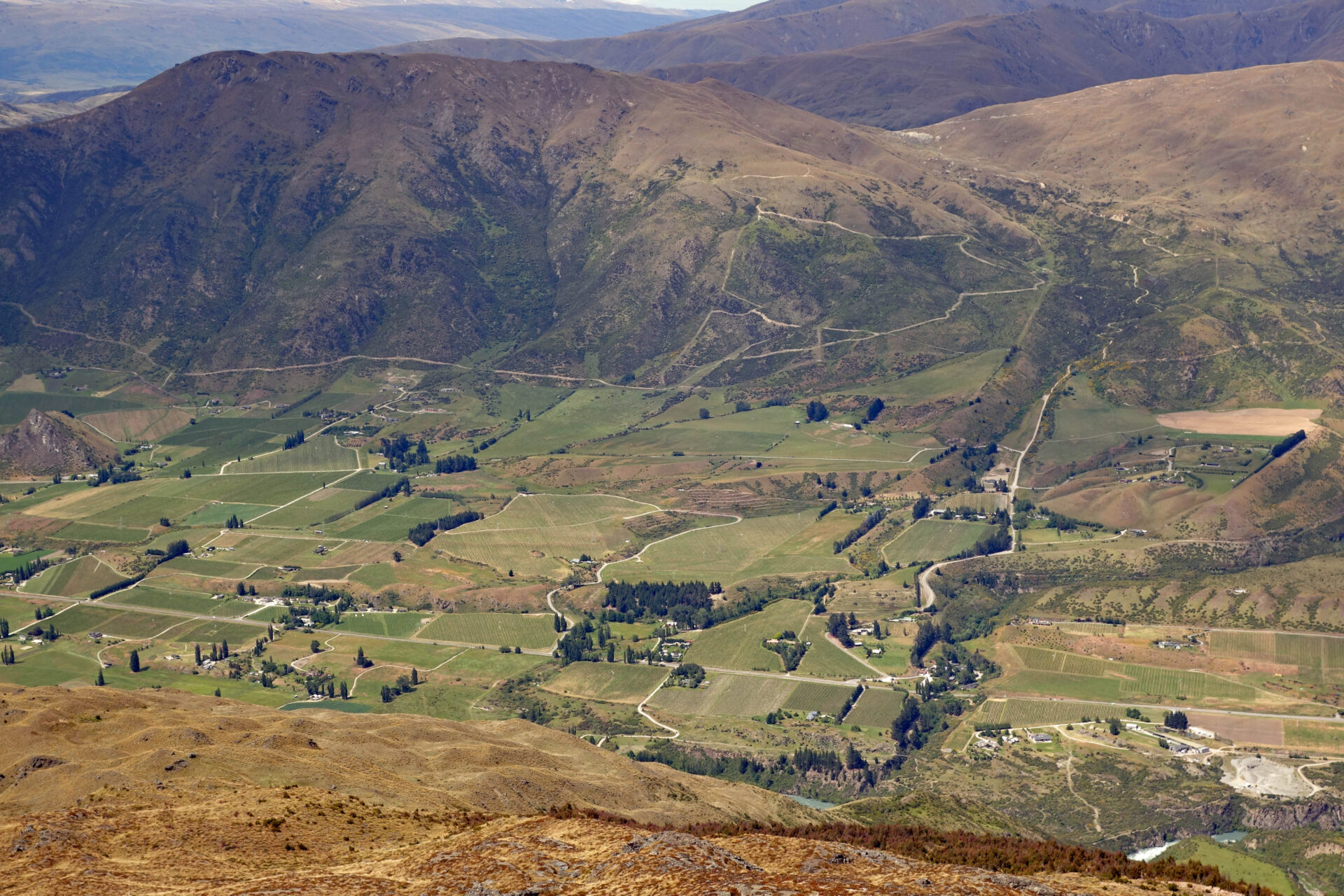 If you are spending any time in Queenstown, a side trip to Glenorchy at the northern end of Lake Wakitipu is an absolute must.  It's an easy 45 minute drive each way to this lovely little lakeside settlement, but the road there is downright gorgeous.  There are a number of lookouts along the road that offer spectacular views of Lake Wakitipu and The Remarkables mountain range.  On the day we went the lake was flat calm and dazzling with it's many shades of blue against a backdrop of snow capped mountains.  WOW!!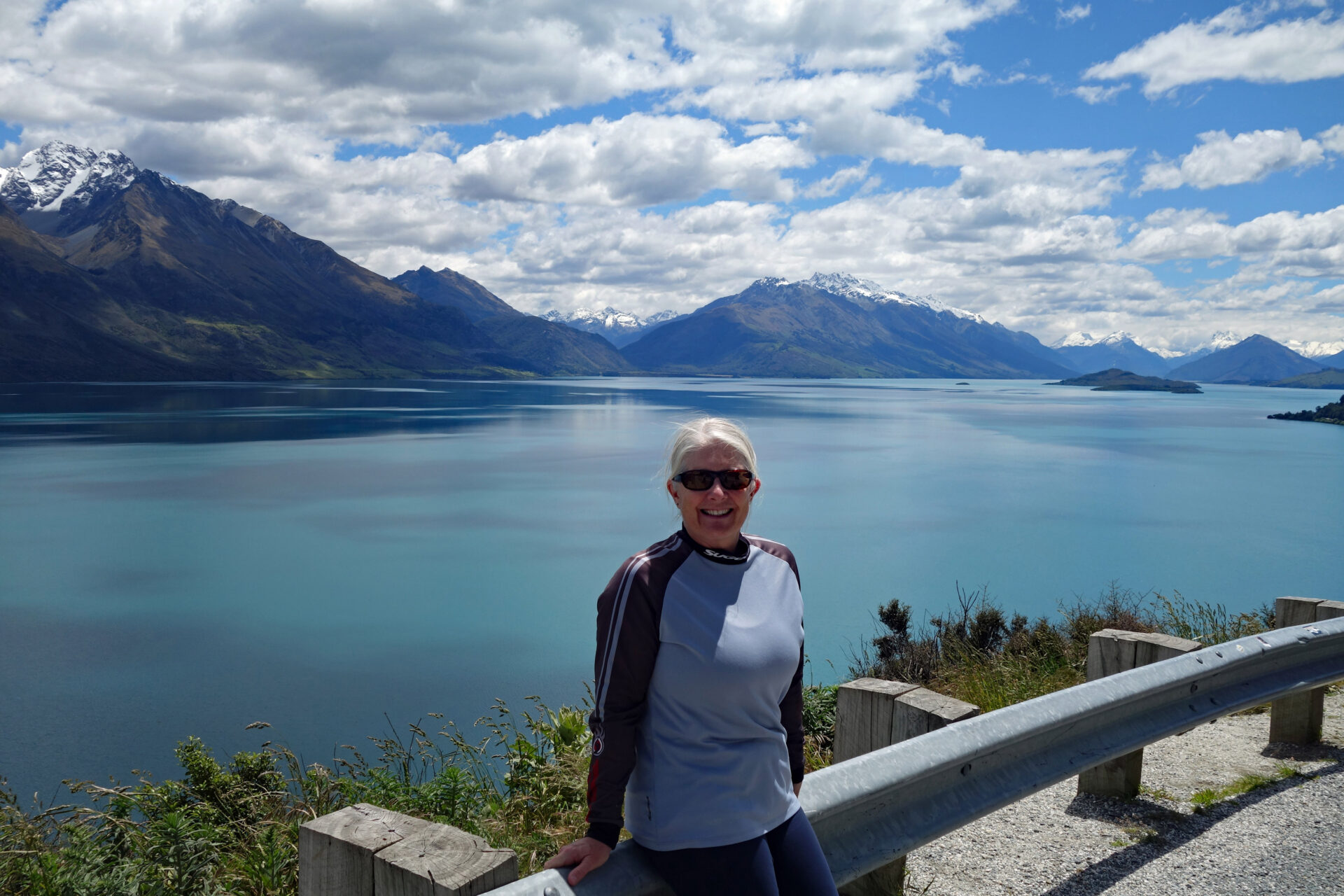 There are plenty of walking tracks on the road to Glenorchy so we made a little detour and tramped the Mt Crichton Loop Track.  This well formed track is 6.6 km long taking us just over 2 hours, including an added short trip to admire the views over Lake Dispute.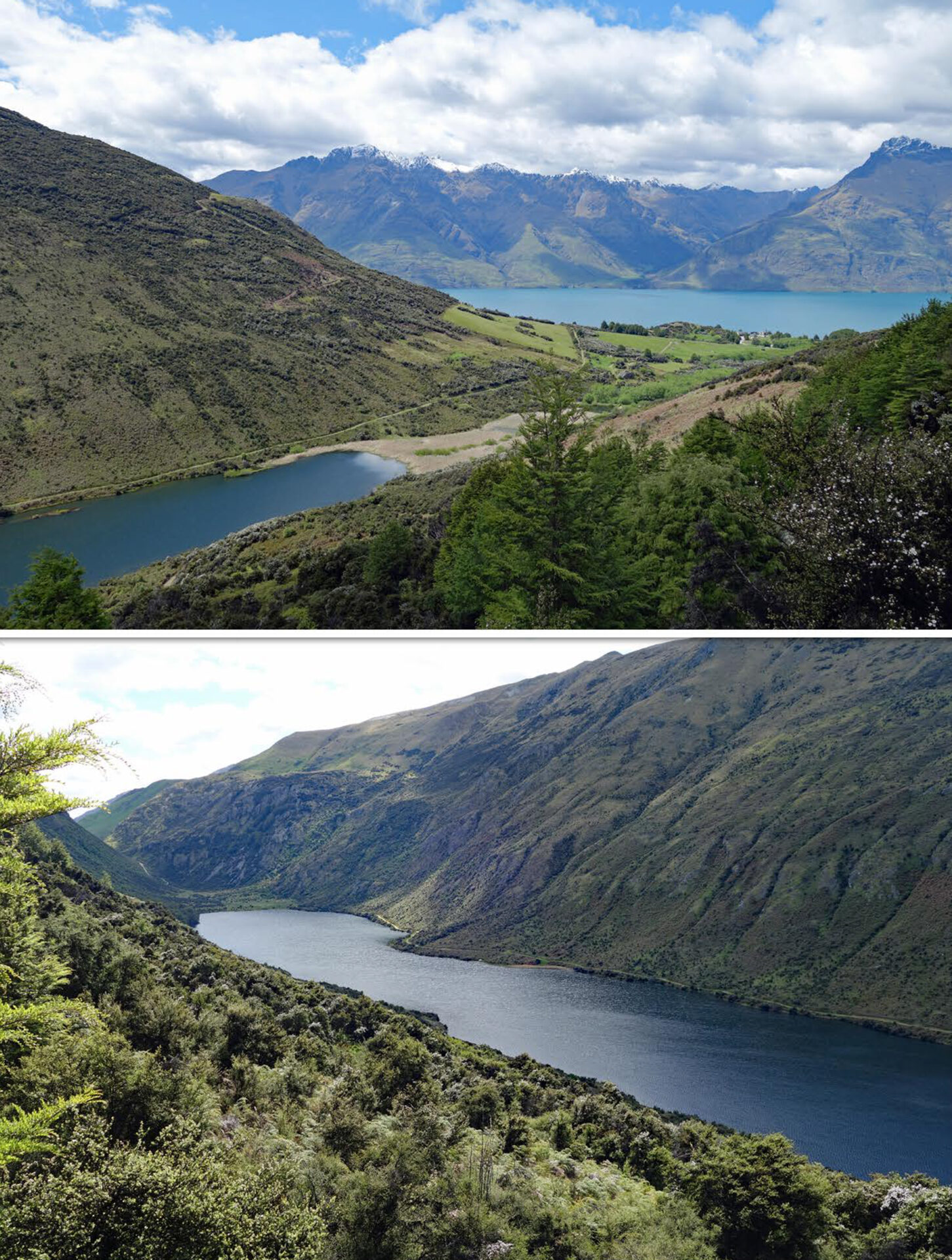 The creeks were full to bursting with all the recent rains creating many spectacular waterfalls.  Along the track we visited the historic Sam Summers Hut.  Sam Summers was a prospector living and prospecting for gold along the 12 Mile Creek for 10 years, he and his brother built the hut in 1930.  The hut has been repaired and maintained over the past 80 years and stands today as a window into the region's past.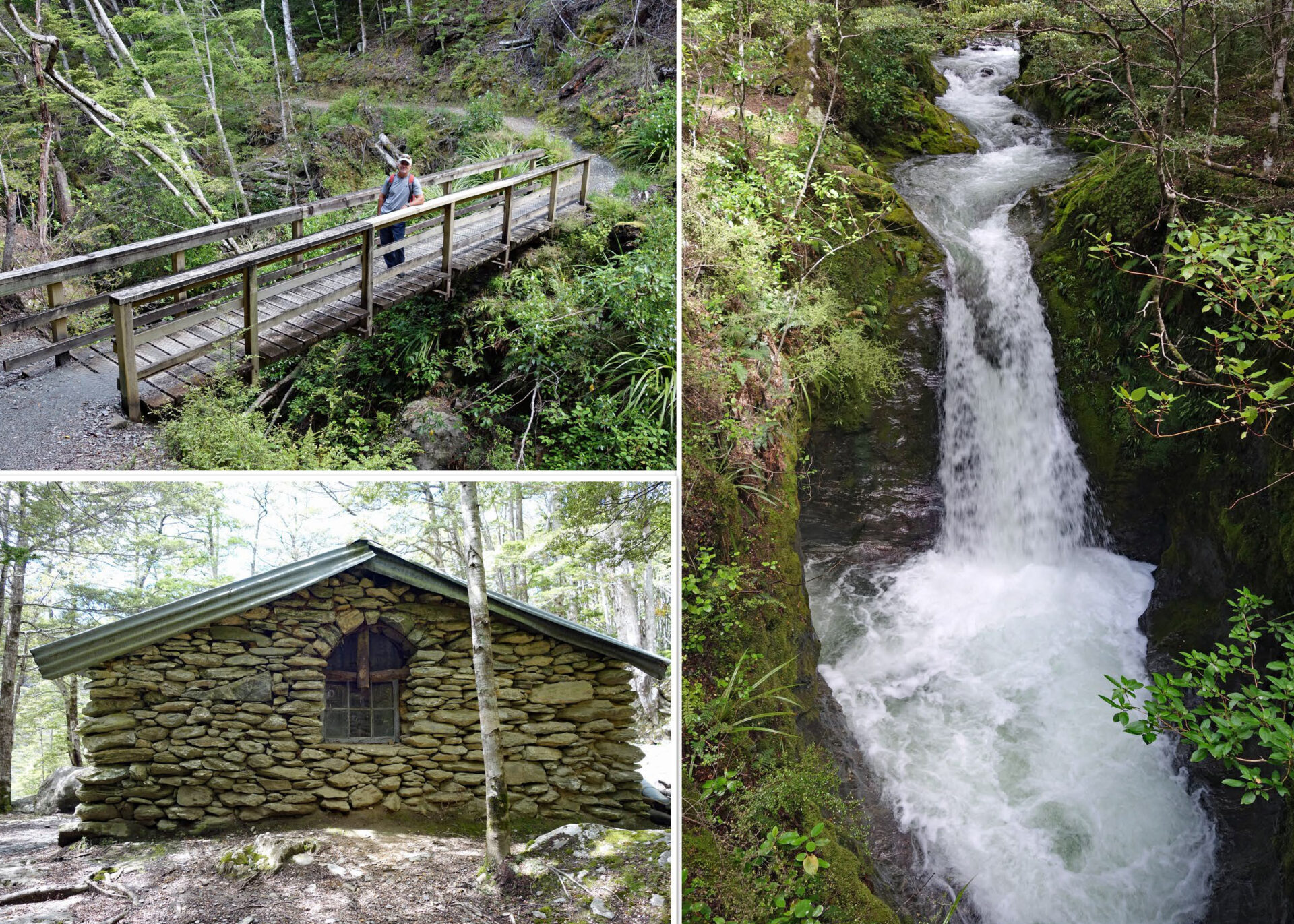 Steaming along the lake in front of our Airbnb 8 times a day is the TSS Earnslaw, a 1912 Edwardian vintage twin screw steamer.  It is the only remaining commercial passenger coal-fired steamship in the southern hemisphere.  In the early days the Earnslaw worked with other ships transporting sheep, cattle and passengers to the surrounding high country stations.  In 1968 the Earnslaw was almost scrapped but fortunately she was rescued, leased to a tour company in 1969, sold to them in 1982 then taken out of service for a huge makeover in 1984.  Since then she has been ferrying passengers up and down the lake, ourselves included.  We booked the 10 am departure from Queenstown to Walter Peak High Country Farm, a 45 minute one way trip.  The boat was 99% full of Asian tour groups who thankfully got off at the farm making the return journey blissfully quiet as we had a virtually empty boat to wander about and explore.  Passengers have access to a walkway in the engine room watching the stokers continually shoveling coal into the huge fires powering the boat.  Tickets for the 1.5 hour return trip cost NZD $70 (USD $45.75) each and can be purchased online here.  If you want a quieter journey for one direction, book the first trip at 10 am when there are no return passengers getting on at the other end 😊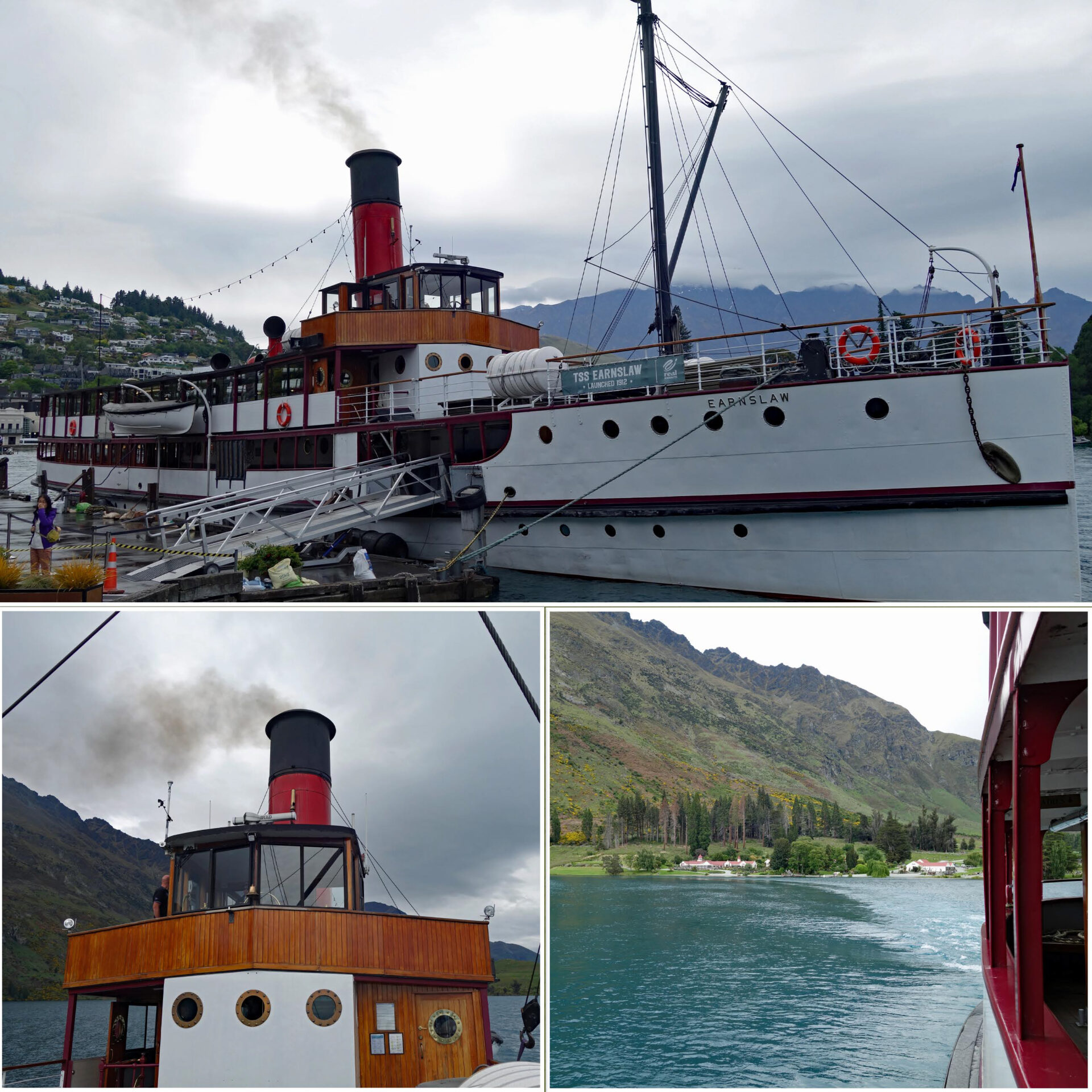 With all the bad weather we have had recently we were unable to do our planned long hike to Roy's Peak while in Wanaka, so we found a replacement hike here in Queenstown.  Ben Lomond, named after the mountain in Scotland, looms behind Queenstown reaching 1,748 meters (5,735 ft) at the summit!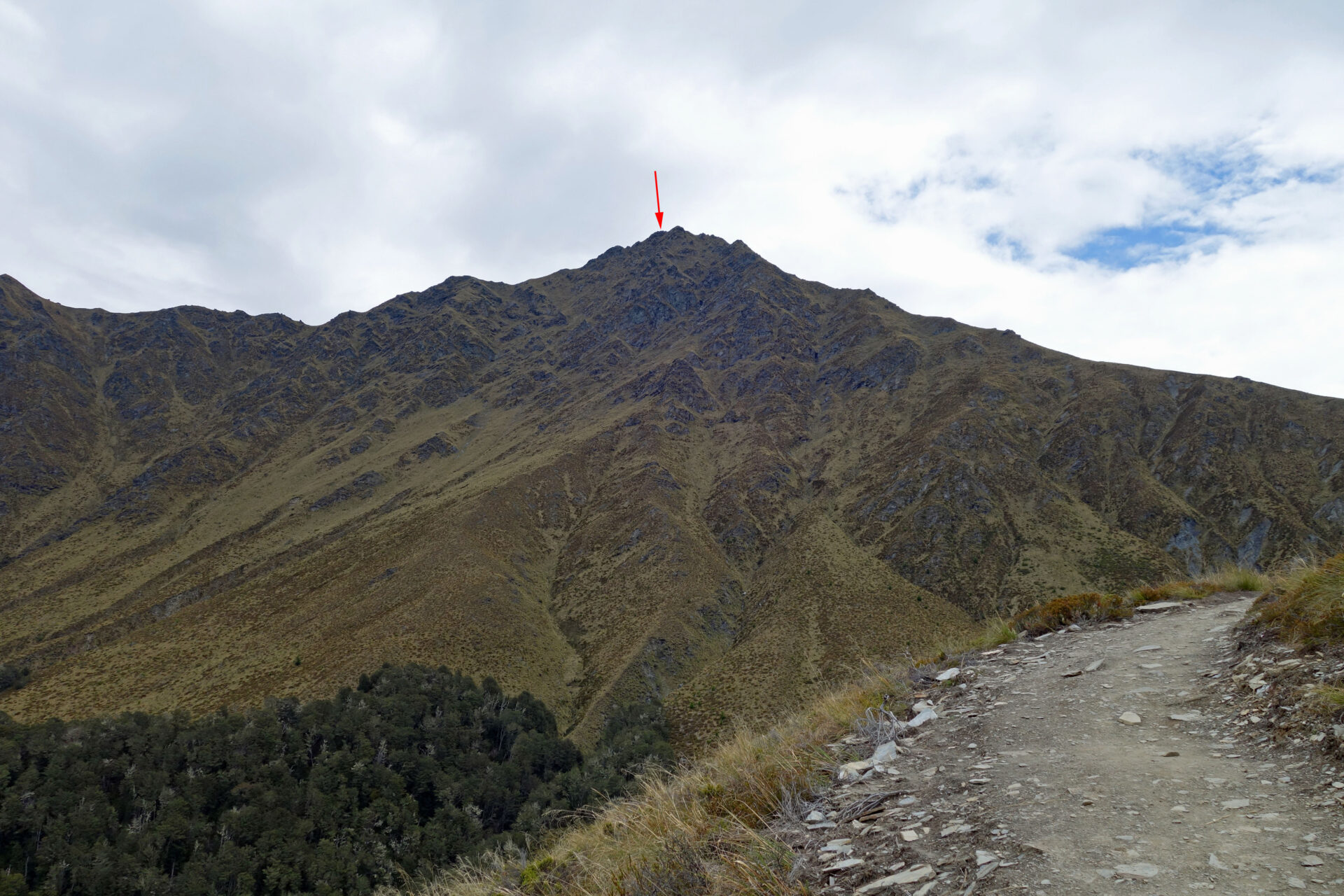 By taking the Skyline Gondola from town to Bob's Peak we shaved off 2 hours round trip of hiking, it was a good idea!!  Ben Lomond summit is a 12 km (7.2 miles) out and back hike from the top of the cable car and the last 40 minutes of climbing is over steep rocky sections which are very technical.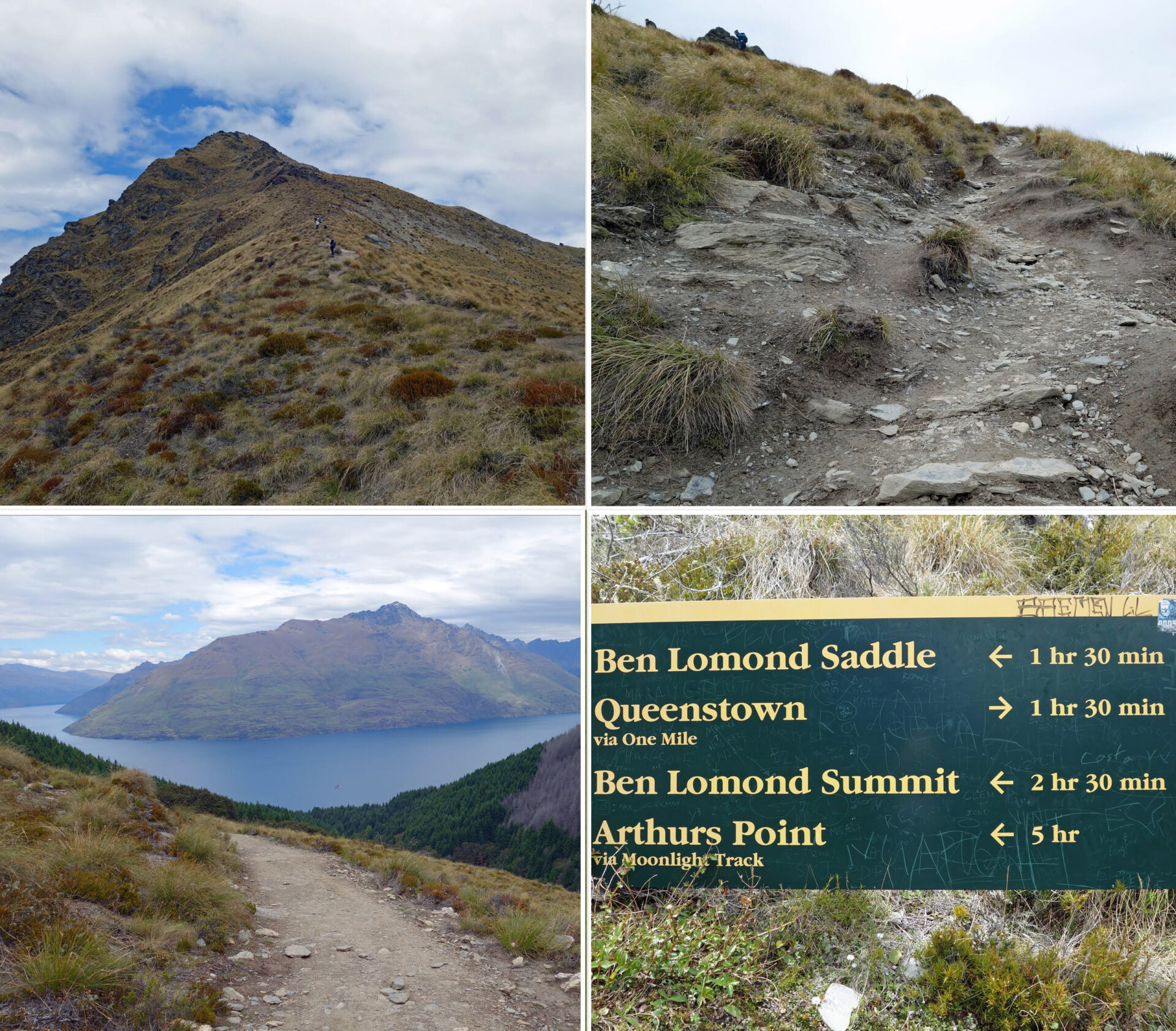 I wanted to stop many a time but there was this little voice behind me saying "it's not much further Mr Frodo"…thanks Blair for the laughs and encouragement  😂  The round trip hike took us 5 hours, including a 30 min lunch stop at the summit.  We were certainly the oldest people on the track and received congratulations at the peak from the younger folks we met along the way.  Similar to our Tongariro Crossing, this was an amazing hike with priceless views from the peak, I am so glad we pushed on to the summit for the 360 degree panoramas.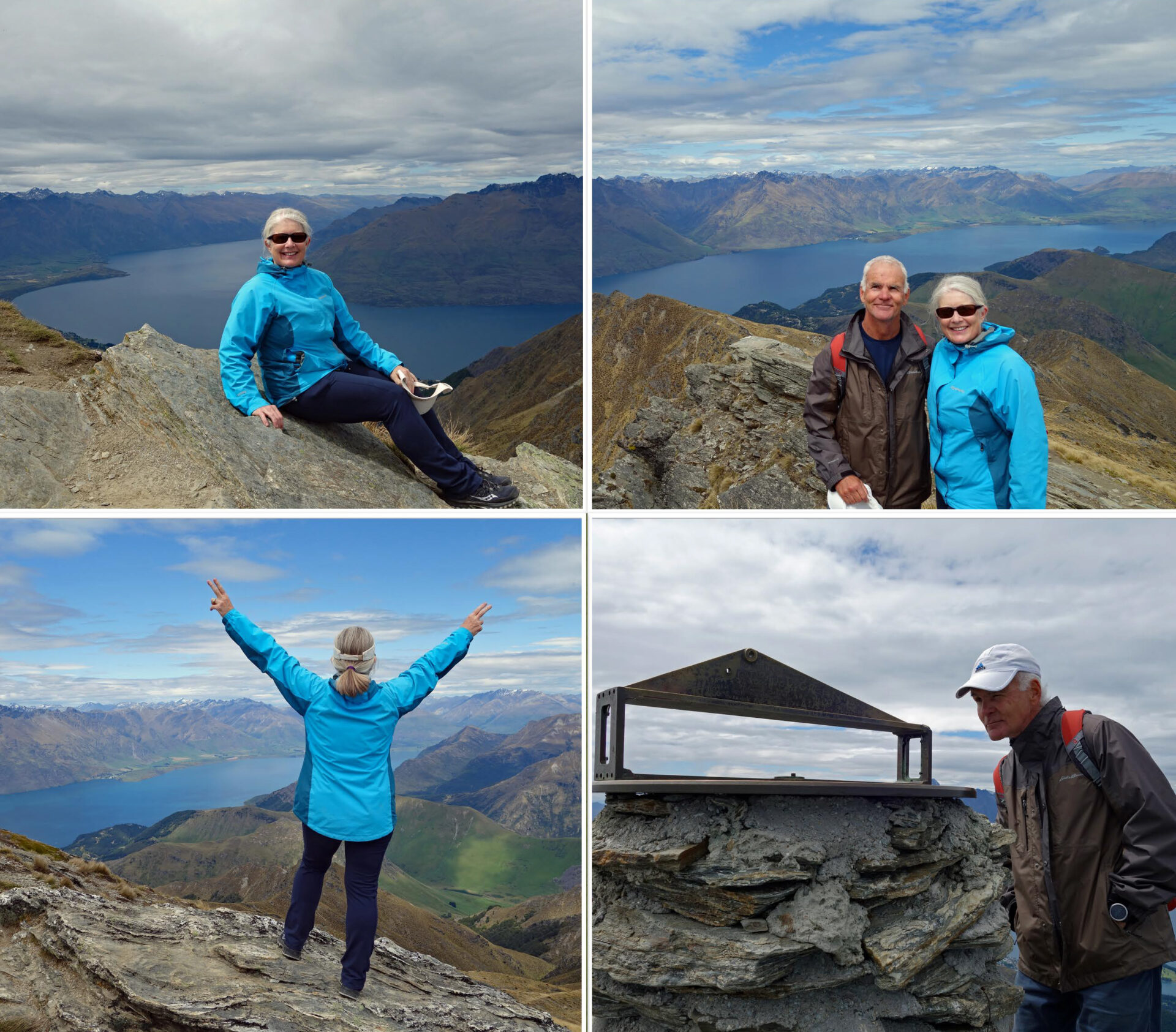 There are a few overly curious Kea birds hanging around the summit who will steal your lunch, or anything else lying around if you aren't paying attention, so we had to be cautious with our sandwich.  They also like to insert themselves into your photos as Blair found out!  This interesting bird is the world's only alpine parrot and native to the South Island of New Zealand.  Kea are known for their intelligence and curiosity but can be damaging as they like to rip off rubber windshield wipers from cars and pick at the rubber seals around car windows.  It was entertaining to watch them try and steal items from backpacks lying around the summit.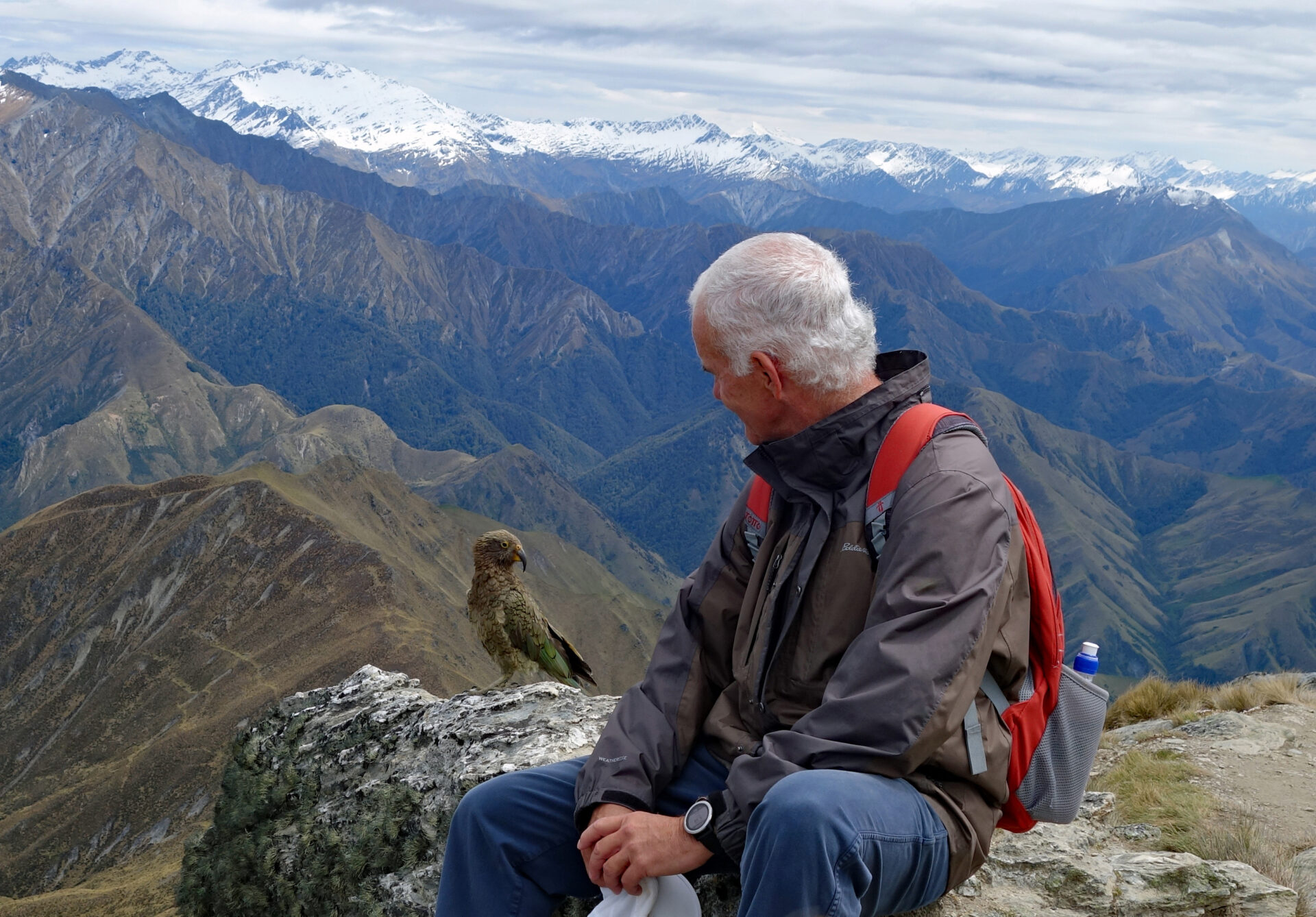 Despite tramping being a free activity today was not without expenses.  Parking in Queenstown was NZD $30 (USD $19.60) for the day and the round trip cable car ride was NZD $44 (USD $28.75) each.  Added to that was the celebratory champagne/beer at the cable car summit upon finishing, but after 5 hours of hiking, costs be damned, we deserved it 💪 🥂😊

The Skyline Gondola in Queenstown is the steepest cable car in the southern hemisphere whisking you high above the city in a matter of minutes to Bob's Peak.  We rode the gondola to the top prior to hiking Ben Lomond and it was quiet at their 9am opening time so we had no trouble buying our tickets on arrival.  When we returned from our hike in the afternoon the top of the gondola was a beehive of activity.  At the summit are a number adventure activities available such as paragliding, bungee jumping, a luge track and downhill mountain biking as well as souvenir shops, restaurants and a bar.  It is a worthwhile ride up for the views over Queenstown if nothing else, and why not enjoy a glass of champagne while you are there 🥂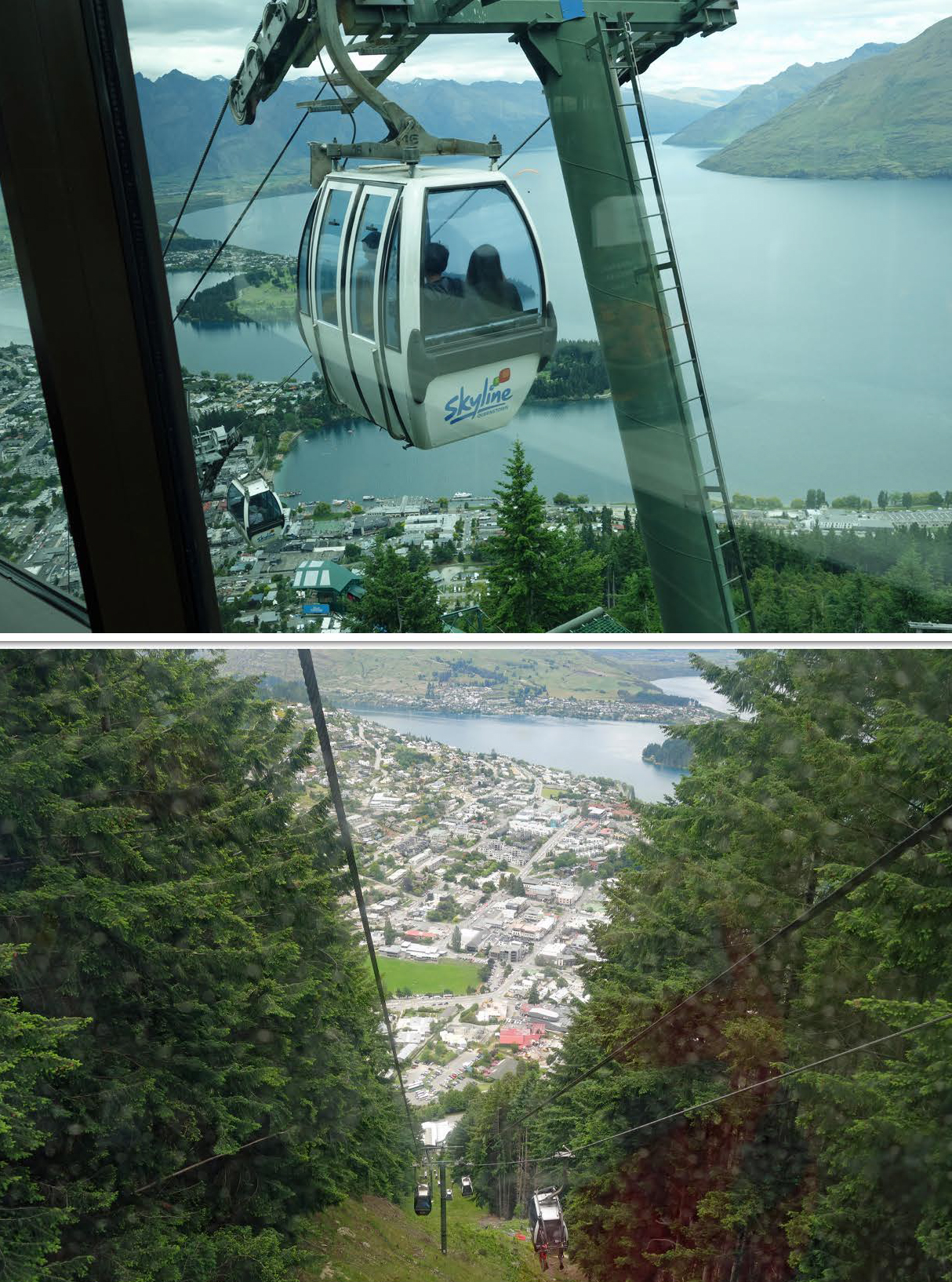 Alternating our physical hiking days with relaxing sightseeing days we managed to squeeze in one more short hike on our penultimate day in Queenstown, this time climbing to Rock Peak, high above the Crown Range Road.  Parking our car at the Crown Saddle it is a 75 minute steep climb up to the transmitter station at Rock Peak.  Near the top of the track were some interesting outcroppings of shale clearly showing the very thin fragile layers.  The entire track is through exposed alpine tussock with not a tree in sight, providing views in every direction.  Looking down the valleys we saw acres of vineyards in one direction, Queenstown in another and mountain ranges all around, well worth the hike up.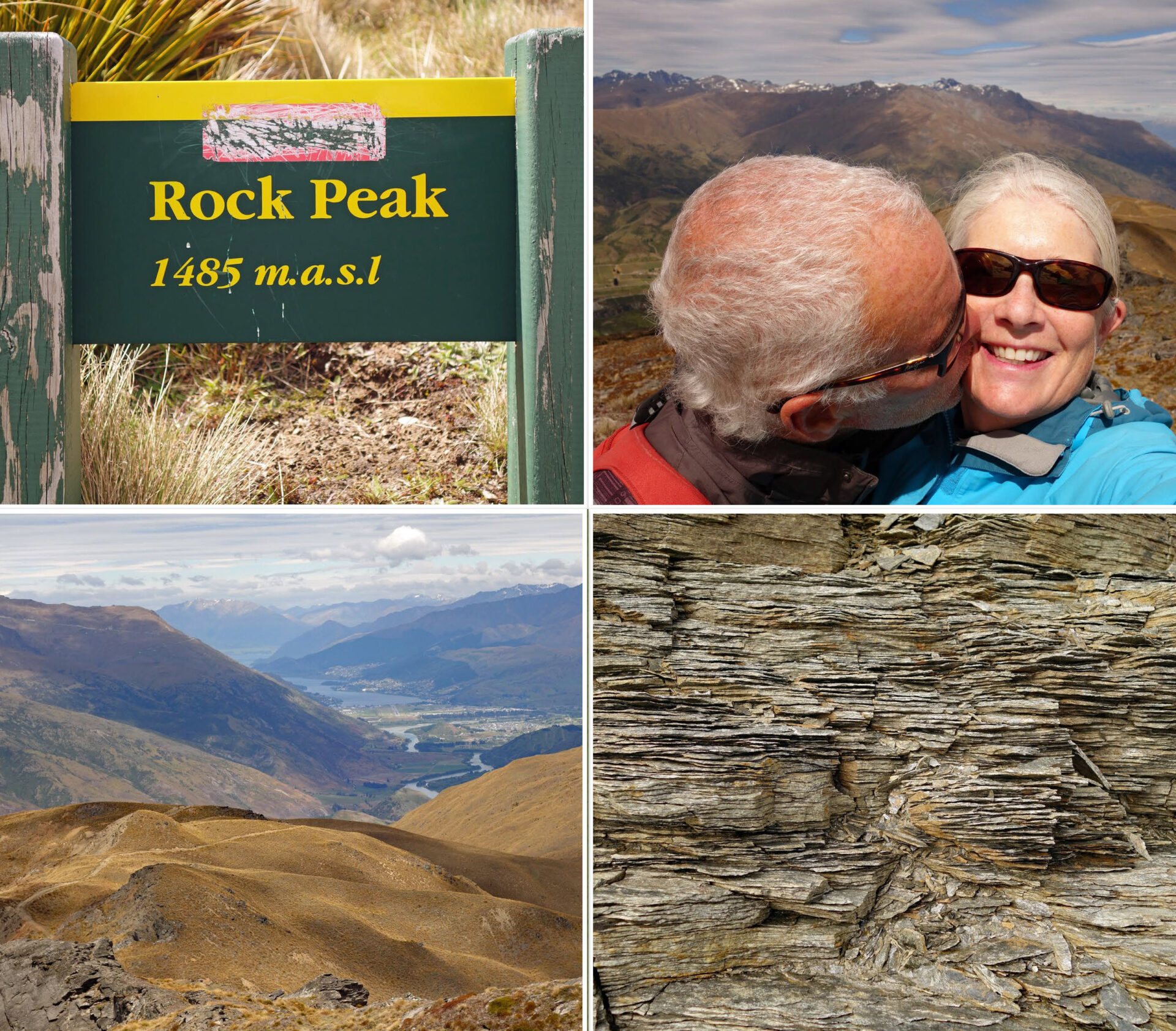 We have done pretty much everything we had hoped during our week in Queenstown and next we make our way further into the mountains to the small town of Te Anau and the splendors of Fiordland National Park.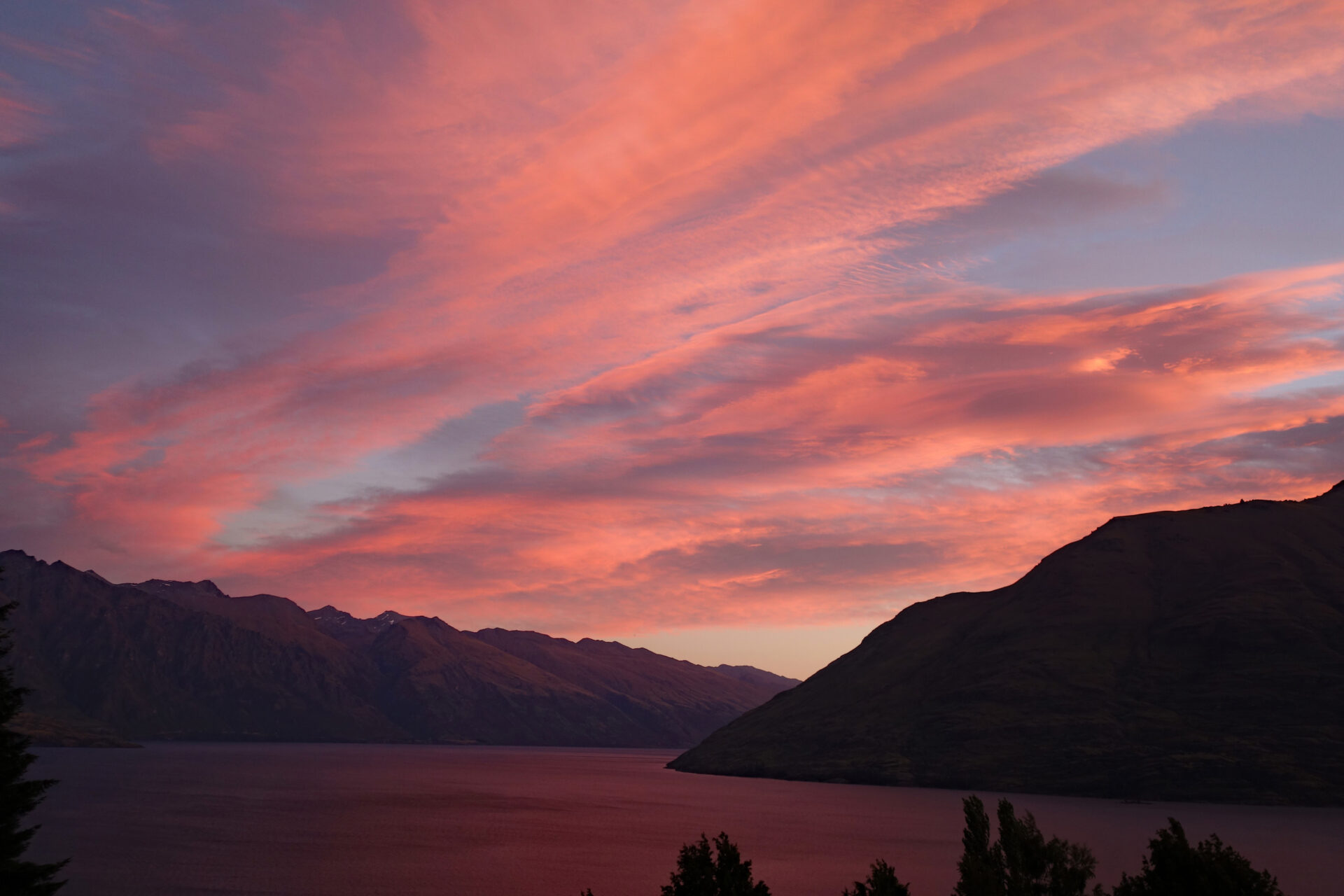 As we prepare to celebrate Christmas for the first time in the Southern hemisphere, we wish all our family and friends a very Merry Christmas and Happy Travels in 2020  🎄🤶  🥳🎉
Trip Tips
TSS Earnslaw trips can be booked at their site here.  They have various options of just cruising or adding on an experience at the Walter Peak High Country Farm.
Skyline Gondola tickets can be purchased here.  This is probably only necessary in busy season to avoid the ticket line and go straight to the gondola line, again dependent upon the time of year and time of day you wish to go.
The hiking tracks are all free, we use this site to research what tracks are nearby and get the details of the trail and where to park etc.