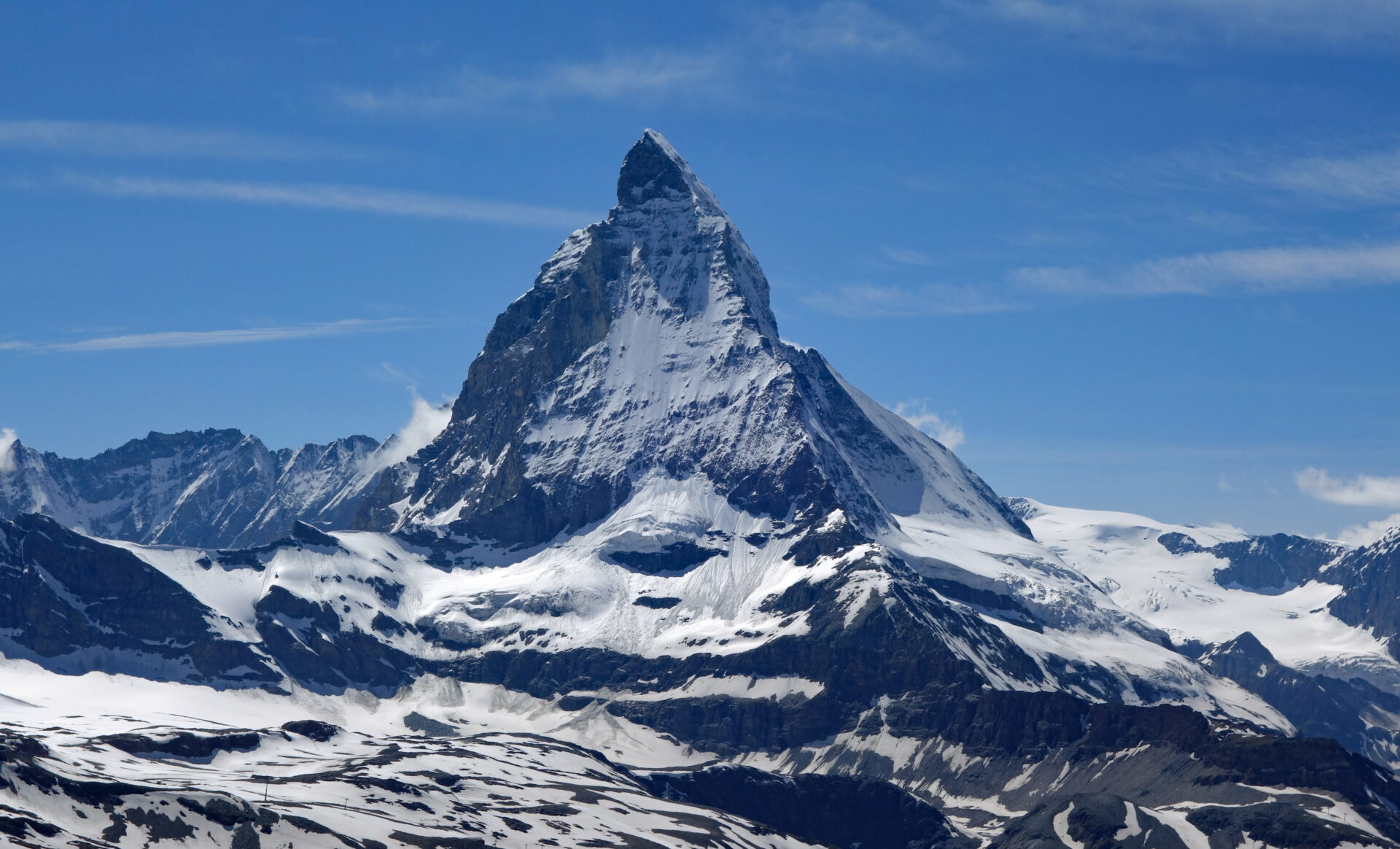 Our drive from Bonne, France to Tasch, Switzerland was a short 3 hour journey, and while it was short, it was heart stopping in some places as we traveled deeper into the Swiss Alps and traversed some high mountain passes.  The roads are winding and extremely narrow in some places but the views are worth it.  We stopped at one pass to look around and there were many hikers heading out for the day.  Looking at the hiking map there were numerous trails through the mountains, some multi day trails with huts along the way.  Hiking is a popular activity in Switzerland, everywhere we go we see folks geared up with heavy boots, hiking poles and large packs.
We arrived in Tasch on a Sunday afternoon to find pretty much everything closed so it was a good thing we had packed our leftover groceries with us from Bonne.  We were able to put together dinner as we got settled in our new apartment.  We took a short walk into the town center to pick up a guide book and spent the evening planning our week.  Tasch is basically a town of parking lots where everyone leaves their car to take the train up to Zermatt, which is car free.  Zermatt is the hub of activity in the valley and the base from which one can take a variety of cable cars up the mountains.  Unlike many Canadian ski resorts which are on one mountain, Zermatt has numerous mountains you can ski as well as go over the top and down the other side into Italy.  We would love to come back and ski here!!  If only I did not dislike the cold so much  🙂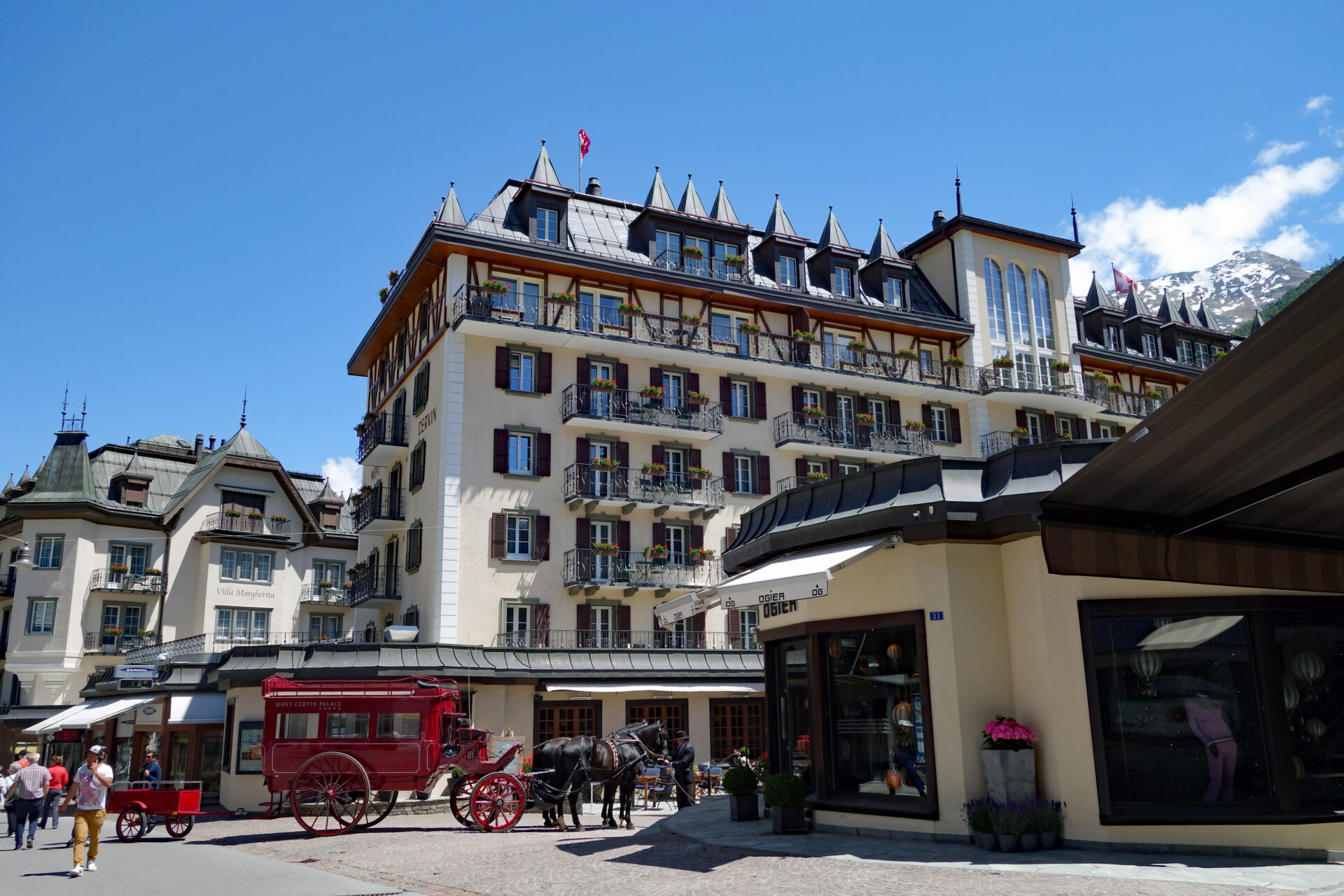 The weather forecast for the week was not great with rain and low clouds forecast every day.  Our first day lived up to the forecast and was cold and wet most of the day.  When there was a break in the weather we walked into town for groceries and a visit to the Tourist Office.  The lady working at the Tourist Office was extremely informative and we left with a plan.  We can buy a 3/5 Peak Pass which gives us unlimited rides on all the trains and cable cars up to and from Zermatt for any 3 of the next 5 days.  Choosing this option we can look each day at what the weather is doing and make a decision.  We also found out that we must purchase the Swiss Highway sticker for 40 Swiss Francs.  We made it here without incident but if stopped by the police it is a hefty fine of close to 300 Swiss Francs, so we bought Dory a sticker!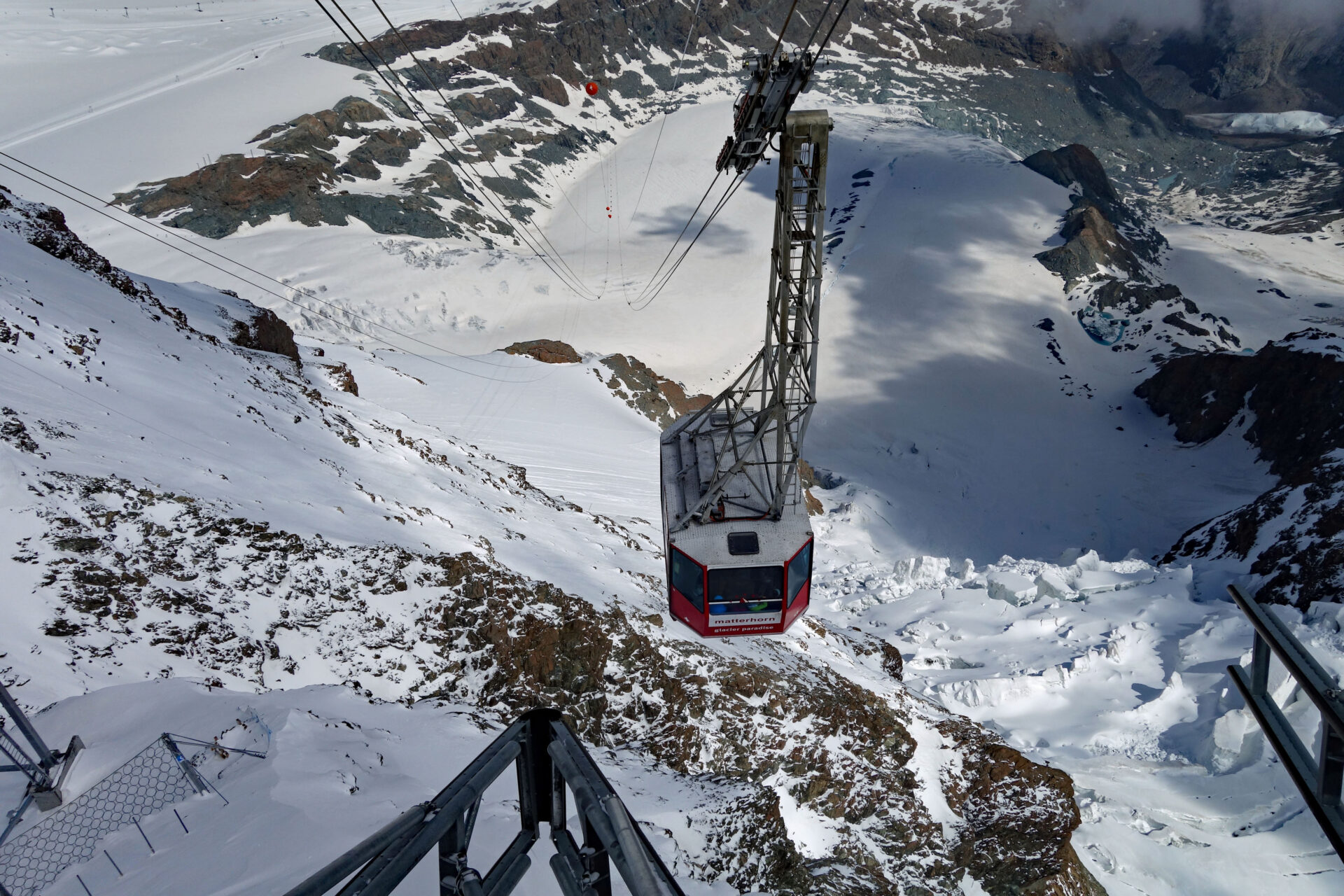 Tuesday we got up early, checked the weather and it looked good enough to spend the day riding cable cars so off we went.  We caught the 7:55am train from Tasch to Zermatt, walked to the other end of town to ride the first of 3 cable cars taking us to the peak on the Matterhorn Glacier Paradise.  Reaching the summit, the highest cable car station in Europe, we were at at elevation of 3,883 meters/12,739 feet !!  Signs up here advise you to walk slowly due to the very thin air, and thin air it is.  Unfortunately for us we were surrounded by clouds and had no chance to see the Matterhorn, it was cold and windy.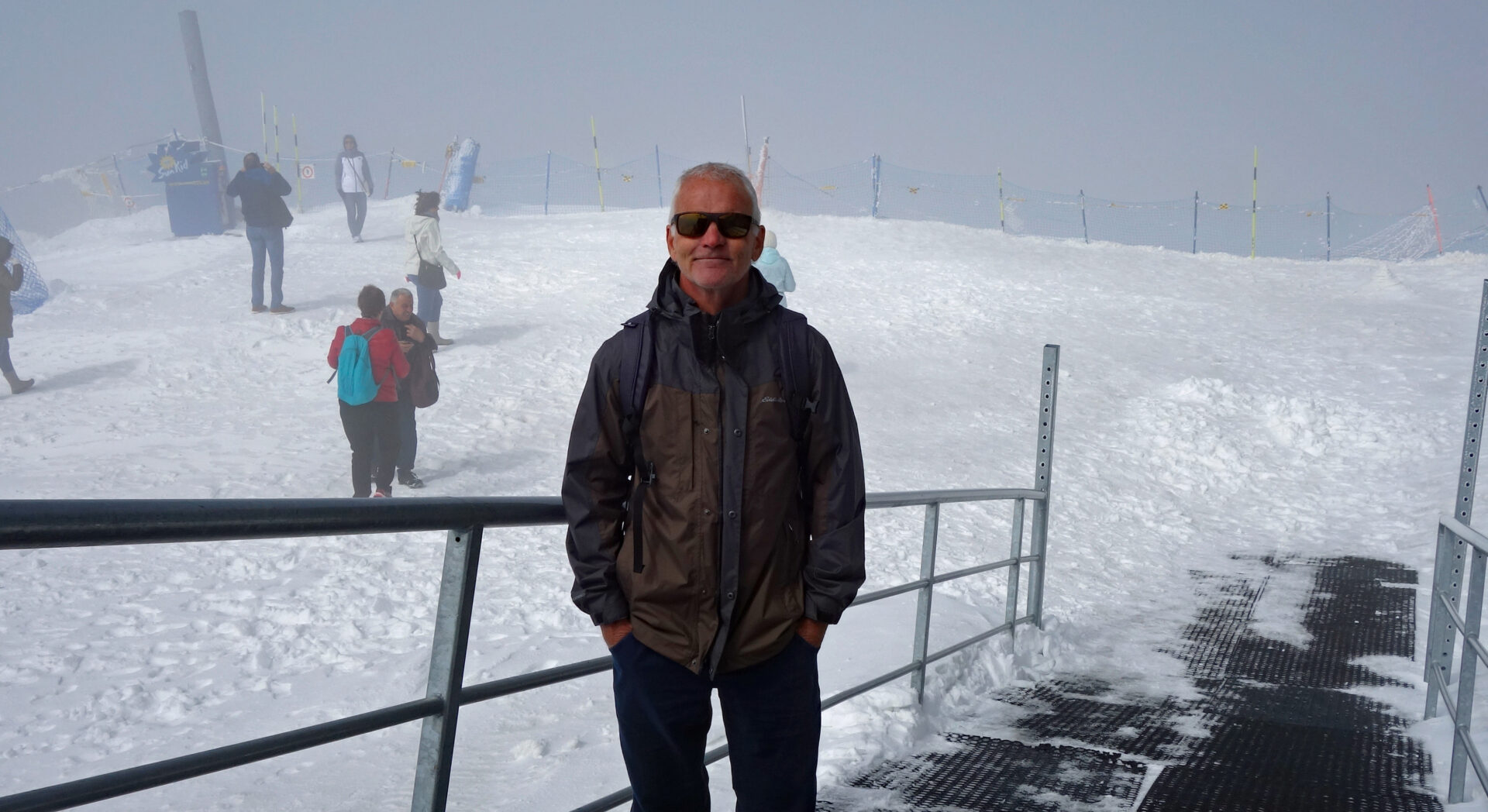 At the summit you can visit the Glacier Palace which is cut 15 meters deep into the glacier, it was interesting and worth a short visit.  After waiting a couple of hours for the clouds to clear, we gave up and made our way back down the mountain into Zermatt for lunch.  After lunch we wandered around town and visited the Mountaineers Cemetery, which is an interesting and moving reminder of the many climbers who have died climbing the Matterhorn and surrounding peaks.  When the rain began mid afternoon we took the train back to our apartment in Tasch.  Despite not seeing the Matterhorn, it was a great day exploring the mountain and we have 2 more days on our Peak Pass to hope for a clear day 🙂

Well, we got our clear day on Thursday and spent the morning riding the 3 cable cars to take us to the summit at Matterhorn Glacier Paradise where we had amazing and clear views of the Matterhorn.  We had no idea it was so close, and so impressive!!  After taking in the views for a while we made our way back down to Zermatt, stopping at the Trockener Steg and Furi stations for more photos, had a quick lunch then took the train to Gornergrat.  We had a little excitement during the trip to Gornergrat when the train came to an abrupt stop just before the penultimate station at Rotenbodden.  We sat for over 20 minutes while the driver walked back and forth outside the train looking for the problem.  Eventually he unhitched the last 2 cars, after moving the passengers to another train which was sent down from above, and we carried on to Gornergrat.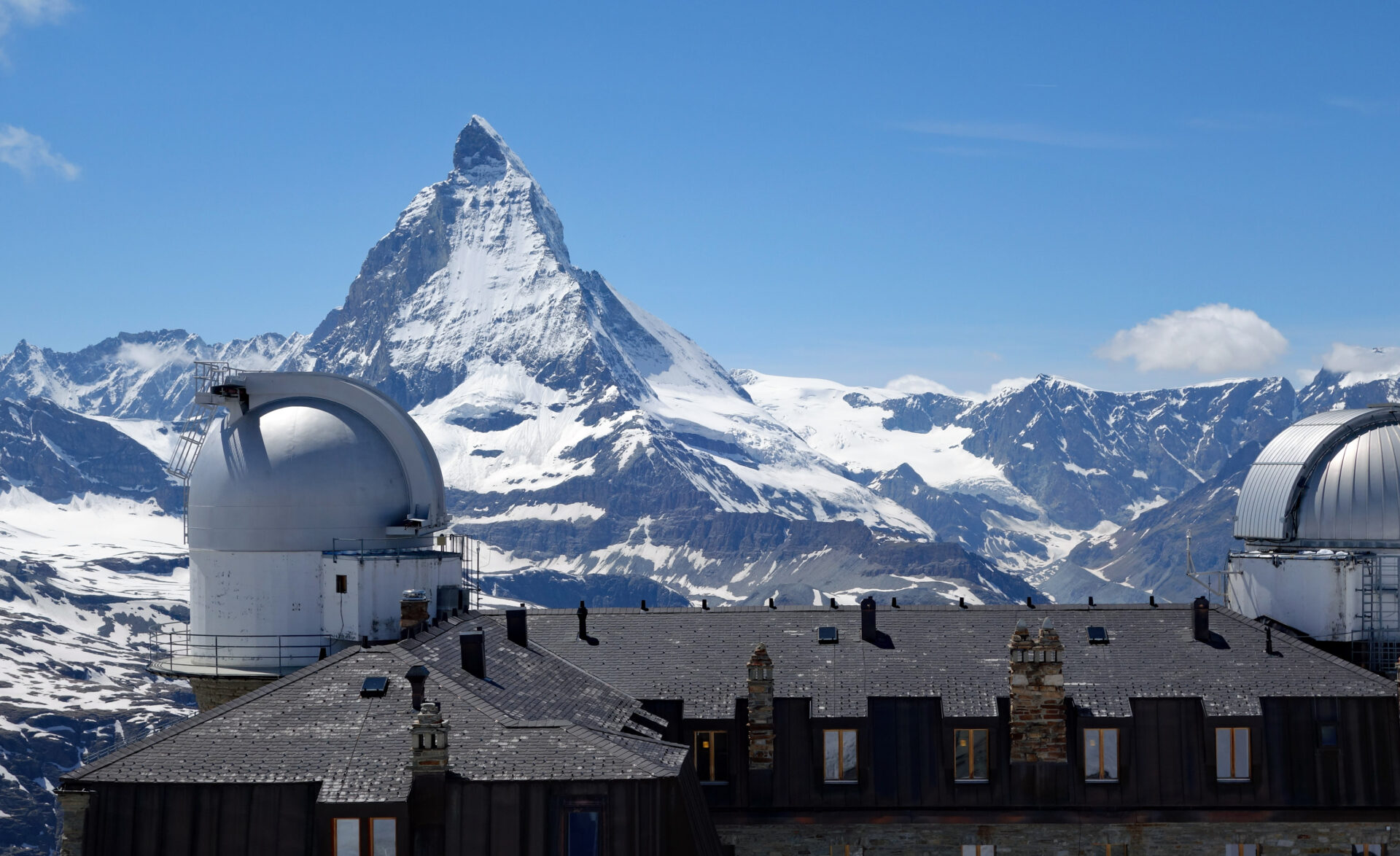 The summit of Gornergrat is at an elevation of 3,112 meters/10,212 feet and once again we had clear and different views of the Matterhorn, in addition to 29 other peaks over 4,000 meters/13,123 feet.  The Gornergrat train was the worlds first fully electrified cog railway, it is also Europe's highest open air cog railway.  The 33 minute ride offers stunning views of forests, ravines, waterfalls, lakes and mountains as it climbs 1,469 meters/4,820 feet to the summit.  This train is definitely worth taking a ride on.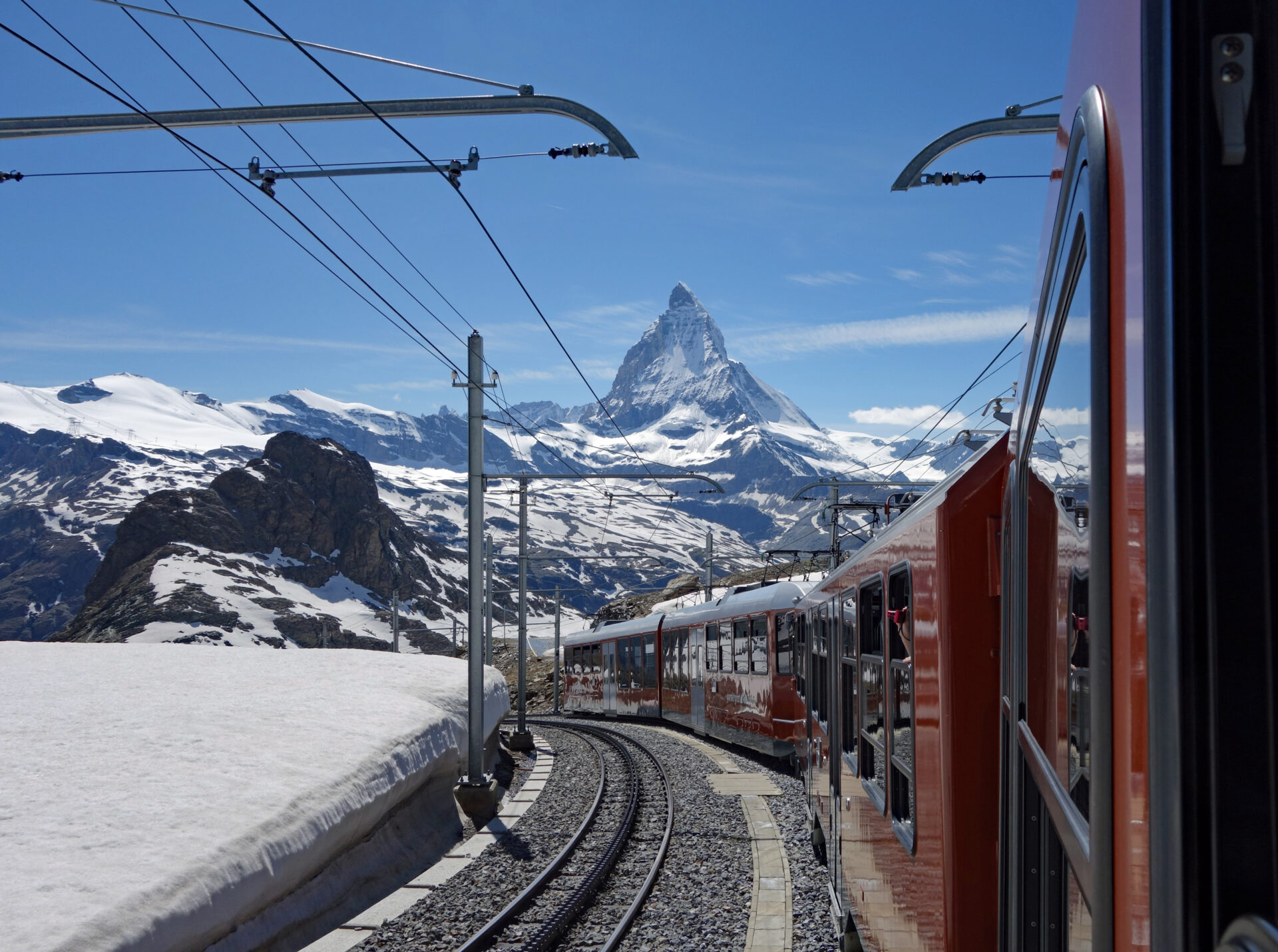 We spent a day in Tasch playing tennis and relaxing before our third and final day in Zermatt.  We felt we had ridden every cable car which was running and decided to go for a hike today.  We took the Gornergrat Train up to the top to have one last good look at the Matterhorn, from there we took the train back down to the Riffelberg station at 2,582 meters/8,471 ft.  From there we walked down the mountain to the Riffelalp station at 2,211 meters/7,254 ft which took just under an hour.  From the Riffelalp station we hiked up and down the mountain and across valleys making our way eventually to Sunnegga.  This portion of the hike took 2.5 hours, we only got lost once!!!  During that time we had a nice lunch stop at Grunsee Lake situated at 2,300 meters/7,546 ft.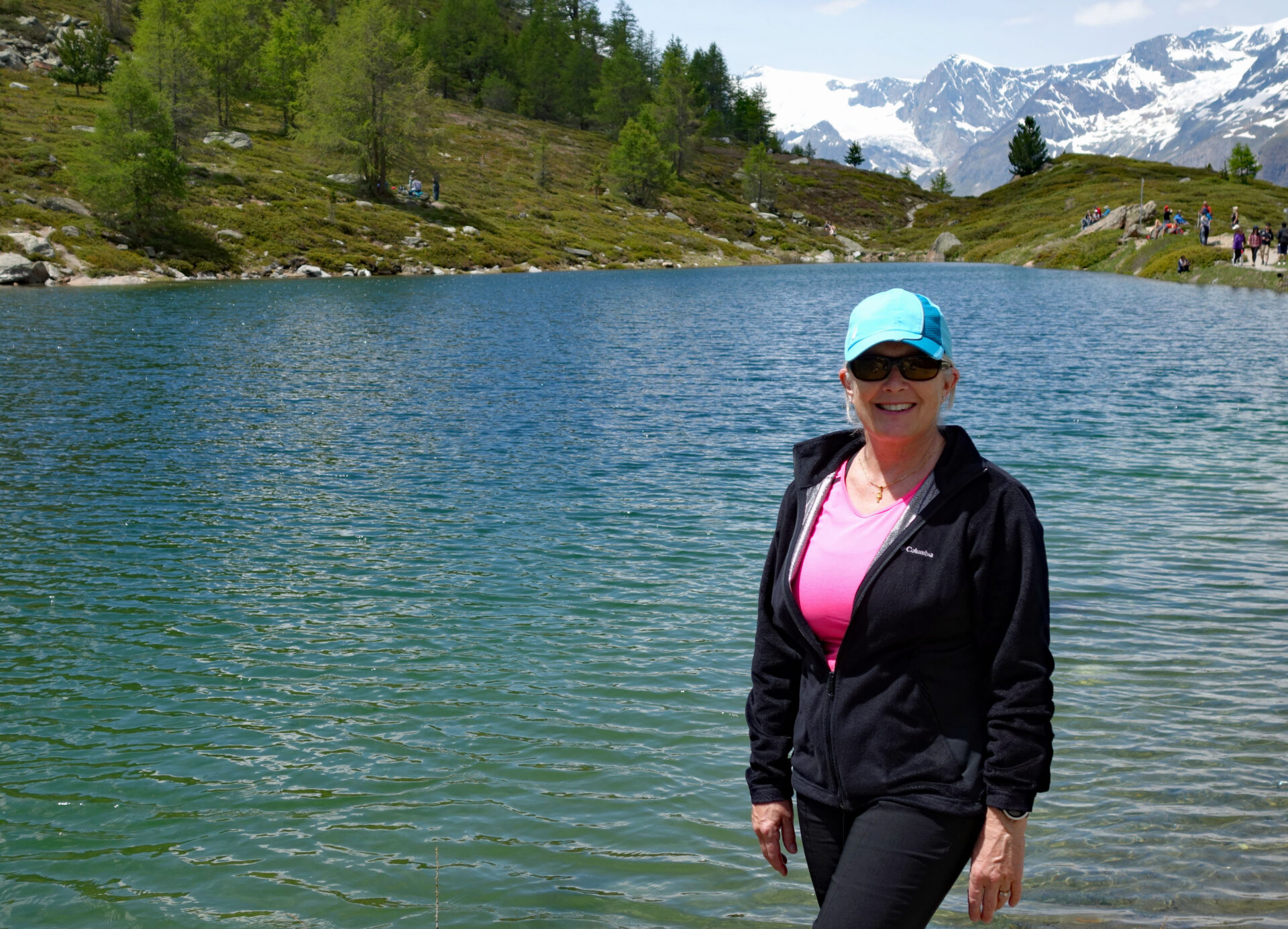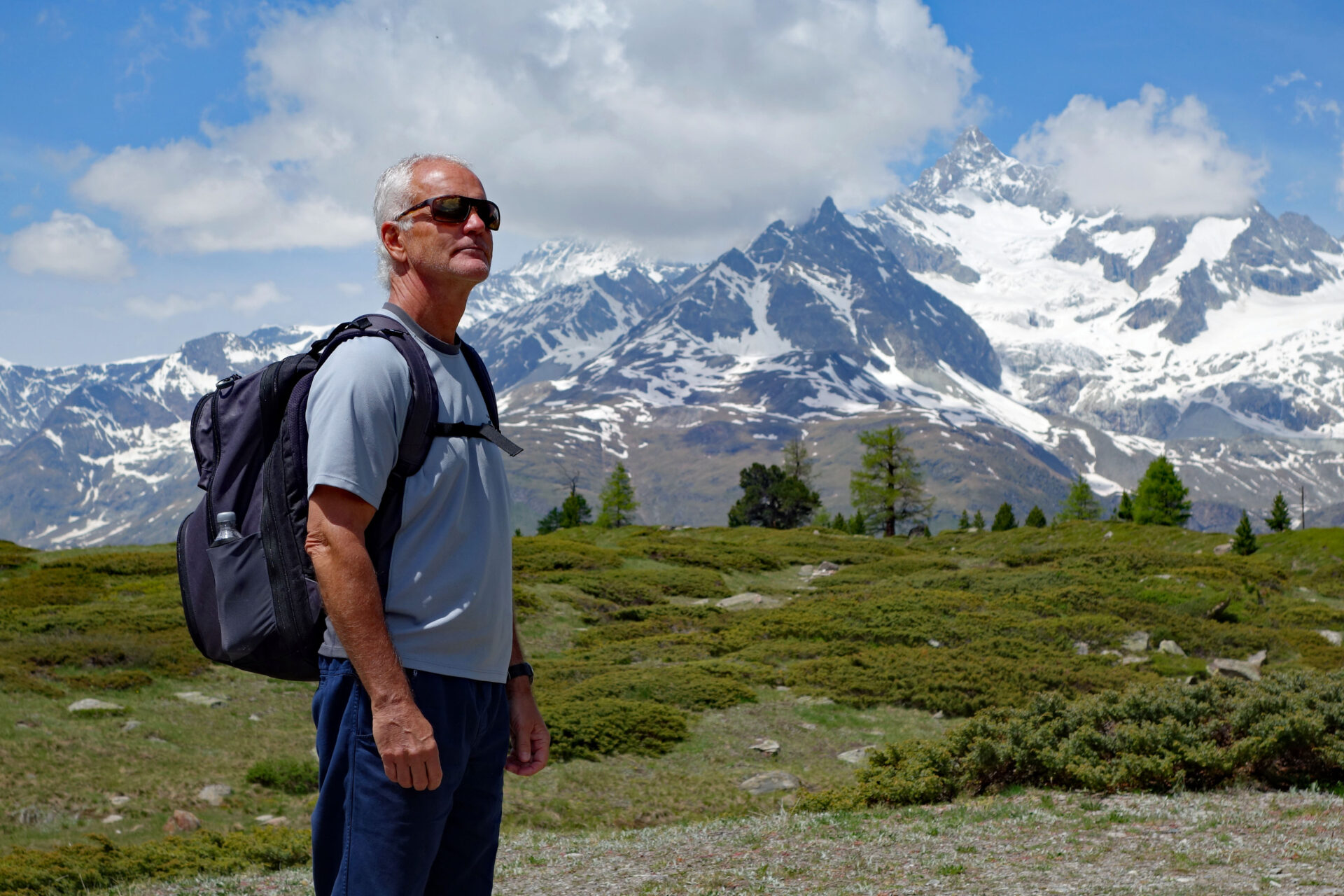 By the time we reached Sunnegga I was exhausted!!!!  We found the Blauherd/Rothorn cable car was running so took a quick trip up there to admire the views one more time before taking the Sunnegga Funicular down to Zermatt.  The funicular was built in 1980 and was Switzerland's first fully underground funicular.  It descends 698 meters/2,290 ft from the Sunnegga station to Zermatt in just 3 minutes, certainly an interesting ride if you are in the front car.  At the end of our hiking adventures we visited a couple of pubs to re-hydrate before partaking in a typical Swiss dinner…….cheese fondue.  It was a delicious end to a wonderful day 🙂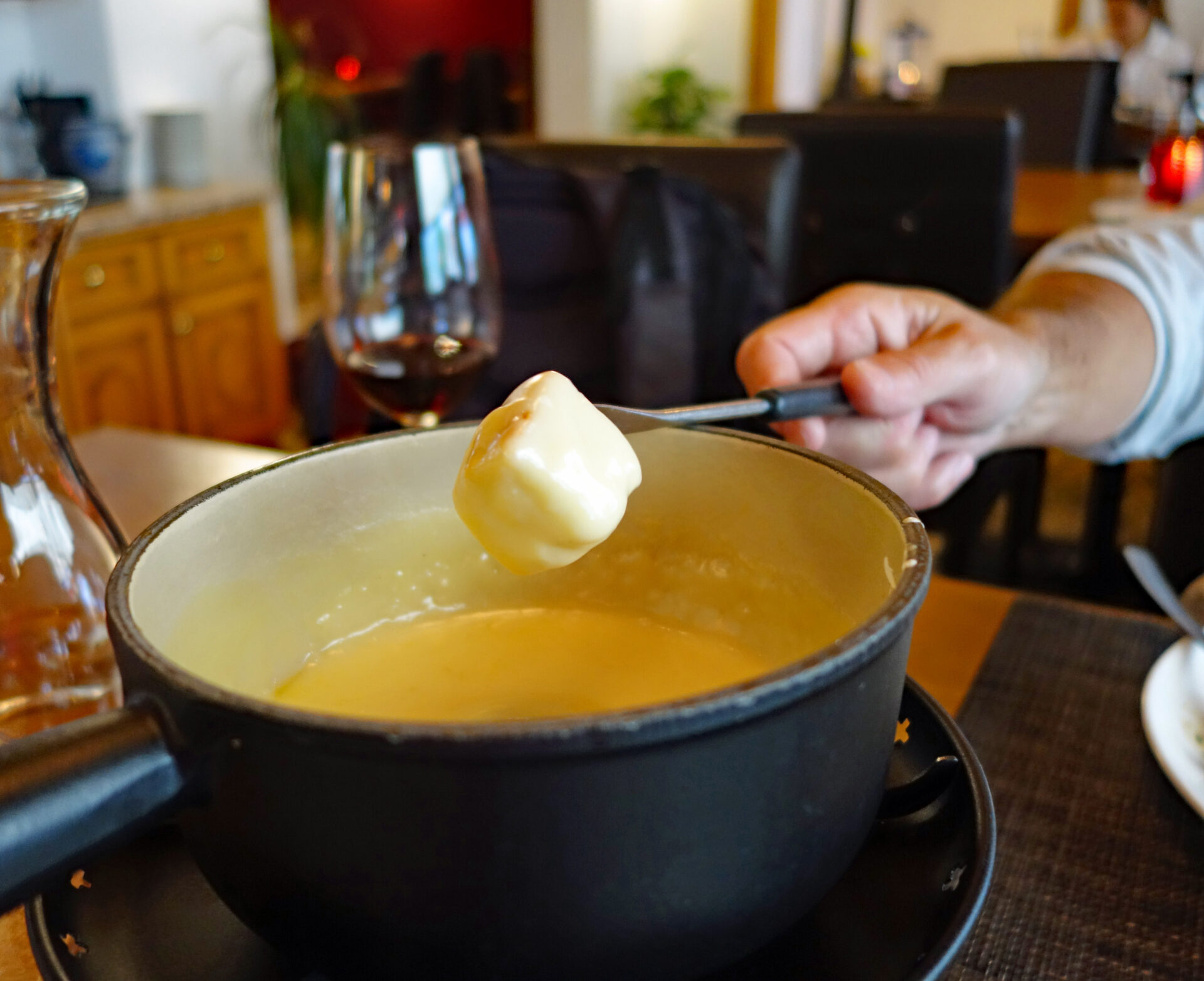 After 3 full days exploring the Zermatt area and taking every available train, cable car, funicular and tram I think we did as much as we could 🙂  I had no idea we were going to be so taken with the breathtaking scenery around Zermatt, in particular the Matterhorn.  This stop in our travels really was a once in a lifetime experience and should be on everyone's travel list.  We truly were sad to leave here!