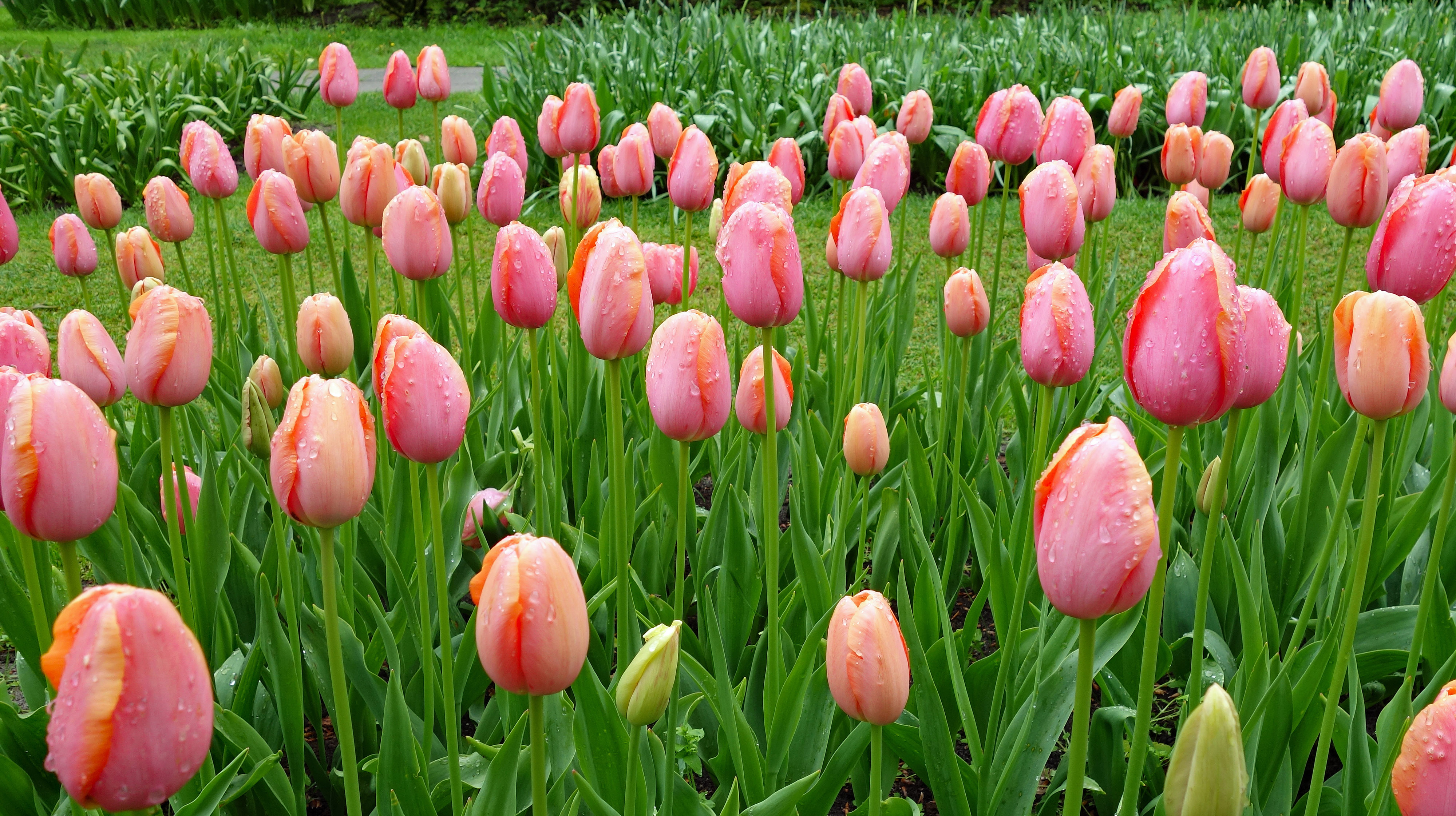 Holland or the Netherlands???  Like most people I was confused which was which, but no more 😂  The Netherlands consists of 12 provinces and Holland is simply two provinces in the Netherlands.  Even though the two names have been used interchangeably for decades, the name Holland is often used when all of the Netherlands is meant.  Interestingly, since 2020 Holland is being dropped from all official branding of the Netherlands as the government aims to promote all regions of the country.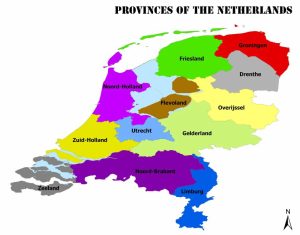 When we began researching the Netherlands we quickly realized that staying in Amsterdam would be well over our budget, plus there were a number of other places we wanted to visit during our two weeks here.  That's how we ended up staying in the small village of Bodegraven (the orange pin in the map below), and it looks pretty central to all the places on our sightseeing list.  Because we have a car it's possible for us to live in a small town and tour places other than Amsterdam, although Amsterdam was worth visiting.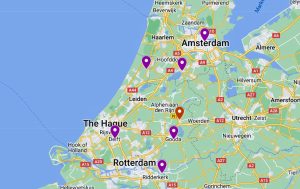 After a 45 minute flight on British Airways from London, Heathrow to Paris we picked up our car from Renault and drove 4 1/2 hours north through France and Belgium on our way to the Netherlands. Our Bodegraven apartment is on the 3rd floor (4th floor for North Americans) without an elevator and when I mentioned my concern to our host he kindly offered to help us carry our suitcases up the stairs 💪  Nick has been a great host from showing us how everything works in the apartment when we arrived to asking how we are doing during our stay and to see if we needed anything.  I love it when we have a caring host!!

If you Google Bodegraven you will notice there are no major sights here, but it's a very pretty and quiet village to call home for two weeks.  So what did we get up to during our first week in the Netherlands:
LISSE
Our first excursion was to the Keukenhof Gardens just outside the town of Lisse, a 40 minute drive from our apartment.  The gardens are only open for about 6 weeks each spring and we had a small window to get there because they were closing on May 14, just 6 days after our arrival in the Netherlands.  We went online late March and ordered entrance tickets and a parking pass so we did not miss our chance to see the tulips in bloom.  When buying tickets you have to choose an arrival time slot, we chose 9:30-10:00am in the hopes that the crowds would not be as bad as later in the day.  While there were numerous tour buses there when we arrived, it definitely got busier as the day went on.  The cost for two tickets, plus parking, was 44 Euros ($48.35 USD).  While early May is at the tail end of the tulip season and most of the fields are finished, Keukenhof has staggered the blooms so we still saw an amazing amount of tulips.  It's breathtakingly beautiful there, I took 162 pictures during our 4 hour visit so it was really hard to whittle them down to my favorites below 🌷🌷🌷
GOUDA
The town of Gouda, yes the famous cheese town, is over a thousand years old and being just 10 miles away we ended up going there a few times for items we could not find in Bodegraven.  Early one Thursday morning we were researching what there was to see in Gouda and realized there was a weekly cheese market going on that very day.  Because of a national holiday the following week, it would be the only one happening during our time here, so out the door we dashed!  The Gouda cheese market has been held in this location for centuries and as we approached the town square, the huge orange cheese wheels stacked beneath the town hall building stood out immediately.  The theatrical market is now just a show for tourists but it represents how the farmers brought their cheese to town and negotiated with the buyers, sealing the deal with a handjeklap.  A handjeklap is when buyers and sellers clap each other's hands repeatedly, shouting prices until they agree on a price.  It was a fun event to watch, and apparently very popular based on the number of tour buses in town that morning.
Gouda is also the place that the Dutch stroopwafel was first made in the late 18th century.  This popular waffle cookie is made from thin layers of sweet baked dough with a thin layer of caramel syrup in between.  While tasty, they are not my first choice of  a Dutch sweet treat, more on that later 😊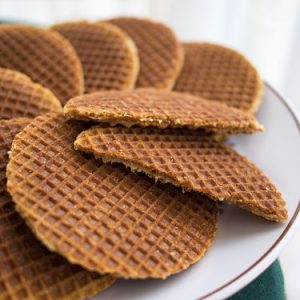 In addition to the weekly market, Gouda has a number of other interesting sights, one of them being the historic town hall.  Built between 1448 and 1450 it's one of the oldest and most impressive Gothic city halls in the Netherlands towering over the main square of Gouda.  The canals and side streets surrounding the town center are beautiful and worth a relaxing stroll, who knows what you might discover.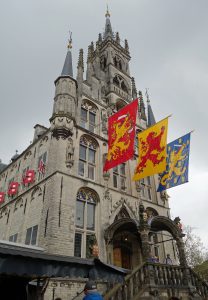 The Netherlands is full of hofjes, the Dutch word for a courtyard surrounded by an almshouse.  Almhouses have existed since the Middle Ages and provided housing for the elderly or low income persons.  Today they have been turned into private residences but during certain hours the inner courtyards are open to visitors.  We searched out the Willem Vroesenhuis building founded in 1555, one of the oldest hofjes in Gouda and one of the few residences originally set aside for men.  This hofje provided housing for over 400 years until closing in 1977.
Gouda had a thriving Jewish population before WWII and the gate of the former Jewish Cemetery has been preserved as a memorial to the Jews from Gouda who were murdered in the Holocaust.  Scattered throughout the town are "stumbling stones" or "stolperstein", brass squares embedded in the sidewalks as memorials to the people captured by the Nazis.  They are placed at the last known freely chosen residence of the person and show the victims name, date of birth, deportation and death.  There are nearly 200 in Gouda and they are a sobering reminder of those who perished at the hands of the Nazis.  Never forget 💕
AMSTERDAM
We had a number of options getting into Amsterdam from Bodegraven and the best one seemed to be driving to the P&R Arena lot where we could park the car for 1 Euro ($1.10 USD), after proving we took the train into the city center…easy peasy.  Two return tickets for the metro into central Amsterdam cost 6 Euros ($6.60 USD) and from the Johan Cruijff Arena station it was just 20 minutes before we exited into Amsterdam central station.  Wow it's busy here!!!  We have been spoiled living in a tiny village and not having to deal with the crowds, but here we were in the center of one of the most popular tourist destinations in the world 😱  Amsterdam Central Station is the city's largest train depot and within easy walking distance to most of the city sights.  The impressive building was designed in Gothic-Renaissance style by Dutch architect Pierre Cuypers and completed in 1884.  Like many other structures in Amsterdam, the station was built on wooden piles, 8,687 of them in all, and hopefully more sturdy than those under the leaning houses!!
Amsterdam is infamous for it's legalization of cannabis and prostitution so being curious we made our way to the Red Light District.  Sex workers in the red light district stand in small rooms with a large window facing the street.  If the curtains are closed the occupant is busy or not at work yet.  It was late morning so most of the curtains were closed, but we saw a few "ladies" on offer and that did it for us.  Here is a funny detail I found on the internet "the average time a customer spends with a professional sex worker is all of six minutes, and the wet dream fulfilled will cost between 80 to 200 euros" 😂  The canals are really pretty in this area so we enjoyed just wandering for a while without a set destination.

From the Red Light District we walked to Dam Square, the hub of the city and site of the Royal Palace, King Willem-Alexander's official reception palace.  The building was originally built as the town hall opening in July 1655, but became a Royal Palace in 1806 when King Louis Napoleon moved in.  It is built on 13,659 wooden piles, which makes me wonder how sturdy they are after all this time??  The balcony of the Royal Palace is used for significant events involving the Royal Family, similar to the balcony at Buckingham Palace in London.  Entry fees to the palace are 12.50 Euros ($13.75 USD) each which includes an audio guide.  It was nice to meander between the rooms at our own pace and enjoy the architecture, furnishings and artwork.
In a twist of fate we met up with one of my relatives from the UK, who we had just seen, and happened to be in Amsterdam for the weekend.  We met Hannah and her friend Meghan for a quick drink at an Irish Pub (yes, we do love pubs) before making our way back to the train station.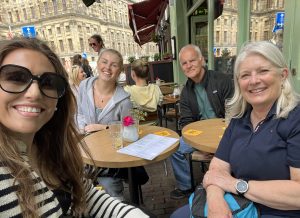 Just in front of the train station is a very picturesque example of leaning houses in Amsterdam, of which there are many.  Because the city is built on very soft ground, and the buildings are on wooden piles, they have foundation problems and are sinking and tilting over time.  Probably not the best place to own but it makes a pretty picture!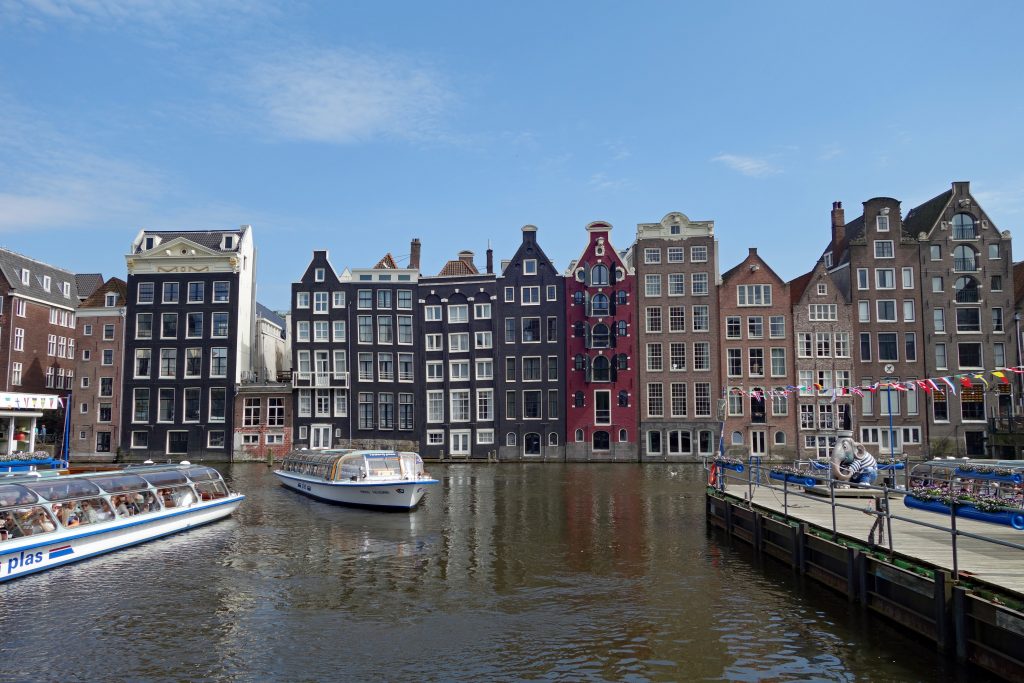 KINDERDIJK
We have all heard the story about the little Dutch boy who saves his country by putting his finger in a leaking dyke, but what I did not realize was how low and flat the Netherlands are, with much of the country below sea level.  For nearly a thousand years, the Dutch have created a system of dykes, canals and later pumping stations to deal with the water around them.  The windmills at Kinderdijk were built between 1740 and 1854 turning the peat fields in this part of the Netherlands into fertile farmland.  Although there is one windmill that was built in 1630 with evidence there was a windmill in that spot since 1542!  The Kinderdijk is so valuable to the area that the windmills were granted UNESCO World Heritage site status in 1997.  We always thought that windmills ground grain but here at Kinderdijk they "grind" water and all but 2 of them are functioning, lived in mills.  Even though the heavy lifting is done by large modern pumping stations.  The water around here is pumped up approx 2.5 meters (7.5 feet) into a reservoir which then drains into the river when it's level is low enough.  From the visitor center there is a paved pathway along the dykes taking you closer to the windmills and the quintessential Dutch landscape.  Parking by the visitor center cost 9.50 Euros ($10.45 USD) and it is free to walk along the dykes.
I mentioned earlier that stroopwafels were not my treat of choice, so what is?  Poffertjes is the clear winner for my sweet tooth.  They are tiny pancakes served with syrup, butter and powdered sugar 😋 I have a soft spot for this delicious Dutch specialty because over 30 years ago I worked in a food truck at the Calgary Stampede with my friend Loraine, who owned the business.  Pretty sure I ate a lot of poffertjes during that week each year!!
It's been a busy week but we took advantage of the weather when it was nice and even though rain was forecast every day, most days were dry but overcast.  Fingers crossed our second week here is as nice weatherwise, and with any luck I will find more poffertjes…..
Trip Tips
If you want to use the P&R (park & ride) lots outside Amsterdam be aware that after you park you must buy a return metro ticket into the city center.  The machine that you do this at has an English option available.  When you return to your car at the end of the day, and before leaving the parking lot, you must scan your parking ticket and then scan your used metro ticket, at a different machine than you bought the train ticket earlier.  Not all of these payment machines have an English option which we found out.  Fortunately someone who spoke English was nearby and she helped us navigate the process, on our second visit to Amsterdam we wisely chose a payment machine with English as an option.  Our 19 Euros parking fee dropped to 1 Euro after scanning our metro ticket 👍