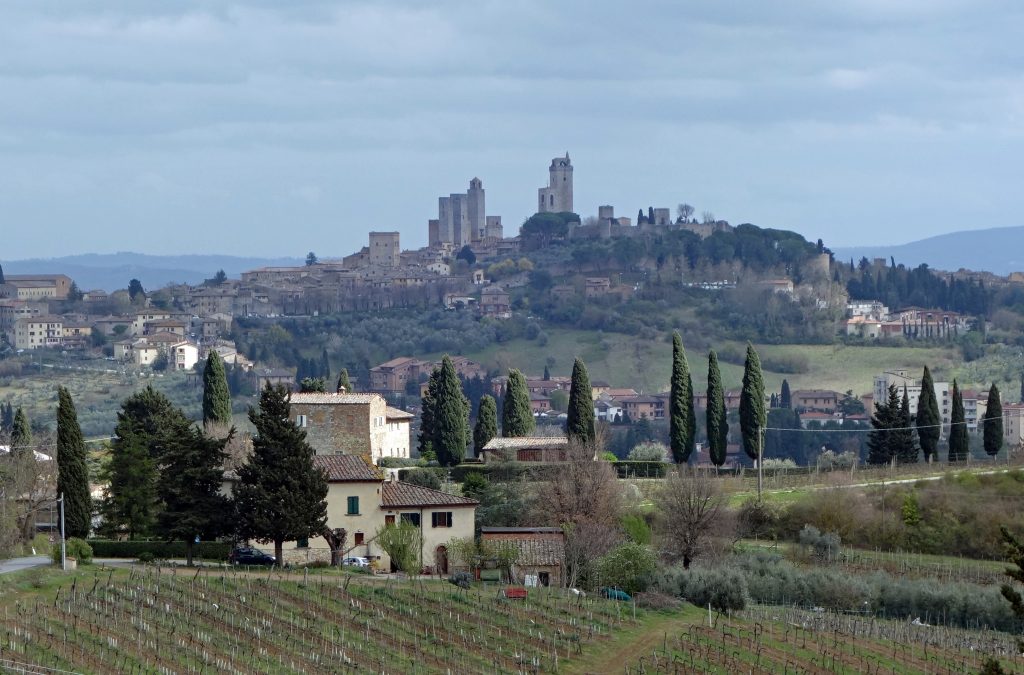 Even though our first week was a busy one we still found time to leisurely explore the area close to home, sometimes just driving new roads to see where they went.  Blair found a gym in Poggibonsi that we used a few times during the past two weeks and we walked into San Gimignano fairly often with it being so close.  During one visit we had a fabulous two hour lunch at Ristorante Bel Soggiorno which has expansive views, and great food as well.  Quite a few afternoons, after being out sightseeing earlier in the day, we would walk into town for a drink and some people watching, always good for a bit of entertainment 😊  San Gimignano can be seen for miles around sitting on a hilltop with its fortified tower houses.  The tower houses were built by families between the 11th and 13th century as symbols of their wealth and power.  There were as many as 72 of these tower houses at one point with only 14 remaining.  The town is surrounded by a double wall enclosing buildings which provide a shining example of medieval architecture from the 12th to the 14th century.  We have really enjoyed being so close to this lovely little town.
We made a second trip into Florence, because we really do love this city, and I thought we could visit the Uffizi Gallery, again.  It was the week before Easter and I was unable to get tickets to see Michelangelo's "David" so I settled for a return visit to the Uffizi, which turned out to be a bit of a disaster with an overwhelming number of tourists in Florence.  Our tickets cost 24 Euros (USD $26.15) each for a "prebooked" entry time, which was delayed by over an hour.  It was extremely busy in the gallery so we kind of rushed our way through.  Oh well, we saw our favorite pieces and we have been before so not a problem.
After the museum, we had a fabulous lunch in Piazza Della Signoria, wandered around Florence, and actually got into the Florence Duomo.  I can't believe that we have never been inside, but that may have something to do with the massive lineups every time we walk by.  By 3 pm the lineup was reasonably short so we joined in and made it inside, entry is free for the Duomo.  The interior is rather plain but the mosaic pavements and frescoes are stunning.  Certainly, the biggest artwork within the cathedral is the fresco of the Last Judgement inside the dome, designed by Giorgio Vasari, and painted from 1572 to 1579.  The Brunelleschi Dome is the symbol of Florence, dominating every skyline picture you see.  The construction design is quite fascinating and a good explanation can be found here.
The nearby town of Colle Val D'Elsa was recommended as a place to visit so off we went on a Monday afternoon.  Well, not sure what was up but the place was virtually empty and all the shops closed up!  The lady who recommended the town did mention it was not as busy as San Gimignano, but this was a bit extreme.  Colle Val D'Elsa reportedly produces 95% of Italy's luxury crystal but we could find no evidence of this, perhaps there are factories in the newer part of town that we missed.  As we wandered around the deserted town center we came upon an ancient fountain from the 13th century.  This one was called the Fountain of the Smile and used a manual pumping mechanism to bring water to the upper levels of the town.  With very little to see, I'm not sure I would recommend visiting this town.
Before our time in Tuscany came to an end we made another trip to the Chianti Classico region to visit a couple more wineries.  It's funny how we end up being drawn to the same area, perhaps familiarity?  Our first winery was Il Molina di Grace and they have a wonderful website explaining the history of the vineyard and their current wine growing practices.  It is a beautiful spot located high in the hills with some pretty amazing statues around the property, the most impressive of which is the 9-meter high statue of San Franceso della Vigne, which I am guessing is a tribute to the monks who first harvested wine here over three and half centuries ago.  The wine tasting cost 8 Euros (USD $8.70) each for 3 wines and this was taken off the price of the two bottles of their fabulous Chianti Classico Reserva we ended up buying.
Our second stop of the day was a wonderful discovery, the boutique winery Fattoria Le Fonti, located just below the village of Panzano, a town we keep getting drawn back to every time we are in Tuscany.  Again, their website gives so much more information than I can pass on here.  This winery is definitely worth a visit, their wines are lovely and the views over their property are what all our dreams of Tuscany look like.  The wine tasting was free and consisted of 8 wines and a sampling of their olive oil.  We were really impressed with their wines and ended up buying 8 bottles!!
After two wine tastings, it was time for lunch so we headed just up the hill into the historic section of Panzano where we found the lovely restaurant Il Vescovino, with panoramic views over the Tuscan hills…I am pretty sure we had lunch here last time as well 😋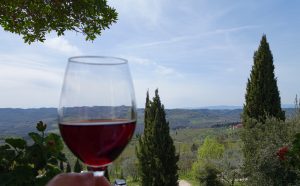 We spent our final day in Tuscany relaxing at our amazing stone cottage and taking one last walk into San Gimignano.  It has been great to be within walking distance of this very popular tourist destination but yet removed enough that we have had absolute peace and quiet here in the olive groves.  I think we both agree that two weeks was not enough time here and we would love to return for a longer stay, but until then we are off to explore places in Italy we have never been…..