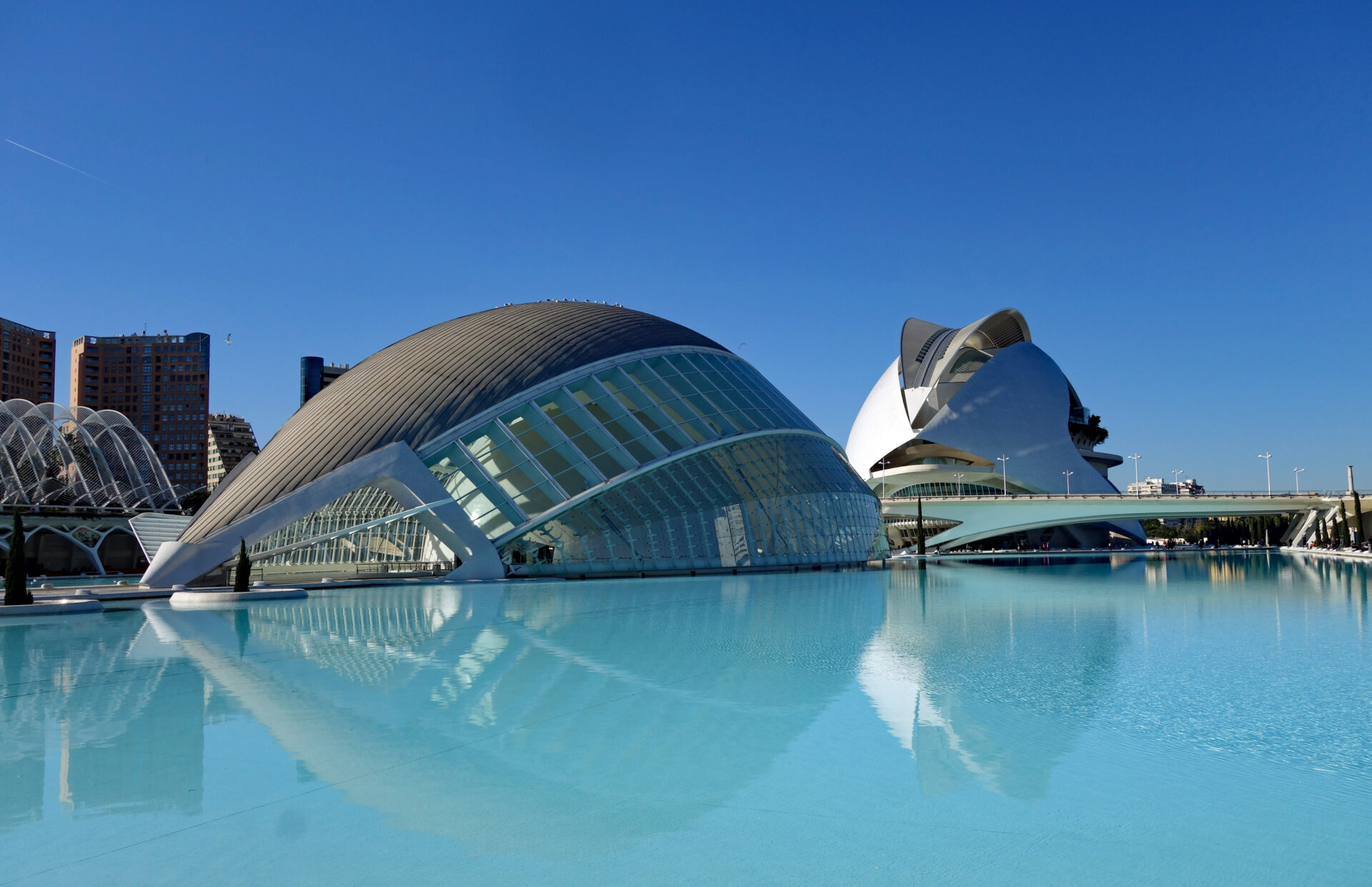 Leaving Barcelona late morning on December 24th the drive was a pleasant 3.5 hour journey past mile upon mile of orange groves to the outskirts of Valencia, Spain's third largest city.  Valencia's port is the busiest container port in the Mediterranean and was visible for miles as we drove South along the coast.  The city is much larger than we anticipated and is an interesting mix of historic buildings and churches in the city center dating to 100 BC and the contrasting ultra modern City of Arts and Sciences.  Our apartment is at Malvarrosa beach, where we enjoyed many long beachfront walks, but only a short drive to the old city center of Valencia.  We got off to a bit of a rough start trying to deal with a landlord who was away in New Zealand and unable to sort out the fact that his internet had been cancelled.  Being without internet for two weeks was unacceptable so we spent the afternoon of December 26th in a nearby restaurant that had WiFi searching for another place to stay.  It turned out to be the best thing after all.  The second apartment we rented is brand new, we are the first renters to stay there, and everything is pristine.  The apartment is professionally managed by a company and I must say we are leaning towards that option for future bookings, especially in countries we don't speak the language, because they generally have someone who can speak English to resolve any problems that come up.  I'm sure some people will wonder why we can't live without internet for two weeks, it is because we are constantly researching and booking future apartments.  Living home free means we need to "work" a few times a week finding our next home.  Believe me when we were working and had a home base we were thrilled to unplug while away on vacation!!
Once we were finally settled into apartment #2 on December 27th we started exploring our neighborhood a little further.  The beachfront promenade stretches for more than a mile along the beach which is 300 yards deep.  Lining the promenade are small shops and restaurants while the beach is used by folks playing soccer, volleyball, playing frisbee, flying kites and walking.  Even though it is December the beaches are still a popular place, even the occasional swimmer, it must be mayhem here in the summer!!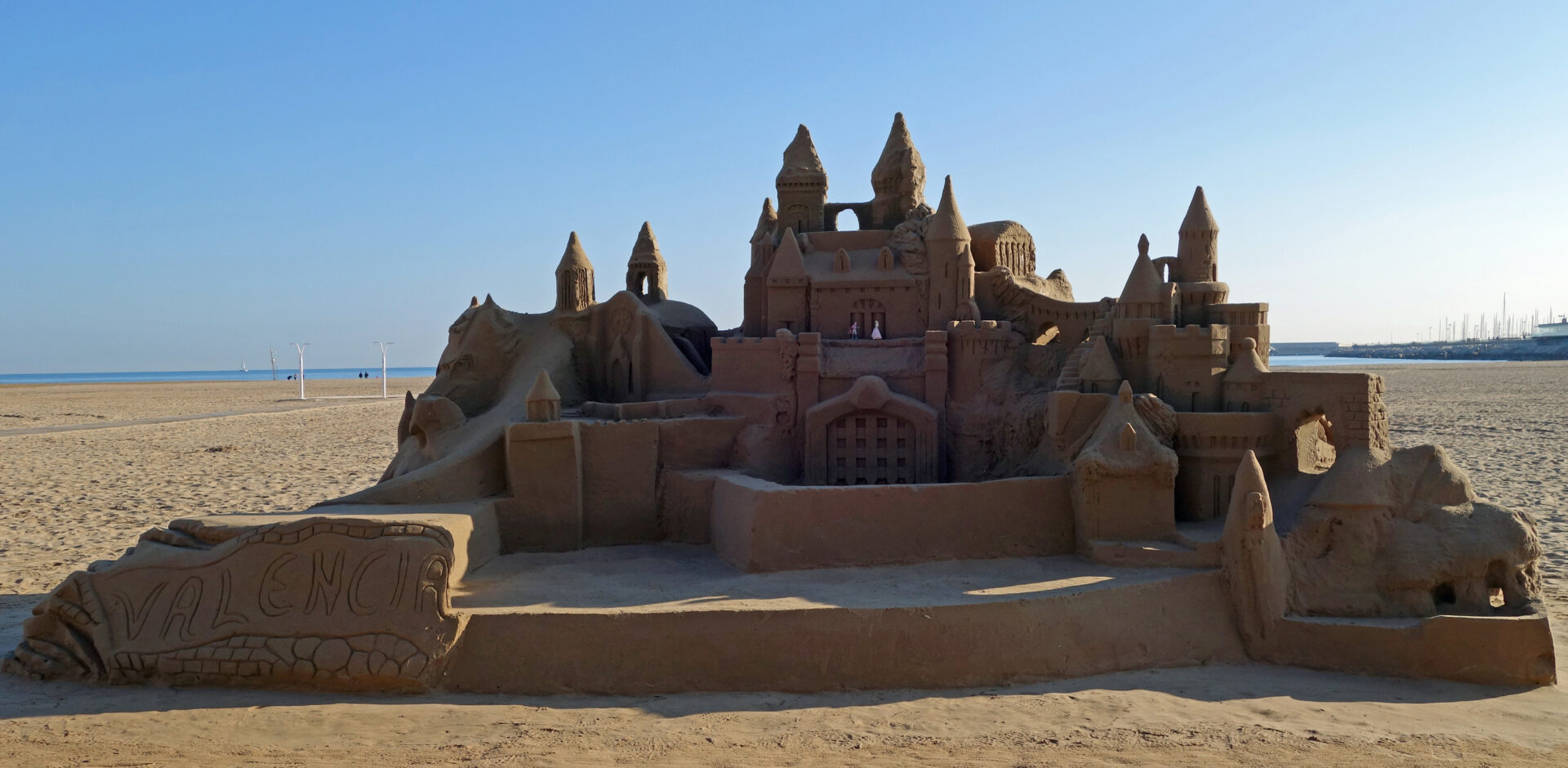 Our health, or lack thereof, continued to plague us in Valencia.  After visiting a clinic near our apartment we were directed to a hospital that would accept non-Spanish patients.  We were placed in the care of a wonderful Dr who after exams and x-rays for both us concluded I had a sinus infection and Blair had a trachea infection.  The long and short of this is we are both on antibiotics and a couple of other prescriptions for the next 10 days.  We are optimistic that once we get over these current problems we will have the time to build up our immune system, get out in the sunshine and be healthy again before we fly on March 13th.
After being here a week we finally had the time to journey into Valencia city center.  We chose to do it on a Sunday hoping traffic would be less and parking would be available.  The bus takes over an hour and would have cost us 6 Euros (6.81 USD) for a return journey whereas we found parking for 4 Euros (4.55 USD) near the train station.  We downloaded a walking tour to my phone which began at the Plaza de Toros and the Train Station then wound past many historic buildings and squares in Valencia.  The old city center is compact and filled with gorgeous buildings around every street corner.  We walked around gaping upwards most of the time 🙂  Because it was Sunday we expected the Central Market to be closed however perhaps because it was just before New Years it was open and filled with shoppers.  Built in the 1920's this market is one of the largest in Europe.  Looking up we saw the stained glass and mosaics adorning the domes of the iron structure.  We had a delightful wander around taking in all the sights, sounds and smells of the market, a main shopping destination for local Valencians.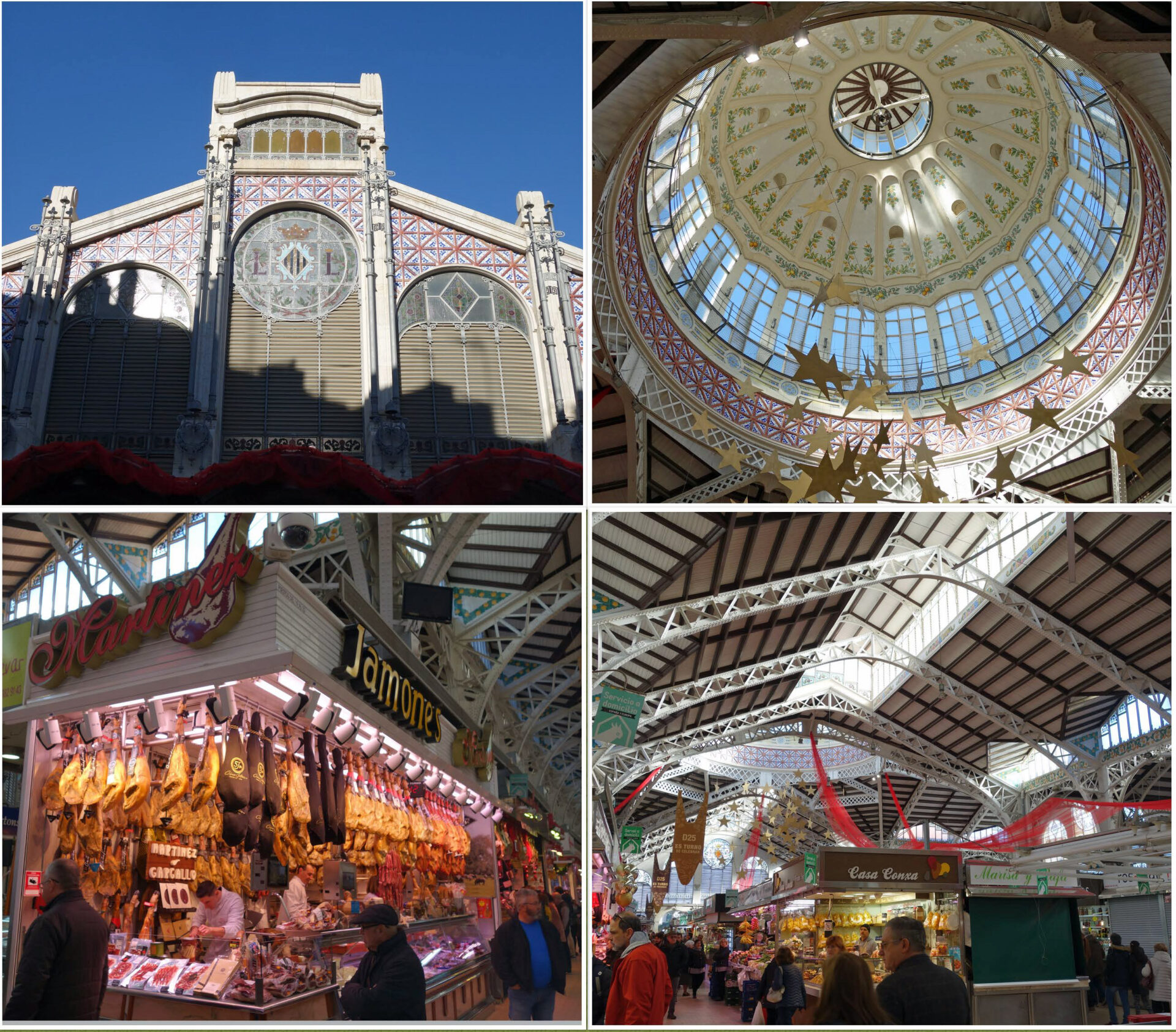 The Plaza de Toros, built between 1850 and 1860, is a very famous bullfighting arena still used to this day for bullfights, usually in March and July.  The neoclassical design, inspired by the colosseum in Rome,  is spectacular and we were disappointed we could not see inside the arena.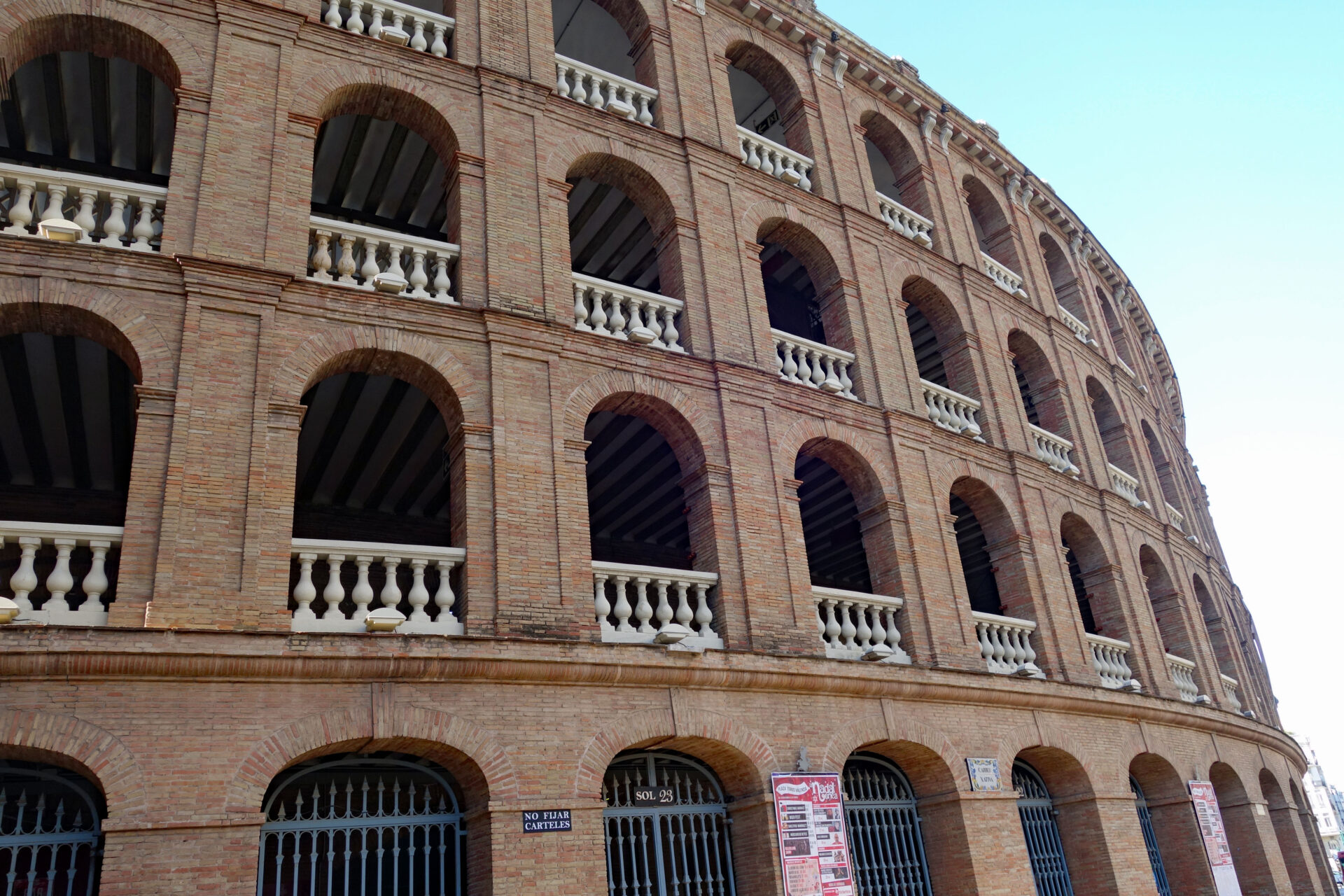 The North Railway Station is right beside the bull ring and the main train terminal for Valencia. It was constructed in the early 20th century and has some stunning mosiacs inside.  The interior and exterior decoration is a tribute to the importance of the Valencian orange trade.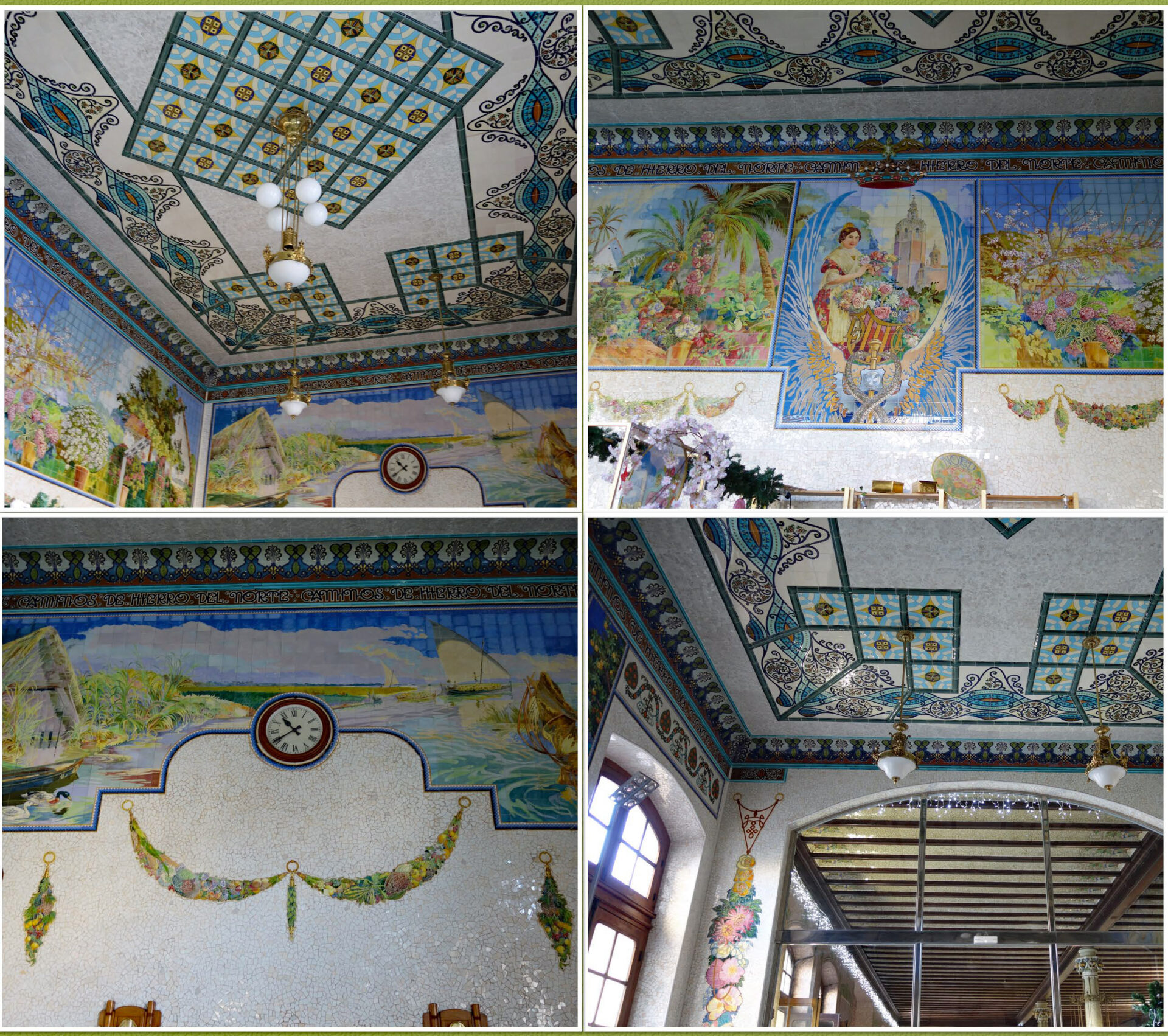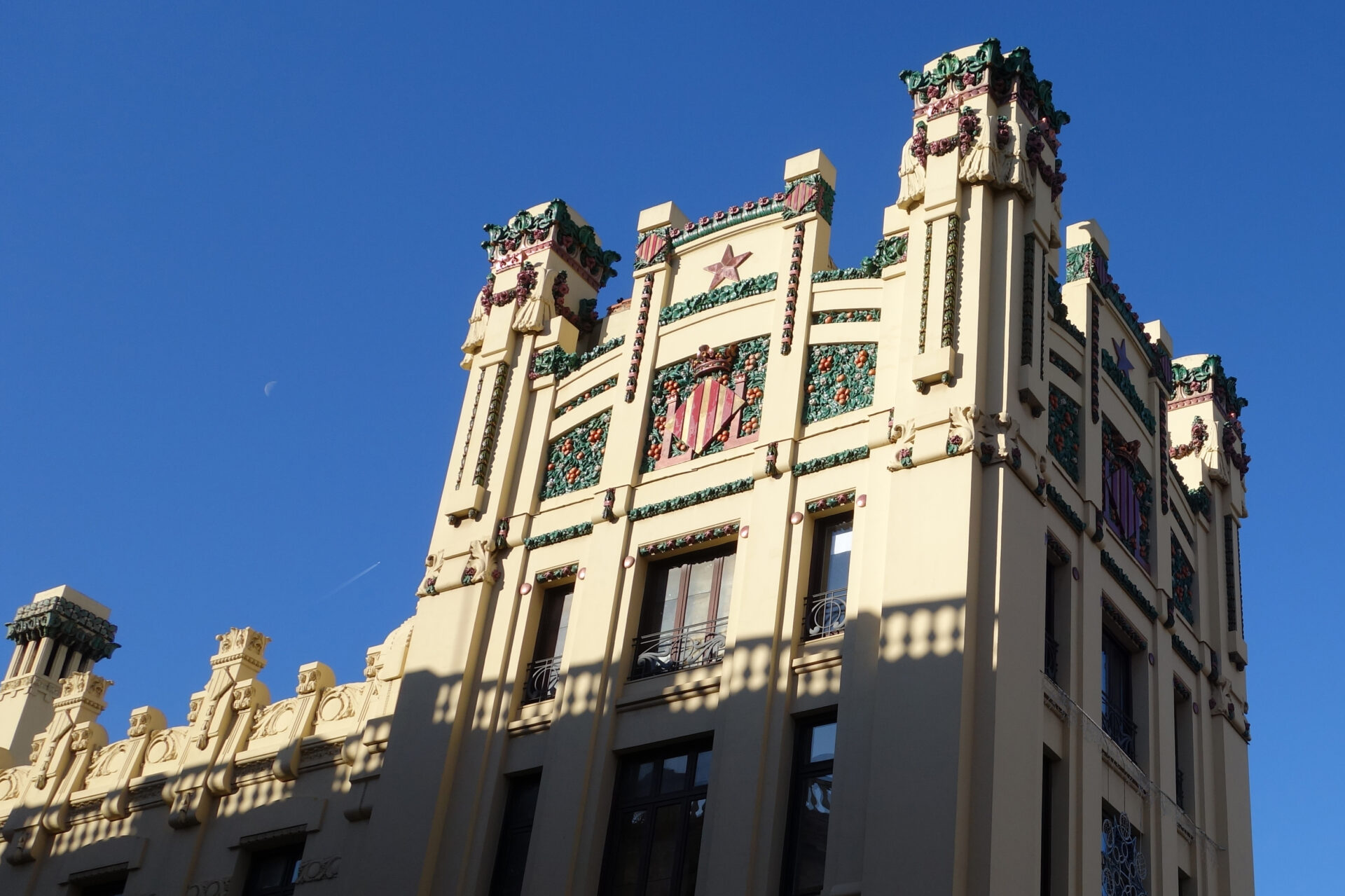 City Hall is cut from white stone and a beautiful place to visit beginning with a massive marble staircase just inside the doors.  Inside the 2nd floor grand ballroom there are fabulous chandeliers and because it was Christmas there was a massive nativity scene on display.  The City Council has been there since 1934 and the building also houses the municipal archives, a museum and various administrative offices.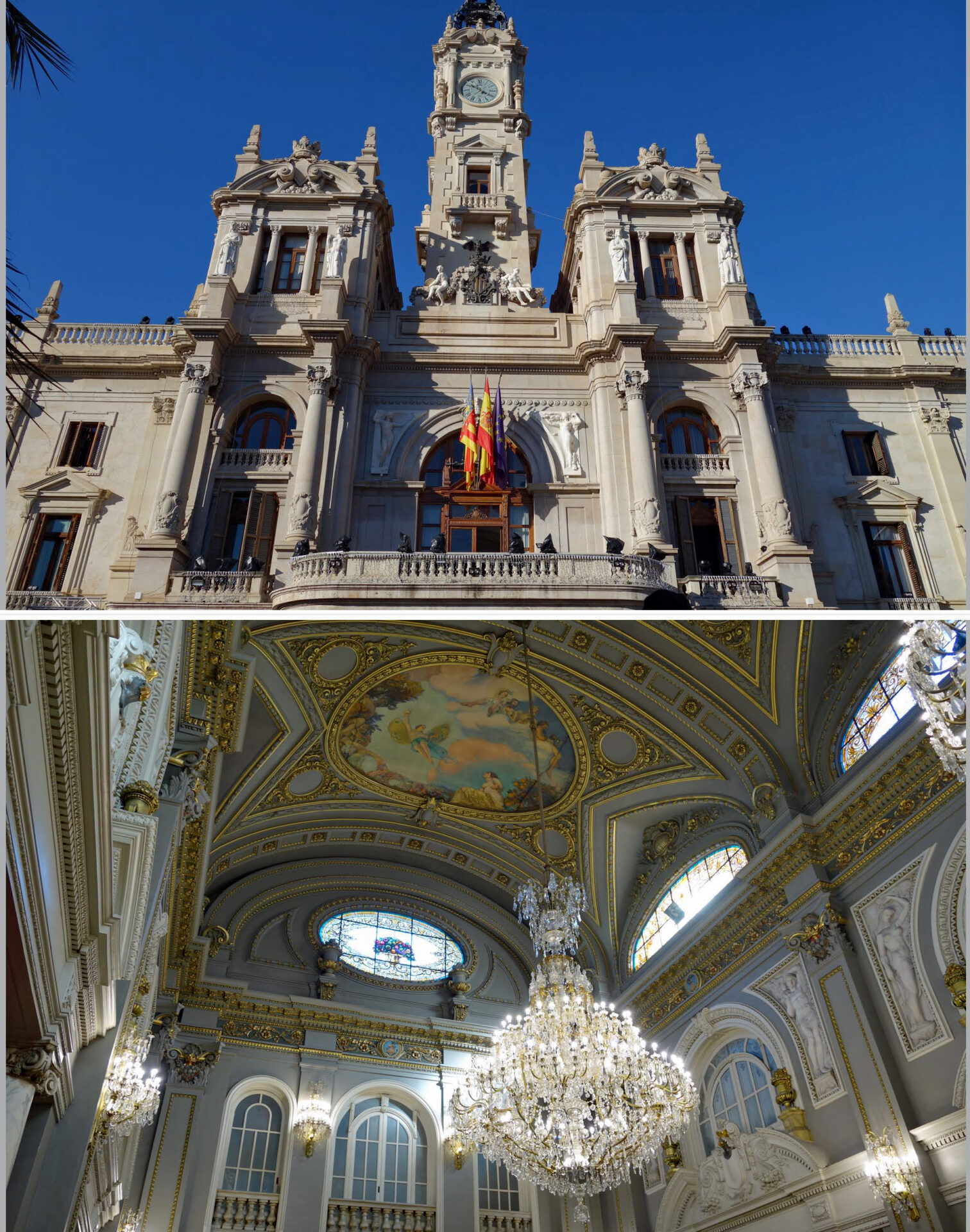 La Lonja de Seda was built in the late 1400's to house The Silk Exchange.  It's Gothic style means there are gargoyles inside and outside the building, some fairly grotesque but I always find them fascinating.  The interior columns spiral upwards like a rope spreading out as they reach the vaulted ceiling, transforming into the ribs of the vaults. Valencia was a prosperous hub for the silk trade in the 14th century with this building standing testament to that fact.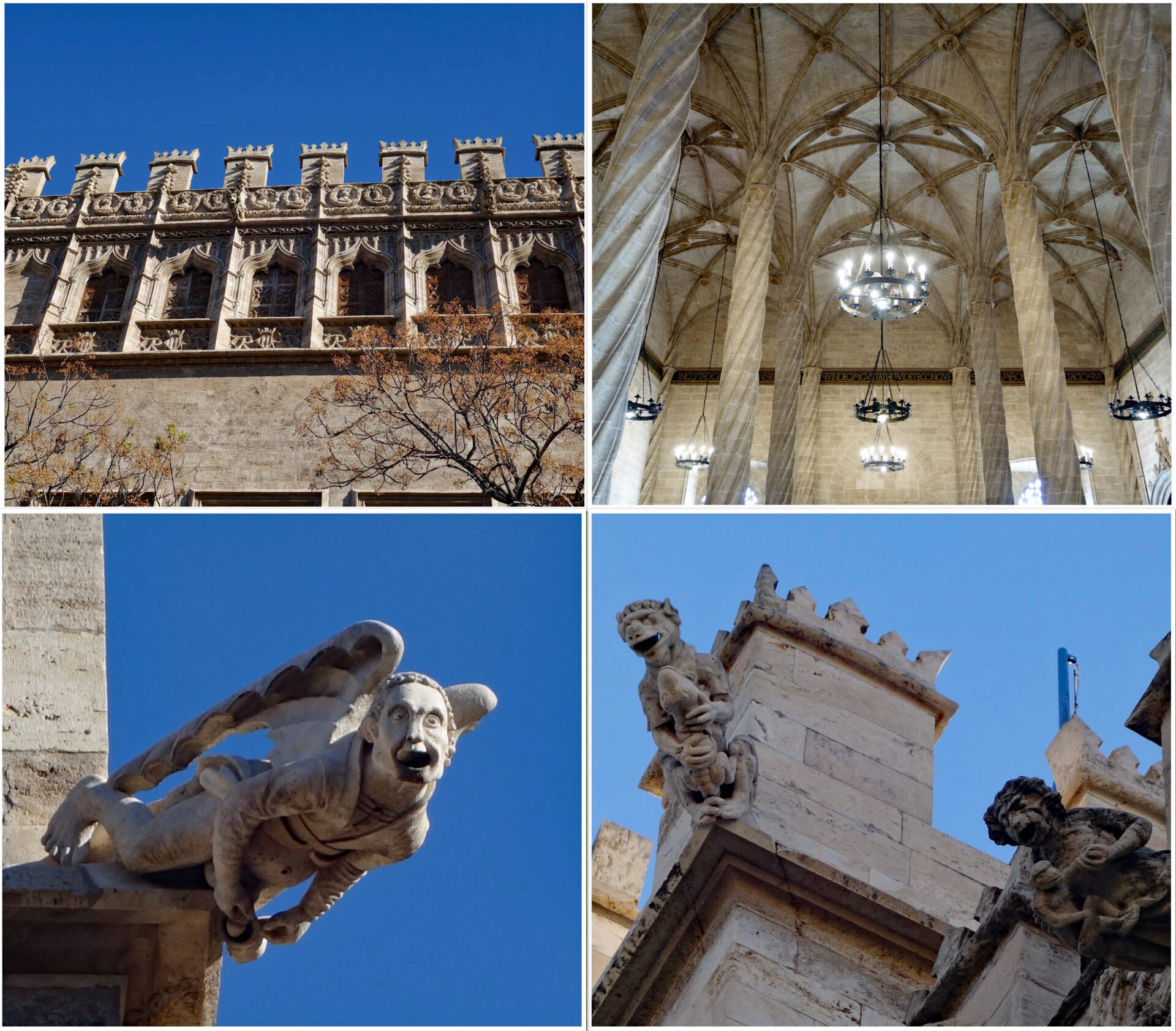 The Valencia Cathedral is a must see on any list.  It is the largest Catholic church in the city and one of the oldest houses of worship in Valencia.  A Roman Temple and then a Mosque stood on this site before the Cathedral was built in 1238.  The Cathedral's big draw are the holy chalices stored here, one of them believed to be the Holy Grail.  We visited the Cathedral on Sunday Dec 30th so it was busy with holiday visitors and churchgoers.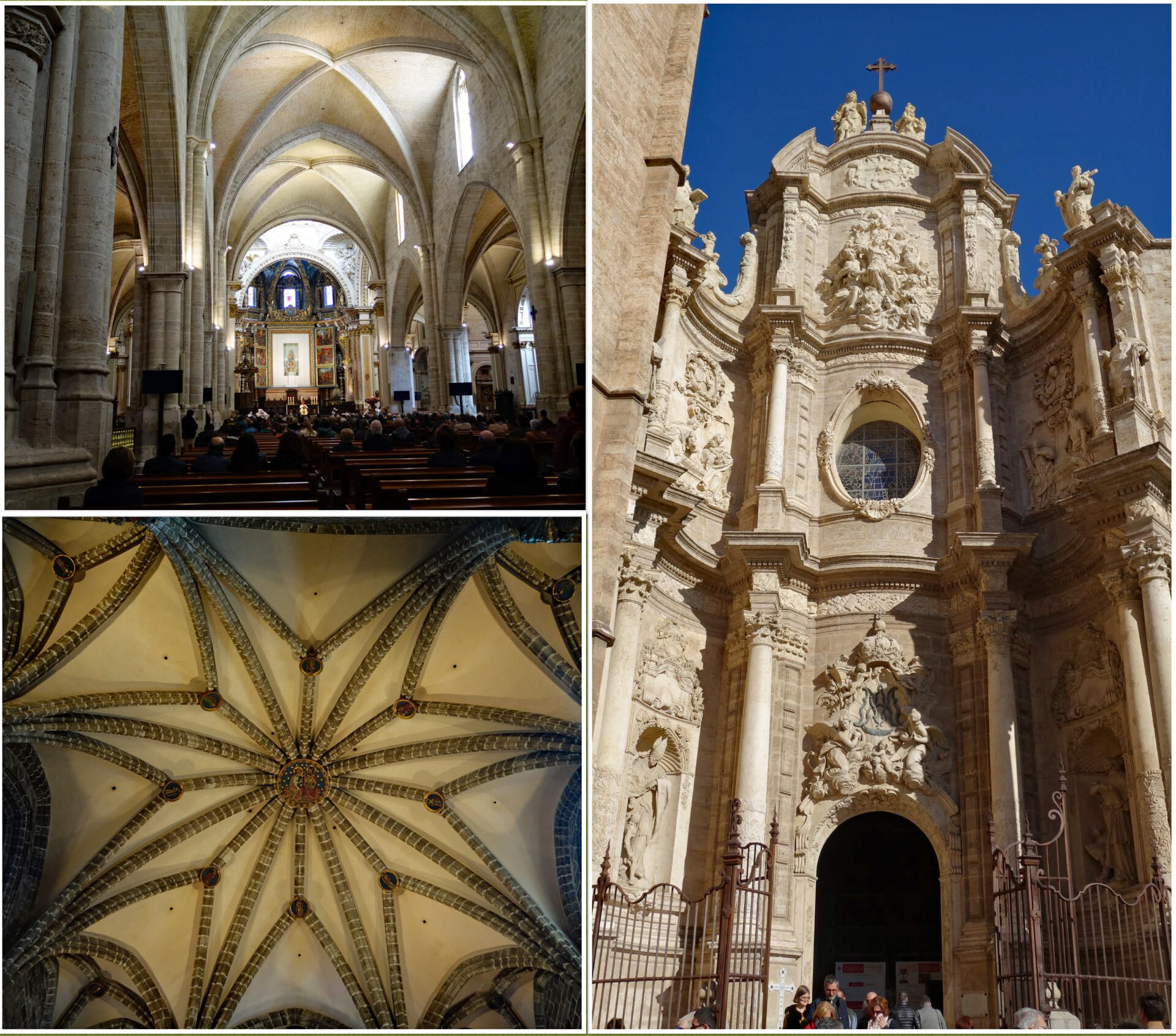 In addition to the beautiful old buildings Valencia has some amazing modern architecture.  The City of the Arts and Sciences is one of the newest and impressive centers in Valencia and very space age in appearance.  The complex comprises a planetarium, a science museum, an IMAX theater, an aquarium, the opera house and an arts and science exhibit area.  The fabulous architecture, gardens and reflecting pools are worth exploring without ever going inside any of the buildings.  The Opera House is at one end of this area looking a bit like a large helmet.  Completed in 2005, the building rises 14 stories and with it's astonishing curved roof is a wonderful piece of high-tech art.  Again, no need to go inside when the exterior really is the highlight.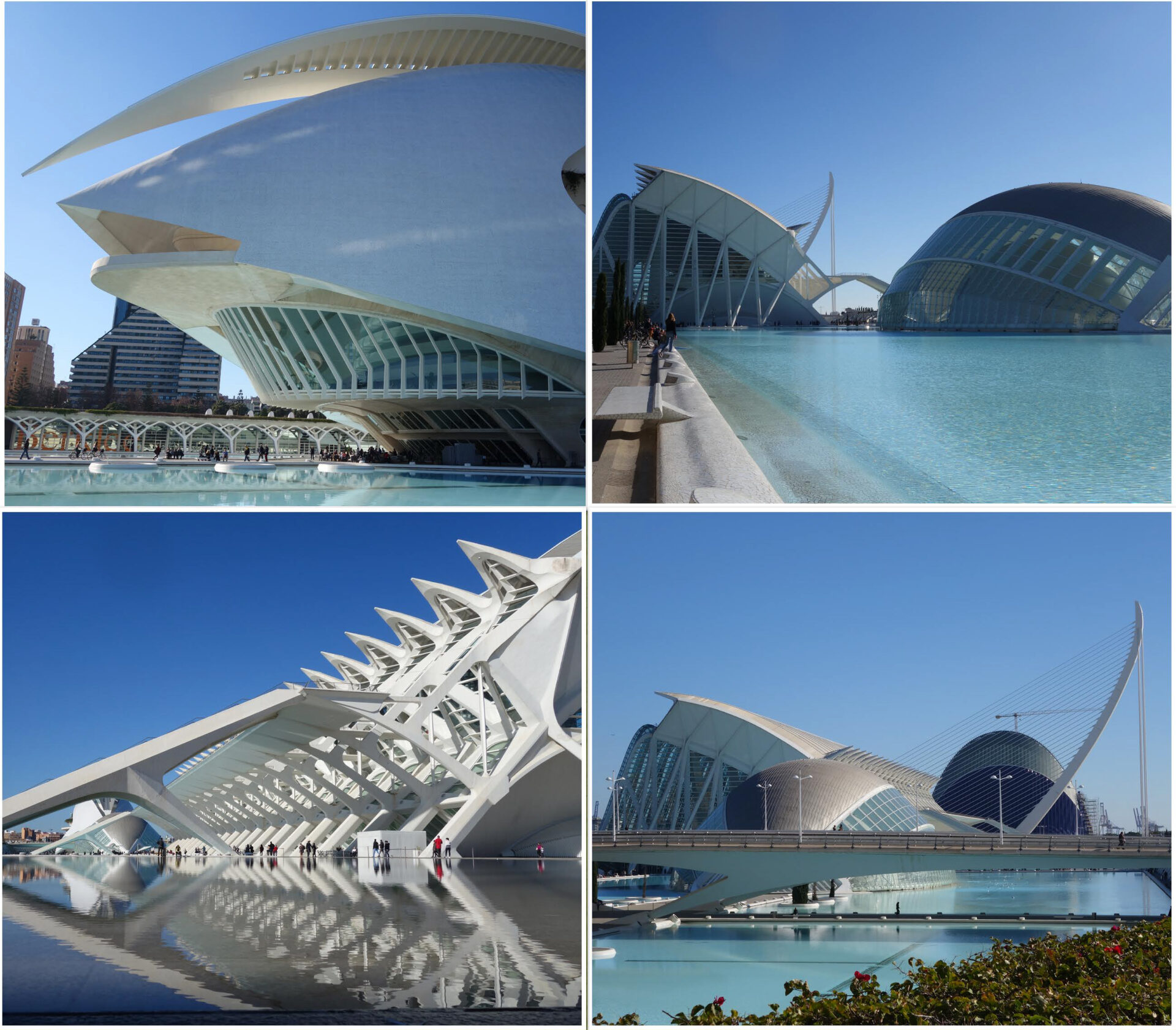 We had an unfortunate incident while at the grocery store on the afternoon of New Years Eve, it seems our tire was purposely punctured with a sharp instrument.  Driving back to the apartment the puncture alarm went off and we limped to the closest gas station where Blair changed the tire.  Dealing with Renault to get a new tire was frustrating and time consuming but eventually resolved.  The upsetting thing is we were told by the mechanic working on our car this is a very common event in Spain where tires on a tourist car are punctured.  When you stop to change the tire the criminals often come to offer their help and while you are distracted rob your car, or a worse case scenario, rob you personally.  If it happens again he said to lock the car doors and call the police!  This upset me very much as I recalled while Blair was changing the tire a person appeared to be moving quickly towards us but turned around when he noticed there were a number of people nearby us at the service station.  I became reluctant to take the car out again while in Valencia especially since we have a bright red French licence plate which I am afraid makes us a target.  This meant that for the duration of our time here we walked everywhere, which is not a bad thing, we had time to relax, work on future travel plans and go for many long walks along the beach.  It has been really nice to be beside the sea again  🙂
Our journey South continues as we now head to Granada and The Alhambra…..