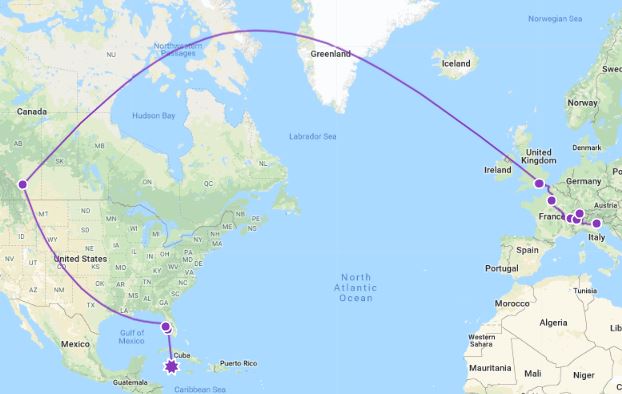 Currently in Italy we looked back at how quickly our first 6 months has gone by, finding it hard to believe we left Grand Cayman on December 31st.  Some interesting statistics from our travels to date:
3 – Flights taken
6 – Countries lived in
11 – Cities lived in
5 – Apartments rented
1 – Hotel stay
7 – Friends and family stayed with
3 – Cars rented
1 – Train journey
This has been achieved despite spending 3 of the past 6 months in our home town of Calgary with family and friends.  Upon leaving Calgary our travel plans are more extensive and will keep us on the move for 15 months before passing through Calgary for a visit in 2019.
We embarked on this retirement journey with hopes that this lifestyle choice would be what we anticipated, and so far it has not disappointed.  As we figure out all the ins and outs to long term travel, mixing slow travel with shorter stays seems to work for us, and we hope that will allow us to maintain this lifestyle for a few years to come, trying to live like a local wherever we may be.
So far we have used HomeAway and Airbnb for our apartment rentals and have had good fortune so far.  That being said we do a lot of research on each place and set filters to further refine our search.  One of the best filters we have found so far is the Airbnb "superhost" which appears to show the most reliable and well regarded hosts.  A big concern we have is being told our reservation is cancelled, on short notice, as happened to us a couple of years ago using HomeAway to book an apartment in New York.  We had no recourse after receiving a cancellation email from the owner 36 hours before our scheduled arrival and we were forced to spend more money than we wanted to get a hotel, not what we had planned for.  Fortunately that early experience made us more aware of reading reviews carefully and being in regular contact with the owner in the time leading up to our reservation.  Also, apartments which are holiday homes, second homes or dedicated rentals I think are possibly more reliable than moving into someone's personal space.  Personally, another top priority item is a washing machine in the home.  It gives us the flexibility to do laundry regularly, while we happen to be at home anyway.  Spending a couple of hours in a laundromat is not my idea of fun!!
Another must have is good WiFi.  We need reliable internet to continue planning our travels, which is an ongoing process.  Having a local SIM card in our phone has turned out to be a life saver, especially when needing to use Google Maps to find out where we are and Google Translate to determine what we are buying in the grocery store.  For our Europe travels we are fortunate to have a family member in the UK who set up an account for us with a phone provider.  We now have one SIM card that will take us through all of Europe and the UK for the next 15 months.
We have had our little blue car, Dory, for almost one month now and she has taken us 2,200 km so far.  Over some heart pounding high mountain passes, along narrow and winding roads, through the longest tunnel we have ever been through (twice) and braving the Italian motorways.  She had a 7 day rest in Tasche while we used public railways and cable cars to get up to and around Zermatt.  At times public transportation is an easier method to use when parking is either unavailable or expensive, as was the case for our trip to Venice this week from Mirano.
So far we have not encountered any major challenges and are doing our best to "go with the flow" so to speak.  Buying groceries in a foreign language has probably presented us with the most difficulty, but this is where Google Translate has been invaluable 🙂  Plus being able to do an internet search on how to operate the various washing machines we have encountered has been crucial.
All in all these are minor challenges which have come our way and fingers crossed our retirement lifestyle carries on this smoothly for years to come……