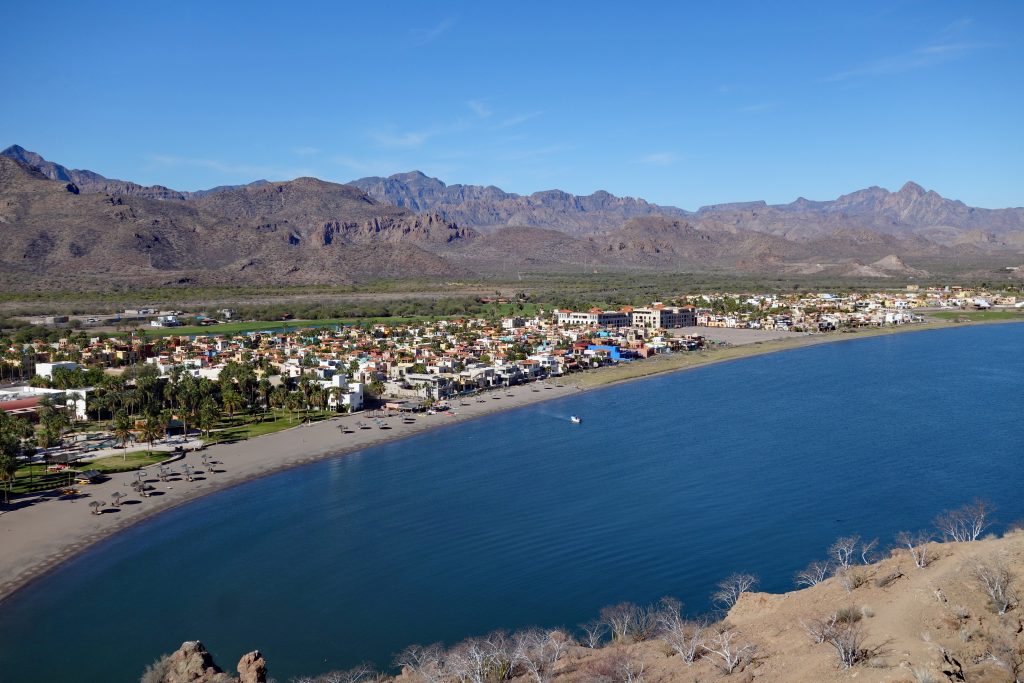 The first month of 2022 is also our last month living in Loreto, Baja, Mexico.  It has been the perfect place to be isolated during the latest covid surge and we are grateful to the folks whose homes we have rented during our time here.  I can't imagine a better place to have spent the past 4 months!
As is our usual preference, we rang in the new year quietly and early  🥂  Lucky for me, and maybe not so lucky for my wallet, champagne is available at the minimarkets here in the community.  We splurged on a couple of bottles over the holidays  🍾🍾
We moved house one last time on January 6 to a lovely place owned by fellow Canadians from Barrie, Ontario.  We are only a 2 min walk from our previous two rentals and happy to be in the same vicinity.  This time we are closer to the sea and have beautiful views from our third-floor viewing tower.  Every morning we begin our day with coffee in the tower watching the sun rise up to shine on a new day.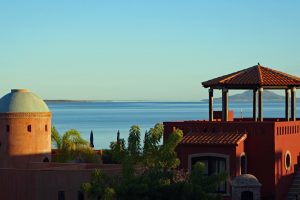 January was a quiet month with nothing exceptional happening, well other than our flight to Rome being canceled, TWICE, and having to spend over 6 hours on hold with Air Canada to find an alternate route 😩  That issue aside I must admit we are starting to get a little bored.  Without a car we are confined to the community, which after almost 4 months is feeling a bit small.  I continued with my yoga classes, we renewed our gym membership, walked on the beach and in general had a relaxing month in the sunshine.  I have no doubt that if we were in Calgary we would be feeling equally as bored with activities restricted due to sub-zero temperatures and being stuck indoors.  So, I won't complain about being outside in the sunshine  🌞🌞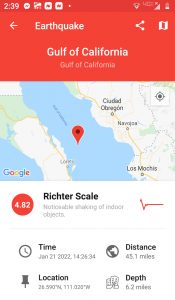 Living on the Baja Peninsula for 4 months we have experienced something new to us…earthquakes.  They happen quite regularly around here and fortunately are of a small enough magnitude to make them interesting rather than damaging.  On January 21 the photo here is the information about the first one of three we had that afternoon.  This particular day a lyric from a Carole King song popped into my head "I feel the earth move under my feet"   😂
The weather turned cool and windy in late December and we had a long period of time where the sea was too rough to paddleboard.  Exactly one month after our last paddle on December 25 the winds died down and the water was calm.  We quickly jumped on the paddleboards for a spin around the bay and it was a good thing we did, there was a pod of dolphins swimming down the coast, close enough for us to see them jumping out of the water.  Later we paddled by Nopolo Rock and there were 5 Blue Footed Boobies perched on the cliffside.  All in all a pretty awesome couple of hours on the water.  We got a repeat the very next day!  When we awoke the seas were calm so we jumped on the boards shortly after sunrise and once again we were rewarded with a pod of dolphins swimming very close to us.  Days like this certainly alleviate the boredom!!
Speaking of Nopolo Rock, we have stared at this rock for the entire time we have been here and seen numerous folks enjoying a sunrise from the peak.  We talked often about hiking up there but never seemed to get up early enough, until less than 10 days before our departure.  Better late than never!!!  It looks a little daunting from the base but in reality, is only a 15-minute hike to the top with a couple of short sections where we needed to do a bit of scrambling up the rocks.  The views are pretty damn amazing and worth the effort 💪
We enjoyed the views so much during our sunrise hike up Nopolo Rock, we decided to trek up on another morning to get some different views.  It was a gorgeous flat calm day and there were quite a lot of folks on kayaks and paddleboards on the water.
We continued making travel plans throughout January and at this point, we have all our accommodations booked for three months in Italy beginning March 4.  Now we wait and we hope that nothing derails our departure 🤞  On the topic of derailing departures, we had a bit of a surprise when we realized that if our mandatory test 2 days before our flight from Loreto to Calgary comes back positive, we would have to stay here for 11 more days.  Days we don't have with a busy schedule planned for our 4 weeks in Calgary.  As of January 31, the requirements to enter Canada as a fully vaccinated traveler are a negative molecular test within 72 hours or a positive molecular test between 11 and 180 days prior to your flight to Canada.  Blair was unwell for about a week and we suspect he may have had covid, but with no easy access to a rapid test, we are not certain.  Then a friend mentioned that you can potentially test positive for many weeks after having covid.  Taking that information into consideration we decided to be proactive and get a covid test two weeks before our flight.  This was our first PCR test (we only needed antigen to travel through the US to get here) and it was not nearly as bad as I had imagined  😂  The results came back in less than 12 hours and were negative, this was good news however we agreed to be even more diligent about remaining healthy during our final two weeks in Loreto Bay.
We did our second PCR test on February 3, this one was not as delicate as the first one 😢 but I still received my cookie treats!  The clinic was much busier and our results did not arrive until 29 hours later.  Happily, we were both negative again and will be allowed into Canada.  We are looking forward to spending time with family and friends and making final preparations for our Italy adventures.