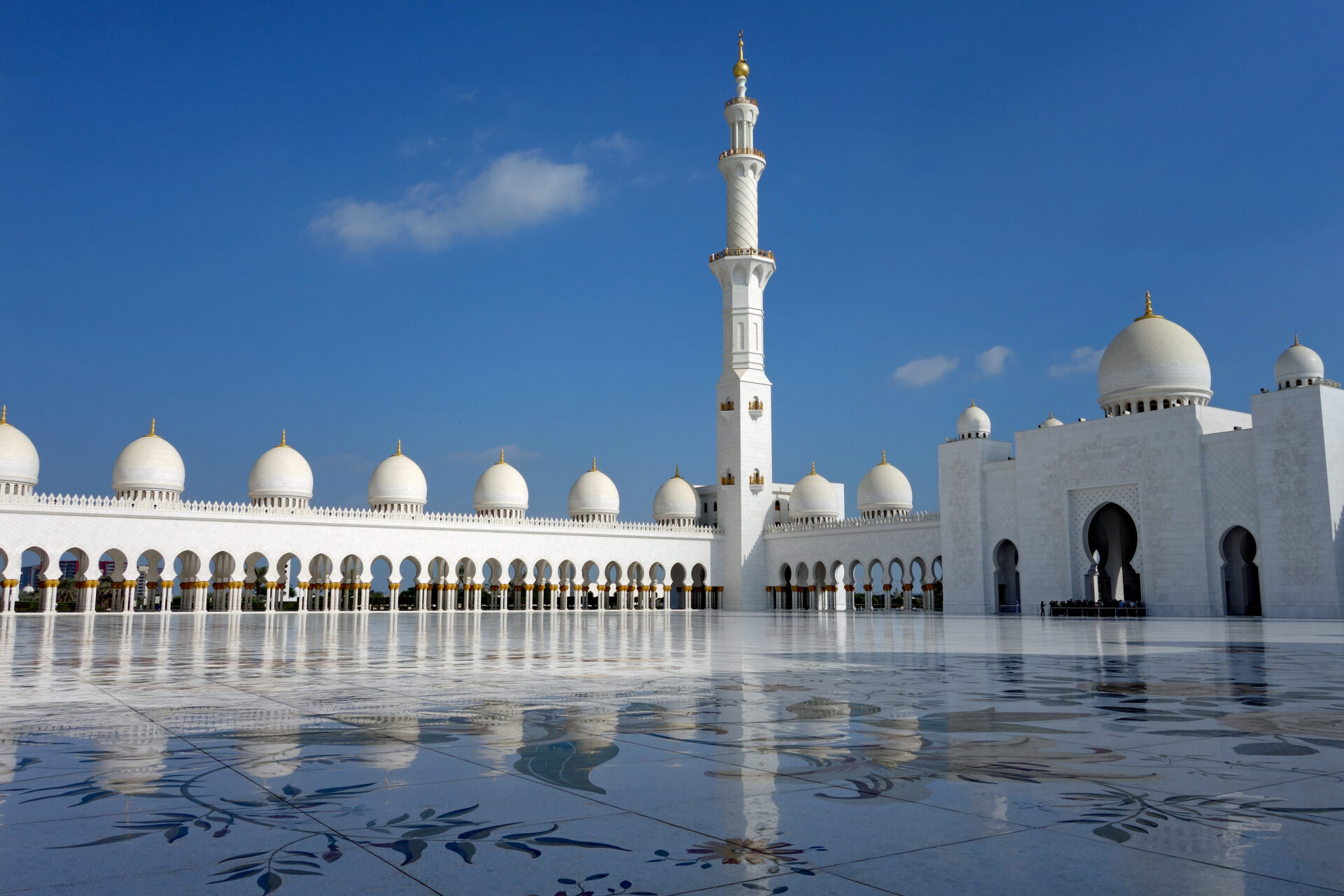 After departing the cruise ship we spent an additional 2 nights in Abu Dhabi.  We wanted a little more time to explore this newly developing city and it's extensive plans to build islands in the sea, as Dubai has done.  The city is spread out but easily accessible by reasonably priced taxis.  Following our night visit to the Grand Mosque, we had to go back for a daytime tour.  It was equally as beautiful with the sun shining on the blinding white marble of the domes and central courtyard.  We spent close to 2 hours there again admiring in more detail the intricate designs around this massive mosque.  It is lovely that they don't allow visitors into the open courtyard area otherwise photographs would be ruined by the masses of tourists here every single day.
We took a long morning walk along the Abu Dhabi corniche passing the Emirates Palace Hotel…..with it's 6 helicopter landing pads and massive arched entrance.  This opulant hotel is the place to stay for the rich and famous.  Very near to our hotel is the Emirates Towers complex of 5 buildings where we toured the observation deck earlier.  Our hotel is on a man made marina with numerous restaurants and a beach club.  It was a nice area to walk around but with signs warning of jellyfish and sea urchins I did not see anyone venturing into the water!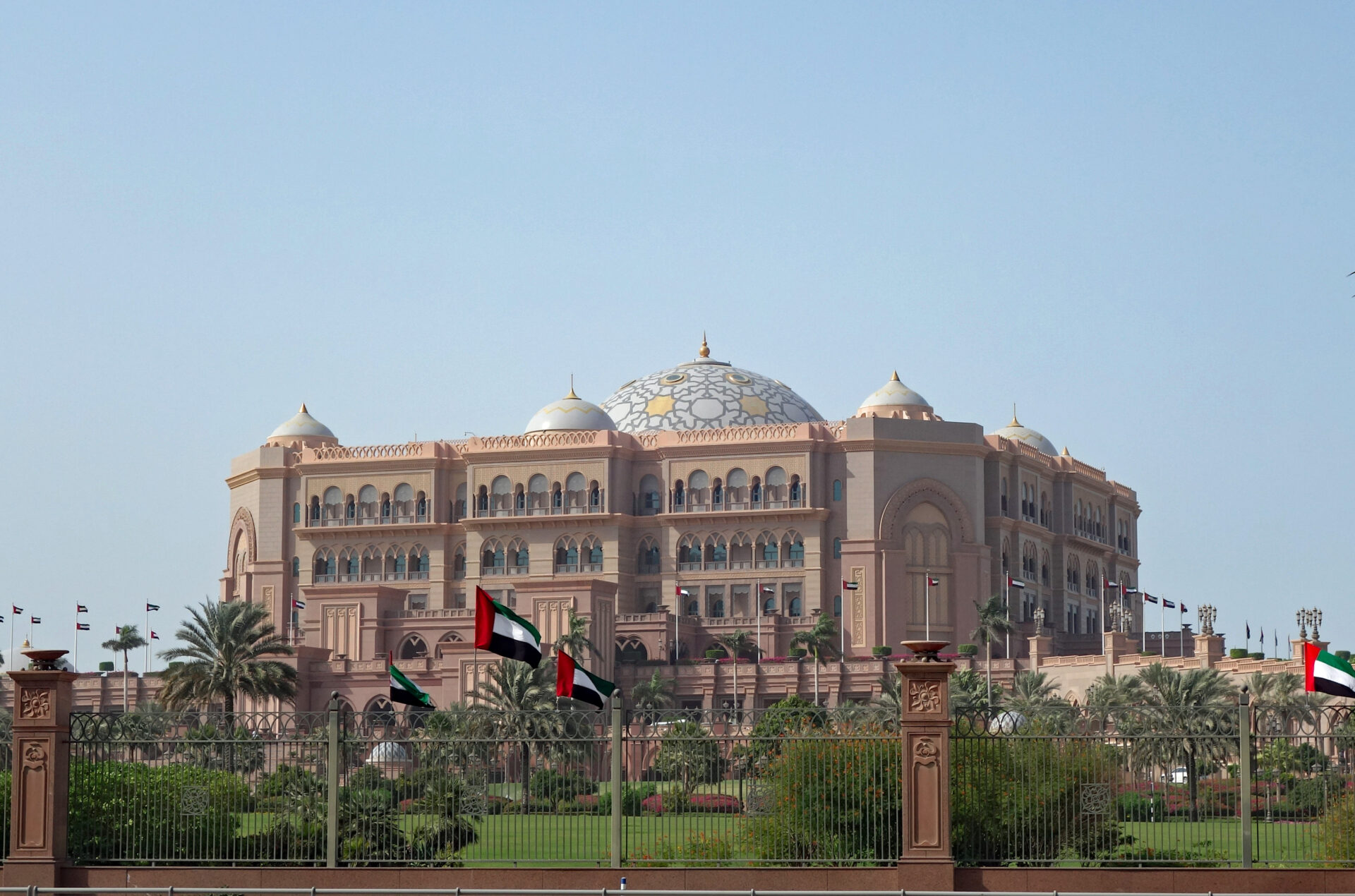 From Abu Dhabi we took a 90 minute taxi ride to our apartment in Dubai where we spent 7 nights.  Oh my, this really is the city of over the top obvious wealth, from gleaming skyscrapers to expensive cars to glitzy shopping malls.  Where else can you find an indoor ski resort, in the desert no less!!  Our apartment was on the 23rd floor of a residential building only 10 minutes walk from the largest mall in Dubai, the fashionable Dubai Mall, which houses the Dubai Aquarium along with hundreds of high end and designer stores, restaurants, an olympic size skating rink, a waterfall wall and an upscale souk area.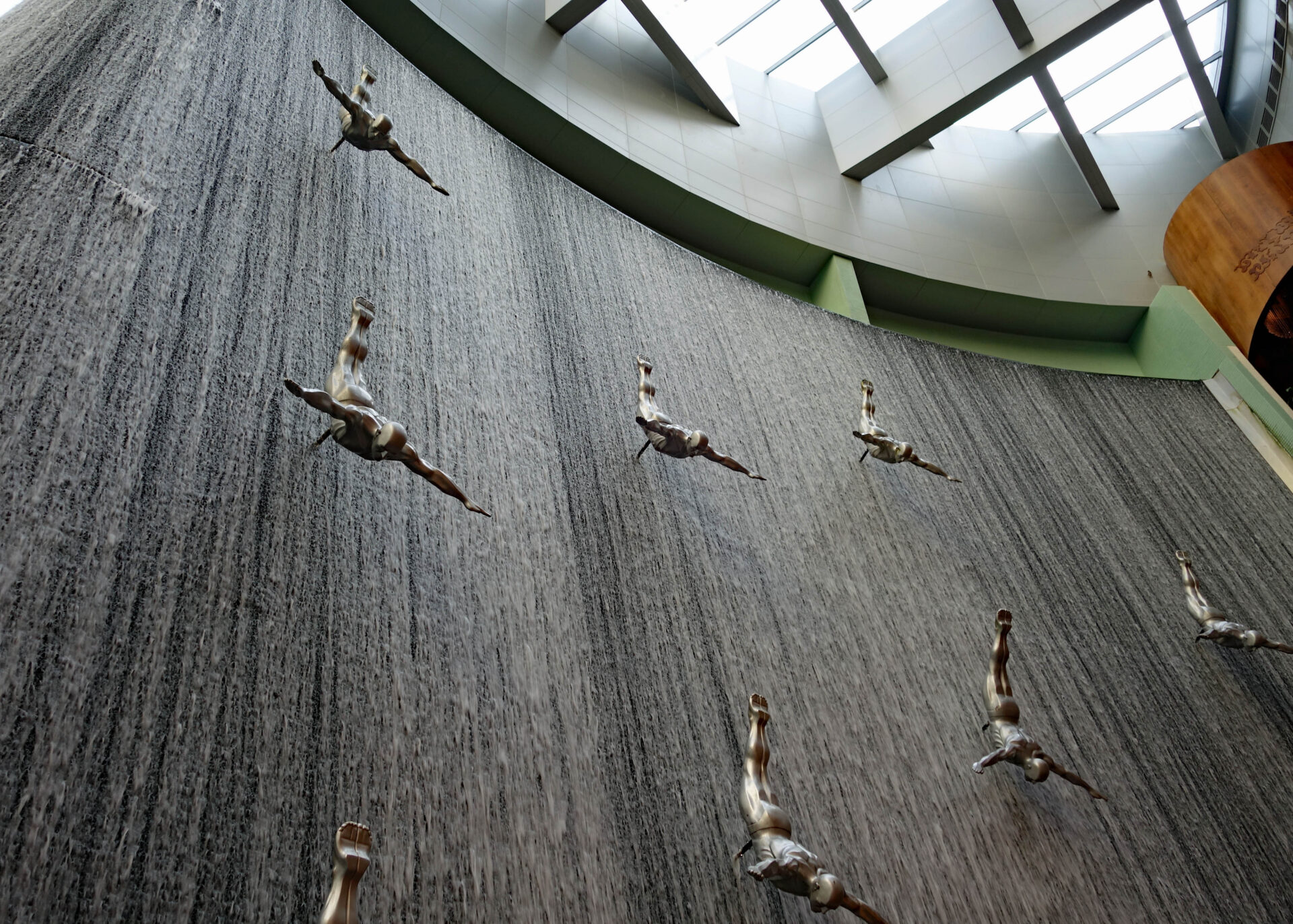 Beside the mall is the Burj Khalifa tower, the tallest building in the world, and a dancing water fountain similar to the one in Las Vegas at the Bellagio Hotel.  Also nearby is a Souk with small shops selling more traditional products, where we found the Bateel store, purchasing some delicious dates.  Being lovers of a nice bottle of red wine with dinner presents a challenge here in the UAE.  The only place a visitor can purchase alcohol is in a hotel, none of the restaurants sell alcohol 🙁 so we had to find the nearest hotel and pop in for a happy  hour drink once in a while.  What everyone seems to do here instead of drinking is smoke the shisha pipe, which surely is very unhealthy.  The World Health Organization states that a one hour session of shisha smoking is equal to 100 cigarettes, and we see numerous people smoking these water pipes!!!  Personally we will stick to our wine 🙂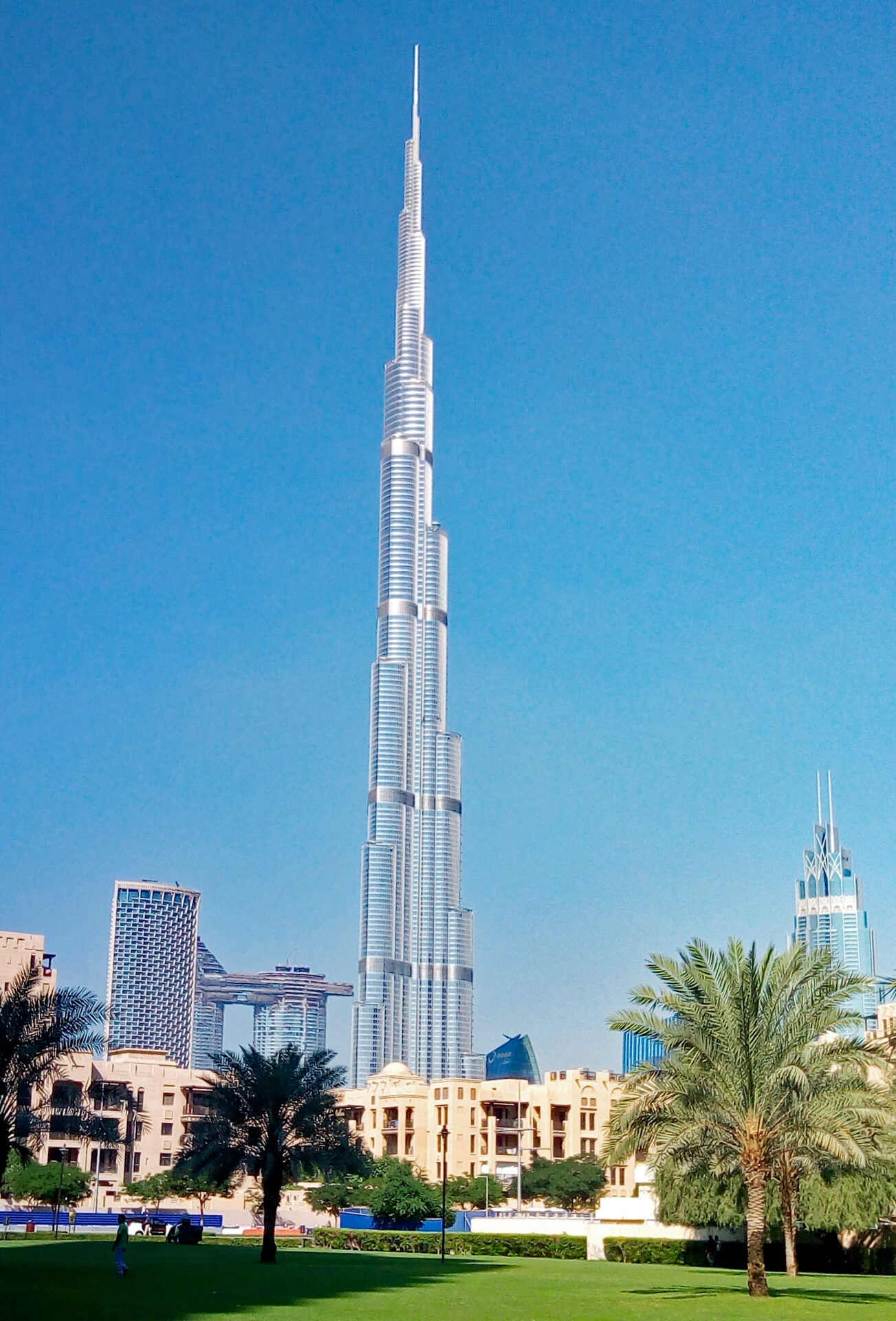 Looking at the Burj Khalifa tower it seems surreal how high into the sky it reaches.  Every time we walked out of our apartment building I had to stop and stare at this gleaming tower.  I was apprehensive as we booked our tickets to go up to the 125th floor.  Despite that feeling, we had a great visit to the observation decks on 125th and 124th floors, seeing how expansive and spread out Dubai is.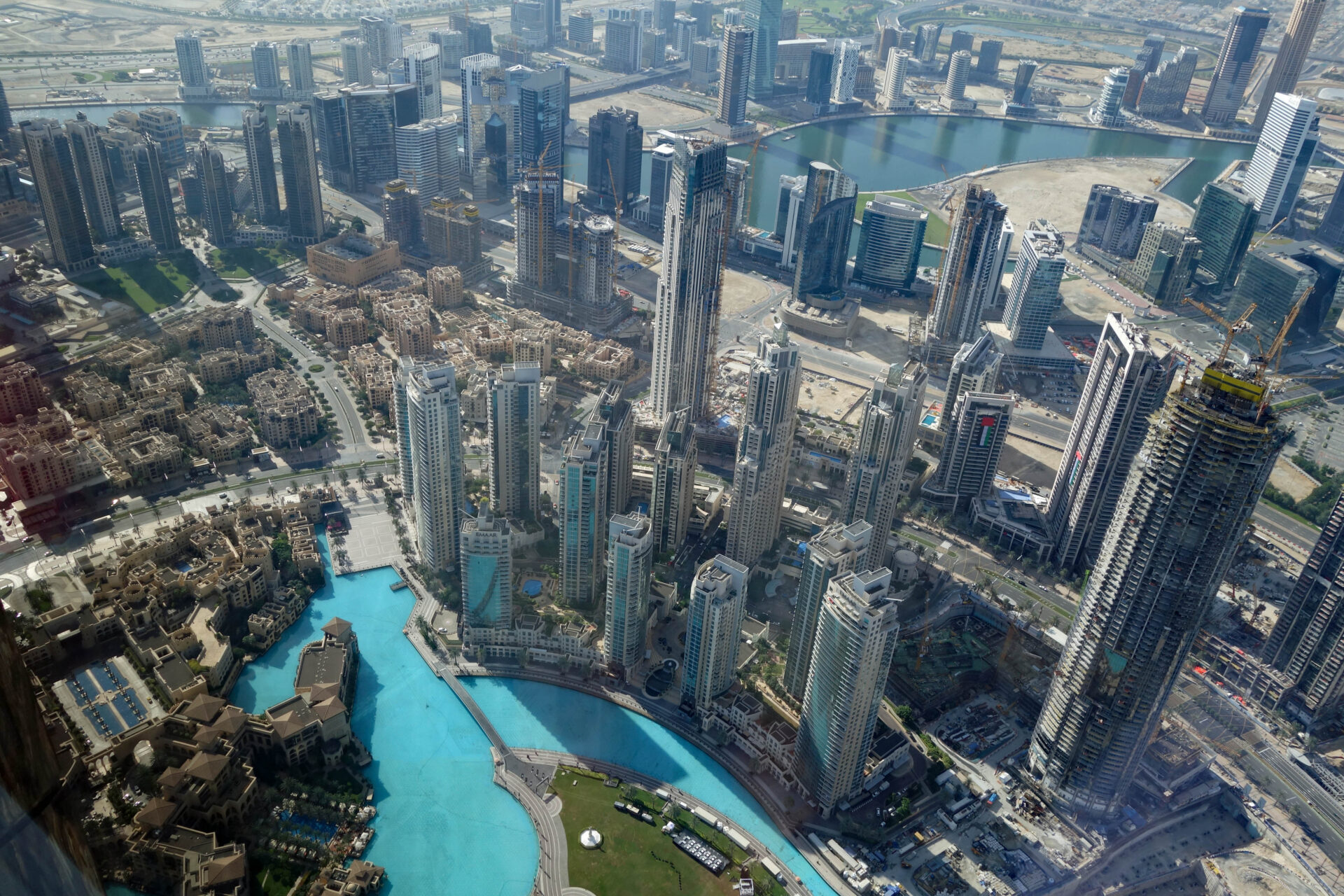 Our ticket cost of 60 USD each also gave us entrance to the Dubai Aquarium housed in the mall next to the tower.  For an additional 64 USD we could have gone as high as the 148th floor, which did not seem worth the extra cost since 125 floors up was quite high enough for me, and is the highest we have ever been.  I thought the Petronas Towers in Kuala Lumpur were high, but they are not a patch on the Burj Khalifa.  I must say this is the most impressive building I have ever seen.  Our visit took just over two hours with many information stations explaining the step by step building of the structure.  At one point there were 12,000 workers on the project completing one floor every 3 days, the underground pilings to support the tower go down 50 meters.  Construction started in January 2004 with the grand opening in January 2010.  There were so many "firsts" during the construction of this tower, it is an engineering marvel, and absolutely worth visiting.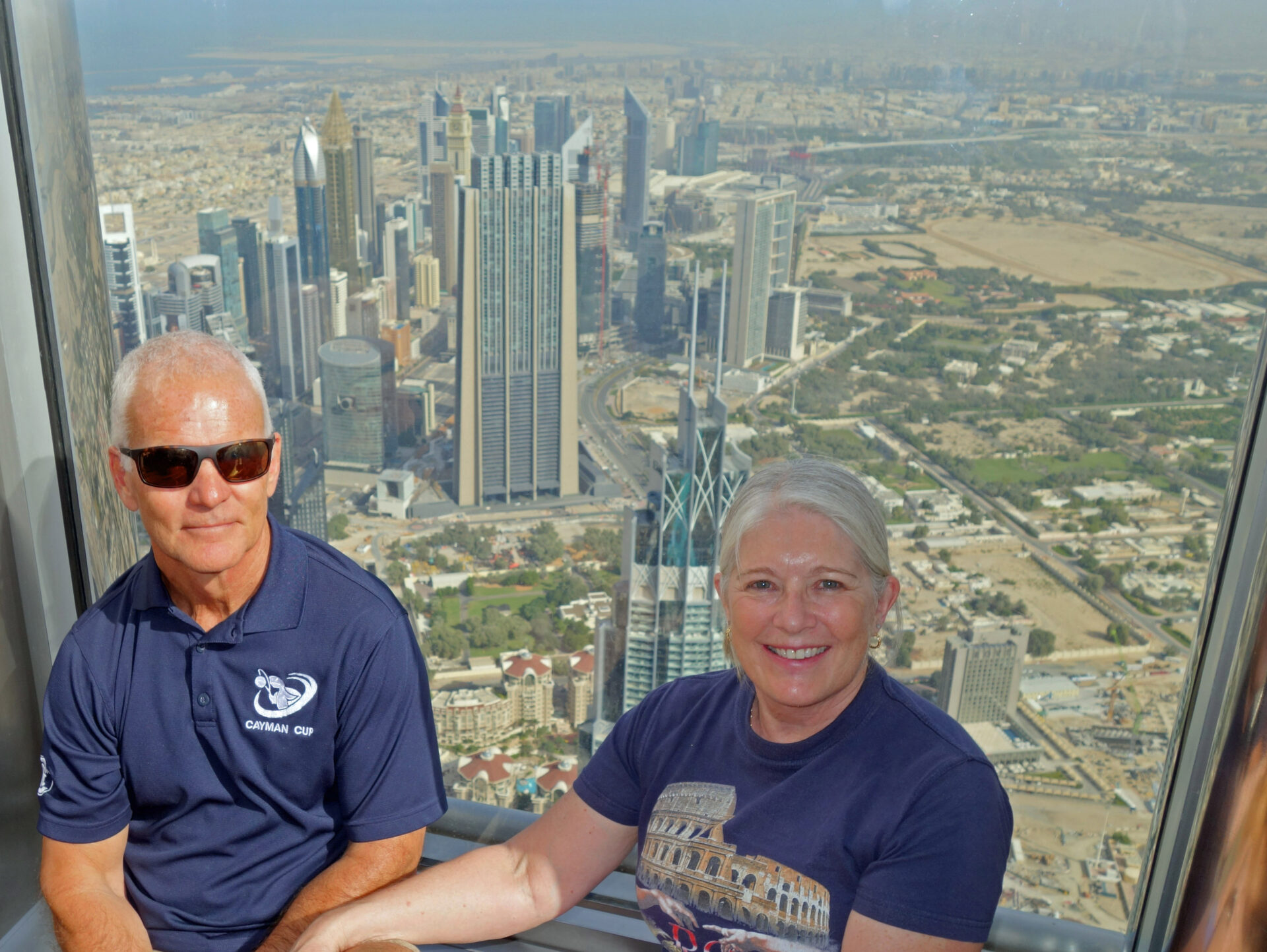 During our week in Dubai the UAE celebrated the national holiday celebrating their formal nationalization from the British Protectorate Treaties.  This led to seven former sheikhdoms uniting on December 2, 1971 and forming the modern day country.  In celebration of the national holiday, Burj Khalifa had a light show on the building which was spectacular to see.  Large crowds gathered around the Dubai Fountains at the base of the tower to enjoy the show.  One side of the building is covered in hundreds of thousands of LED lights allowing them to put on an amazing show computer programmed for any occasion, simply stunning!!!  Click here to watch a short video.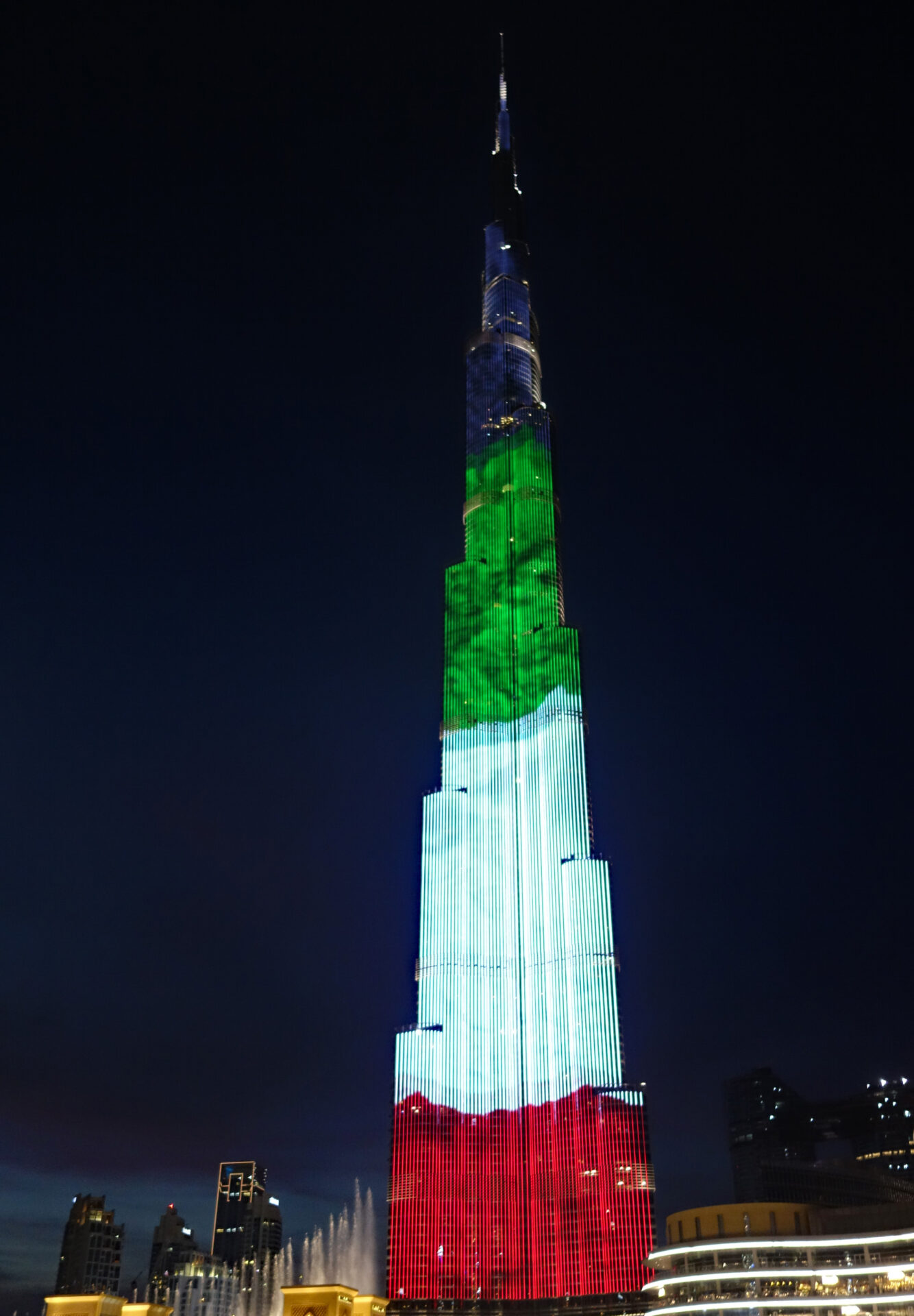 Dubai is very spread out and rather than take taxi's to a few places we wanted to go we decided to purchase a BigBus hop on-hop off ticket for 48 hours at a cost of 77 USD each.  The second day only cost an extra 10 USD each but gave us the time to cover more of Dubai, and included 2 boat trips.  We spent our first day heading to Mall of the Emirates to see the indoor ski hill…..that was impressive!!  We sat in a TGI Fridays having a cup of tea and watching the skiers and snowboarders coming down the hill, it did look like fun.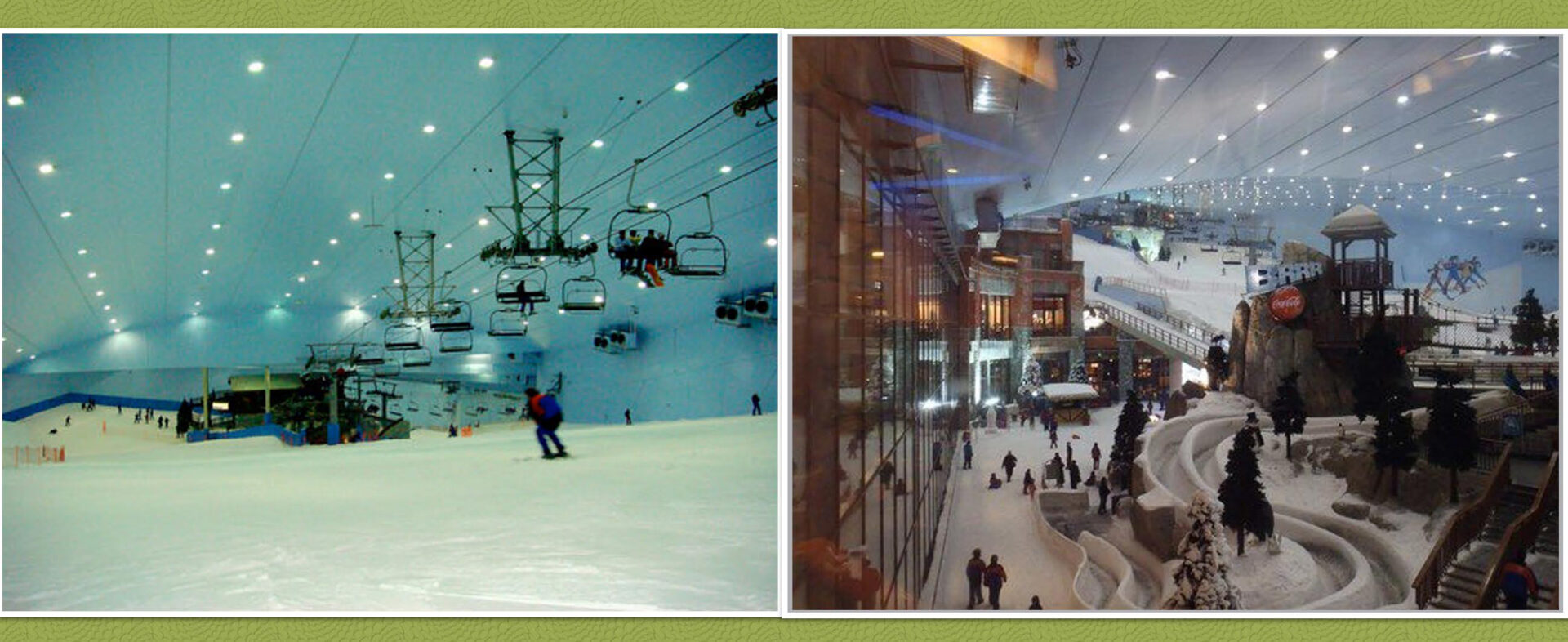 From there we continued the bus tour past the Burj al Arab building, and around the Dubai Marina district, including a drive to the Atlantis Resort at the top of Palm Jumeirah Island.  This is a man made island in the shape of a palm tree and is so large it can be seen from space.  I remember my uncle sending me a newspaper article about this a number of years ago when it was first being built, he suggested it might be a place we would want to visit!!  While at the marina we took a cruise along the man made waterway and out towards the Persian Gulf.  We passed a new island being built which will have the Dubai Eye located on it, in addition to a number of amenities such as residences, hotels, restaurants and shopping.  The Dubai Eye will be the worlds largest ferris wheel when completed, at 210 meters high.  The Dubai Marina area is a conglomerate of many high rise residential buildings, housing approx 120,000 people, with every amenity you can imagine contained in the development.  It looks like a great place to live if you work in Dubai, although personally I am enamored with the fact I can see the Burj Khalifa every day as I walk out the front door 🙂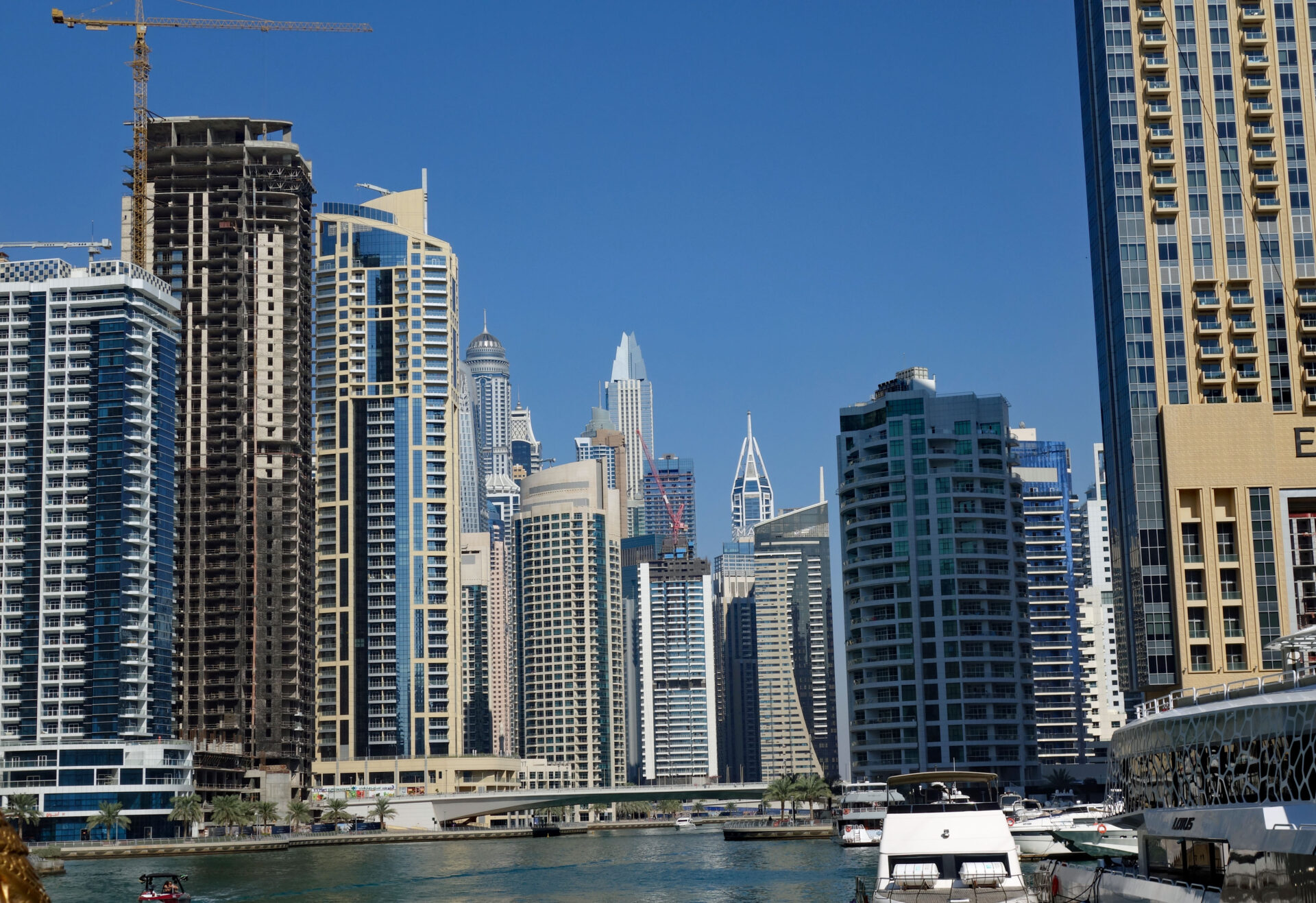 Another eye catching building in Dubai is the futuristic helix shaped Cayan Tower, yet another engineering marvel towering 1,010 feet and 75 stories high over the Dubai Marina.  This exclusive residential tower has a 90 degree twist from base to top.  Pretty amazing when you think about the engineering required to build this.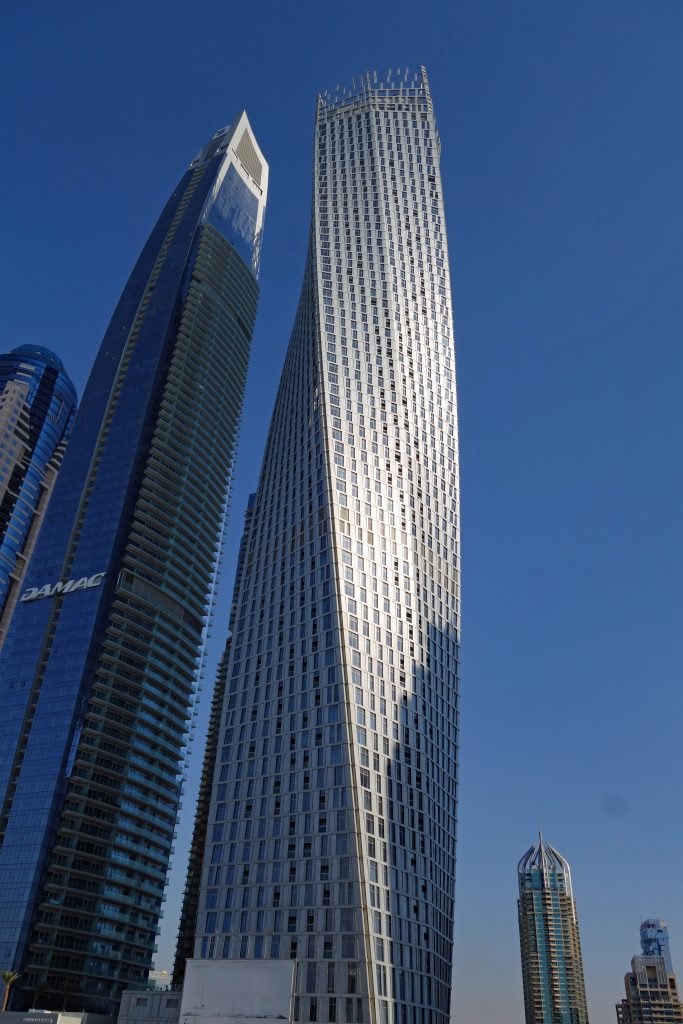 Our second bus tour day was spent around the oldest part of Dubai, the Deira neighborhood, where all the old souks are located.  We wandered the Old Souk, the Spice Souk, the Gold Souk and the Perfume Souk…..sometimes it felt like we were running the gauntlet with people constantly wanting you to touch, smell and buy their products.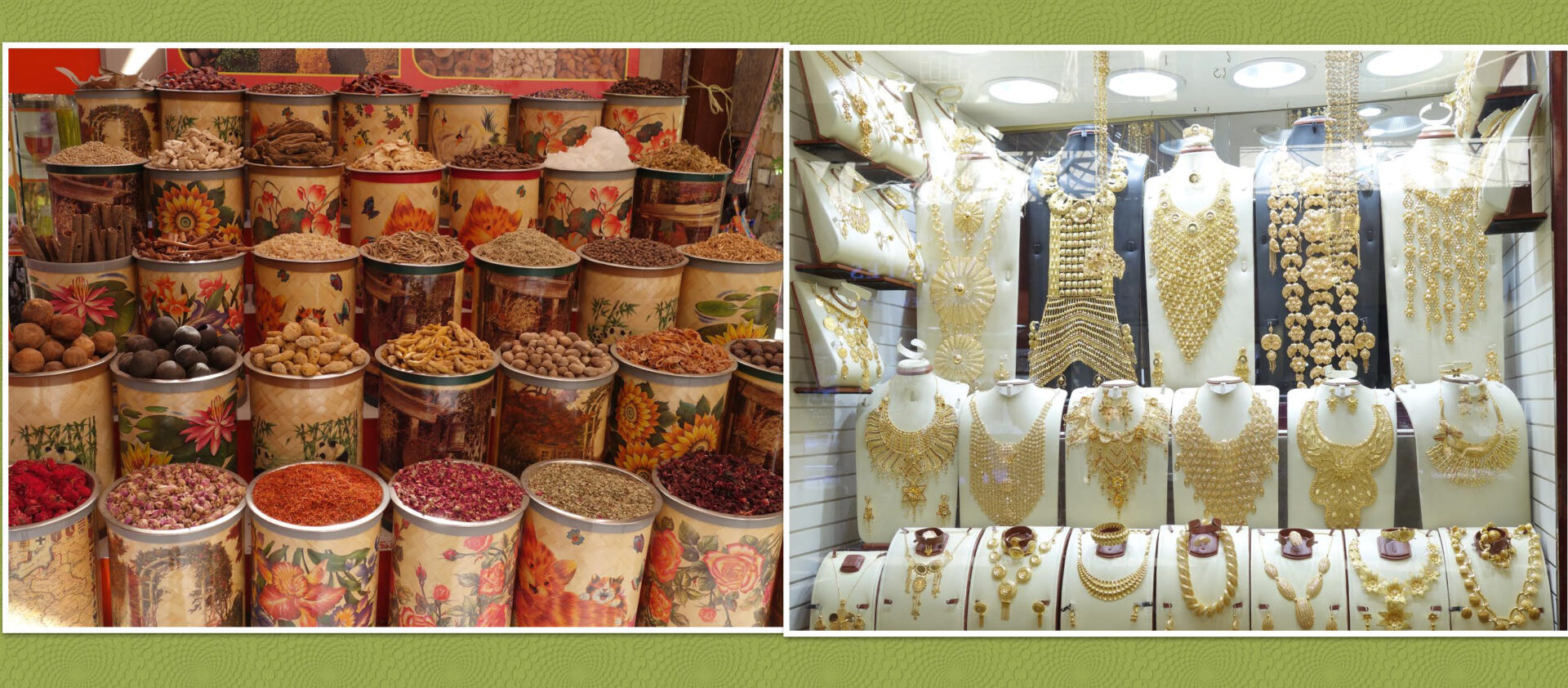 With no space to put extra stuff we only purchased a small bottle of perfume oil and some chocolate covered dates.  The dates are already gone and the perfume oil is small enough to carry until used up 🙂  While in Deira we took a cruise up and down the Dubai Creek passing gorgeous yachts and numerous dhows filled with goods destined for nearby countries.  The traditional dhow is still used extensively for shipping goods to India, Iran, Sudan and Pakistan to name a few.
Our week in Dubai came to an end much too fast and before we knew it we were back in Muscat, Oman.  This stop in our travels came about while researching flights out of Dubai.  Blair found it was less expensive to fly to Muscat and then on to Istanbul rather than direct to Istanbul, so here we are in Oman once again.  Our cruise stopped her for only 5 hours, much too short to see very much so this three day stopover was a good addition.  Interestingly, our hotel is in the middle, and I do mean the middle, of a major highway interchange, which is a lesson learned that perhaps one should google earth the hotels physical location before booking!!!  It's funny, I tend to do that when researching apartments to rent but skipped this step when booking a hotel, making the assumption it would be in a good location.  Therefore, we are not walking distance to anything and taxi fares are the some of the most expensive we have seen in our travels, as are sightseeing tours.  This kept our sightseeing to a minimum however we enjoyed our time in Oman including some leisure time by the pool, something we don't ordinarily do.  The main draw in Muscat is the Mutrah Souk, a labyrinth of narrow alleyways packed with colorful little shops stacked high with tubs of spices, teas and other exotic items.  Shops selling Omani and Indian artifacts, antiques, textiles and jewelry offer a great variety of items for sale.  You could spend many enjoyable hours here wandering the maze of tiny streets and haggling for handicrafts.  As in Dubai the sellers are persistent in their attempts to sell you their products, fortunately a little less aggressive than Dubai.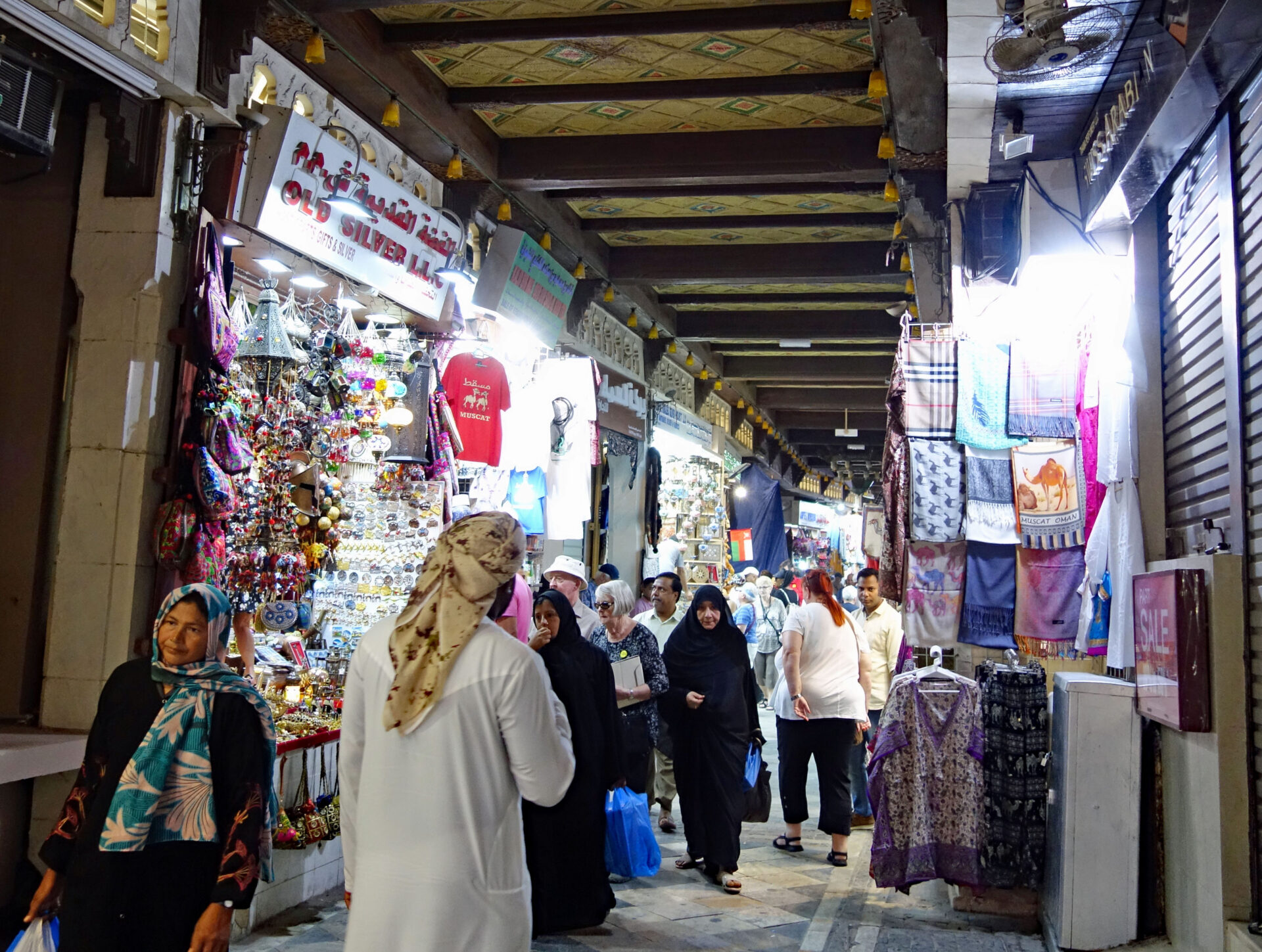 The Sultan Qaboos Grand Mosque in Muscat is the 5th largest mosque in the world.  This modern piece of Islamic architecture combines Omani, Persian and Egyptian design, sculpted entirely of Indian white sandstone.  It was completed in 2001, taking 6 years to build and was a gift to Oman from Sultan Qaboos marking his 30th year of reign.  The mosque can accommodate 20,000 worshippers and the main entrance is through 3 high arches in line with the principal minaret.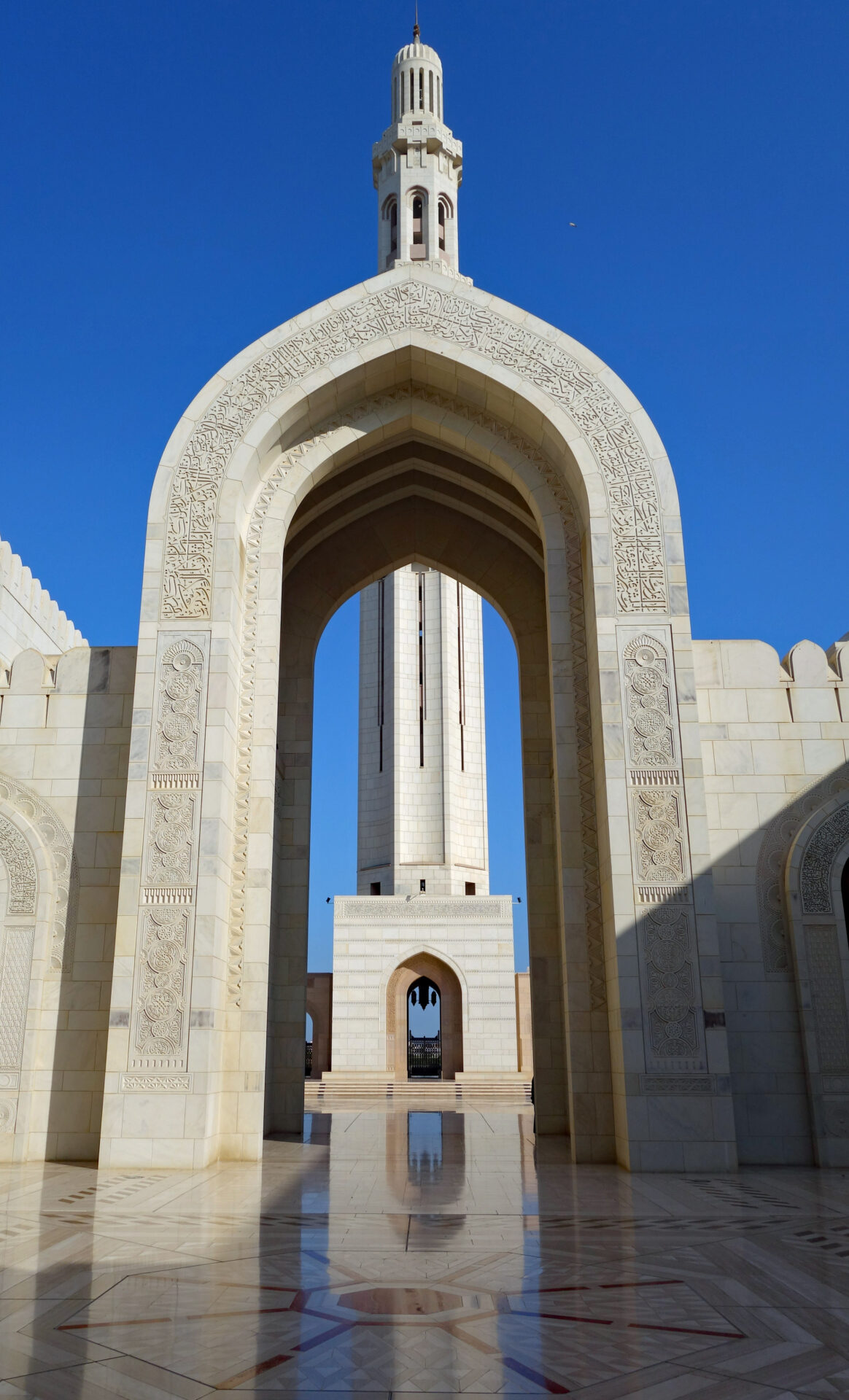 The hand made Iranian carpet in the main prayer hall is 70m by 60m and took 600 women 4 years to weave.  It is made up of separate pieces that were invisibly joined once inside the mosque.   The main prayer hall is beautiful and dominated by a 34 meter high dome from which hangs one of the worlds largest chandeliers, a stunning 14 meter tall Swarovsky crystal and gold confection which from the pictures is impossible to see how big it truly is.  The colors inside the dome are spectacular and the intricacies of the design simply stunning.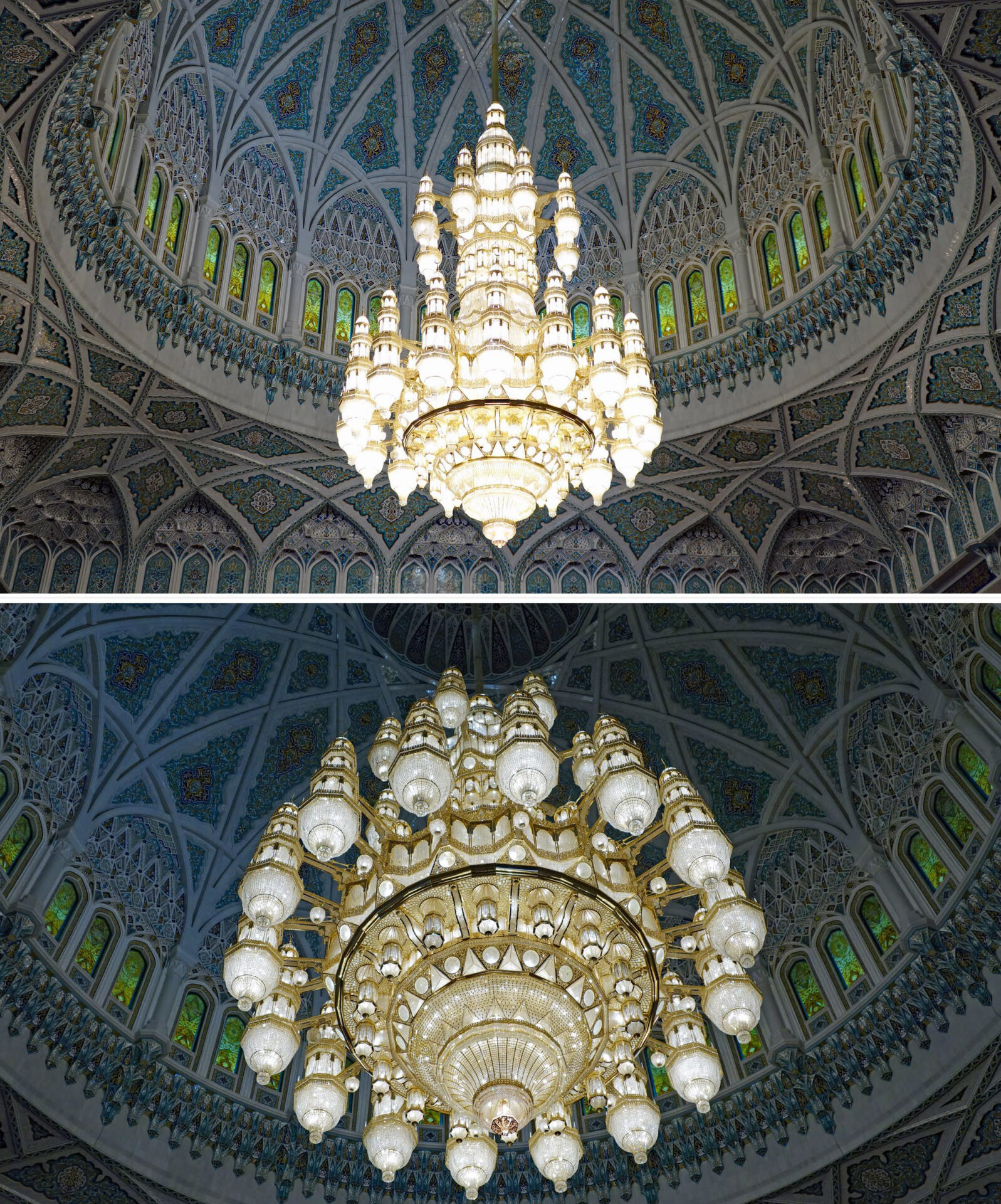 The end of our visit to Muscat meant our time in the middle East has come to a close.  We have enjoyed our brief time here, especially the beauty of the mosques we have visited.  Of the three locations, Abu Dhabi, Dubai, Muscat, our favorite was Dubai, it is such a vibrant and exciting city with endless things to do.  I think I will add Dubai to my short list of favorite cities in the world 🙂  Next up though another new culture awaits as we make our way to Istanbul, Turkey…..
Travel Tips:
Abu Dhabi – To get from Abu Dhabi to Dubai we used a website called GetTransfer.com where you log in your travel requirements and drivers then bid for your business.  We ended up paying 65 USD for the trip.
Burj Khalifa – Buying your ticket online is cheaper than in person and if you get the Aquarium add on, both places must be visited the same day.
Muscat – Muscat is very spread out and taxi fares are very expensive.  From what we could see car rentals are quite reasonable and may be a better option.  The roads are excellent with very little traffic on the main freeways.
Oman Visa – You must apply online for you visa prior to your arrival, and not more than one month before your arrival date.  The cost of the Omani Visa was 5 OMR (13.31 USD) and is good for a single entry of no more than 10 days.  Go to this official government site to apply online.  Our visa's were processed within a day.