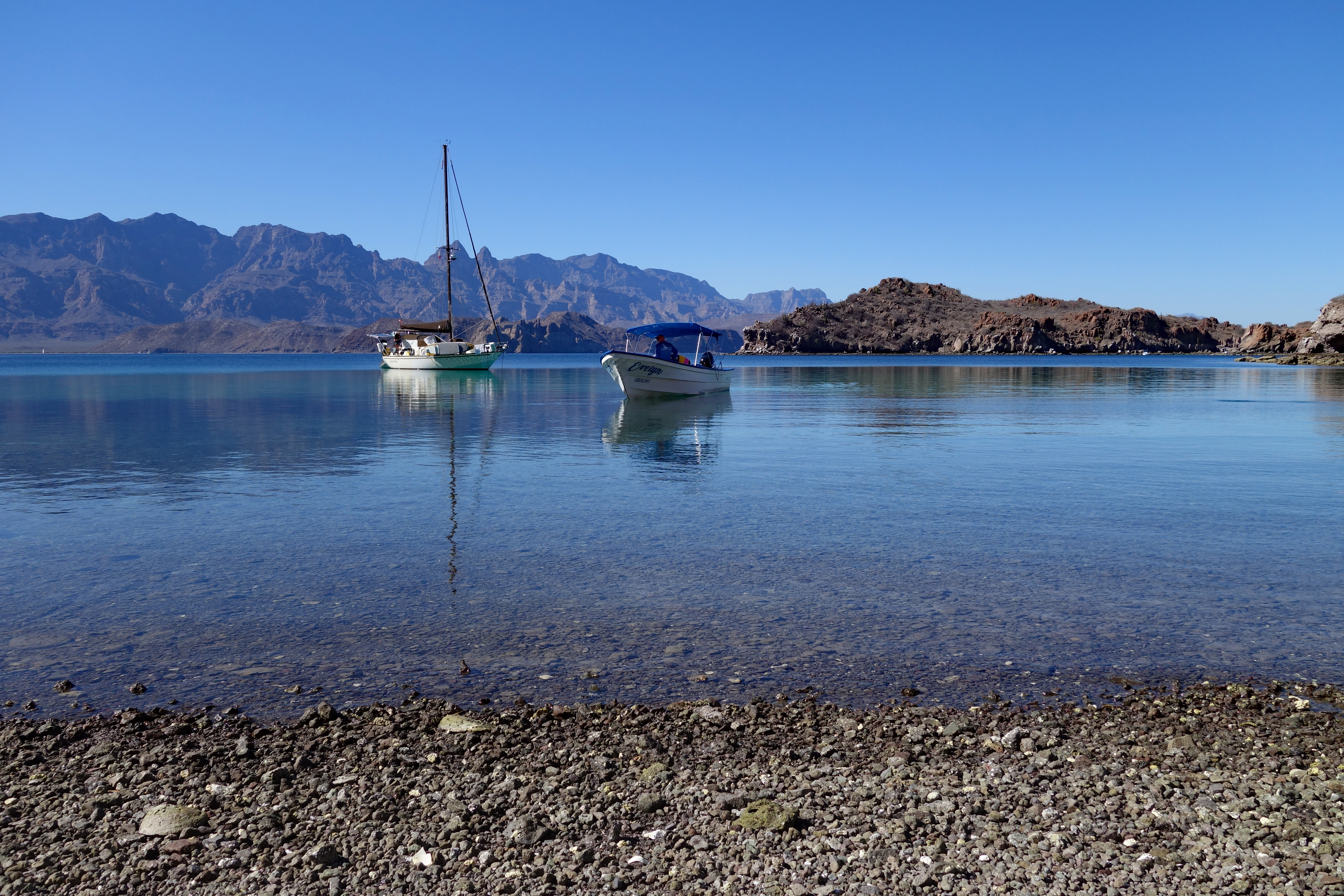 It got increasingly quiet around the neighborhood this month with many folks heading home for the holidays.  For us, December got off to a great start!  We joined our landlords, and new friends, on a private boat trip to the uninhabited islands of Danzante and Carmen.  They have been coming to Loreto Bay for many years and during that time developed relationships with boat captains who run private charters, and we were lucky enough to be invited along.
Our day started early with an 8:30 am pickup on the beach in front of our casa.  The benefit to a private charter is we brought along our own paddleboards, snorkeling equipment, drinks, and lunch.  The day was ours to plan!!!  Our first stop was a beautiful white sand beach on the southern end of Carmen Island.  Spending just over two hours here we each took a one-hour turn out on the paddleboards and when on land we walked along the shore and searched for interesting critters.  There were hermit crabs of all sizes on the beach and clinging to the rocks plus we saw a scorpionfish camouflaged in the rocks close to shore.  As we sat on the rocks having lunch, the views in every direction were breathtaking.  Getting back on the boat we made our way to the southern end of Danzante Island to do some snorkeling at Submarine Rock.  We are rather spoiled after living in the Caribbean for 16 years, but this snorkel stop was a good one.  We saw numerous cushion sea stars, the crown of thorns sea stars, angelfish, a spiny porcupinefish, sergeant majors, cornetfish, Cortez rainbow wrasse, a giant hawkfish, and bump head parrotfish to name a few.  After snorkeling we headed to another beautiful bay (the header photo for this blog post) for a second lunch/snack stop, marveling at the crystal clear water and mountain views.  On our way back to Loreto Bay we stopped a couple of times to do a little fishing but the only ones that took the bait were Roosterfish, which our captain did not want to keep.  It was a fantastic day which we hope to repeat when our friends return in January.  The cost, including tip, of this private charter was MEX 1,200 pesos (USD $56)  per person.  Less expensive than our group tour to Coronado and so much more enjoyable  😎
Talavera is a high-quality decorative earthenware pottery style that is recognized by its strong colors and detailed patterns creating traditional Mexican and more contemporary designs.  Talavera pottery was first introduced to Mexico in the 15th century by Spanish settlers and the craft was mastered in the village of Talavera de la Reina. Today, this earthenware ceramic pottery is produced in many regions of Mexico.  A friend has some beautiful Talavera products and we were directed to Conchitas Curios where we found a large selection of quality products.  Unlike most of our travels, we will be heading "home" after Mexico and have the rare opportunity to purchase a souvenir or two which can be left behind along with our few remaining possessions.  These two coffee mugs will be a colorful reminder of our time here in Baja, Mexico.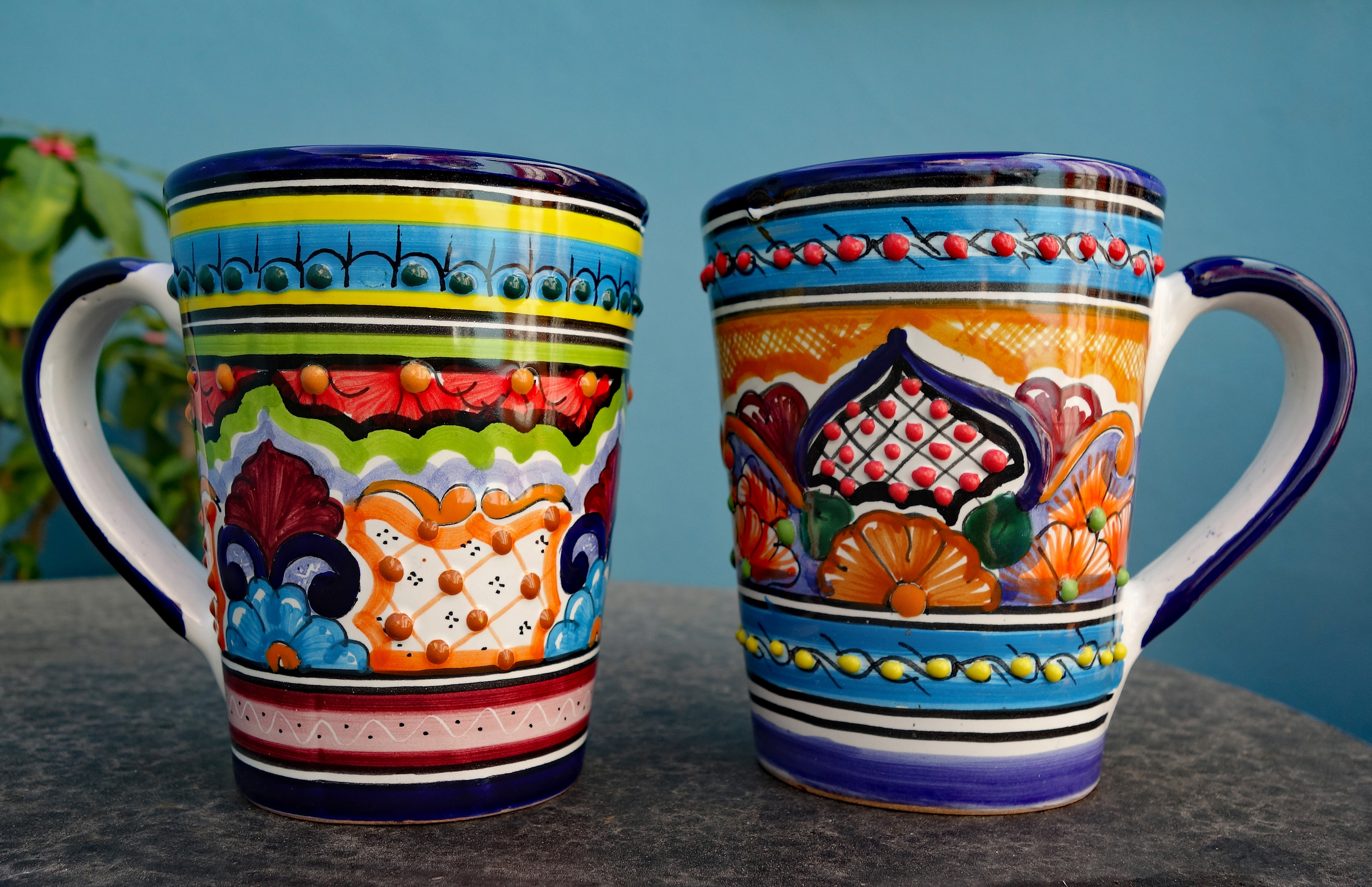 This month I added another activity to my schedule here in Loreto Bay…flow yoga.  I was invited to join the community class by a friend and signed up for the month, a total of 12 classes for CDN $60 (USD $50)  What's really nice is all the class fees are donated to local charities.  So, off I go to get bendy and stretchy 😂
On one of our paddleboarding excursions, we noticed a group of people on the beach and went to investigate.  It turned out a nest of turtle eggs was hatching and the baby turtles were scampering into the ocean.  We were fortunate to see a few of the baby turtles swimming around on the surface before making their way to deeper waters.  What amazing luck to observe this event!  My camera decided to not work so the photos below are not mine, but were definitely worth sharing.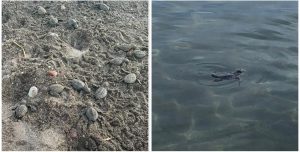 We moved house again mid-month, back to the first place we rented because the owners have gone back to Colorado for the holidays.  When they return in January we will move one last time to the final home that we rented from a Canadian couple we met since we've been here.  We are happy to be back in our first rental because it's larger and has a third-floor viewing tower where we can enjoy our morning coffee, and end of the day cocktail 🥂
We were due for another car rental and arranged a two-day booking with AMC Car Rental again just before Christmas.  We needed to re-provision the house with wine and bulk groceries, not available at the local minimarts.  While we had the car we headed out for a short drive into the mountains towards San Javier.  On the way to San Javier is Rancho Las Parras, a small 200-year-old chapel.  The chapel was built as a place for pilgrims to stop, rest and pray before finishing their trek to San Javier.
In addition to numerous grocery store runs while we had the car, we returned to some favorite and a couple of new restaurants in Loreto.  Returning for lunch at Orlando's to have their amazing coconut shrimp was a must as well as Los Mandiles for their fish tacos.  A new discovery this time was Mezzaluna, their wood-fired oven pizza was excellent and definitely worth trying if you are in Loreto.  We also made sure to stay in town late enough one evening to wander around the town square and take in the Christmas displays.  The mission is beautifully lit up at night.
After returning the car we spent the remainder of the month quietly at home in Loreto Bay.  We began our Christmas Day with a lovely paddleboard down the coast then enjoyed a home-cooked turkey dinner with a bottle of champagne.  We chatted with family and friends throughout the day which helps us feel not so far away 🎄💕
And here we are at the end of another year.  I can't believe how quickly the past 3 months have gone by!!  We only have one more month left here in Loreto before we take to the skies in search of new adventures ✈
HAPPY NEW YEAR to everyone near and far, I'm sure we're all happy to see 2021 in the rearview mirror!!