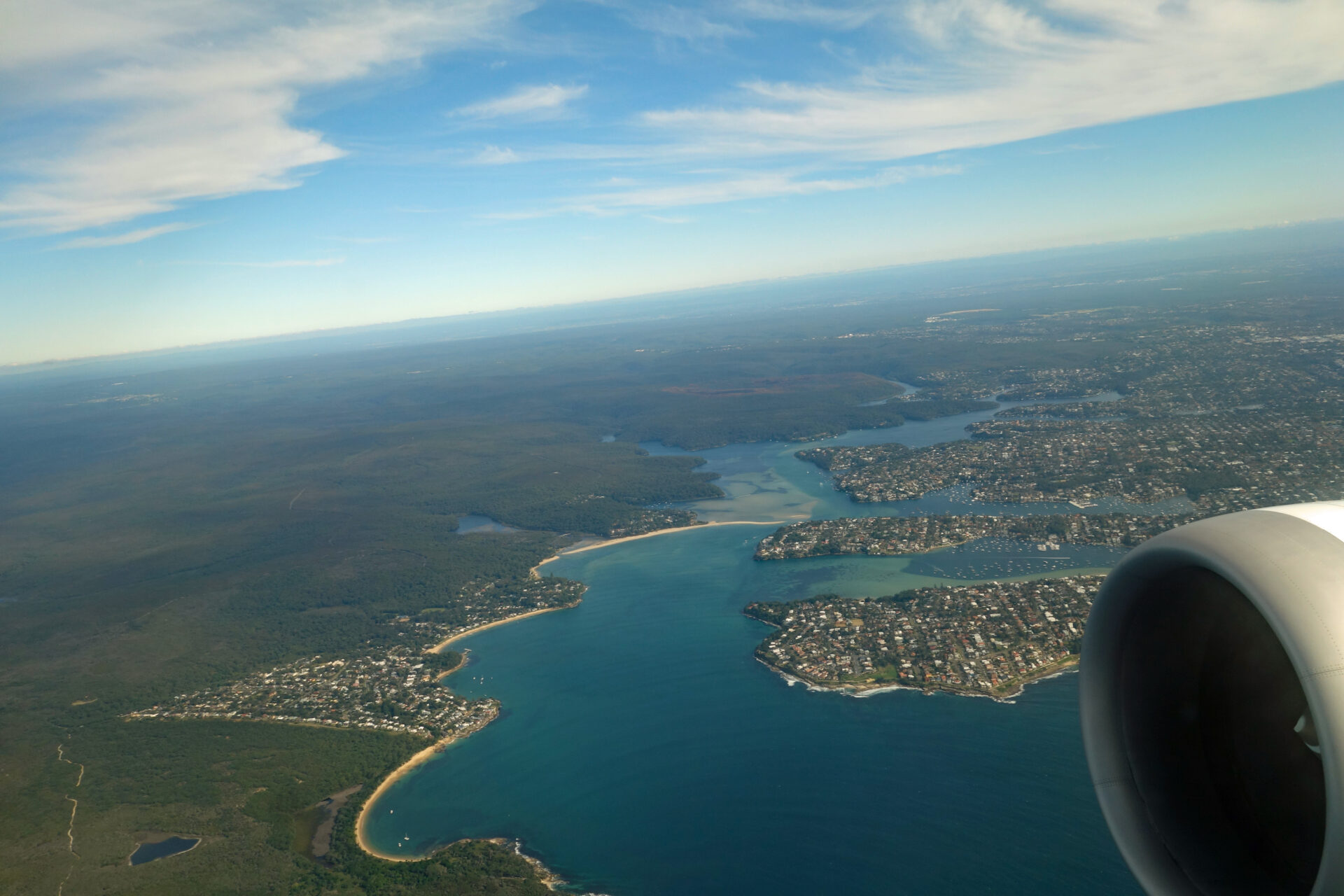 1 Day; 2 Sunrises; 1 Sunset
Watching the sunrise in Sydney, Australia on the morning of June 8 we prepared for our 10:20 am flight from Sydney to San Francisco. Landing in San Francisco at 6:45 am on the same morning of June 8 we watched our second sunrise of the day, arriving in San Francisco 3.5 hours earlier than we left Sydney!!!  On our final approach into Calgary, Canada at 10:30 pm we watched the sunset on our doubly long Monday, June 8.  How often do you get to live the same day twice 😊
The current state of international travel made it a challenge to find flights that would take us from Sydney, Australia back home to Calgary, Canada.  Spending 5 months in Australia watching COVID race around the globe we have felt safe and at low risk of catching the virus.  However, our visa extension was only valid until mid-August so we made the decision to try and find a way to Canada in early June, completing the 14-day mandatory quarantine in time to enjoy summer with our family and friends.  After a tremendous amount of research, we determined there was one, and only one, flight from Australia to North America, a United Airlines flight from Sydney to San Francisco leaving daily.  Getting to Canada from San Francisco presented another problem, we had to wait until after May 25 when Air Canada began flying from San Francisco to Vancouver, and only Vancouver.  Getting from Vancouver to Calgary was the easy part with WestJet and Air Canada flying daily.
After our recent experience flying from Brisbane to Sydney and the lack of social distancing, we were not looking forward to the 28-hour journey transporting us from the southern hemisphere back to the northern hemisphere.  Armed with antibacterial wipes, hand sanitizer and face masks we headed to the airport for the first of our 3 flights, leaving Sydney at 10:20 am on June 8.
Arriving at the airport 2 hours before our flight, we donned the mandatory facemasks and were greeted at the terminal doors by the first security check.  Showing our passport and airline ticket, we were allowed to enter the terminal to face a second security check, 100 ft inside the doors.  This time, confirming our nationality and the type of visa we held while in Australia, we were allowed into the terminal building.  Walking to the United Airlines check-in counters the building was deserted, according to the departures board there were only 5 international flights leaving Sydney the entire day.  We saw at most 20 passengers waiting to check-in for our flight.
It was during this initial check-in process that we were given the option that would make this 28-hour journey an enjoyable experience…we were offered an upgrade to the United Polaris business class, lay flat, sleeper pods for the nominal cost of USD $649 each.  Unbelievable!!!!  This is a far cry from the USD $5,405 each quoted on the airline's website when we initially booked our flights.  Added to the original cost of USD $858 each for the flight, our grand total for the two flights from Sydney to Vancouver came to USD $1,507 each.  What a bargain, to spend the longest leg of our travels being pampered with first-class amenities, bottomless wine, gourmet meals and turn our luxury seat into a comfy bed.  We thought about this upgrade offer for about a second before uttering a resounding YES and handing over a credit card to the ticketing agent.  Watching our priority tagged bags leave on the conveyor belt we skipped off to the security gates, grinning from ear to ear at our good fortune.  Like the check-in counters, the security checkpoint was devoid of passengers.  Clearing security uneventfully, we walked to our departure gate through an eerily quiet airport.  Not one single shop, cafe, bar or restaurant was open, it was a very strange feeling to be alone in a large international airport terminal.
Boarding the plane, we settled into our comfortable pods for the upcoming flight.  Of the 30 pods in our section, only 15 were occupied under the social distancing guidelines of not putting passengers next to each other.  Within the first couple of hours, we were served dinner accompanied by wine.  Only self-contained beverages were served, no coffee, tea or open liquids were available under current COVID rules.  After dinner, the lights were dimmed and we kicked back for a restful flight.  A couple of movies and a few hours of sleep later a light breakfast was served before landing in San Francisco.  Snacks, sandwiches and beverages were available during the flight, in addition to the set meal service, if you wanted anything.  Quite honestly, the 14 hours on the plane went by too fast, we were enjoying the luxury of business class far too much and fear we may be spoiled for the future 😂😂😂
Landing in San Francisco we collected our bags, even though they were tagged through to Vancouver we were required to pick them up ourselves and re-deposit them in the connecting flight's area.  Clearing immigration/customs in the US was very fast, no questions at all, using our Nexus trusted traveler card and it was not long before we were on the sky train headed for the airport hotel, nobody was at the San Francisco airport or on the trains.  Looking back, it's rather strange that immigration did not even ask if we were staying in the USA, we could have easily left the airport to freely travel around the city.  When we originally booked our tickets in economy class we decided to book a day room at the SFO Hyatt hotel for the 7-hour layover.  It gave us the chance to sleep for a few more hours, shower and put on fresh clothes.  Between the business class seats and the hotel layover, we were feeling quite refreshed at this point.
Returning from the hotel back to the San Francisco airport, we passed quickly through the empty security checks and made our way to the departure gates.  We searched far and wide for the one and only place in the airport open to buy a toasted sandwich before our flight, knowing there was no service whatsoever on board.  At the boarding gate, we scanned our own boarding passes, were asked a few health questions and our temperature was taken for the first time today.  The questions asked were: Do you have a sore throat, cough or any other symptoms?  Have you been denied boarding a plane in the last 14 days?  Two negative answers and were off down the jetway to the airplane.  The plane from San Francisco to Vancouver was virtually empty because the border between the USA and Canada is still closed to non-Canadian citizens or residents.  Flying time to Vancouver was 2 hours 20 minutes falling below the requirement to provide any in-flight service, we were given a sealed plastic bag with a small bottle of water, a face mask, gloves, and alcohol wipes.  No food or snacks were available, good thing we found a sandwich at the airport.
Landing in Vancouver we collected our luggage and made our way to the Canadian immigration/customs area.  Prior to reaching immigration, additional security personnel were directing passengers to a new section where tables had been set up for everyone to complete a medical questionnaire regarding the status of your health and what arrangements you have made for the mandatory 14 day quarantine period.  We had to provide the address where we are staying, a phone number, confirm that we would not be living with at-risk individuals and that we had someone to bring us groceries etc.  It all went quite smoothly and after clearing immigration, we exited into the baggage area.
With our suitcases in tow, we made our way to the domestic check-in counter for our final flight, for some reason we were unable to book all 3 flights under a single reservation from Sydney to Calgary.  We checked our bags then proceeded to the security screening, but prior to entering security, we had our temperature taken once more.  Eventually through to the boarding gates area, we had a 3-hour layover where once again everything was closed.  We managed to find the only place serving food and grabbed a chicken burger for our supper.  By this time the long journey was beginning to take its toll, it has been a very long day so far!!
At the boarding gate, we were asked the same health questions as in San Francisco, scanned our own boarding pass and were on our way down the jetway to the airplane.  This third and final flight, from Vancouver to Calgary, was the busiest flight we were on, every row in view had 6 of the 9 seats filled.  This is not overly surprising since travel between British Columbia and Alberta is not restricted, but the airline is helping with social distancing by not selling the middle seats, at this point anyway  👍
We arrived in Calgary at 10:30 pm to a virtually deserted airport, collected our bags and took a taxi to our pre-arranged accommodations where we are under mandatory quarantine for 14 days.
There is no doubt that flying during the current COVID pandemic with borders closed around the globe was a unique experience.  I think we were fortunate to find a route from Australia to Canada and very lucky to have the opportunity to upgrade to business class for the 14-hour leg, adding some enjoyment to the journey.  We were comfortable with the social distancing and sanitization measures implemented on every flight and at no time felt we were at undue risk.  We were pleased that all airline staff, hotel staff, airport staff and passengers wore masks, adding to our feeling of safety.  That being said, we have no plans to fly in the near future until we feel it is safe to do so.  As of this writing, we are on day 8 of quarantine, no fever and feeling fine, other than the worst jet lag we have ever experienced  😪😪😪😪
For now, we say "hello from the inside"    Stay safe and we hope to see you soon…..