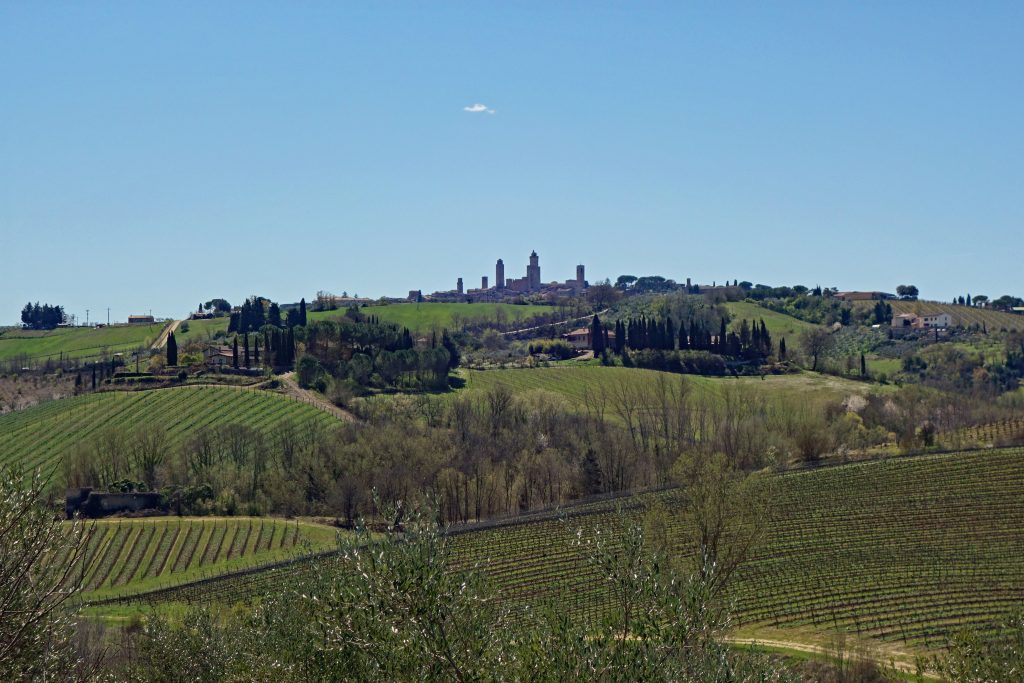 Just mention the name Tuscany and everyone oohs and ahhs about what an amazing place this is, and they are not wrong, it is the place that dreams are made of!!  A visit to Italy is incomplete unless some time is spent among these rolling hills covered with vineyards and olive groves.  Our most recent foray to this beautiful region found us renting a stone house nestled among the olive groves 1.5 km west of San Gimignano.
Our time here got off to a very busy start, after dropping off our luggage at the house we dashed off to pick up our friend Julie from the Barberino Di Val D'Elsa train station.  She extended her trip in Italy to spend 3 days with us here in Tuscany, and so began a whirlwind visit!!
Day 1 we booked a wine tasting at Fattoria La Ripa vineyard, a winery we visited 11 years ago.  The reason this vineyard stood out for us is we dropped in 11 years ago unaware it was Easter Sunday.  The owner, Sandro, was more than happy to spend time with us sharing the history of his vineyard and tasting his wines, we have never forgotten his kindness.  We met with Sandro once again and like our previous visit he entertained us for 2.5 hours as we tasted 5 red wines, a Vin Santo dessert wine, his 5-year-aged balsamic vinegar, olive oil and grappa…whew!!!!  The tasting cost 15 Euros (USD $16.30) each and we left with bottles of wine, balsamic vinegar, and olive oil.  This man has spent 40 years running the vineyard, taking it over from his father, and his knowledge of the wine industry worldwide is unbelievable.  We promised to return before another 11 years pass by, Sandro is 77 years old now and may not be conducting wine tastings at 87 😊
Following the wine tasting, Sandro recommended the winery next door for lunch.  We arrived at Casa Emma to find out their lunch was a 3-course meal with wines at a cost of 50 Euros (USD $54.35) each, oh boy, more wine!!!  This was a much more formal and structured wine tasting accompanied by delicious local dishes.  Needless to say after this second tasting we headed home for a nap and a quiet evening.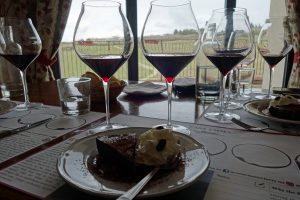 Siena was our destination on day 2 where we had a 2-hour guided tour booked, costing 30 Euros (USD $32.60) each.  We have been to Siena a couple of times but never taken a tour and thought it would be interesting for Julie's first visit.  Because we are early in the tourist season, we were the only people on the tour so it was very enjoyable.  We learned much more about the 17 contrada's (districts) of Siena and the history of a contrada.  We also learned a lot about the Palio horse race which takes place twice a year in the Piazza del Campo, the heart of Siena.  This website has a good explanation of the contrada's and the centuries-old horse race. You should really read about the horse race, it's one of the craziest races out there with riders leaping off their horse before the finish so the horse can run faster!!
Our tour finished inside the Duomo of Siena, renowned for its marble inlaid floor.  The Cathedral was completed in the early 1200s and the facade was built in two stages combining Gothic and Romanesque architecture.  It certainly is one of the highlights of Siena but the inlaid marble mosaic floors are stunning and probably the most ornate of their kind in all of Italy.  The designs on the floor took six centuries to complete with each panel telling a story.  An important portion of the floor at the front of the cathedral is covered and only open for viewing six to ten weeks a year.  As you enter the nave, the dramatic black and white striped marble columns create quite an impact, reaching upwards to the contrasting brilliant blue roof dotted with gold stars.
There is so much going on inside this cathedral it's hard to take in all the riches, from the striped marble interior to the rose window to the marble pulpit to the Piccolomini Library.  The Piccolomini Library is a treasure unto itself.  There are some old volumes on display but the highlights here are the outstanding frescoes by Pinturiccio, we saw a few of his works when in Rome recently.
On day 3 we drove up to Florence starting our day with a visit to the Piazzale Michelangelo, high on the hillside above Florence with fabulous views.  From there we stopped at the Boboli Gardens for a walk before parking the car in the center of Florence.  We dropped Julie's bags off at her B&B and then carried on to wander around the historic center for a few hours.  For lunch, we chose a fabulous spot in front of the Florence Cathedral, another stunningly beautiful church exterior covered in pink, white and green marble.  After lunch we meandered through Piazza della Signoria, pausing to pick up a post-lunch gelato, and then walked to the Ponte Vecchio.  The crowds in Florence are the largest we have seen anywhere so far this trip.
By late afternoon it was time for us to bid farewell to our friend Julie and head back to our peaceful abode near San Gimignano.  We had a crazy busy three days and it was so much fun, a complete departure from our regular life but so appreciated.  The following two days we spent at home, recuperating from our adventures, catching up on paperwork, and getting some laundry taken care of.
Thirteen years ago we spent a few days at the fabulous Castello di Gabbiano with 6 friends and have such wonderful memories that we wanted to visit again.  Gabbiano is just under an hour away from San Gimignano so we made arrangements for a wine tasting and headed into the heart of the Chianti region.  We tasted 4 red wines and bought 4 bottles to bring home, we quite like the Gabbiano wines and have been able to find them in Canada when we are there.  The wine tasting cost 10 Euros (USD $10.90) each but was deducted from the cost of our wine purchases.
Our next tasting was at the Castello Vicchiomaggio tasting room where we tried 5 of their wines, interestingly none of them appealed to us enough to purchase, plus their prices were substantially higher than Gabbiano's.  The cost for sampling 5 wines was 17 Euros (USD $18.50), so we shared the tasting.  After finishing the wine tasting, we drove to the top of the hill to look at Castello Vicchiomaggio, which is an old castle converted into a luxury hotel.  We walked around the grounds and marveled at the views in every direction, this would be a great place to stay.  After two wine tastings, we decided lunch was a good idea and drove to Castello di Verrazzano winery, where we promptly turned around and left after seeing two massive tour buses and hearing the noise from the restaurant.  We drove just a few minutes down the road to the lovely town of Greve in Chianti, we have been here before.  We found a fabulous little pizza place, Pizzeria La Cantina, where we sat outside in the sunshine while having lunch.
Our first week was a busy one yet we still managed to spend quiet time at home enjoying the peacefulness of the olive groves.  We have one more week here under the Tuscan sun  🌞