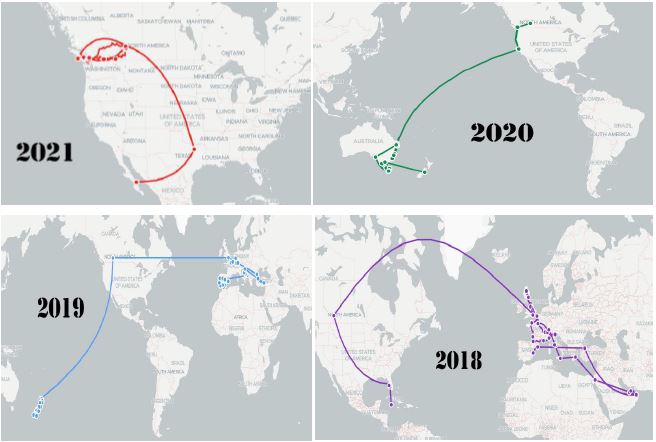 On New Year's Eve not only did we welcome in 2022 but we celebrated our 4 year anniversary as nomads.  AMAZING, we have been home-free wanderers for 4 years!!  Although our wandering has been severely curtailed for 2 years due to that nasty thing called covid we finally took to the skies once again in early October.  Reviewing the above maps 2021 was the only year we remained on one continent.  We plan to remedy that in 2022!
Looking back at 2021 covid continued to decimate world economies and the travel industry, and kept us at home.  At the start of the year, we were fortunate to escape the bulk of Calgary's winter and spend 4 months in the milder British Columbia weather.  Our first 3 months of 2021 on Vancouver Island were a wonderful experience.  Not only did we explore the island, but we also enjoyed the company of my sister and a few good friends, life was good 😊  From the island we headed inland to the southern Okanagan Valley spending the month of April in Osoyoos, BC.  Our month was filled with golf and amazing wine tastings, I think April was my favorite month of 2021  🏌️‍♂️🍷🏌️‍♂️🍷  Returning to Calgary we spent May through September enjoying time with family and friends and playing a lot more golf.  It was a banner year for golf but by the time fall rolled around, we were itching to head south.
After living in Canada for the first 9 months of the year we are now happily ensconced in sunny and warm Baja, Mexico.  While in Canada, we received two covid vaccine jabs giving us the confidence to resume our travels…even if we are only venturing to one location.  We missed our nomadic travels during our 16 months in Canada so when the world looked safe enough to get moving again we jumped at the chance.  It's a good thing we did with the covid situation deteriorating rapidly in Canada as the year came to a close.
So, onto travel stats and info.  First of all, how is the budget doing?  This year is a total anomaly!  With virtually no travel this year our expenditures were under budget by a whopping 20%, despite all the champagne I drank 🥂🥂  Transportation expenses being virtually nonexistent, our accommodation cost jumped to 42% of our annual spend, compared to 33% in 2020, 34% in 2019 and 32% in 2018, but we were still under budget.  I think we will have to put aside this year's financial stats as a one-off year and not use them for comparisons or budgeting purposes.
As I say every year, we are no different than any other retired couple, living on whatever income and/or savings you have at your disposal.  We spend no more than it would cost us to live in one place, just on wildly different items.  Instead of cable bills, property taxes, utilities, and mortgage payments, we spend our money on airfare, travel insurance, and apartment rentals around the world.
Here are a few of our travel numbers comparing the past 4 years:
| | | | | |
| --- | --- | --- | --- | --- |
| | 2021 | 2020 | 2019 | 2018 |
| Flights taken | 4 | 8 | 9 | 7 |
| Airlines flown with | 2 | 4 | 6 | 6 |
| Countries visited | 3 | 3 | 11 | 12 |
| Cities lived in | 8 | 18 | 38 | 29 |
| Apartments rented | 6 | 18 | 34 | 17 |
| Nights in apartments | 360 | 363 | 341 | 206 |
| Hotels booked | 5 | 2 | 5 | 12 |
| Nights in hotels | 5 | 2 | 7 | 30 |
| Cars rented | 4 | 11 | 4 | 4 |
| Countries we've driven in | 2 | 3 | 7 | 7 |
| Phone numbers we've had | 4 | 5 | 6 | 6 |
| Gyms we've joined | 4 | 7 | 25 | 6 |
All this year's numbers are down noticeably because we spent 9 months of 2021 between Alberta and BC.  This was a choice we made to remain safe and do our part to "stay home" and slow the spread of the virus.
Each year we list places or events that took our breath away and sadly the only place during 2021 that achieved that status was our visit to Tofino on the west coast of Vancouver Island.  I guess it takes the top, and only, unforgettable place for this year.  While Alberta and BC are breathtaking provinces, they are familiar to us and don't give us the WOW factor of a new location.  Looking back over our past nomadic years, we have been to some truly unforgettable places.
In 2018 they were:
The Matterhorn in Switzerland
Mont Saint Michel in France
Normandy, France
Bordeaux, France
The French Open Tennis Tournament
Petra, Jordan
Dubai, UAE
Le Tour de France
Italy…..anywhere 🙂
Istanbul
Our list of favorites for 2019 was:
The Caminito del Ray walk in Spain
The Alhambra, Spain
Cappadocia, Turkey and our balloon ride
Croatia
Portugal (my new favorite country of the past 2 years)
The Tongariro Crossing in New Zealand
Despite a shortened travel year, our most memorable places or events for 2020 were:
The Great Ocean Road in Australia
The Australian Open Tennis Tournament in Melbourne
Scuba diving near Adelaide and finding a Leafy Sea Dragon
Australia's Wildlife – Feeding wallabies, petting Dingo's, finding Fairy Penguins, and meeting Matilda the Wombat – Matilda is now the background photo on my phone 💕
The Sunshine Coast of Australia
Tasmania
Hiking and biking in the Alberta Rocky Mountains
Well, it's that time every year for Blair to contribute his thoughts about the past 12 months:
Once again I have been asked to contribute a recap of the past year for Susan's blog. It is a little tougher this year because very little worked out as hoped or planned. That being said I am not complaining, I believe Susan and I are weathering this whole pandemic well. As retired nomads, we are fortunate that we did not lose jobs or a house or have any of the many problems we read about every day. Sure we have been inconvenienced somewhat but we are safe, healthy, enjoying life and each other's company, and overall our families are all doing well.
So, how did 2021 look? Our 3 months on the island were a nice way to miss the worst of winter and was possibly a glimpse at a place to settle when the time comes. It was great to spend time with Susan's sister and brother-in-law, and we enjoyed a few beers with my good friend Carl who was working in Victoria when we were there.
We were able to join the Osoyoos Golf course for our month there which kept us very busy and happy. Osoyoos has also been tossed around as a place to settle later on. The plus is it's the warmest place in Canada the minus is it's not on the ocean.
Five months in Calgary was fortuitous in that I got to spend 4 or 5 mornings a week taking our good friend Jim out for walks and exercises in Riley Park. Jim was battling brain cancer and was in a hospice right next to the park. Sadly that ended in late August when he passed away. Other than that, as Susan has said we golfed a lot and spent time with family and friends which was great.
Then to Loreto Bay. Three months of running on the beach, going to the gym, swimming in the lap pool, and getting out on the Sea of Cortez on paddleboards. It's tough not to be happy 😊 Time was also spent making plans to tour Italy and Ireland for 6 months in 2022.  Now let's hope we get to go!!!!
Thanks Blair for your take on what 2021 meant to you.  We made the best of our year, enjoying ourselves despite reduced travel opportunities, and have fingers crossed that 2022 will bring a return to travel.  We were busy during the last two months of 2021 booking flights, car leases, hotels, and apartment rentals for our planned return to Italy in March.  We are cautiously optimistic we can embark on this adventure after receiving our covid booster jab in February.
Stay safe everyone and here's hoping once again that this year will be better than the last two 🤞
Thanks for joining us on our travels,
Susan and Blair